What is DFI.Money (YFII)?
DFI.Money (YFII) is a Decentralized Finance (DeFi) aims to build products based on providing aggregate liquidity, leveraged transactions, automated marketing making, ...
Launched in July 7, it aims to optimize returns for DeFi investors while complying with proposed changes in the upgrade plan called YIP-2020. In addition to the protocol changes, DFI.MONEY has also released new products, mainly Vault
DFI.Money's native token is YFII, a fixed offering token earned by Liquidity Providers in accordance with their network interaction.
Who was the founder of DFI.Money?
DFI.MONEY originated as a hard fork of yearn.finance, the DeFi profit aggregation tool created by Andre Cronje.
Cronje left the original incarnation of yearn.finance, iEarn, in early 2020, only to return to growing. Thanks to that its popularity has increased dramatically as DeFi became more popular.
In July 7, yearn.finance's YFI mining and farming token ended, and the proposal to protect the liquidity provision received 2020% support among protocol participants. However, it was not passed due to the lack of meeting the required 80% quorum of yearn.finance.
Therefore, a group of users chose to hard fork the protocol to create DFI.Money, with its own token, YFII. The hard fork implemented the proposition, known as YIP-8, which caused the rewark of YFII to drop every week.
DFI.Money Highlights
DFI.Money basically fulfills the same role in the DeFi market as yearn.finance, follows different protocol rules for its token, and with some new features. Summarize some unique points of the project as follows:
DFI.Money's appeal is aimed at users of its predecessor who voted in favor of the YIP-8, as well as new DeFi investors who want to maximize returns by providing liquidity.
The DFI.Money website states that its protocol is owned by the community and does not offer commercial offers as developer rewards by default.
Users who join one or both of the liquidity pools with a Curve (CRV) or a Balancer (BAL), earn YFII tokens as a reward for providing liquidity.
A new feature introduced by DFI Money, Vault, seeks to automatically reap the highest returns of any token for users according to a user-submitted strategy without the need to manually set up transactions.
What is YFII token?
YFII is a Native token with a fixed supply of 40.000 YFII.
According to the features outlined and accepted in YIP-8: No pre-mining, no ICO, No dev team rewards.
Watch now: What is an ICO?
Basic information about YFII copper
| | |
| --- | --- |
| Ticker | YFII |
| Blockchain | Ethereum |
| Token Standard | Governance |
| Token type | ERC-20 |
| Total Supply | 39.375 YFII |
| Circulation supply | 38.596 YFII |
What's so special about YFII?
Earn tokens:
DFI.MONEY claims that the only way to earn YFII is to provide liquidity to the protocol.
Token allocation:
Tokens are distributed in accordance with liquidity regulations, with rewards decreasing weekly. There are 2 pools, each with 20.000 YFII. The release is carried out according to the principle of halving: In the first 10.000 weeks, then half a week.
Pool 1 opening: 23: 00h (VN time) July 27, 7
Pool 2 opening: 23: 00h (VN time) July 28, 7
Released love calendar:
A schedule confirms that token distribution has been completed 10 weeks after initiation, by the end of September 9 (artwork)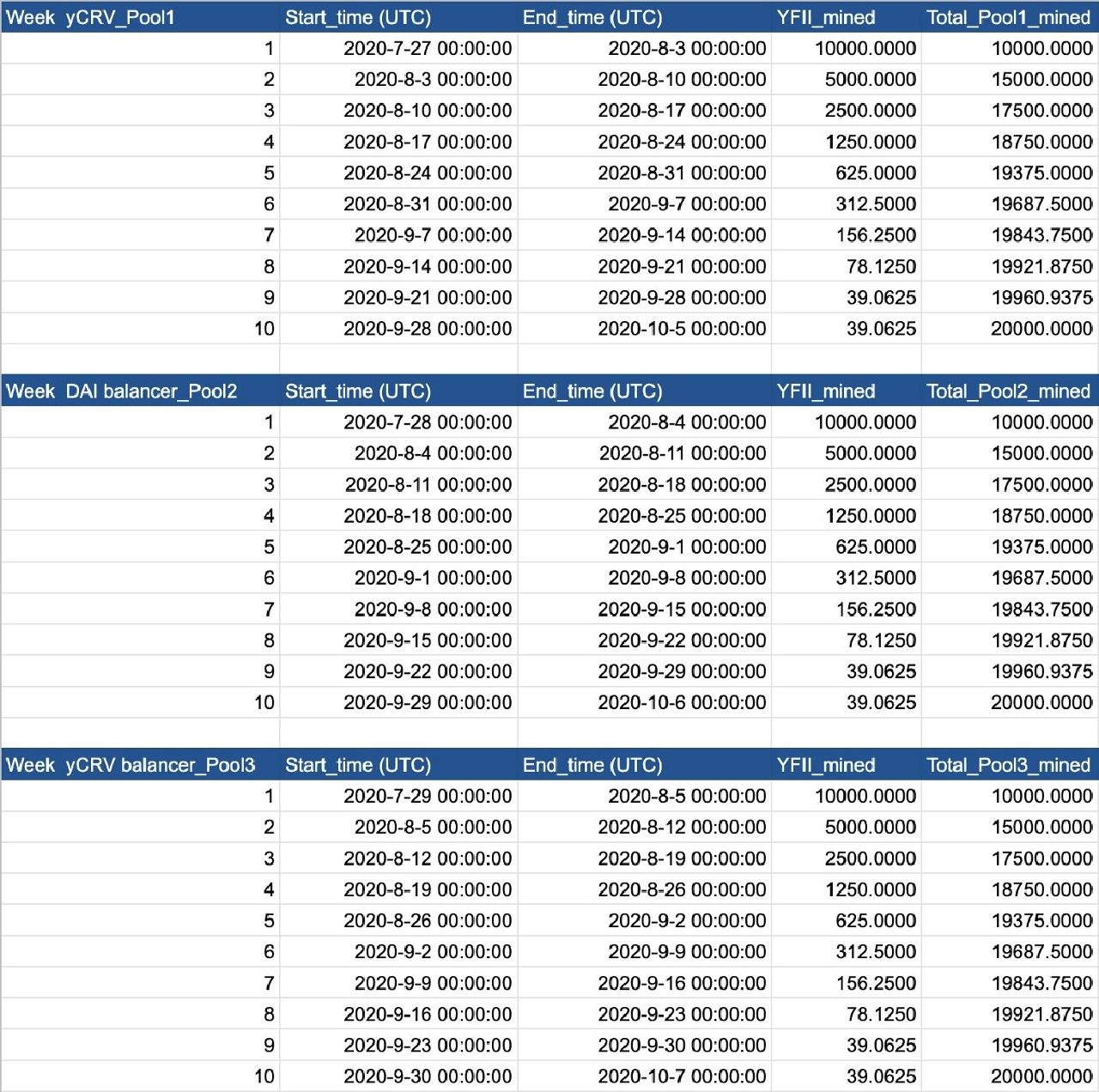 What is YFII used for?
Reward: Participate in providing liquidity to the pools to earn rewards as YFII tokens
Governance: Required to be used to vote on new decisions and implementations in the community
How to earn YFII?
In addition to only earning YFII through the liquidity pool, you can buy this token on an exchange that lists YFII.
What floor is YFII traded?
Currently you can register for an account and buy YFII at major exchanges like Binance, Huobi,… Or more commonly, you can buy on Uniswap ok
YFII coin storage wallet
Store in wallets such as: Trustwallet, Ledger Nano X, MyEtherWallet, Dappradar.. Or you can store it directly on an exchange, where you bought that token. Remember to turn on full security.
The future of DFI.Money
DFI.Money now provides a profit optimization service for providers, etc. between loan protocols such as Aave and Compound, autonomously for the highest profit. Future strategies are being developed in their plans.
Yield farming is a trending in the crypto space. In it, LP earns rewards on idle coins. Farmer can choose between multiple pre-tested pools to stake liquidity, which automatically moves users' money between different protocols to find the one with the highest interest rates and maximize profits. .
Now, the project has attracted many users along with many centralized financial players, crypto whales and digital asset exchanges adopting YFII. A future ahead of the promises of YFII.
Should invest in YFII token
Product
YFII Vault is a yield aggregator for farming pools targeting the highest APR by using a strategy contracts.
User sends the token it supports and automatically receives the profit the strategy has received. Everyone is welcome to write their strategy and the strategies with the highest votes from the community will be implemented. Vault also saves a lot of gas during complex contract interactions because all the user wants to do is deposit and withdraw money.
Token
In addition to the features mentioned in the previous sections, YFI also has the following advantages:
Growing fast
The Defi project is highly demanding with the optimal opportunity to make money
Community management (token holders)
An effective "Token Distribution"
Roadmap
The project currently has no specific roadmap. Based on the updates, it is possible to observe the continuous work on the system in the field of administration and operation.
Additionally, work is underway in the business industry, as demonstrated by the establishment of development and implementation agreements. The project notifies users weekly about their achievements.
The above assessments can hopefully support well in understanding the project as well as forming an investment decision. Let's take a close look
Summary
In the history of the fork, with the success of YFII it is very rare. This architecture has attracted many users from the Chinese community, which makes it self-sustaining.
DFI.Money demonstrates the high capitalization, as well as the presence of a community attached to the initiative. The mining method through instant liquidity addition is embraced by many other projects, including Balancer, Syth, Aave, Curve, NEST,… The total number of users in the DeFi market is also increasing steadily.
YFII has similar contracts Synthetix and YFI. So it's pretty safe. However, it has not been proven whether YFII is safe due to potential vulnerabilities. YFII has not been audited.