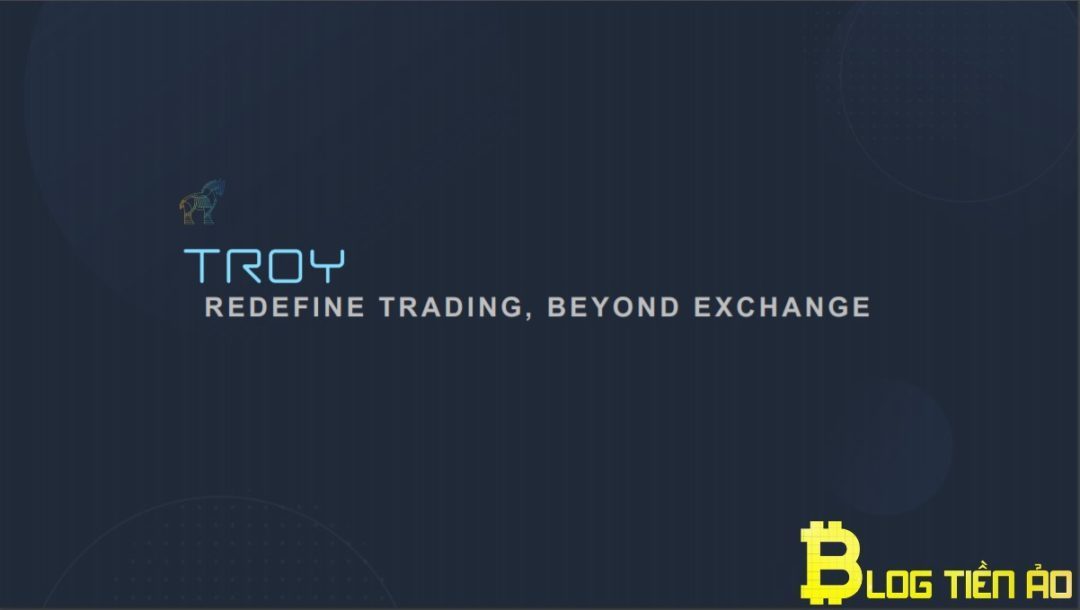 Continuing the project COFFEE, this is the 11th IEO project on Binance Launchpad. This project will be called Troy. Let's Blogtienao Find out what this project is HOT!
You may be interested in: What is Binance Launchpad? Instructions on how to buy IEO on Binance.
What is Troy?
Troy Trade is a prime broker specializing in asset management and crypto trading. In the US financial market, there are Prime brokers such as Goldman Sachs, Fidelity Investments, Interactive Brokers LLC. But the cryptocurrency market still has a gaps in the brokerage service. That is the reason why Troy project was born. Troy is a missing piece in the picture of Prime boker in the cryptocurrency market.
Troy will provide you with cryptocurrency broker services. Some of the services that can be named include: Spot trading (Spot), margin trading (Margin trading), derivative transactions, lending, staking ... These services you can use with only a single account.
You may be interested in: What is Binance Lending? Advice And Detailed Evaluation of BNB Lending
What is TROY cryptocurrency?
Troy is a native token in the Troy ecosystem. You can use this cryptocurrency to staking and open features in Troy Trade.
TROY distribution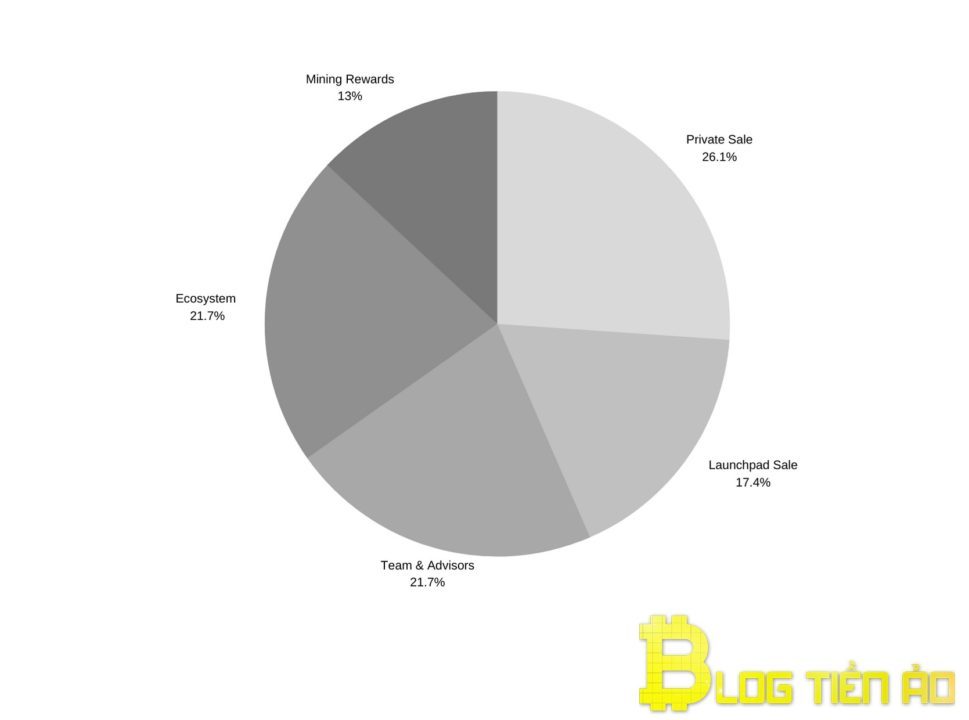 Wallet hosting
Do TROY is still new so it has not been supported by many wallets. The token is in BEP-2 so everyone can store it directly on Binance.
Services from Troy
Master-Level Trading Platform
A high-level trading platform (Master-level). This platform allows you to liquidity on all cryptocurrency exchanges. You will not need to register many talents from many floors anymore. With this platform, you only need a single account. The main functions can be mentioned such as: automatic risk control, flexible account management, smart routing orders, service payment.
Diversified Brokerage Service
Diverse gender services. Provides you with a margin trading, OTC, real-time transfer and payment services. Competitive fees and high order execution speed.
Sophisticated Data Analysis
Analyze market data, Blockchain, transactional, social, media data. These data are analyzed and optimized by AI and quantitative models. From there, users can make decisions for themselves.
Full-Stack Quantitative Solutions

The infrastructure is provided by the co-location service to well implement the high frequency trading algorithms. Provides the best exposure to quantitative solutions through direct processing, historical marking ...
Troy project products
Trading tools
Troy Trade also has the same trading interface as most exchanges. Here you can manage your assets, place orders at different exchanges, view chart ... Currently, Troy supports 3 floors: Binance, Huobi, OkEX.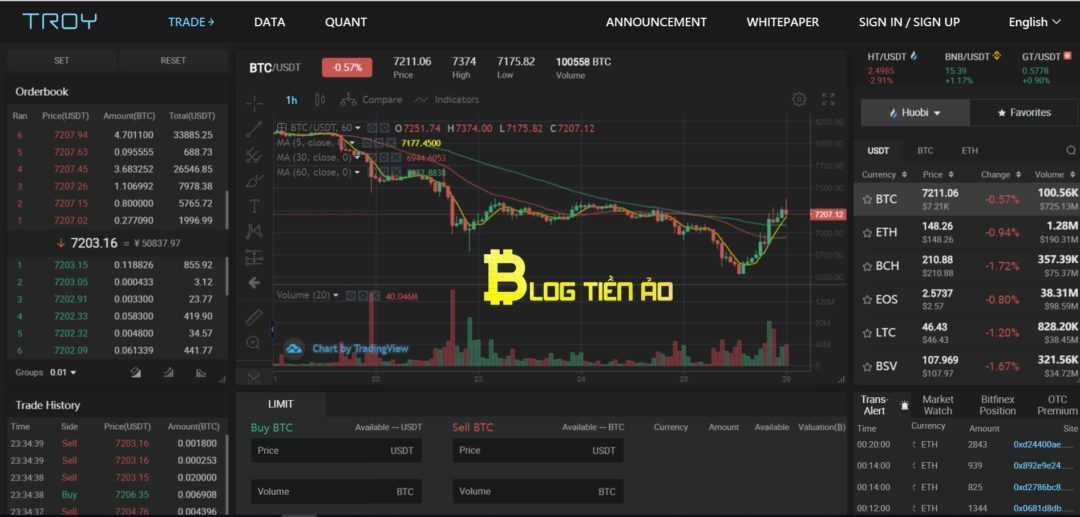 Dynamic data
Here, you will get a lot of data from the market, data on the chain, community data ...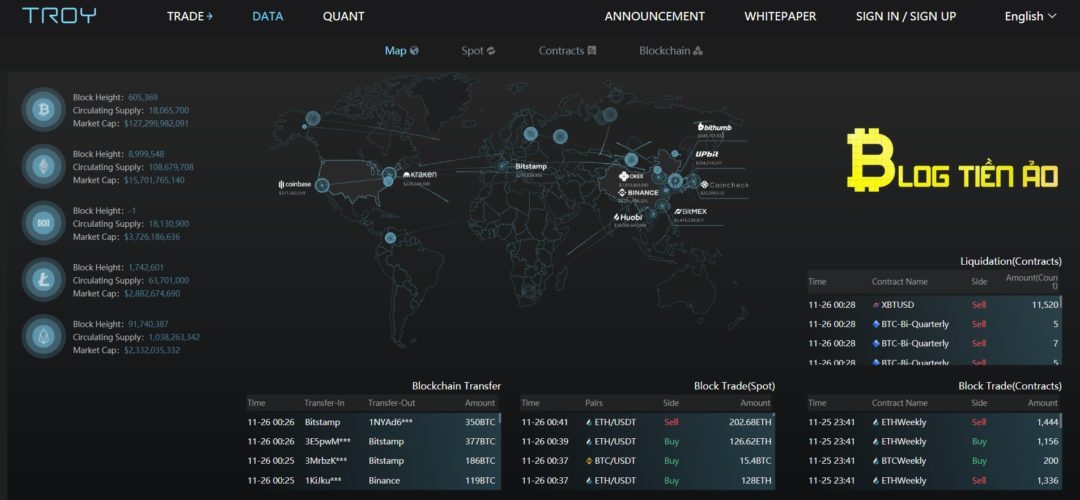 Gender solution
The project provides gender solutions
Cross-payment of exchanges
Trading margin
Competitive fees
OTC service
Synthetic liquidity
Quantitative strategies
Transactions rely on quantitative strategies. These strategies are based on a strategic evaluation system, Co-Location service, go straight through the process, track back, mark historical data. This strategy increases the purpose of processing transactions, improving user experience.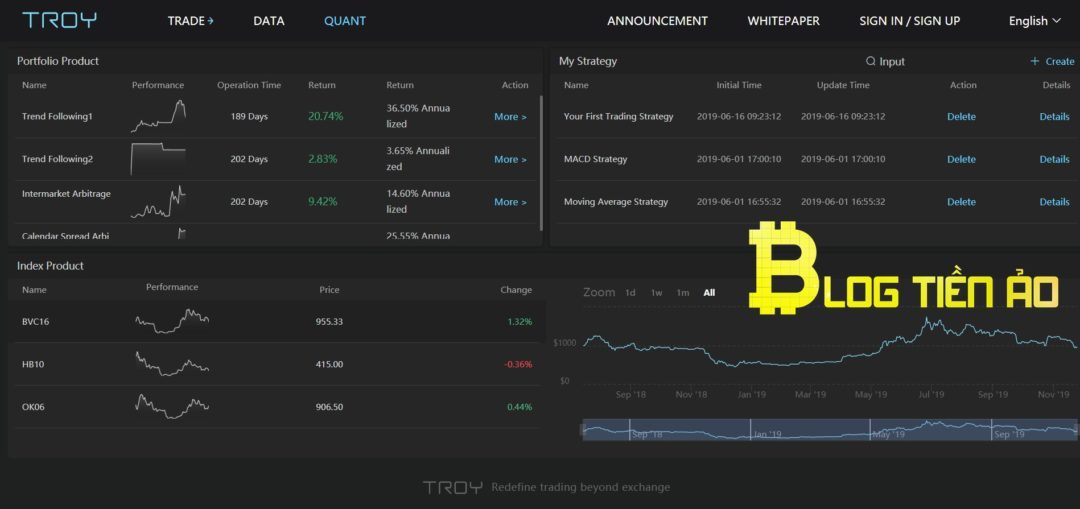 What is Troy Network?
Different from Troy Trade. Troy Network targets a decentralized market including services such as storage, exchanges, stablecoins.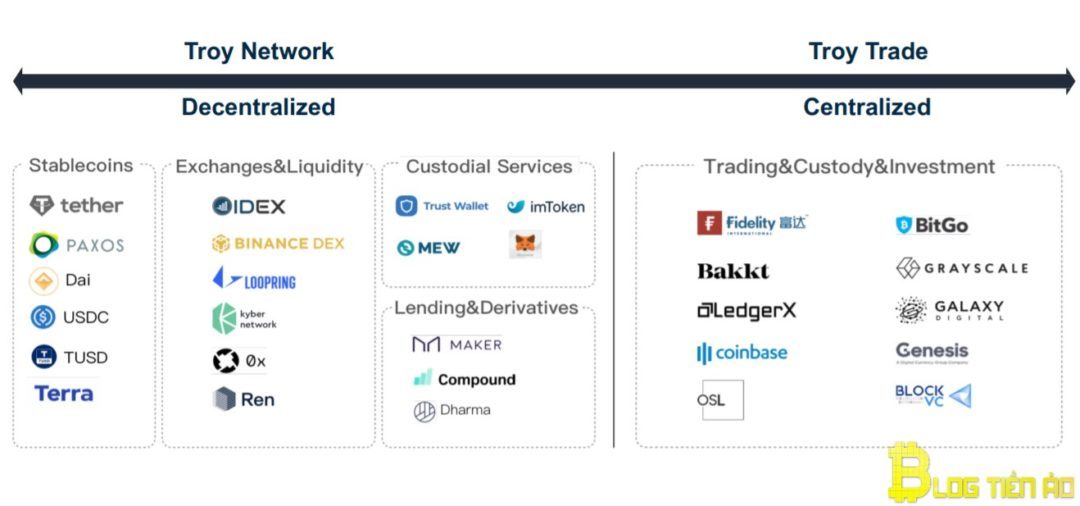 Like Binance at the beginning of the centralized floor. Then they launched Binance Chain and got Binance DEX. Likewise Troy, too, starts with Troy Trade. They will then run their own blockchain (Troy Network). Once they have completed the Troy Network they will begin decentralized transactions.
You may be interested in: What is Binance? Review of World's # 1 Bitcoin and Crypto Exchange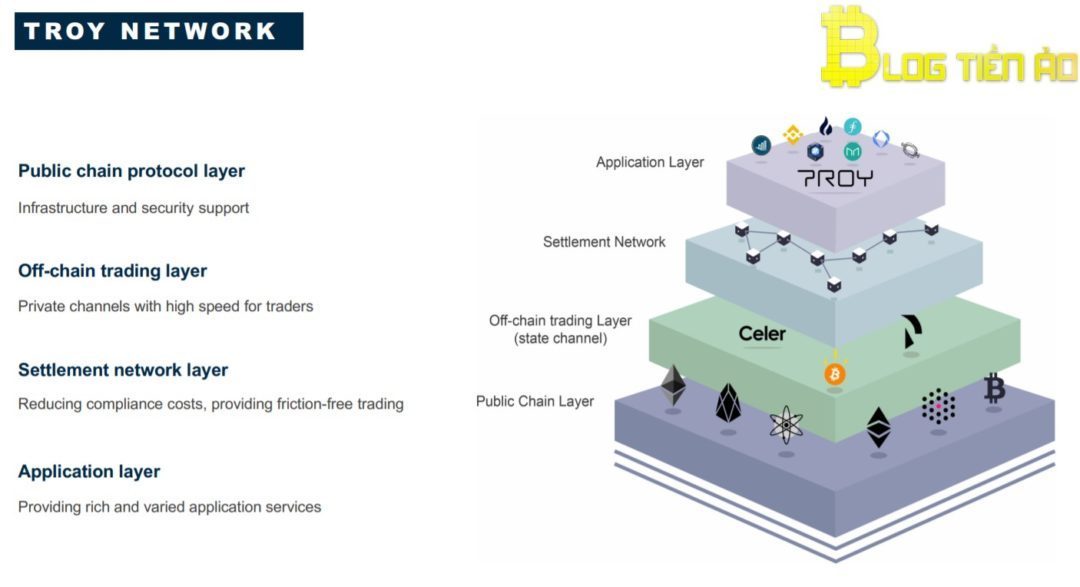 By deploying Troy Network, they will bring 4 objects into their ecosystem. Including: Blockchain infrastructure, Traditional businesses and merchants (Facebook, LINE ...), exchanges and exchange markets, DeFI infrastructure.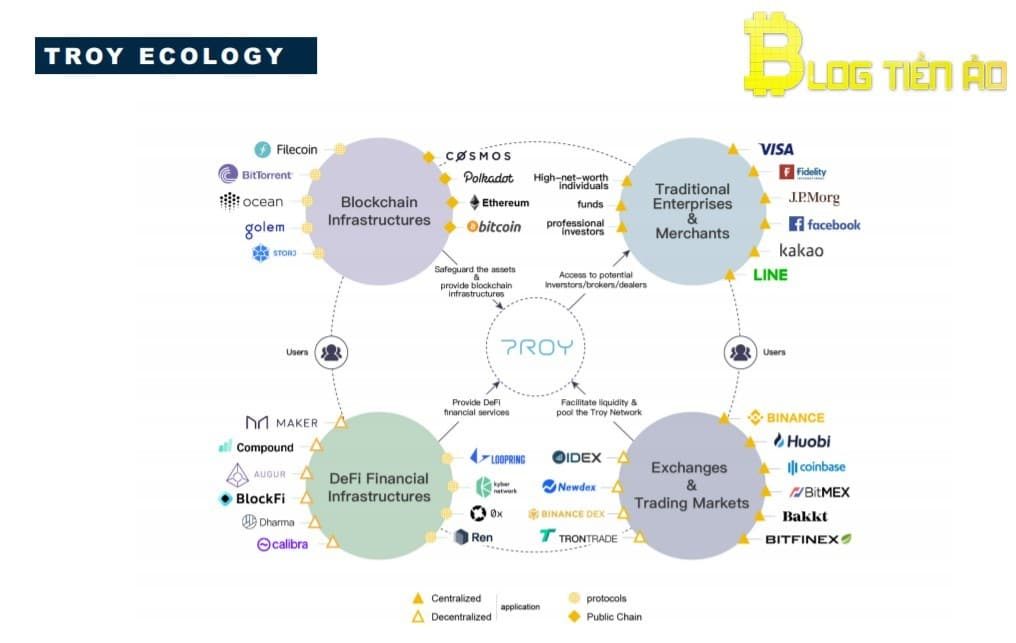 How to get TROY cryptocurrency
Troy coins you can get by participating in Binance Launchpad. If you do not participate, you can wait for this coin to be listed and buy directly at Binance.
Should we invest in TROY?
Blogtienao presented information to everyone about the project. Everyone review and evaluate whether to invest or not! Also, the BTA provides some additional information for everyone below
ROAD MAP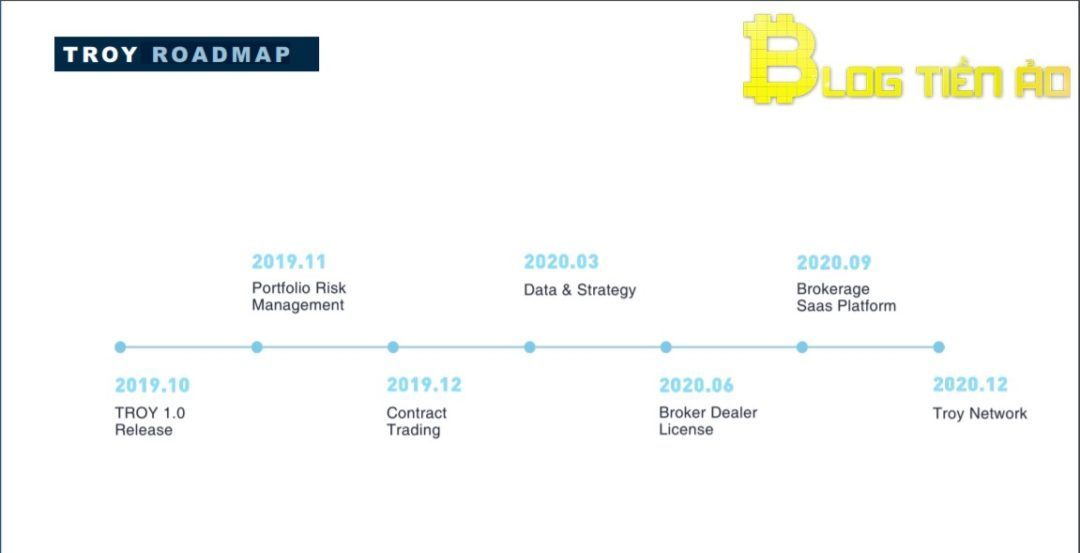 TEAM & ADVISORS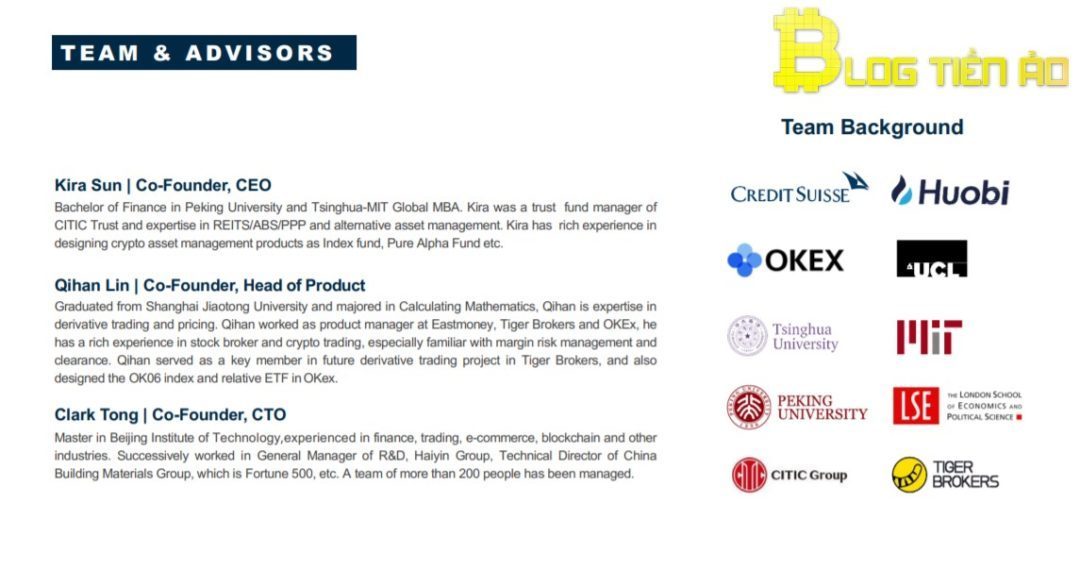 STRATEGIC INVESTORS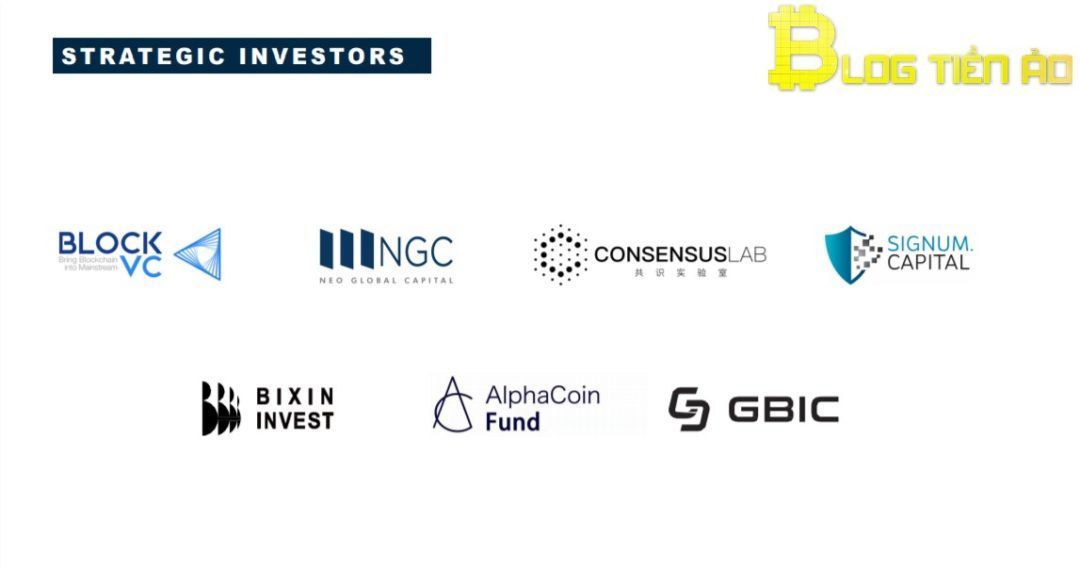 Details of the TROY Project on Binance Launchpad
Chi tiết bán mã thông báo TROY
Tên mã thông báo: Troy (TROY)

Launchpad Hard Cap: 4,000,000 USD

Tổng cung cấp mã thông báo: 10,000,000,000 TROY

Tổng số mã thông báo được phân bổ cho Binance Launchpad: 800,000,000 TROY (8% tổng nguồn cung cấp mã thông báo)

Giá bán mã thông báo công khai: 1 TROY = 0.005 USD (giá bằng BNB sẽ được xác định trước ngày rút thăm xổ số)

Định dạng bán mã thông báo: Xổ số & Airdrop

Số lượng vé xổ số trúng thưởng tối đa: 20,000

Phân bổ cho mỗi vé trúng thưởng: 200 USD (40,000 TROY))

Tổng số mã Airdrop: 40,000,000 TROY

Phiên được hỗ trợ: Chỉ BNB

TROY ban đầu sẽ được phát hành dưới dạng tài sản BEP2
Important milestones
7:00, January 03, 11 to 2019:7 AM February 00, 03: The balance will be taken daily for 30 days. The average balance photographed daily for 30 days will determine the number of tickets you can receive.
13:00, 03/12/2019: Eligible users can get tickets within 24 hours.

Người dùng cũng phải ký Thỏa thuận mua mã thông báo cùng một lúc, trước khi hoàn thành yêu cầu vé.

Xin lưu ý rằng người dùng sẽ chỉ có thể yêu cầu vé một lần.

13:00, 04/12/2019: Tickets will be closed and lottery starts.
15:00, 04/12/2019:

Vé trúng thưởng được công bố và BNB tương ứng sẽ được khấu trừ từ tài khoản của người dùng chiến thắng.

Vui lòng đảm bảo bạn có đủ BNB trong tài khoản để khấu trừ trong vòng 24 giờ nếu bạn có vé trúng thưởng.

15:00, 04/12/2019: After this time, TROY airdrop will be distributed to unsuccessful tickets.
*Note: All times and dates are in Vietnamese time.
Distribution of lottery tickets
The distribution form has not changed like the last time everyone.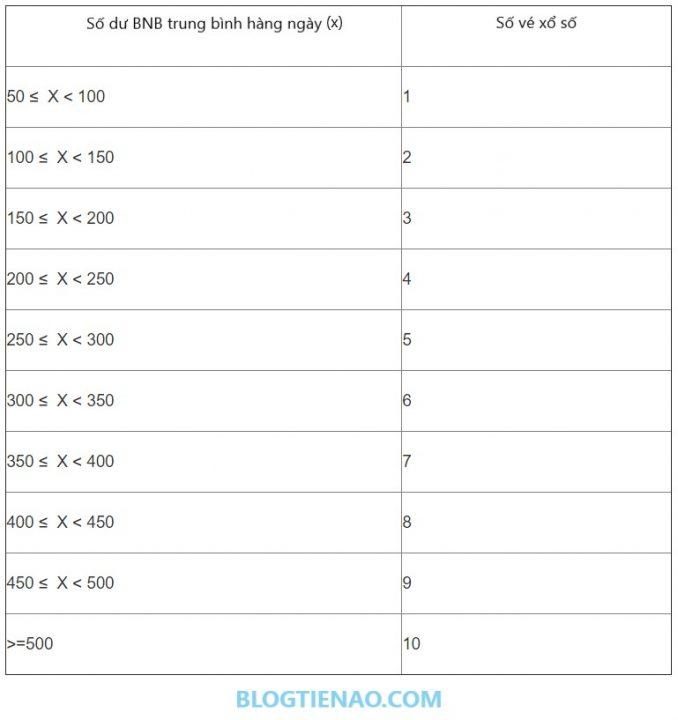 Predict the Winning Ratio of Launchpad 11
Last time, the hit rate was only 9.01%. This time Blogtienao nor expect much. Winning rate will probably still be kept at 8-10%. Normally, the recent projects after going to the floor usually will not x peak from x2 x3 only. But you can catch the wave after dumping on the floor. Can bring you from 20% -50% of profits if you catch that bottom right home.
Also everyone can watch more videos below to refer to this project!
Conclusion
Hopefully, through this article, everyone will have more knowledge about TROY. Like how to join the 11th Binance Launchpad. Blogtienao Thank you for watching this article and wish everyone a successful investment!