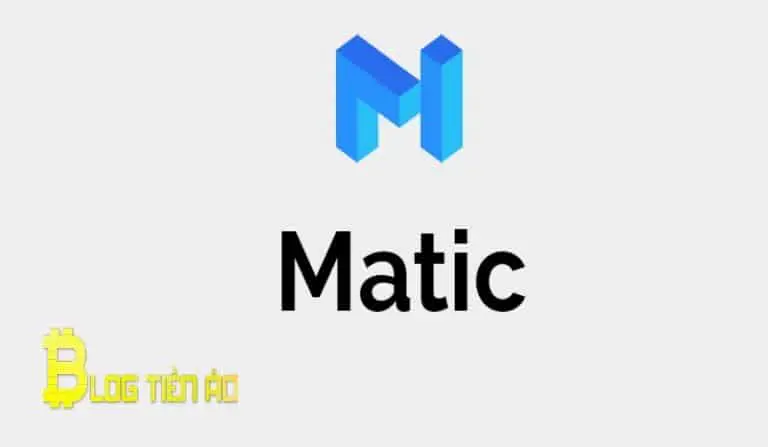 Following the CELER project, this is the 4th IEO project named Matic Network above Binance Launchpad - a stepping stone for blockchain projects. Let's Blogtienao Discover what this project has HOT!
Matic Network Project
Is a layer 2 scaling solution using sidechains.
Ensure asset safety using Plasma frameworks and a decentralized network of Proof-of-Stake (PoS) validators.
Many projects have built applications and integrated with Matic.
The first testnet was released in September, and an advanced pre-mainnet version of the network was available internally.
Will soon launch user-friendly Plasma wallets.
Main features and highlights
Ability of extension: Quick, low cost and secure transactions on Matic sidechains.
High bandwidth: Achieve up to 7.000 TPS on just one sidechain on the internal testnet.
Security: Matic chain operators are the creators of the PoS system.
Public Sidechains: The nature of Matic sidechains is public (compared to individual dApp chains), permissionless and capable of supporting multiple protocols.
Target
Matic's goal is to create a Layer 2 replication solution that is influenced by the plasma chain. This is to allow the network to meet the transactional needs of a wide range of dApps.
Value proposition
Matic Layer 2 is a variant based on MoreVP (More Viable Plasma)
Matic sidechains are basically EVM support chains and are conducive to the deployment of solid smart contracts. Ethereum developers can use them to extend their applications / Protocols.
Commercially, the structure of Matic sidechains is effective in supporting the many decentralized Finance protocols (DeFi) available in the Ethereum ecosystem.
Matic's core purpose is to allow dApps to compete with today's centralized applications through the user experience.
MATIC cryptocurrency
What is MATIC token?
MATIC is the native token in the ecosystem of Matic Network. MATIC was issued as ERC-20 but has now been converted to BEP-2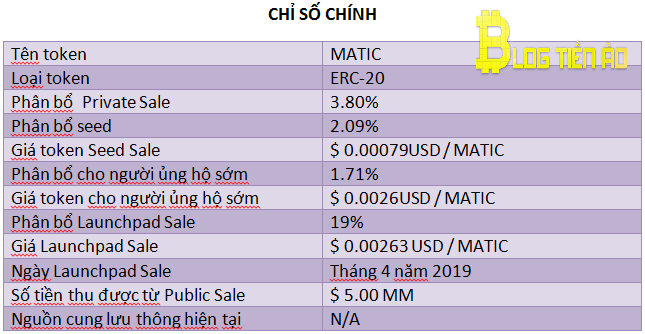 MATIC token use cases
There are three main use cases:
Used for staking, participating in sidechain's Proof of Stake consensus mechanism.
Used to pay mining rewards to POS manufacturers and transaction fees / gas.
After each transaction, a small portion of the fee will be put into a separate fund. They will be used to enhance the Matic ecosystem.
To administer the token and how to use the fund
As of February 26, 02, Matic Network has used about 2019% of the amount in the distribution below:
Partnership 1%.
Marketing 9%.
Juridical 15%
Technical development 75%
Risk management plan
Matic plans to always keep enough fiat reserves for its operating costs for at least 12 months. The rest of the funds will be kept in the form of cryptocurrencies and stored in multi-signature cold wallets.
MATIC token issuance schedule
The following chart shows the number of MATIC tokens planned to be issued monthly

Distribute the MATIC token
Private Sale accounting for 3.80% of total supply.
Launchpad sale accounting for 19% of total supply.
Team accounting for 16% of total supply.
Advisory Board accounting for 4% of total supply.
Network activity accounting for 12% of total supply.
Foundation accounting for 21.86% of total supply.
Ecosystem accounting for 23.33% of total supply.
About Private Sale
Seed Round: 1 MATIC = 0.00079 USD; collected a total of 165.000 USD; sold 2.09% of total supply.
Early supporters: 1 MATIC = 0.00263 USD; collected a total of 450.000 USD; sold 1.71% of total supply.
About Binance Launchpad
Conducted in April 4
The total expected return is ~ 5.000.000 USD BNB for ~ 0.00263 / token
Sold 19% of total supply
Wallet hosting
Because MATIC tokens are now converted to BEP-2 format, you can hold them directly on Binance. Besides, you can store in cold wallets like Ledger Nano, Safe deposit… Also, Matic has released a separate wallet, so you can use them (download Matic's wallet squid fishing tours).
Plan for funds
The development team plans to reserve enough fiat money to cover the cost of all activities for 12 months. All remaining funds will be kept in multi-signature cold wallets.
Route of dMatic project
Quarter 3 / 2018
Testnet is released for developers
Plasma MVP contract on testnet
Support all ERC-20 for fast payment at low cost
Integrate Dagger with Zapier
Quarter 4 / 2018
Matic.js Javascript SDK is released for testnet
Internal release of Matic mobile application
WalletConnect support on mobile apps
Quarter 1 / 2019
Support ERC-721 to deploy POS Matic testnet for Staker nodes (circulating internally)
Release testnet v.2 for developers
Burner wallet is integrated with Matic testnet
Quarter 2 / 2019
Mainnet release
Deploy Matic Plasma to allow deposit and withdrawal of coins issued on Ethereum
Cross-asset swaps between ERC721-ERC20, ERC20-ERC20, ERC721-ERC721 on testnet
PoS onboarding validator
Developing dApps
Matic Wallet - WalletConnect for dApps (Ethereum & Matic Network transactions)
Quarter 3 / 2019
Release the mainnet Matic (beta)
Asset swap (ERC721-ERC20, ERC20-ERC20, ERC721-ERC721) on the mainnet
Support smart contracts (with PoS)
Plasma Fast is completed on testnet
Plasma Watcher buttons
Quarter 4/2019 and Quarter 1/2020
Launch of Matic mainnet
Transaction relay group (executing transactions without ETH) - allowing easy asset migration from Ethereum to Matic
Support smart contracts (with Plasma), Proof-of-Concept
Launch of NFT Marketplace platform
Trade partnerships and business development
Matic has partnered with several blockchain projects including:
Decentraland: A virtual reality platform built on the Ethereum blockchain. Matic cooperates with Decentraland to expand the transaction scale.
Quarkchain: A secure, decentralized and scalable * permissionless blockchain *. Matic and Quarkchain work together to expand L2 by using solutions from Plasma sidechain on Quarkchain. In addition, they will also build other services like Dagger and Mobile Wallet for Quarkchain.
Ankr Network: A distributed computing platform. Matic and Ankr will build a decentralized web 3 stack * together. In addition, Ankr will be able to provide distributed cloud computing services for decentralized application development on Matic Network.
Portis: A technology company that aims to make it easy for anyone around the world to use decentralized applications. Matic is helping Portis applications scale and enhance the user experience.
Maker DAO: The company behind DAI Stablecoin. Matic is helping dApps developers to use DAI on Matic Network. In addition, Matic plans to integrate DAI as the first ERC-20 token on sidechains.
Ripio Credit Network: Peer-to-peer credit network. Matic teamed up with Ripio to integrate Micro loans on its plasma sidechains.
Overview of the Matic development team
Jaynti Kanani (CEO): Formerly a data scientist at Housing.com. Responsible for many aspects of Github
Sandeep Nailwal (Co-Founder): Ex-CTO (Ecommerce) of Welsasta Group. He used to run a company in Blockchain field. Former Deloitte Technology advisor.
Anurag Arjun (Co-Founder): Used to be a product manager of IRIS Business. As an entrepreneur and previously owned a company called Dexter Consultingancy.
In addition, the project brings together 6 developers, 2 marketing experts and 1 product manager. They are all highly experienced people in blockchain and former employees of world-class companies.
Matic's transaction data
MATIC tokens have not been actively traded since the date of this report.
Technical overview of Matic
Public Github repositories
Contracts: Smart contract of Matic
matic.js: Javascript developer library
eth-dagger.js: A library to connect to the dagger server and manage subscriptions for the Ethereum Blockchain
sol-trace: Tracking runtime error
eth-decoder: Library for decoding ethereum transactions and logs
tokenized-pos: The token staker slots for the Proof-of-Stake system
Private Github repositories
Heimdall: Authentication button for the Matic PoS class
wallet-app: React Native mobile app (Android & iOS supported), Plasma interaction, and WalletConnect integration
dagger-server: Real-time blocks, transactions, logs and event notifications push for the Ethereum blockchain
dagger-zapier: Integrates Dagger with Zapier platform
hermione: The Ethereum data processor is scalable and real time
ether-sql-node: Ethereum SQL Syncer for API and query faster
dagger webhooks: Dagger webhooks for third party services
marketplace-poc: Marketplace on Plasma Proof-of-Concept
Matic Products & Figures
Product
Dagger is a product of the Matic ecosystem. They allow developers to collect real-time Ethereum updates to include in their products. There are more than 400 dApps and trackers built with this tool.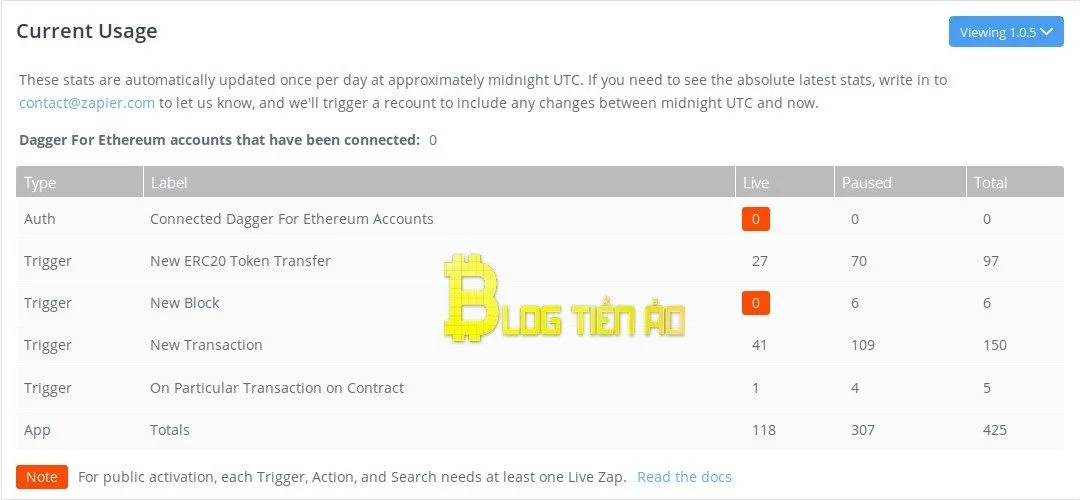 In addition, Matic will release its own wallet to facilitate asset transfer to sidechains and easier asset management for users.
Expected Dau is another product from the Matic ecosystem. This product allows lower txn fees but users get a better game experience. It may be 100 times better than expected to compete with other games and applications
Pocket full of Quarters: Fundraising game on Republic.co
Chainbreakers: The game is built on Decentraland Universe
Blockchain & Metrics
The mechanism for determining transaction fees will be similar to that on Ethereum, but it is expected that the fees will be significantly lower than that of Ethereum.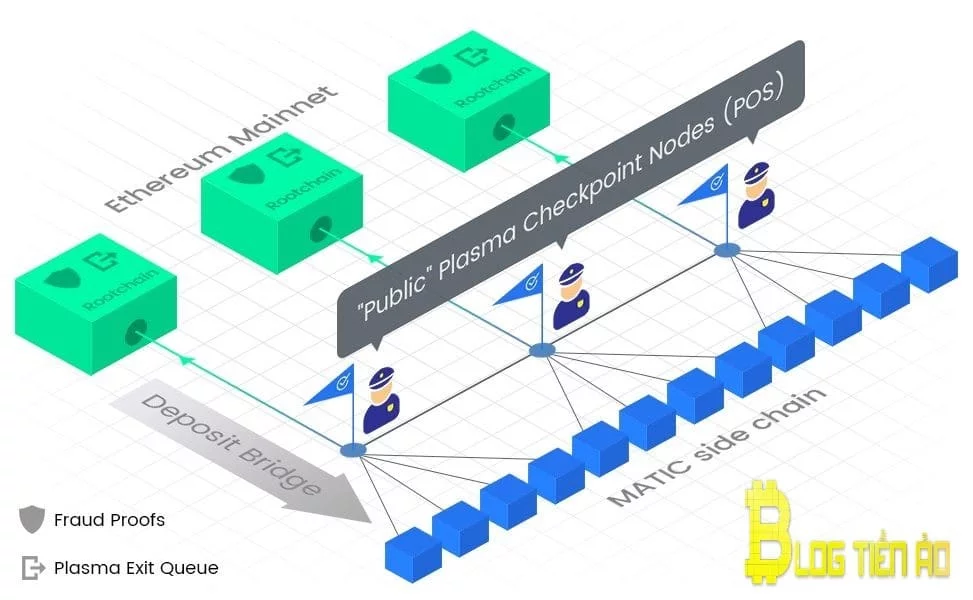 In the image above, the blue box represents the sidechain and the human symbol represents the stake layer.
Matic community data
Strategy for the community
The main goal of the Matic development team is to increasingly attract more dApp developers. Besides, the group also outlines specific goals for each country:
India: Hold DApp training at IIT Bombay. Support and provide guidance for some projects. Become a sponsor and member of jury of ETHIndia and ETHSingapore
United States & China: Because the two countries are home to many blockchain developers, this will be the focus of the project
Japan: The group is working hard to raise awareness in the community and intends to build a large development base here, targeting corporate use cases.
Virtue: A team developing the Decentraland RPG game, Chainbreakers, said they will use the Matic Network to expand demand. Besides, Matic plans to build a development center in Berlin
UK: Partner with a decentralized exchange to consider switching sidechains, to speed up transaction processing and increase user acceptance
Vietnam: Create a telegram team to engage the Vietnamese community and hold developer meetings
Thailand: The group plans to search for potential universities and developers to collaborate, in order to promote blockchain development
Community and social channels
Twitter | 1,507 members
Medium | 245 Followers
Official Announcement Channel | 2,016 Followers
Telegram - Matic Network Official Community | 7,868 Members
Differences of the Matic network
~ 1 second / block - - Suitable for real world use cases
Secure property with plasma
Public Chains are capable of storing multiple protocols, thus enabling interoperability and DeFi solutions
The test layer is built on PoS; enable the provision of financial and fraud proof on the main chain
All tools in the Ethereum ecosystem are immediately supported and applications built on Ethereum can come online.
Adviser Matic project
Pete Kim | Coinbase: Technical Manager, Wallet
Esteban Jordan | Decentraland: Founder & CTO
Ari Meilich | Decentraland: Founder & CEO
How to own MATIC token?
Join IEO
Buy tokens on Binance or staking
Become a contributor to the network to be rewarded with tokens
How to profit from Matic coins
In order to profit from Matic, you can trade them on exchanges that support this token (for example, Binance). Also you can follow up on "lending"Of Binance see if the exchange supports this way of making money for Matic tokens.
Should we invest in Matic coins?
Each investment decision has its own advantages and risks. Therefore, Blogtienao Hope this article can help you have a more detailed view of the project as well as help you make the best decisions.
Details of the Matic Network project (MATIC) on Binance Launchpad
Chi tiết bán token MATIC
Time sold: 15:00 February 24, 04 to 2019:21 March 00, 26
Token Name: MATIC
Total token supply: 10.000.000.000 MATIC
Total tokens allocated to Binance Launchpad: 1.900.000.000 MATIC (19% of total supply)
Price of public token sale (Public Sale): 1 MATIC = 0.00263 USD (price in BNB will be determined 1 day before the date of lottery)
Form of token sale: Lottery
Maximum number of winning lottery tickets: 16.666
Reward for each winning ticket: 300 USD (114.068,44 MATIC)
Accept payment: only BNB
Important milestones
18:00 01/04/2019: Start depositing or buying BNB in ​​your account. Users can also begin to sign a "Token Purchase Agreement".
07:00 05/04/2019: The user's BNB balance is recorded at this time and will continue to be recorded at 0:00 AM (UTC) every day for 20 days.
07:00 24/04/2019: The final BNB balance in the user account is recorded to determine if the user has met or is ineligible to participate in the lottery purchase. The "Token Purchase Agreement" will close and cannot be signed after this time.
15:00 24/04/2019: Open ticket sales to all eligible users for a 24-hour period.
15:00 25/04/2019: Close of ticket sales and lottery program begins.
21:00 25/04/2019: Winning tickets are announced and the corresponding BNB numbers will be deducted from the winner's account within 24 hours. Please make sure you have enough BNB in ​​your account to deduct if you have a winning ticket.
*Note: All times and dates are in Vietnamese time.
Distribution of lottery tickets
The number of tickets will be calculated by the average daily BNB balance you hold:
50 ≤ x <200 BNB: 1 ticket
200 ≤ x <300 BNB: 2 ticket
300 ≤ x <400 BNB: 3 ticket
400 ≤ x <500 BNB: 4 ticket
x ≥ 500 BNB: 5 tickets
Quick crash course:
1) permissionless blockchain (roughly translated: open blockchain): is a popular blockchain that we are using every day (Bitcoin, Ethereum, ...). The word "open" here means that anyone can join the blockchain network (read / write data on the blockchain) and can also exit the blockchain network without any strings attached.
2) edge device: A network device that connects an internal local area network (LAN) to an external wide area network (WAN) or the Internet.
3) web 3 stack: The next generation of web in which decentralized applications (dApps) operate on shared data layers and users have control of their data and are able to move between applications at a low cost. convert
Conclusion
Through the above article, Blogtienao Hope you have found the information you want and how to participate in this Binance Launchpad. Blogtienao Thank you for viewing the article and wish you success!