With the explosion of cryptocurrencies and blockchains, we are seeing more and more terms in this area and one of them is DApp.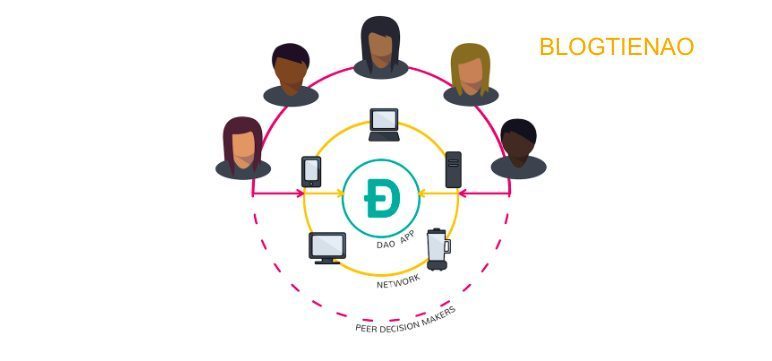 What is dapp?
DApp - Decentralized Application (Decentralized Application) is a very new and very broad concept, making many people wonder and confusing.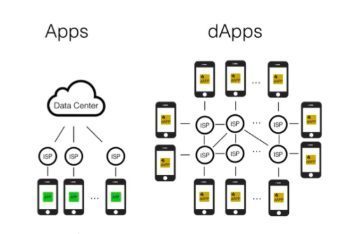 Want to find a most famous example of DApp? Take a look at the case of Bitcoin. Bitcoin is a decentralized decentralized blockchain solution that allows financial transactions to be made. Bitcoin has proved that it can effectively solve problems arising from unreliable and scalable electronic cash systems using peer ledger, distribution, Bitcoin blockchain. Besides being a peer-to-peer cryptocurrency system, Bitcoin is also an application that users can interact with each other through computer software.
According to the Ethereum White Paper, the decentralized application is divided into three main sections:
Financial applications. These applications provide users with a method of financial management, both for traditional currencies and tywr, including savings, inheritance and even some types of comprehensive employment contracts.
Financial selling application. As applications related to money, certainly, but finance is not the focus of how this application works.
Non-financial applications. Applications that are not related to money, such as identity verification, voting systems, administrative tools or even decentralized file storage systems.
How is the decentralized application
According to the General Theory of Decentralized Applications White Paper, an application is only considered a DApp if it meets the following criteria:
Open Source: The application must be completely open source, run automatically, and without any organization or individual controlling the majority of its tokens. The application may tailor its protocol to the proposed improvements and market feedback, but all changes must be decided by the consensus of the users - the shareholders of that DApp.
Decentralized (decentralized): Application data and records must be stored encrypted in a public, decentralized blockchain to avoid centralization, easily becoming a vulnerable vulnerability.
Token: The application needs to use an encrypted token (be it Bitcoin or some internal token for its own system). This token is necessary for access to the application and any valuable contributions of the miners and famer will also be rewarded with the application's token.
Algorithm (algorithm): The application must generate tokens according to the standard cryptographic algorithm to allow mining through nodes (node ​​network). For example, Bitcoin uses the Proof of Work algorithm.
Once again, Bitcoin has become the most easily understood example of a decentralized application, while there is some disagreement about Bitcoin's direction. According to the Whitepaper, based on the characteristic of having own blockchain or building on other blockchain, there are three types of DApp:
Type 1: Decentralized application has its own blockchain (such as Bitcoin and Ethereum).
Type 2: Decentralized application uses the blockchain of class 1 decentralized applications. Type 2 DApps are the protocols and token issuance needed to perform its functions.
Type 3: Decentralized application uses the protocol of type 2 decentralized application. These ADpps are also protocols and have their own token needed to perform its functions.
To be honest, these concepts are also quite confusing. To better understand, you can think in the following way:
Type 1 DApps are similar to the computer operating systems we use every day (Windows, macOS, Linux ...). Meanwhile, Type 2 DApps act like "versatile software programs" such as word processors (MS Words or spreadsheet programs (MS Excel).
Benefits of dApp
Blockchain has brought undeniable benefits to future technology and finance. DApp with the role of operating Blockchain and thoroughly applying Blockchain helps develop many industries in the future.
A series of young projects are launched, aimed at addressing many limitations in each industry. Whether or not it succeeds is evidence of the ongoing development of various decentralized applications.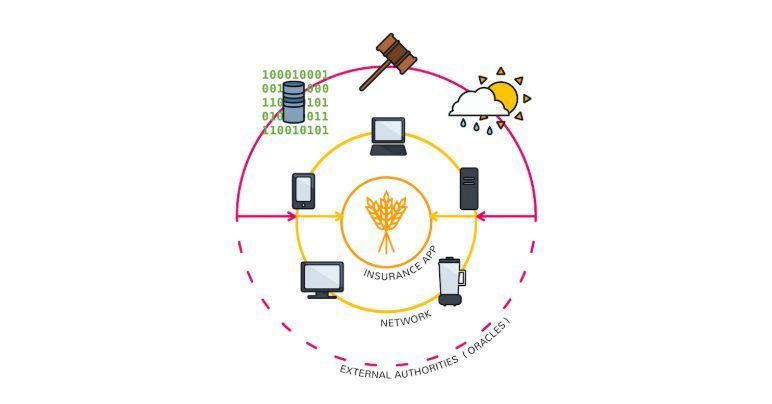 DApps or Hierarchical Apps use peer-to-peer networks to help give ownership of the data we own. No third party can monitor, modify or prevent them.
The cuts in intermediaries will bring huge financial benefits for users as well as large organizations, bringing opportunities to earn more income for qualified freelancers, reducing commission fees. Expensive as well as cyber scams for both partners.
In the end, this is just the dawn of Blockchain and the crypto industry as a whole. DApp will grow day by day thanks to open source and community. Therefore, the values ​​that DApps bring will be expanded and difficult to say in a few lines.
Classification of decentralized applications
According to statistics, there are a total of 1.838 dApps on Ethereum, with 10.730 users and 71.000 daily transactions. These applications can be divided into the following 7 main groups:
Exchanges
Saw
The betting application
Game
Finance
Social Network
Other
The use of cryptocurrencies and dApps is largely for gaming. Using cryptocurrencies will allow some unique features that cannot occur with fiat gambling. Instant deposit and withdrawal are an example, in addition to the global solvency. There is no need to convert between traditional currencies to gamble on websites. "Provably fair" is a term derived from Blockchain and Bitcoin gamblers, and decentralized gambling makes it even fairer than that.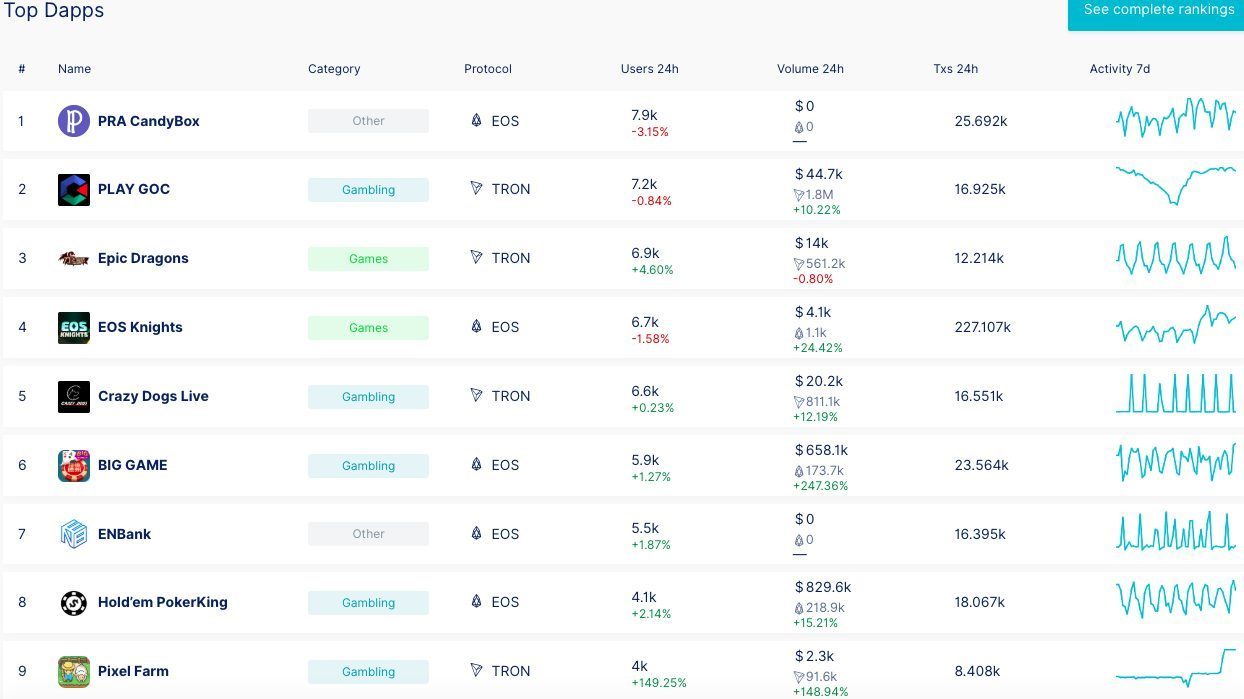 The report says that gambling accounted for $ 3 billion of transactions in dApps throughout 2018. Although this type of dApp has only grown because more and more people and products are associated with different platforms, in the future. Other categories like games and social media are also expected to increase.
By the time of writing, 1.878 dApps have been "live" on Ethereum, EOS and TRON platforms. Here is a list of the 50 most prominent dApps on the aggregated platform:
The basic application
1. Metamask: A browser plug-in application that allows connecting your device to the Ethereum network.
2. Status: The browser links mobile chat and social media apps with Ethereum tokenization.
3. uPort: An app that securely manages and manages your personal identity data on the Ethereum platform.
4. Brave: The web browser allows integration with BAT and ERC-20 tokens.
5. Toshi (Coinbase Wallet): Provides a solution for managing crypto assets and accessing decentralized websites as easily as downloading a phone app.
6. Ethereum Name Service: Allows personalization (naming) for ethereum address names.
7. Civic: An application to store and manage personal identity data securely on the ethereum platform.
Market applications
8. Augur: Market predicts the outcome of real events.
9. Golem: Supercomputer fully decentralized globally, open source for everyone.
10. Ujo: A music streaming platform that allows artists to manage royalties and copyrights.
11. Tokit: The app calls for capitalization by tokenizing artists' activities
12. Aragon: The platform that provides the governance mechanism for DAO and applications
13. Decentraland: A virtual reality platform that allows users to create, experience and monetize content and applications.
14. Gnosis: DutchX event prediction market and protocol for digital asset pricing.
15. RARE: Market for exchanging rare and precious art products, authenticated on blockchain and traded in cryptocurrency.
16. ETHLend: Decentralized lending platform, in which loans are secured by digital assets.
17. imbrex: Connecting the real estate market through the global free posting network.
18. AdChain: A management platform for advertisers to optimize online advertising.
19. District0x: Application that allows creating markets for exchanging products as well as creating a community
Application work
Applications that look for jobs and receive payments in cryptocurrency.
20. Gitcoin: Providing real methods to make money and promote the process of developing open source software.
21. Bounties Network: Create bounty hunting missions paid with ETH or any other cryptocurrency.
22. Ethlance: Find freelance jobs and receive payments in ETH.
23. Balanc3: The accounting platform for digital assets.
Social networks
24. Minds: An anti-censorship social network platform integrated with ERC-20.
25. Peepeth: Social networking platform like Twitter, but completely decentralized and tokenized.
26. Akasha: The social networking application platform on ethereum.
27. Numa: The social networking application platform on ethereum.
Game
28. CryptoKitties: For breeding and trading, collecting cats.
29. Etheremon: a world of Ethers monsters, which allows trading, collecting, and fighting among monsters from Pokemon.
30. Gods Unchained: The esports application platform.
31. FunFair: A safe, transparent betting platform.
32. Etheroll: A gambling game requires only dice.
33. Fomo3D: The black and red game has lots of ponzi properties.
34. ETH.TOWN: Acting as real estate traders, buying and selling company apartments.
Decentralized exchange
Decentralized exchanges allow exchange and exchange of cryptocurrencies on the Ethereum platform.
35. LocalEthereum: A fast and easy way to transact ETH through a variety of methods.
36. IDEX: Decentralized exchange on Ethereum.
37. AirSwap: Decentralized exchange on Ethereum
38. ForkDelta: Decentralized exchange on Ethereum
39. Bancor: The platform provides liquidity for low-level tokens, integrated with bounty programs.
40. MakerDAO: DAO with various functions such as OasisDEX trading platform, investment products, and DAI stable currency
41. 0x: The protocol for decentralized exchanges is used for applications such as Radar Relay, DDEX, and Paradex.
42. Melonport: Decentralized platform for managing and investing secure digital assets.
Gambling bet
43. PLAY GOC: Dice bet on the TRON platform
44. Crazy Dog Live: Animal sports betting
45. BIG Game: Play cards, receive poke money
46. ​​Hold'em PokerKing: Playing Poker receives money
47. Pixel Farrm: Animal bets get a reward
48. TronVegas: Playing Poke, rolling dice, lucky draw
49. EOSbet: Use EOS to bet on dice
50. Tronbet: Use Tron to play dial, roll dice to get reward
Conclusion
That is Blogtienao.com helped you answer those questions What is dApp? And How dApp uses. Hopefully some of these articles will bring you a lot of useful information and after reading this article, you will have a more accurate view of DApp decentralized application. If you have any questions, please leave a comment Blogtienao will continue to answer for you.
Keyword search to article: What is a dApp, what is a decentralized application, what is a decentralized application, what is a dApp, what is a dApp, what is an investment from, what is a dApp token.
Refer: Internet and Wikipedia