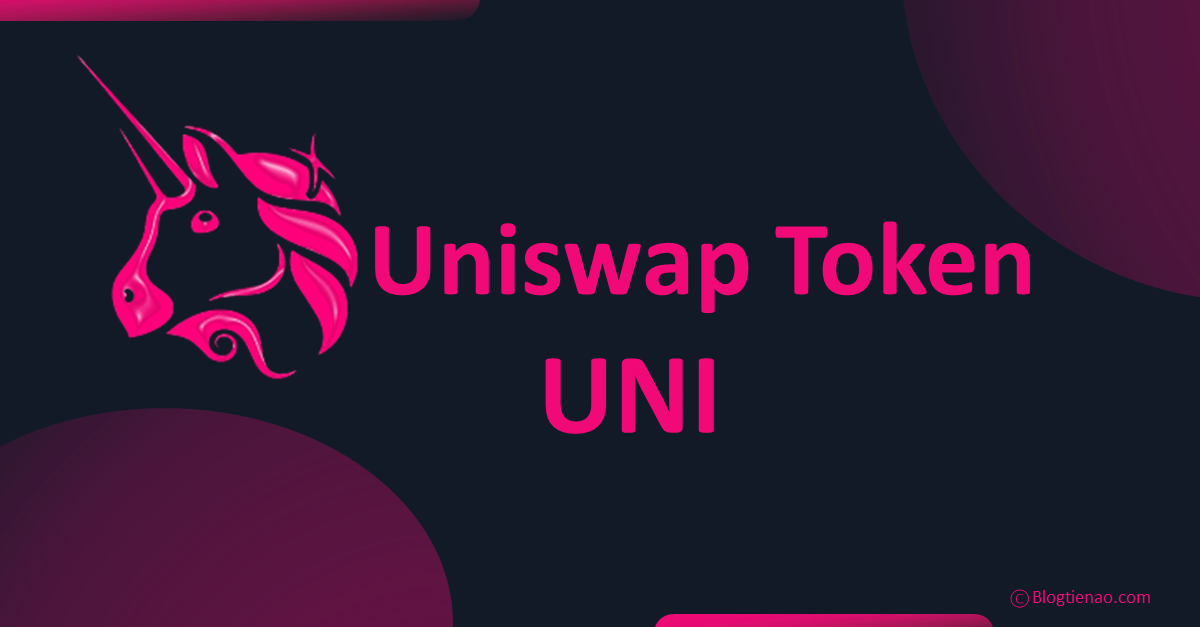 Uniswap, A decentralized exchange built on top of Ethereum. To be more precise, it is an automated liquidity protocol. No order book or any centralized party was required to execute the transaction. Uniswap allows users to transact without intermediaries, with a high degree of decentralization and censorship resistance.
If you have not used Uniswap, you should read the article:
Uniswap's hotness is not mentioned anymore. At the time of writing according to Coingecko's DEX statistics, the Uniswap trading voloume was second. However, the number of hits is 50 times that of the 2nd ranked competitor enough to see the interest of players looking for a potential coin / token on Uniswap.
However, the expectation of Uniswap users is that the exchange will have a certain governance token that brings high value to make the Uniswap ecosystem grow further.
A very big event was the launch of the UNI token, Uniswap's governance token, along with the massive airdrop of 400 UNI with the current price of $ 6 (too large). This launch is extremely important.
So with Blogtienao find out what UNI token is? Its importance for the development of the Uniswap ecosystem
What is UNI token?
UNI is the governance token of the Uniswap ecosystem. Allows sharing of community ownership through the implementation of the governance system on-chain.
Uniswap is now particularly well positioned for community-led growth, development, and self-sustainability. The creation of its own token serves this purpose. The governance system will facilitate the development and use of the protocol, as well as the future development of the wider Uniswap ecosystem.
Basic information about UNI copper
| | |
| --- | --- |
| Ticker | UNI |
| Blockchain | Etherum |
| Token Standard | ERC-20 |
| Token Type | Governance |
| Contract | 0x1f9840a85d5aF5bf1D1762F925BDADdC4201F984 |
| Max Supply | 1.000.000.000 UNI |
| Circulating Supply | 110.000.000 UNI |
Distribution of UNI tokens
1 billion tokens can be accessed within 4 years. The initial 4-year allocation is as follows:
60,00% for Uniswap community members
21,51% for team members and prospective employees with 4 years of testing
17,80% for investors with a term of 4 years
0,69% for advisors with a 4-year test period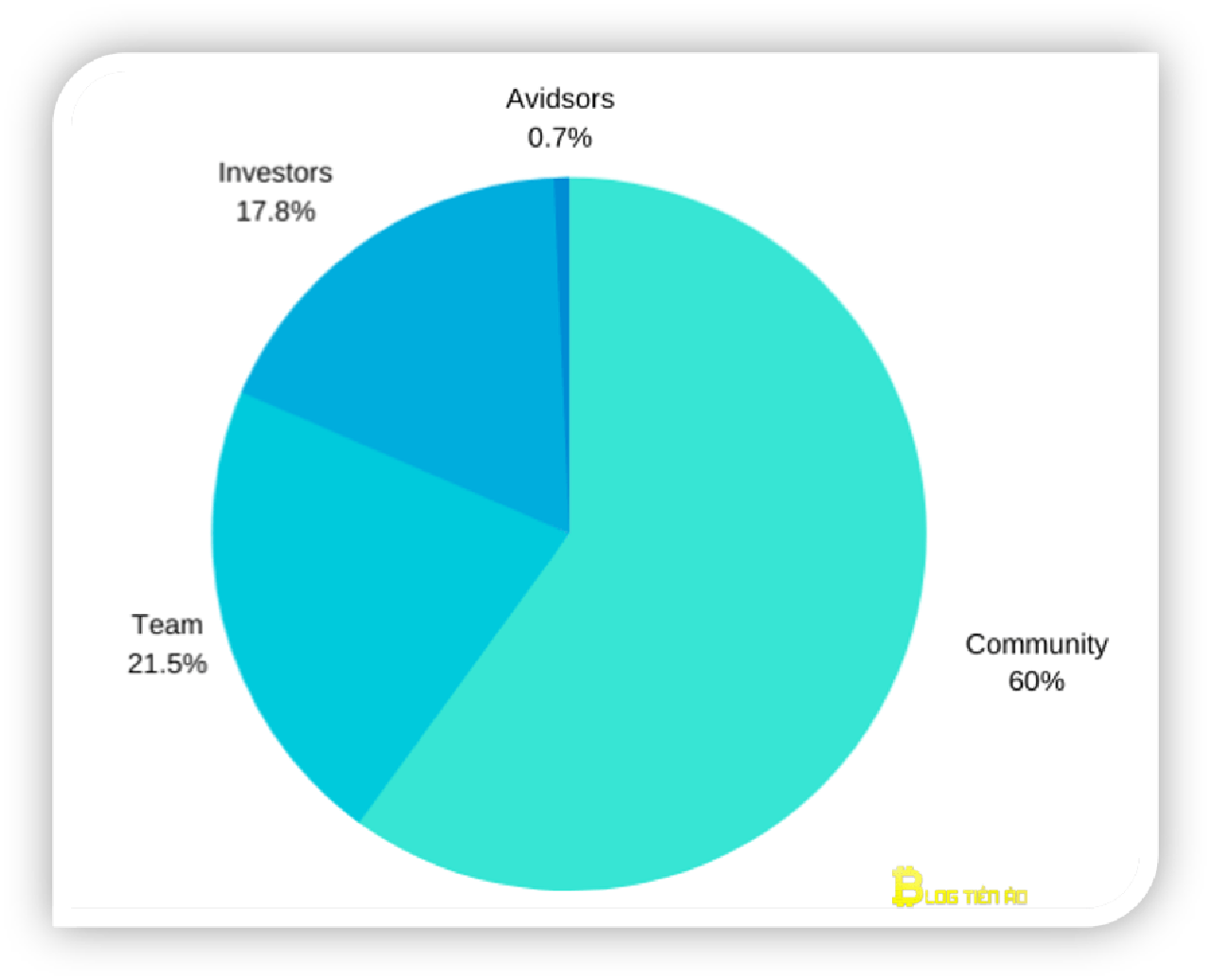 Token issuance schedule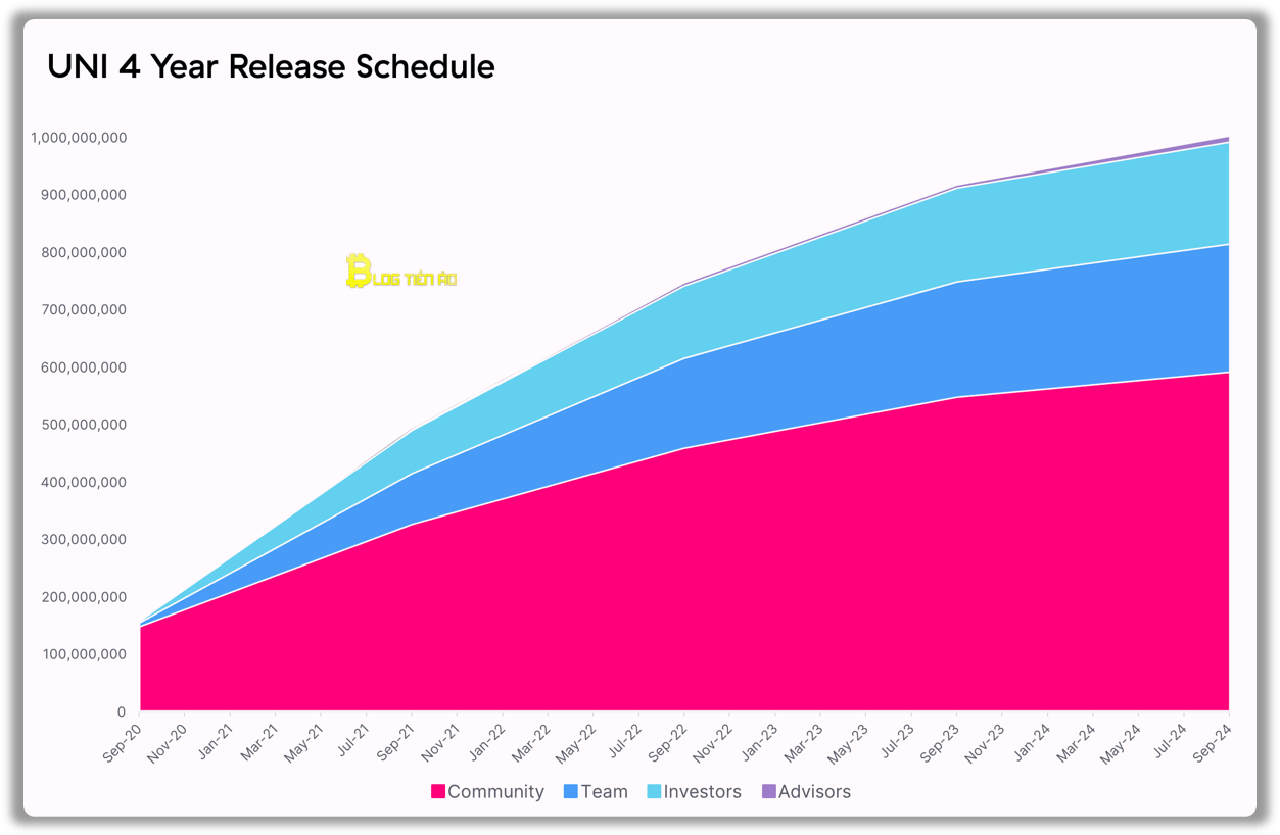 With 15% of tokens available to be requested by previous user and LP liquidity provider, governance treasury will retain 43% [430.000.000 UNI] supply UNI for continuous distribution through contributor grants, community always, liquidity mining and other programs.
UNI will assign governance treasury continuously according to the following schedule. Administrators will have access to the granted UNI starting October 18, 10, 2020:12 a.m. (UTC)
An allocation of UNI tokens of the team, investors and advisors will have tokens locked on an identical schedule.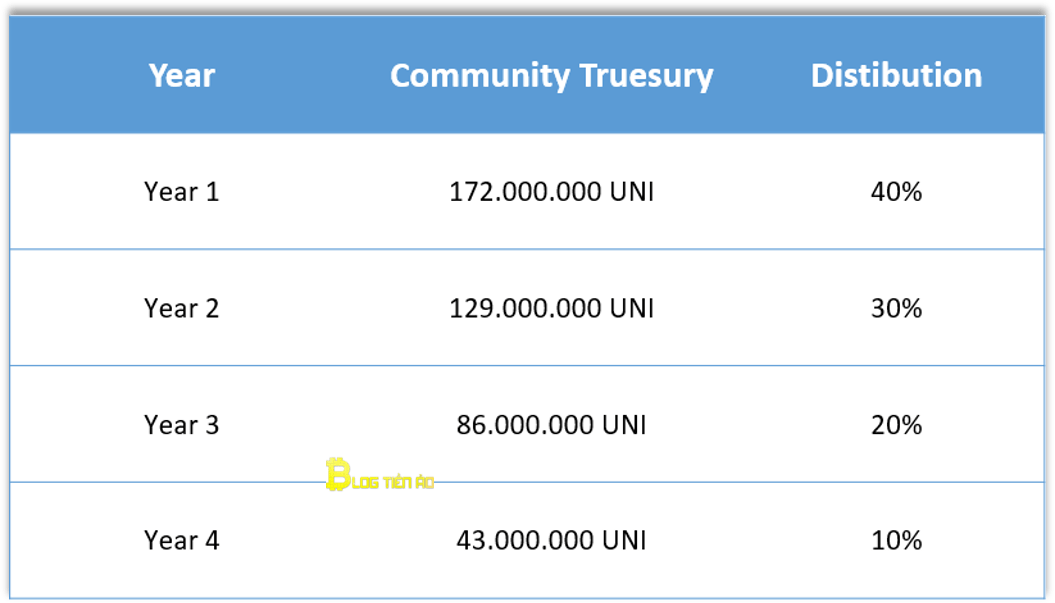 What are UNI tokens used for?
The main function of UNI is to manage protocols
Liquidity Mining Rewards
Holder UNI has instant ownership of: Uniswap Governance, UNI community treasury, The protocol fee switch, eth ENS, Uniswap Default List (tokens.uniswap.eth), liquidity token (SOCKS)
For Uniswap Governance, the initial administrative parameters are specified as follows:
1% total supply UNI (authorized) to submit admin proposal
4% of the total supply UNI is required to vote "yes" to achieve the quorum.
Voting time: 7 days
Timelock delay: 2 days when done
Uniswap also emphasized that UNI holders are responsible for ensuring that the governance decisions made are in compliance with applicable laws and regulations and committing that team members will not directly participate in future governance. near the.
Liquidity Mining
The original Liquidity Mining program will run on September 18, 9 2020:12 am (UTC). The program will run until 00/17/11 2020:12 am (UTC) and target 00 pools after Uniswap v4 including:
A total of 5.000.000 UNI tokens will be allocated per pool for LP proportional to liquidity. That is 83.333,33 UNI per pool per day and 13,5 UNI per pool per block.
After 30 days, UNI holders will have direct access to the treasury through the administration system. According to Uniswap, this opens up "a world of infinite possibilities" (a world with infinite possibilities).
Ultimately, control over fee Uniswap switches will be timelocked for 180 days.
At this time, the board can voting for a UNI allocation for grants, strategic partnerships, governance initiatives, additional liquidity mining pools, and other programs.
Inflationary
Outside of the 4-year timeline, the perpetual inflation rate will be 2% / year. This means to ensure ongoing participation and contribution to Uniswap from the community at the expense of passive UNI holders.
How to receive UNI tokens from Uniswap
All historical users (have your own requirements), liquidity providers, SOCK holders can claim or request UNI tokens right now.
Follow the steps below gif to claim UNI token
Liquidity providers (LP) can deposit Liquidity tokens into pools. Mining will start on September 18, 9 at 2020 a.m. UTC.
The liquidity pools were introduced by me in the above sections. The gifs below are instructions for adding liquidity to pools:
UNI is empowered or voting through governance. Set up an account on gov.uniswap.org to begin developing and participating in governance protocol.
Who received the UNI token
60% of UNI supply goes to the Uniswap community members. At launch, 15% of UNI tokens (150.000.000 out of a total of 1.000.000.000 tokens) were immediately owned by historical users (400 UNI per wallet address).
Liquidity providers (rates on a per-second basis since Uniswap v1 implementation)
SOCKS redeemer and holder (10.000 tokens per single address) based on snapshot ending on September 01, 09, at 2020:12 am (UTC)
What exchange are UNI tokens listed on?
Existing UNI tokens you can register for an account and buy on exchanges like: Binance, Huobi, ... or can be purchased on Uniswap.
The future of UNI tokens
In less than 24 hours since its launch, the UNI token has become the second most widely distributed DeFi token, with over 67.000 unique token holders and growing. This is more than 3 times higher than SushiSwap's fork and only Aave's LEND token is more widely distributed.
Furthermore, about 125.000 unique addresses have requested about 76,8 million tokens, or 51,2% of the 150 million tokens that have been confirmed so far. Of those 125.000 unique addresses, about 95.000 received 400 UNIs and could be counted as historical Uniswap users.
As of today, Uniswap does not directly take a percentage of transactions as a fee for itself. However, it is more likely in the future that administrative proposals for transaction fees will be made by the community to benefit from the high volume of transactions as soon as the 180-day fee conversion lockout period expires.
Uniswap v2 introduces the ability to charge a 0,05% protocol instead of a full 0,3% distribution for the LPs. After that time a 0,05% fee will be distributed to the UNI token holder.
Please follow our reading Blogtienao About UNI tokens regularly to update useful information related to it.