TrueFi (TRU) price, marketcap, chart, and fundamentals info
TrueFi is a decentralized lending protocol built by TrustToken. TrueFi allows users to borrow TUSD loans, stake TRU to gauge the creditworthiness of the loans, and lenders earn from their TUSD while farming TRU.
TrueFi believes that decentralized lending offers new opportunities for lenders to earn competitive, long-term profits. They are following a progressive path of decentralization to put control in the hands of their communities. TrueFi is powered by TRU, their native token.
How does TrueFi (TRU) work?
Lender
Adding TrueUSD (TUSD) to the TrueFi pool is used to lend, earn interest and farm TRU. Any unused funds are deposited into the Curve Protocol to maximize earnings.
Borrower
Examples: OTC desks, exchanges)
Submit a proposal for a loan from the pool. They send the amount of capital they want, the% APY they are offering, the deadline and Ethereum address will receive the loan if the proposal is approved.
Borrow funds from the TrueFi pool by submitting a request for the approval of TRU stakers who vote on these proposals. Each vote indicates whether participating TRU holders will increase or decrease based on whether the loan is successfully repaid. Therefore, TRU stakers are encouraged to vote carefully.
Borrowers must repay principal and interest before or before the expiration of their respective loan term. Overdue borrowers will be faced with legal action under the signed loan agreement.
You can see the gif illustration according to TrueFi's workflow below: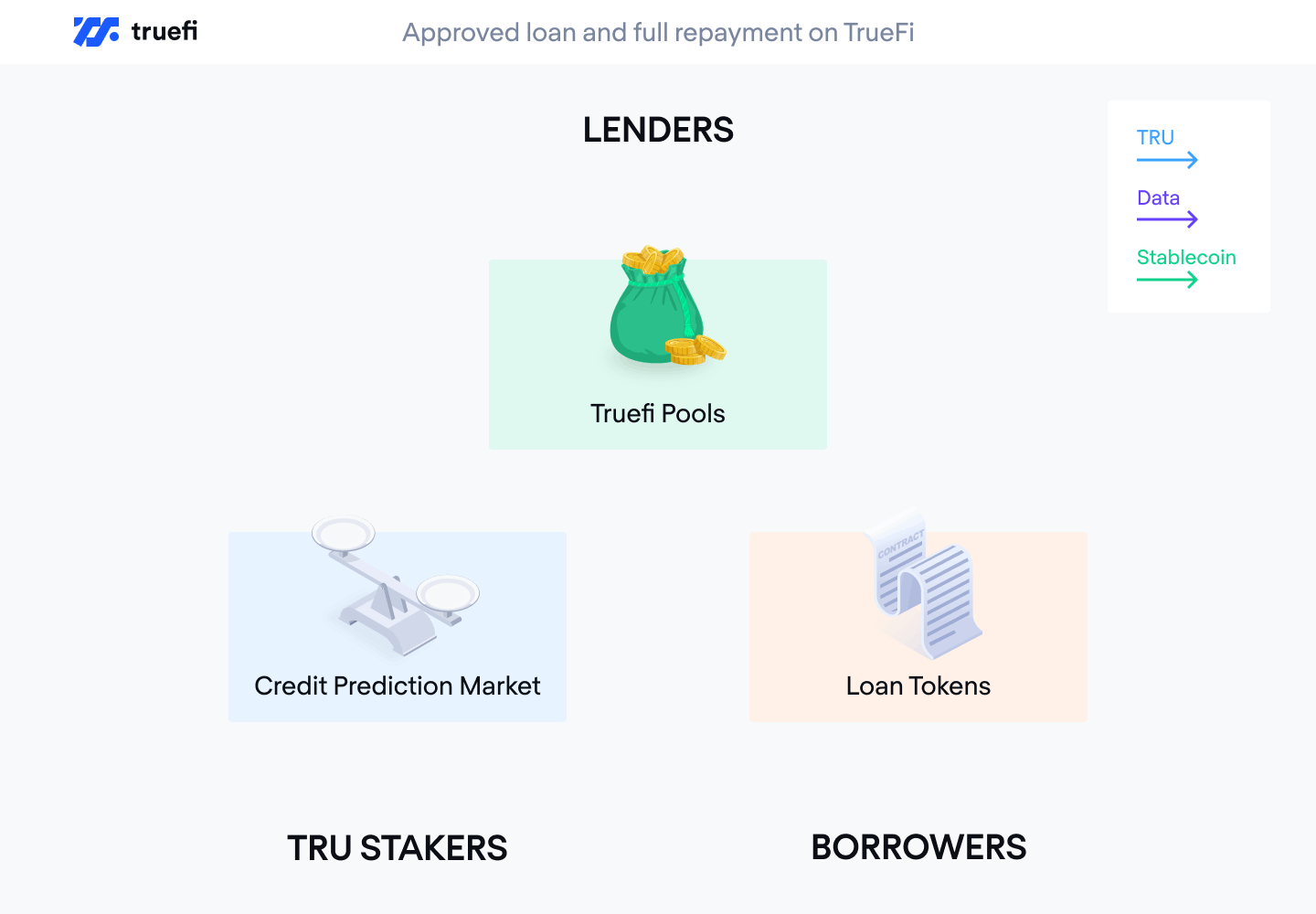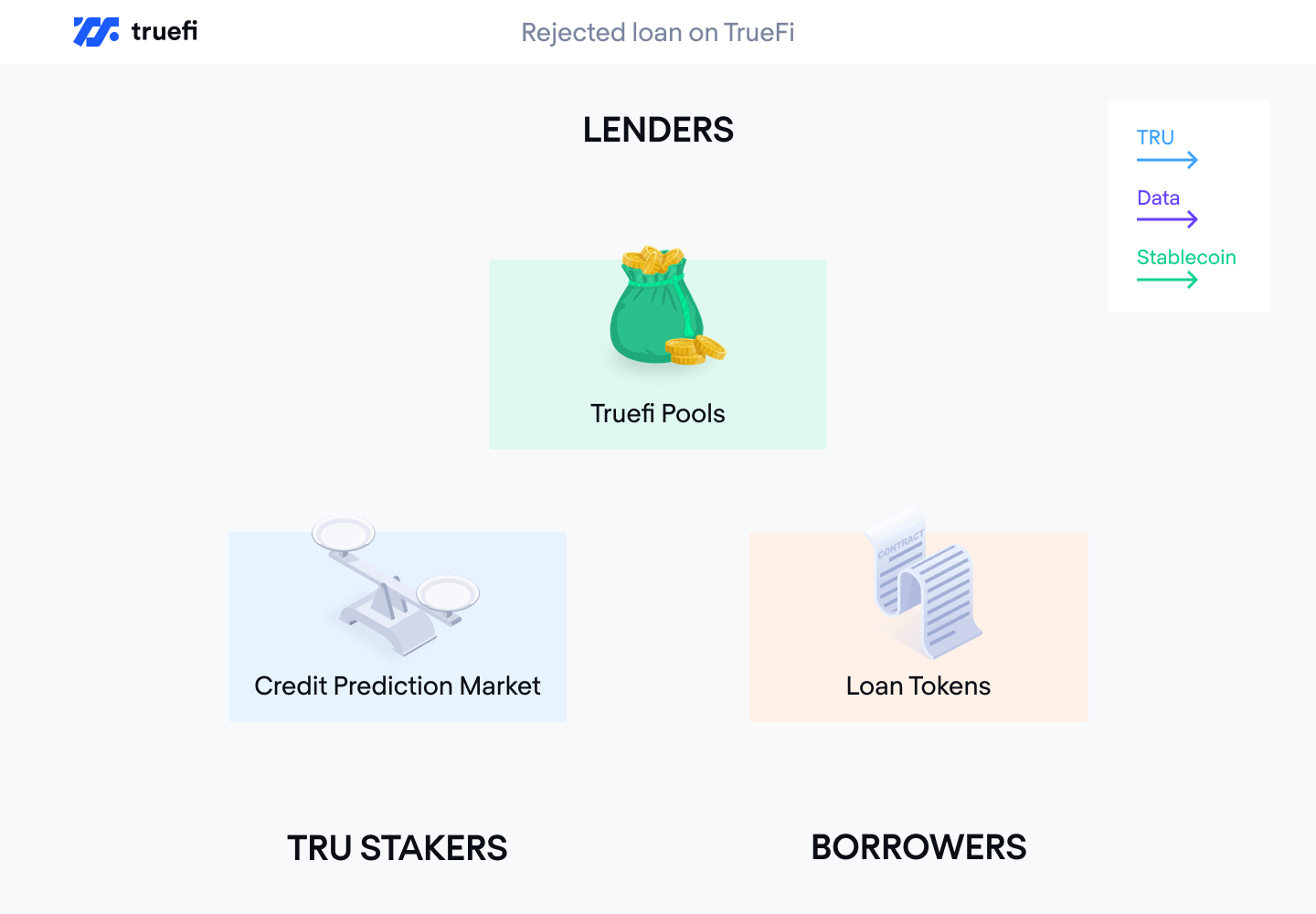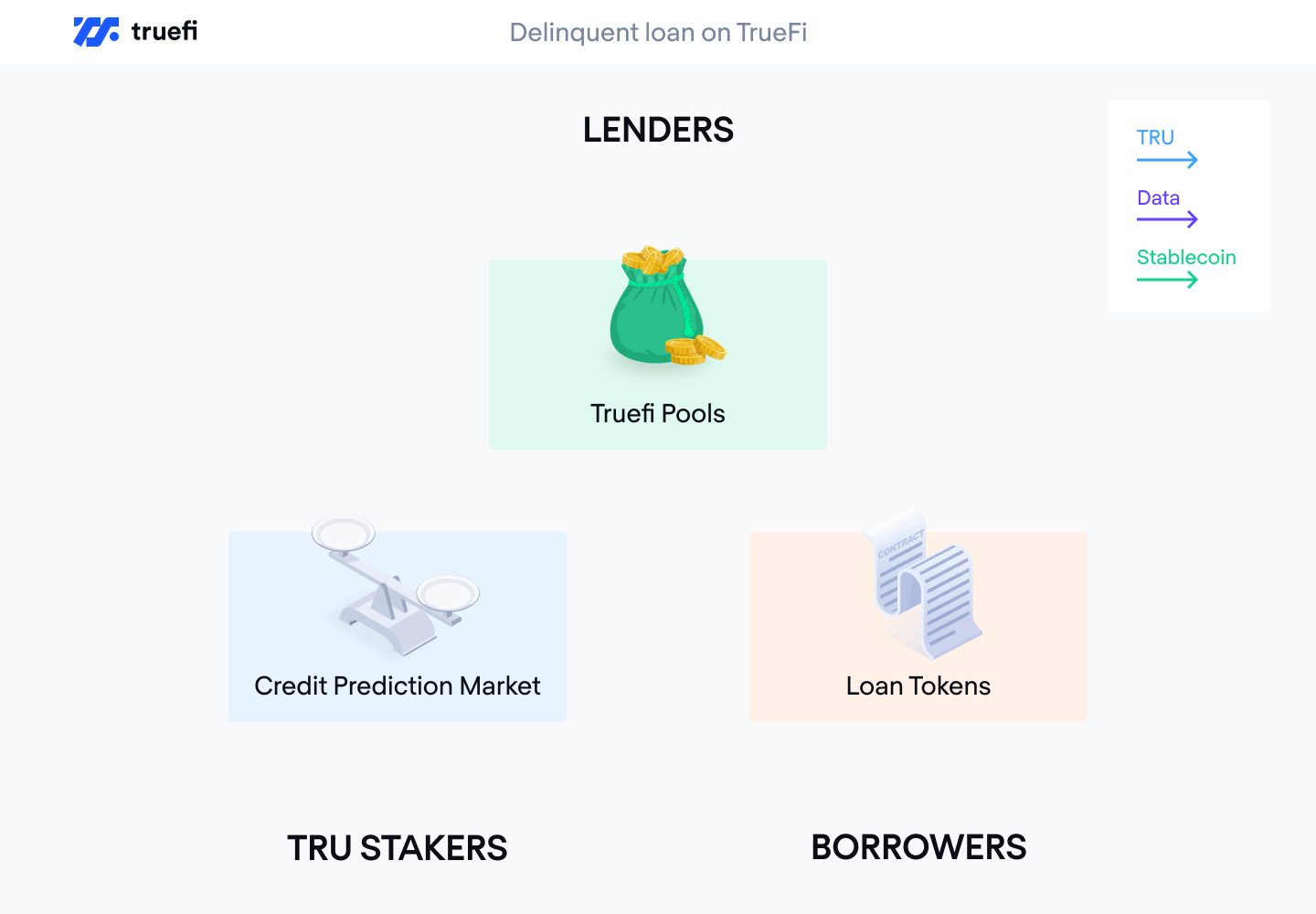 TrueFi and project goals
TrueFi's goal is to provide DeFi with decentralized lending. This helps crypto lenders enjoy attractive, sustainable rates of return, while also offering crypto borrowers predictable loan terms without requiring collateral.
Importantly, all lending and borrowing on TrueFi is completely transparent. Allows lenders to fully understand participating borrowers and the cash flow participating with TrueFi.
What is TRU Token?
TRU is TrueFi's native, unility token ERC-20. In the future, TRU token holders will also be able to participate in protocol governance decisions to guide TrueFi's future development.
Basic information
| | |
| --- | --- |
| Ticker | TRU |
| Blockchain | Ethereum |
| Token Standard | Governance |
| Token type | ERC-20 |
| Contract | 0x4c19596f5aaff459fa38b0f7ed92f11ae6543784 |
| Total Supply | 1.445.821.477 TRU |
| Circulation supply | 148.344.607 TRU |
Token allocation TRU
Private Sale: 28.5%
Incentive Ditribution: 39%
Team & Management: 18.5%
Future Team: 4.5%
Grants / Company: 9.5%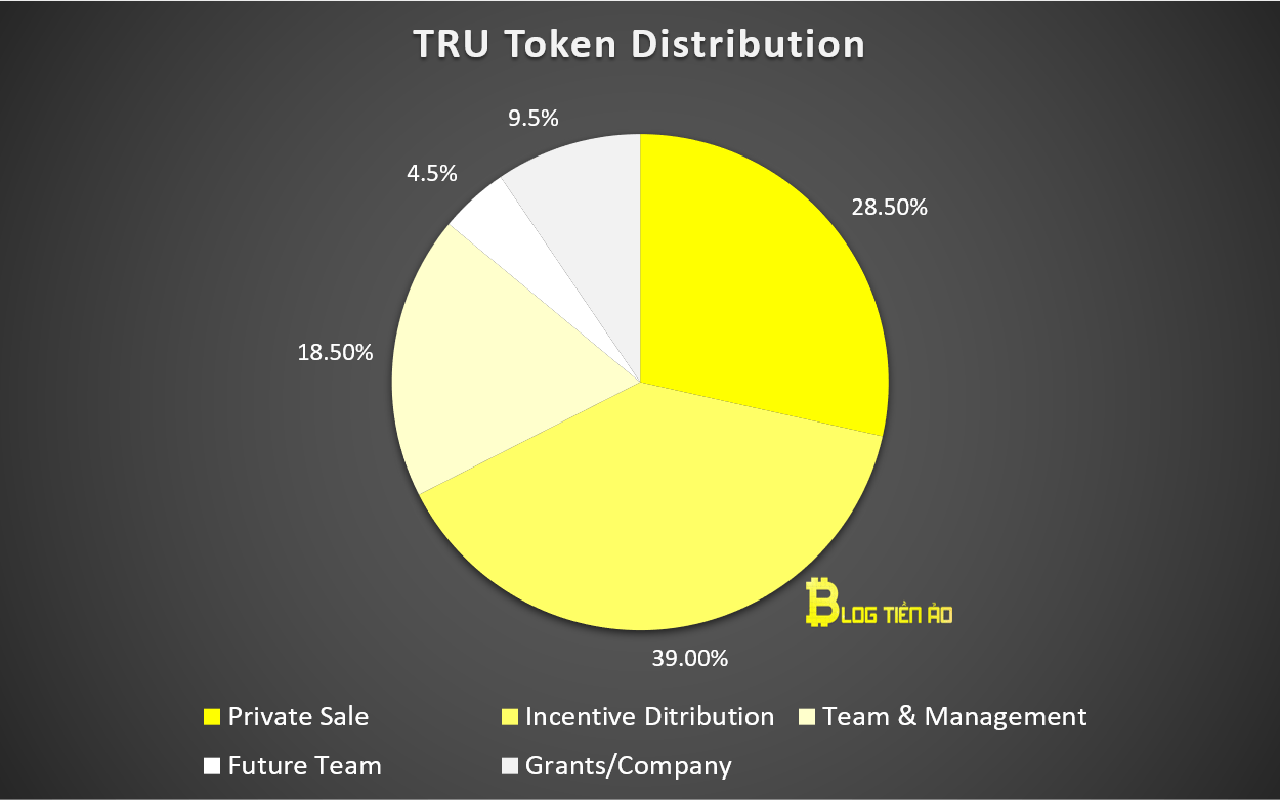 Release schedule
Updating
TRU Token Sale
Updating
What is TRU used for?
Governance: In the future, holders of TRU tokens will also be able to participate in protocol governance decisions to guide TrueFi's future development.
Staking: Off-platform liquidity providers that support TRU liquidity on Uniswap or Balancer, have the opportunity to create TRU by staking their LP token with TrueFi.
What exchange is TRU traded on?
Currently, you can register for an account and buy TRU at the following major exchanges:
Or you can buy it on Uniswap, read the article Uniswap instructionsIf you don't already know how to use it.
TRU storage wallet
This is an ERC-20 token so it's pretty easy to find a suitable wallet for example: Trustwallet, Ledger Nano X, MyEtherWallet, Dappradar.. Or you can store it directly on an exchange, where you bought that token. Remember to turn on full security.
The Future of TrueFi (TRU)
In the long term, TrueFi aims to be an automated, market-oriented loan and credit rating system. This will require exceeding the constraint such as minimum or maximum APY, ...
It will also require a higher degree of responsibility from the user. Especially for the introduction of new borrowers outside whitelists who have pre-approved and approved new loan types.
Progressive decentralization will be done in part through the distribution of TRU used to contribute to personal loans at launch and can be used to influence major decisions on TrueFi, for example. such as introducing new borrowers, once these features are further developed.
Roadmap
Updating…
TrueFi Team
TrueFi was originally built by the team TrustToken, members in key positions include:
Rafael Cosman (Co-Founder, CEO): Graduated from Stanford, where he focuses on artificial intelligence and cryptography. He became interested in cryptocurrencies after studying with Professor Dan Boneh, one of the world's leading experts on applied cryptography. Rafael continued to work at Palantir and Google Brain before leaving Google to found TrustToken.
Alex de Lorraine (COO & Sr. Director, Finance): Alex has been instrumental in bringing TrustToken towards profitability, opening and staffing an Irish office, and managing many of our key business functions. Over 20 years of financial, operational and compliance experience from Google, Pfizer, IBM and more.
Investor
Investments in TRU include the following funds: a16z Andreessen, Founders Fund, Morgan Creek, ZhenFund, GGV Capital, Foundation Capital.
Should you invest in TrueFi (TRU)?
Besides the project's goals and advantages, you should also recognize the risks of TrueFi as well as decentralized lending.
Whereas borrowers are often willing to pay higher interest rates on non-decentralized loans. These higher yields come with no risk. Compared with mortgage lending, decentralized lending has two major risks: the potential loss risk increases and lower liquidity. Details you see squid fishing tours.
Hope you review a fairly complete review from Blogtienao as well as learn by individuals to make a right investment decision. Thanks everyone
Community & Social