Tezos can be considered as one of the most successful projects in the period ICO in 2017 when it raised nearly 232 million dollars, but what about now? What is tezos? What is special about it? Buy and sell, store it where. All will be in today's article Virtual money blog Tezos coin, stay tuned!
What is tezos?
Tezos is a platform Blockchain like Ethereum, created with the main purpose of extending the functionality of the blockchain Bitcoin by smart contrat (smart contract). The difference between Tezos and Ethereum is that Tezos focuses on building a blockchain platform capable of self-adjusting, updating or improving the system, even at the protocol level quickly through consensus. of the community with as little disruption as possible, and there is no need to perform hard forks like other blockchain platforms.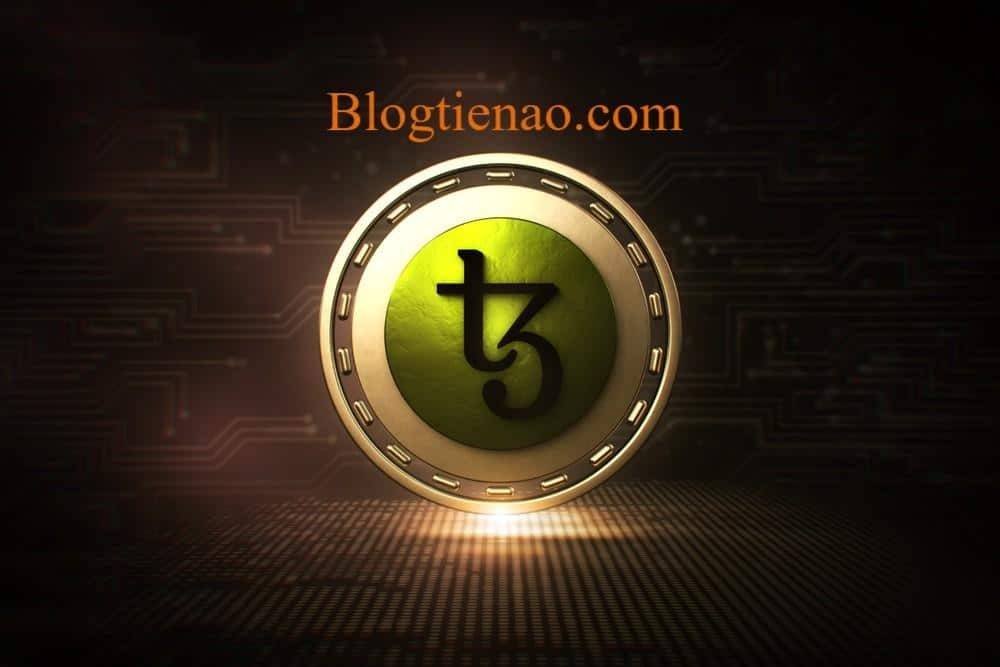 One of the advantages of Tezos blockchain is it based on a low power algorithm. This algorithm does not require much in-depth computation and consumes less energy while still using the consensus algorithm to prove reliable proof-of-state. Tezos' blockchain supports smart contracts and provides a platform that allows others to build distributed applications (Dapps) on its Blockchain.
Tezos' ultimate goal is to build a blockchain platform that outperforms the blockchain of bitcoin and Ethereum. At the moment, no blockchain platform has an on-chain mechanism to reward development. And Tezos wants to be the first blockchain to own that mechanism by offering users financial incentives to maintain consensus on their ledgers.
Tezos coin, denoted XTZ coin is the main coin used to pay for services in Tezos blockchain system.
Features of Tezos
Tezos has many of the same features as other blockchains. It is an encrypted, highly secure, decentralized system, and cannot be hacked. Some of the features that make Tezos more unique than other blockchains include:
Decentralization, automatic upgrade: All current software in the world can be upgraded easily and automatically, but for blockchain, upgrading is difficult and takes a lot of effort. But for Tezos, they allow decentralization of the upgrade process and allow for automatic upgrades. This is the remarkable strength of this platform.
Upgrade without a hard fork: The upgrade process of Tezos can be done without requiring the right to assign a separate development team to avoid subjective decisions.
How does Tezos work?
The Tezos blockhchain platform uses the named protocol Seed Protocol To work, a Proof-of-Stake algorithm, therefore, participating in the Tezos network will require a Coin to validate the blocks. The way Tezos works is no different from other Blockchain platforms. Here's how Tezos works:
Initially, Seed Protool will select the baker (like the candidate) to participate in the block confirmation process, then each baker will form a bond relationship (Bond) and reward (reward) with the network. . In order to create a contract, be entitled to participate in confirming the block and receiving a reward, baker must deposit a certain amount of his coins into the network.
Each confirmation cycle will be able to last up to 2048 blocks, after which the network will end the contract and return the coins to the baker, and continue to select the next group based on the number of piles that the baker makes. and so on. With this principle to ensure that every baker will be honest, because you have to compete for a deposit to have the right to confirm the block that time operates in just 1 cycle. After confirming the block, the baker will probably get a certain reward for that.
Scalability of Tezos
Scalability is one of the biggest problems in the Blockchain field. Understanding that, Tezos has taken an approach to ensure the long-term scalability of the platform, that is to use the concept of evidence without knowledge, a mechanism that is popularized. by the Zcash project.
Concept The evidence has no knowledge is used to execute smart contracts and isolate the actual execution of a smart contract and verify it with consensus buttons. This significantly reduces the workload of consensus nodes that only verify the evidence of a smart contract but do not need to implement the whole smart contract.
Besides reducing the workload, this method can also significantly reduce network transaction costs and allow complex smart contracts to run more efficiently.
Tezos project development team
Project Tezos was founded by couple Kathleen and Arthur Breitman, overseen by the Tezos Foundation - an investment fund established after the ICO, based in Switzerland. The Tezos Foundation is responsible for the management of ICOs and the implementation of these funds for project development. The Tezos project development team brings together experts with extensive experience in the technology sector. A brief overview of the two founders of Tezos:
Arthur Breitman: Arthur is currently CTO at Dynamic Ledger Solutions and leads a group of Tezos-built computer scientists and programmers. He has a background in mathematics, computer science and economics. At the age of 18, he won a bronze medal for France at the International Olympiad in Informatics. He continued to earn a degree in applied mathematics and computer science at the École Polytechnique, one of France's leading universities.
Kathleen: She works as Associate Manager at Bridgewater and an associate strategy at Accenture and R3, an enterprise blockchain software company. Kathleen is currently the CEO of Dynamic Ledger Solutions and leads the company's operations.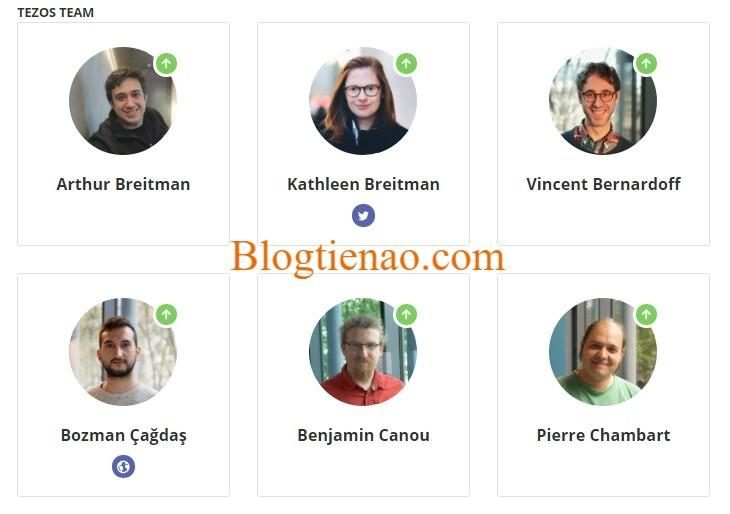 The project development team is mainly located in Paris, France. Most of them have PhDs in Computer Science and are experts in programming languages. There is also a Tezos project consulting team Zooko Wilcox - computer scientist and captain of the ZCash project, Contact Emin directly - Associate Professor Cornell University, Andrew Miller - Computer engineer and Assistant professor at the University of Illinois at Ubarna.
Exchange rate of the current Tezos virtual currency
At the time we updated this article (February 11, 2), the price of 2019 XTZ = 1 USD with a total market capitalization of more than 0,37 million USD and ranked 230 out of CoinMarketCap.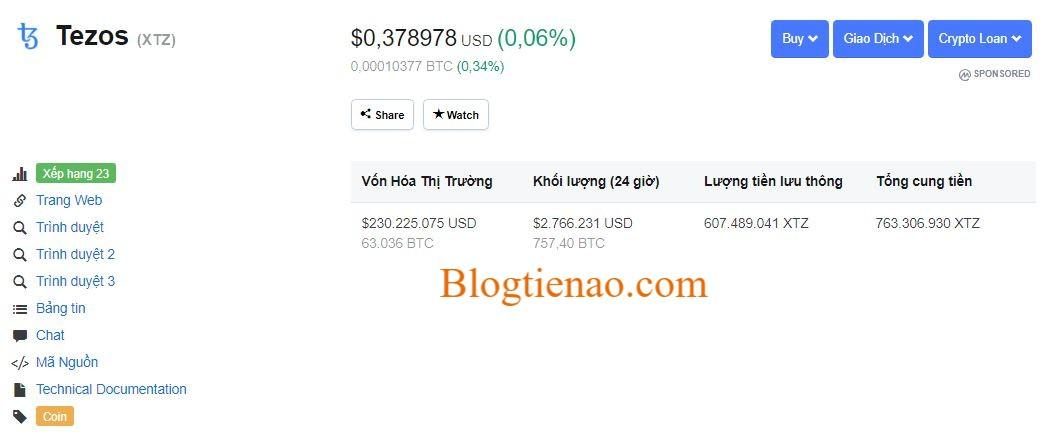 Digital currency Tezos Currently, the trading volume in 24h is USD 2 million, total supply is 763.306.930 XTZ and there are currently 607.489.041 XTZ being circulated in the market. You can see XTZ rate We are updated in real time 24/7 here to understand the price fluctuations of this virtual currency.
Where to buy and sell Tezos (XTZ)?
You can buy, sell and trade Tezos coin (XTZ) at exchanges such as: UEX, BitMax HitBTC, Creak, Gate.io, Bitfinex, Gatecoin and RightBTC.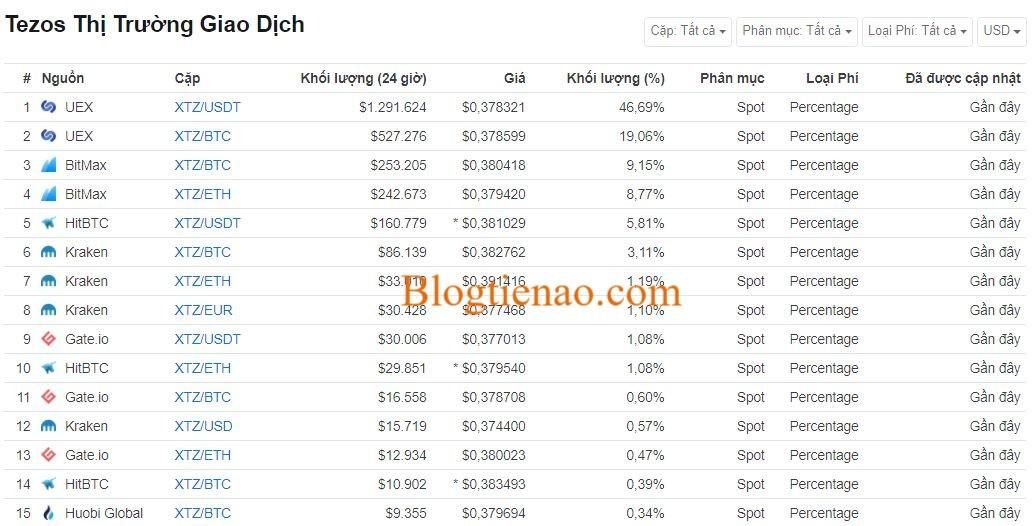 In Vietnam there are also a few coin trading markets that support buying XTZ coins in VND, but I think you should consider carefully, because of the prestige and price. I usually trade coins like this on international exchanges.
Which wallet to store Tezos in?
Currently, the Tezos project development team has not released an official wallet for Tezos coin. However, you can create a Tezos coin wallet on a number of third-party wallet platforms. You can store Tezos at cold wallets such as Ledger Nano S, Trezor, etc ... These are popular wallets to store coins, ensuring your assets are not compromised or stolen.
Also you can store it on your wallet at the exchange if you regularly trade or trade. However, if long-term investment, please choose the above cold wallet offline.
See more information about the Tezos cryptocurrency
Conclusion
The above is the most detailed information about cryptocurrency Tezos, hopefully through the article will help you gain more knowledge about Tezos. If you have any questions or would like to share your knowledge about cryptocurrencies Tezos With us, please contact us in the comment section below, we will respond to you as soon as possible. Lastly, don't forget to Like, Share and give us a 5-star review below to support Virtual money blog ok