What is Tether (USDT)?
Tether (USDT) is a cryptocurrency issued on Bitcoin blockchain through protocol Omni. (Currently, Tether also runs on ERC20 and TRON)
Each unit of USDT is backed by one US Dollar held in the reserve of Tether Limited and can be redeemed via the Tether platform.
Tether USDT can be transferred, stored, spent, just like Bitcoin or any other virtual currency.
Users can trade and store through dedicated wallets such as Ledger Nano S, Trust wallet or Exchange Wallet.
See more: Top 5 Safe, Secure and Best Reputable Tether (USDT) Wallets
In Tether's data and proof system, the amount of USDT in circulation can be easily checked on the Bitcoin blockchain through the tools provided at Omnichest.info
While the corresponding total amount of USD reserves is proved by publishing bank balances and undergoing periodic Audits by experts.
To prove that the amount of USD in the bank account is equal to or more than the amount of USDT in circulation, Tether Limited publishes bank account balances on its website's transparency sheet.
Professional auditors will regularly check, sign and publish basic bank balances and remittance statements.
Tether is not an AltCoin
Executive team Tether was careful to emphasize that virtual currency this is not a AltCoin or a competitor to Bitcoin that adds technology to Bitcoin.
It is meant to support broader use of Bitcoin, allowing users who are intrigued by the blockchain but fear the volatility to become an easy entrance into the market.
See more: What is Altcoin?
But because it is guaranteed 1:1 with Dollars, it can be said that USDT is a stable coin.
And so, the emergence of Tether (USDT) presents a huge expansion opportunity for Bitcoin and other currencies CryptoCurrency other.
Value of virtual currency Tether USDT
Rate of USDT billion often fluctuates up and down like other virtual currencies and Tether will also depend on the volatility of Bitcoin.
At time Cryptocurrency Blog as of this writing (2017) it costs 1 USDT = $1.05 = 0.00049181 BTC and has a total market cap of $110,128,931 or 51,637 BTC.
View the exchange rate of Tether (USDT) and coins update in real time here.
Buy and sell Tether (USDT) on any exchange?
USDT is a popular coin and is an intermediary coin for transactions between other coins, similar to BTC, ETH, so many exchanges list and provide USDT.
In Vietnam, there are many exchanges that support buying and selling in Vietnam Dong with very low fees.
You can also use Visa Card to buy USDT at major exchanges like Binance, Huobi…But the fee is very high, BTA does not encourage you to use that way.
Invest Tether (USDT)? Maybe not?
As known before, USDT is a stable coin – a coin is listed in USD value, which means 1 USD = 1 USDT.
Then why is it valuable and if it is listed like that, how should I invest?
Because it is listed in USD, it also follows the rules, at least like USD and according to the law of supply and demand in Vietnam.
For example, when many people need to buy USD and the amount of USD is limited, of course the price of USD will skyrocket, and vice versa, if the supply is high and the demand is small, the price of USD will decrease.
I used to remember that at the peak of December 12, the price of USDT in Vietnam sometimes went up to 2017 = 30.000 USDT due to the great demand.
So you can see it as a commodity and as a currency, from which we will show you how invest USDTILLION
USDT Billion Investment Method
#1 Short Term Tether (USDT) Investment
According to the law of supply and demand, there will be buyers and sellers. Just buy at a low price and sell at a slightly higher price to make a profit.
Sometimes only a profit of about 50-100d on a USDT but if in a day you only need to trade more than 1 billion ($50000), you probably make a profit of at least 2 million-5 million already.
I know that there are friends who work in the exchanger profession, they sit all day buying and selling USDT, one day profits can reach 10-20 million dong.
Of course, it's not easy to do this, you may be involved in a scam or be scammed by someone, so you need to have a lot of experience as well as a high reputation and trust to stand firmly in the profession. This is okay.
Therefore, I will point out the essential points for you to become a trader of USDT :
First of all, you must have capital, the more capital, the faster the new rotation. The faster you rotate, the faster you make profits.
Reputation is a must, having a good reputation is able to trade.
Having experience and knowledge about USDT, about buying and selling USDT, and about the cryptocurrency market to be able to make quick judgments and solve specific situations as quickly as possible.
#2 Invest Tether (USDT) Long-term
This method is the same as above, but with a slight difference. If the above, you must buy and sell quickly, neatly, rotate capital and take profit on that day.
This long-term investment method requires you to have a close look and understanding of the market.
We have a few tips but not 100% sure, because I have been observing for 3 years now:
When the floor rises sharply, the green color will cause the USDT price to drop sharply. And vice versa, the red floor will cause the USDT price to increase sharply. Sometimes the opposite happens, but very rarely.
Before the Lunar New Year, the price of USDT will decrease deeply and decrease until the days of Tet, after Tet the price will increase again...
Depending on the law of supply and demand, we embrace, sell, take profit, and then turn around again.
#3 Smuggling Tether (USDT)?
USDT Price On Familiar Exchanges
Let's take a look at the famous sites, whether this time should be smuggled or not?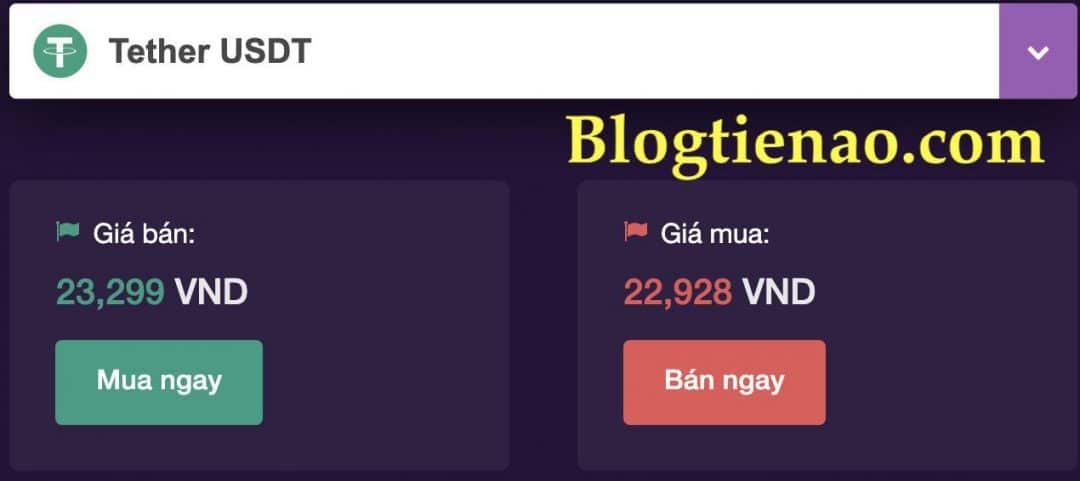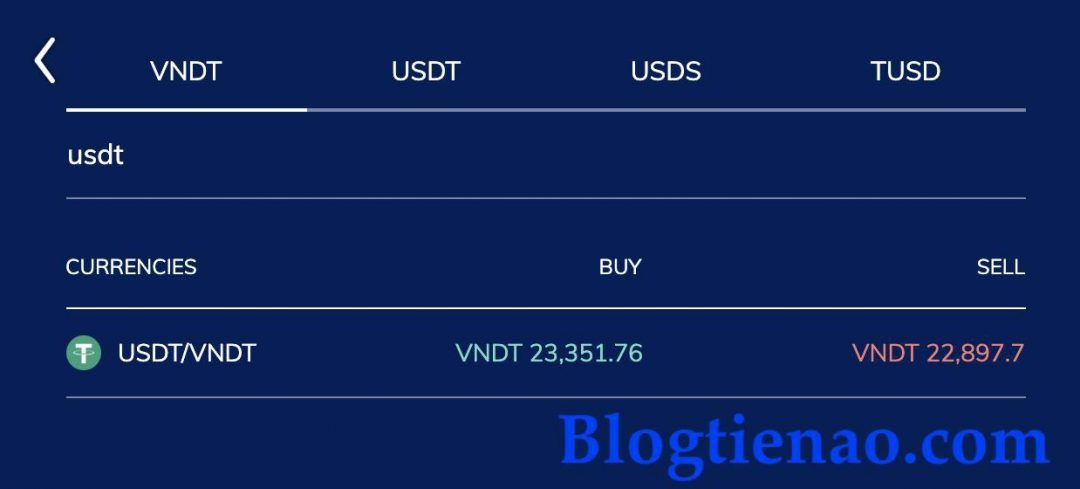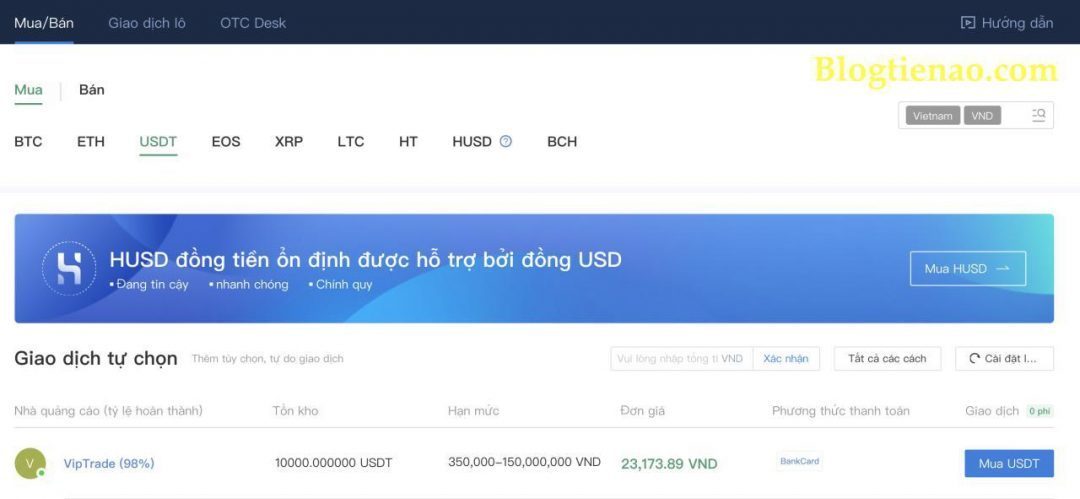 These are the 4 popular exchanges today, and there are a few more. However, the ad will not show pictures but will list them later.
USDT Billion Price Comparison
So at a glance, what do we see, the buying price and the selling price are the same, but there is still a small difference. For example:
Remitano – Buying Price: 22928 – Selling Price: 23299
T-REX – Buying Price: 23122 – Selling Price: 23175 VND
Coinhako – Buying Price: 22897 – Selling Price: 23351
Huobi OTC – Buying Price: 23119 – Selling Price: 23173.89
(This is the price reflected in the 4 pictures above)
If you're in the mindset of a smuggler, there's probably no profit at all, because if you want to be fast, you'll have to buy high spears, and sell low. And the hole for sure!!!
So how to be profitable?
Go hunting during the storm. Especially times Bitcoin Price decline.
On the above exchanges, the price reflects investors' buy and sell orders, they place buy and sell orders at different prices, and the floor will display the nearest price to show out.
For example: The price on Remitano is 22928 and 23299, The bid price will have people 22900, 22800 and the selling price will have people placing 23299, 23300, 23350.
Going back to the problem when the price of BTC drops sharply, then the USDT price will definitely increase depending on the SML level of Bitcoin. On the contrary, if the floor is green, the USDT price will decrease.
Within that fluctuation range, within 15-45 minutes when bitcoin has just dropped sharply, The orders on them are still kept at that price, you just need to collect, wait for the price to move 200-500d and then release it again. Ad has observed this many times, and found it to be so.
Ad used to collect $ 20k when the price did not increase, and immediately released it with a difference of 200d / 1 USDT to take profit. And you can too.
The job is just to find the lowest, fastest price and release it as soon as it is profitable, take profits according to your mouth (sometimes ad discharging profits up to 500d / 1 USDT).
What are the conditions for smuggling?
Because the market is small, maybe after I finish writing this post, I won't be able to eat because there are people in the area faster than the ad. But that's okay, just share with you some banh chung. What are the conditions for smuggling?
You must have an available capital, about 1-100 million is enough, but the more the better.
You must understand USDT: know how to use, send, receive, check…
Must register all the exchange accounts and verify the identity (I will list a series of sites for you to follow).
Must have a bank account, have internetbanking, the same as the registered name of the exchange.
When there is a wave, immediately login to the floor, prepare cash, change hands, then take profits 2-3 hours after the storm to eat the highest difference. (Depending on individual experience).
List of Exchanges You Should Note (click to register and be ready)
Long trading is not a good method and can't make a lot of money, you'd better do exchange to earn more.
If you want to know about exchange investment, see the article: bitcoin investment guide nhé
Conclude
So, can you briefly understand what USDT is? Until now, USDT is still the most used medium in the market electronic money.
Through the article, we have also visualized and know the places to buy and sell, and especially the USDT investment method. Good luck.