What is serum?
Serum is a brand new decentralized exchange (DEX) for decentralized finance (DeFi) and built on the Solana blockchain platform.
Built on the Solana Blockchain, the Serum is created to address the centralization gaps that exist in the current DeFi space. Serum still needs to be tested with real users first, but we may see Serum in action in the near future.
Serum solve problems?
Serum compared their project that could fix the flaws that exist in the DeFi space. Specifically, the problems are solved as follows:
Centralization: Current DeFi projects that want to deliver data must rely on a centralized oracle. Serum does not.
Cross-Chain support: By providing a platform that allows different blockchains to interact with each other, Crosss-Chain allows the Serum to break those barriers.
Stablecoin: A Stablecoin is always valued at 1 USD. But currently USD does not depend on the issuing bank of USD because of fears that the bank might close at any time.
Orderbooks: Automated Market Making is the current DeFi market system. A system with no limit commands. There are many disadvantages to this market, for example you cannot choose a price other than the current market price.
Speed ​​and Usability: Currently, transactions on DeFi are slow and very expensive. Users prefer the fast, cheap implementation of centralized exchanges.
Factors that help Serum solve the problem well
The Serum forms a fully functional cross-chain DEX Serum, all at the speed and price desired by the user. And despite being natively on Solana, it will be Ethereum-compatible.
Some of the issues mentioned are most frequently questioned by users. That is why Serum uses the Solana Blockchain platform. An extremely new and hottest blockchain today.
Watch now: What is Solana (SOL)? [All knowledge about SOL co]
You can refer to Solana's concept and application in the above article. Here are the key ingredients that help Serum solve the problems encountered in the DeFi space:
SRM: Name of a token of the project (details I will mention below)
Cross-Chain Swaps: Reliably exchange assets between blockchains. Contrary to the current protocol is that there is a swap manager.
orderbook: DEX Serum with full limit Orderbook. Gives traders complete control over their orders. Orderbook and fully automatic order matching on chain.
Full Ethereum and Solana integration: Makes Serum fast and efficient while interoperable with the Ethereum ecosystem and ERC-20 tokens.
Cross-chain contract: Cross-chain contracts are resolved to easily open positions in DeFi symthetic assets.
SerumBTC: Tokenization model ERC-20 or Solana of BTC.
SerumUSD: Model of creation of stablecoin, a stable decentralized currency.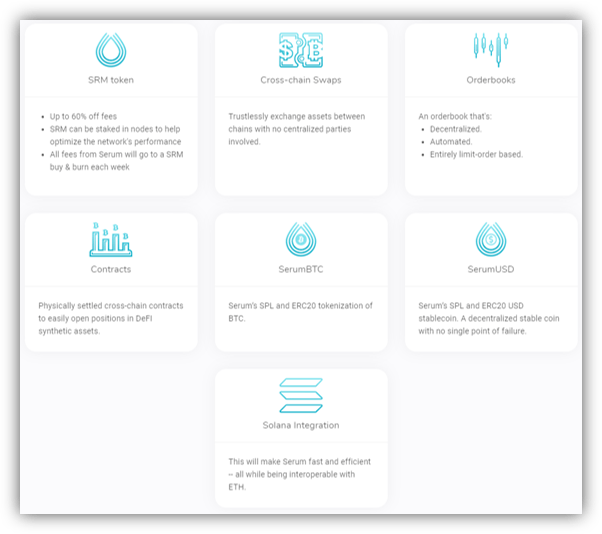 SRM virtual currency (Serum)
SRM is the utility token of the Serum project. Information about the IEO invite you to see below
Basic information about SRM copper
Ticker: SRM
Token Standard: SPL
Token type: Utility token
Blockchain: Solana
Total Supply: 10,000,000,000 SRM
Initial Circulating Supply: 31,000,000 SRM (0.31% total supply)
https://projectserum.com/
What are SRM tokens used for?
The main purposes listed by the project are as follows:
Fairy
All Net Fee charges on Serum will be burned in the future
Holding SRM reduces up to 50% of fees on Serum
Holding 1 MSRM will receive a discount of 60% of the fee (1 MSRM = 1 million SRM)
Fee can be paid by SRM
Staking
SRM can be staking on each node. The condition to participate in staking is that each node must have 10 million SRM tokens and a minimum of 1 MSRM. Nodes will have several roles:
There will be an SRM fund that will be distributed as a staking reward for each node

Each node will have a leader who creates that node. Part of the reward will be given to the leader.
Governance
The Serum is expected to include a governance model based on the SRM token. For example, fee future can be modified via an administrative vote of the SRM token.
Token allocation
Token is distributed into 5 parts, details are as follows:
Team & Advisors: 20%
Project Contributors: 22%
Locked Seed and Auction Purchasers: 4%
Partner and Collaborator Fund: 27%
Ecosystem Incentive Fund: 27%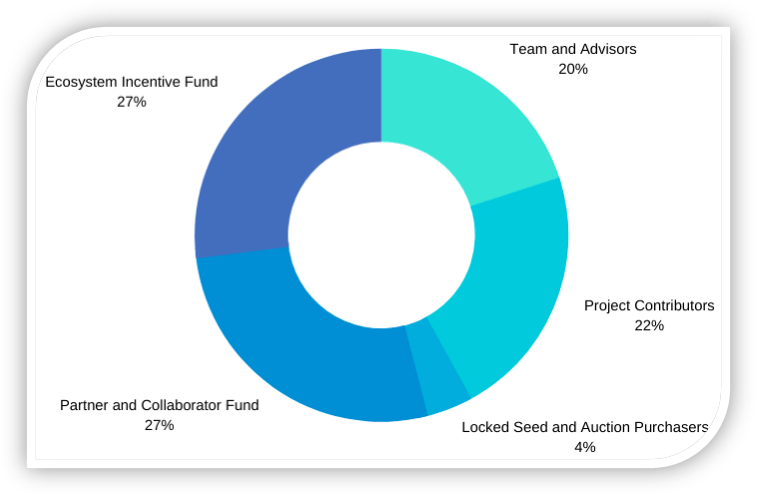 SRM token issuance schedule
10% of all SRM tokens started to be unlocked. The remaining 90% have the same unlock schedule. They are completely locked out in the first year and then unlocked linearly for the next 6 years, about 1/2190 per day. All seed sales have been locked.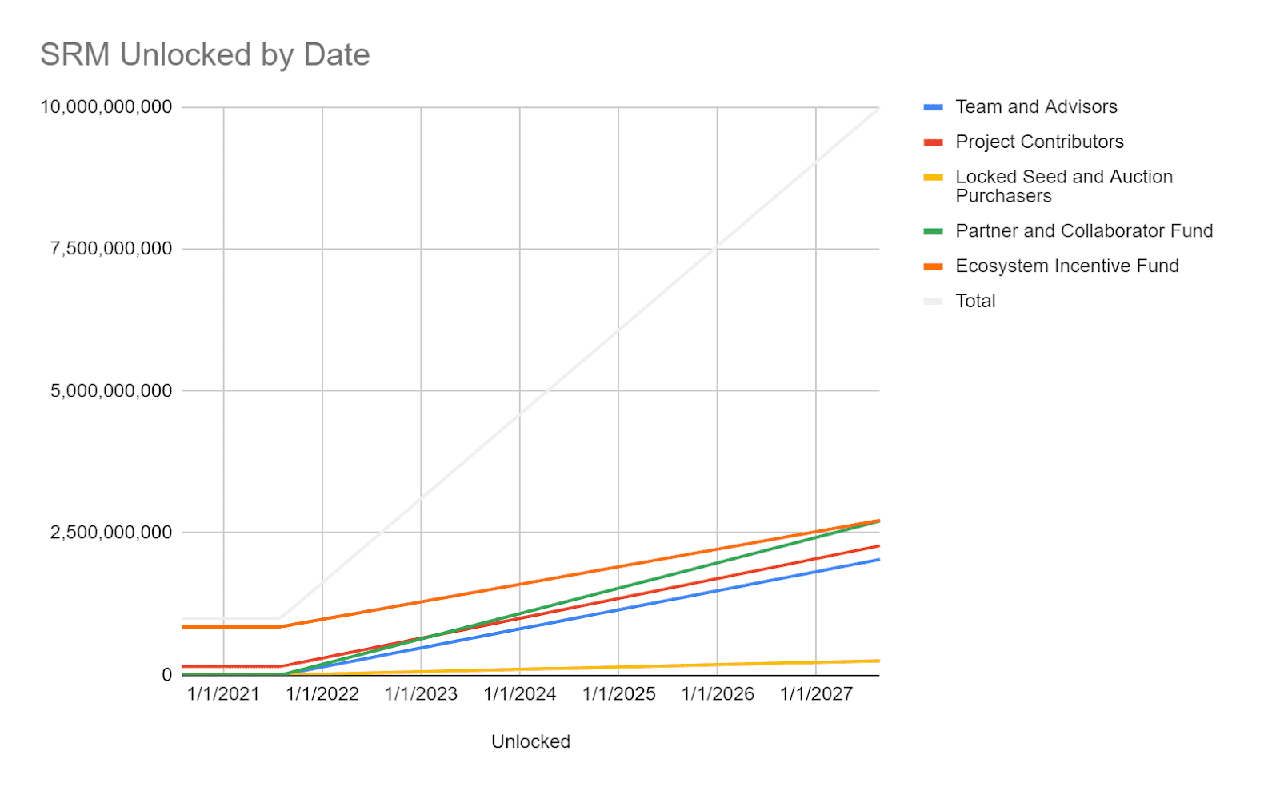 SRM IEO on the FTX exchange
The IEO will be held in the form of an auction. User must have at least KYC Level 2 to participate.
Basic information:
Time: 20:21 - 07:08, August 2020, XNUMX
Bid size: 2500 SRM / ticket
Accept ticket: 1200 ticket
Total: 3.000.000 SRM
Minimum bid price: 0.1 $
Maximum bid price: $ 0.11
Accepted bid prices are USD fiat or USD stablecoin: USDT, USDC, TUSD, PAX, HUSD and BUSD. In addition, FTT can be used to increase advantages with a maximum of 36 FTT.
Additionally there may be an additional ticket bonus if you hold FTT and increase trading volume 30 days prior to IEO time. You can see the regulation below: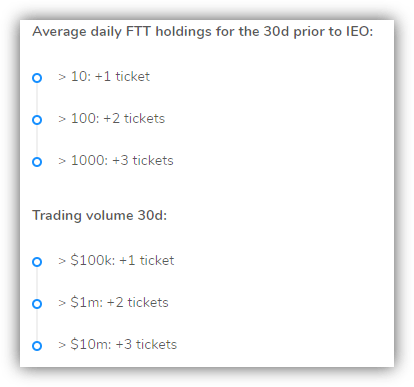 In the event that there are at least 1200 tickets bidding up to $ 0,11 / SRM and 36 FTT, then the SRM will be distributed randomly between them.
SRM IEO on the Bitmax exchange
The IEO will be held in the form of an auction. User must have at least KYC Level 2 to participate.
Time: 21:22 - 07:08, August 2020, XNUMX
Bid size: 5000 SRM / ticket
Accept ticket: 600 ticket
Total: 3.000.000 SRM
Minimum bid price: 0.1 $
Maximum bid price: $ 0.11
People can also hold BTMX exchange coins as an advantage with a maximum of 5000 BTMX. That is if people bid $ 0.11, those who place more BTMX win and they get the SRM token. However, if there are at least 600 tickets priced at $ 0,11 / SRM and 5000 BTMX, then it will be distributed in the form of who pre-book, then that person wins and receives the token.
When was SRM listed on the exchange?
All SRM from IEO will be unlocked and fully traded SRM token on FTX on 11/08/2020.
Airdrop Token Serum (SRM)
The launch of Serum, the FTX exchange, will also issue the SRM airdrop token. FTX will initiate the airdrop once the SRM is listed on August 11, 8, and users holding 2020 FTT or more on the Exchange will receive 500 SRMs every Tuesday, with no limit on the number of possible SRMs. receive.
Snapshots of FTT holdings will be taken randomly and the airdrop will be distributed to eligible user's wallets every Tuesday after purchasing and burning the FTT.
All FTX airdrops are decided by FTX and are subject to change from time to time. Blogtienao will update the information as soon as possible if there is a change.
How to own Serum token (SRM)
Register an account on the floor: Binance Exchange, FTX, Don't finish, ... and bought the SRM when it came out.
Join the IEO as I mentioned
Participate in Airdrop by holding FTT on FTX exchange
Secure storage wallet for SRM token
In addition to being able to buy it on the listed exchanges when it launches you can use Solana's wallet. There are also popular and popular wallets such as: Trust wallet, Ledger Nano X, Ledger Nano S,...
Overview of the Serum project team
Serum is considered the new DEX launched by FTX Exchange - a cryptocurrency exchange and derivative platform. The founders of Serum are also behind FTX exchange, and they have also partnered with industry giants whose successful projects include the founders of Multicoin Capital, TomoChain, Compound and Kyber Network.
Some of the following names can be mentioned:
Robert Leshner -

Founder

Calvin Liu - Strategy Lead

, Combination

Sam Bankman-Fried -

CEO, FTX and Alameda Research
Compare Serum and other competitors
Although derived from Solana, the Serum is designed to be fully compatible with Ethereum and Bitcoin, a huge advantage when pitted against Binance DEX or other DeFi DEXs like Balancer and Uniswap. This gives them an advantage as many traders want to trade cryptocurrencies other than ERC-20 tokens that most DeFi platforms currently offer.
Watch now: What is Binance DEX?
Evaluate the potential of SRM tokens
With the solana blockchain built on, it's likely that Serum could beat other DEXs when it launches. Because of the convenience and familiarity a centralized exchange can offer, but in an unattended setup.
Compared to old blockchains, Solana can process transactions quickly at a much lower cost. While other smart contract platforms are enormous in terms of their blockchain scalability, very few have claimed to have reached the level of throughput Solana claims has achieved.
In addition, Solana's partner is also quite influential. Other crypto giants like ChainLink,…
In addition to solana, some of the major partners are shown below.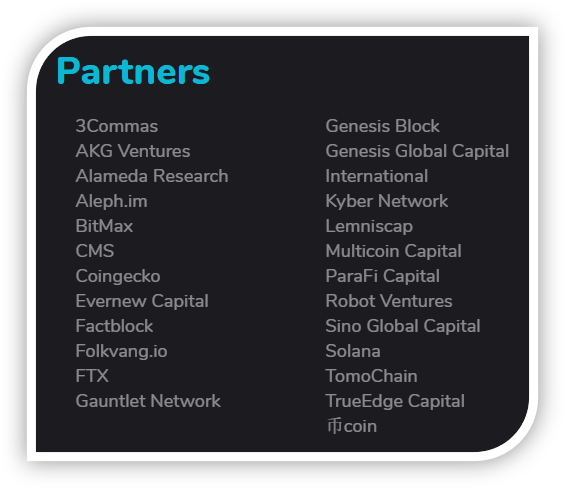 Serum also provides incentives for node operators to participate in staking from the referral system with the "leader", inflation and transaction fees. Given the price, speed and usability that Serum offers. Ensure clients who are accustomed to trading on centralized exchanges will use it right away.
Should you invest in SRM dong?
Hopefully, the evaluation of the Serum project and the potential of SRM will give you the most general overview and the project's form, strategy and vision. In the future, we hope that the application and incentives from the project can attract the investment of many big players and the value of SRM can reach a high level this year.
Summary
DeFi, a hot keyword, will become even hotter if the achievement that Serum mentions is successful in the future. Because the project has a huge impact on the interaction of traders and DeFi. If the project has new information and certain strategy changes will be Blogtienao Full complement in this article. Thanks everyone.