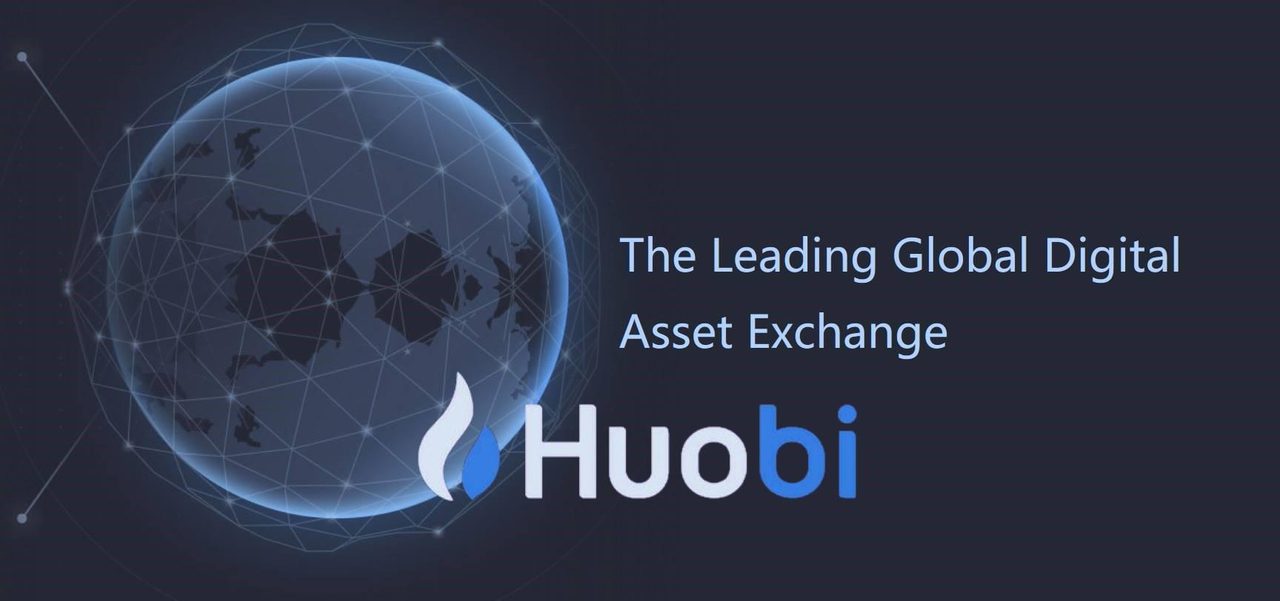 What is Huobi?
Huobi is Bitcoin exchange and leading cryptocurrency of Southeast Asia as well as in the world (Top 3 in the world).
Previously the company targeted primarily the Chinese market. But after the country tightened regulations with exchanges, Huobi has moved to the global market.
Although Huobi has cut many features due to pressure from the ban; But the floor still owns a large number of transactions.
In Vietnam, Huobi Global is a popular trading platform for Vietnamese traders, just behind Binance.
A brief summary of Huobi history
September 1, 9: The first launch day of Huobi Bitcoin. Within 1 year, Huobi has introduced a number of other important services; such as trading platforms Litecoin and margin trading (margin).
12 / 2013 Month: Huobi trading volume surpassed 4 billion USD. This helped Huobi become China's largest cryptocurrency exchange.
9 / 2017 Month: This is probably the beginning of the most difficult period for cryptocurrency exchanges in China. The government of this country has officially declared a ban on the service ICO and cryptocurrency exchanges.
In the face of these difficulties, Huobi founder Leon Li has adjusted the business organization structure to promote global expansion.
10 / 2017 Month: Huobi officially entered the Korean market with a new headquarters in Seoul.
11 / 2017 Month: A new branch of Huobi in Singapore was inaugurated.
12 / 2017 Month: Huobi opens an office in Tokyo - Japan.
Currently Huobi headquarters is located in Singapore
Huobi ecosystem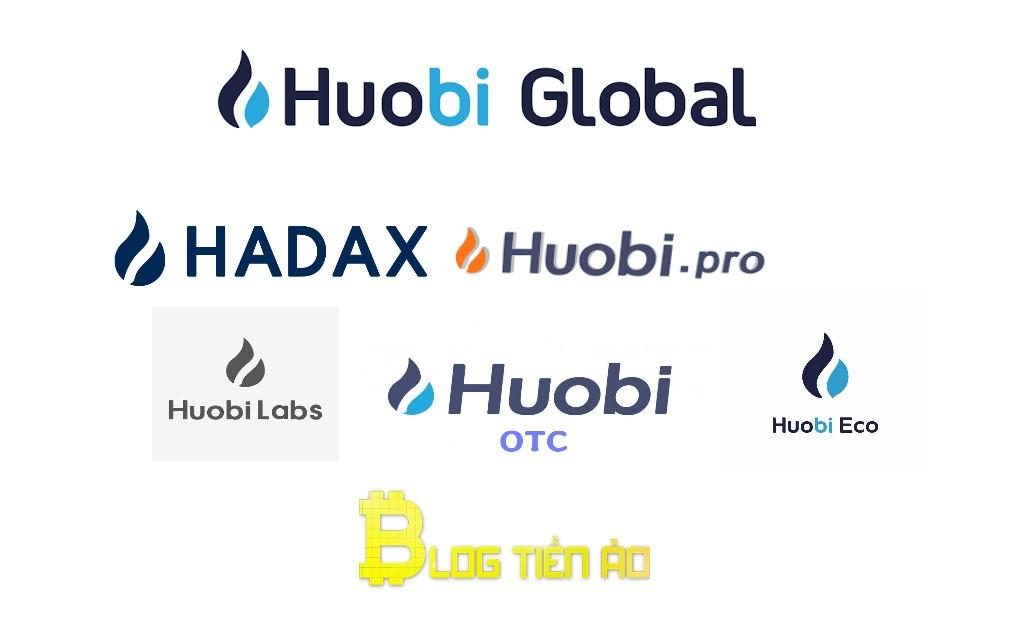 With the goal of becoming the "big brother" in the industry, Huobi has begun to develop a world Blockchain complete.
Huobi labs: Established in May 5. Purpose of supporting blokchain projects at an early stage.
Huobi Capital: An investment fund focused on the Blockchain industry.
Huobi Mining Pool: Operating mining tanks.
Huobi pro: Digital asset trading floor in the top 5 at the time of 2020.
HADAX: A "sub-brand" of Huobi.pro. This is Huobi's automated digital exchange. This service should be for professional traders only.
Huobi OTC: Released in November 11. The service focuses on anonymous traders who want to transfer large amounts of cryptocurrencies
In addition to some of the above famous services, Huobi Group also owns Huobi China and Huobi Academy, the R&D department focusing on blockchain application and blockchain research.
Huobi OTC floor
As mentioned above, in order to keep up with the current trend, Huobi has launched OTC very early.
In this section, I will guide you how to trade more clearly in the section "Instructions to buy coin with Vietnam Dong on Huobi OTC floor" at the bottom.
Features of Huobi floor
Support multiple Altcoin and Token (more than 469 different Coin)
Transaction fees are in line with the majority of investors worldwide (0.2%)
Huobi fully supports platforms and devices such as IOS, Android, Windown and Mac
Friendly and easy-to-use interface, Huobi's coin exchange graph is very professional
Support investors trading Margin Trading.
The security is quite high, verified by Email and supports 2-layer security (2FA) and SMS.
Supports many languages ​​such as: Vietnamese, English, Chinese, Japanese, Korean, French, ...
Provide basic information about a coin in the coin's transaction interface such as: Concept, Whitepaper, total coin issued, official website, Block Explorer, ...
Online customer support on website and via Email as well as social networks. There is a dedicated support community for Vietnamese investors
Advantages of Huobi Global that you should know
They have insurance funds, so customers will not have to worry about losing money in case of hacked floor
Huobi Token (HT) is one of the HOT coins, high liquidity, good price and stable growth, well worth the investment. In addition, if you trade with HT, you will receive a 50% discount on transaction fees.
Support a lot of different coins, the main coins have high liquidity.
Transaction fees will be reduced when you hold HT.
When holding HT, you have the opportunity to participate in IEO investment on Prime, FastTrack and receive HPT (almost like the mechanism) Staking).
You can easily sell coins to VND and vice versa
There is a supportive community for Vietnam, please see the end of the article.
Huobi Prime
This is one of the points of interest that I have dedicated a little space to write about, which is investing IEO on Huobi Prime
It means participating in buying 1 coin that is about to be sold on Huobi Prime, if you buy successfully, your property can be very fast XXX.
If you are not sure what it is, try reading the article below:
Over many periods and learning from fixing, Huobi has announced that the new rules for joining Prime are quite good.
Under the new law, anyone who participates in an investment can successfully buy IEO, not fight over. And the purchase rate will be higher if you hold more HT.
Fasttrack
I would like to quote the paragraph in another article on Blogtienao
"Each month, Huobi Global announces the names of five projects that will join FastTrack. Using HT, you can get multiple votes for projects within a weekly poll. The project which receives the most votes weekly will be selected to list on Huobi Global on the same day as the results of the voting results. Tokens of winning projects will be allowed to trade immediately, and be listed with pairs of USDT, BTC, and HT "
Users who voted for the winning project will be able to purchase project tokens at a price 50% lower than their market value.
Moreover, the 10 lucky users among the HT users who participated in voting for the winning project will be exchanged all their HT votes for the project token.
Other users will be distributed the number of project tokens according to the HT vote rate
Because all FastTrack and Prime projects have tripled or tripled. So the HOT of Huobi Global and HT is indisputable.
Margin
Like other exchanges, Margin is the trend and indispensable product of Huobi. Currently, the floor is supporting a lot of different coins with leverage up to 5X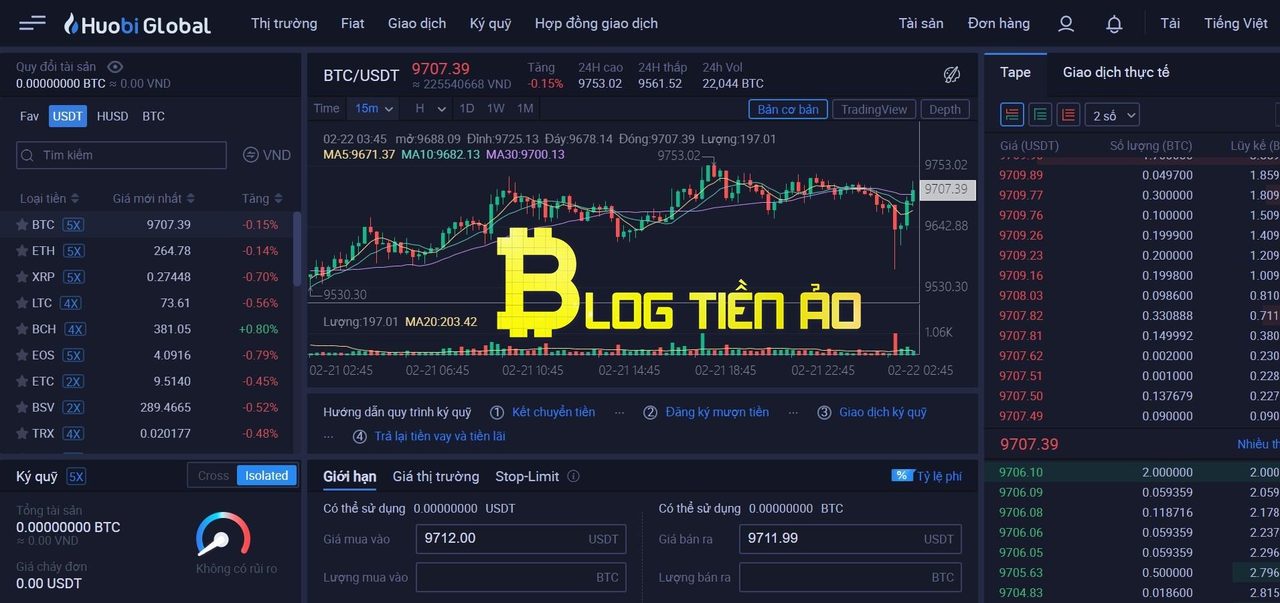 Trading Contract (Huobi DM)
This is the futures trading platform. Huobi DM has tools to help protect and manage risks when participating in transactions. This helps avoid price manipulation by the market.
The BTC / ETH / EOS / LTC / XRP / BCH / TRX / BSV / ETC contract will be launched on Huobi DM. These contracts will be priced in USD, with the corresponding digital currency.
Huobi DM currently issues contracts weekly, fortnightly and quarterly.
The weekly contract will be paid next Friday. Every fortnight contracts will be paid the following Friday. Quarterly contracts will be paid on the last Friday of March, June, September and December.
Huobi DM now has levers: 1x, 5x, 10x, 20x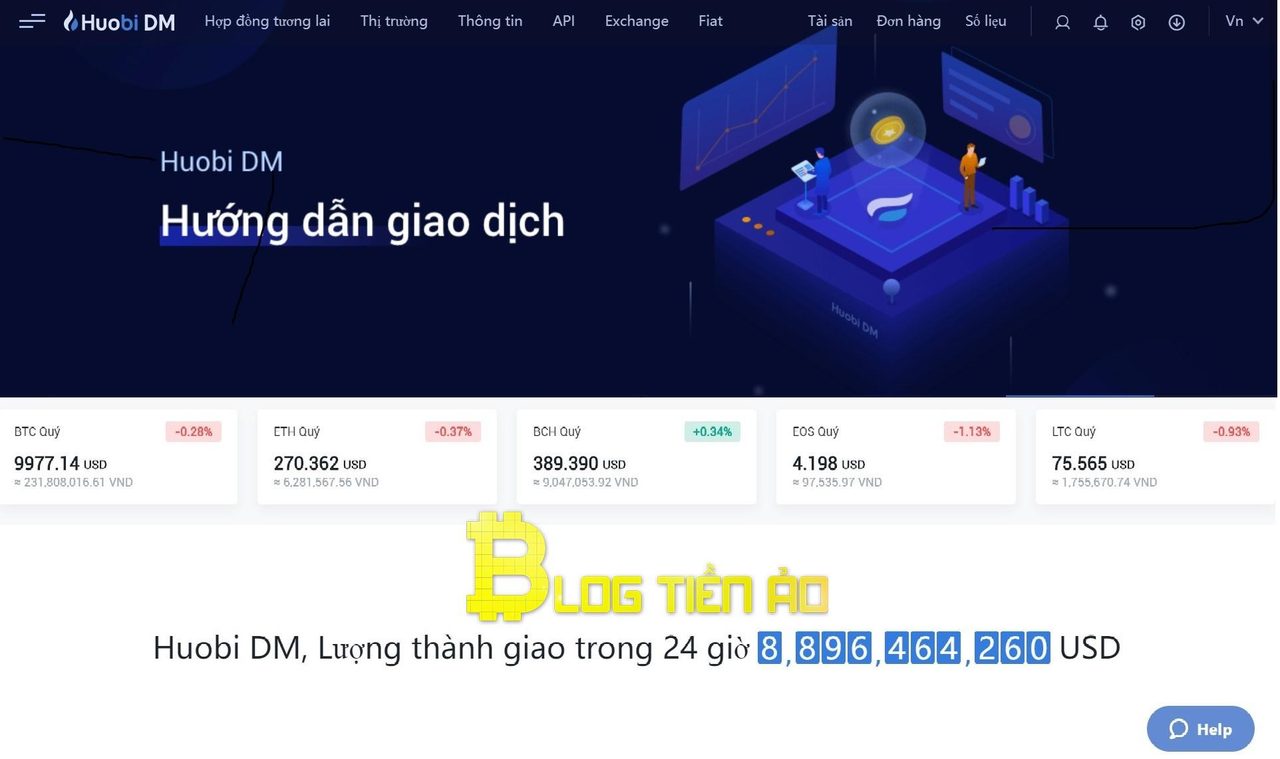 What are HT tokens?
Huobi Token (HT) is the original coin of the Huobi exchange, launched on January 24, 01. The purpose of Huobi to create HT is to support reducing transaction fees, using HT to participate in exclusive events, ...
Blogtienao has made a separate article about this token, you can read at the link below:
What is Huobi Token? Overview of the Huobi Token (HT) cryptocurrency
The benefits that HT token brings
Here are some interesting benefits that HT token holders enjoy:
HT users in the transaction can get a discount on transaction fees (up to 50%) and can receive VIP membership rights.
HT holders can vote for HADAX token list.
HT tokens provide liquidity. And they are also acquired by Huobi every quarter to put in the Huobi Investor Protection Fund.
Trading fees on Huobi
Huobi divides transaction fees into two types, one for ordinary traders and one for professional traders.
Fees for ordinary traders

Fees for professional traders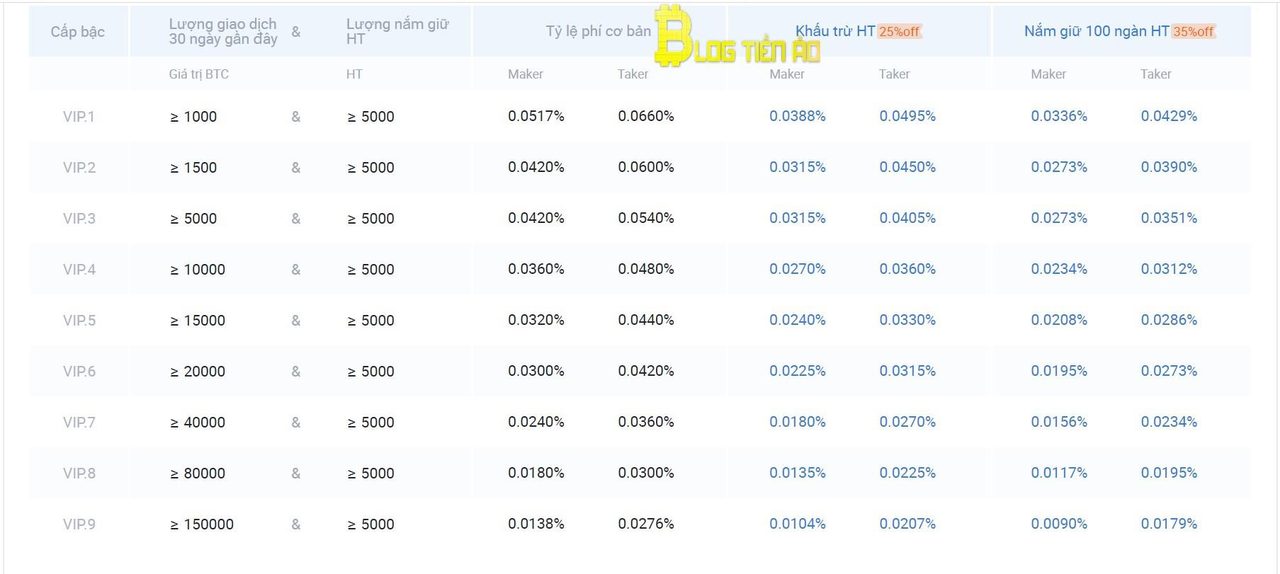 Note: Traders holding over 100.000 HT will receive a 35% discount rate.
With the above two fee tables, it can be seen that Huobi has used the new hierarchical fee structure.
The following, Blogtienao will guide you how to reduce transaction fees:
Step 1: Log into your Huobi account and then on the item "Installation fee"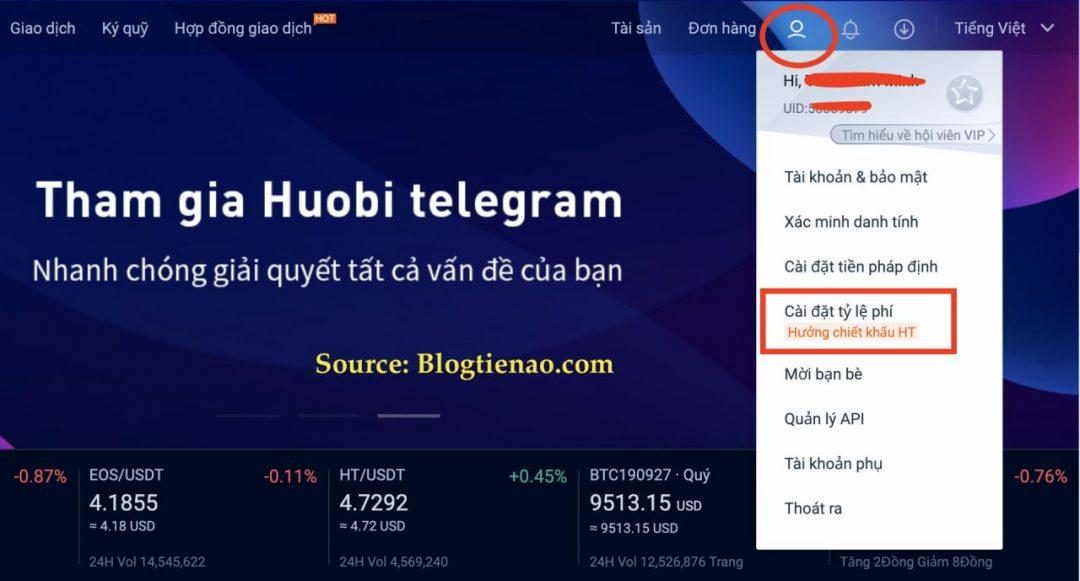 Step 2: You can see the current fee rate, in my case it is: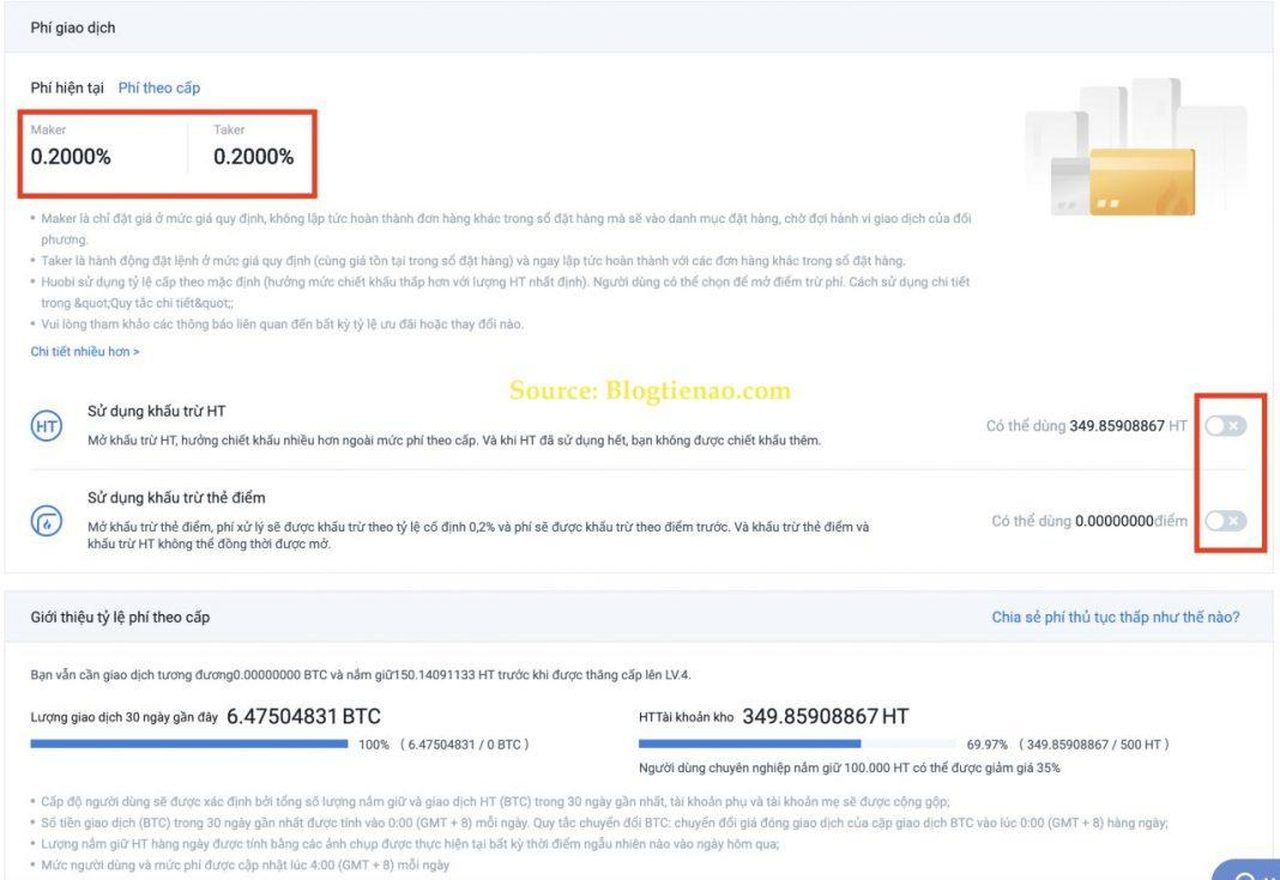 Charge current 0.2%
Two Buttons have not turned on, the 30-day trading volume is 6.47 btc
The number of holding HT is 349 HT
Step 3: You turn on one of the two buttons on the right, if you have PointCard, select it to reduce the fee. And if you do not have, only HT then select the Button above. In my case, I will select the HT button to reduce the fee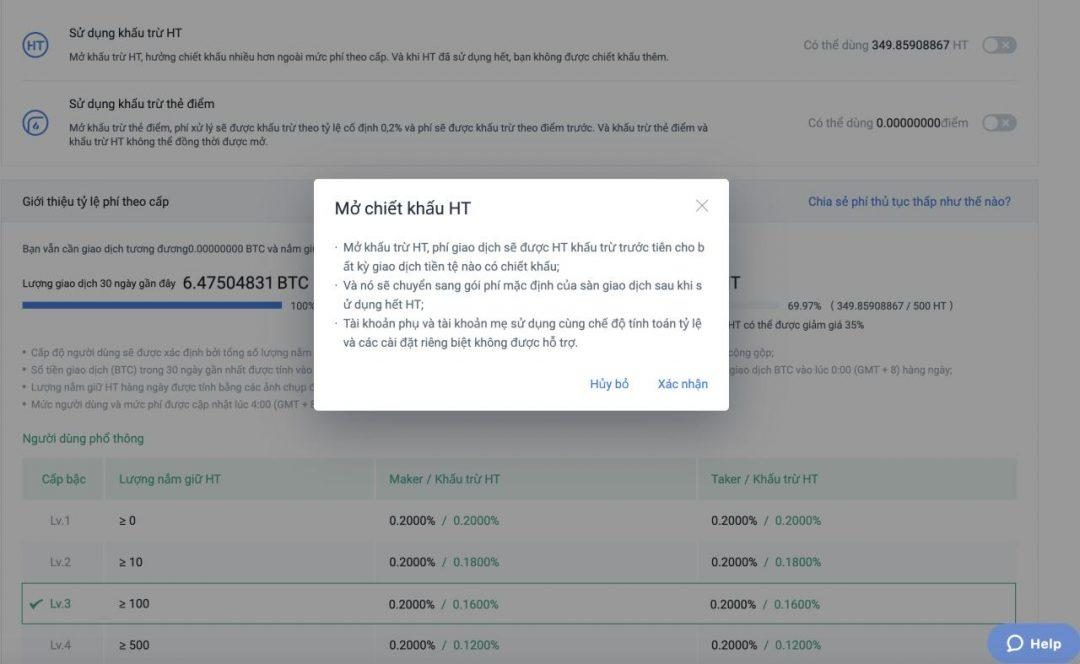 Then choose "confirm", the system has estimated the level of Lv you will be entitled, as your account is Lv3.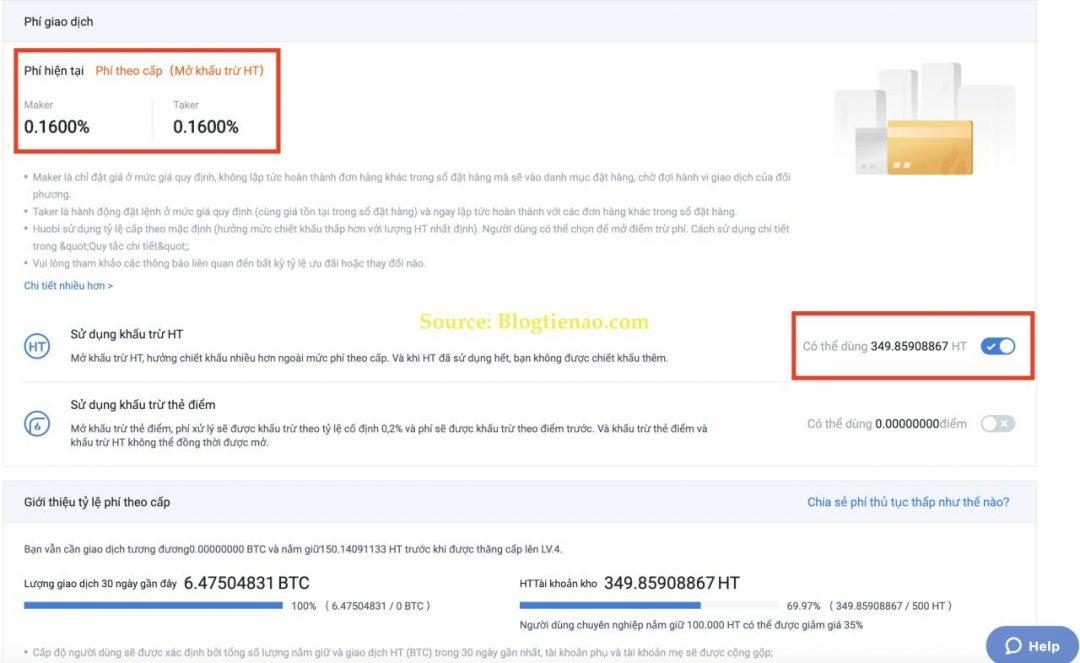 For those who hold more HT, the fee will be greatly reduced. Those who are loyal to HT hold long, the trade fee is very very low. You can refer to the picture below: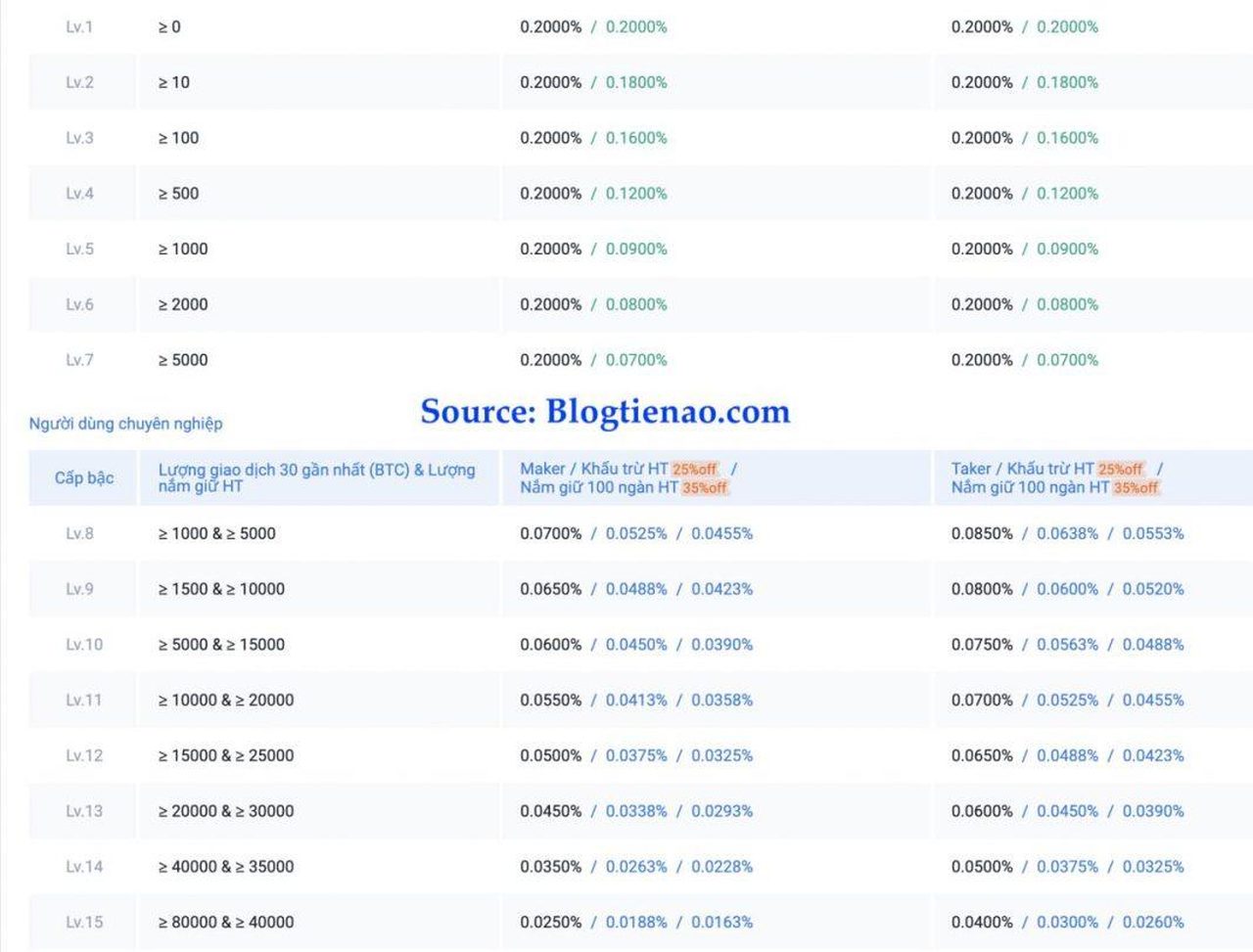 After confirming, it will display like that, it was successful, Now when you conduct the transaction, the fee will be 0.16% instead of 0.2% as before.
In addition, Huobi now also supports buying coins with Visa and Mastercard. However, the fee for this service is very high, about 3-5%.
Is Huobi a scam?
Up to this point, Huobi has never had any scam and there have been no complaints from investors about this situation.
However, in the past there has been information that the Huobi exchange was hacked and stolen 12.000 BTC, but this information has not been confirmed.
And especially, they have insurance funds in these cases, so investors' money will be insured and will not be lost.
Is Huobi floor banned in Vietnam?
Because Vietnam is a country in the group that does not prohibit nor legalize cryptocurrencies, you can still use Huobi now.
Is Huobi floor safe to use?
Compared to many other exchanges, Huobi is an exchange with an outstanding level of security. Huobi states that:
The floor's risk control measures were developed by giants like Goldman Sachs
98% of funds are kept in cold wallets
The exchange currently uses a decentralized transaction structure to prevent DDOS attacks
The floor has User Protection Funds. 20% of turnover will be transferred to this fund
The exchange also has Huobi Security Reserve with a total reserve of 20.000 BTC. This money is used to deal with security incidents and is used to pay compensation for losses arising from all security incidents.
What devices can I use Huobi on?
Because this is one of the world's largest exchanges, they have full support on mobile devices Android, IOS as well as on PC. Therefore, you can freely choose the method that suits you.
On the PC, you can log in directly to the floor website is fine, and on Android or IOS phones, you need to download the floor's app.
Huobi Website: https://www.huobi.com/vi-vi/
Link app for IOS: Huobi - Buy and sell Bitcoin
Link app for Android: Huobi Global
Instruction to register an account on Huobi
On the computer
Step 1: You access https://blogtienao.com/go/huobi and enter the required information. Then click "registration".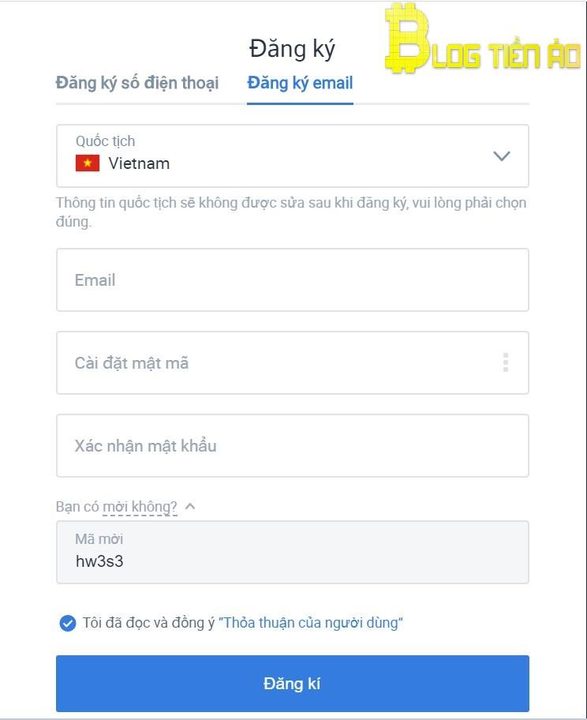 Step 2: You will get Verification code in gmail You are already registered. Please enter them as required.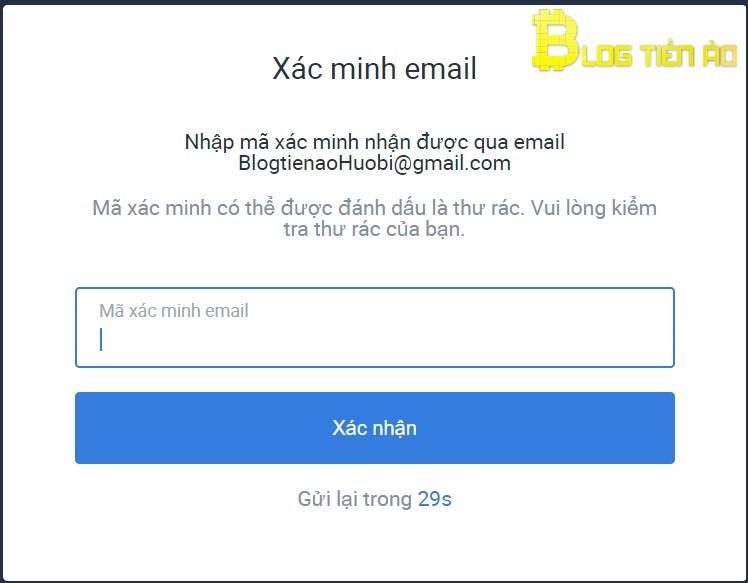 So has completed the registration step Huobi floor.
Registration instructions on the phone
Step 1: After downloading the app, Huobi allows you to register in two ways: either by email, or by phone number. Then click "next".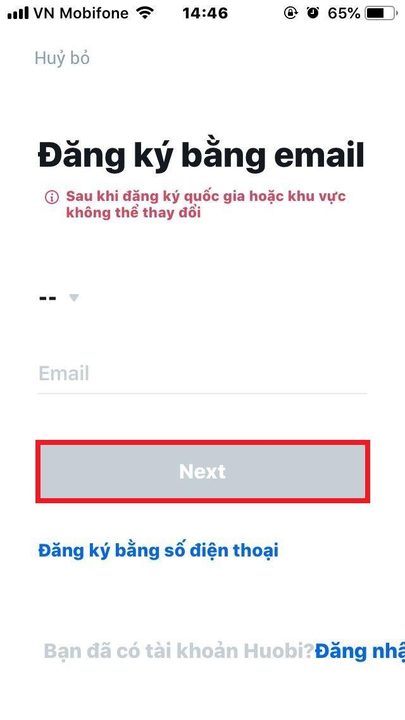 Step 2: There will be one Verification send to the address email your. Enter the verification code as required.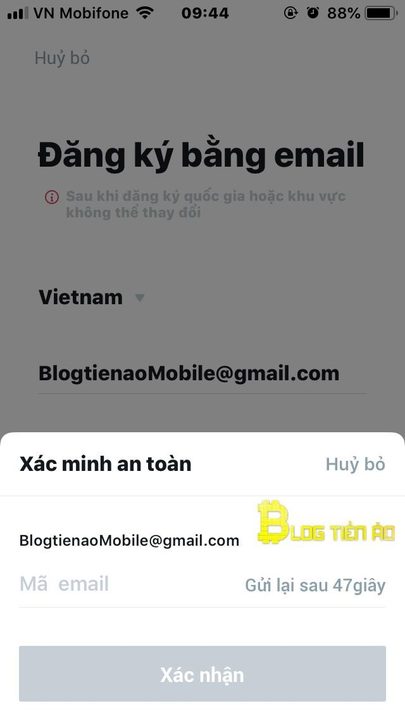 Step 3: Next, you will need to create a password and click "registration".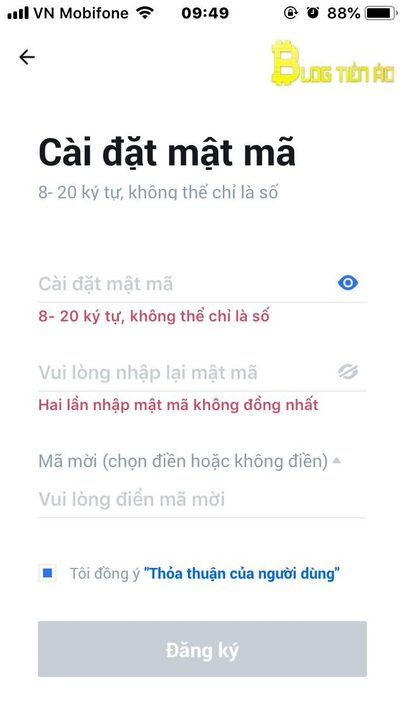 Step 4: In addition to setting passwords with numbers and regular letters. You can create more "Hand drawn password" for added security. This step you can set up later; However, Blogtienao recommends that you should do it immediately to improve the security.
Just complete the steps above and you have successfully registered an account on Huobi.
Instructions for identity verification / KYC
On the computer
Step 1: Click on your account and select "Identity verification".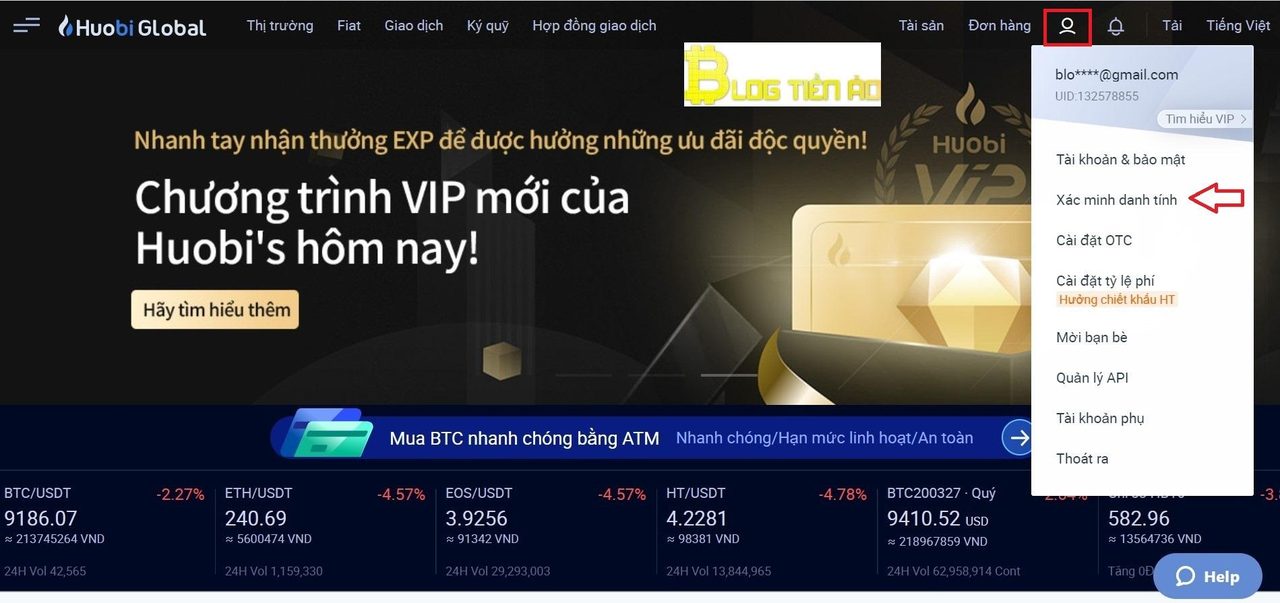 Step 2: Enter all the necessary information and download photo ID / CCCD, passport or driver's license. You need to capture the face and information for the review process to happen quickly. Then click on the box "confirm".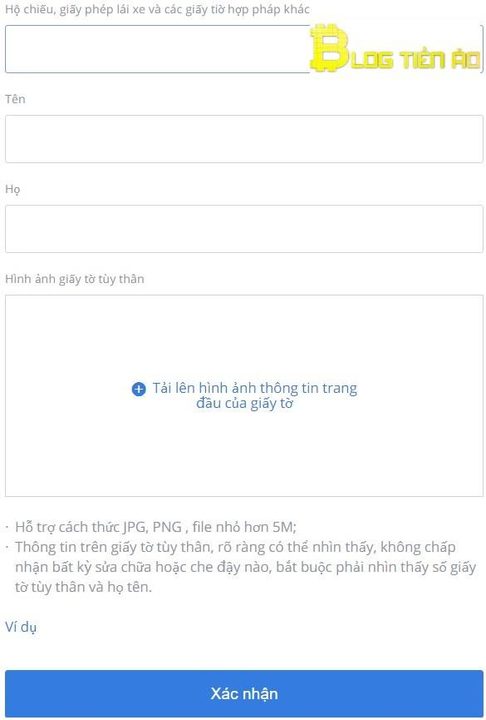 Step 3: You will receive a notification as below. Your job is to wait a few hours for the Huobi floor system to approve.

On the phone
Step 1: Select the small round logo on the upper left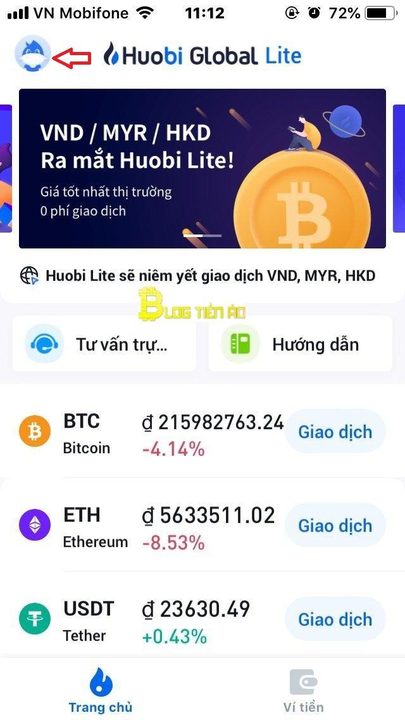 Step 2: Select the item "Identity verification" and enter the required data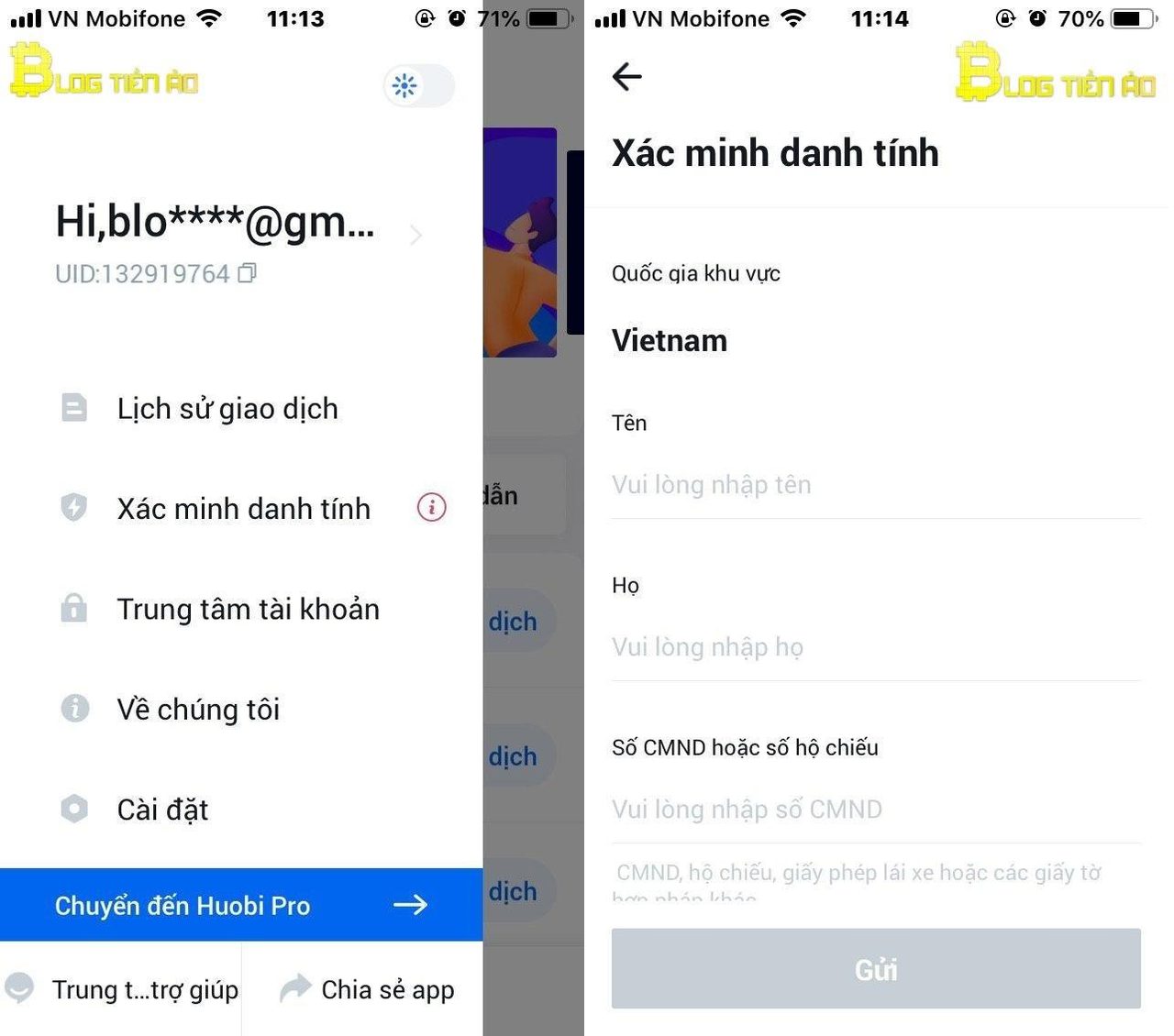 Step 3: Download photo ID / CCCD, passport or driving license. You need to have a clear picture of your face and information to make the review process fast.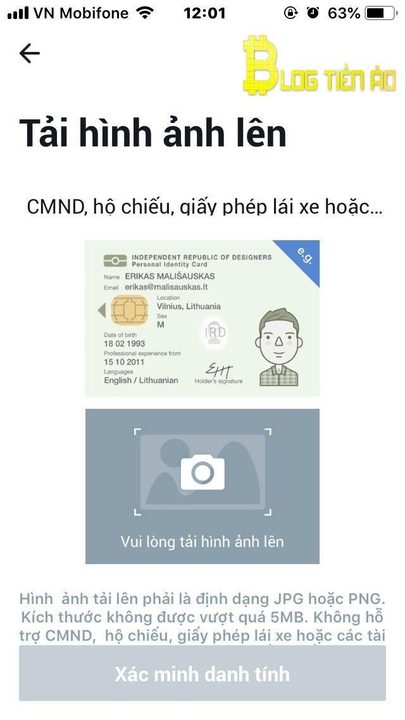 Next, you just need to wait for Huobi to approve.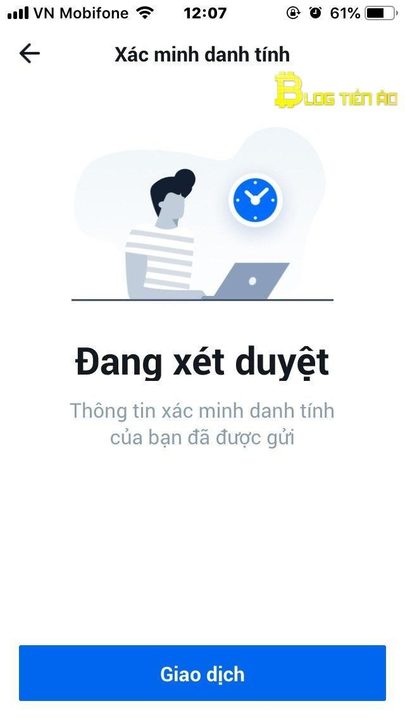 Instructions to verify KYC's identity to increase withdrawal limit
To do this, you first need to complete and be successful review the item "Guide to identity verification / KYC" Blogtienao has just guided above.
Step 1: Click on your account and select the UID (circled in red)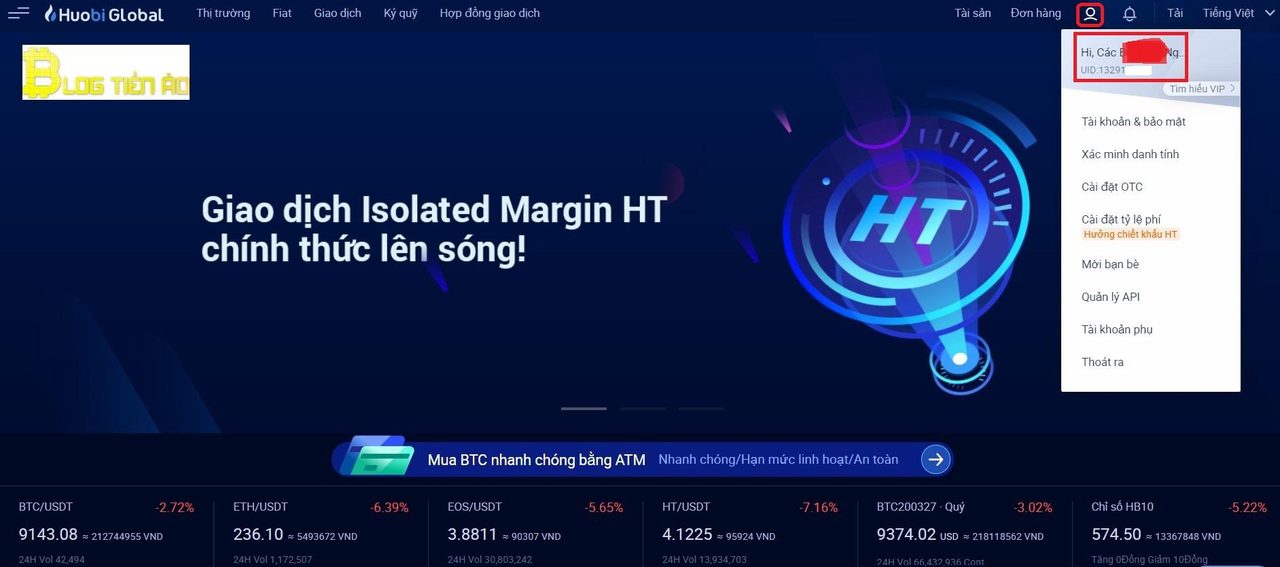 Step 2: Select the item "Advanced fiat verification".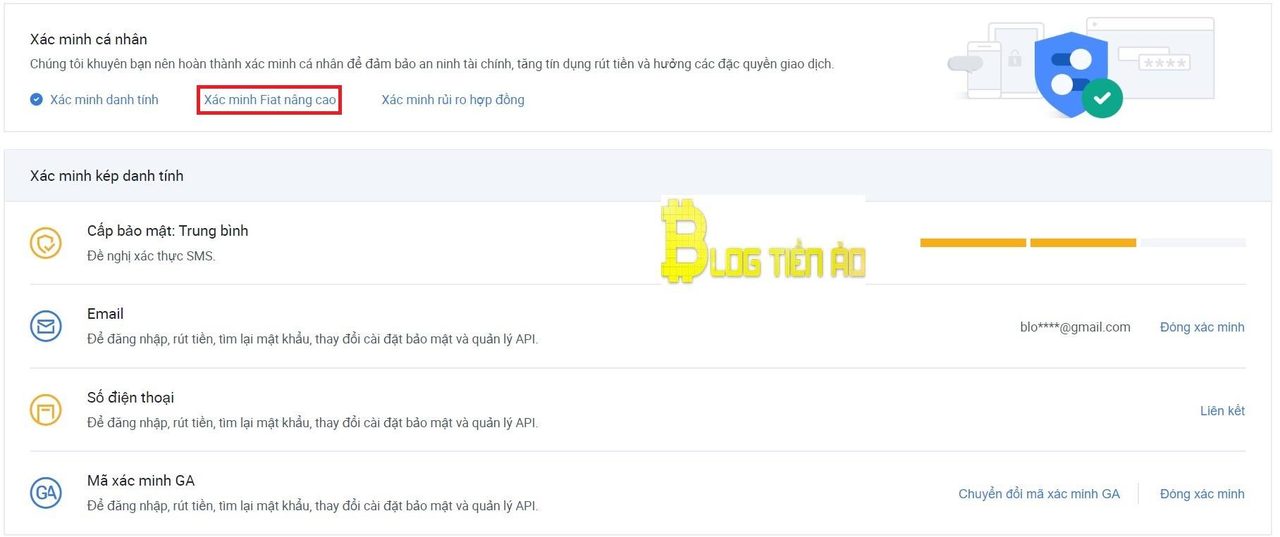 Step 3: You need to upload the images that Huobi requires. Note, the image needs to be clear and not edit, especially the second image, need to be exposed arms. Then choose "Verify material is not faulty" .
Instructions to enable Google Authenticator
Step 1: After logging in, click on your account and select the UID box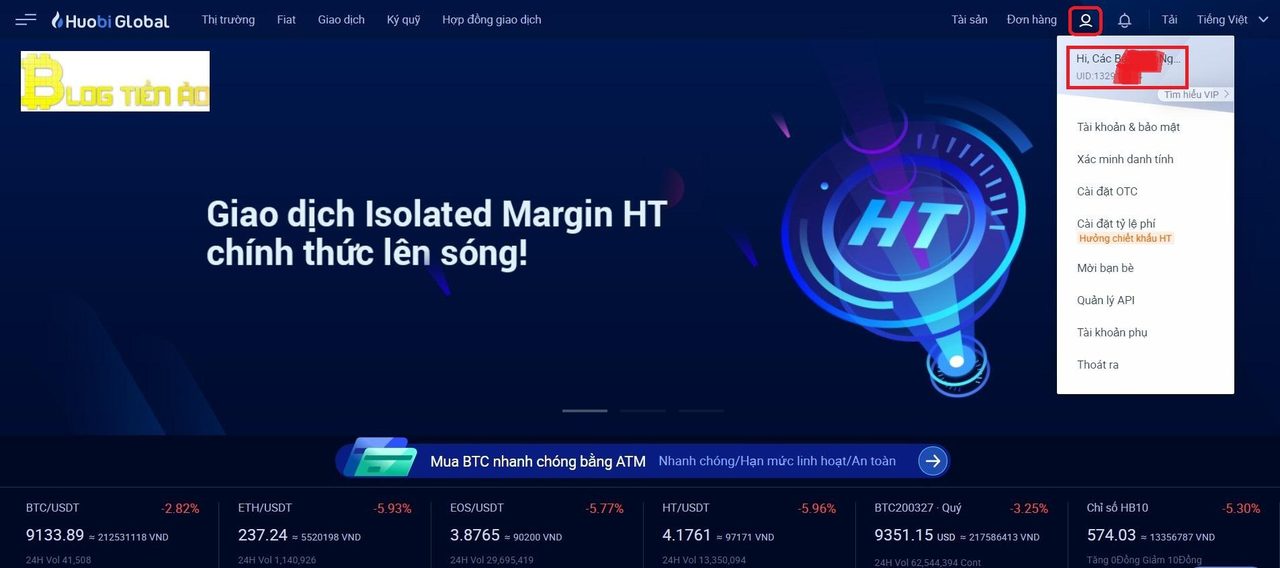 Step 2: Then, you will see the interface showing a box "safety reminder". Now, you will have two security options: or use Google Authenticator or use "Phone link code". In this section I will guide how to install Google Authenticator. You choose the frame "GA verification code link".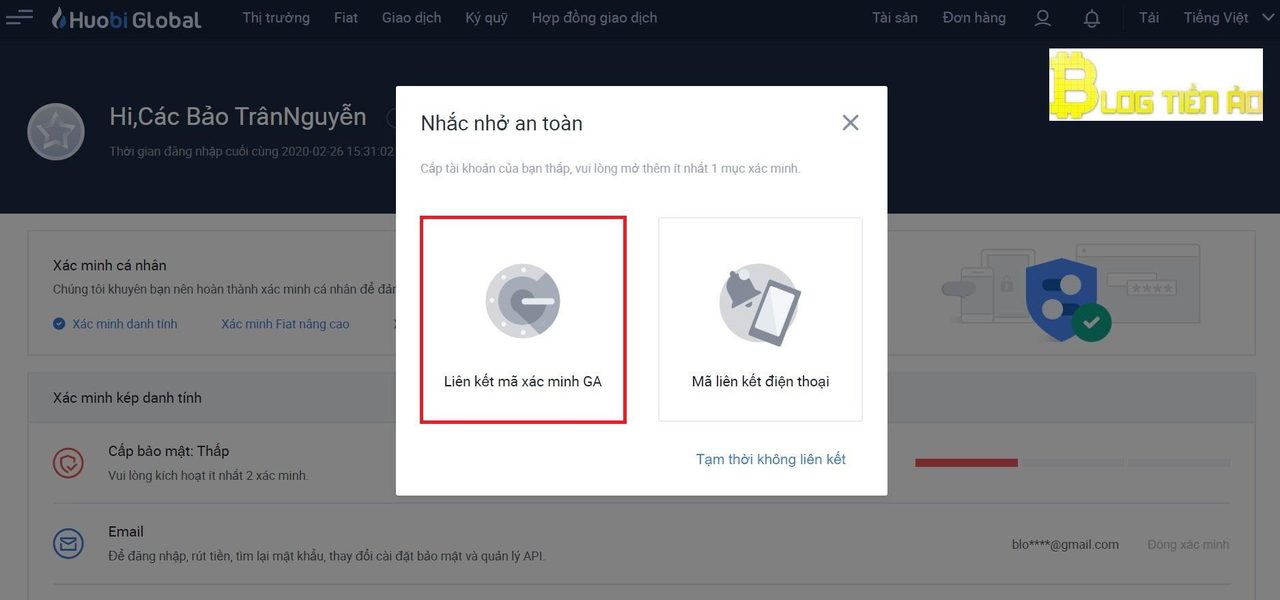 Step 3: At this time, you need to download the Google Authenticator app to your phone (follow the link below).
Step 4: Once the download is complete, simply open the app and scan the barcode provided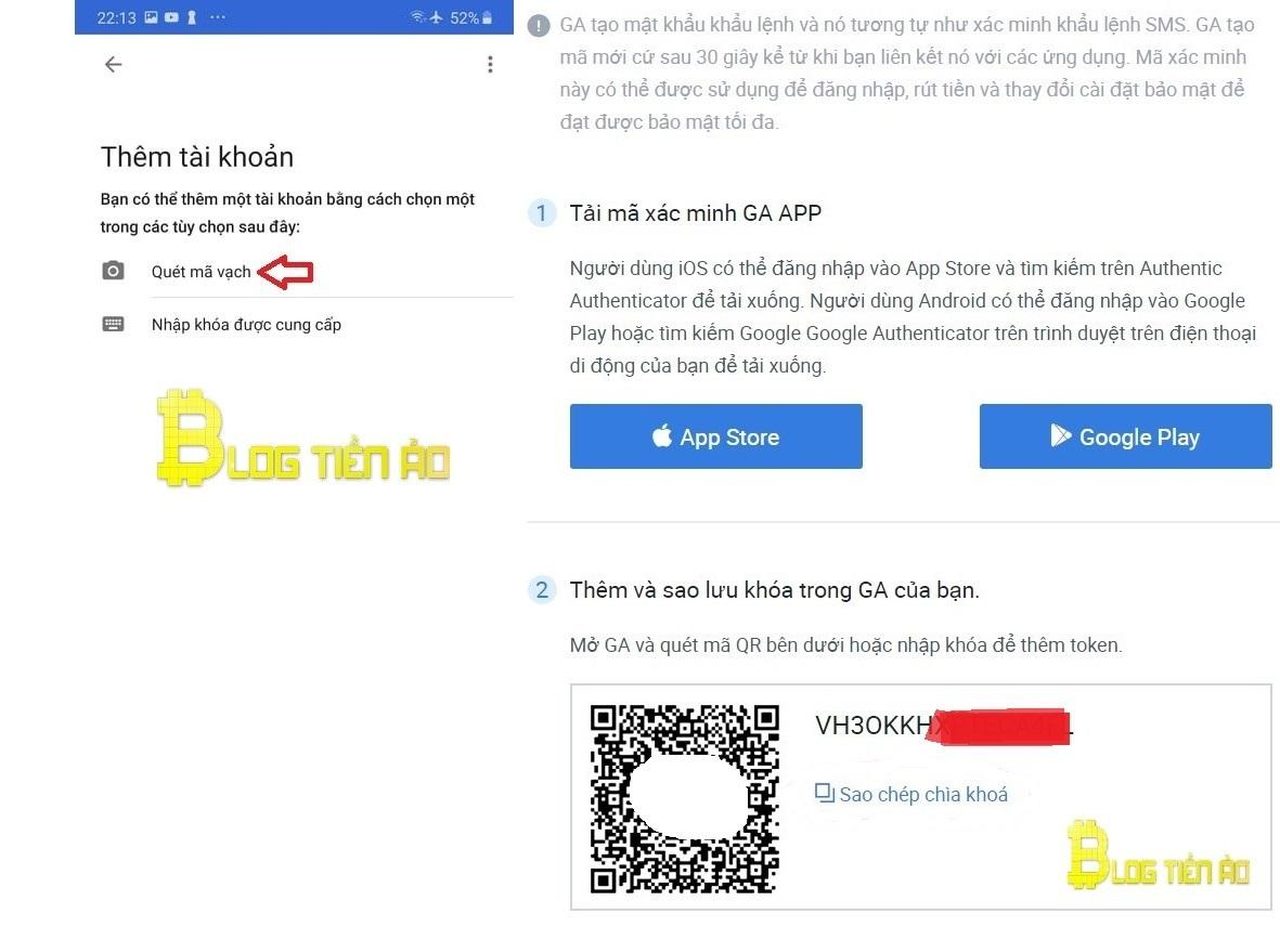 Step 5: You enter the 6-digit code in the Google Authenticator application and click on the box "to send"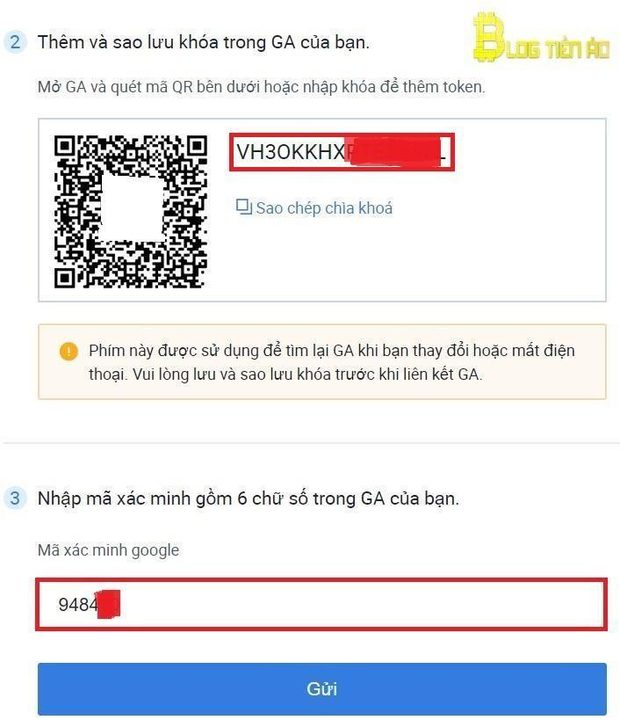 Step 6: You will now receive an entry request Verification code was sent in gmail You register for a Huobi account. Just open gmail and enter a 6-digit sequence to complete turning on Google Authenticator.
Note: You need to save the key circled Blogtienao circled in Figure 5. This key is a 2FA recovery code in case you lost your phone or accidentally deleted Huobi code in the application.
So has completed the security step with Google Authenticator. Next, I will guide you through the security step "Phone link code" to security is upgraded to the highest level.
Step 1: Click on your account and select the UID box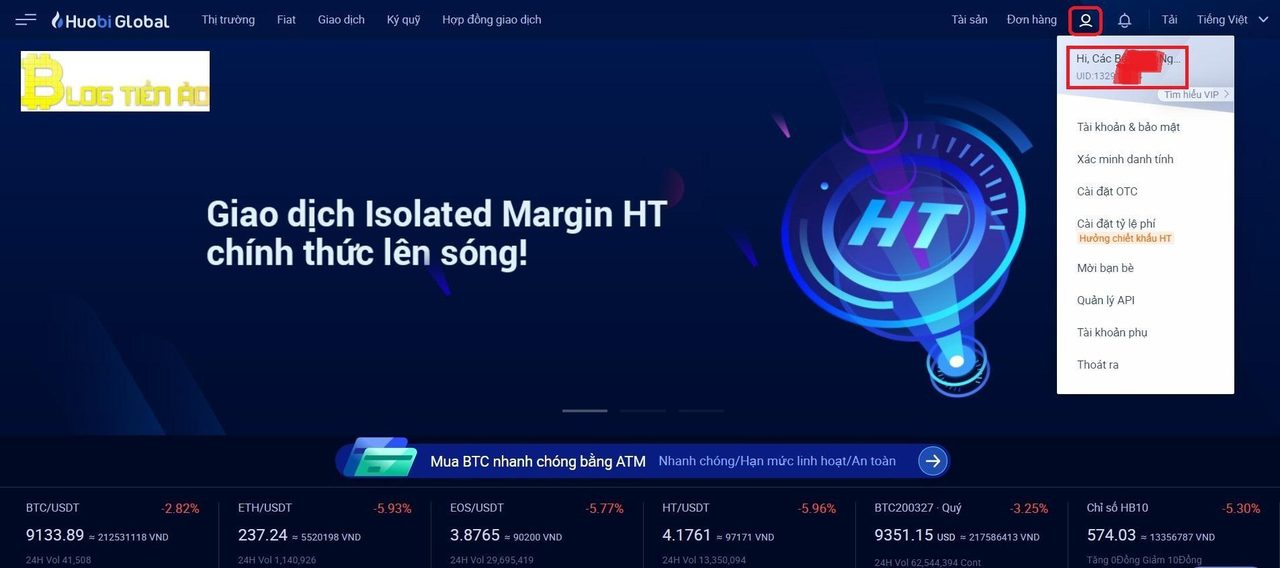 Step 2: choose "link" at the line of phone numbers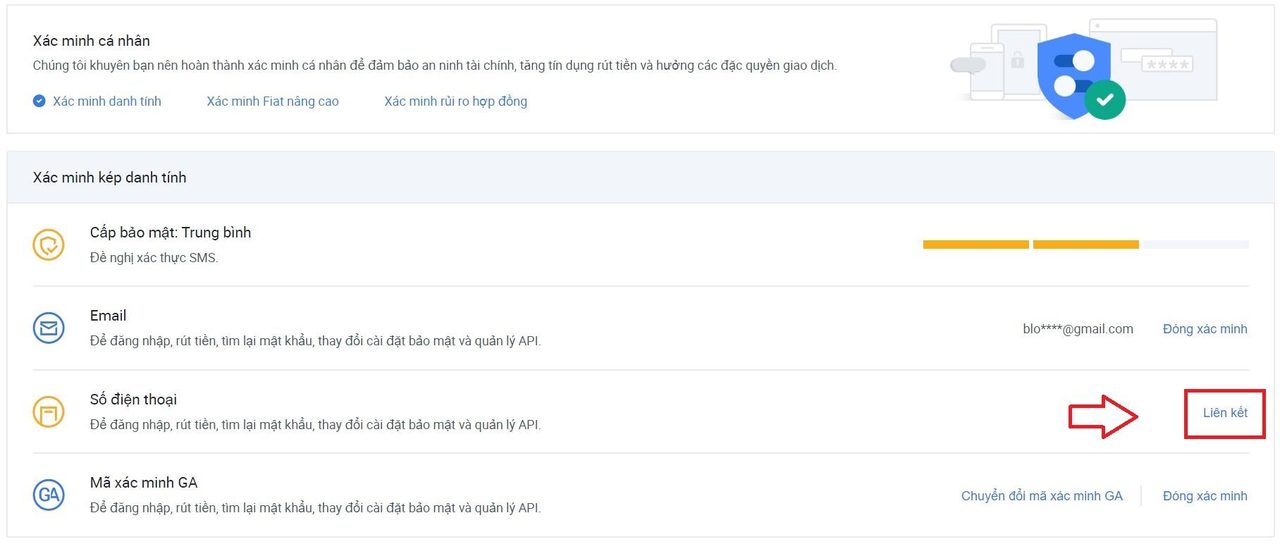 Step 3: Enter your phone number. Note, remember to change to Vietnam area code (in the box marked red). Then click "Get verification code" to get the code. Finally choose "confirm" to complete.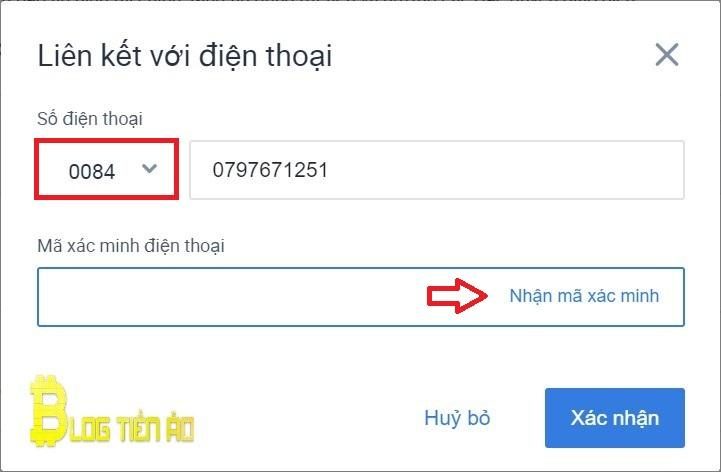 Instructions to top up Huobi coins
For Huobi floor you can use both Bitcoin (BTC), Ethereum (ETH) and USDT (Tether) to trade other coins.
But in the limit of this article I only guide you to deposit and buy coins using BTC, because this is the most common way that most investors use.
With ETH and USDT, you do the same way.
You should note one more thing that to load Bitcoin into Huobi, you first need to have Bitcoin on another exchange. Meaning you bought Bitcoin on exchanges like Vicuta, Remitano, Coinhako, ... and now want to transfer them to Huobi for cheap trade.
Instruction to buy and sell Bitcoin on Vicuta.com from A - Z
Here's how to deposit BTC into Huobi:
Step 1: After logging in to Huobi, click on "asset"Then select"trading accounts (deposits & withdrawals)".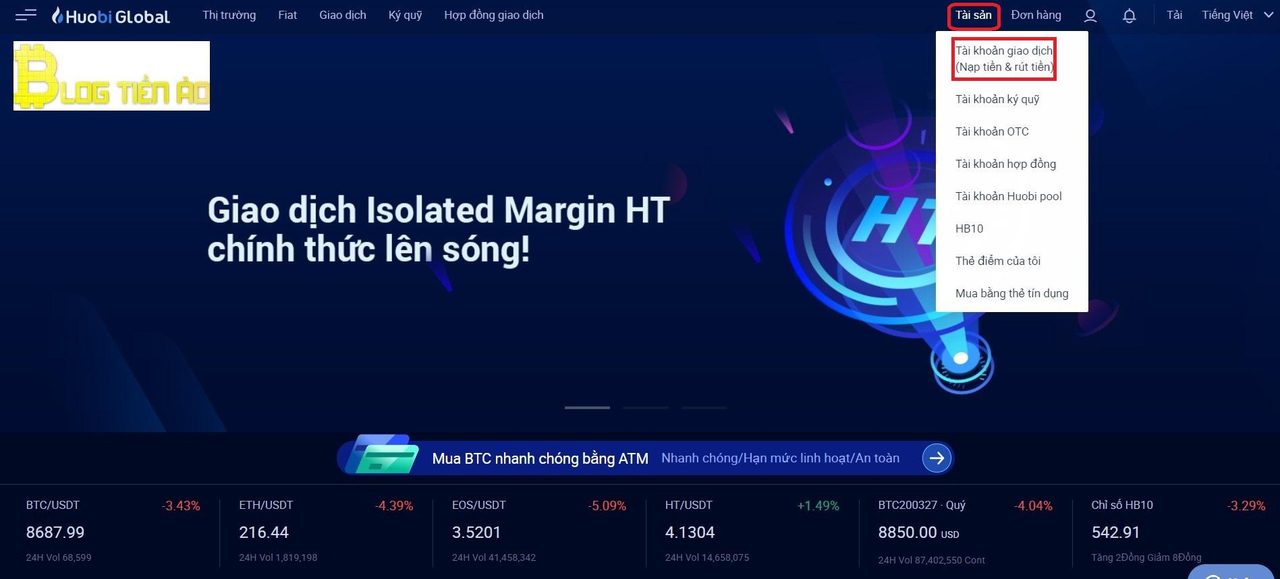 Step 2: Here, you can see the friendly interface because looking, you have seen a place to deposit BTC. Click here "recharge" on the line of BTC.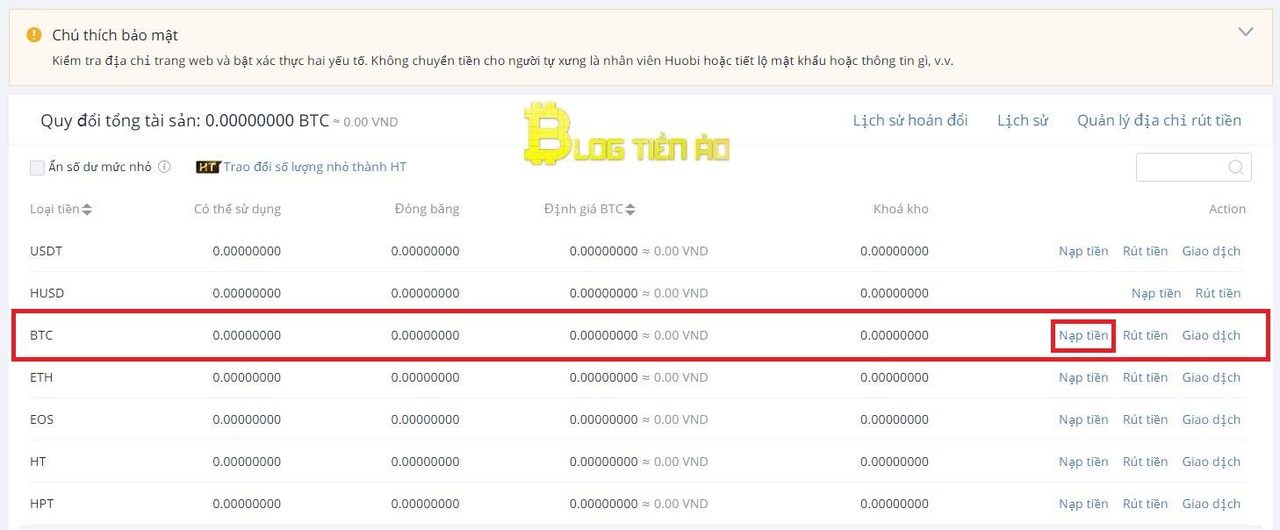 Step 3: Soon, you will receive BTC wallet address on Huobi as your picture below.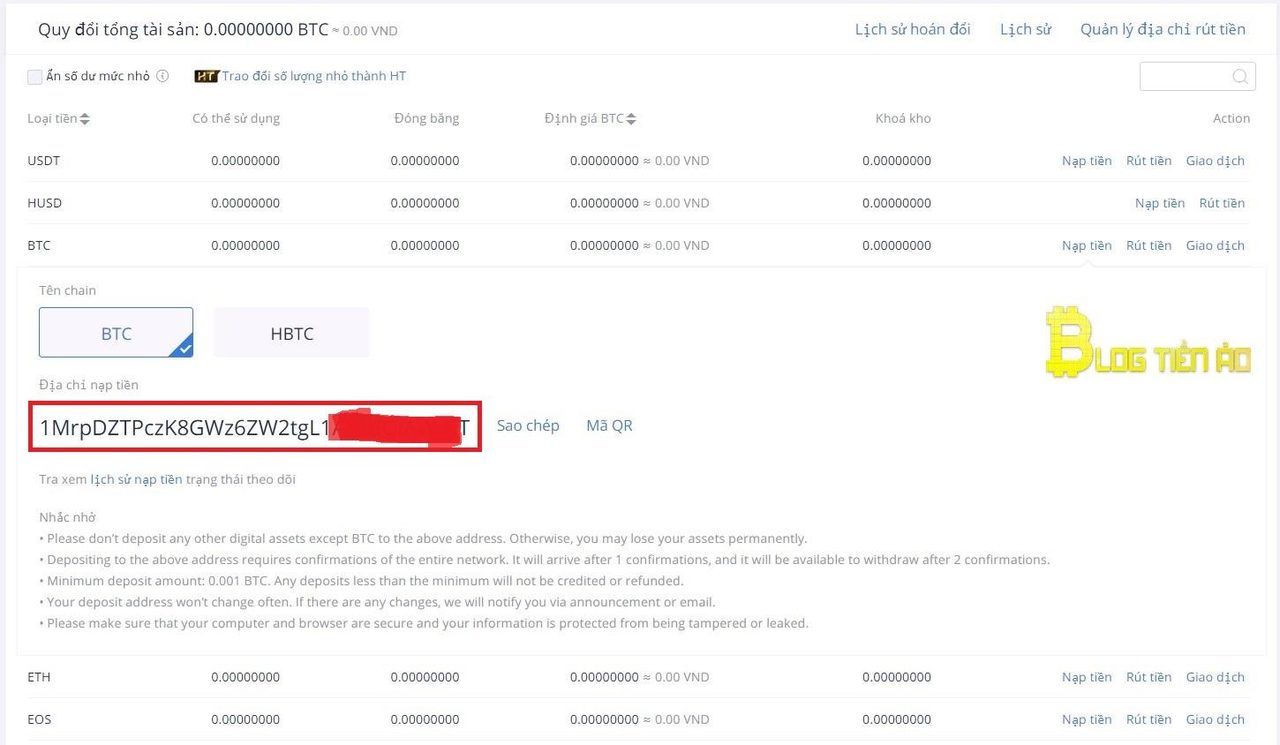 Step 4: Go to the "Your BTC wallet address"In your account on the Vicuta or Coinhako floor, ... containing your BTC. Then you just need to enter the BTC wallet address that Huobi has provided, but you circled in red in the picture above to get it.
Note: If you accidentally deposit BTC into your ETH or USDT wallet address on Huobi, then determine that the coins will be completely lost. So you need to double check your wallet address.
Step 5: After loading BTC into Huobi, you need to wait approx min come 1 hours for the system to confirm your transaction, it may also be faster or longer depending on where you deposit BTC and whether the transaction is congested or not. To check if BTC has entered Huobi, click on the section "history" right above.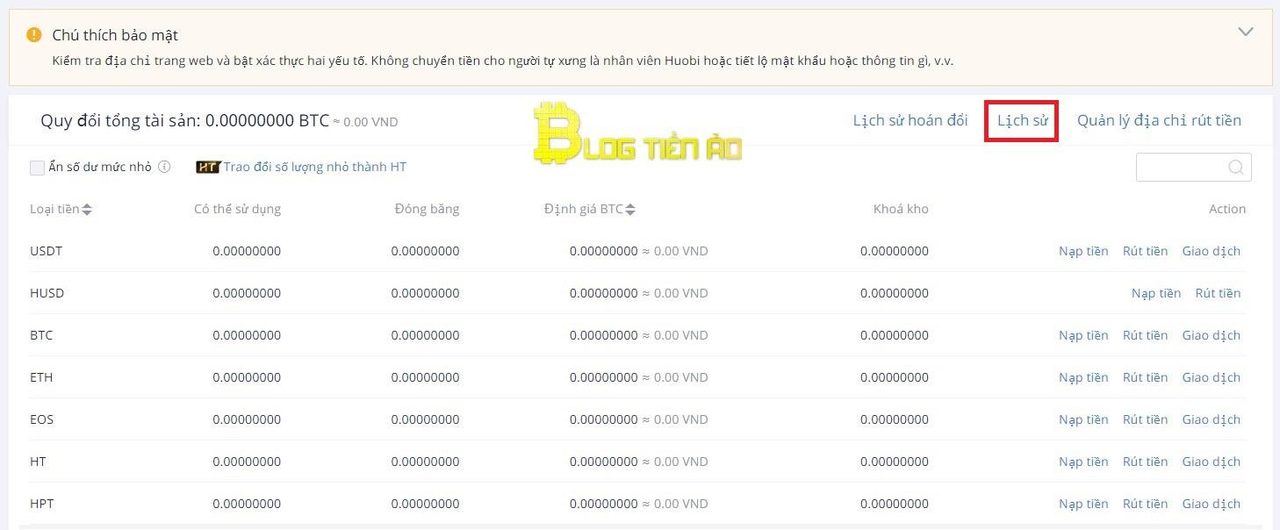 Instructions on how to withdraw coins from Vietnam market for sale
You must first have an account with an exchange with banks in Vietnam and can exchange coins directly to VND, such as Vicuta, Coinhako, Remitano
If you have then you just need to login to the account and get it wallet address. For example, if you transfer BTC to Coinhako exchange, you need to get it BTC wallet address on the floor of Coinhako. Then you continue with the following steps: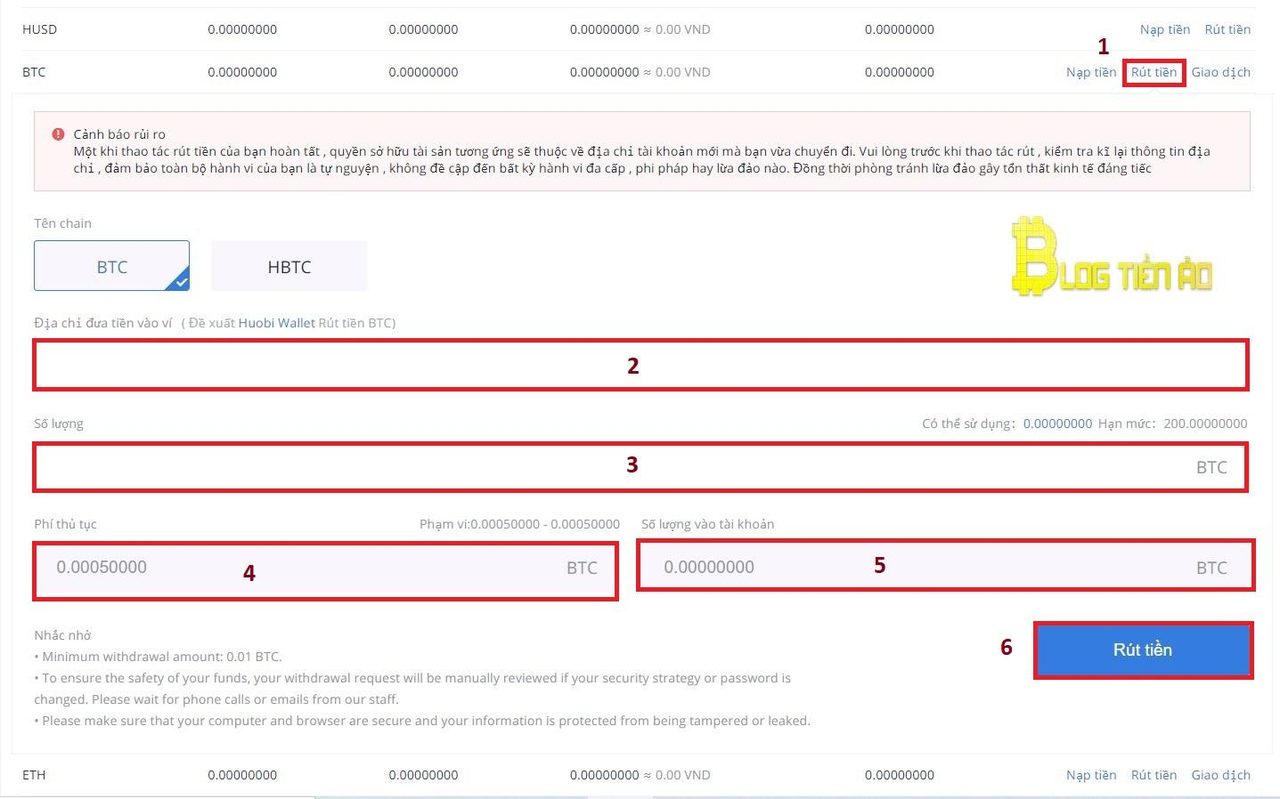 Step 1: Open the "Withdrawal" section (box number 1 as shown above)
Step 2: Import Bitcoin wallet address On Coinhako floor you just took in box 2 (according to the picture above)
Step 3: Enter the number of BTC you want to withdraw to box 3 (according to the picture above)
Step 4: Box 4 will tell you the fee you must pay, box 5 is the remaining BTC in your account. After checking all the information, select box 6 "Withdrawal".
Note: You need to wait some time for the system to complete your withdrawal.
Some basic knowledge to grasp before trading
Trading order
To trade cryptocurrencies on an exchange, you must place a trade order. When you want to buy, place a buy order. If you want to sell, place a sell order.
You can understand trading orders as a way to understand if you want to buy or sell coins.
Some types of orders: Limit (Limit), Market (Market), Stop-Limit (Stop-limit).
Limit orders
This command helps you buy coins at the desired price. For example, if you want to buy Bitcoin for 8.000 USD, you will place a limit order for 1 BTC for 8.000 USD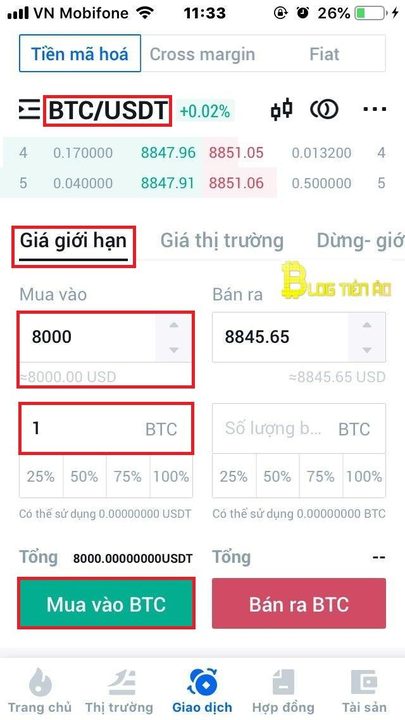 Market order (Marker)
This command allows you to buy / sell Bitcoin quickly at market prices without having to wait like the limit order.
For example, you see Bitcoin is down 20% so you want to buy at a bargain price. You will place a market order for instant trading, without missing an opportunity.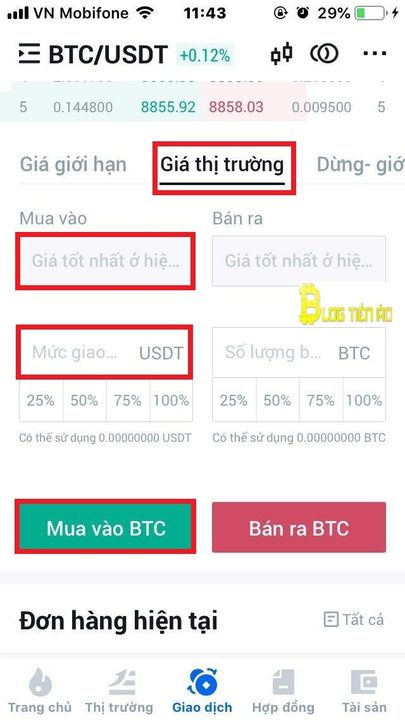 Stop-limit order
This order is usually used to cut losses in case the price drops sharply. Reduce the risk of peak swing. Or buy when breakout resistance.
However, this type of command is vulnerable to "hunting sharks". That is, they will push the price to break down the support or resistance area and then the price returns to its original position.
A simple example for you to understand: I want to buy BTC for 8.000 USDT and accept a loss of 100 USD. To preserve the capital and not suffer any further losses. Now I will place a stop loss order with a stop price of 7.910 USDT and a limit of 7.900 USDT.
At this time, the price stop is the condition to activate the limit price. This means that when the Bitcoin price drops to 7.910 USDT the floor will automatically place an order of 7.900 USDT.
The difference of 10 USDT is used for depreciation when the speed of dropping is too strong, to avoid the case that the price cannot match. Therefore, you should not set the price difference too little with the stop price.
It should be noted when using the stop-limit command:
when the be: Price stops bigger price limit
when the mua: Price stops less price limit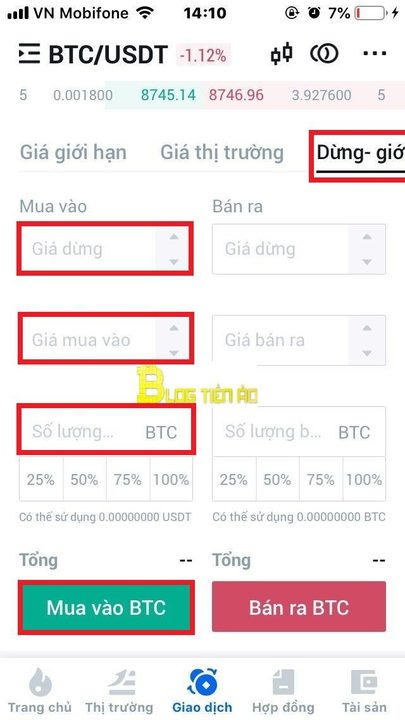 Market
The market is the main currency traded there. For example, you buy and sell normally in Vietnam. The market here is the VND market.
The BTC market is the use of BTC to trade with other coins.
Trading pair
The trading pair is the price of one coin relative to another. In the BTC market, there are pairs of transactions *** / BTC. Similar to HT market, there are pairs *** / HT.
For example: We have ETH / BTC pair that you use BTC to buy ETH or you use ETH to sell BTC.
Instructions on how to trade on Huobi
Once Bitcoin has successfully loaded into the Huobi Pro wallet, you can use it to buy and sell the coins you want.
Huobi supports over 200 different coins and tokens, depending on the research and needs you choose the appropriate coin to invest!
I will give an example Ethereum (ETH).
On the phone
Step 1: After logging in to your account, select the item "market" lies below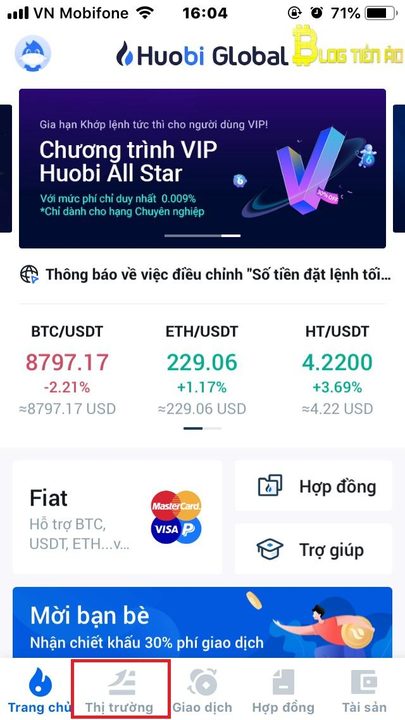 Step 2: Select the item "all" above the interface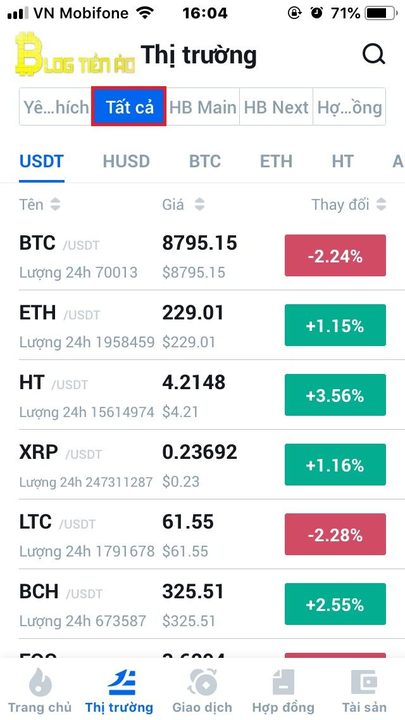 Step 3: Select the item ETH / USDT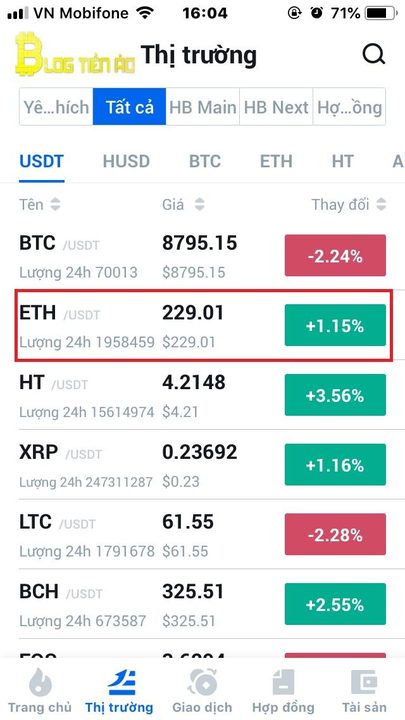 Step 4: choose "buy into" or "sold out"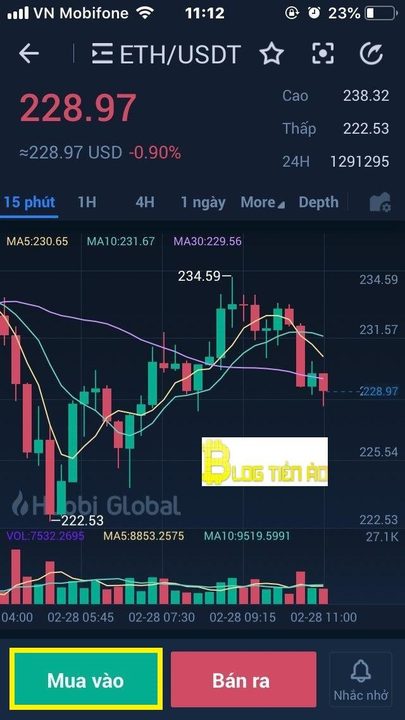 Step 5: Next you will see the following interface.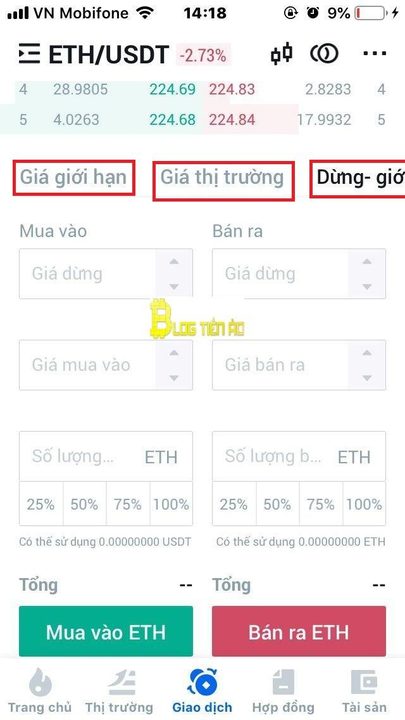 At this step, choose one of the three types of orders that you have circled above to trade. And how these orders work, review the section "Some basic knowledge to grasp before trading".
On the computer
Step 1: After logging in to your account, select the item "deal" and select the type of coin you want to trade on the left hand column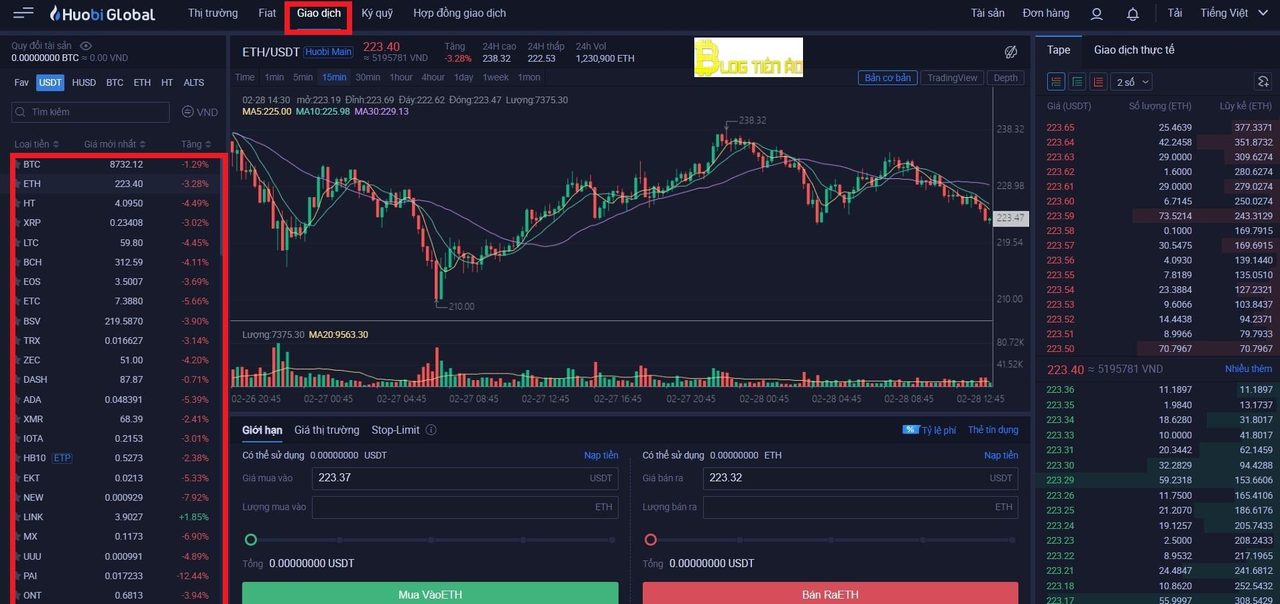 Step 2: Then choose one of the three types of circled orders to trade. To learn more about the types of orders and how to trade, review the section "Some basic knowledge to grasp before trading".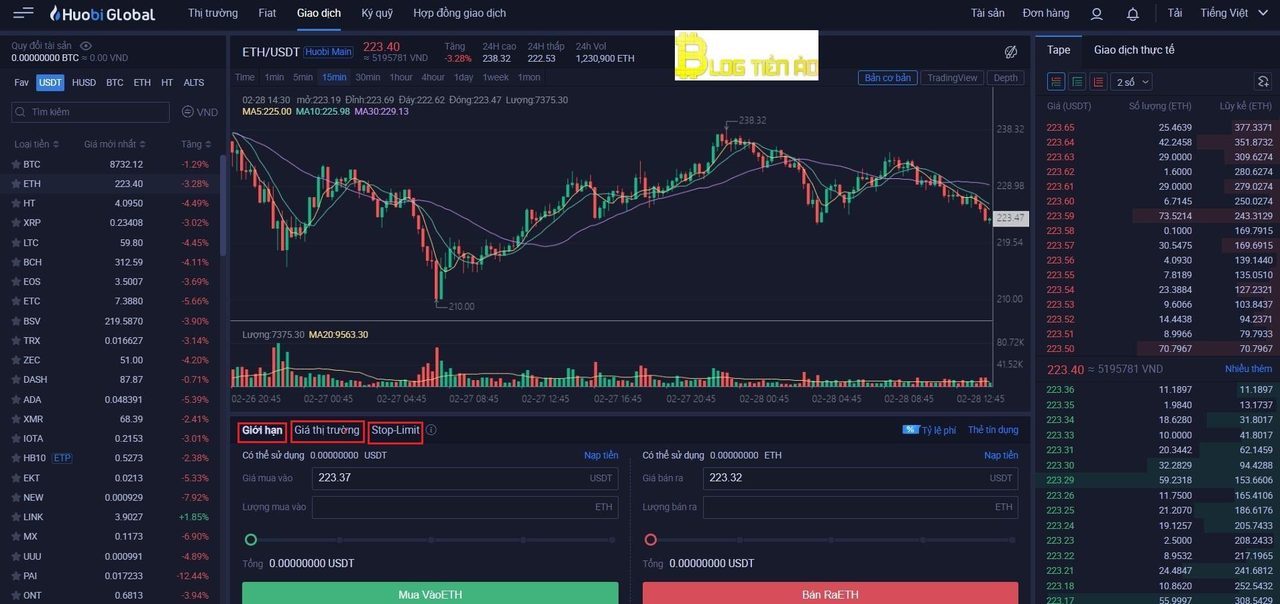 Instruction to buy coins in Vietnam Dong on Huobi OTC
In addition to trading coins like many other exchanges, Huobi also helps the community of Vietnamese traders more convenient in buying coins when allowing transactions in VND.
However, to use this feature, you need a bank card. Here I will show you how to buy coins in VND:
On the computer
Step 1: After logging in, select the item "Fiat". At OTC Huobi, you can buy the following coins with VND: BTC, ETH, USDT, EOS, XRP, LTC, HT, HUSD and BCH.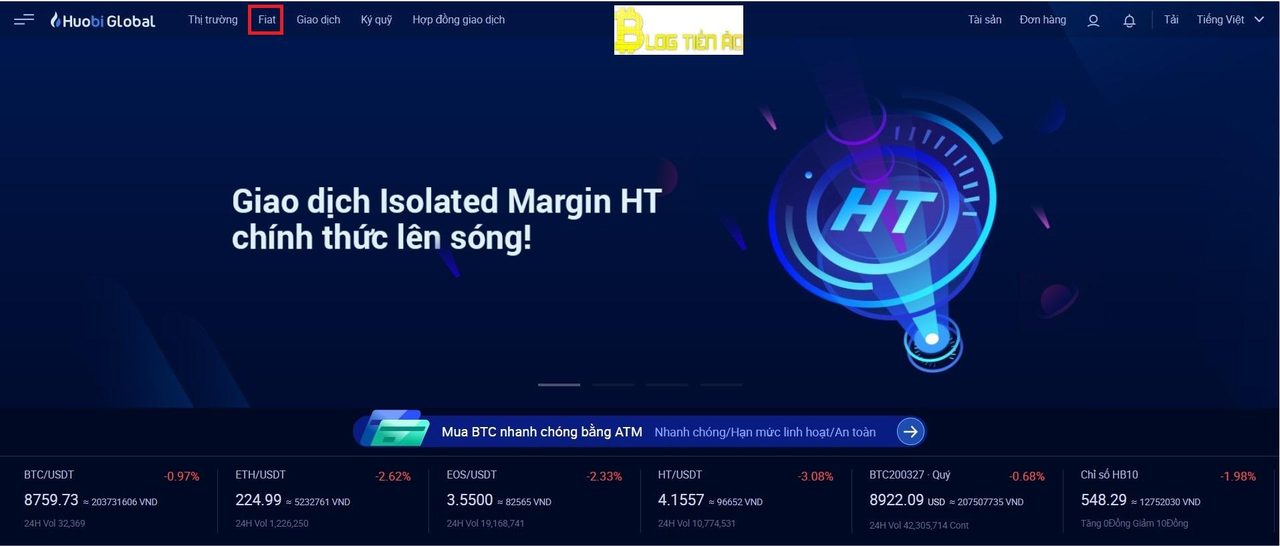 Step 2: If you want to buy Bitcoin, select the BTC section, then select the person you want to buy.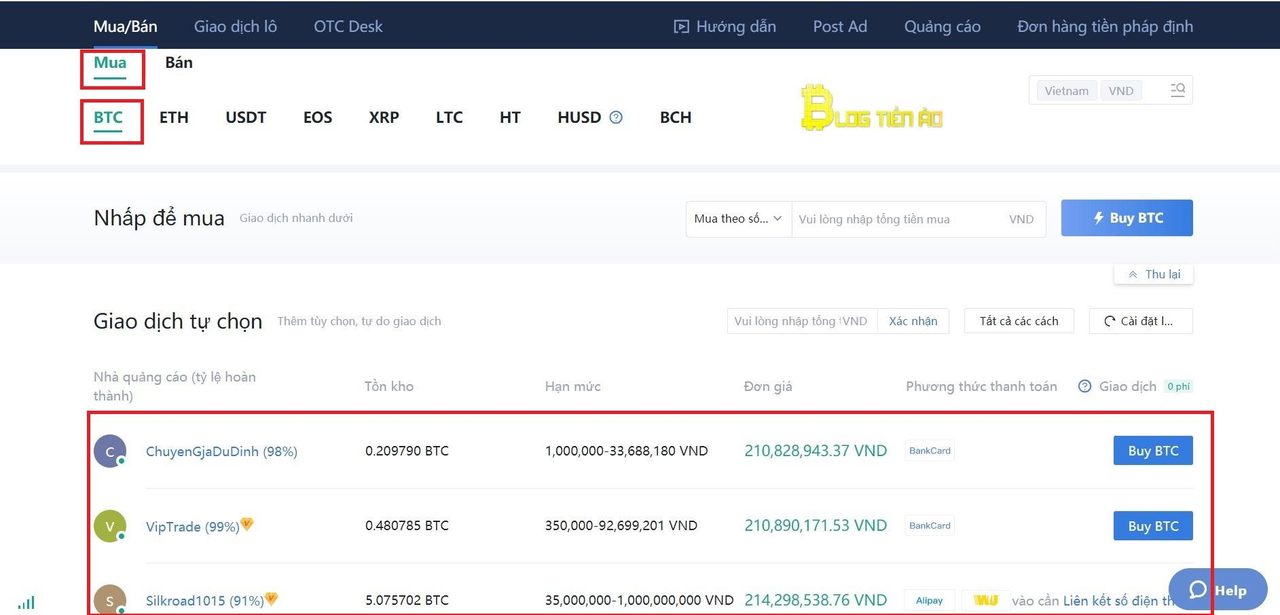 Step 3: Next after selecting "Buy BTC", the interface will appear a box "VND level" you will pay and the corresponding amount of BTC. After entering the amount, you choose "Create an order".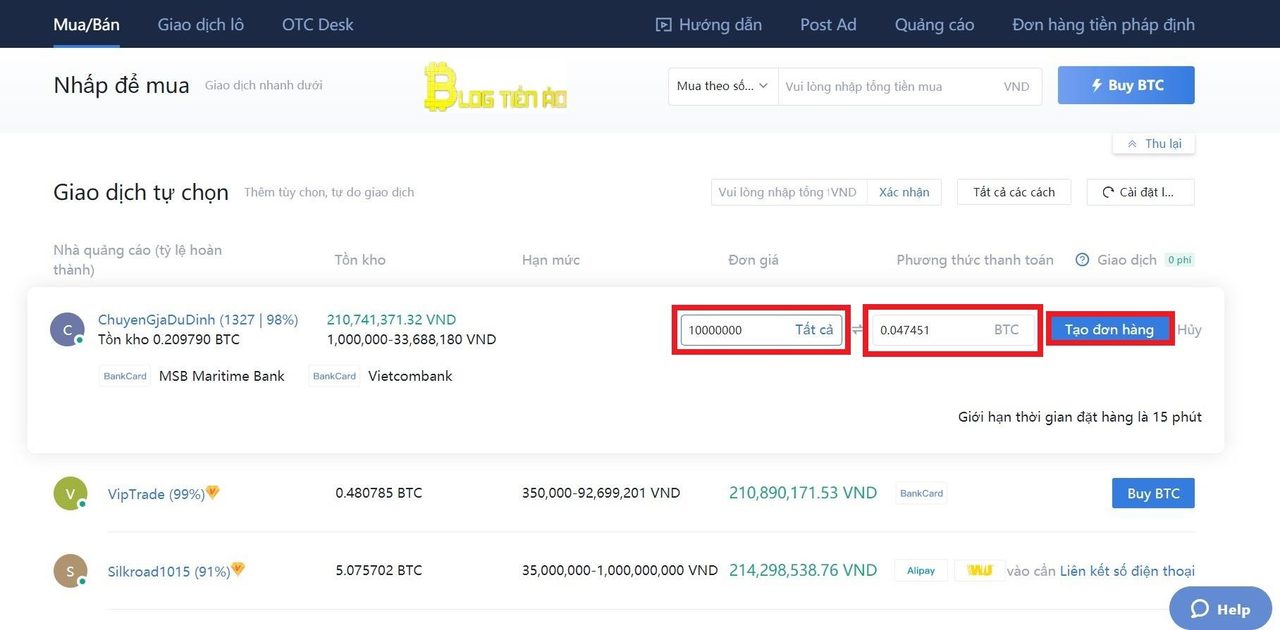 Step 4: You will have 15 minutes to transfer. When the transfer is completed, you choose "Moved, next step"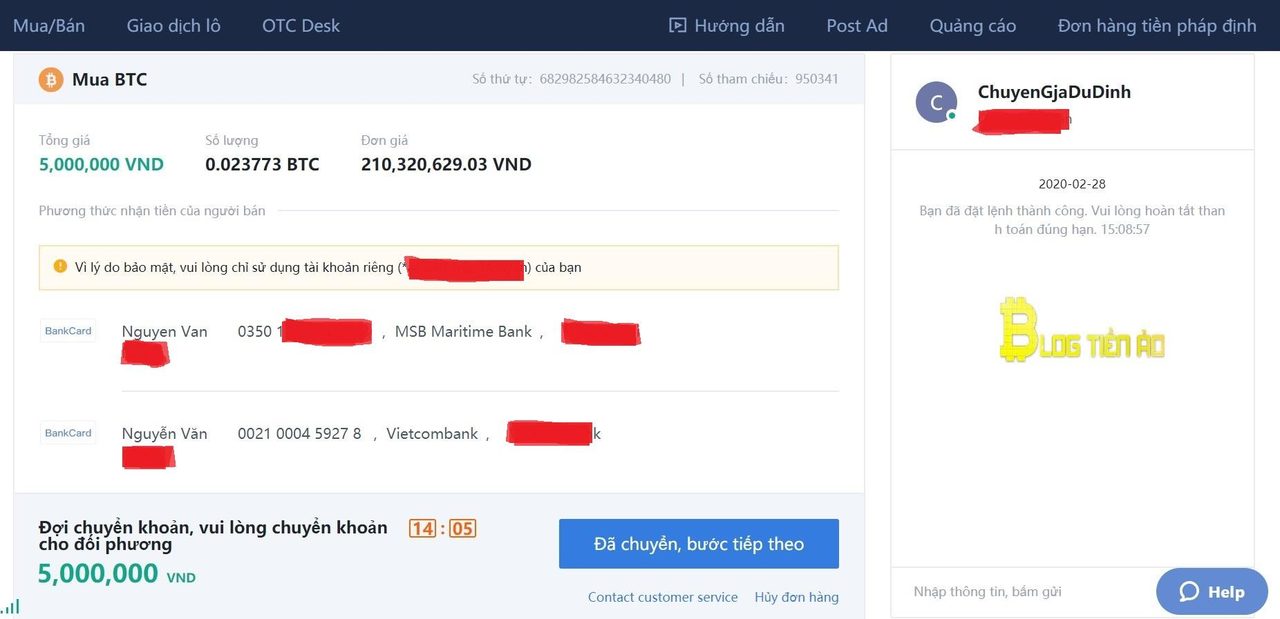 Then you just need to wait for the other party to confirm to complete the transaction.
On the phone
It should be noted, on the phone interface, you can only buy coins on the OTC with the renminbi (CNY), USD and Hong Kong dollar (HKD). Means you Can't buy coins with VND as on the computer interface.
Step 1: Login to your account, select the item "deal" (1) at the bottom of the interface, then select the item "Fiat" (2) in the top row.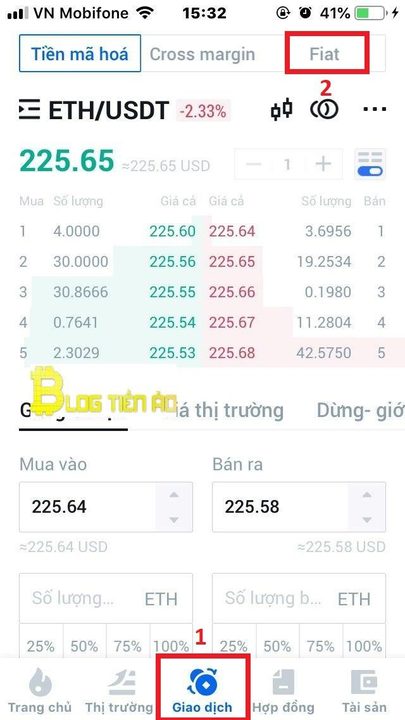 Step 2: Select the item "purchase" (1), select the currency you want to buy (2), select the currency you want to trade (3).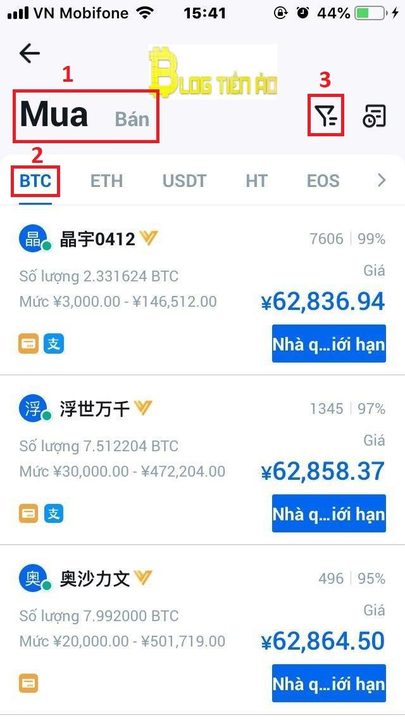 Step 3: After selecting the currency you want to trade, you need to select the object you want to trade and click on the item "buy".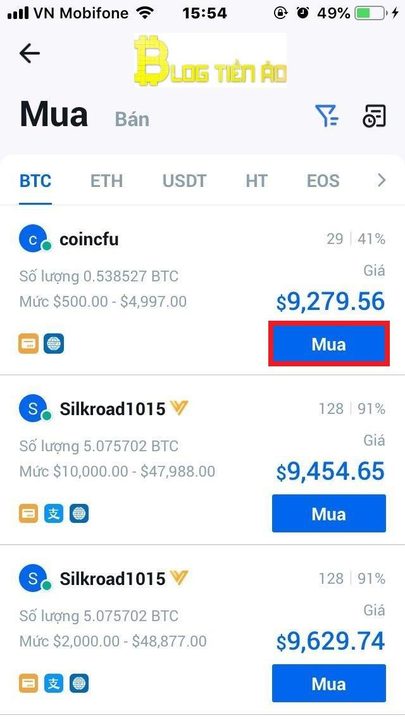 Step 4: Enter the amount you want to pay (1). The interface will display the number of BTC champions corresponding to your money (2). Then choose "order" (3)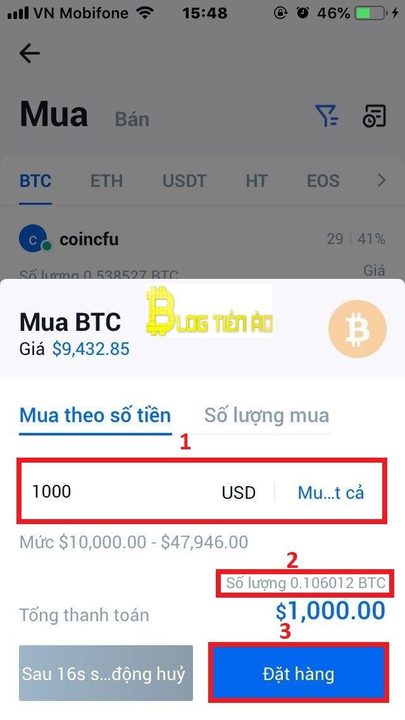 Step 5: Next, you will transfer money to the opponent, when the transfer is completed, select "I have paid successfully". Note, when transferring money, the content you do not go write words like BTC, ETH, Huobi, ... so that the transfer is not blocked or the account is frozen.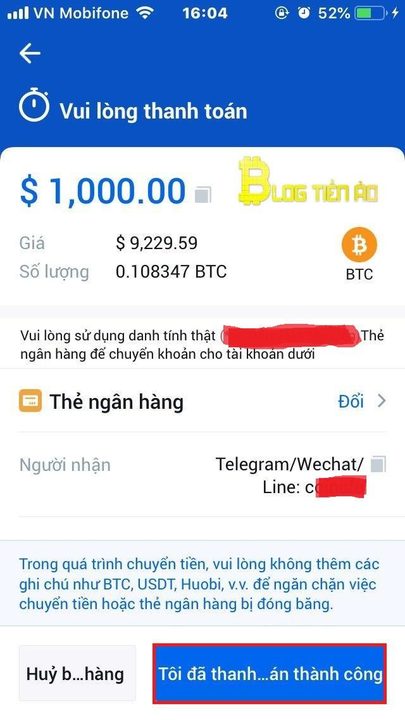 Then you just need to wait for the other party to confirm to complete the transaction.
Guide to making money on Huobi
Surprisingly, aside from trading coins, Huobi offers you several other ways to make money on the platform. Here, Blogtienao will guide you how to make money on Huobi easily without trading coins.
First, log into Huobi, select the account section and select "invite friends".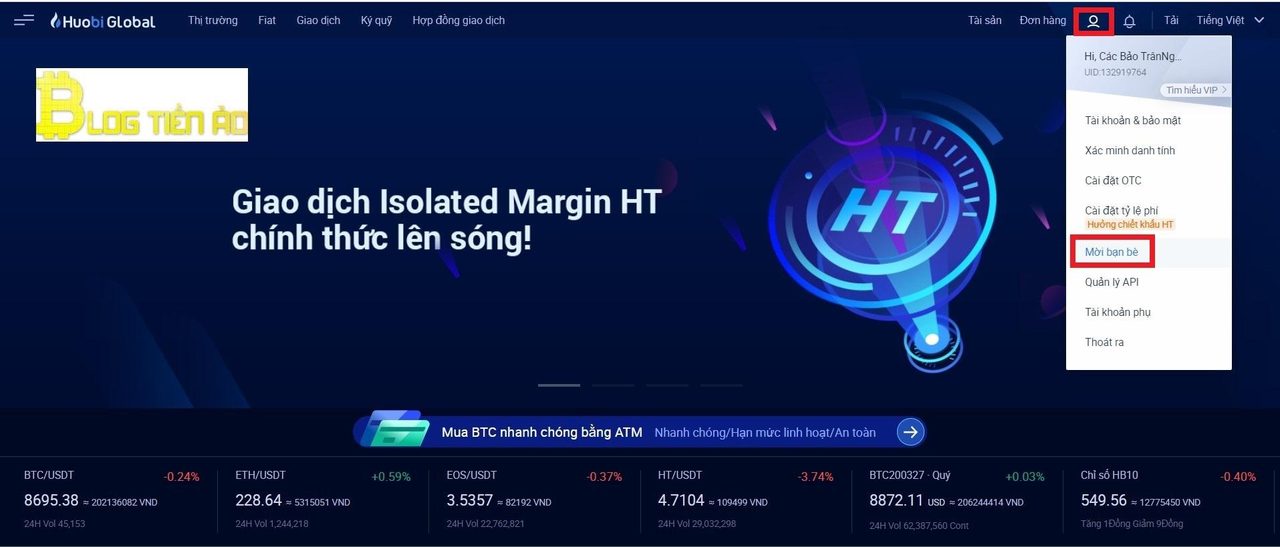 Then you send the link in the box "Register link" to those in need. You can invite via facebook, zalo or you can post descriptions on Fanpage pages owned by you, or large facebook groups about the money and electronic money community.

However, because most people know this form, you should make it very natural, avoid offensive to readers, and always follow the rules of the groups, avoid rampant spam.
More advanced, if you have a website, you can recommend the way you feel is best to encourage more people to subscribe to your link.
About the reward details of the program, you can read in the link below.
In addition to the Huobi Referral Program, there are also Bounty extremely attractive, with great prizes. As the 5th anniversary phase of Huobi "hang" awards including: 10000 USDT, 5000 HT, Xe AB, IphoneX, ...
Follow Huobi Global at
Conclusion
Hopefully through the above article, Blogtienao has helped you have an overview of this emerging Huobi floor. Personally, I think the Huobi floor is quite ok and I am also using this floor.
Finally, any questions you can ask inbox on Blogtienao fanpage, we will answer more.