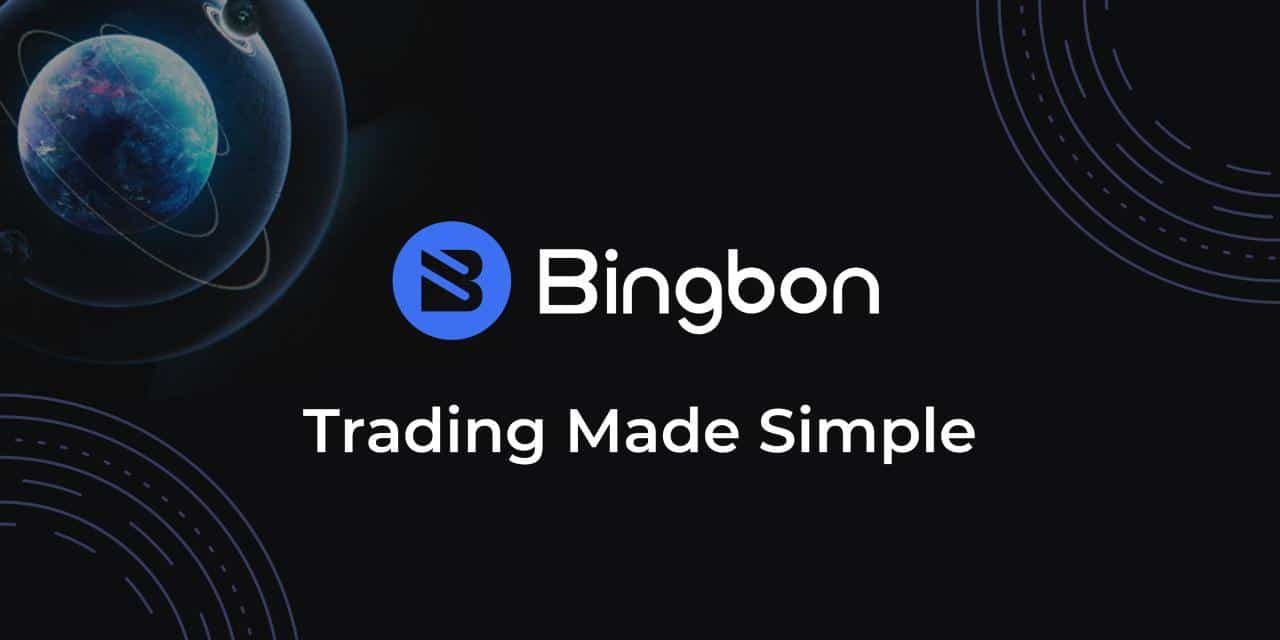 Bingbon is the exchange of any country? Is this a reputable floor? Does Bingbon have anything more special than the big guys like Binance, Huobi, ...? Should I consider using this broker? How to register and trade? ...
All your questions will be Blogtienao answer in the article below.
About Bingbon floor
Bingbon is a trading platform from Taiwan, established in May 5. This is probably a little-known floor in Vietnam. In Taiwan, however, Bingbon is a top 2018 trading platform.
But to say this is a cryptocurrency exchange is not correct. Because besides supporting trade crypto, the exchange also offers a number of other trading products including: Forex, oil, gold, securities, ...
To better understand the popularity of the exchange, Blogtienao will give you some additional information:
By 2020, Bingbon has served 340.000 users in many parts of the world.
In a record in the second quarter of 2, the trading volume in China of the exchange set the milestone of $ 2020 million in just 500 hours. This is a very impressive number for a country that has a hostile attitude towards the crypto sector like China.
In the face of constant development, the famous Hong Kong-based technology company Grand Shores (listed on the floor) announced an investment for Bingbon $ 10 million.
There is a full license
Currently the exchange has a MSB (Money Services Business) license from the United States. This type of financial license is supervised and issued by FinCEN (Financial Crime Enforcement Department of the US Treasury Department). The main subjects to be monitored are businesses and companies dealing in monetary services.
Address for US MSB license lookup: https://www.fincen.gov/msb-state-selector. You enter "Bingbon" in the field LEGAL NAME Then select "search" to conduct a search
Besides, the exchange also received an MTR license from the Estonian Ministry of Economy and Communications.
What makes Bingbon stand out among the big guys?
Copy Trade
It can be said that this is the most outstanding feature of Bingbon.
The first goal of Bingbon when creating the Copy Trade function is for Transactions and copy trading users to cooperate to join "WIN - WIN". Only when the Dealer is making a real profit for his copy; then they can share a part of that profit.
The second goal of Bingbon is to create a stable, low-risk investment environment for both users and Bingbon. Therefore, after nearly a month of testing this function, the floor has changed some functions in copy trading to offer an optimal solution. How can both unlimited functional users and keep risks low for both users and Bingbon.
Regarding profit sharing, the current copyers only have to share 8% of the total profit for the transactors they copy. This amount will be paid to the teller after 23:00 daily.
Watch now: What is copy trade?
Convert assets directly
In addition to Copy Trade, the exchange also has another cool feature, which is direct asset conversion. With this feature, you can instantly own BTC or ETH ... if you only have USDT and vice versa without having to trade.
Pros - Cons of Bingbon floor
Advantage:
Low transaction fees
There is Copy Trade feature
Many products trade besides Crypto
High leverage, up to 150x. This is significantly higher than BitMEX with 100x and Binance Futures is 125x
Friendly interface
High security features
Professional support team
Disadvantages:
Support quite a few cryptocurrencies. Currently, the exchange only supports 10 coins with USDT: BTC, ETH, XRP, LTC, BCH, EOS, ETC, TRX, BSV and ADA.
No OTC floors yet
The charts do not really fully show the indicators so that users can easily analyze trends
Transaction fee
Deposit fee: No charge
Transaction fee: 0.075%
Withdrawal fee and withdrawal limit:

Is Bingbon floor safe?
As of 6/2020, the floor has not recorded any attacks as well as phosphates. This is one of the bright spots for a relatively new floor.
Is Bingbon floor banned in Vietnam?
Currently, Vietnam has not yet imposed a ban but has not yet legalized cryptocurrency. So currently you can still use Bingbon floor peace of mind.
Instruction to register an account on Bingbon
Step 1: Follow the link below to register for an account
Step 2: Select the item "Mine" (1) => "Please log in" (2)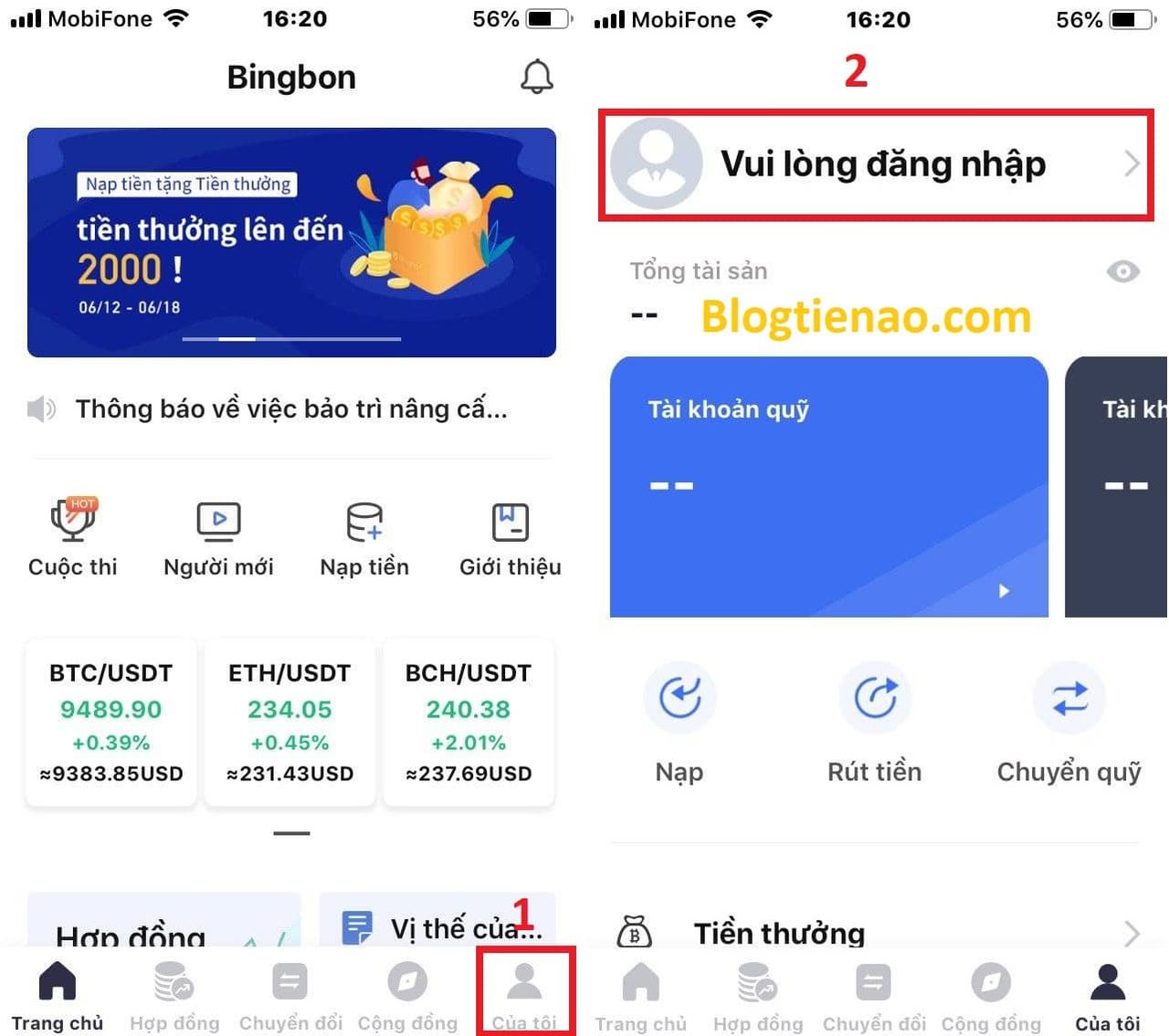 Step 3: Enter the phone number, you need to re-adjust the phone area code (1) => Select "next step" (2)
Step 4: A code will be sent to your phone, enter the code and select "Finish"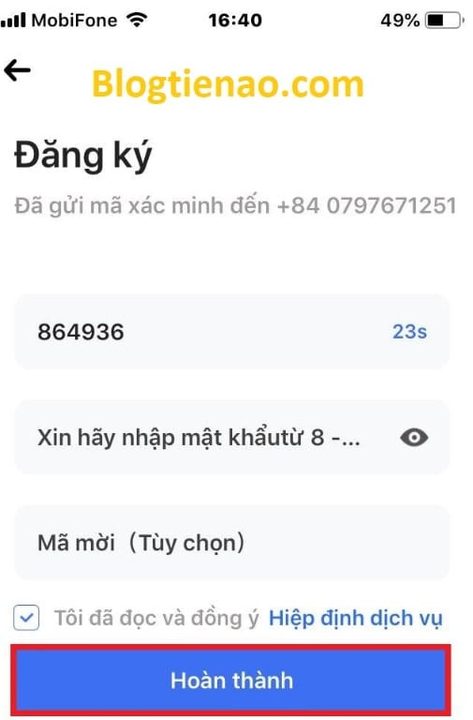 Secondary step: After completing the registration, you can click on the user logo to update more information such as avatar, nickname, ...
Guidelines for identity verification / KYC
Step 1: Select the item "Mine" (1) => Scroll down and select "Identity verification" (2)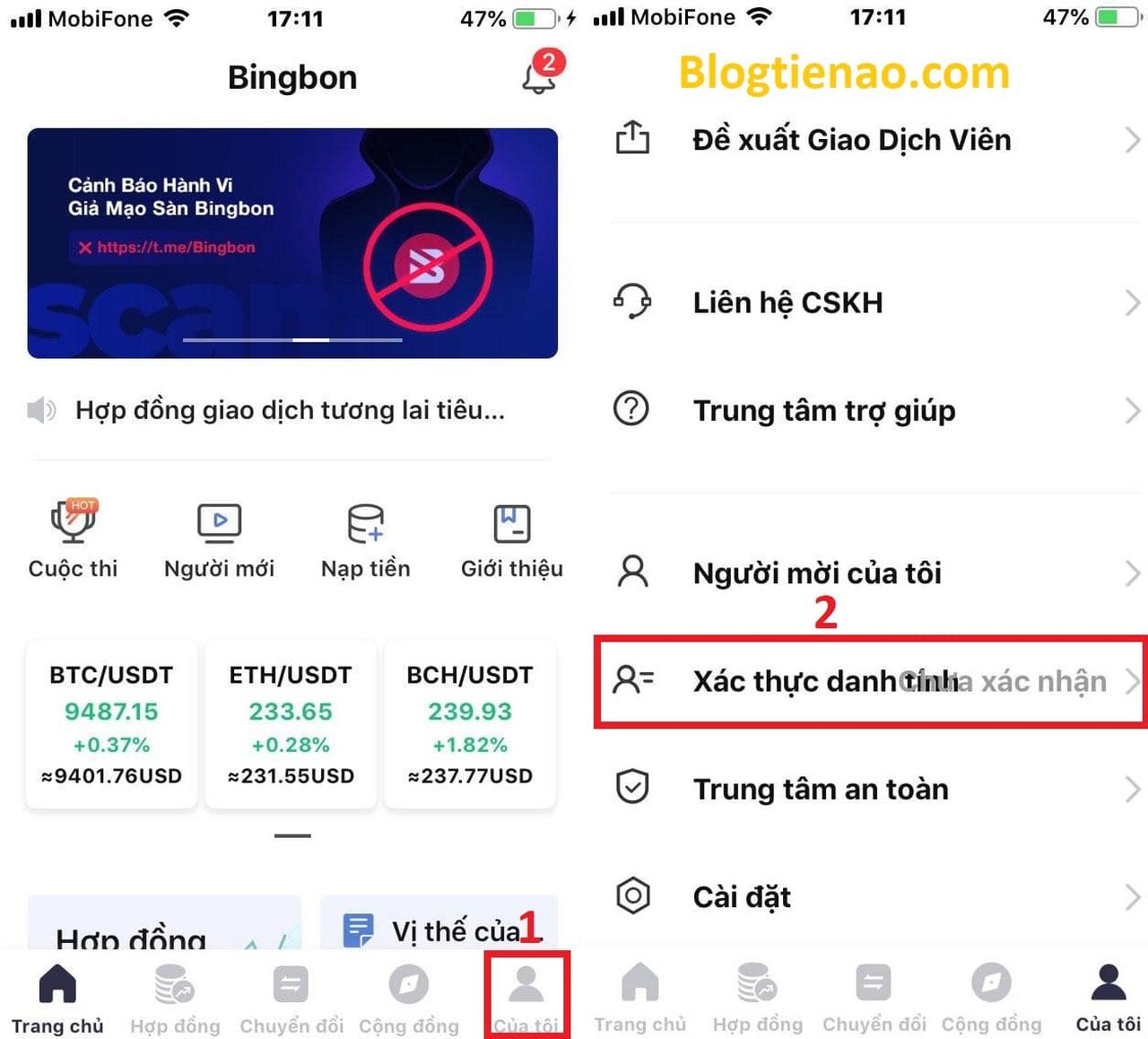 Step 2: Enter required information => Select "Next step" (1) => Upload ID photo and select "To send" (2)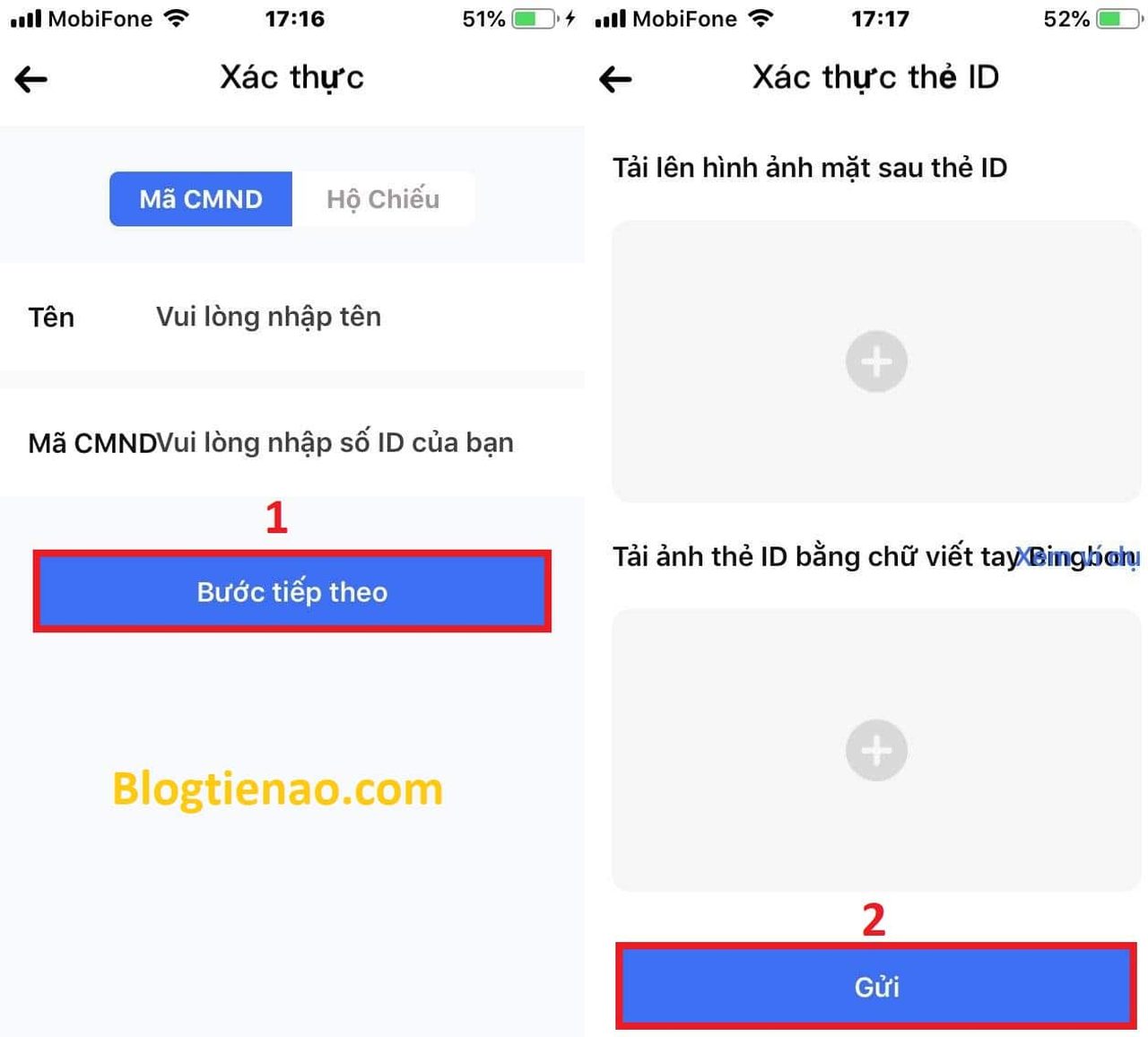 So, the KYC step is completed. At this point you will need to wait about 1 to a few days for the authentication floor.
Instructions to enable Google Authenticator
Step 1: On item "Mine" (1) => Drag down select "Safety center" (2)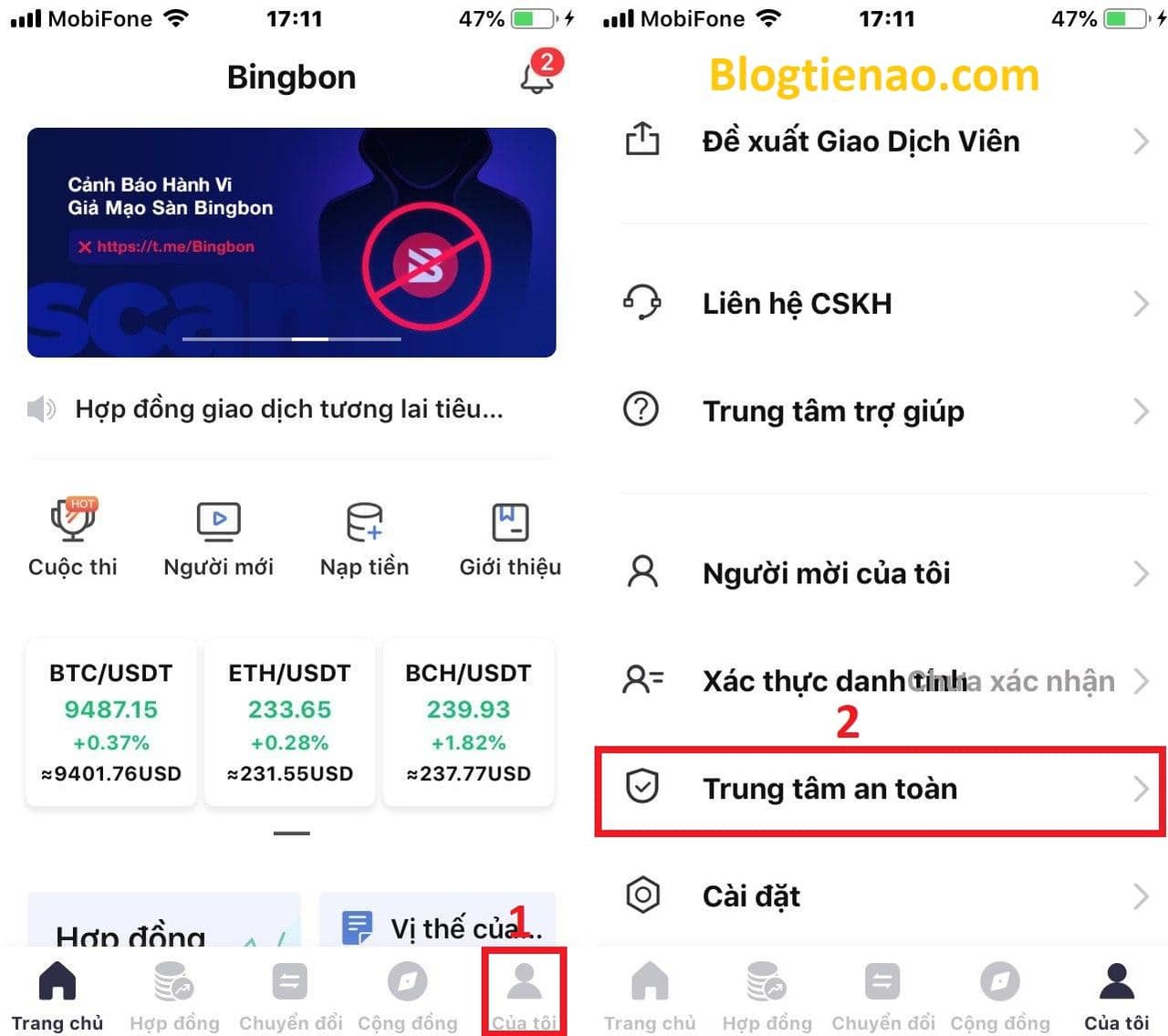 Step 2: choose "Verify Google" (1) => "Open Now" (2)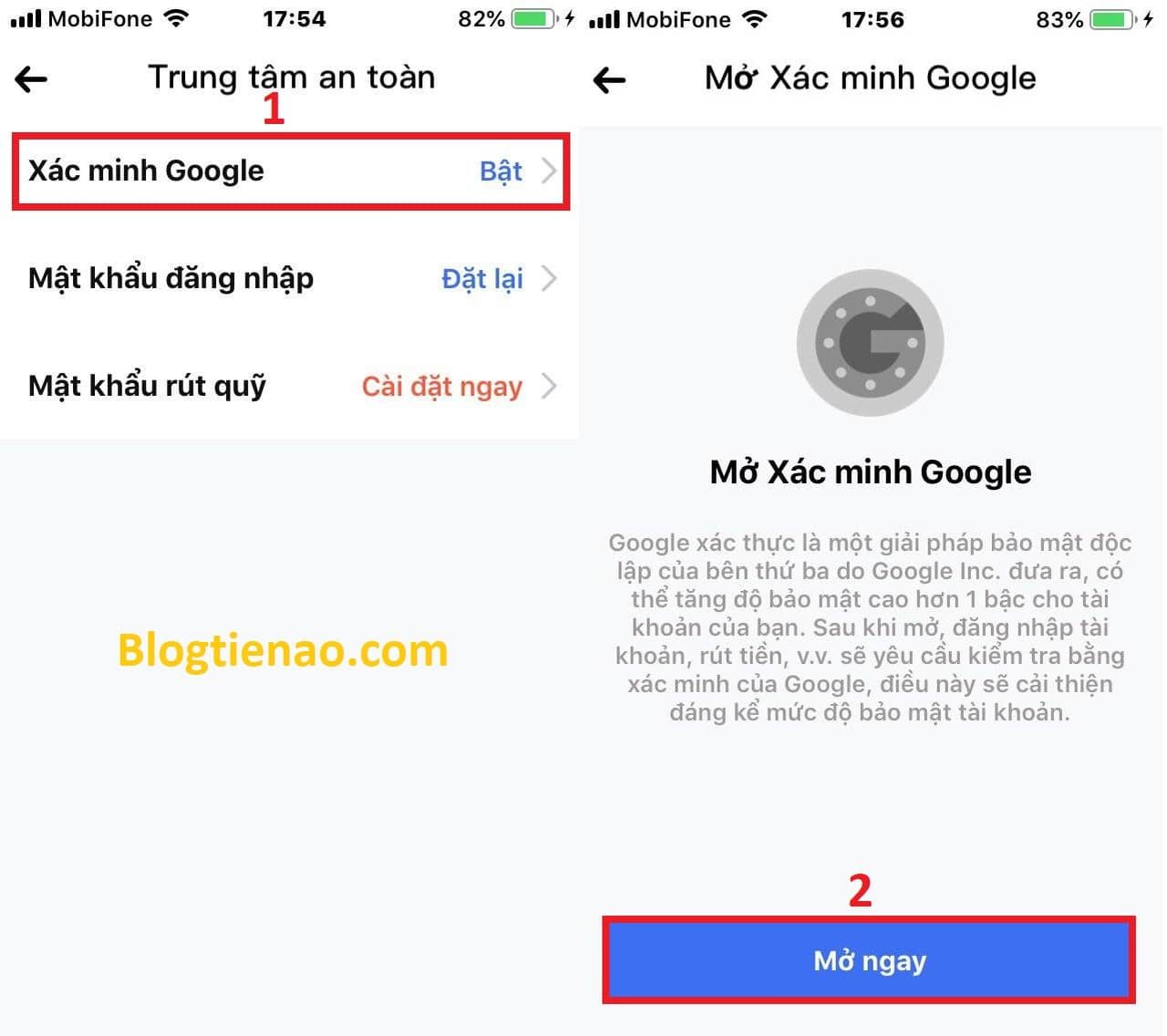 Step 3: Copy the code to your Google Authenticator app => Enter the code sent by phone and code in GA => Complete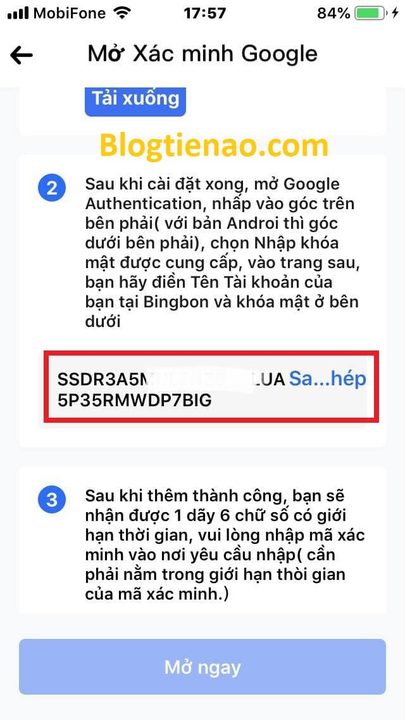 Instructions for loading coins into Bingbon floor
On the phone
Step 1: Select the item "Recharge" right main interface (1); or go to the section "Mine" (2) and select "Load" (3)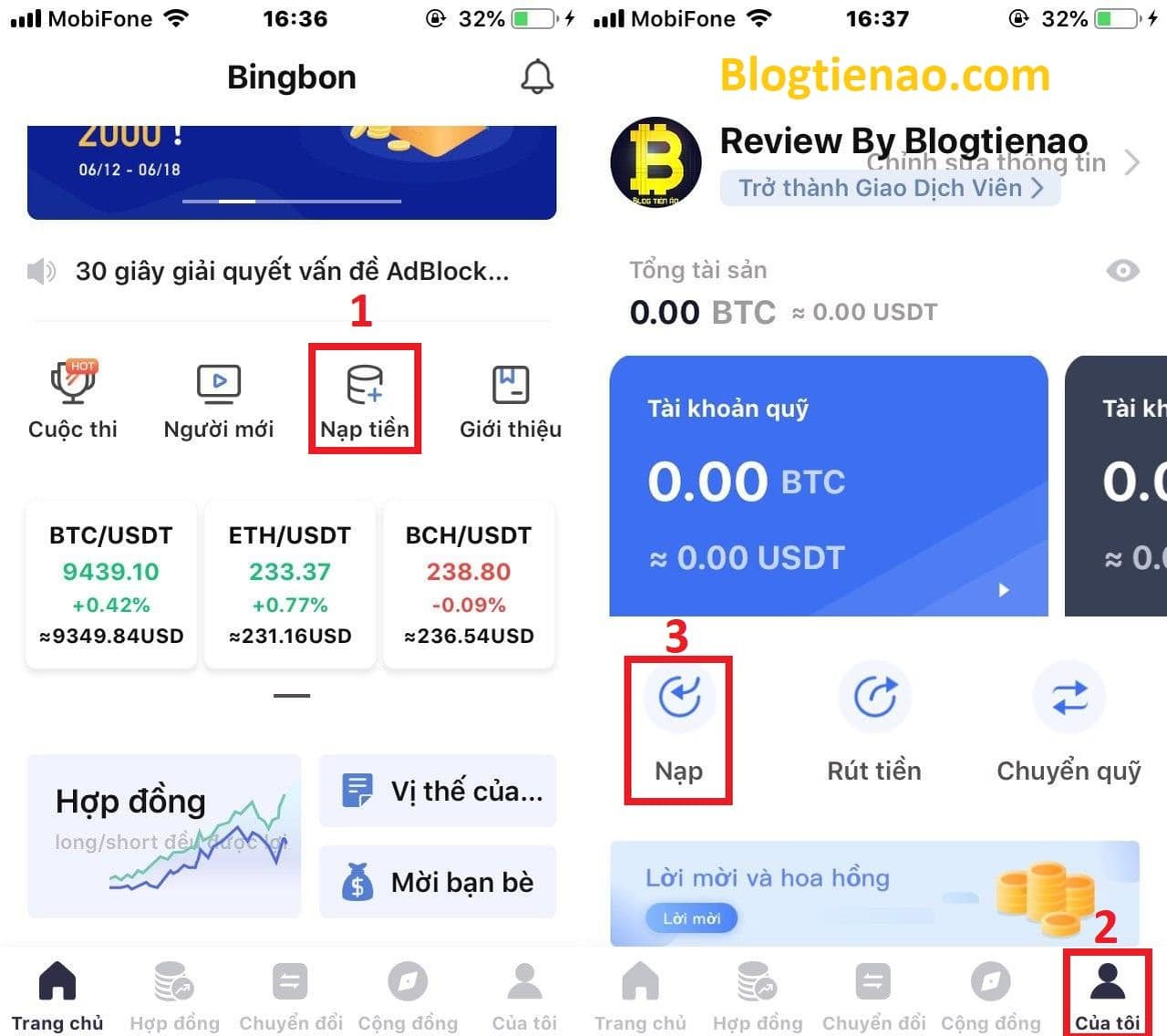 Step 2: Select the coin you want to load, in this section, admin select Bitcoin (1) => Then copy the Bitcoin address provided by Bingbon (2) and paste in the entry "Your BTC wallet address"In the account on the floor Vicuta or Coinhako, ... (where your BTC is stored)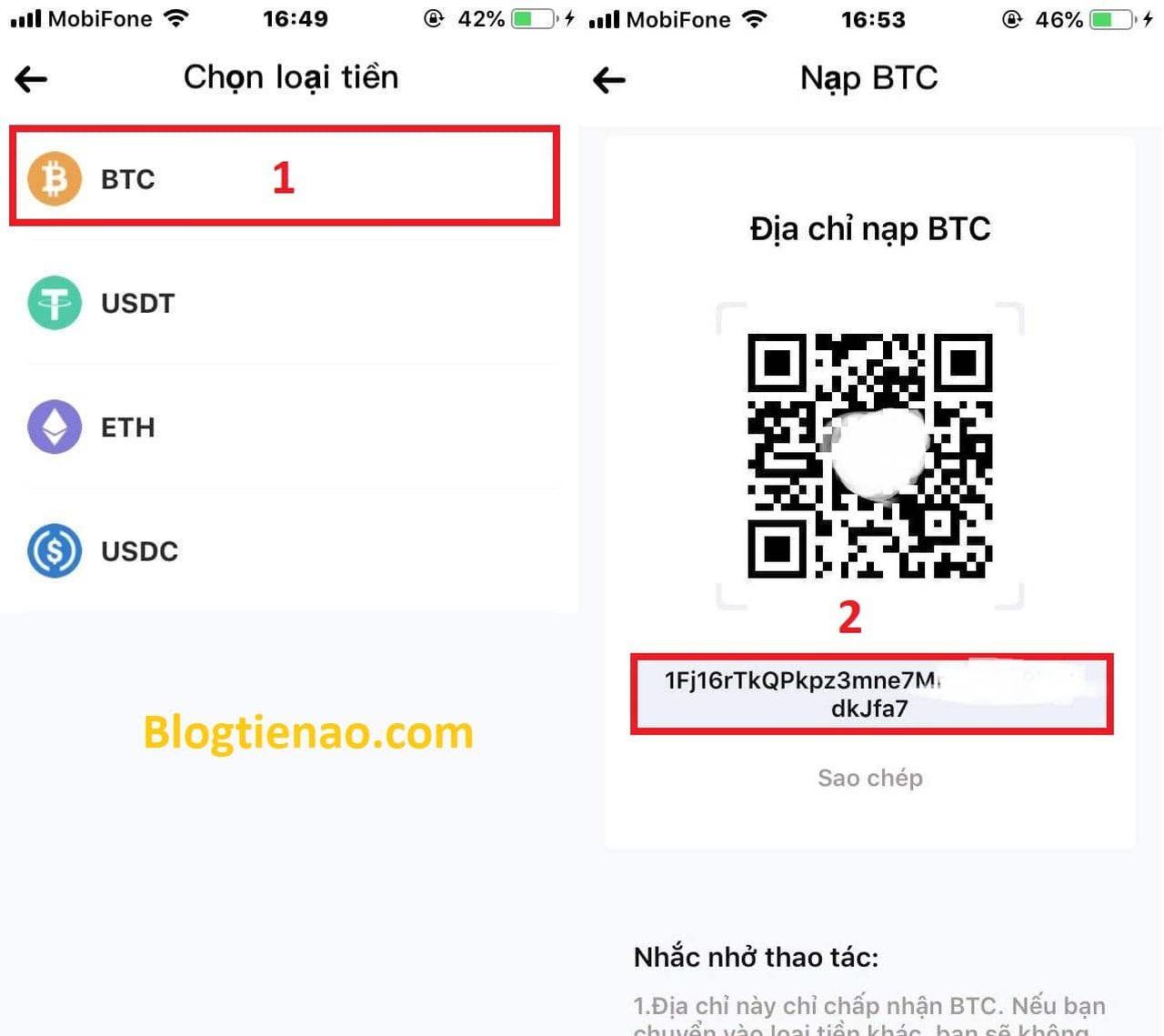 On the Website
Step 1: Select the item "Asset" (1) => "Recharge" (2)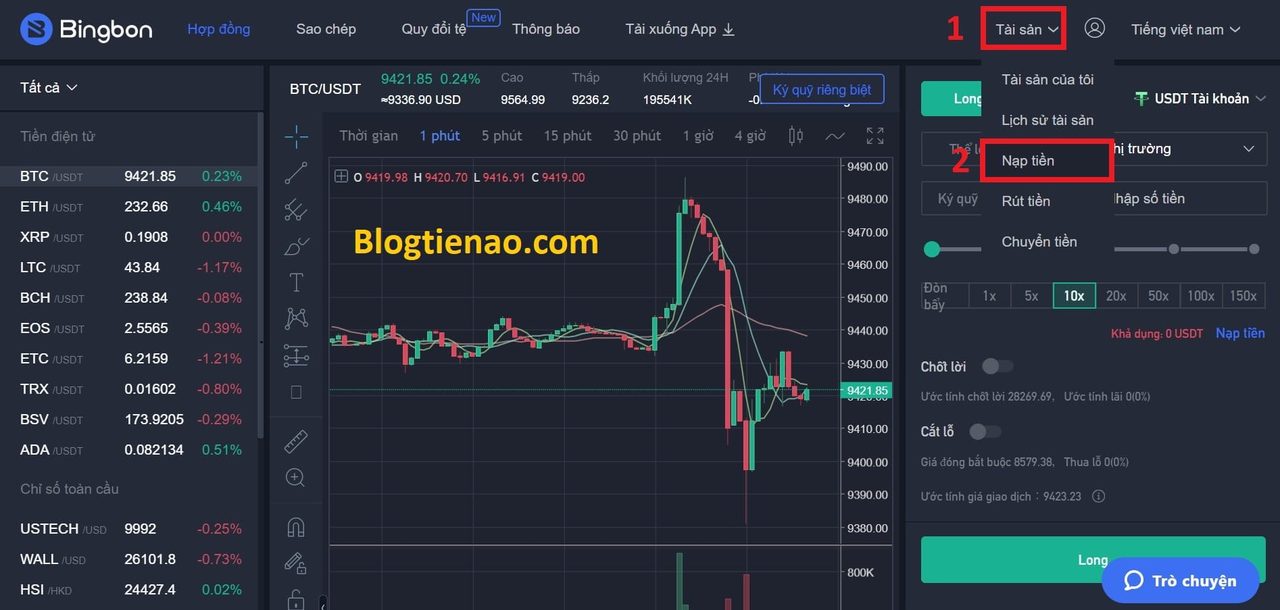 Step 2: Select the property you want to load again (1) => Copy the Bitcoin address provided by Bingbon (2) and paste in the text box "Your BTC wallet address"In the account on the floor Vicuta or Coinhako, ... (where your BTC is stored)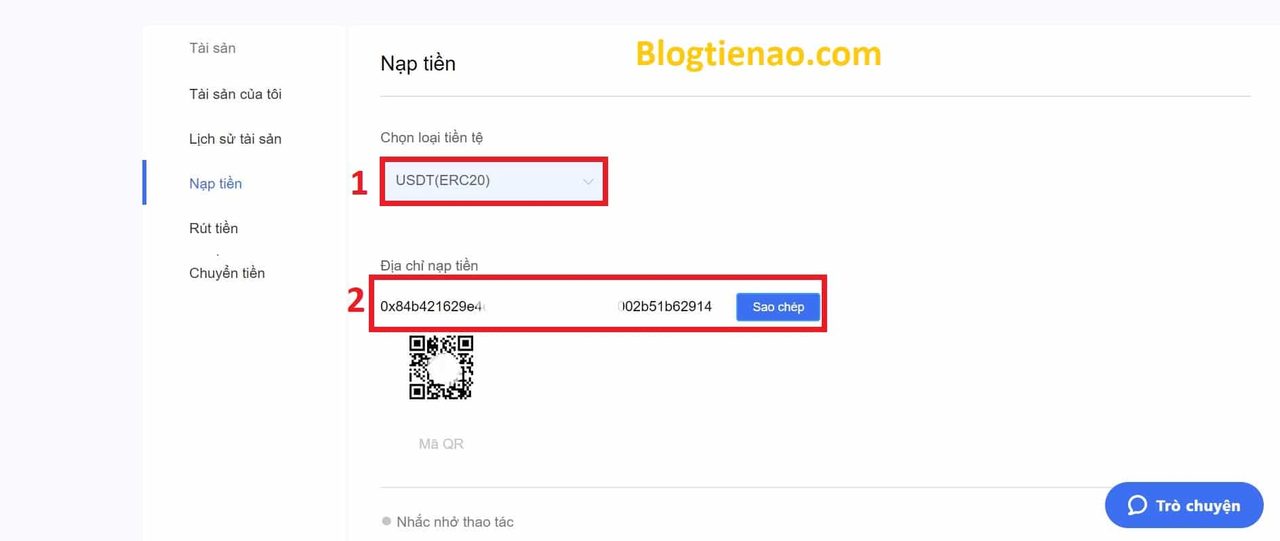 Note when loading coins: The most important thing when depositing coins is to enter the correct address and send the correct type of property you have chosen. For example, you want to send Bitcoin, so if you transfer ETH to the Bitcoin address, determine that it will permanently lose the ETH you have transferred.
Instructions to withdraw coins
On the phone
Step 1: on item "Mine" (1) => "Withdrawal" (2)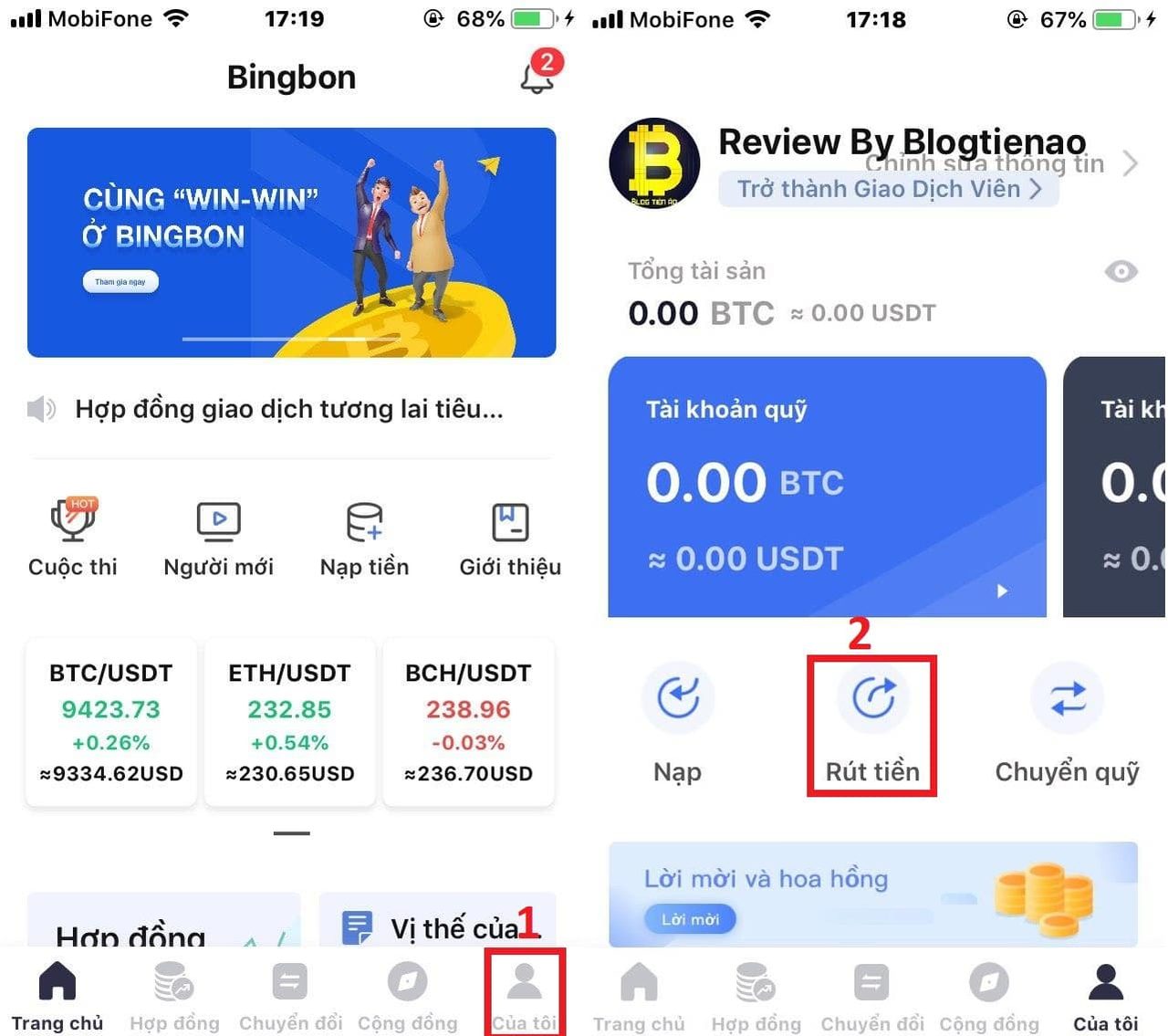 Step 2: Select the type of asset you want to withdraw (1), Blogtienao uses BTC for example => Enter the requested information and select "Withdrawal" (2)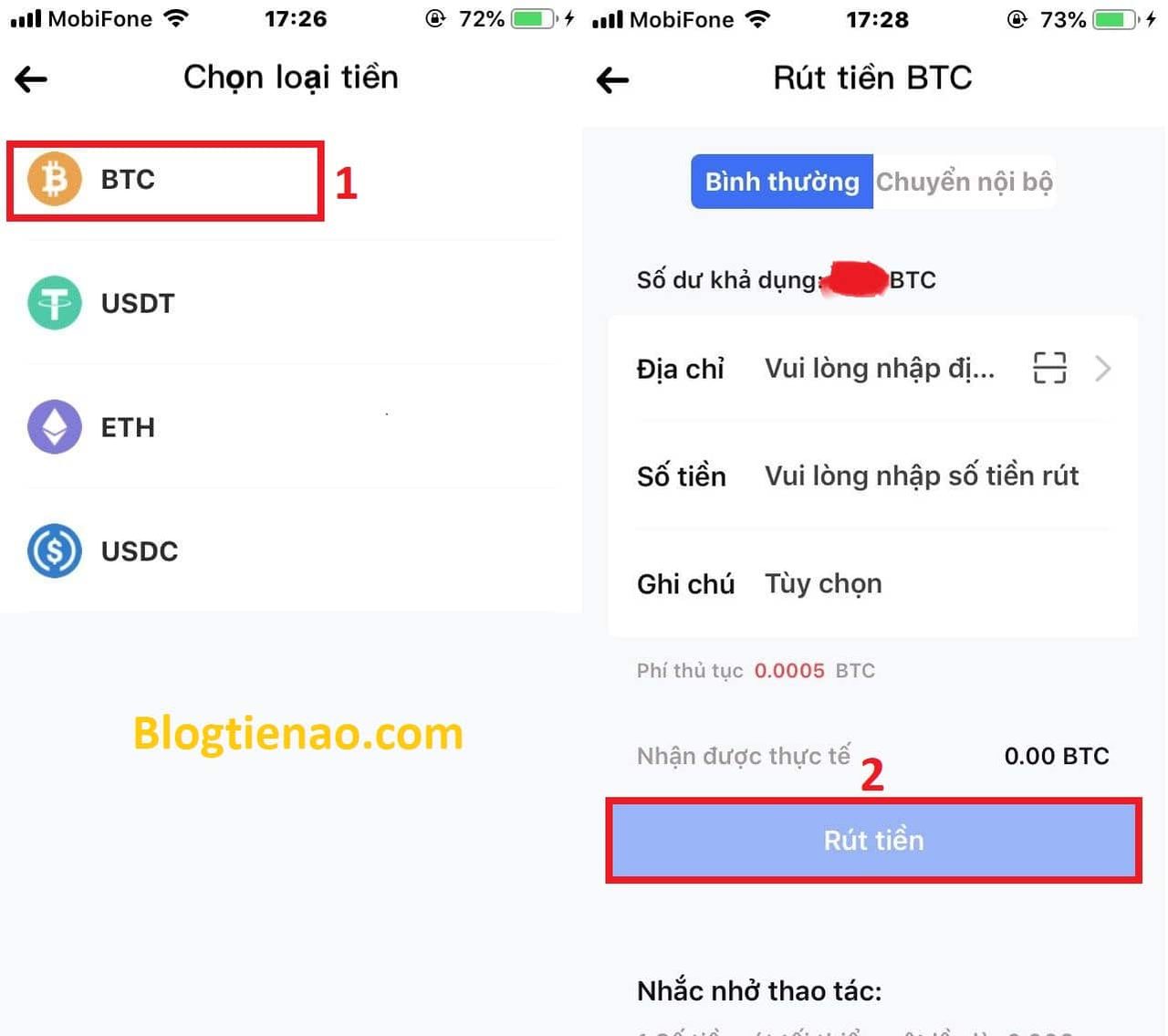 On the Website
Step 1: Select the item "Asset" (1) => "Withdrawal" (2)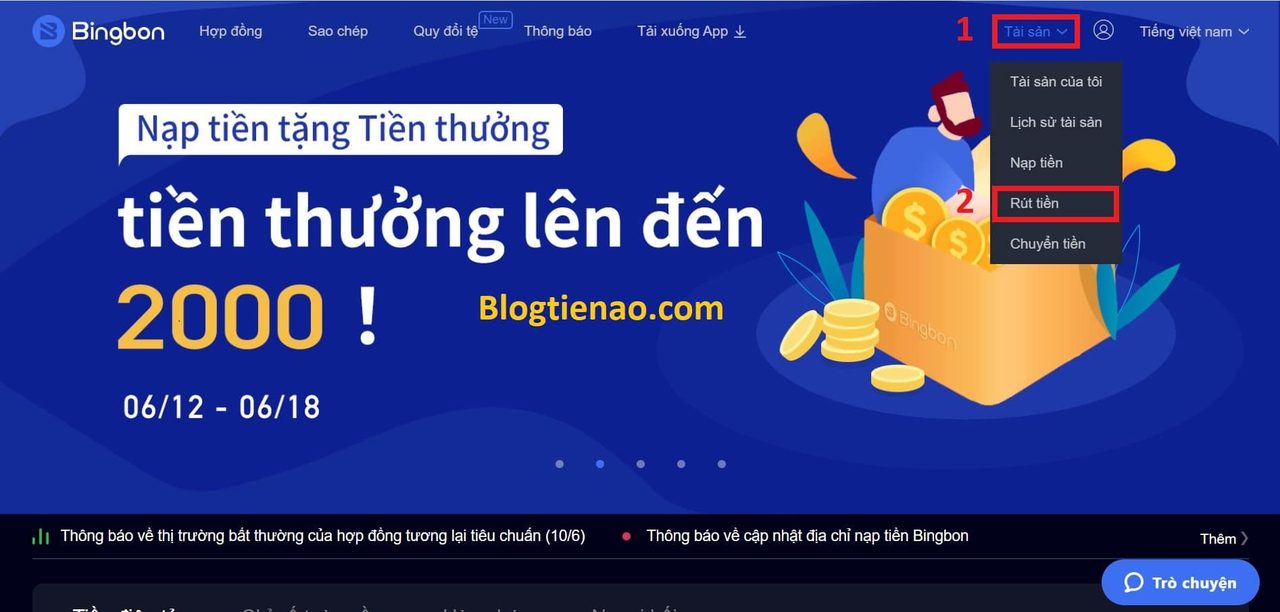 Step 2: Select the type of assets you want to withdraw (1). Enter all the required information and select "Withdrawal confirmation" (2)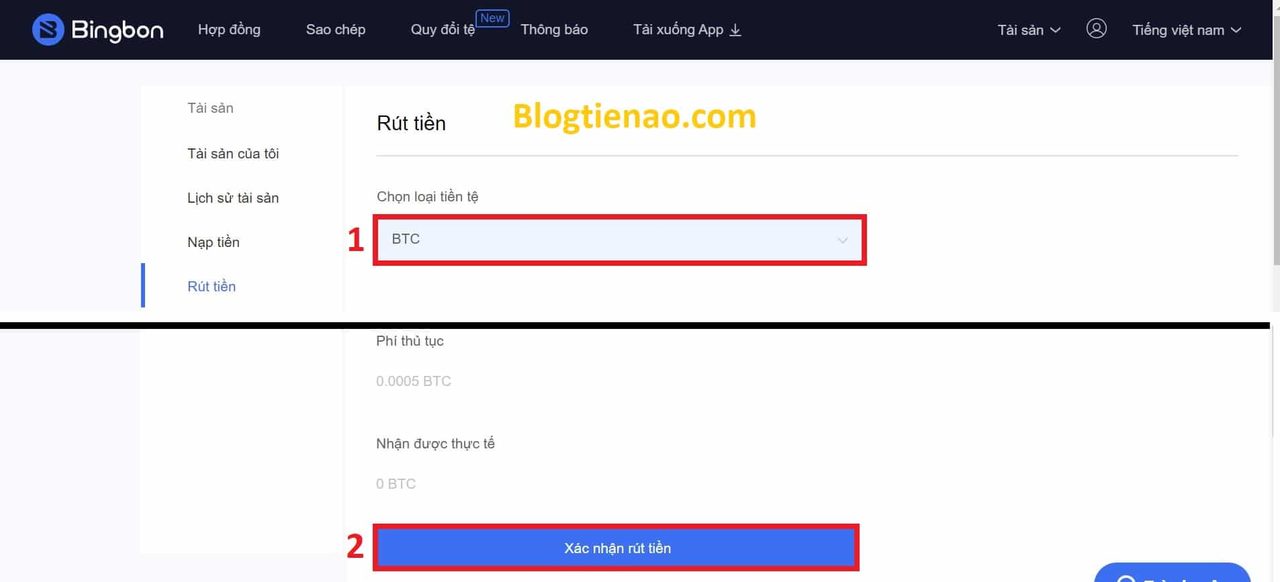 Some basic knowledge before trading
Bingbon currently supports two types of transactions for cryptocurrencies: Limit and Marker. Here, Blogtienao will introduce more about these commands.
Limit
This is an order to help you buy coins at the price you want. For example, if you want to buy coins for $ 7.500, then you would set a Limit for 1BTC for $ 7.500.
Market
This is an order to help you buy coins immediately at market prices.
For example, ETH is down 30% and you realize this is a bargain, you will place a Marker order to buy ETH immediately.
Trading guide on Bingbon
Introduce the interface
First, I will briefly introduce the interface:
Column 1: Where to choose the type of assets you want to trade
Column 2: Chart
Column 3: Order area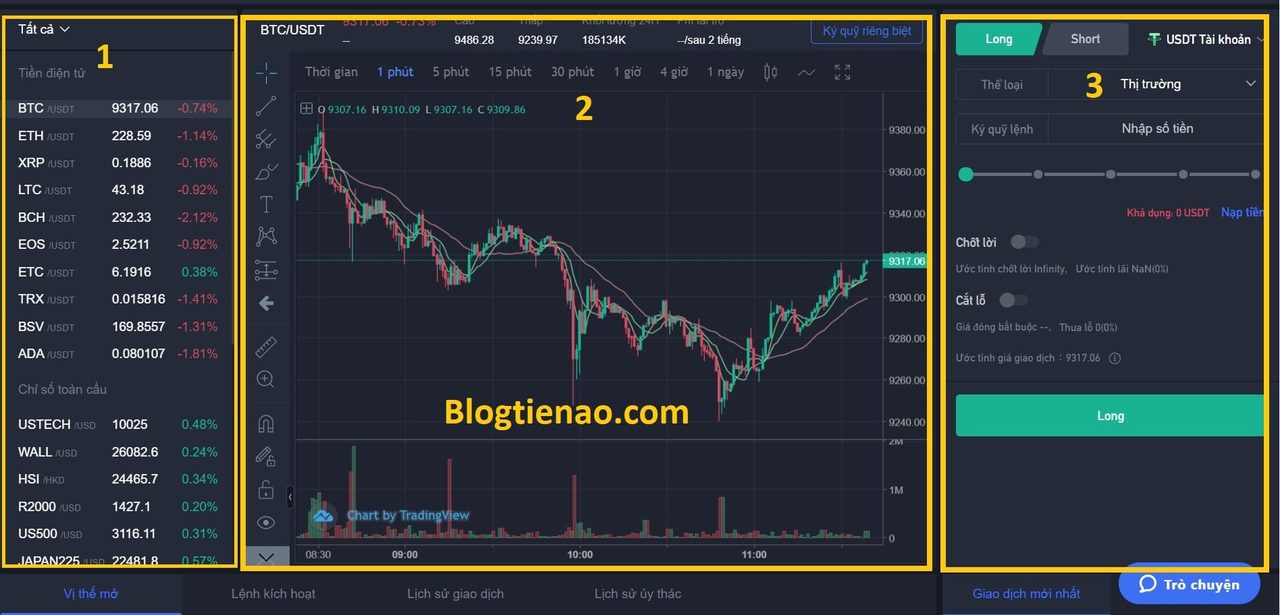 How to place an order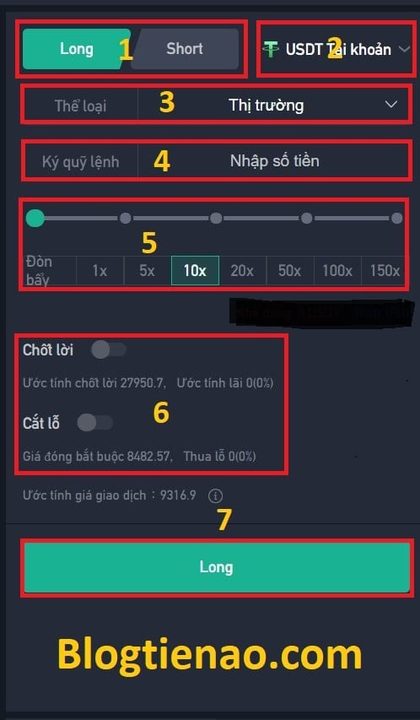 (1): Select LONG / SHORT
(2): Select the type of property in the account
(3): Select the command
(4): Enter the amount you want to spend
(5): Choose leverage
(6): "Turn on" take profit and stop loss then enter your desired price
(7): Select "LONG" to complete
Knowledge required when using the Copy Trade tool
Copy Trade is really a very interesting and useful tool for traders, especially newbies. However, one of the most important things when using this tool is to find a HOLDER / trader for COPY.
However, how to look at a long queue of tellers and find out which factors shine? What criteria do you need to base on? Here, Blogtienao will summarize some criteria based on ad's experience, which may be incomplete but will definitely help you to have a clearer choice of direction.
Criteria
Transaction time: Look for traders with trading periods of 1 year or more. You can see this data in the "Date of transaction" on Bingbon (1).
Number of copy: As much as possible. On the Bingbon floor is the section "Accumulated with Duplicates (2)
Profit percentage: You should look for traders with a stable profit percentage. That means the winning percentage is always the same and the loss percentage is not suddenly much greater than the winning percentage. On the Bingbon floor is the category "Earning rate" (3)
Is there a stop-loss setting: You should only choose traders who have set stop-loss
Continuous losing streak: If you win continuously and sometimes lose a few times, that's okay. But if a trader has a continuous winning chain, but when losing, lose 5-7 times in a row, you should be cautious. Maybe when they lost, they did not calm down and changed tactics constantly causing a long losing chain. Now let's go back to see what percentage of their profits. Whether to win is big and losing is equally great or not. If that is the case then you should not choose this trader.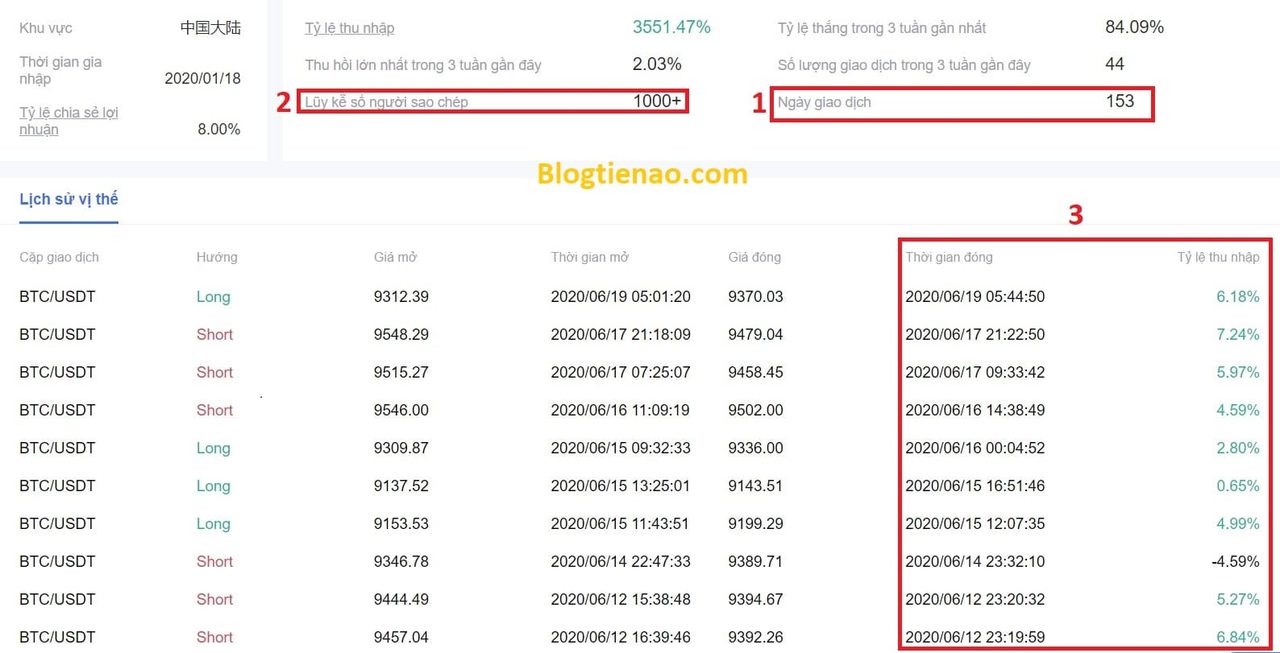 Things to note
With the criteria that Blogtienao listed above, you should not consider which criteria are the most important, but all of them are important and try to find a trader who meets the above criteria. Because when using the Copy Trade feature, it is no different from putting half of your assets in the hands of others to make a profit.
The other half of your wealth depends on how you find a teller. Besides, you will be wondering whether you should choose short, medium or long term trader. This is up to you to choose how to play. As Blogtienao said, the most important thing is to find a good trader.
Instructions on how to use the Copy Trade tool on Bingbon
Step 1: You come in "Community" to view the list of tellers.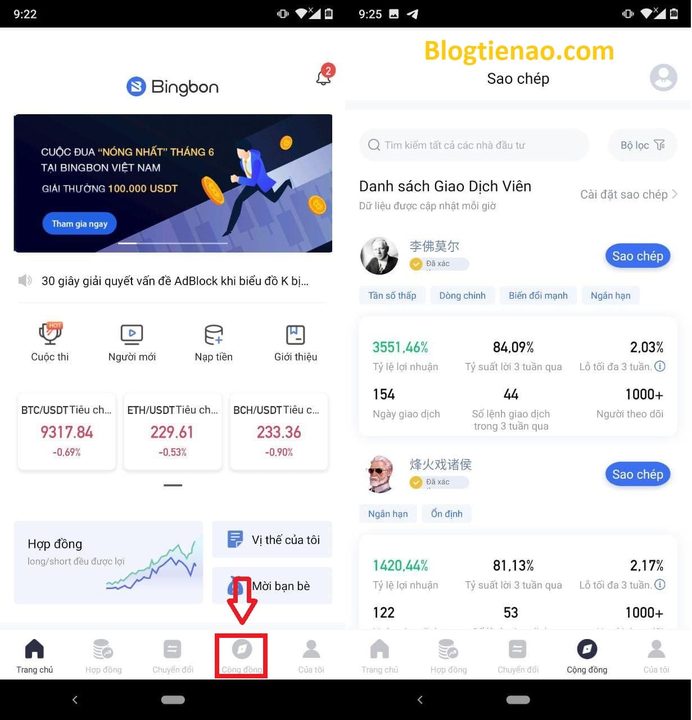 Step 2: Here you will see "Filter", you come here to select tellers according to the information you want.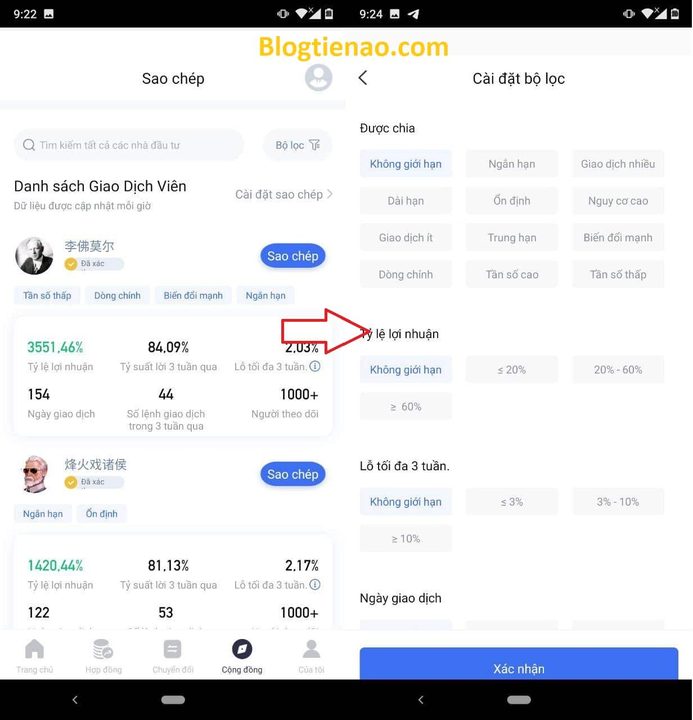 Step 3: After selecting the desired teller at "List of Dealers" (1), select "Copy" (2).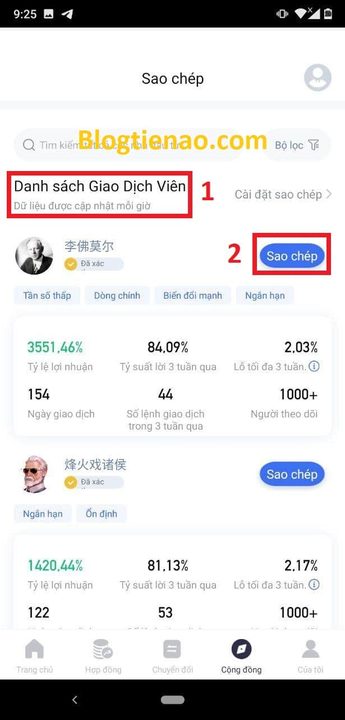 Step 4: Here, you will see "Position history" of the teller (1) and "followers" (2).
In the "Position history" section, you can read the details of each trader's transaction. In the "Followers" section you can see the profits of those who copied (3) and the amount copied (4). This is essential information for you to make the final decision as to whether to choose this trader or not.
After all, if you still decide to choose this trader, then click "Copy" (5)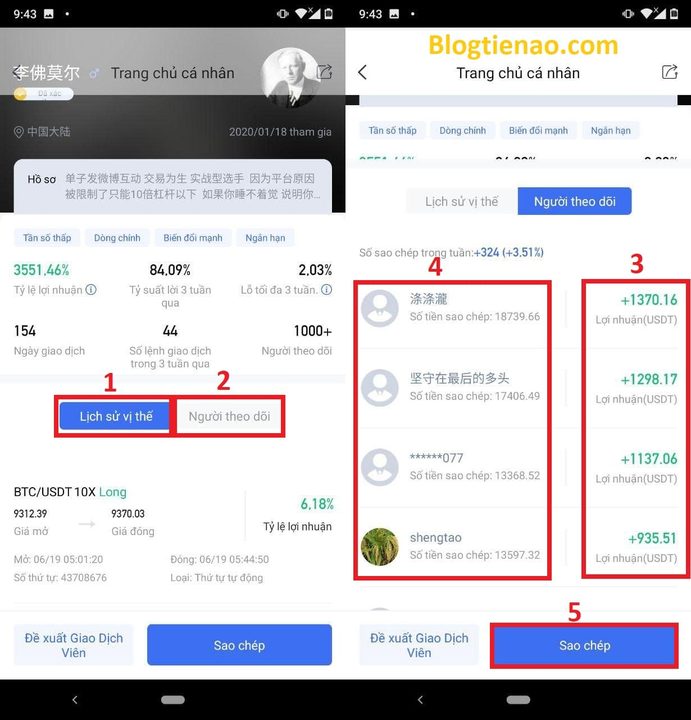 Step 5:
(1) Money: Convert to USDT
(2) Amount of money: Adjust to the amount you want to trade in 1 transaction. For example, if you set it to "50 USDT" then if the trader orders 1000 USDT, you will only enter 50 USDT. You can understand this is the default amount for your transaction
(3) Maximum number of copies per day: For example, if you set it to "500 USDT" then the amount you copy in one day when it reaches 500 USDT, you cannot copy.
(4) Click on advanced settings to set stop-loss and maximum position
(5) Maximum position: This is the maximum amount you can use in a transaction.
(6) Stop loss rate: You should set this section to safeguard your property
Finally choose "Immediately copying" (7) to complete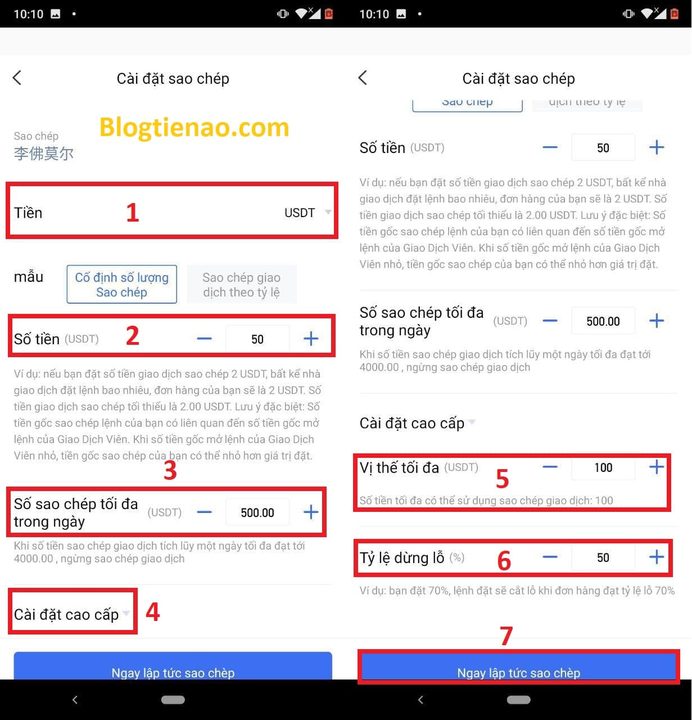 However, after saving everything but you want to edit the information, you enter the item "Mine" (1) => "Copy" (2) => "Edit" (3) then save is finished.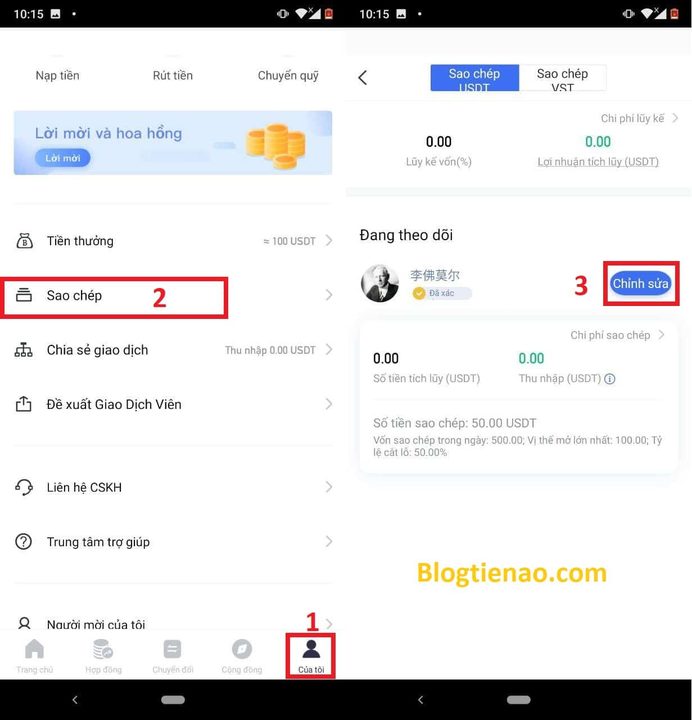 Property conversion
You enter the item "Convert" (1) => Select the currency you want to transfer (2) => Enter the amount you want to transfer (3) => "Convert Now" to complete (4)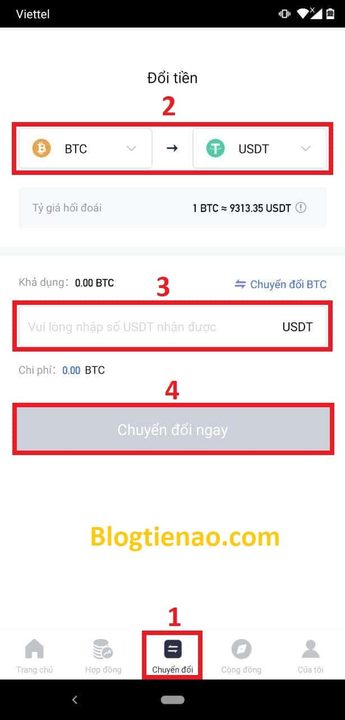 Conclusion
Hope this article of Blogtienao has brought you a new choice in choosing reputable trading floor. With the Copy Trade feature, I think traders should consider joining the floor.
If you have any questions or difficulties when trading on Bingbon; don't hesitate to ask in the inbox on Blogtienao fanpage, we will answer more.
good luck!