What is MXC?
MXC Exchange is Crypto exchange with diversified, safe, stable and high-performance transaction products.
Founded by several senior experts in blockchain industry from Wall Street and experts from Japan and Europe.
It offers safer, smarter, and more convenient exchange services, along with chosen blockchain assets, secure insurance, dedicated to building an outreach cryptocurrency exchange platform. with competitors.
What achievements does MXC have?
Since its inception, MXC has consecutive licenses to operate in 5 countries including Switzerland, Canada, Australia and the United States. User can use English, Russian, Korean, Portuguese, Turkish, Vietnamese, Hindi, Malay, Indian, African, and other regions or language countries .
MXC has achieved rapid growth in 2019, accounting for 5% of the global digital asset market. MXC has also been honored by popular blockchain media magazines with the titles of "Most Popular Trading Platform and one of the Best Existing Trading Platforms".
At the time of writing, the volume traded on MXC reached over 1 billion USD, ranked 4th by 24 hours of Coingecko's volume.
Where is MXC headquartered?
MXC is a registered exchange in Singapore and with offices around the world. MXC is a global exchange that provides services to many different countries and regions. The company is privately held with 200-500 employees worldwide.
Evaluate the advantages and disadvantages of MXC floor
Advantages
These are also the main features of the floor:
Safe and stable: Safe and stable, multi-user and multi-tier
High performance: The execution performance can be up to 1,4 million orders per second
High liquidity: Liquidity is provided by strong resources and many partners
Multi-language support: Many major languages ​​around the world are supported, including Vietnam
Supports multiple currencies: Bitcoin (BTC), Ethereum (ETH), Litecoin (LTC),…
Customer Support: Help Center, API Documentation, VIP Privileges, ..
Products provided by MXC: PoS pool, PUSH, Totarial (spot trading, ETF trading), SpaceM, M-Day, ...
Disadvantages
The interface is quite complicated for you to use but you have not learned it thoroughly
Sometimes the interface is frozen
Introducing the MXC trading platform
You can see the interface of MXC as shown below. The ingredients include:
1) Exchange: Standard and professional spot exchange
2) Buy Crypto: Painting for OTC transactions for buying and selling Crypto. Transfer money from your bank account, AliPay or credit card like Visa or Mastercard
3) Margin: Trading coins and tokens with leverage
4) ETF: Leveraged token trading (For example, if BTC increases 1%, the net worth of a 3x ETF product respectively will increase by 3%, while a 3x product will decrease by -3%)
5) Derivatives: Indefinite contract trading provides high leverage trading
6) PoS Pool: PoS staking service provided by MXC. Users holding relevant tokens can join PoS Pool MXC and make a profit.
7) Activity: Programs (M-Day: users holding / trading cryptocurrencies on MXC can enjoy a discounted price for active tokens. SpaceM: New listing channel for high-quality project (IEO) deployed by MXC. Assessment Zone voting)
8) Tutorial: Tutorial for spot trading and ETF trading
9) Download: Display QR code for you to download MXC app to iOS or Android.
10) Announcements: Information on MXC (fee, list coin, ...)
11) Orders: All of your orders (margin order, currency order, index trade order) will include information about open orders, order history, transfer history, ...
12) Assets: Information about account balances
13) Account: Account management center (where to secure the account or adjust other account information)
14) Language: Where you customize the website language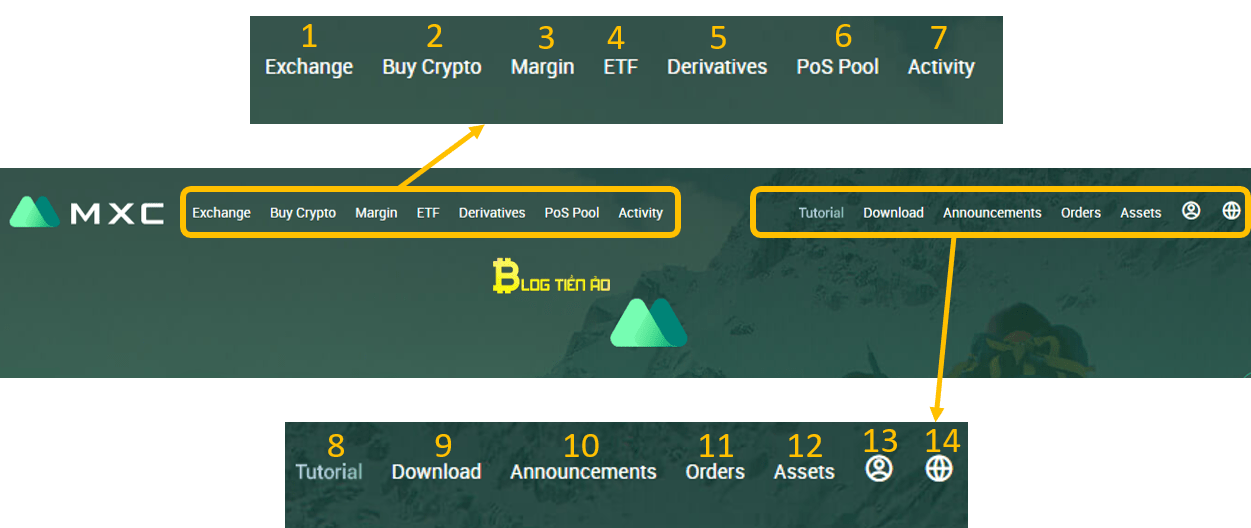 Exchange spot interface
I divided the interface of Exchange into 7 numbered parts, the content is as follows:
1) Information about the coin being displayed (Price, symbol, info, ratting, ..), the balance of the assets of the brothers.
2) Open and sell orders on the floor
3) Currency chart is displayed
4) List of currency pairs
5) How to open and buy orders on the floor
6) Where you place crypto trading orders (linit order, market, stop-limit)
7) Transaction history on MXC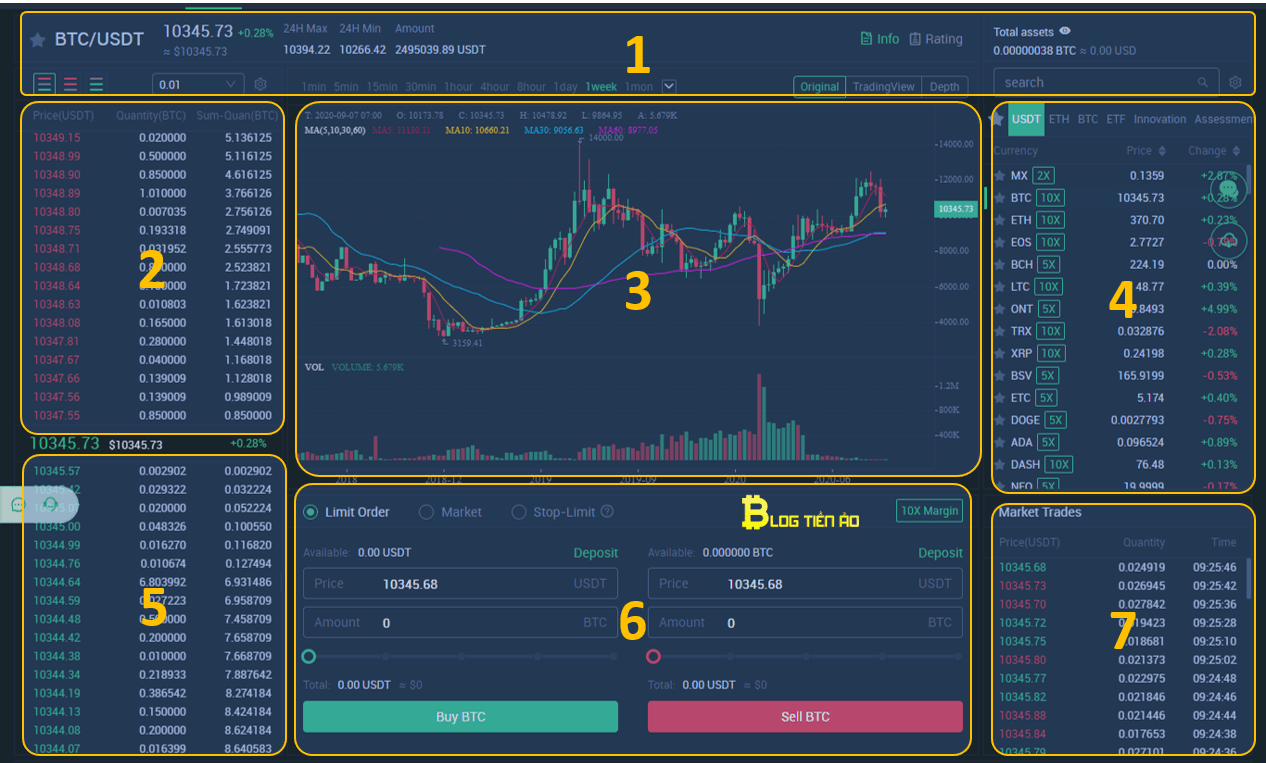 Guide to register an account on the floor MXC
Step 1: Access the registration link: https://blogtienao.com/go/mxc
Step 2: Fill out the information including:
Email
Pasword
Confirm Password
Press the button "Get Code", Then check the MXC mail in your mailbox to get the code and fill in the Email Capcha code box.
Check the box "It is necessary…"
Click "Sign Up"To complete account registration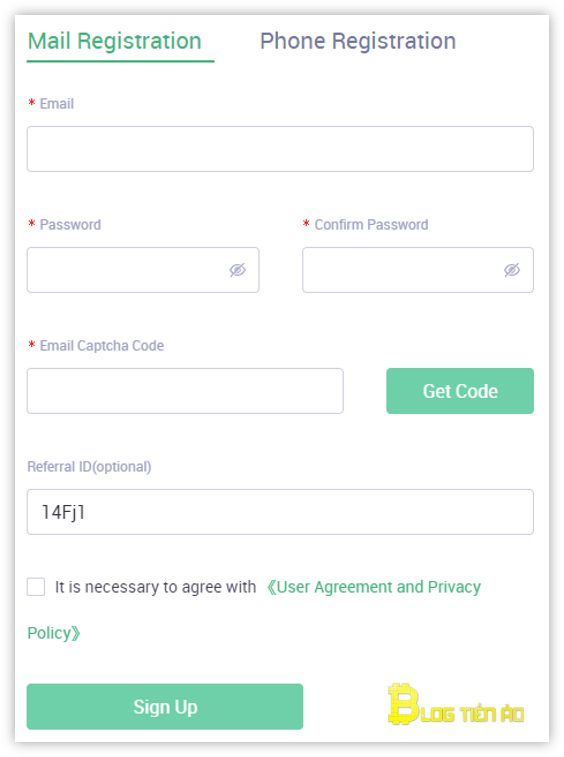 You can login after the screen shows "Registration succeeded". So you've created an account on MXC already.
Instructions to turn on security 2FA on the floor MXC
Step 1: Select the head icon in the right corner of the screen and select "User Center"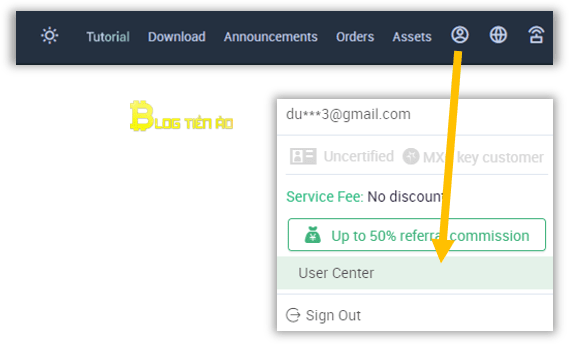 Step 2: Select the button "Open"In the Google Authenticator section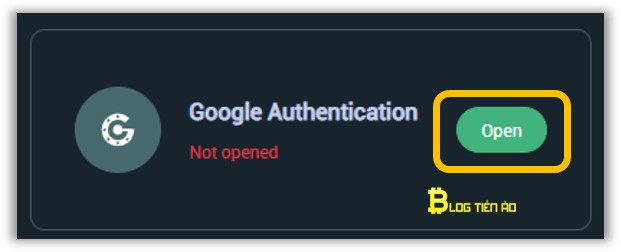 Step 3: Download Google Authenticator (GA) app to your phone and scan the QR code to add your security code to the GA app. Remember to save the QR code and key in the secret section to be able to back up again.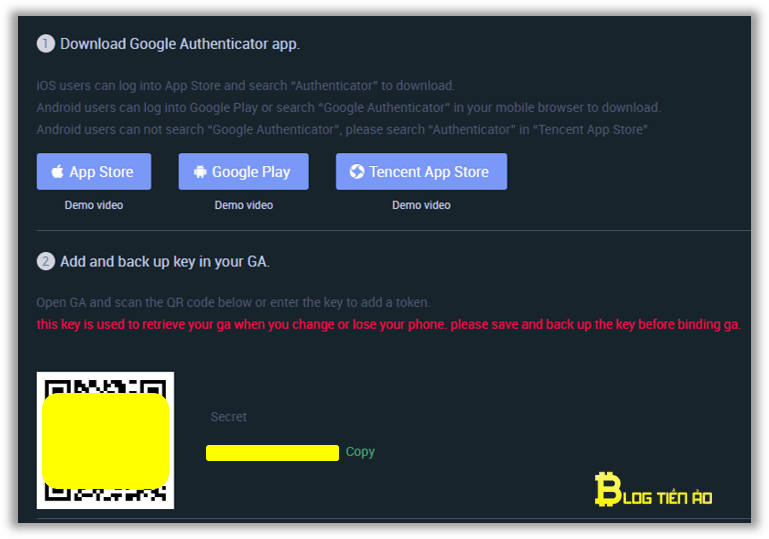 Step 4: Press the button "Get right now"And access your mail to receive the confirmation code from MXC and fill in the box"Email captcha code". Next, enter the code exported from the GA application into the box "Google authenticator code". Click on "Bind"When you have completed all of the above.
Identity verification (KYC) on the MXC
In the step of performing identity verification you need to install an anti-phishing code, verify your phone number and upload identity verification related documents.
Install anti-phishing code
An anti-phishing code is a string of characters that helps you fight fake websites and emails from MXC. After the anti-phishing code is successfully set up, emails received from MXC will include an anti-phishing code, if it is not displayed or displayed incorrectly, it is likely a phishing email.
Step 1: Go to MXC, select the head icon and select "User Center".
Step 2: In the Anti-phishing code, select the button "Set".

Step 3: Enter the 6-digit anti-phishing code and box "Create anti-phishing code". Click the Create button to confirm that it is successful.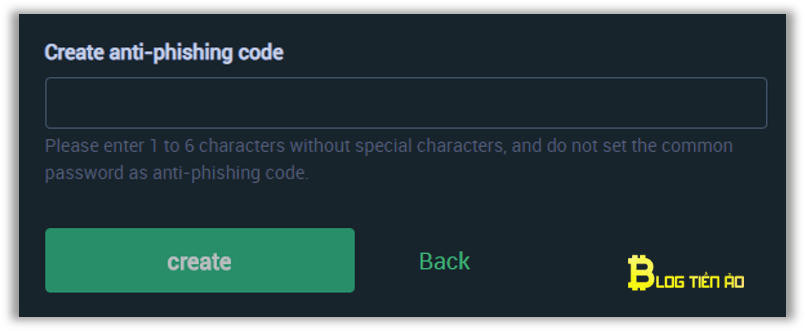 Phone number verification
Step 1: At User Center, select button "Bind"In the Bind Phone section to conduct verification

Step 2: Fill in the following required parameters (see the number of characters marked on the illustration):
1) Select the country phone area code and enter your phone number
2) Click "Get right now"And enter the code received on the phone in the box"SMS code"
3) Click "Get right now"And enter the code received in the mail into the box"Email captcha code"
Complete the above information and press the button "SMS Authentication"To complete the phone number verification process.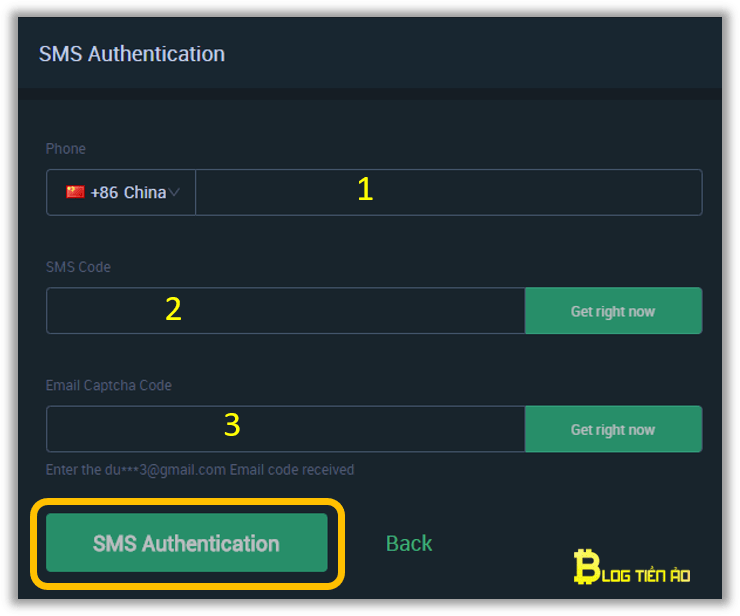 Identity verification
Step 1: Access to "User Center"And select"Submit"In the Identity Auth section to initiate address verification and upload related documents.

Step 2: Fill in the information about yourself and upload verification documents (See notes by ordinal number)
1) Select your country name from the drop-down menu
2) Fill in your name
3) ID card: Select the type of silk paper you want to verify
4) Here, I choose ID card for verification, so fill in ID number (In addition, there is a passport or license if you want)
5) Front photo of your ID card: Upload to the front of your ID card
6) Back photo of your ID card: Upload to the back of your ID card
7) Your handheld ID card photo: Take a photo with your face, one hand needs an ID card and one hand holding a paper that says (MXC.com, Name, Tel, ID and Year / month / day)
See the illustration and read the requirements in the paper uploads section for best performance. Once done, select the button "Submit"For complete KYC confirmation.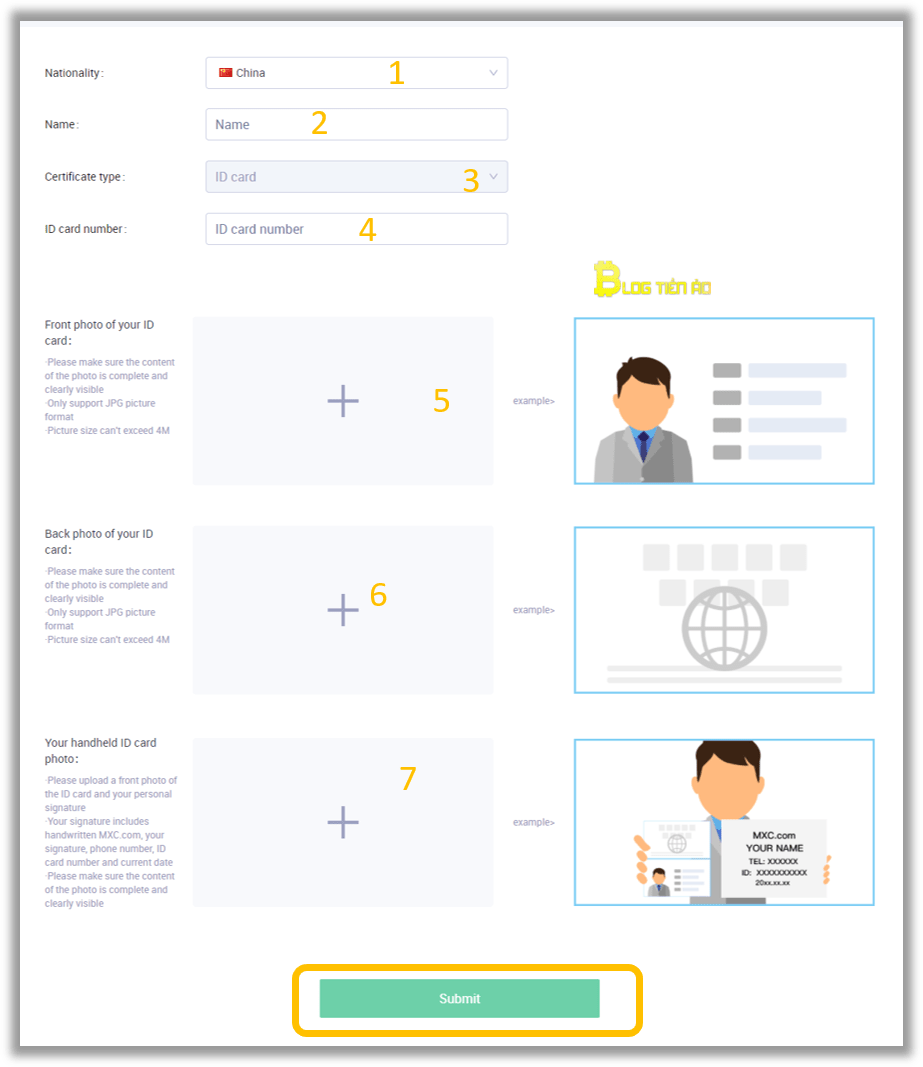 If you have done it correctly and fully, then waiting for confirmation from MXC again is successful.
Guide to top up the MXC
To load coins or tokens into the MXC, follow the steps below:
Step 1: At the main interface of MXC select: Assets -> My Assets.
Step 2: In the list of coin tokens that appear, you can choose "Deposit"Next to its name to load. Or you can find the name by filling it in the search box if you have not seen your coin.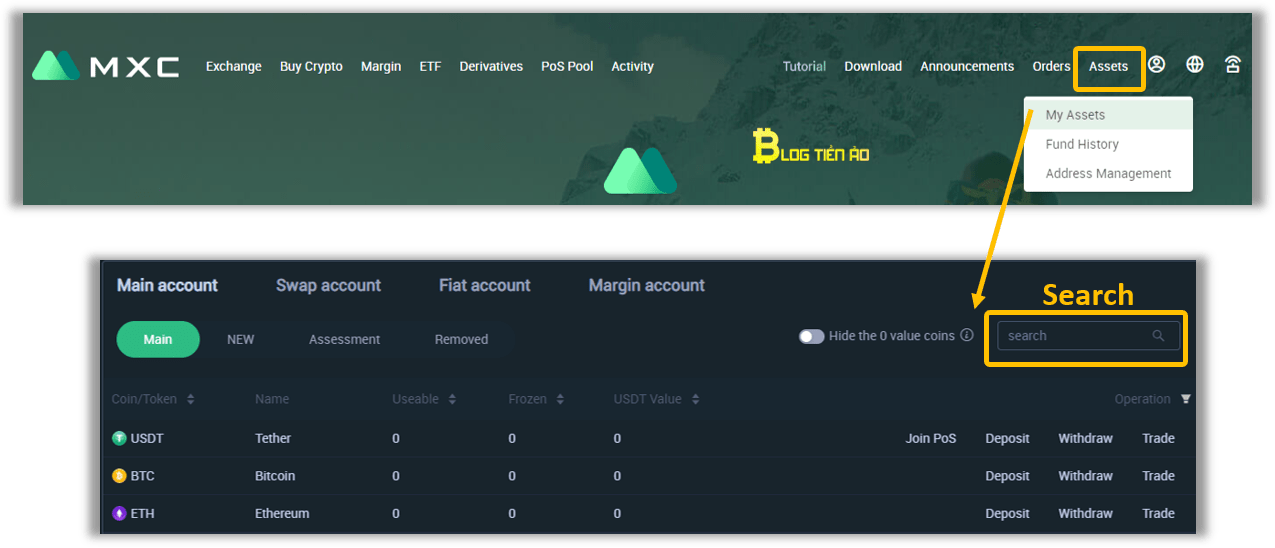 Step 3: For example, if I want to deposit USDT, the deposit table of USDT has the information as below. You can copy the address in the box "Deposit address"Or scan the qr code next to top up USDT.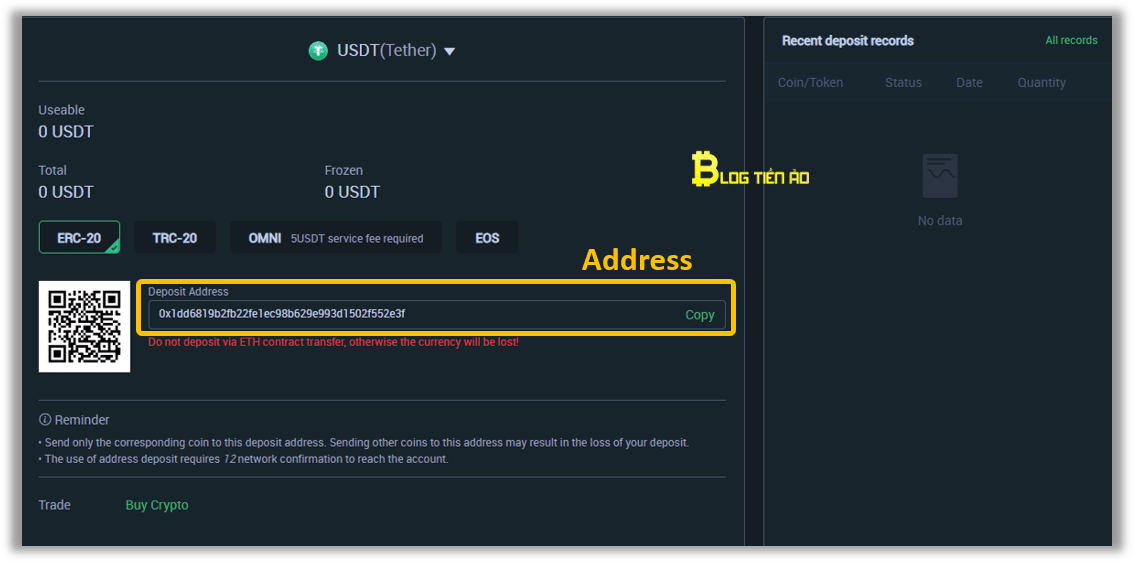 Instructions to withdraw money from the MXC
Step 1: As well as recharge, you choose Assets -> My Assets at the main interface of MXC.
Step 2: Instead of selecting Deposit as in the deposit step, you will choose "Withdraw " to withdraw money. And still fill in the search box for the coin you want to withdraw when you have not seen it.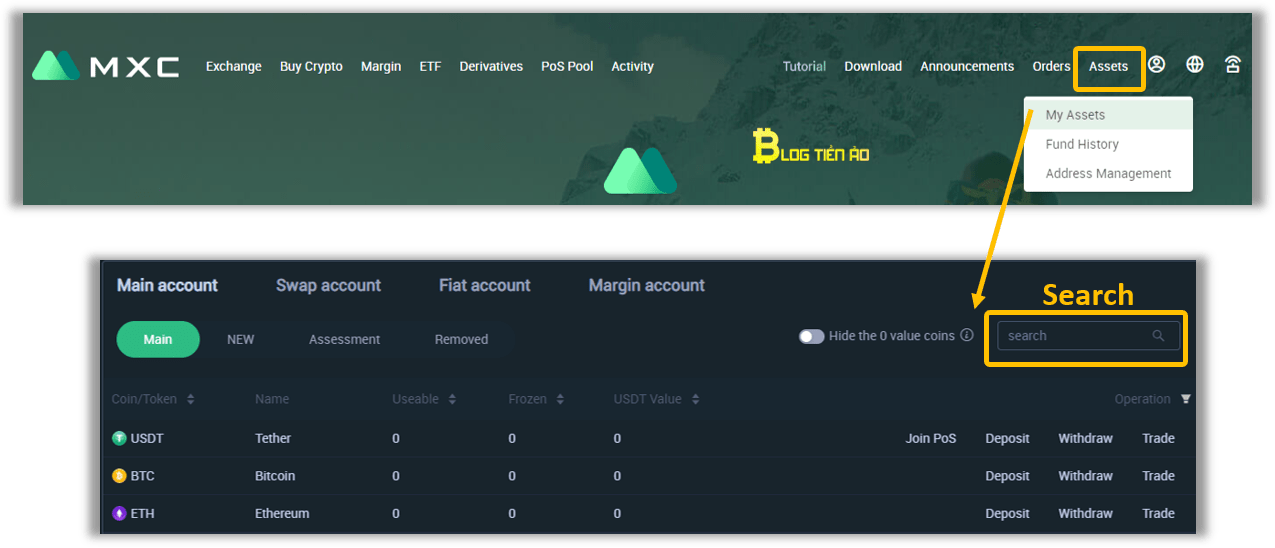 Step 3: Withdraw board displays as below (same example is withdraw USDT). Please fill in the following information:
The address to withdraw coin / token is on the line Withdraw Address
The amount you want to withdraw on the line Withdraw Amount (choose Withdraw All if you want to withdraw all)
Add a note if you want on the line "Remark (option)"(Floor can ask or not)
Fill in the information you want, then select the button "Submit"To agree.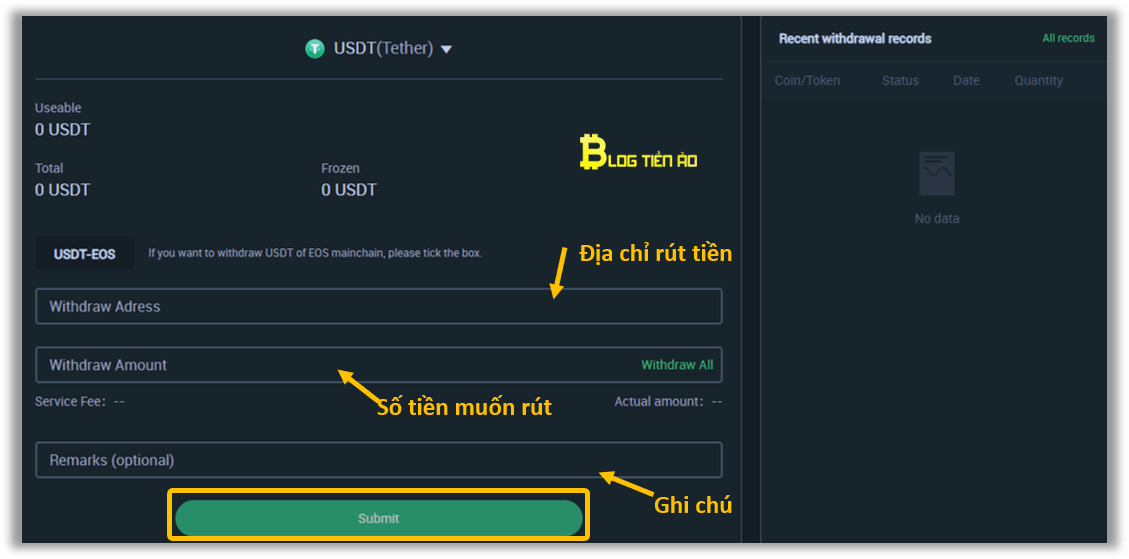 Guide to buy / sell trading on MXC
Step 1: Right on the main interface, choose "Exchange", Choose the standard version, or you can choose the professional version. Here I choose the standard version as an example (similar professional only)

Step 2: Select the coin / token you want from the list or search for it in the search box. Take the BTC / USDT pair as an example for you to easily imagine.

Step 3: Choose order types "Limit Order", "Market", "Stop-limit" depending on your needs.
Instant market order means choosing the market price at that time to enter the order. As for the limit order and stop-limit orders, I will guide you in detail shortly.
Limit Order
In the order section, check and limit order.
Simply put, a Trader can place a buy / sell order for your order, the limit price can be executed when the price of that currency pair reaches the price you set.
For example: I want to buy BTC / USDT pair using limit order, then I do the following:
Enter the price you want to buy in the box "Price"
Enter the amount of BTC in the box "Amount"Or drag the slider just below.
After completing the information, press the button "Buy BTC" is to be. Now we just need to wait for the matching order.

Stop limit order
Those who do not know about stop limit or want to learn more about stop loss should read this lesson. Stop limit orders include 2 stop and limit prices. Will give examples for you easier to imagine, here I use with BTC / USDT pair.
When the price is fluctuating and you confirm that the BTC price reaches 10.000 USDT will determine a new uptrend, you place a stop price of 10.000 USDT. Corresponding to the illustration below, you place a buy limit order of 10.100 USDT. When the market price reaches the stop price of 10.000 USDT, a buy order for BTC at 10.100 USDT will be placed.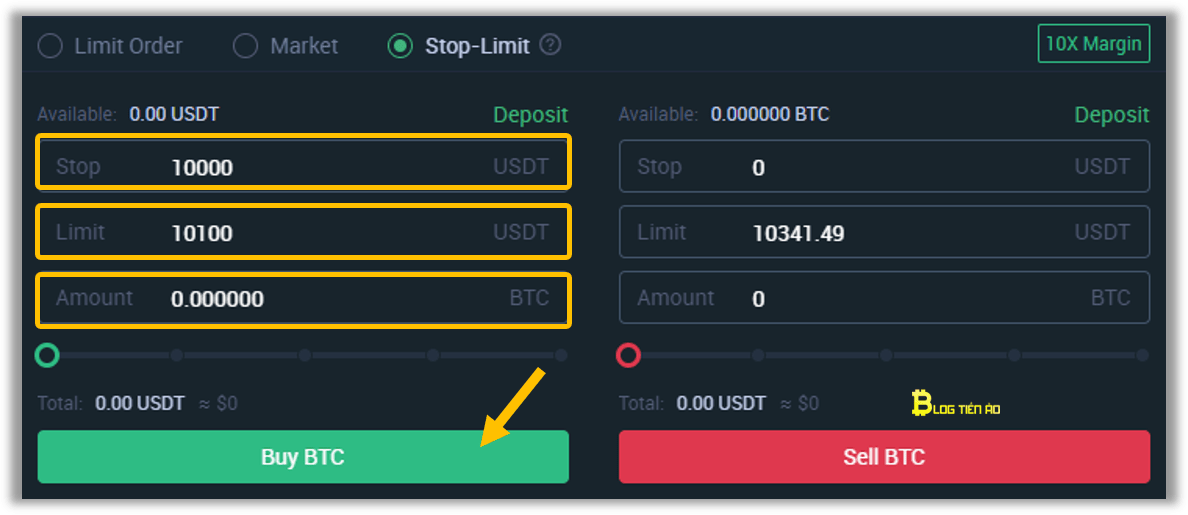 Guide to perpetual contract trading (Perpetual Contract) on MXC
Display
A perpetual contract is a product similar to a traditional futures contract in terms of how it trades, but has no expiration date, so you can hold a position for as long as you like. Permanent contracts track Basic index prices through the funding rate.
Proceed as follows:
Step 1: Access to MXC and select "Derivatives"

Step 2: Learn the full interface of the perpetual contract trading page: Contract information, trading pairs, price information, location and order information, depth, wallet, ...
Also, contract information is located on the lower left side of the market information section, listing problems and indicator information that you often encounter in trading so that you can check it at any time. The overview components are arranged as follows:
1) Name of trading pair, transaction price. Related information such as max leverage, funding rate (can be found by pressing "contract introduction")
2) Trading pair chart
3) Order and transfer area, order book, wallet, ...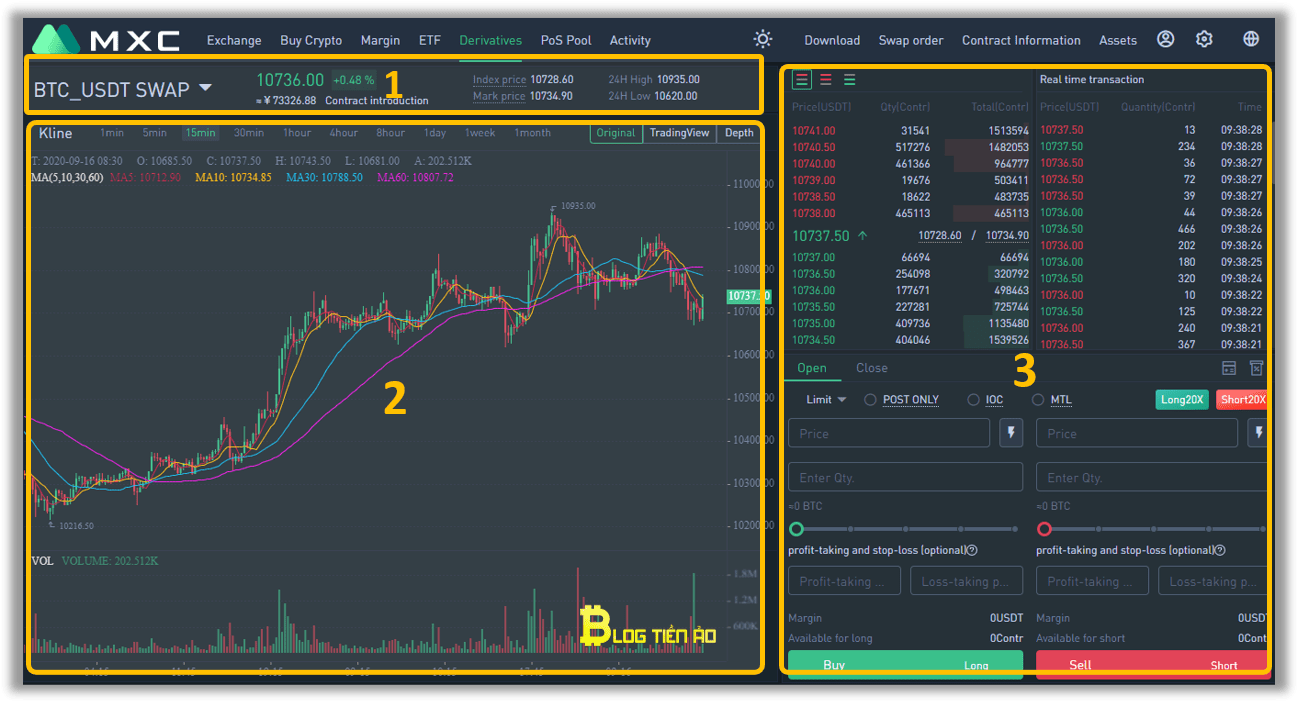 Deal
Step 1: First, if you want to trade future, you have to transfer money from the spot account to the contract account by selecting "Tranfer"
Step 2: Order, enter the price in the "Price"And quantity in"Enter Qty. " Choose leverage through two buttons "long, short" in the right corner. After all the information, you choose the position "Buy Long"Or"Sell ​​Short"
The final note is that the default contract mode is Isolated margin.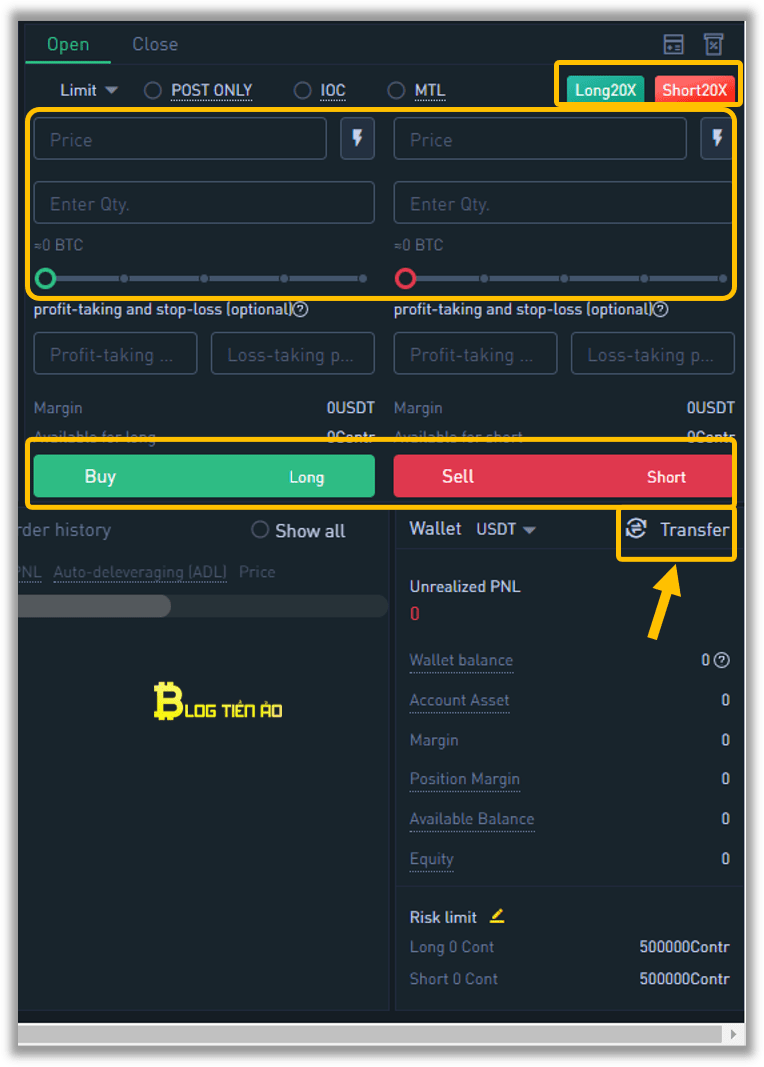 Guide to leveraged ETF trading on MXC
An ETF is a product that tracks the rate of return of an underlying asset. (example: BTC) at certain times (3 times). For example, if BTC increases 1%, the net worth of a 3x product ETF will respectively increase 3%, while a 3x product will decrease -3%.
An ETF is a permanent product with no settlement date. Its price will not be completely close to zero, so there is no risk of liquidation. Investors can buy / sell it on the secondary market at any time without any margin.
MXC currently supports 3 times longer leverage (3L) and 3 times longer leverage (3S). Users can test leveraged ETF products by accessing the ETF on the menu bar

The currently offered ETF products will display a list as shown below.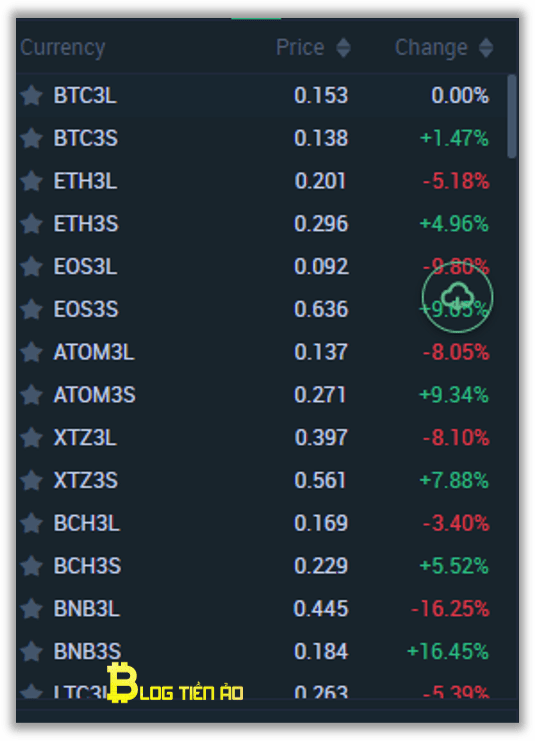 Order placement is like spot trading, including limit and stoplimit orders. You do the following:
Limit order: Enter the price you want in the box "Price" and the quantity in the "Amount" section. Then choose a position to Buy or Sell

For Stop-limit order: For example, for buy order, you predict the market will go up when the price reaches the stop price, your order will be activated at the price of the limit order, from which you define the same in execution. sell order and enter price to match analysis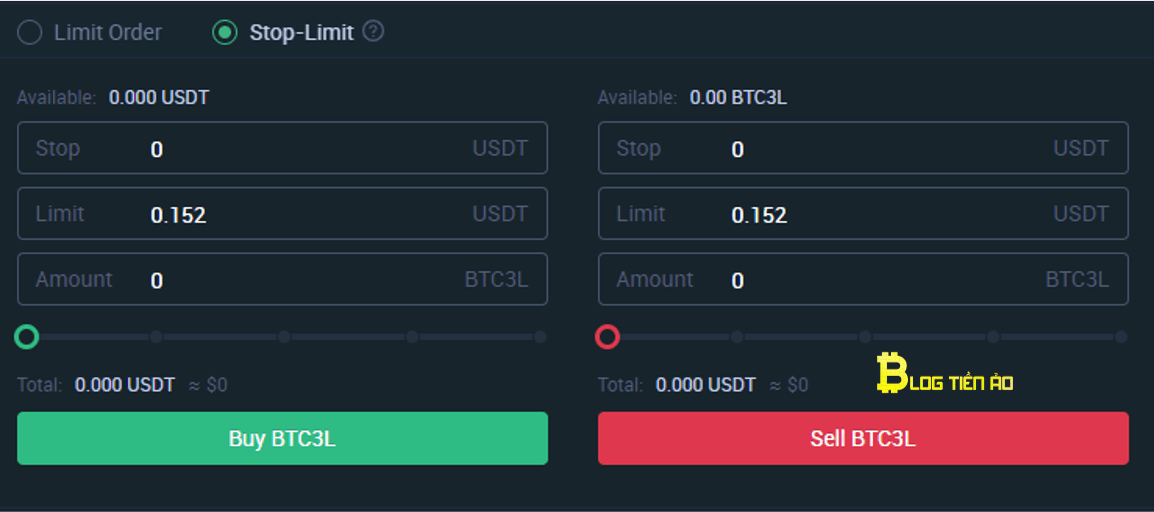 Information about "limit" and "stop-limit" orders is shown below: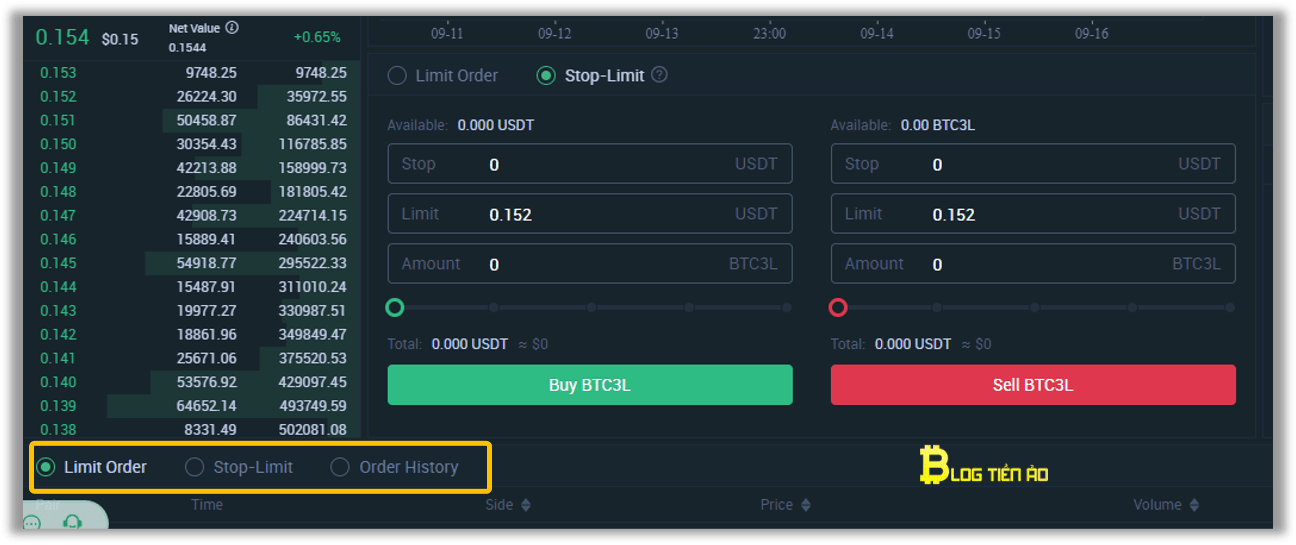 How to trade margin on MXC
If you want to learn more about marign then read this article: What is margin?
How to do it as follows: In the main interface of MXC you select "Margin" then choose the standard or professional version to access the margin interface.

First you also need to have money in your margin account by selecting "Tranfer" to convert money from spot account to margin account. At margin, there are also 3 copy orders: limit, market and stop-limit. How it works as I introduced in the spot trading, future and ETF sections.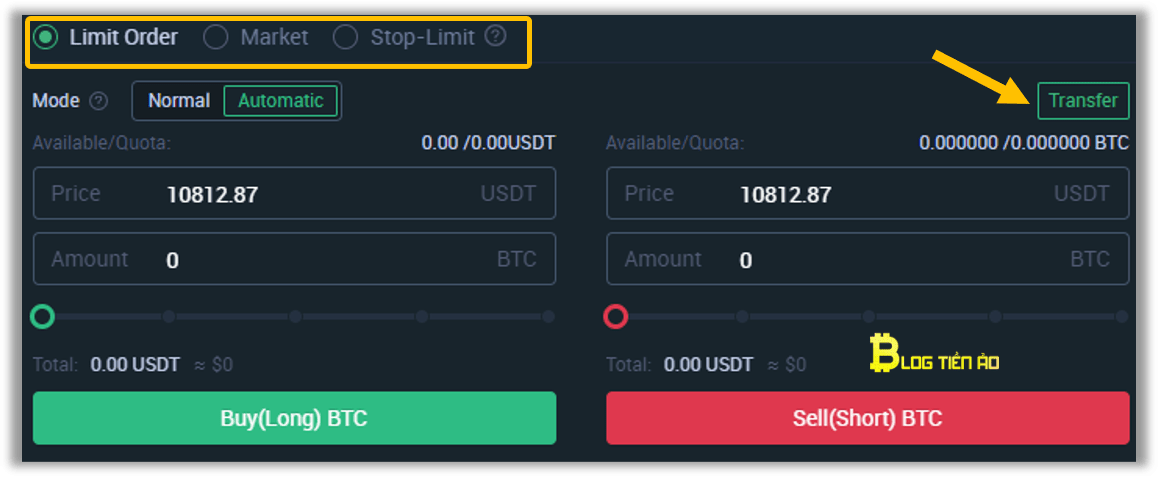 What fees are there on MXC?
Coin deposit / withdrawal fee
Deposit: Free of charge
Withdrawal: Fees are adjusted periodically for coins. Reference fee here.
Transaction fee
MXC charges 0.2% transaction fee (deducted from received assets) for both Maker and Taker.
Transaction fee perpetual contract
MXC sets a fee for perpetual contracts with Maker's fee of 0 and Taker's 0,07%.
ETF transaction fees
The transaction fee rate of the leveraged ETF product, the same as the spot transaction fee, is 0,2%.
How to get API key on MXC
Go to the "User canter" and notice the API you click on the button "One click generation"

Next is to create an API, you fill in the boxes as follows:
Memo: The name of the API you want
Bind IP address…: Each API Key is associated with up to 4 IPs. Single address is filled in directly and many IP addresses are separated by commas, such as : 192.168.1.1,192.168.1.2,…
After completing the information, click the button "Create" to proceed to create the API
MXC provides a powerful API that allows you to use quotes, automated trading, and more.
Create up to 5 API keys per user, support API application for BNB / USDT, SUN / USDT, OMG / USDT, KEY / USDT, ZEC / USDT, ETH / USDT, NEST / USDT, AE / USDT 、 TRX_USDT 、 ARPA_USDT, ALGO / USDT, ZILA / USDT, ZIL / USDT, ONT / USDT, SERO / USDT, HT / USDT, LINK / USDT, NAS / USDT, LTC / USDT, EOS / USDT, XLM / USDT, BCH / USDT , XRP / USDT, GRIN / USDT, IRIS / USDT, BTC / USDT. If you need to apply an API of another currency, please contact MXC customer service.
note: Do not disclose your API Key to avoid asset loss. For security reasons, you should associate the IP with an API Key.
Frequently asked questions when using the MXC platform
What is MXC's utility token?
Coin exchange MXC is an MX token with the following basic information:
Ticker: MX
Token type: ERC-20
Contract: 0x11eef04c884e24d9b7b4760e7476d06ddf797f36
Circulating supply: 160.000.000 MX
Total supply: Infinity coin
Stay tuned for the word MX token article Blogtienao nhé
Is MXC safe, reputable?
Currently, her exchange has been involved in a bit of allegations related to inflating trading volume. Recent products and events have proven the hotness of the floor for China and other Asian countries including Vietnam.
The strong founding team includes senior experts in the blockchain industry and experts from Wall Street, Japan and Europe.
Does MXC require KYC?
MXC currently does not require KYC for withdrawals. Currently the exchange MXC does not have a KYC program, however, it is known that withdrawals above 30 BTC can trigger KYC manually. During the manual KYC process, withdrawals from the account are frozen until KYC is successful. The exchange has announced that it will soon begin a large-scale exchange of KYC.
Is the MXC a good exchange to trade?
MXC has been quick to list new coins, especially those related to Decentralized Finance (DeFi). They currently list a lot of the top defi coins in 2020.
Recently, the altcoin season took place the exchange's signal Channel Blogtienao It gave a lot of very good signals on the MXC and achieved high results. If you are interested, you can follow the channel: https://t.me/BTA_Trade_Coin
Does MXC have a VIP Program?
The exchange has a VIP program for traders who trade over 30 BTC. As part of the VIP program, users will be offered lower transaction fees and additional perks.
How to contact MXC support?
Business cooperation (including coin list): business@mxc.com
Customer Service: service@mxc.com
Does MXC have app on the phone?
There is an app interface available for both ios and android
Community channels
Summary
MXC exchange is a place to provide users with digital asset related services, including spot trading, margin trading, leveraged ETF and contract trading services, as well as PoS services.
The MXC exchange not only incorporates an experienced security team, but also works with other leading security firms to ensure the safety of users' assets.
Hope that the reviews of Blogtienao will give you the most accessible look to MXC and give you the best experience. With the current vision and popularity, you can be confident when trading on MXC and if you have any problems, contact Telegram because there is a Vietnamese language support section. Thanks!