What is RSK Infrastructure Framework Open Standard (RIF OS)
RSK Infrastructure Framework Open Standard (RIF OS) is a set of decentralized and open infrastructure protocols that enables faster, easier, and scalable development of distributed applications (dApps) in a single environment. unified school ..
RIF OS is an easy-to-use, all-in-one blockchain infrastructure service framework that provides developers and organizations access to a variety of services across multiple crypto-economies.
RIF OS Protocol allows broad interoperability and faster deployment times. At the same time, it aims to bridge the gap between blockchain technologies and their adoption in the mass market. RIF OS Protocol fulfills the vision of RSK smart contract network to bring value internet to life.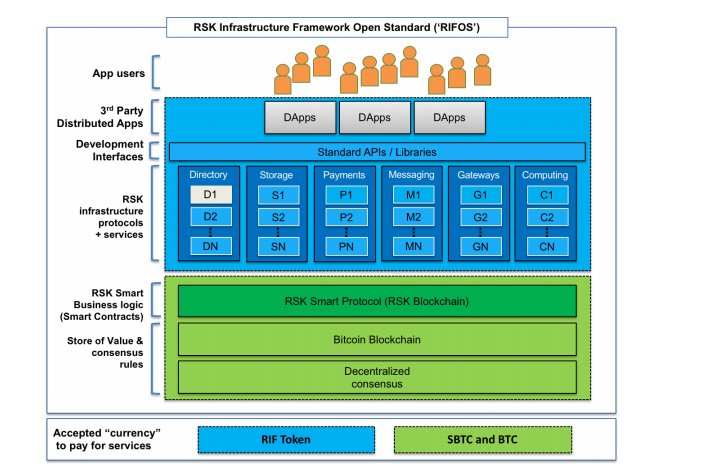 Ecosystem
The RIF ecosystem contains a set of products, including DeFi, storage, name service, payment solution. Details are as follows:
RIF Name Service: RNS is a decentralized service that allows users to have readable domain or alias readable. It can be used to identify other personal resources, such as payment or contact addresses.
RIF Lumino Network: is a 3rd layer solution for Bitcoin blockchain. Allowing state channels for every token to be built on RSK, increasing transaction throughput and reducing order-to-order costs.
RIF Marketplace: Offers a comprehensive store for a variety of decentralized services. Demonstrating a unified / simplified interface and experience.
RIF Gateway: Development of tools and technologies to allow decentralized applications to seamlessly connect with the outside world
What is RIF token?
RIF is RIF's Unility token ERC-677 that allows any token holder to use services and dApps that are built using the RSK architecture.
Basic information about RIF copper
Token allocation
| | |
| --- | --- |
| Private sale contributors | 40.00% |
| RIF Labs | 40.00% |
| shareholders, founders and management team | 20.00% |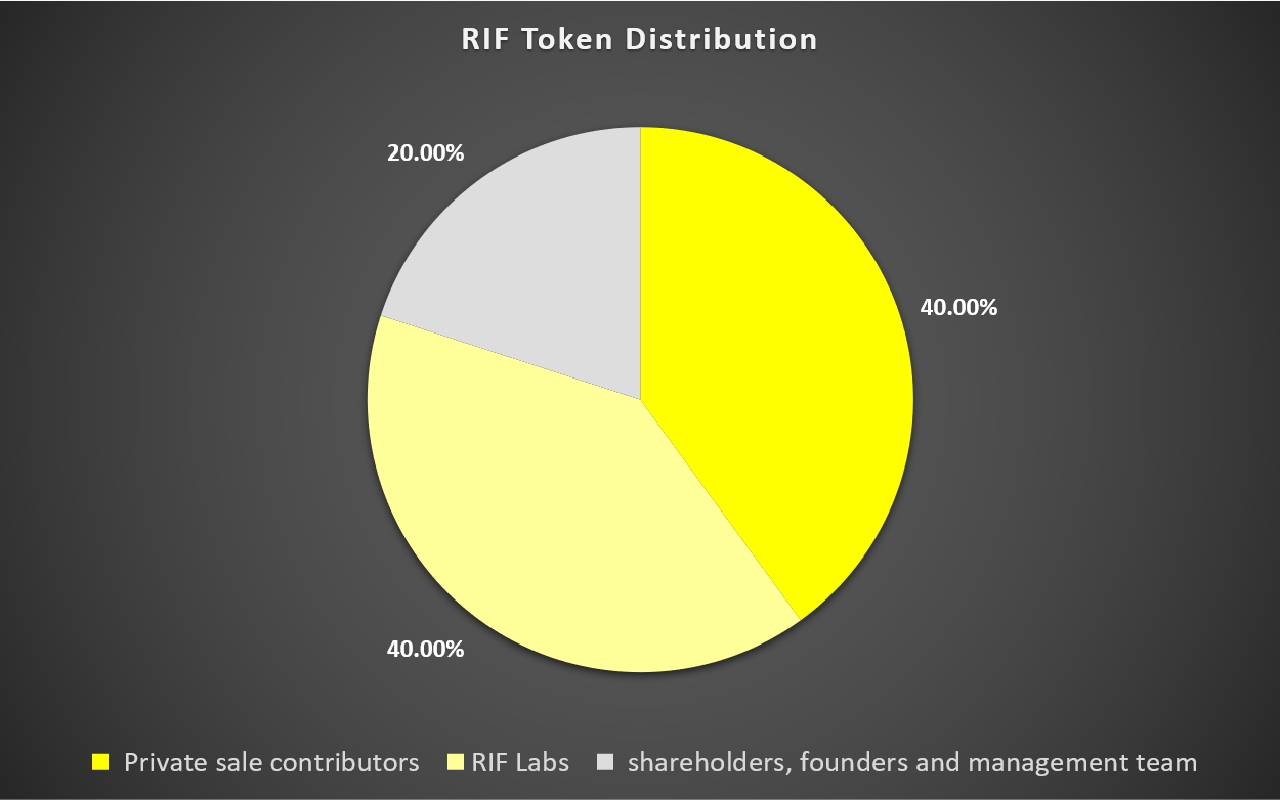 Token issuance schedule
Approximately 35% -40% will be apportioned for the Private sale contributor. No lock
About 40% will be kept by RIF Labs, unlocked at a rate of 1/60 monthly for 5 years after Token Sale
20% will be distributed to RSK Lab's shareholders, founders & management team. These tokens will be unlocked at a rate of 1/48 each time for 4 years after the Token Sale ends, with an initial difference of 6 months.
What are RIF tokens used for?
The RIF token has the following use cases:
Network fees : DApps built on the network use RIF as the underlying payment token.
Staked Collateral: Can be collateralized as collateral to mint various assets in the RIF DeFi ecosystem such as RIF Dollar (RDOC)
What exchange is RIF traded on?
Currently you can register for an account and buy RIF on the floor Binance, MXC, Kucoin,…
RIF copper wallet
You can store this coin in popular wallets like: Dappradar, Ledger Nano X, Safe deposit, MEW. In addition, there are wallets like My Crypto, iBitcome, ...
The Future of RSK Infrastructure Framework
One goal comes from the team's saying: "Make blockchain technology easier, faster and scalable to drive mass adoption".
The project aims to create building blocks for building a completely decentralized internet. All services are designed to facilitate the interaction of the global community of developers and blockchain technology.
Bitcoin has been proven to enable peer-to-peer value transfer, censorship-proof and now RIF, powered by the RSK. It aims to add identity, storage, communication, gateways, micro-payments & gateways layer to enable the innovative Decentralized Sharing Economie to protect the rights of individuals and users.
By providing the necessary infrastructure and services to enable mass adoption of Blockchain. They hope to contribute to the transformation and improvement of the lives of millions of financially excluded individuals around the world.
Roadmap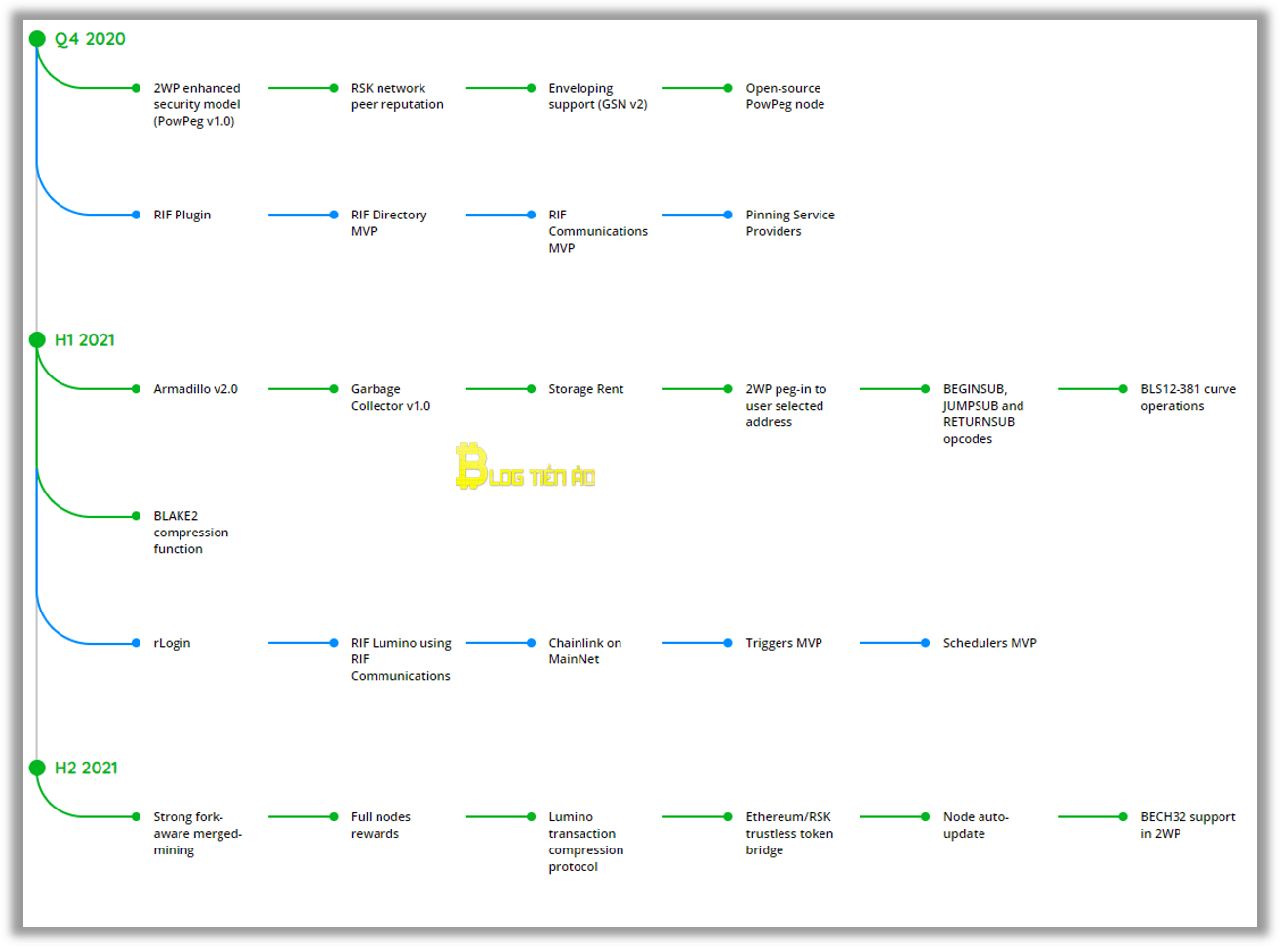 RIF Labs' Founding Team
RIF Labs has an ever-growing team of collaborators spanning the globe. Currently, they have more than 30 team members led by a founding team, widely recognized by the bitcoin and crypto communities that are at the forefront of the industry and actively leading a number of key innovations in space since 2011.
Proven track record of successfully providing Blockchain technologies and highly complex products. The leader board is made up of members and information you can see here Whitepaper and find RIF Lab's dividend share.
Investor & Partner
updating…
Should you invest in RIF coin?
Hopefully our reviews will contribute to the fundamental analysis of a currency before you want to invest. Please review the information from your side as well as updates from the project to have the right investment decision.
Community & Social
Summary
Bitcoin lays the foundation for building a new Internet for transferring value. Both the RSK smart contract network and the RIF OS were created as a vehicle to advance this vision.
In the hope that the new Internet of Value will promote prosperity and equality around the world. RIF OS, it all comes together into one. Easy to use. Open Blockchain infrastructure services. Root Infrastructure Framework Open Standard is a set of decentralized and open infrastructure protocols that enable the development of faster, easier, and scalable distributed applications (dApps) in a unified environment.
Vision, product is very clear. Moreover, the Binance exchange list on January 07, 01, is also quite looking forward to a new price increase when the price has returned to the lower level of the Binance list price.
And you, what do you think? Stay tuned for the next blogtienao coin and token article.