Orion (ORN) price, marketcap, chart, and fundamentals info
Orion (ORN) is an open source decentralized financial project, primarily created to aggregate liquidity from different Liquidity Providers i.e. exchanges.
Essentially, Orion helps users get the best out of their assets while reducing the risks associated with joining multiple exchanges (both centralized and decentralized).
The Orion protocol combines liquidity, depth of order books, and the ability to explore prices from any centralized and decentralized digital asset market. This allowed the creation of Orion Terminal and a host of other much needed products for consumers and businesses.
Orinon (ORN) Products
Orion Terminal: Provides access to the liquidity of the entire crypto market on a decentralized platform.
Orion Lending: Orion Lending aggregates loan APRs from decentralized and decentralized vendors to ensure both the borrower and lender can seamlessly use the best available rates.
Orion Margin: The lack of order book depth on decentralized platforms has hindered the creation of high margin trading on decentralized exchanges. However, Orion could enable such a service as it aggregates the liquidity and depth of centralized exchanges through a decentralized execution process.
Orion Price Oracle: Resistance to price manipulation comes from every order book in the market.
Orion DEX Kit: DEX Toolkit allows blockchains to build decentralized exchanges, private chains, in just a few hours.
Orion Liquidity Boost Plugin: A source of liquidity can plug into any centralized or decentralized market. Exchanges can use the Orion Plugin to improve order book depth and liquidity
Orion Enterprise Widget: An intermediary layer between crypto projects with utility tokens and all the liquidity available in the market.Every solution built on the protocol so far has been created to solve the bar problems. accounts, custody, accessibility, and scalability.
How Orion Works?
Orion works by collecting the liquidity offered across multiple exchanges in the cryptocurrency market into a single public API. This API incorporates multiple order books from exchanges to make it easier for users to execute transaction calls whenever they want.
For example: when the user orders and an API call is made. Orion will split this action to multiple exchanges at the same time. This results in them being able to find lower buy and sell spreads and, ultimately, the best exchange rates for users.
Also, Orion seeks to address another risk from centralized exchanges: hacking. Orion's unattended solutions attempt to resolve this problem by allowing users to freely manage their assets on the platform.
With Orion multi-currency wallet, managing your portfolio is even easier. Because they can be easily found in a single API.
And finally, Orion is open source. Third-party developers can join the protocol and create s dapper their own on it.
What is ORN?
ORN is the native utility token of the Orion protocol.
Orion stated that they are committed to ensuring the sustainability of the ORN and they look forward to achieving these through a number of means including: providing token usage, non-inflationary staking, diminishing supply, and benefits for holder of ORN, the chance to repay.
Basic information about ORN token
| | |
| --- | --- |
| Ticker | ORN |
| Blockchain | Ethereum |
| Token Standard | ERC-20 |
| Contract | 0x0258f474786ddfd37abce6df6bbb1dd5dfc4434a |
| Token type | Native Utility Token |
| Total Supply | 100,000,000 ORN |
| Circulating supply | 8,900,000 ORN |
ORN token allocation
Advisor / Partners: 6%
Marketing: 13%
Team: 12%
Token Sale: 45%
Orion Foundation: 24%
ORN token issuance schedule

What is Orn used for?
ORNs are used in various products of the protocol:
Orion terminal: Users receive a fee discount when paying with an ORN and can earn end-to-end transaction fees and interest by staking the ORN token.
Decentralized brokerage: Brokers (or brokers) are required to stake an ORN in order to choose to perform the trade. While non-brokers can stake ORN to vote on their chosen broker.
Orion Enterprise: All generated licensing fees will be used to purchase ORNs from the marketplace and removed from the total supply.
What is special about Token Orion (ORN)?
Orion guarantees the sustainability of the ORN token. It is supply-limited, meaning new tokens are never minted outside of the token generation event, while efforts are made to remove tokens from circulating supply on a strategic and regular basis.
With that said, Orion has been working to ensure the sustainability of the supply-limiting ORN token through a number of methods:
Provide token usage
Staking is not inflationary
Supply gradually decreased
Benefits for the holder of the ORN
Repayment opportunity
Staking is not inflationary
Currently, Orion has a multi-exchange staing initiative, and according to them, it yields 39% APR. As such, it is so profitable that 50% of the circulating ORN has been staked. When launching Mainnet in Q4 2020, Orion will use an authorized Proof of Broker (DPoB) staking model.
This model has two components: Broker Stakers and Non-broker Stakers. The brokers run the Orion Broker software. This software automatically executes the transactions transferred there from Orion's liquidity aggregator. The more a broker stakes ORNs, the more likely they are to be chosen to execute a trade.
The DPoB to stake ORN model is non-inflationary because according to existing mechanisms used by other exchanges: Miner / staker benefits are often calculated in the form of new tokens affecting the underlying asset. time.
Orion does not mint tokens for rewarding purposes. Instead, DPoB creators receive rewards generated through Orion's 13 revenue streams. This in turn preserves the necessity and value of the ORN token.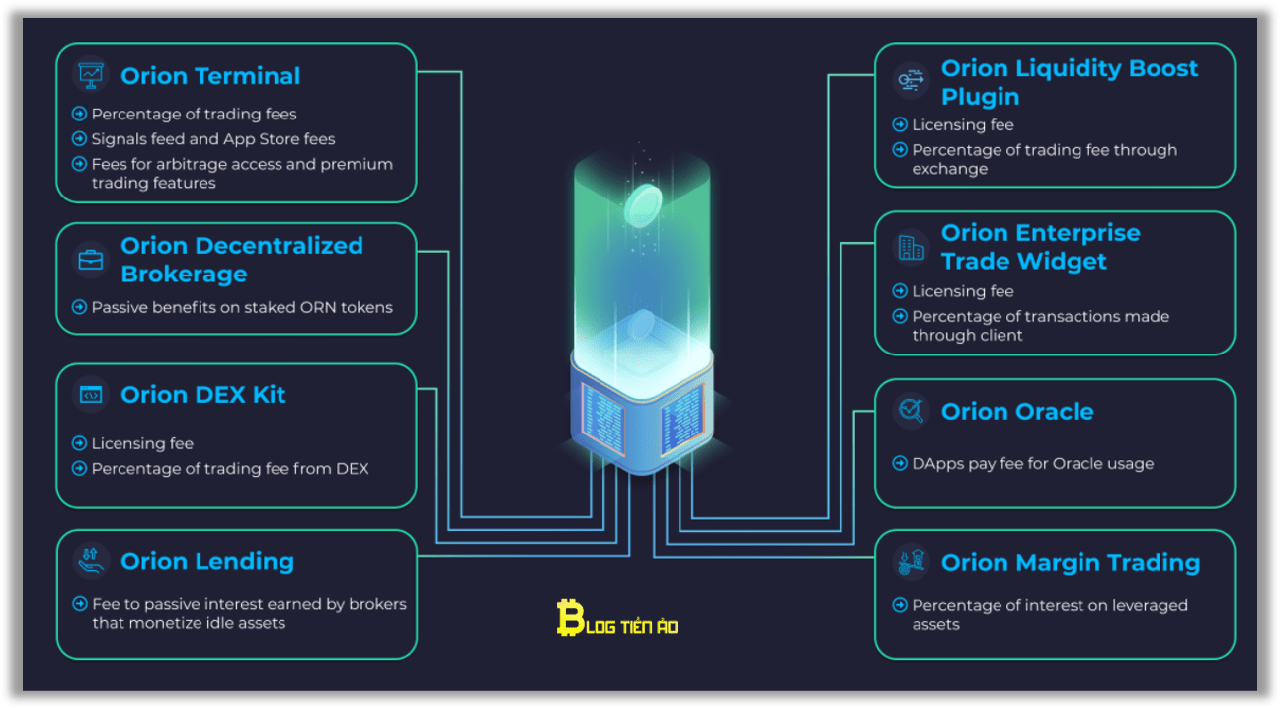 Supply gradually decreased
Orion actively removes the ORN from the circulating supply. The reason the ORN increases its value over time is through the following means:
Staking: According to the DPoB model, both the Broker staker and the Non-Broker staker remove their ORN from the circulating supply. The generated reward is added to their stakes. This further reduces the circulating supply.
Licensing fee: 100% of the license fee generated from Orion's DeFi solutions will be used to purchase ORNs from the marketplace and removed from the circulating supply.
Refund: ORN tokens that are refunded through a Dynamic Coin Offering (DYCO) will be canceled
Benefits for the holder of the ORN
Orion Terminal users will receive a discount when paying with ORN and the stakeholder receives additional incentives.
Refund opportunity
Orion is the first project to implement DYCO. 80% of the money raised during the token sale is reserved to buy back tokens of holders if they request. Any tokens returned will be burned.
How to earn ORN tokens
The simplest way is to buy on listed exchanges like: Binance(Listed on September 30, 09 at 2020:13 - Vietnam time), Kucoin,… Or Uniswap
Orion also claims that through a multi-exchange pre-staking scheme, ORN tokens can be acquired stake on Bitmax, KuCoin and Biki reward approximately 39% APR.
Orion Potential Assessment (ORN)
Roadmap
Orion's token sale ended on July 14, 7. As mentioned ORN has been listed on a number of exchanges. In the upcoming Q2020 4, we can expect the launch of the public mainnet, decentralized brokerage and Orion price oracle.
Most importantly when launching the public mainnet, the DPoB staking model will apply.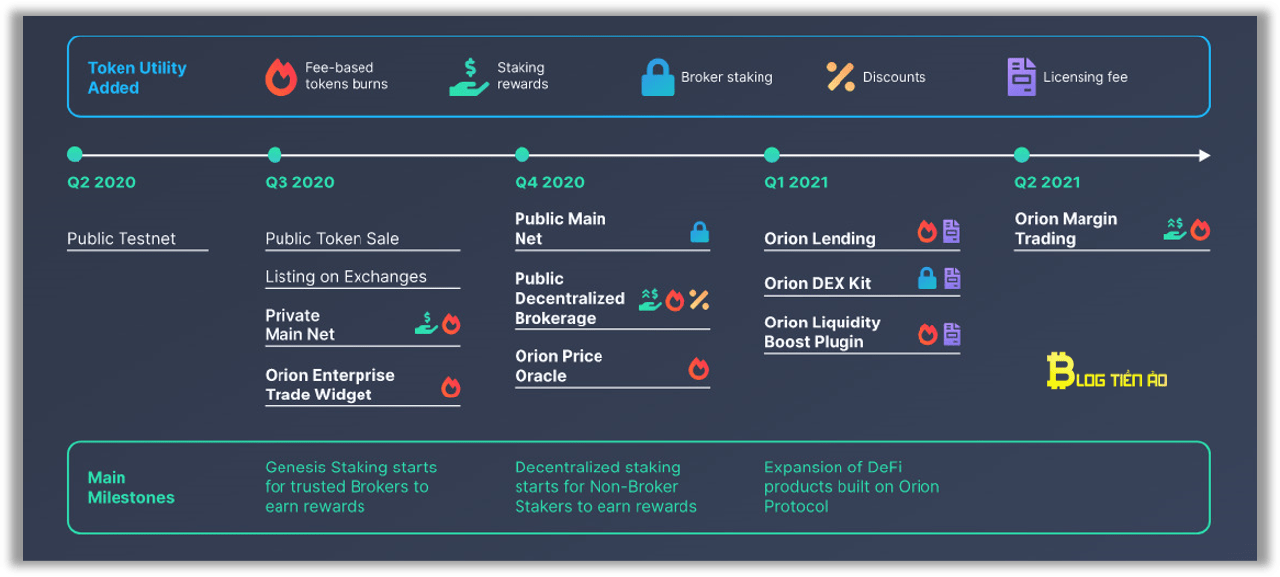 Partnership
Orion's partnerships, from blockchains to exchanges, market makers, venture studios and incubator, all have one common goal: Building a sustainable future of DeFi.
Whether for the infrastructure, operability, security or the evolution of the broader cryptocurrency landscape, Orion is building a truly important partnership.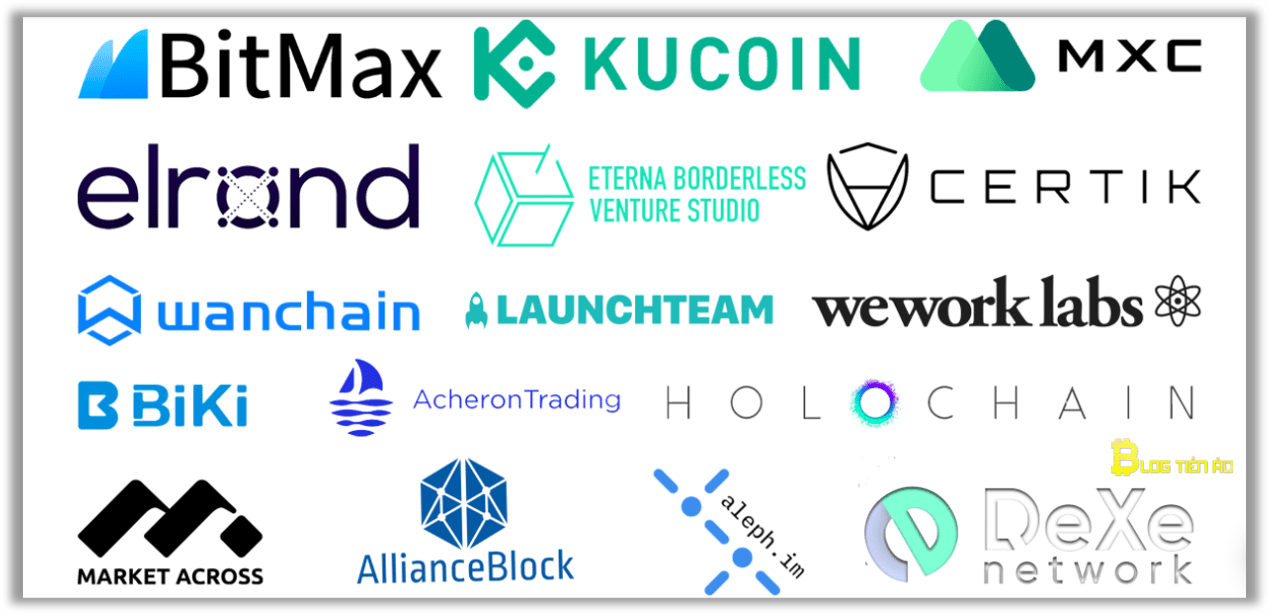 Should you invest in ORN?
Hopefully, with the great set of products and the benefits obtained by the ORN holders, the ecosystem will be interested by many big partners and the interest of the community. Many factors in our reviews have a relatively large impact on the rise of this currency.
So, this is not investment advice, so please consider the project carefully.
Summary
The challenge for traders and investors is how they can ensure that the deals they make remain profitable. This is because daily market prices can be manipulated by crypto whales and other major investors as they affect overall liquidity.
Orion's combined liquidity promises to solve this, and it's off to a pretty good start. With Orion, no single institution or investor can affect its overall liquidity.
Users can consider this platform if they want to carry out much more profitable trades or simply want a better view of their portfolios operating on different exchanges. Thanks!