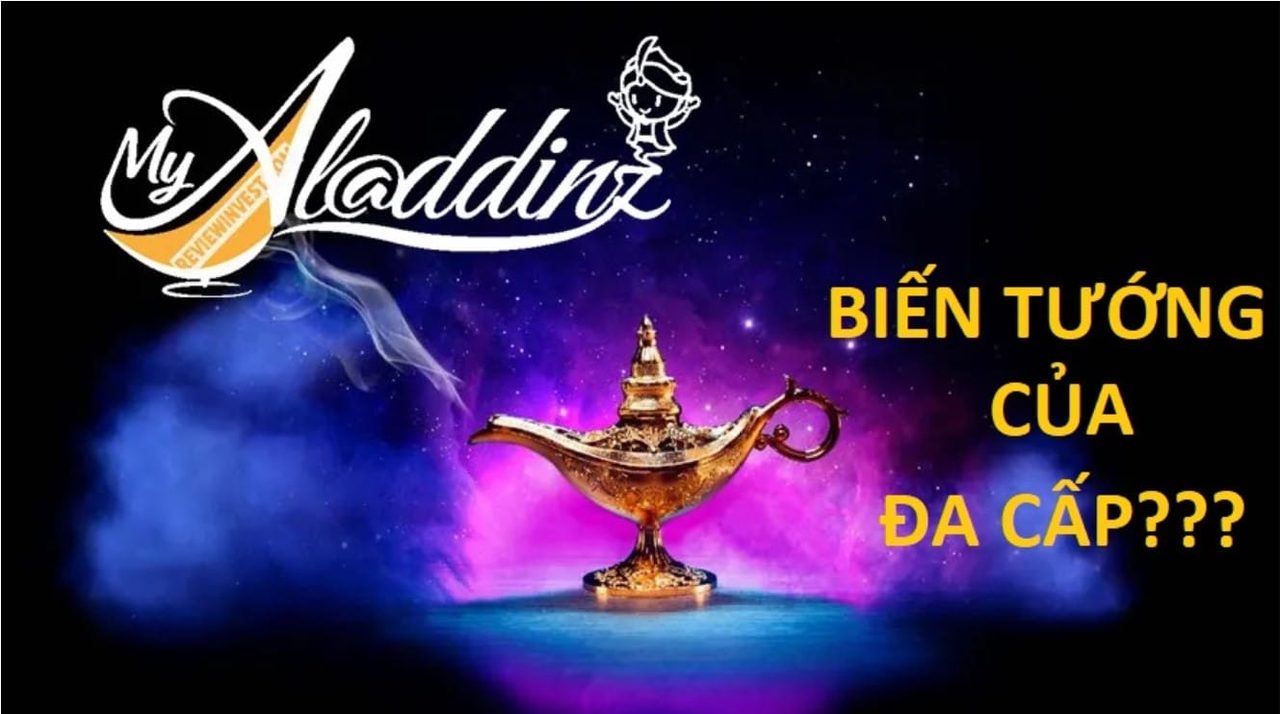 Buy goods for a refund of up to 80%, make passive money by "stroking the magic lamp" every day, enjoy a commission according to the rank when introducing new people ... Those are attractive introductions that you read. on Myaladdinz's website.
With such attractive offers, making money sounds so easy, would you ever suspect Myaladdinz is a fraud project?
You may have felt suspicious. However, when "visiting" the project website, then (in part or in whole) that suspicion was dissolved as soon as they saw photos of President Donald Trump, Former President Bill Clinton ... with Success Resources Chairman .

However, are you sure you are participating in a "big" project? Or is this just a more sophisticated multi-level project than the previous "brothers". Please calm down, do not rush "stoned" us; but let's together Blogtienao analyze to see what Myaladdinz is after all.
THE INFORMATION THAT BTA FOLLOWS HERE IS SURE TO MAKE SUCH A LOT OF SURPRISES TO YOU. Especially those who are participating in this project.
Overview of the MyAladdinz project
Founder of MyAladdinz
Billionaire Richard Tan, Chairman of Success Resources. This is an educational institution established in 1993. Headquartered in Singapore.
What is myaladdinz?
According to Can Xuan Hai - a character who always appears in MyAladdinz promotions and owns a separate YouTube channel to "teach" others to get rich from MyAladdinz - defined this project (verbatim) :
Looking deeply into the nature (of the project), we can see that this is not a financial floor, not a coin, not a trading floor and not a multi-level sales system ... So here what? Well it's not something here, it's simply a SMART CONSUMER SOLUTION
How to make money from MyAladdinz
For both stall owners and consumers:
80% cash back on product value:

When you buy any item on the app, you will get a refund of 80% of the value, no matter how much the item is worth.

Passive profits when introducing new people:

If you introduce new entrants, you will receive a percentage by rank. Level 1 is paid 5%, from level 2 to level 15 is 1%.
However, there is another way to make money even more attractive. That is the recharge to be multiplied by 5 the money and simply withdraw it. However, because it is attractive, it must be limited in number. And this is one of the "wisdom" of MyAladdinz.
How Gem and Point works
1 Gem (Gem) = 1 USD
1 Gem = 1 Point
When you make a deposit, the money will instantly convert into Gem. You want to withdraw money to your account, you need Gem; Points cannot be drawn, they need to be converted into Gem. (However, switching from Point to Gem is another interesting story).
For example, if your account has 30 Gem and 2000 Points, then you only withdraw about 690.000 VND (ie 30 Gem) on your bank account. As for the other 2000 Points, you cannot withdraw but need to switch to Gem. However, you can only convert 0.2% Points to Gem every day, not convert them all at once.
Is this a scam project?
Virtual Money blog confirms, this is a 100% fraud project. To see what evidence I base on, what details to confirm this, please read on in the following sections.
The trick provokes greed for sophisticated users
When I started to learn about the project, I was very surprised because it was clear that the sign of the familiar MULTI-LEVEL appeared right from the first information "pay according to rank when introducing new people to the system". . So why are many people still participating?
That's thanks to the attraction of two "features": top up to get extra cash and buy items for a 80% refund.
What is the deposit to get additional money?
When participating in a project, you need to top up your account with at least 100 Gem; equivalent to about 2,4 million VND (1 Gem = 1 USD).
MyAladdinz has such an advantage. If you make a first and second time deposit, that amount will be x5; x4 for the third time; x3 for the fourth time; x2 for the 5th and subsequent installments is no longer "donated".
Therefore, if a person has decided to participate; Do you think they will skip such a bargain and only deposit 100 USD for the first time?
However, many people only see that "super discount" without realizing that it is actually a trick of subtle seduction.
When you deposit money, for example, USD 1000, you will have 1000 Gem. However, you will not get x5 of that Gem. Because if so, you will certainly change that Gem right away to USD for sure.
So if you want to x5 accounts, you have to move that 1000 Gem to Point. You will then get x5 and have 5000 Points. At this point, you need to remember one important thing, you can not exchange all those 1 Points for Gem at once, but you can only "swipe the lamp" every day to exchange 5000% of 0.2 Points, equivalent to 5000 Gem ( ~ 10 VND).
I remember in an article about enrichment from MyAladdinz, the author wrote: "Deposit money to get 0,2% interest everyday". Do you think this is interest? Absolutely not. You need to know that when you deposit into that 1000 USD, the 10 USD you receive daily is your principal, absolutely not interest.
When will you be profitable? After 100 days. Until the 101st, you only have the first 10 USD interest. However, 0.2% daily interest is only maintained in the first 6 months, while the later period is only 0.1%.
The answer to the question: "Where is the multi-level place"
Surely reading up to here, those who have participated in the project will say in the form:
MyAladdinz works like a bank. When we deposit money in a bank, they also keep the money and pay interest on that month. The only difference is that MyAladdinz pays higher interest rates.
And those who haven't yet, think:
Recharge to be multiplied by 5, how ridiculous, why would anyone believe? Where do they get the money to pay?
Yes, I thought so myself at first. But the question of the participant was answered by the participant: the model works like a bank. It sounds reasonable, but it is actually a "clever fallacy".
Because it is clear that the bank has a transparent investment plan with the money of its customers; State-sponsored bankruptcy.
What about MyAladdinz? Where do they get the money to cover the super deals (x5 accounts, 80% refund) that they bring to you? They do not have any sources to make a profit from the money that users have loaded, they also do not have any state sponsorship ...
I spent two days searching for answers to the question "where is the money for MyAladdinz to pay participants?" And very lucky when I saw the clip of "teacher" Can Xuan Hai, the answer was "teacher" said very clearly in the following clip:
I will summarize the content of this clip for you as follows:
From the first minute to the eighth minute, the "teacher" explains the components that make up the MyAladdinz community: Sellers, buyers, middlemen and new members referrals
From the 8th minute on, "teacher" began to explain in depth about MLM - MultiLevel Marketing (which we still call Vietnam multilevel).
By 8:30 the "teacher" asked "where is this system focused?". He then asserted that "should focus on MLM now."
In the following, the teacher also emphasized that the player "should focus on the MLM player. Because that's the key to success, it's the easiest way to make money. "
So one of MyAladdinz's big "centipede legs" is that Can Xuan Hai only directs you to become a multi-level person, introducing new people to them. Let them take a small portion of one person's money, pay the other and so on and on.
You should really see the clip above to see clearly "where they pay you so much".
80% cash back on product value
This is another feature used to arouse greed and curiosity of users. Many people will think, if the way of giving money sounds too long to take profit; Recharge to "recruit" newcomers sound like they are doing multi-level. That's it, I loaded Gem to buy things to get 80% refund, too good without sticking to the multi-level.
That's why the Virtual Money Blog says this is a sophisticated multi-level project, easier to get people involved in than other multi-level projects. Because they know how to create "moves" that change players' minds.
When you get involved with the "I only buy goods for 80% refund" approach, it is when you indirectly expand the community to a multi-level project. Just 1000 people participating in such a way of thinking are enough to create a vibrant community.
For the vibrant trading communities formed from such people, it will be what MyAladdinz offers as evidence when hiring new people. Because obviously, it must be a "prestigious" project to create such a large community. At that time, you became the hand of the multi-level guys.
Besides, you are sure "knife will not have a cut-off date?". Are you sure you will not fall in love with the secret words of the centipede in it?
And it is important to note that 80% of the value you refund will be converted into Points. Each day you can only exchange 0.02% of that Point for Gem.
Evidence exposing the fraud of MyAladdinz
Visit the homepage of MyAladdinz in Vietnam; You will see advertising projects about big brands appear on MyAladdinz's shop.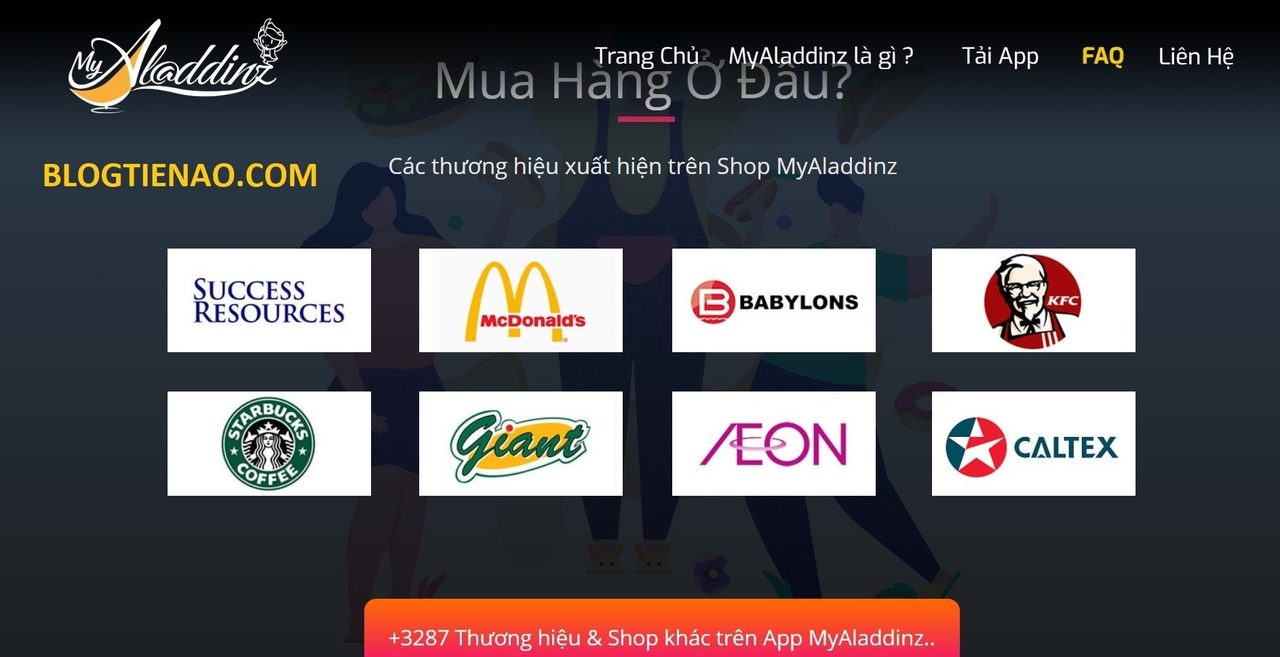 Excluding Success Resources and Babylons. (Because these are both brands of Richdad Tan - the founder of the MyAladdinz project). BTA tried to play the role of the user of MyAladdinz app and wanted to use Gem to buy goods at major brands. Let's see how they answered:
AEON: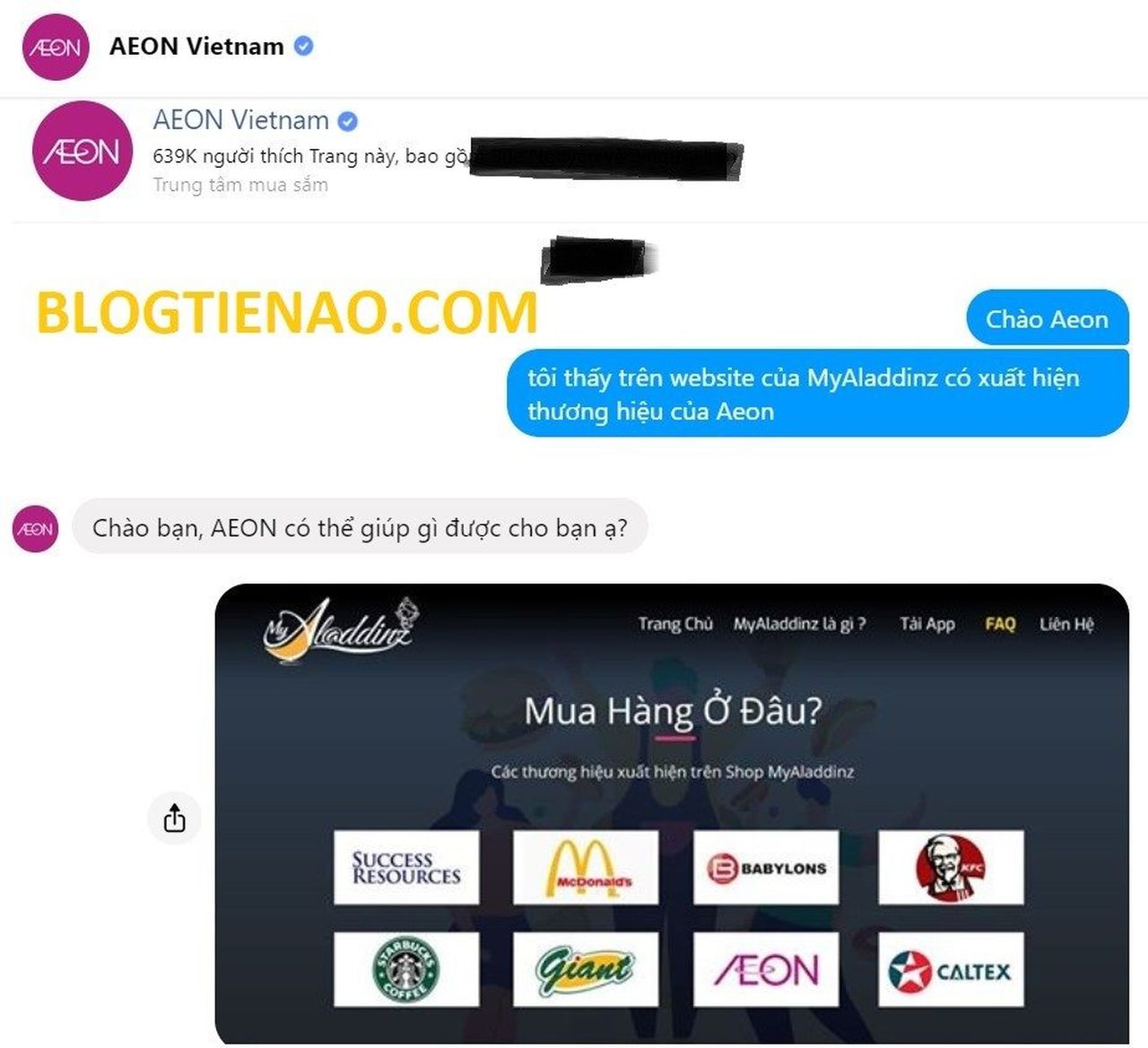 McDonald's: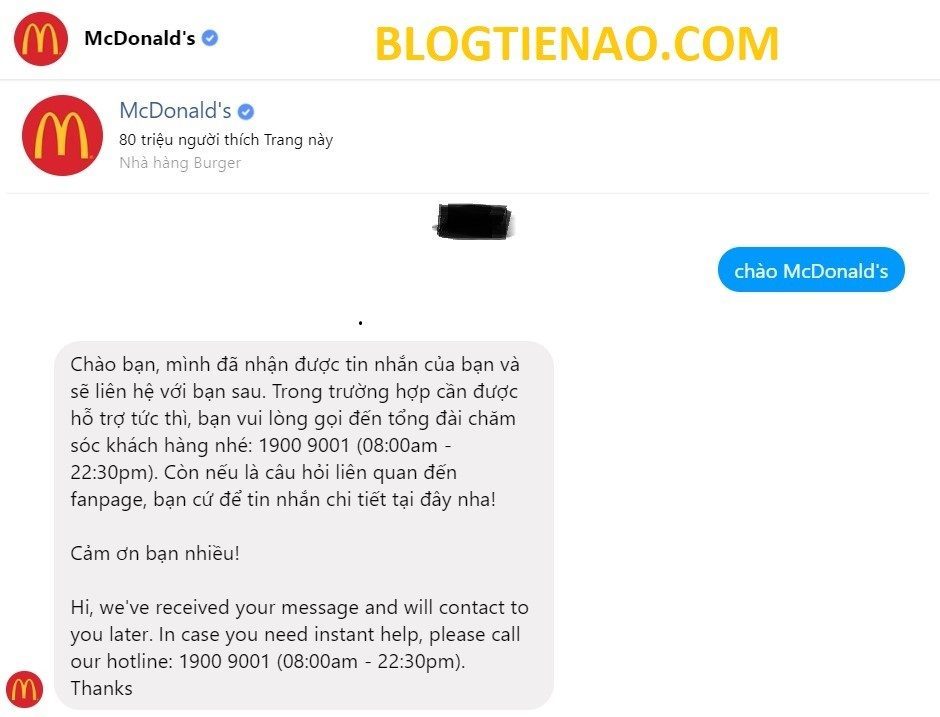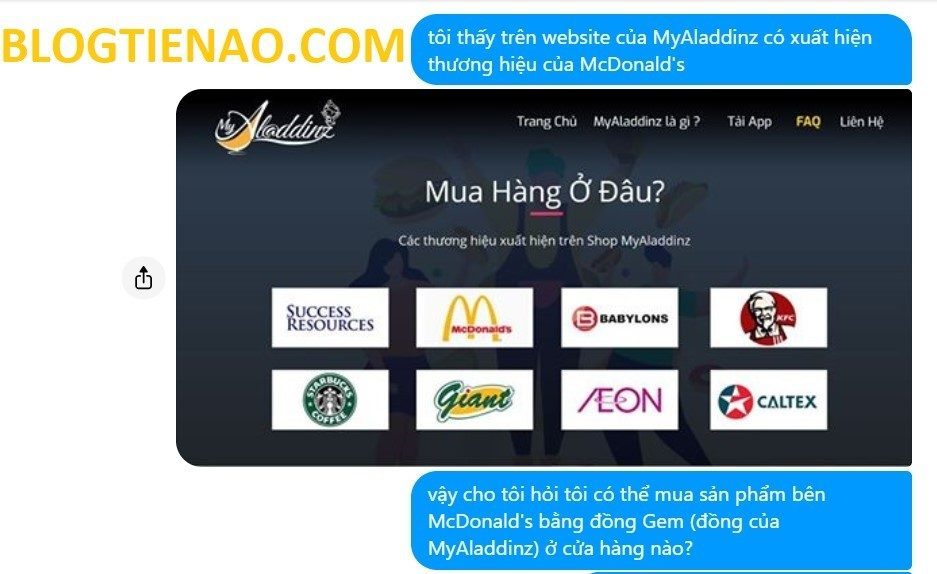 KFC: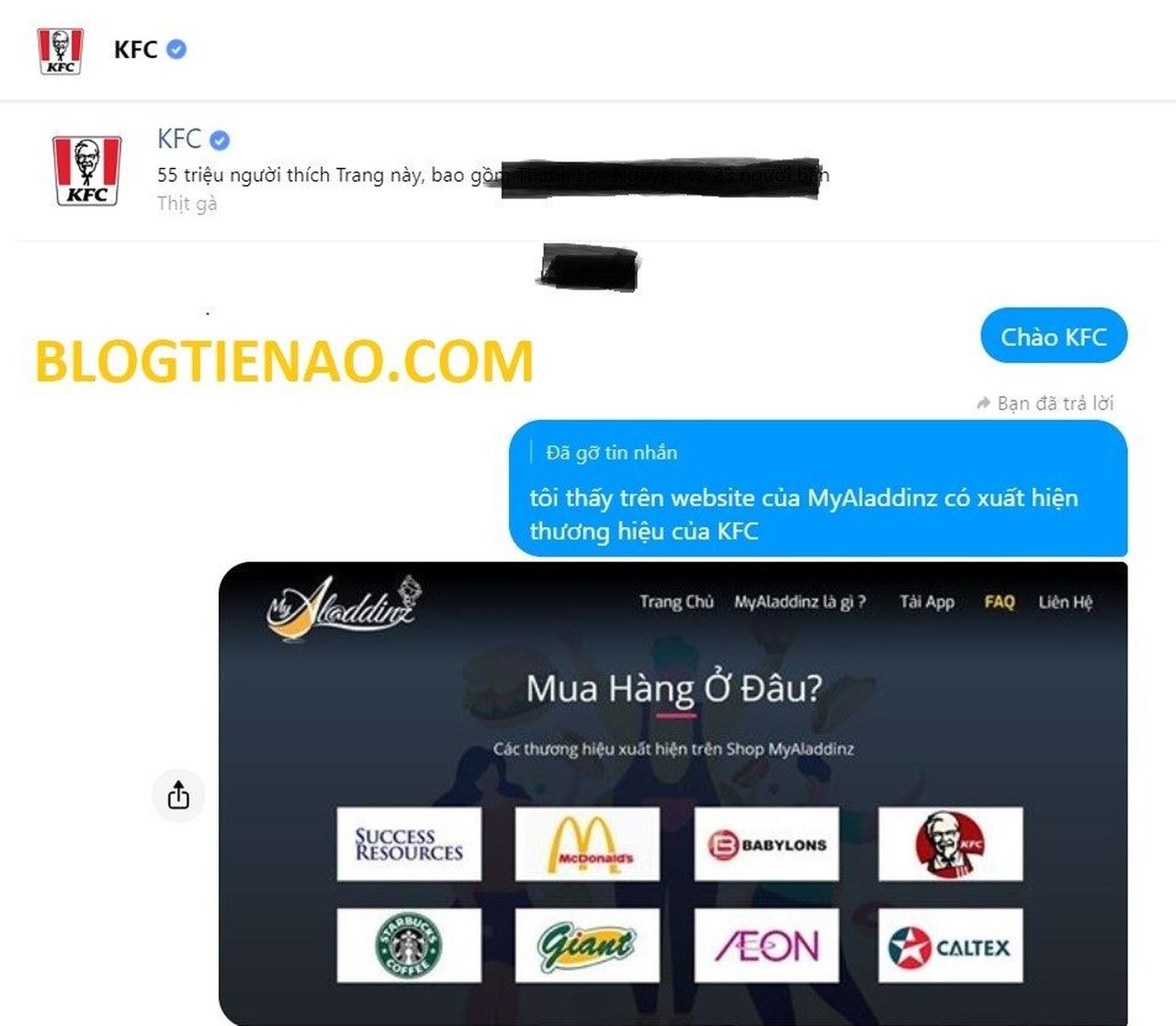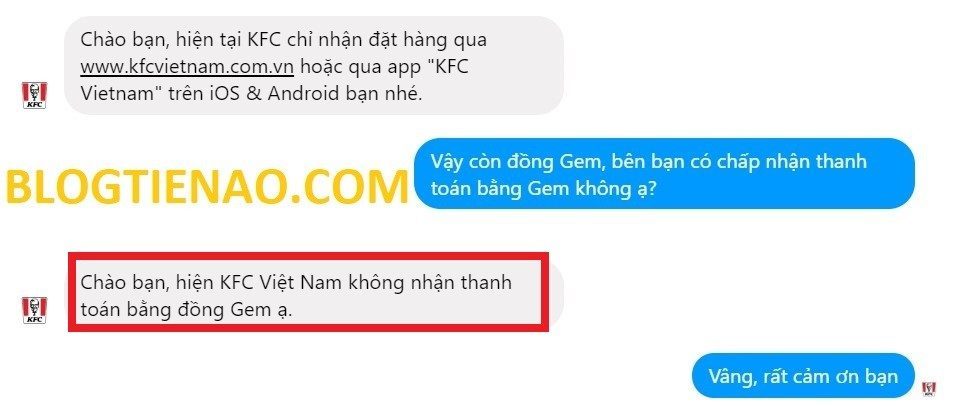 What do you think of a brand that appears in the community of a project without paying for the assets it publishes?
Starbucks: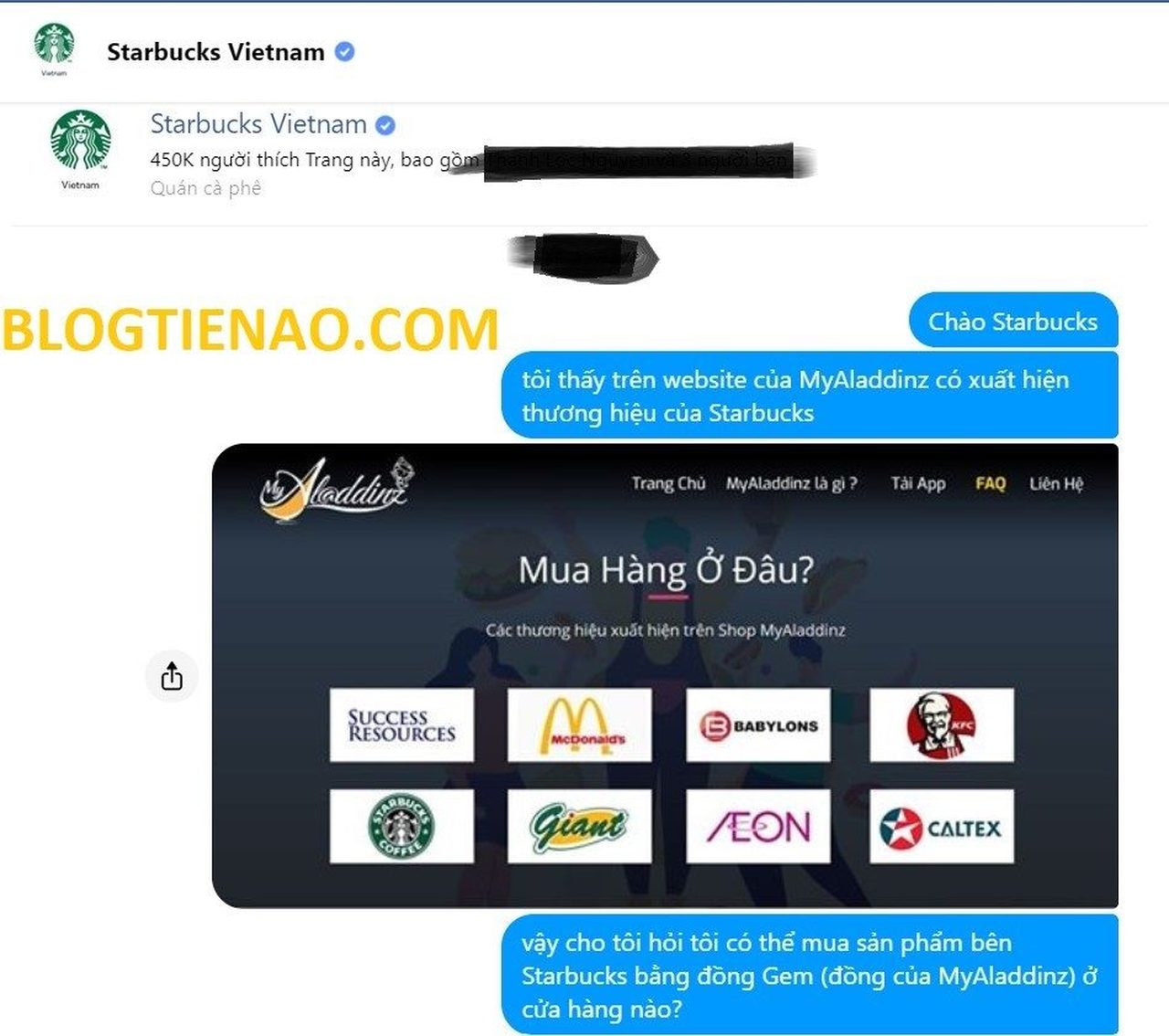 Giant:
This is a brand in Singapore so I have to contact them by e-mail. And here is the answer from them that I framed in red below:
We regret to inform you that we do not have any partnership with MyAladdinz.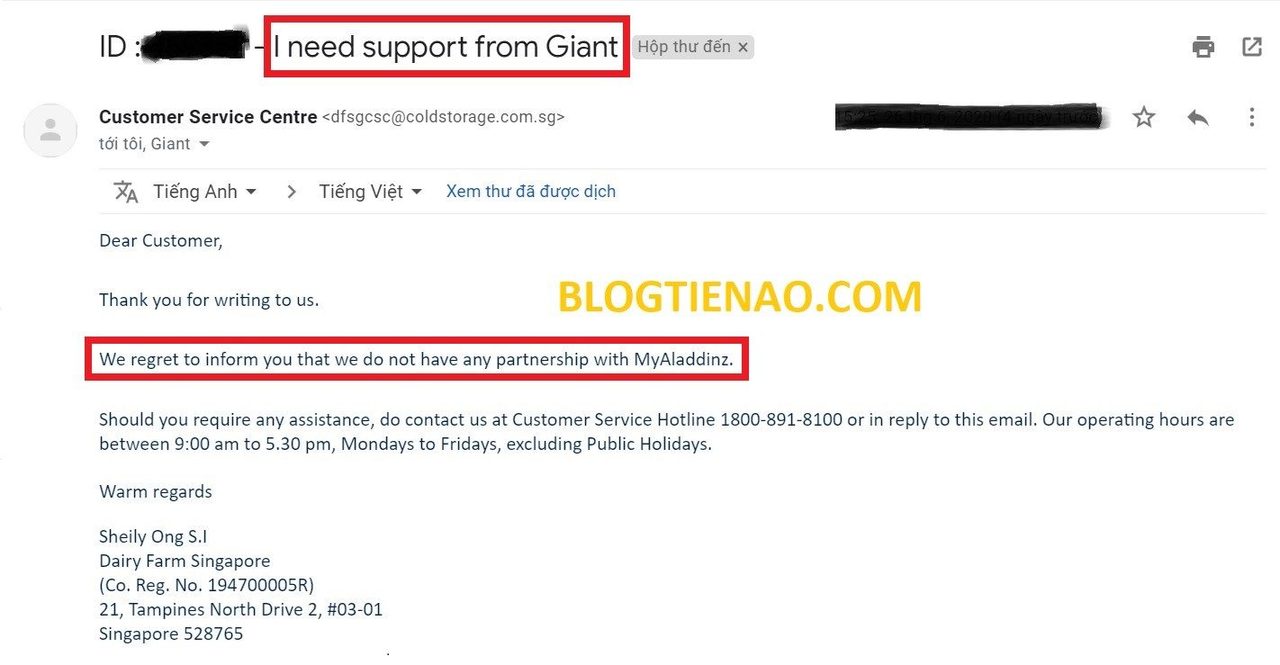 5/6 big brands appearing on MyAladdinz's website all confirmed that they did not cooperate with the project. (With Caltex, I did not receive a response.) This shows that MyAladdinz has voluntarily posted such information without any cooperative relationship.
Also, I took the time to visit the community they posted on the website to find out. Then I noticed that "household businesses" (groceries, small businesses, etc.) made up a large part of this community, and the rest were small companies.
VINFAST Group cooperating with a multi-level project?
While surfing the shopping community with Gem on Facebook; (The Facebook community is the most exciting place for this multi-level project. They buy and sell everything from scratch cards, clothes, to real estate ...); I have caught sight of buying VINFAST cars with Gem.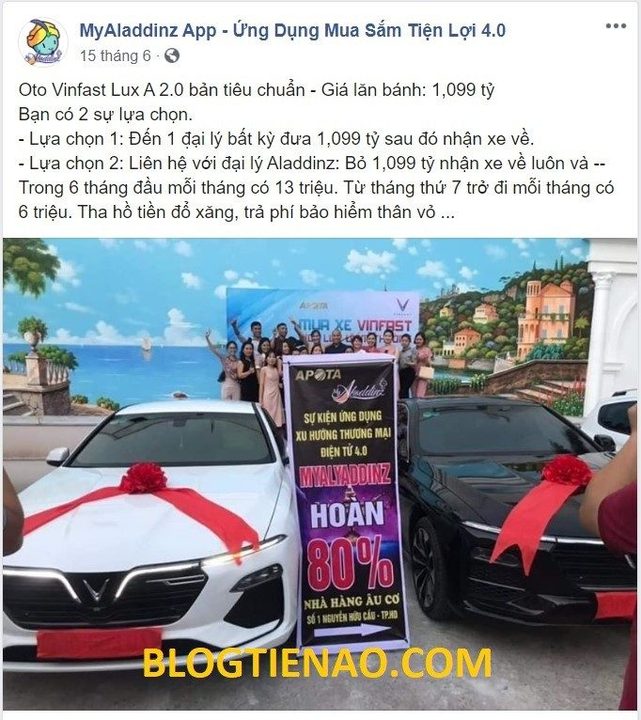 So once again, I got into the role of someone who wants to buy VINFAST cars with Gem to contact the company directly. And there is another story to tell everyone. The following is the text of the message: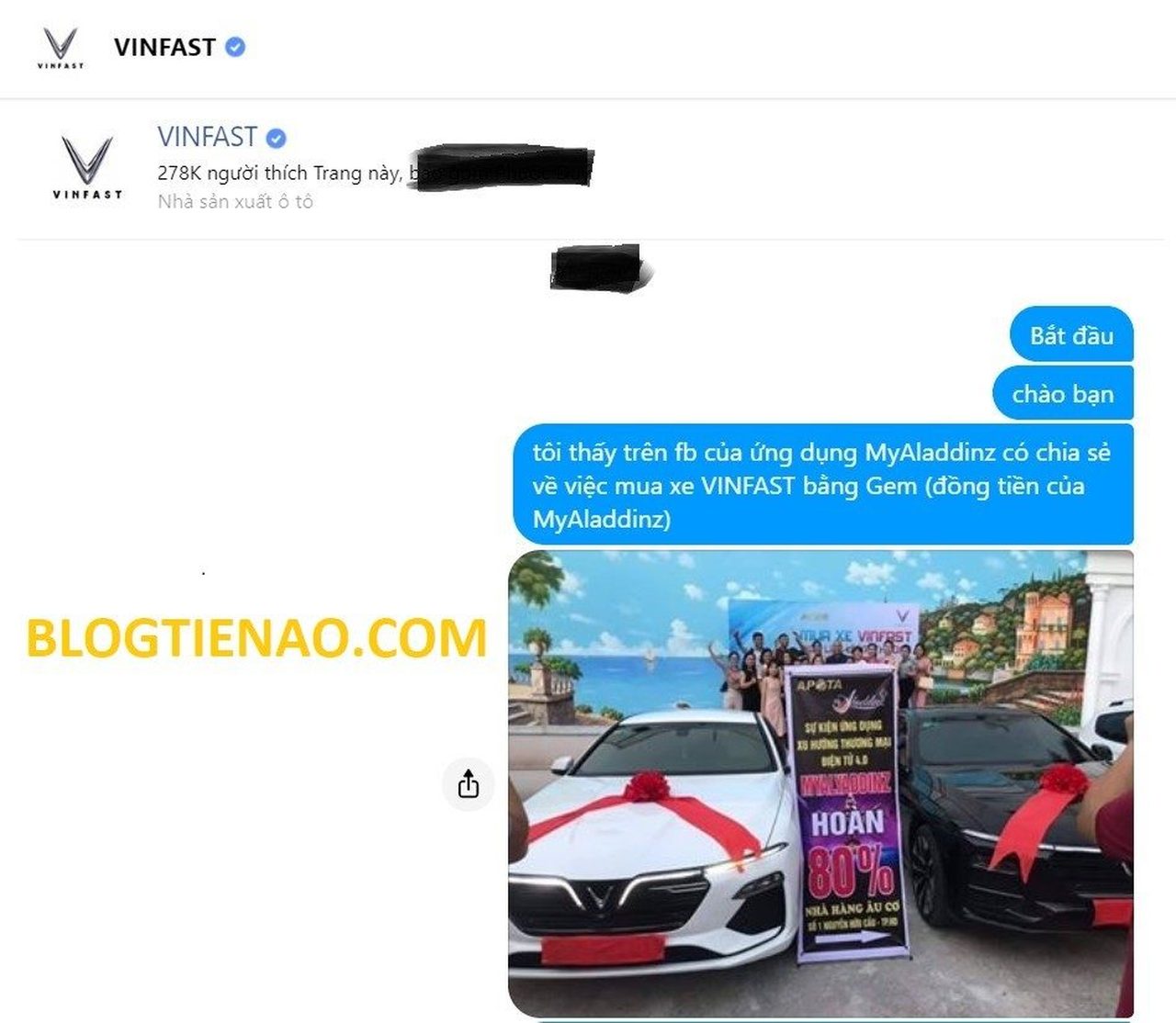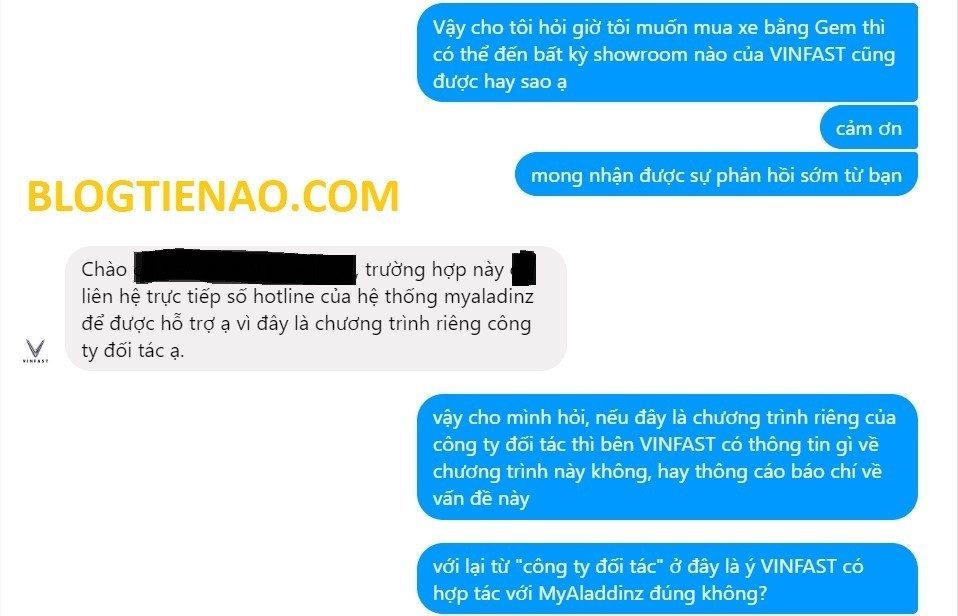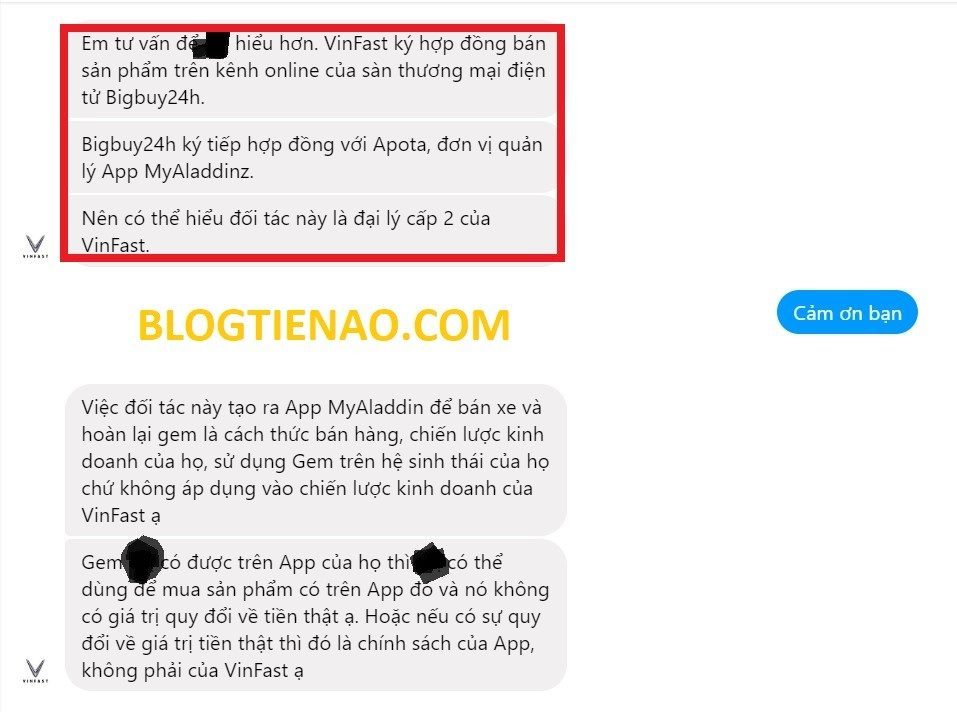 Other questionable details
When visiting myaladdinz.com and myaladdinz.com.vn website, you will see a very clear difference.
On myaladdinz.com.vn (page exclusively for Vietnamese community); You will see full information and photos of the founder, President Donald Trump, the buying and selling community, typical activities, etc. In general, clearly describe the details of the project, very aggressive introduction. .
And on myaladdinz.com (page for some other countries), the exact opposite. A brief introduction, not showing the image of the founder or President Donal Trump, ... Almost nothing but a little information about Gem, Point, consumers, ... even the image is faulty. .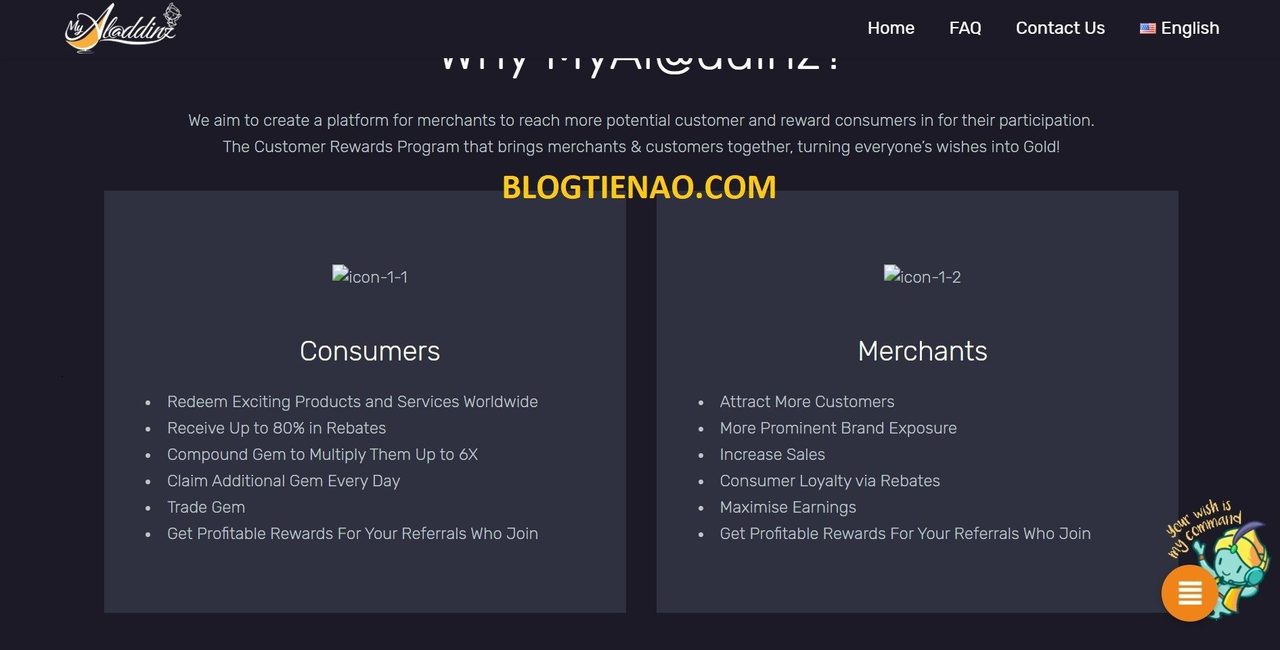 However, on myaladdinz.com there is still a buying and selling community like in Vietnam. However, do you ask why they did not put President Trump or Richard Tan on foreign homepage?
So how could a founder of a rogue project ever meet President Trump
In fact, if you pay close attention; You will notice that people who put information on your website intentionally made you think that way. They were very clever when giving information.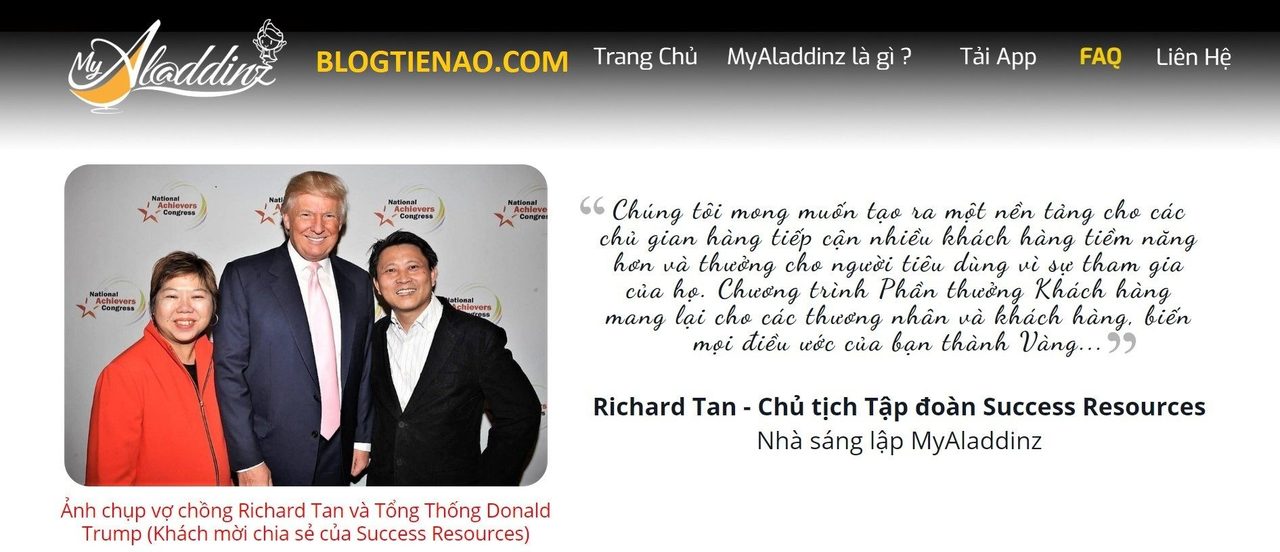 In the picture above, they captioned "Richard and Donald Trump." Of course, the word "president" here is not wrong. Because at present, Mr. Trump is the President of the United States. However, what's important here is the moment this photo was taken.
With the background, you can tell they're at the National Achievers Congres. From what I have learned, Mr. Trump was invited to this event in 2012 as a guest / speaker. That means they took pictures when Mr. Trump was not president yet.
But so what? Although not yet President, at that time, he was a famous billionaire. Correct. But, you need to know with such talks; If you have enough money, you will invite a businessman to share his experience.
This is the case. Richard invited Trump to come to speak at his annual event; What is strange about Trump taking photos with the organizer?
Next is another picture of Mr. Trump:
This picture has a very touching sentence:
I only cooperate with the best organization in the world.
The sophistication is here. With this statement, many people will think that Mr. Trump is referring to Success Resource.
However, you have noticed that there is not any information on the website that indicates that Mr. Trump is referring to the organization as Success Resource. Not to mention but direct readers to what they want.
Back to the above statement of Trump, maybe it is simply a sentence in his speech at that time was "explained" by MyAladdinz.
Conclusion
With a reputable project, Blog Money Fantasy believes that they will not be able to give false information. Because that will greatly affect their brand, reputation and honor.
However, as you can see, I have presented a lot of evidence that the information that MyAladdinz posted on the Website is not false is also "leading the nose" readers. So BTA believes that the information I bring to you is enough for you to understand that MyAladdinz is a multi-level project.
Therefore, I hope those who joined in "withdraw" soon. And those who have not yet joined in raise their guard. Because nowadays, multi-level projects are becoming more sophisticated and much harder to detect.
If you find the article useful, please like, share and rate 5 stars so that the Money Tien Blog has more motivation to write more quality articles!