MEME (MEME) is a combination of decentralized finance (Defi) and non-fungible token (NFT) on the Ethereum blockchain.
Non-Fungible Token (NFT) is a crypto token on the blockchain that represents a single asset with verifiable scarcity. They can act as proof of authenticity and represent ownership of digital assets. MEME allows users to stake tokens to farm limited edition NFTs.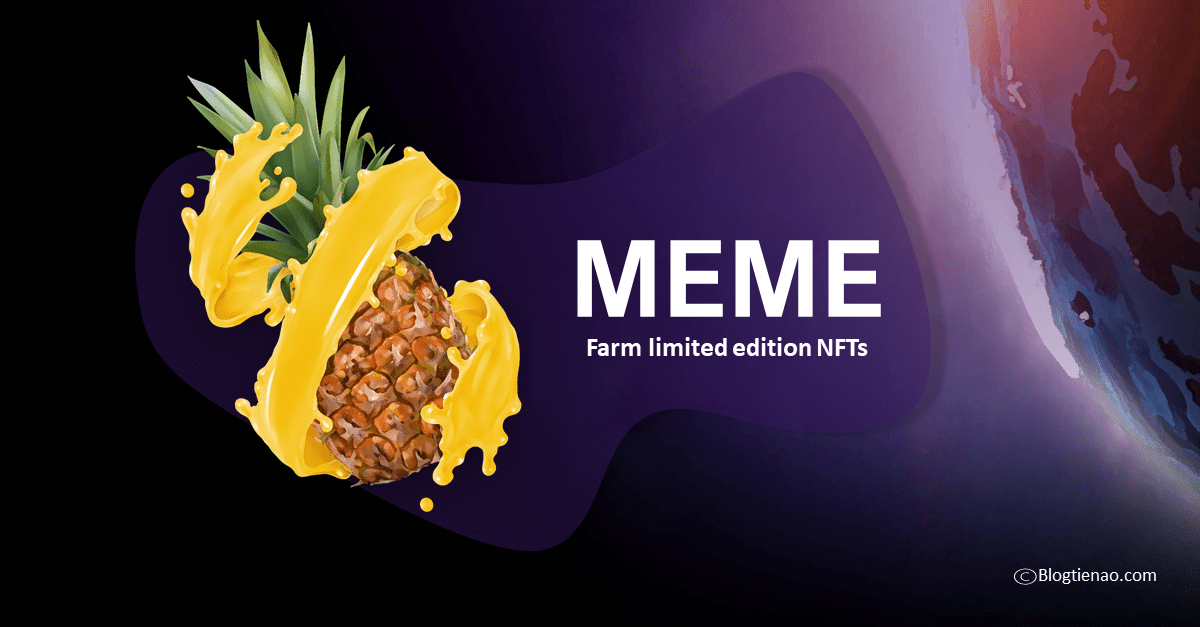 Project idea
MEME started out as a meme. Jordan Lyall, the lead DeFi product team at ConsenSys whose Twitter post is Lyall, joked about an offer that could allow creating a DeFi platform easily and quickly.
One Twitter user took this seriously and created MEME co. The meme's birth dates back to 1976 when the word appeared in "The Selfish Gene", a book by Richard Dawkins. In the book, memes are portrayed as ideas that quickly spread from person to person in a community.
What is MEME?
MEME is a decentralized project connecting the DeFi world with NFT through yield farming or liquidity mining. The network emphasizes that it does not offer coins for sale but allows farming. The system was launched on August 14, 8, and since then has attracted a lot of attention from the crypto community.
Why is MEME so attractive?
The source of the project's rapid increase stems from Lyall's tweet, which attracted 1.200 likes and high retweets within minutes. After its launch, it was listed on CoinGecko with a hard cap of 28.000 tokens
Next is an exclusive round of airdrop exclusive on Telegram done 30 minutes after launch. After its launch, the protocol's Telegram community grew to more than 3.000 participants. In the first few days, MEME reached a 24-hour trading volume of $ 1,2 million, ...
About a month later, the token was trading at $ 795, had a one-day trading volume of $ 8,8 million, and a Market Cap of $ 18,7 million. Additionally, the coin has moved from rank # 610 in early September 9, to rank # 2020 on September 276, 18, based on market cap.
How to farm MEME?
Farming requires MEME staking and then accepting rare NFT versions. This increases liquidity mining opportunities for DeFi enthusiasts. Like other DeFi systems support yield farming, farming MEME is related to liquidity mining pools.
The NFT for retrieval was created by a selected number of artists. The first digital artist listed is Sven Eberwein, a popular artist living in Los Angeles.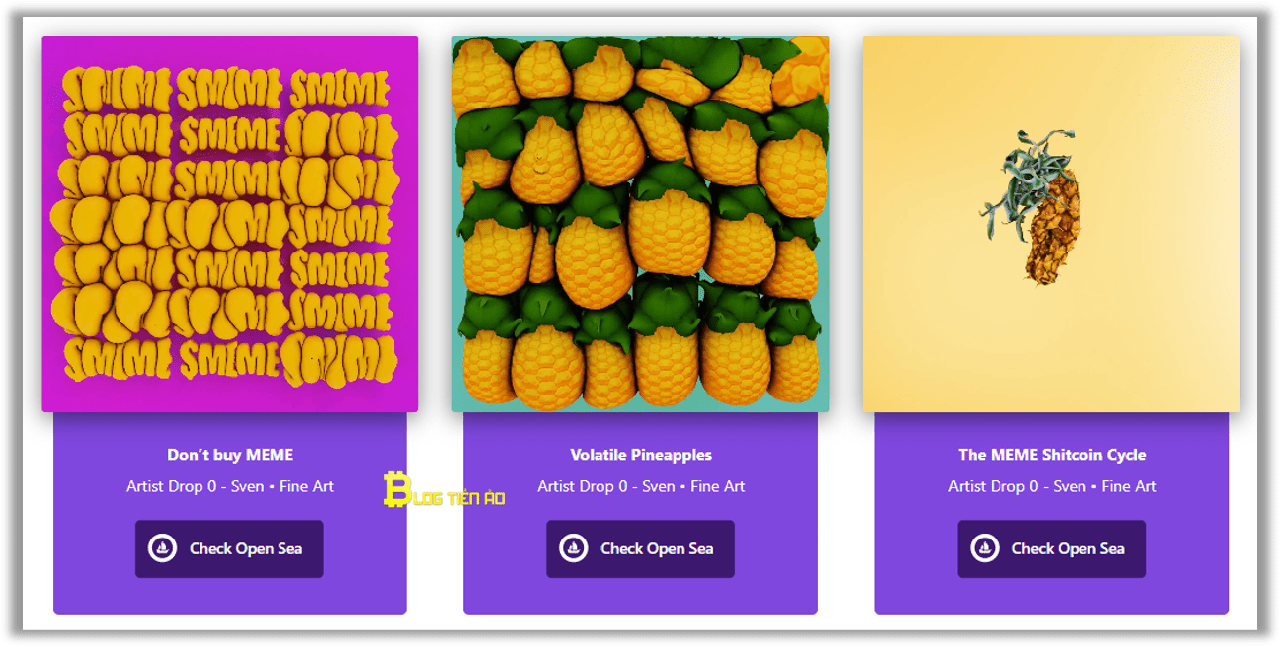 Eberwein combines internet culture with computer graphics. Sven "works of the internet, by the internet, for the internet".
Artist's first themed collections with title:
Don't buy MEME
Volatile Pineapple
The MEME Shitcoin Cycle
and finally Crashtest (Because it will)
According to Eberwein, MEME's uniqueness comes from being the first to embrace the world of DeFi and meme.
MEME farming pool
Genesis pOol
This allows for MEME staking, which is performed as follows:
Step 1: The first step is to access the word pool https://dontbuymeme.com/farms
Step 2: Then the next step is to unlock your Web3 wallet. Note that the Web3 wallet is just browser functions added to the standard self-custody wallet to allow the access and use of decentralized apps (Dapps). The wallets in the Web3 ecosystem include Metamask , imToken, Huobi, AlphaWallet, Enjin, infinito, Opera, Trust wallet, Coinbase, Dexwallet, Ledger , exodus, Safe deposit and Mist.
Step 3: Approve MEME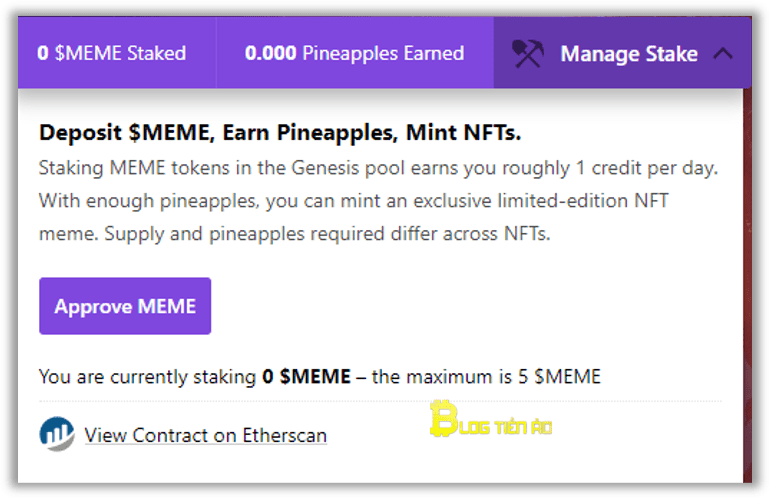 Enter from a minimum of 1 to a maximum of 5 MEME tokens. Farming rewards on the platform are called pineapples. Example: staking 5 MEME gives 5 pineapples every 24 hours.
Lastly is "Claim NFT". This can only be done when the required number of pineapples has been farmed.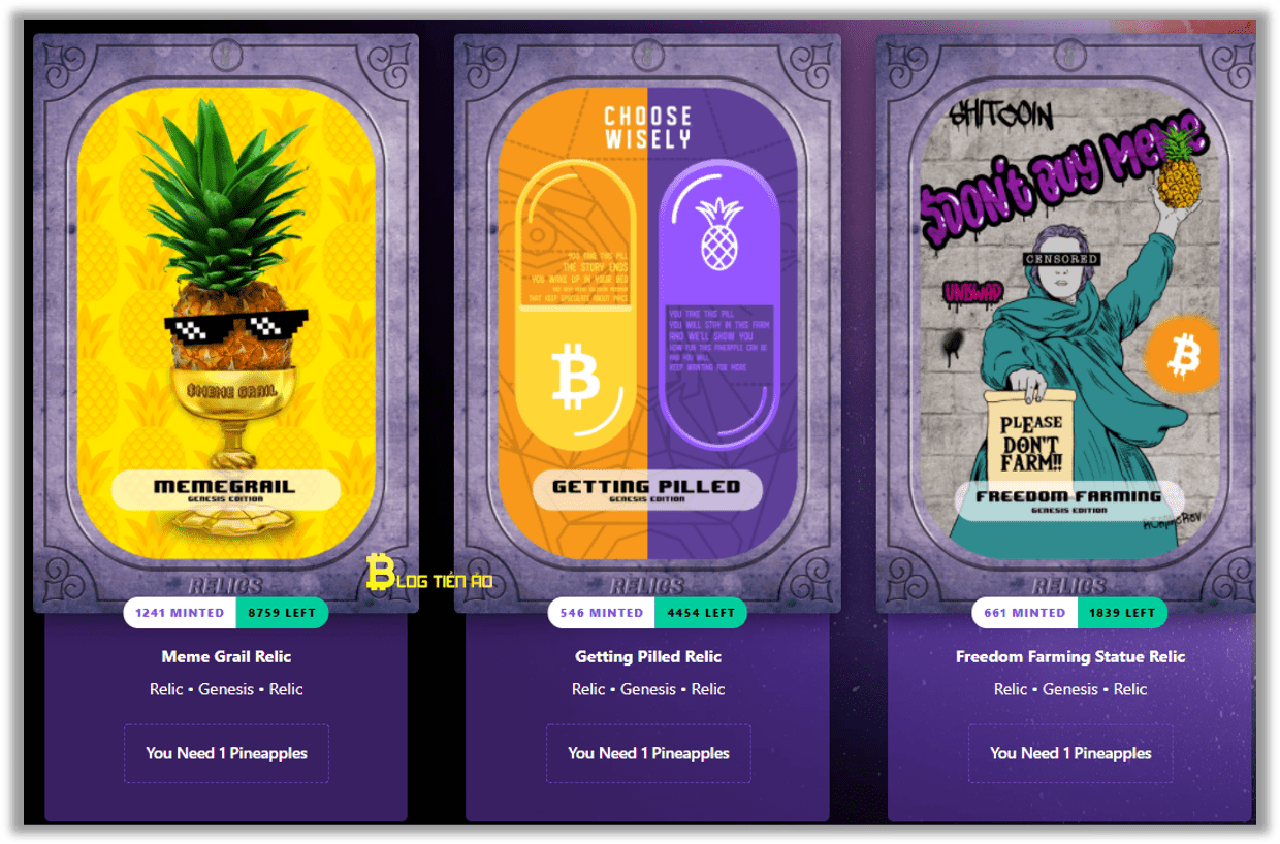 Genesis LP pool
Here, the token liquidity pool Uniswap V2 (UNIV2-LP) is staked to earn pineapples
Step 1: To receive tokens, stake Ether (ETH) and MEME tokens on the Uniswap pool. However, in order to receive about 0,0002 UNIV2-LP tokens, one needs to stake about 50 MEME and ETH of equivalent value.
Step 2: Access https://dontbuymeme.com/farms to join the LP Genesis pool.
Step 3: Unlock your wallet.
Step 4: Approve tokens from Uniswap and specify your stake. The pool supports minimum 0,00004 up to 0,0002 UNIV2-LP tokens. As with the previous pool, the minimum stake generates one pineapples per day while the maximum stake generates five pineapples every 24 hours.

A farmer pineapples may claim NFT when they have enough pineapples. Note that pineapples cannot be shared between pools and the stakes cannot exceed the set limit to avoid transaction failure.
NFT earned from MEME mining can be sold on OpenSea, a NFT and virtual currency collectibles exchange. OpenSea lists assets created using Ethereum's ERC-721 and ERC-1155 standards.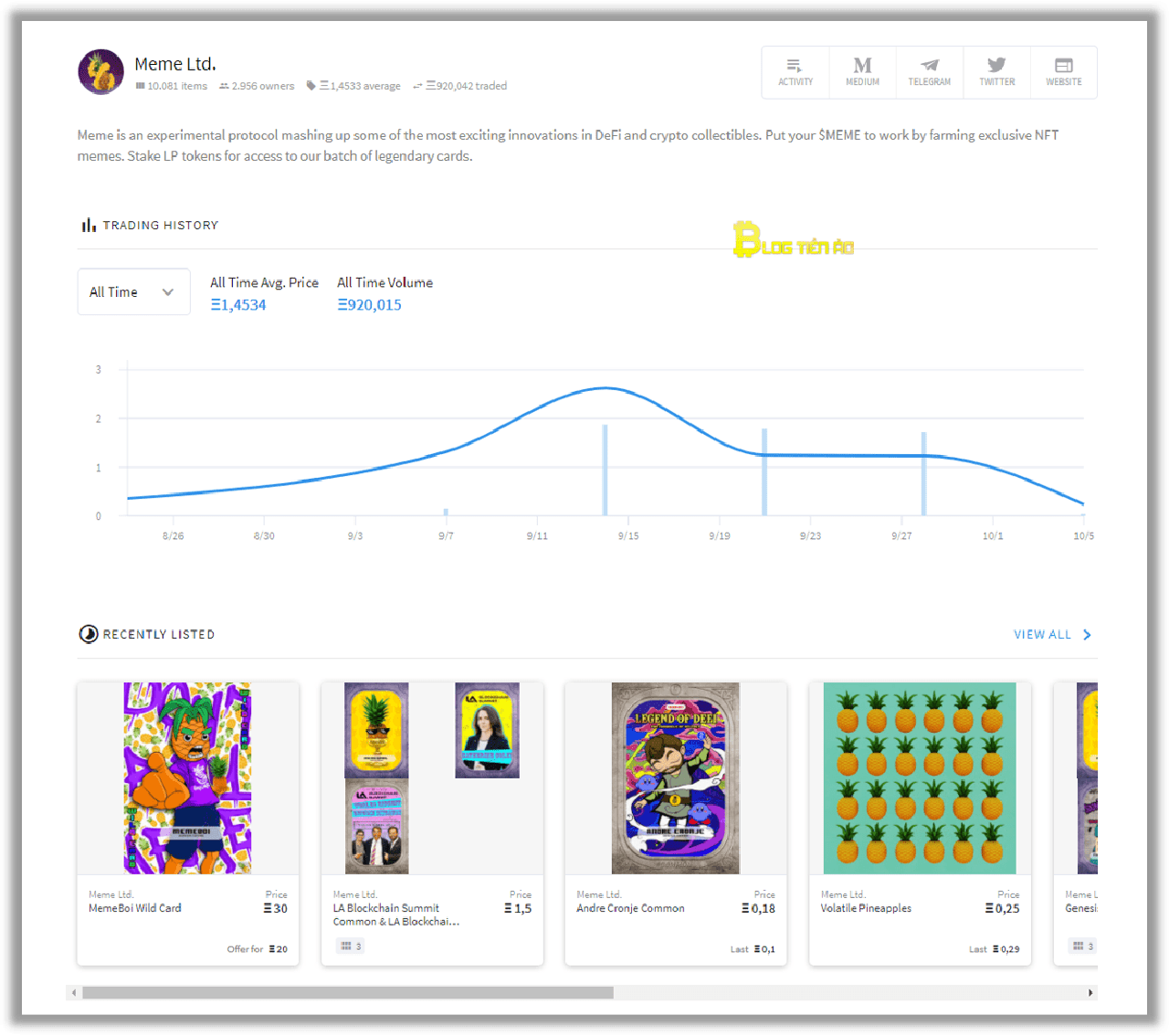 Governance
Like other unsupervised financial systems, MEME handles governance issues through a decentralized autonomous organization called MemeDAO. To become a member, you must have a minimum of 100 MEME tokens. By the end of August 08, $ 2020 million of the capital had been locked in the DAO.
Conclusion
Like Doge and CoronaCoin, which started out as a game but has attracted interest from the crypto community.
MEME's uniqueness comes from its connection with the DeFi and NFT worlds. This adds a new amount of reward for the yield farmers. However, it is not known how long it can last.
*Note: Yield farming contains high risks that have not been discovered. So don't stake or farm more than you can lose. The article is not an investment advice, consider carefully and decide with your own money. Thanks