What is Margin Trading? What is Margin Lengding? and how to playing margin on Poloniex floor? This paragraph Virtual money blog will explain the important items when playing trade coins on Polo, an exchange digital money Prestige and stand in the top largest floor in the world today. If you've ever played "Trade coin"Or"surf"It is impossible not to know the poloniex floor.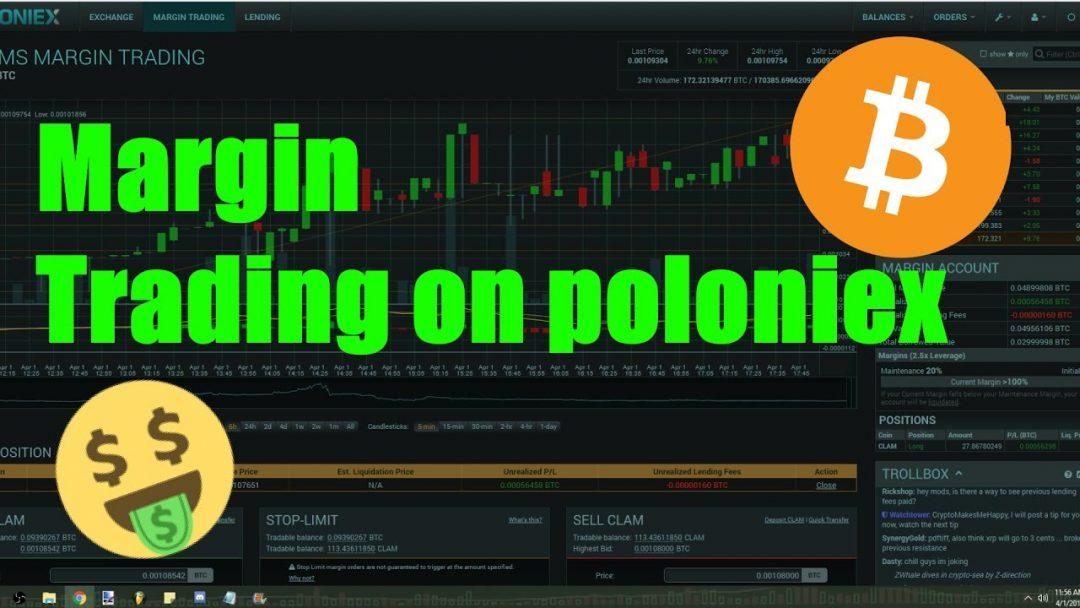 If you are new to reading, you should read the article What is trade coin and the basic concepts when playing tradecoin first, then come back to read this article to understand the whole content, because it will be a bit abstract for newbies.
What is Margin Trading?
Margin Trading (margin trade), also known as margin trading, is a form of borrowing money from a specific exchange here. Poloniex floor, a little technical explanation, it is a form of using "leverage" finance is the capital of the floor, so you will have more money to trade and bring higher profits. Of course when participating in the trade coin margin you will be charged interest rates.
Margin Trading is a form of trade that doesn't make new friends because it is much harder to play than Exchange Traing (Basic trade or trade for profit you see in detail this lesson) because when playing Margin you will have to pay additional costs related. Most people see Margin Trade as a short-term investment strategy and when the market is volatile. In case you seize a good opportunity, you can make a lot of money with Margin.
Currently, on Poloniex are supporting 11 Altcoin type different for the Margin Trading account. There are 3 main parts when playing Margin with 3 different types of wallets on Polo you need to remember:
Exchange account is a normal investment, trades with the money you loaded
Margin account to store the amount of loan security used in trading margin.
Lending account Keep the money you can lend to others and earn interest.
You can choose "Long"Or"Shorts"Using the collateral of Poloniex.
If you choose "long"Which means you will be profitable when the market goes up.
If you choose "short"Which means you will be profitable when the market goes down
Feature "Shorts"Is the difference of Margin Trading compare to Exchange Trading because when the market goes down you will be profitable.
What is Marding Leding?
Market Margin Leding accompanying Margin Trading market. People can reach 2.5 times leverage on Poloniex, you just need to borrow money and choose a trend. "long"Good"short".
Margin Leding is the opposite of Margin Trading, with Leding you can lend money to others at a certain interest rate to make transactions on the Margin Trading market.
If you choose the trend "long"With any of the 11 altcoins, the system will use itself Bitcoin are lending to you.
If you choose the trend "short", Polo system will choose the type of Altcoin that is similar to the type of Altcoin you are trading to fund you.
Instructions on how to play Trading Margin in Poloniex
As above I mentioned in Margin Trading There will be 11 types of altcoins to choose from. First you need to transfer money to deposit, you can transfer any currency to Margin to deposit.
To recharge you enter balances -> Transfer Balances. Enter the amount and currency you want to transfer and press Transfer.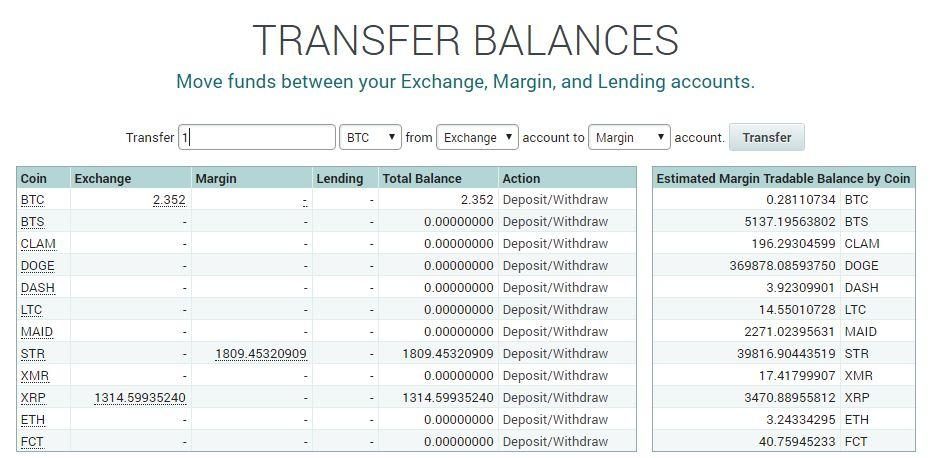 After you transfer any currency into Margin, Polo will automatically convert to BTC and multiply by 2,5 to give you the number of BTC you can use to "Long", Or convert to the altcoin you want to trade and x 2,5 will give you the altcoin you can"Shorts".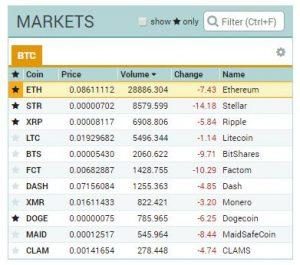 I take for example when you transfer 1 BTC to the Margin above Poloniex then that means you will have 2,5 BTC to Long (buy). And if you were trading BTC with ETH (1 ETH = 0,07 BTC) you would have 14 ETH to Short (sell).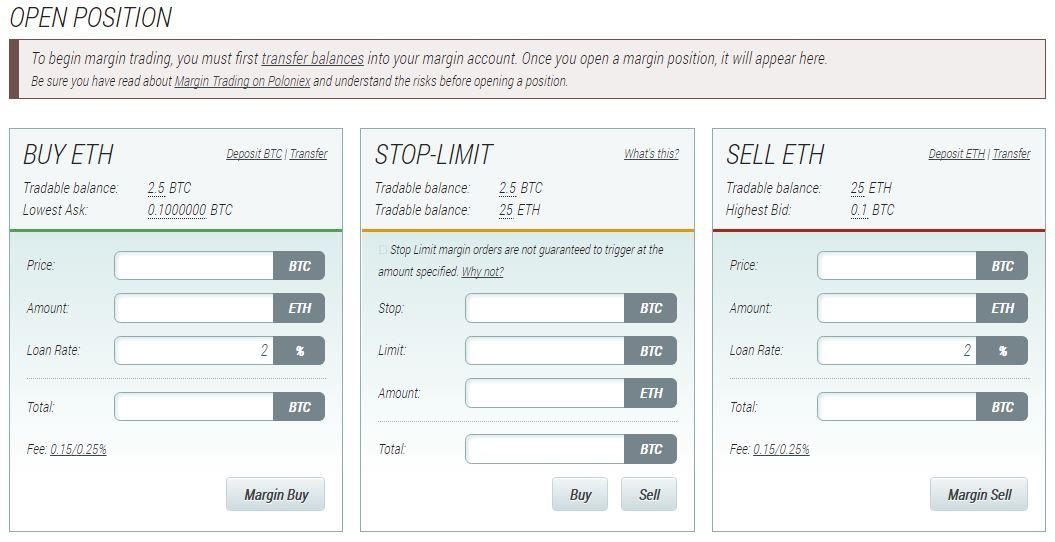 Long: after you buy ETH price 0.1 as shown above, and it continues to jump to 0.11, 0.13, ... means you are profitable, just wait for it to reach the top and Close the order to take profit. And if it goes down, that means you are in a hole, if you feel it can still be up again, keep the order, otherwise you must watch the Close command early if you do not want to fire your account.
Shorts: after you sell ETH and its price drops continuously, you are selling a good price and profit. You align the bottom price to Close profit-taking orders.
After long or short then you will see the command as shown below, when feeling enough or to that point the coin turned Close order to take profit.

Generally to play Margin Trading then you have to master the market of 11 altcoins rising or falling from there on long or short orders. High profit margin is associated with a high account fire risk, this you have to identify from the beginning if you want to play Margin.
How to preserve capital when playing Trading Margin on Polo
Case 1 if you trade wins regardless of long or short, after having profit you Close the order, the floor will withdraw its capital with 2% interest. For example, if you have 1 BTC, you go to the Margin floor to lend you 1,5 BTC more and you have 2,5 BTC. If after Close the order you earn 10% ~ 2,75 BTC, you pay 1,5 BTC + 2% floor is 1,53 BTC. You profit 0,22 BTC (1,22 BTC), instead of using your capital, you will only profit 10% = 0,1 BTC (1,1 BTC).
Case 2 if after you Long but the price keeps falling, or Short, the price keeps going up, that means you are making a hole, meaning that the floor is also making a hole. If you do not close the order and close the position in time, the broker will automatically close the order to withdraw its capital and your account will be burned.
Prestigious Margin Trading 2019-2020
In 2017, maybe only poloniex was the most potential guy to beat cryptocurrency. However, right now there are many other disturbances you should know!
Poloniex is no longer a standard floor for margin trading, instead there are many famous names: Binance, Huobi, Okex, Snapex, ...
Each floor will have its own characteristics and playing style, in general it can be the same but depending on the taste of each person you choose a different floor.
Currently, I am prioritizing Snapex, Binance, Okex and Huobi which are also very attractive and maybe I will visit to experience in the future.
Conclusion
Ok, got it Above is the article "What is Margin Trading and Lending? Instructions on how to play Margin on the floor Poloniex", All are real knowledge from professional traders who share it, I gathered it into a most detailed post to help people have more knowledge when playing. trade coin, especially Margin Trading on Polo will avoid the best risk. Hopefully the article will bring you many useful knowledge. Good luck.
If you are passionate about margin, join our chat group: https://t.me/joinchat/E9VTeETOjpgybixJuqOQFA
Keyword search to article: What is margin, margin in trade coin, guide trading margin, what is trading margin, guide trading margin, how to play margin on polo, guide dan margin polo, guide dan play margin, guide to play margin, how to play margin in What is polo lending, what is margin lending, what is margin trade, what is margin trade bitcoin, what is margin trading, exchange trading.
Reference sources: Hocvientienao and Bitcoinvietnamnews
Recompiled by Blogtienao.com