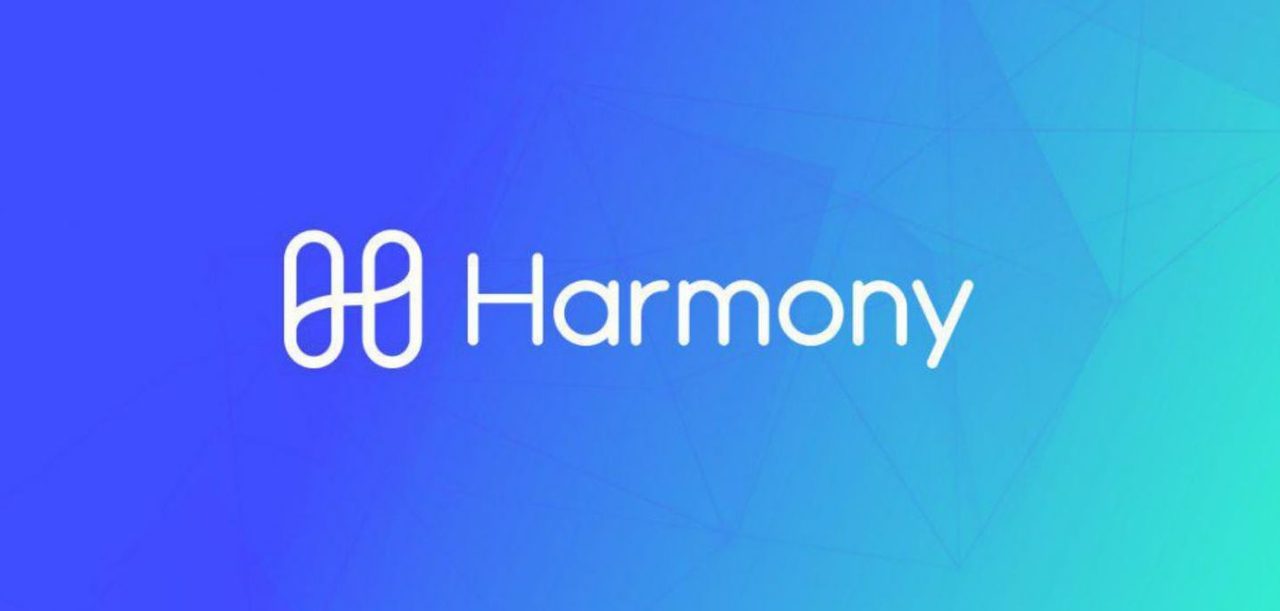 Since the beginning of February, Harmony (ONE) has increased 2%, the coin's recent strong rise has been driven by a number of factors.
Though other projects like Cosmos (ATOM), Solana (SOL), NEAR and OMG has also recorded quite good growth over the same time period but clearly its performance Harmony (ONE) is the most prominent.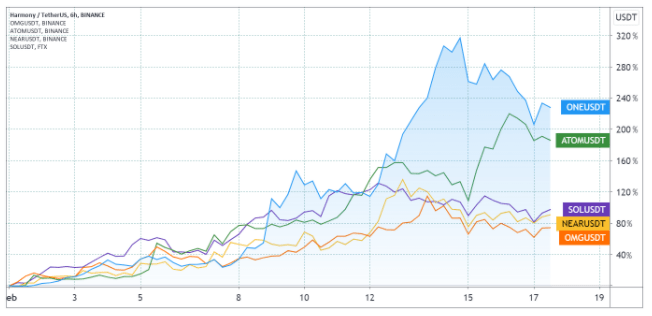 Harmony's mainnet went live in June 6, and it now offers mechanisms like staking and trust. Annual issues are capped at 3%, while transaction fees are burned to keep inflation close to zero.
Compared to its competitors, Harmony is still quite young and this project is still in its early stages of development, as its market cap is only $ 250 million ... a level considered quite blurred if Compared to Cosmos, Solana and NEAR Protocol have a market cap of $ 5 billion, $ 2,2 billion, and $ 1,26 billion, respectively.
However, the market cap is small, but Harmony already has 640 community-operated nodes and this is a strong sign that widespread adoption is taking place.
And while some competitors are trying to develop decentralized financial applications (DeFi) Harmony already has more than three applications. Among these are the multi-asset DEX, UnifyProtocol, and a portfolio balance DApp called SeeSwap. Harmony also supports a "prediction market" based on a DApp called SeeMarket and LMA.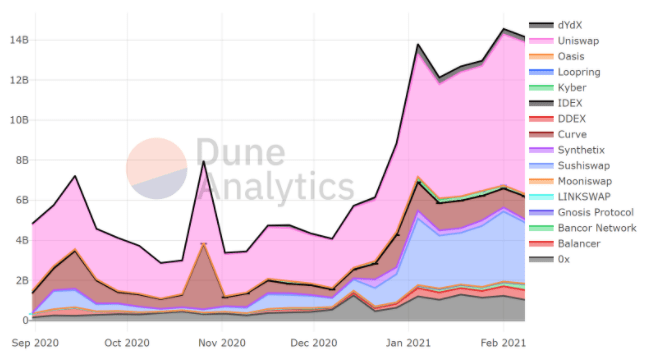 Consider volume growth DEX staggeringly, surpassing $ 14 billion, there appears to be enough room for scalable solutions capable of handling DeFi transactions.
Ethereum's compatibility has created more advantages for Harmony
On Feb. 4, Harmony announced full Ethereum compatibility, after developers were able to migrate their ether.js or web2.js applications to Harmony. Additionally, Metamask is also available for asset transactions on Harmony.
On February 5, Blits Labs announced a beta version of the mainnet for a multi-chain lending marketplace between Harmony and Ethereum. The protocol allows users to mortgage their ETH for a loan on Harmony.
On Feb. 11, Harmony announced a partnership with API2 aimed at decentralized API or dAPI integration. This is expected to provide more reliable, transparent and decentralized data.
---
If you do not have a Binance account, register here: https://blogtienao.com/go/binance
Read more: