Continuing the series on KuCoin, today I will show you how to deposit / withdraw Bitcoin (BTC) and use BTC to buy and sell other coins on KuCoin, specifically, I will guide trading with Kucoin Shares (KCS). You can review your two previous articles, introduction, evaluation of KuCoin exchange and instructions for registration, login & security for KuCoin account below:
Instruction to deposit Bitcoin (BTC) into KuCoin.com
As mentioned in the previous post, with KuCoin exchange you can use Bitcoin (BTC), Ethereum (ETH) USDT (Tether), NEO coin (NEO), KuCoin Share (KCS) to buy and sell other coins. But within this article, I only show you how to load and buy with BTC, and with other coins you do the same, because BTC can buy and sell all other coins on KuCoin and is also the most popular way. Which investors are using.
Step 1: After logging into Kucoin.com, choose "Assets"On the menu => select"Deposit"=> Click on the arrow and select"BTC". Do in turn as shown below: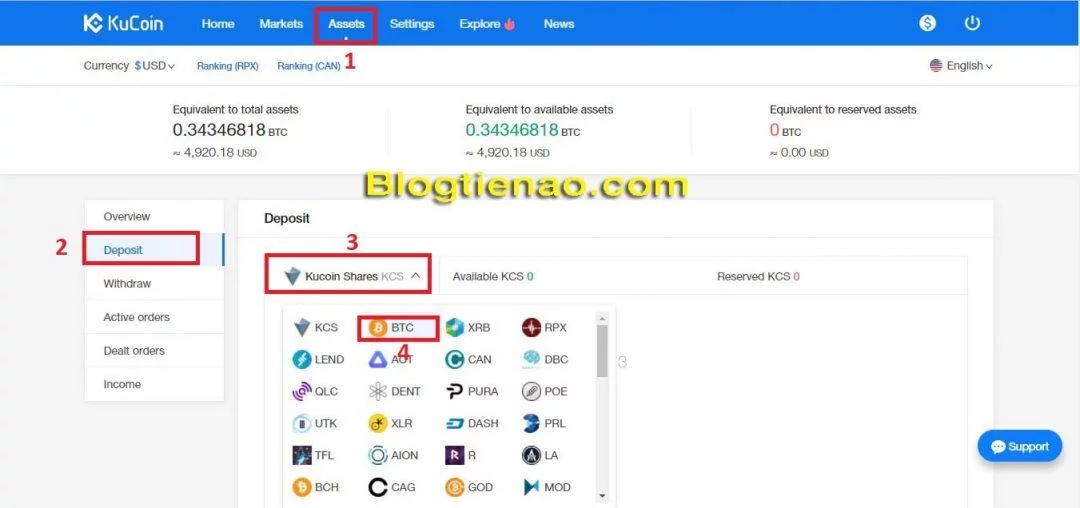 Step 2: You will then receive BTC wallet address on your KuCoin as I circled below, now you need to transfer BTC to this wallet, if not then you go to the floor Vicuta.com or Remitano to buy BTC and move in. See instructions for buying Bitcoin on Vicuta and Remitano below:
In both the Vicuta and Remitano instructions on buying and selling above, you should notice that when making a purchase, there will be an input "Your BTC wallet address"Then you can fill in the BTC wallet address below and that's okay.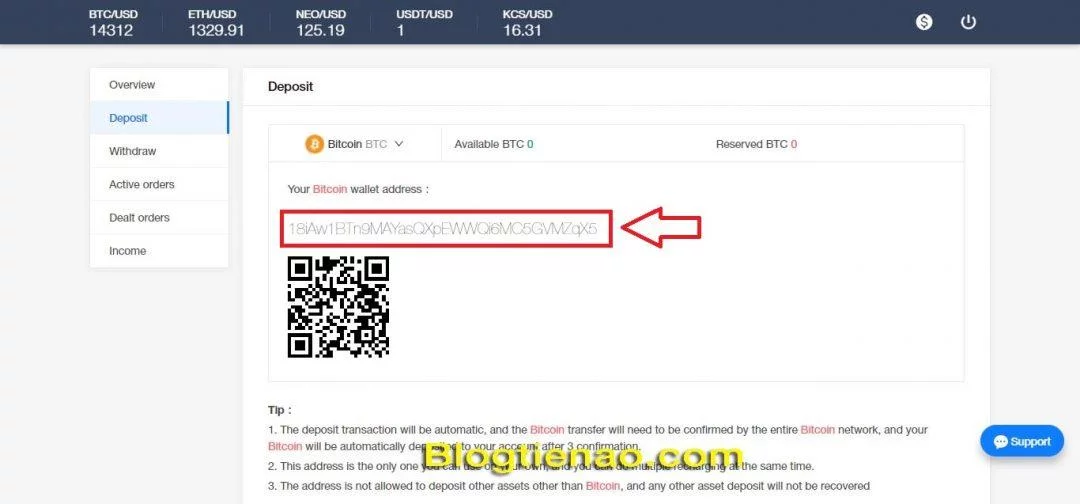 Step 3: After you buy BTC and move to KuCoin, wait a while, you scroll down to see the section "Deposit records", Here you will see the status of your BTC deposit transactions, when the column"Status"Is displayed as"Succeeded"As below is successful and you can use BTC to buy the coin you want. It will be lost 3 confirm for BTC to KuCoin's wallet, like mine has to wait 4 hours is on, the time it depends depends on the Bitcoin network, so when you move up, just wait.
Instructions on how to buy and sell coins on the KuCoin exchange
After successfully loading BTC into KuCoin wallet, now you will use BTC to buy the coin you want, here I will guide Buy and sell KuCoin Shares (KCS), do the same with other coins. I would suggest TOP 10 coins being traded with the largest volume on KuCoin for your reference:
KuCoin Share (KCS)
Red Pulse (RPX)
DeepBrain Chain (DPC)
RaiBlocks (XRB)
CanYaCoin (CAN)
Dent (DENT)
Dragonchain (DRGN)
Qlink (QLC)
Snovio (SNOV)
EthLend (LEND)
Above are the TOP 10 coins being traded the most on KuCoin that you can consider buying and selling. I just suggested, and the decision to buy which coin is still yours. OK, got it Start..
Step 1: On the menu select "Markets"=> Pull down select the market"BTC"(If you want to buy KCS with ETH, NEO, USDT, KCS then choose beside) => Click next"KCS / BTC", If you want to buy another coin, just enter Coin name or symbol into the box "Search coin"Right to find it quickly.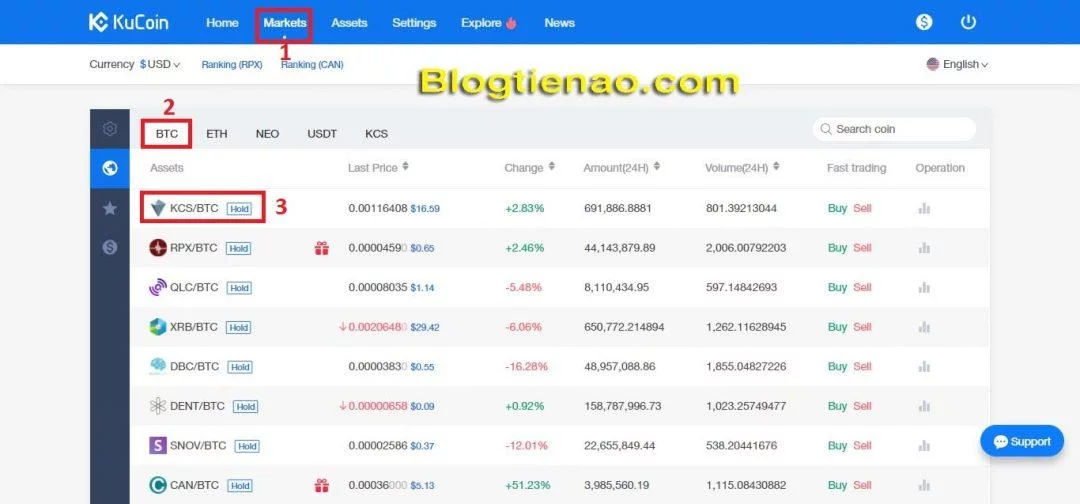 Step 2: After that, you will be transferred to KuCoin's trading interface as shown below, I will explain some key information you need to know: First you must enter the 2FA code in the box below to start trading.
1 number: Click to choose to trade other Coin with BTC
2 number: Include:

Last Price BTC: Latest price of KCS
Change BTC: KCS exchange rate has changed in the last 24 hours
Bid BTC: Price KCS you can sell immediately
Ask BTC: Price KCS you can buy now
High BTC: Highest KCS price in the last 24 hours
Low BTC: Lowest price KCS in the last 24 hours

3 number: Price fluctuation chart of KCS and price indices
4 number: Buy and sell orders that you can click on to trade immediately, it will show down to part 6 for you.
5 number: Purchase history
6 number: Area where you will buy and sell KCS coin
7 number: Unmatched buy and sell orders will be displayed here (Active order) and matched orders will be next to (Dealt orders)
8 number: Chart showing KCS buying and selling volume
OK, got it Hours to buying and selling KCS coin You move on to part 6 to enter the order.
A. You want to buy KCS Coin, then stay on the left side "BUY KCS"
Available BTC: The balance of BTC you currently have
Box 1: Enter the price of KCS you want to buy or click "Best price"Right to get the best price available right now
Box 2: Enter the number of KCS you want to buy or click on Max .. to buy it all
Ratio: This is the same as Binance floor, you click on the landmarks will correspond to 25%, 50%, 75% and 100% of the BTC you have.
Volume: Number of BTC you pay to buy that KCS number
Fairy: Transaction fee is 0.1%
Finally check the information and click "Buy". Now you need to wait "order matching", That means waiting for someone sell KCS At the price you set, usually when you choose "Best price", the order will be matched immediately and you can see that the number of KCS you have just bought is displayed where "Available KCS" beside "Sell ​​KCS". (See photo under KCS Sales).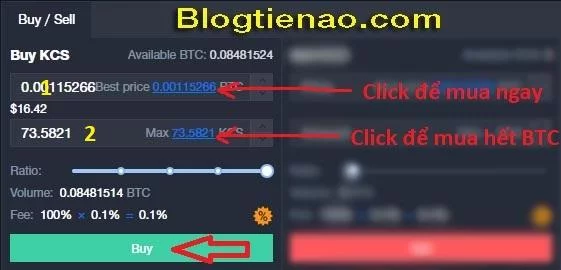 B. You want to sell KCS Coin, then on the right side "Sell KCS"
After you buy KCS or any coin and leave for a while, when the price increases and you feel profitable, you can sell BTC, then withdraw to the Vietnam floor to sell VND or store BTC on Kucoin to buy other coins. To sell you move to the right part "Sell ​​KCS".
Available KCS: The number of KCS teachers you have
Box 1: Enter the KCS price you want to sell or click "Best price"To get the best price available immediately
Box 2: Enter the number of KCS you want to sell or click "Max .."To sell all existing KCS
Ratio: As above, click on each column corresponding to 25%, 50%, 75% and 100% of the number of KCS you currently have
Volume: Number of BTC you will receive when selling KCS on
Fairy: Transaction fee is 0.1% same as when buying
Finally click on "sell"To complete. Now you have to wait for "matching orders", when someone buy KCS With the price you placed, the order will be matched, if you chose "Best price", it will be sold immediately and the amount of BTC received you will see in the "Available BTC".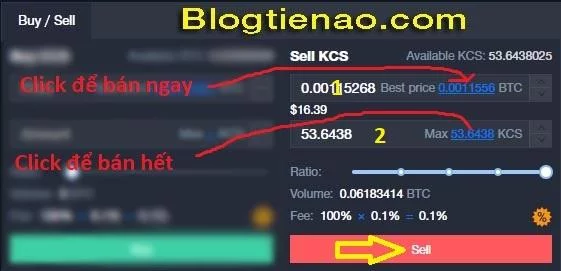 In case your buy or sell order has not matched because you set a low price when buying or a high price when selling, it will be displayed in the "Active orders", If you believe that the price will go up or down at the price you set, you can leave it waiting for it to match, if you want to buy / sell faster then click on"Cancel"To cancel the order, then re-place another order at a better price to buy / sell faster without waiting.

In addition, to check your BTC balance after the sale or clearer balance of coins you can do as follows. Click on the logo "KuCoin".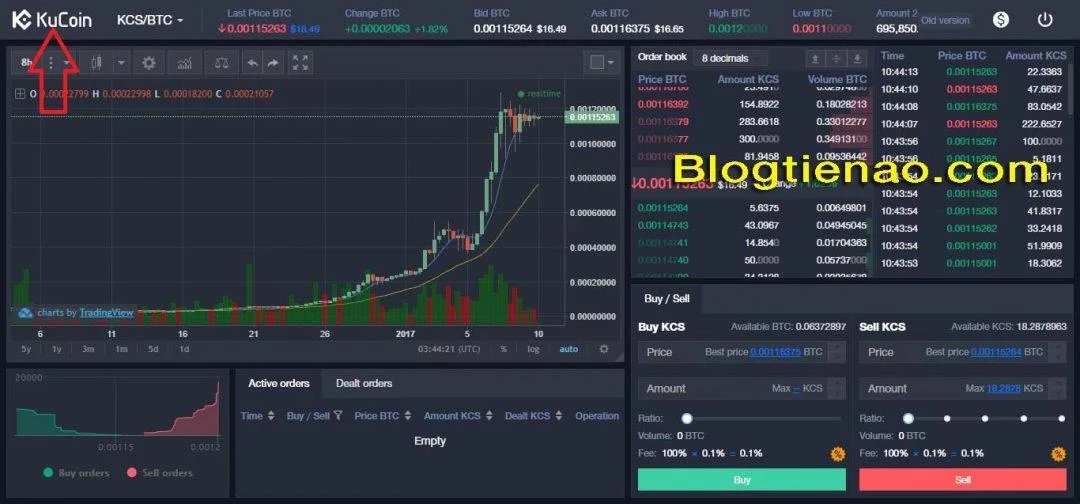 Next select "Assets"=> At"Overview"You will see the balances of all coins above KuCoin exchange, as shown below you can see the balance KCS I just bought it, similarly you pull down near the bottom will see your BTC balance.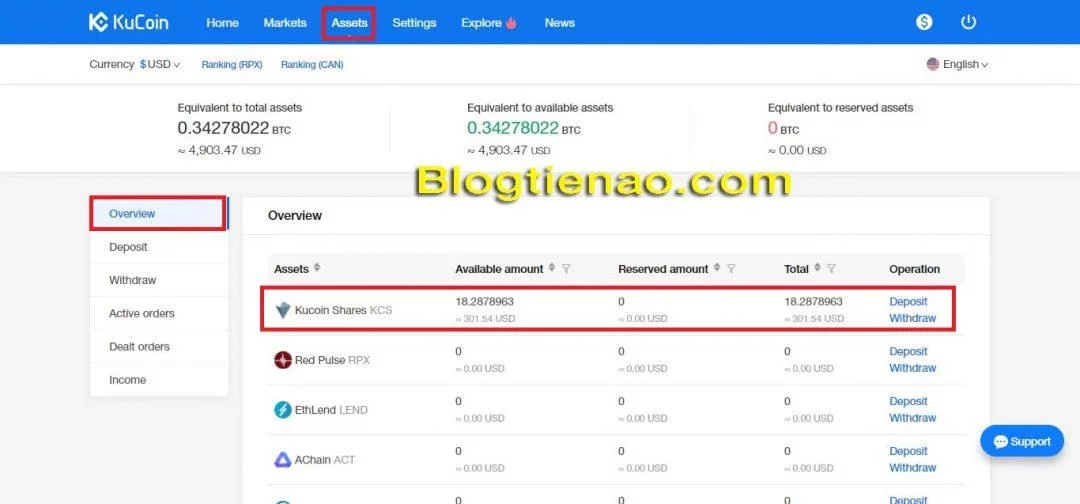 Instruction to withdraw Bitcoin (BTC) to Vietnam market to sell VND
After you have sold the coins to BTC and you do not want to invest any more coins, you can withdraw BTC to Vietnam Exchange and sell VND directly to Vietcombank bank account. This part is quite simple, but I will update the instructions later, I will try to write as soon as possible for you.
Conclusion
Ok, got it Above is the article "Instruction to Deposit / Withdraw and trade Altcoin with Bitcoin on KuCoin exchangeHope to help you learn how to use this very good trading platform of Tau Khua. Personally, I think KuCoin is very ok, with extremely fast transaction speed equivalent Binance Exchange, and very smooth too. Specially support many coins that other exchanges do not have. If there are any difficulties during the implementation, you can leave them under the comment section Virtual money blog will support you.
Finally, as usual do not forget to give yourself one Like, Share , and 5 star rating right below to support me writing other useful sharing articles. Good luck.