The plummeting cryptocurrency market has led to various types bitcoin miner, litecoin excavators, .. have the price in the sky, now only the scrap price, the house is off because there is no profitability, the price of electricity increases.
The Reason For The Warm Digging Machine Market
Recently the market seems to be getting hot again Bitcoin price started recovering and pulled the altcoins with a slight recovery, and of course the digger market was getting warm again, everyone pulled out the machines and turned on the machines.
There are many types virtual currency miner different, but today Blogtienao will guide you dig Ethereum, Ethereum Classic, Dubaicoin, Musiccoin, Expanse on Whaleburg Automatically, the most optimized profit!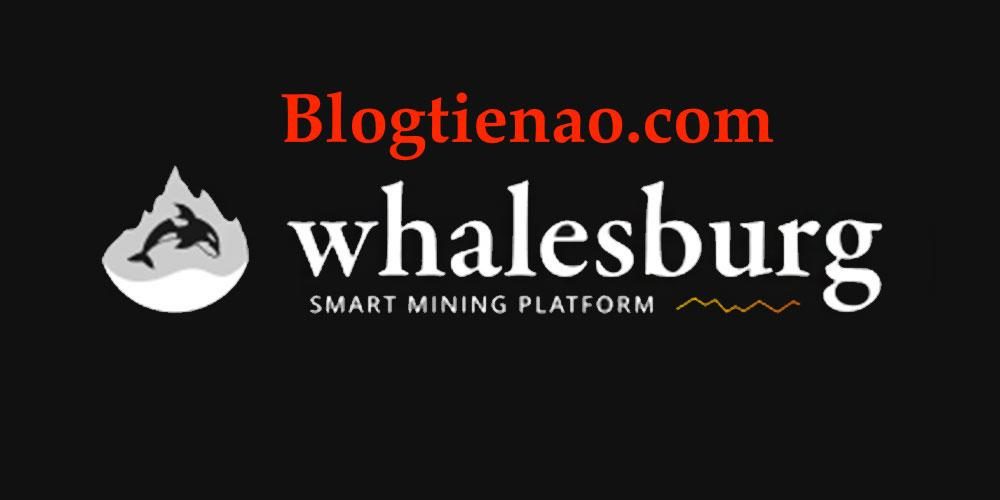 Advantages Of Using Ethereum Mining Whaleburg
Why WhaleBurg? We will explain the reasons to help you understand:
No need to configure much, so new players can still easily understand and use.
DAG soared leading to 3G VGA was almost impossible to run, but with WHALEBURG at this moment, I accept all (but profit 3G is still lower than 4G)
Auto switch between 5 types of coin Ethereum, Ethereum Classic, Dubaicoin, Musicoin and Expanse (same Ethash algorithm): The highest one it will switch to mining without configuring anything. (in autopool format, automatic coin transfer, pool transfer without restat miner, mining with ethash algorithm, so don't fear tool like when switching to another coin algorithm like ETH-> XMR ...)
Paying with ETH, the common currency, will help you easily sell VND
Increasing profit by increasing speed max + reducing power min with the command line so anyone can mod their own AMD
Pre-configured Claymore or Phoenix Tool + instructions for self-acceleration and lowest power reduction without using MSI AfterBunner
Guide To Digging Ethereum On WhaleBurg
Sign Up WhaleBurg
First, you register here: https://whalesburg.com/?p=WUZH with the following information:
—Email: is your email
—Password: is the password to log into the account view
—Password confirmation: Enter your password again for the second time
—ETH wallet address: is the address to receive ETH
—Name: type in your name without accents
—Promo code: keep WUZH (to enjoy the first month 101% profit, the second month onwards, if you want to eat 2-100.05% profit, you have to buy its token, the form of pool shares, no one will care. )
Scroll down and press SIGN UP (orange box) to complete the registration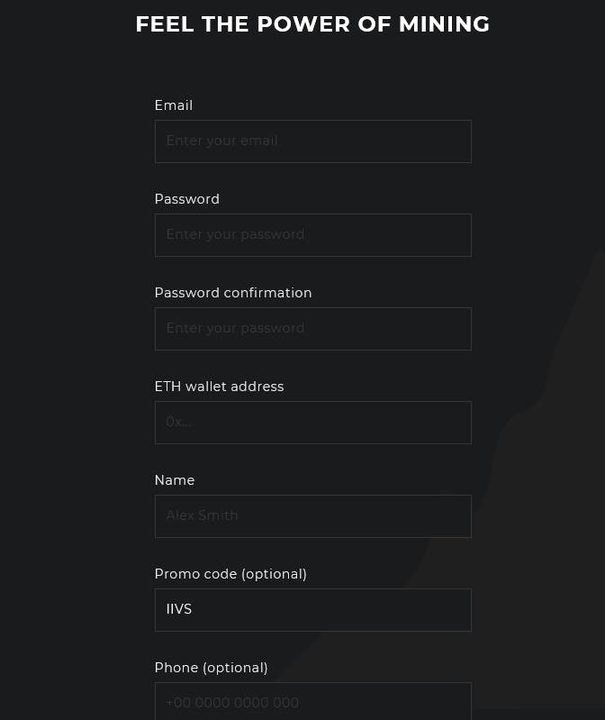 Download software
You are here: https://whalesburg.com/start_mining
And proceed to configure… .Win What, What Tool, VGA Type… and then download Claymore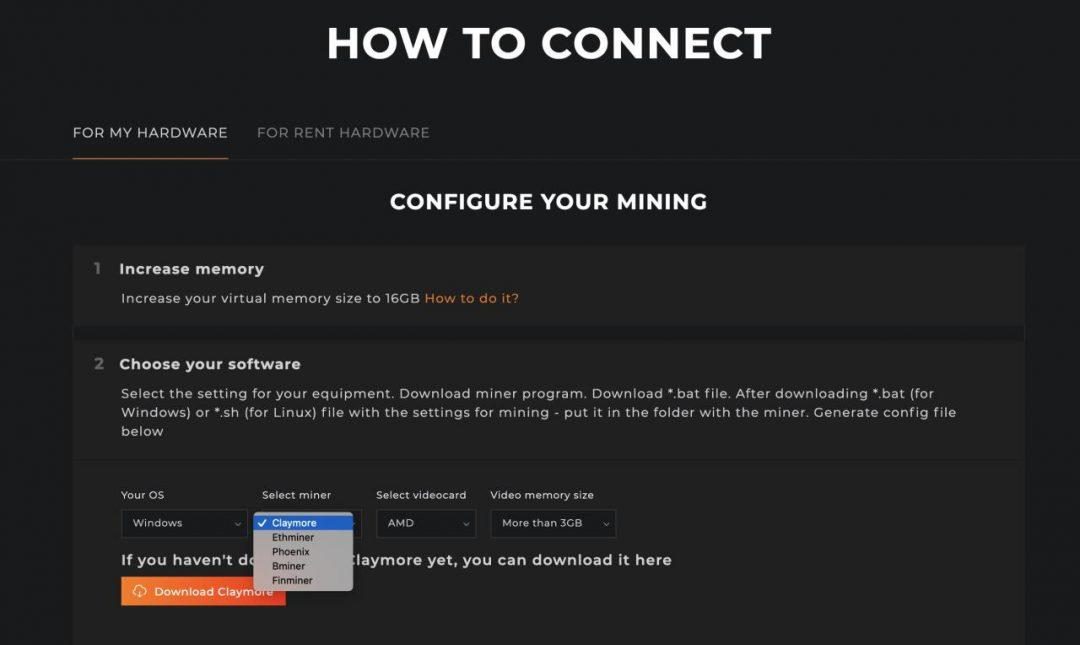 You can Download link Claymore or Phoenix with a built-in config pool & wallet, speed up & power control to run. That is up to you!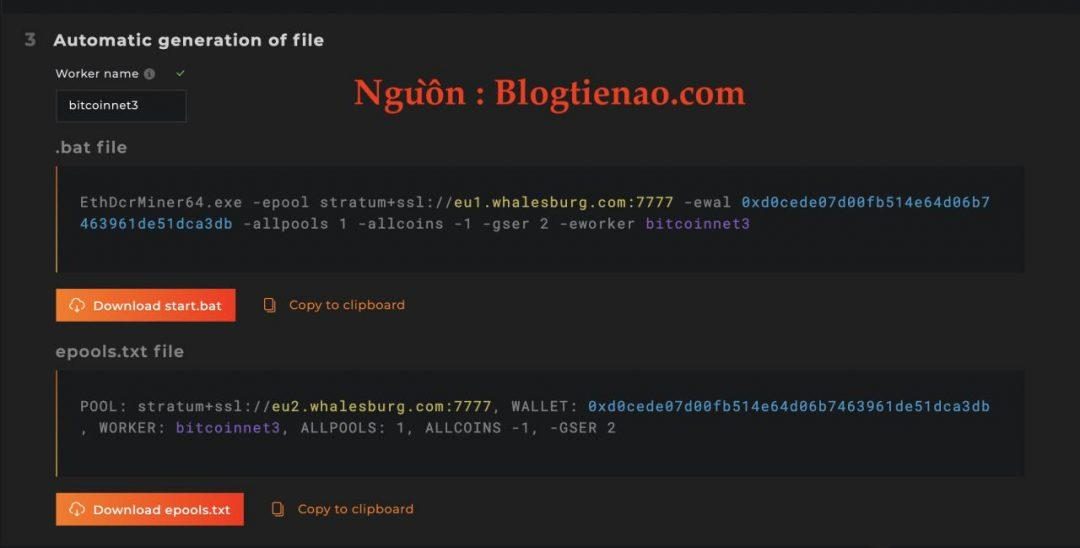 As in the picture, you can change your ETH address, replace it, and just download that file, copy and paste the file in the claymore or Phoenix tool. (If you do not have an ETH wallet, see how to create an ETH Wallet squid fishing tours)
Or you can do it manually:
—With Claymore, open config.txt to edit ETH wallet in the first line [-ewal 0x48f81e28282758c17de1423c04167a6f083f986b], edit the hostname on the next line. Run start.bat is done
–With Phoenix, open config.txt to fix the ETH wallet in the first line [-wal 0x48f81e28282758c17de1423c04167a6f083f986b], edit the hostname on the next line. Running start_miner is done
So now no longer care about running the highest ethash coin anymore, and also only receive 1 ETH coin. However, you should jump to part 2 to proceed to max speed & lower power (wait, run start.bat)
Guide to Maximize Speed ​​and Minimize Power
(Increase profit by maxing speed & min reducing power with command line (for both Claymore and Phoenix tools)
First, Uninstall MSI After Bunner so that it does not cause a conflict with the command line in config.txt
Then, open config.txt to remove the pound sign in the last 4 rows, to:
-cclock 1050
-mclock 1900
-cvddc 950
-mvddc 950
Repeat the process to test VGA:
[2a] - Run the test for 2 minutes, if the hash is not present = 0Mhz then jump to step 2b, if hash = 0 then jump to step [2 C]
[2b]-Increase cclock to 10Mhz and mclock to 20Mhz, for example:
-cclock 1060
-mclock 1920
jump to step [2a]
[2 C]-When hash = 0 in step 2a means that it is critical memory, this time need to reduce cclock down to -20Mhz and mclock -40Mhz compared to the value causing errors in step [2a]. If you run the test for 30 minutes, if it is not an error, then please, you have found the highest / most stable core / mem. Jump over steps [2d] To find min power
[2d] - Reduce cvddc and mvddc 10 (ie to 940 when the initial parameter config is 950-is 950mV). Run the test for 2 minutes, if the hash is not present = 0Mhz repeat step [2d] (decrease by 10), if hash = 0 then skip to step 2f
[2f] - When hash = 0 in step [2d] ie VDDC is critical, now it is necessary to increase cvddc and mvddc to 20 compared to the value causing errors in the step [2d]. If you run the 30-minute test, congratulations, you have found the lowest + highest speed + most stable. With good skills in lowering electricity, VDDC 820-850 (<750W with 6-pin red buffalo), low power from 850-900mV (<820W), downgrading 900-925mV, and above that, if you go to school, EVN will eat over. VDDC then open GPU-Z and see the actual number
-The way to test on the hardware assumption is OK, i.e. the hash = 0 is only due to the critical card, not the faulty riser + faulty card + weak power
-If the machine is new, running after a long time, encountering hash = 0 or green screen when running the tool, run the file TestPSU1000.bat or TestPSU1050.bat (power test 1050mV with low speed) to test the part hard, if it works for 10 minutes without errors then the hardware is OK, then think about Part 2. If you run a bit and hash = 1 or green, the hardware is sick, you must find the faulty component first. when going to Part 0
(Catch the next movie released next month: run auto 14 coin CR9 with SRBMiner tool, get with XMR)
If any rich man has hundreds of buffalo, please invite coffee at his wallet Hoang Long :
ETH 0x48f81e28282758c17de1423c04167a6f083f986b