These days, there are many peaks, so I'm free to sit down and write to you stories about the CryptoCurrency market which has been buzzing over the past few years. For you to read and can ponder something, and that is the joy of the writer.
When the market heats up, gold keeps breaking peak, Bitcoin so that climbed each floor of Landmark 81, when it comes to the peak no one knows. And for that reason, quite a few new people have been in the inbox for the BTA team to ask how to play?
BASIC POINTS TO NOTICE IN THE POST
Before answering that seemingly simple but extremely difficult question. Hen Vy (HV) retelling the previous history for you to imagine. (Hen Vy is my nickname - the writer of this article)
(The following paragraphs will have each paragraph for newcomers to learn the terminology, read to where, then you consider reading the terminology to understand, then come back to continue reading, turn to chew carefully. each part will help you shorten the time to study in this market)
In the period of 2015-2016, Bitcoin used to move from $ 100-200 to $ 1200, and when the family talked about it, it had a rush of $ 1200 back to $ 200 and lay there 1-2. years, the result is quite a lot of new people find out then ...
Peak swing is the term referring to you being bought at a high price, then the price suddenly plummets and you are swinging at that level for a long time.
In the period of 2016-2017, Bitcoin in turn broke major milestones and completely moved towards the $ 20.000 zone. And you know, the media keep talking, there are hundreds of thousands of new people coming in. Good numbers are constantly being played by new players who have "FOMO" without knowing it. To 2018, BTC rushed from 20k to nearly 3k ... Continued to continue to climb ...
If you do not know FOMO, read more: What is FOMO
And now the world economic situation is unstable, Covid can make the economy recession, and hidden assets is a sneaky story that is talked about: GOLDEN, BITCOIN ...
Good stories about whether or not to BITCOIN INVESTMENT whether or not it was put in succession, so HV and BQT team BlogTienAo Prepare the most complete and detailed article, please read it and feel it.
First of all, you have to know what stage of the market wave you are at. I myself have also predicted that I am entering the first phase of the UPTREND process, and the uptrend process may take 1-2 years and more ...
Uptrend is a term referring to an uptrend in the market, once entering the uptrend, the coins will have a breakout period, and when it increases, nobody knows.
So Uptrend comes, what should new people do?
Even if it's not Uptrend, newcomers want to enter the market, you need to know about: BASIC KNOWLEDGE, and EXPERIENCE, as well as FEELING MANAGEMENT well.
Before getting into each of the details, let's review some forms of investment, "doing business" in this market.
Trade Coin (Buy at low prices and sell at high prices)
Margin Trading / Futures
ICO, IEO Investment (Buy at the price when the project is launched)
OTC (coin trading <> in vnd)
Startup (build 1 coin / token project)
MLM, PONZI (multi-level variables)
The above forms have their own articles that I will list explain in the following links, you just need to read to understand the concept and definition.
BASIC KNOWLEDGE
The basic knowledge is also very broad, I can't finish it in this article. But for newbies, the most basic knowledge is buying and selling coins (BTC, ETH, USDT, ALTCOIN).
Only when you clearly buy and sell coins <> VND, you can initially participate in this market. In many previous articles we also talked about this a lot, which is to prepare wallets, VND, ...
But now only one option is shortened for you to avoid confusion (Most newcomers if too many options will not know what to do).
View concept: What is Altcoin?
Currently, for the convenience of trading coins, I encourage you to use 2 exchanges. These are Binance and Huobi. Because through their OTC port, you can buy coins at the cheapest cost. Since then moving to the floor was very easy.
Xem What is Binance? , and What is Huobi?
I chose these two exchanges because these are the two largest exchanges in the world in the current Crypto array, and it has its own insurance fund in case of hacking. Note, if hacked due to the floor, it has insurance, and the fact that you let your account be hacked is your fault!
So what are the steps you need to take?
# 1 Register for Binance and Huobi trading accounts, link to register here:
Use the email and phone number you are using, and register, then verify your identity and enable 2fa security (authenticator) for your account. You can see the instructions in this article:
Important note: please activate the security 2FA (Authenticator) to keep your account safe, do not let one day, your coin evolves, grows wings, then cry at the time.
See concept What is an Authenticator?
# 2 Practice trading coins to VND and vice versa
Once you have a Binance and Huobi trading account, you can choose 1 in 2. The markets and signals you see most are on Binance, so you can choose Binance to practice this step 2.
On Binance there is 1 item, that is called Binance P2P - This is a place for OTC transactions between people wishing to buy and sell. And to participate in this market, you need to be familiar with this stage, so when needed is to buy, take profit and sell.
For example, you need to buy 1000 USDT, you will have to prepare about 23.200.000 million in bank accounts, and that account must have internetbanking or smsbanking to send money.
USDT, also known as Tether, is a virtual currency Stable Coin, listed in USD, See also What is USDT?
And for the convenience of the tutorial, the Virtual Money Blog has written very detailed about Binance P2P, you just need to see the instructions and slowly follow in the article: What is Binance P2P?
# 3 Basic trading coin practice on Binance
Remember, you have to turn, master the first step, then move on to the next step
In this section, we have edited both the article and the video, you can see it in turn:
So, if all steps are completed, you have a rough idea of ​​"TRADE COIN" and congratulations, you will be in the next generation peak!
Keep in mind that this market is not as good as you think, to eat in this market, you also need a lot of battle experience that maybe only when you enter this market for a while.
Our job now is to "go shopping", choose a coin, you can get those signals from friends, or the community. BTA also has a small community, which provides free signals, you see here:
In addition, you can join other discussion channels to gain experience, also of BTA. That is:
In Vietnam, most people use Telegram, you should know about it: What is Telegram?
After TRADE COIN for a while, you will draw your own experience. You will need to be more flexible and faster to be able to "catch" this market. You will realize a bitter outcome like: maybe it has a tracking chip, every time I sell it it increases, I buy it collapses ...
Or lucky you caught the fast beat, your job is simply to find a delicious GEM, buy and wait patiently for it XXX. To do that, you need to be fluent in transferring COIN between exchanges.
For example, there is a good stall on the floor KUCOIN, Your job is to transfer USDT to KUCOIN to be able to buy the item. Whoever GEM is, who knows who it is. The best way is to register all the floors, You can refer to the list below:
1. Binance: https://blogtienao.com/go/binance
2. Huobi: https://blogtienao.com/go/huobi
3. Kucoin: https://blogtienao.com/go/kucoin
4. MXC: https://blogtienao.com/go/mxc
5. Bitmax: https://blogtienao.com/go/bitmax
6. Bibox: https://blogtienao.com/go/bibox
7. HOO: https://blogtienao.com/go/hoo
8. OKEX: https://blogtienao.com/go/okex
9. FTX: https://blogtienao.com/go/ftx
10. BIKI: https://blogtienao.com/go/biki
It's a bit too much, but let's get used to it ...
So as the first step is done, that pile of knowledge, you're new, you'll have to chew over and over again, and those are the simplest ones. If even that simple and basic thing you can't do, it's best not to think about joining this market.
In this basic knowledge section there is also a section Fundamental Analysis, is what you will have to learn next. When you read the material on Blogtienao, you will see coin introductions such as:
These are the articles that we have summarized, so that you can evaluate a project based on your basic analytical capabilities, from which to consider the potential project or not and then decide to invest. .
There are knowledge that readers will not understand, if you do not understand either you google to find more, or you go to our facebook group to ask questions, other friends will be happy to help you.
Also, to know if a token / coin has a reasonable price or not? In addition to basic analysis, you will have to learn more Technical Analysis to find reasonable entry and exit points. Thereby minimizing your risk when investing.
BlogTienAo currently also cooperates with Saigontradecoin to open monthly classes, you will learn 1 basic analysis and 7 technical analysis for $ 300. Specific view here
There are 2 stories that I want to tell you guys for fun, good eyes before the end of today's lesson:
Story 1:
There are 2 guys who both trade coins, they are close friends so of course invite each other to play.
One guy plays the hold style and the other plays the surfing style one by one through the day. Of course, the experience of a guy surfing higher than a hold.
He surfed everyday showing off 10% profit everyday and he showed it every day, the other he looked at it, but he only dared to hold it.
Up to 1 day uptrend, coin flew to the roof ...
In summary, a lucky lucky to eat a few dozen% of the original capital, and a hold is the x20-x50 initial capital ...
(real story in 2017)
Story 2:
As you all know. in December 12 we saw the btc moon, and the 2017/1 alt moon (at this time the btc collapsed) .. (moon is a term referring to the increase of coin, to the moon)
At the beginning of 2017, people used to play on BTC-E, at that time it was the boss. If compared to the beginning of 2017, then btc has x10 cmnr ... And of course, there have been quite a few people have peaked at the market excitement. Ad remembers it was ~ 2000-3000 $ 1 btc, up from the bottom $ 200 of 2016…
At that moment, BTC-E collapsed ... due to FBI investigating money laundering ... As a result, the ad got $ 150k-400k on it.
Luckily, by September if the ad was correct, the BTC-E opened it again, resulting in a rise of $ 9. And how much pressure gradually dissipated, and immediately released ... And missed the train when the BTC was up to $ 4500k at the end of the year.
At the beginning of 2017, the sale of 200-300 btc was very good ... Every month, ad sells that much btc ...
If you know, "forget" about 500 btc or 10000 ETH, you know ... what will it be like ?? !!!!
What are the conclusions of the 2 stories? Becoming a holder is very difficult, not simply wrapped in a word holder, when experiencing this market, you will understand how difficult it is to be a holder ... Your job in the uptrend season is to allocate capital appropriately, find 1 GEM is delicious, and patient enough to HOLD it to a specific goal.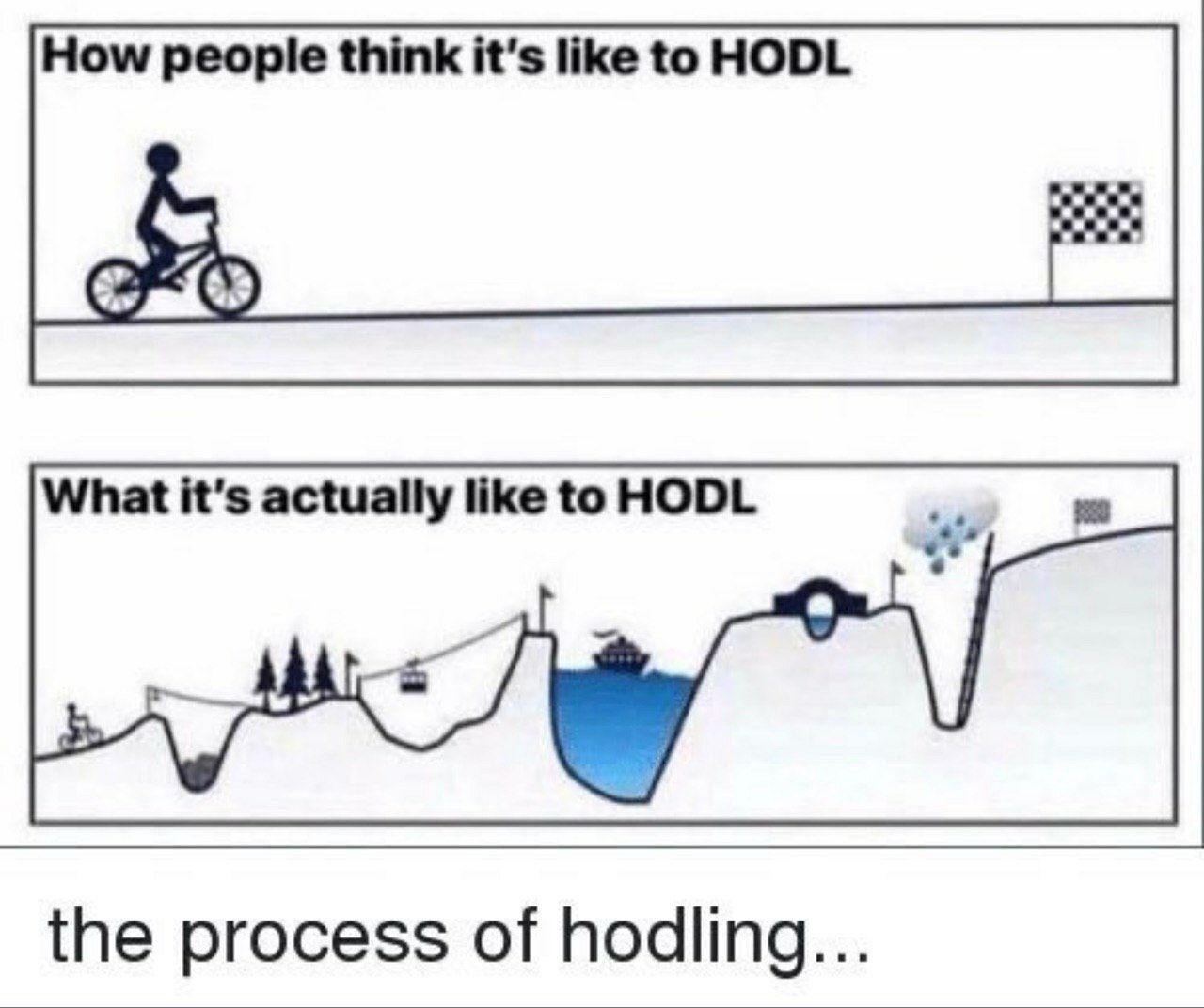 Fundamental Analysis
Most of the articles about the basic information of coin account for 70-80% of the basic knowledge, you have to mull it over a lot, sometimes read it over and over a dozen times to understand. Over each period, you reading the same article will draw other interesting knowledge.
And all of these articles are updated by BTA in the column Cryptocurrencies on Blogtienao.com
Learn Technical Analysis (PTKT)
The BTA found a page that has quite interesting videos, that is ptkt.trade - has most of the ptkt videos and capital emotion management as well as the basics of floor registration and floor use for newbies. Everyone can refer.
To continue ... BTA will update the Basic Analysis, Experience, and Emotions as well as the Technical Analysis videos in this article ... Each time we update, we will publish on Blogtienao's media channels such as Fanpage. , Telegram Channel, and Twitter.