The Force Protocol (FOR) price, marketcap, chart, and fundamentals info
The Force Protocol is a decentralized financial services protocol built on blockchain systems, consisting of a set of DeFi technical components and encryption protocols.
The Force Protocol problem solved
Smart contract Ethereum is a great invention. Due to the security of assets and requirements, the Ethereum smart contract is designed as an unmodifiable mechanism. Or get upgraded, which poses major challenges for smart contract application development.
Watch now: What is Ethereum? I like the details of the virtual currency ETH
First, developers can make mistakes. Insignificant errors are more likely to appear in the complex logic of a contract. It is not possible to guarantee that all codes are correct even if rigorous and repeated logic testing and code testing are done. Fixing and fixing potential problems and errors is unavoidable.
The user's needs will change. Despite careful consideration and design in detail, issues in existing functions and new functional needs will inevitably emerge, requiring smart contracts to be upgraded.
Since the launch of the decentralized app (DAppFirst, data and asset security has always been the main factor that affects or even destroys DApps. How to maximize the system security of application blockchain and protect assets has become a major challenge every DApp development faces and operation team.
So how does the protocol solve these problems? It is based on two technical components Defi (Defi Technical) and encryption protocol. Let's see what it is
How does The Force Protocol solve the problem?
Defi Tecnical - The Force
To deal with challenges in Ethereum DApp development such as:
Difficulty in contract upgrade, fixed data structure, slow on-chain interaction, poor user experience, security issues.
The Force Protocol proposes three DeFi Technical components: Basic, Extensible and Financial Components, collectively referred to as "The Force". The aim of The force Protocol's project is to realize the level of development and speed of internet product upgrades and user experience among Ethereum financial DApps while maintaining their security.
Details of those 3 components are as follows:
Basic ingredients: Assets Protected Elastic Contract (APEC)
Ingredients extended: Blockchain Enquiring, Auditing & Messaging System (BEAMS)
Financial composition: Global Emergency Lockdown (GEL), Cooperative Automatic
Lockdown Mechanism (CALM), Multisig Admin Keys (MAK)
Tokenized Protocols - ForTube
Based on DeFi technical components "The Force". The Force Protocol integrates financing protocol, crypto loan protocol, and decentralized stablecoin protocol to form a decentralized financial services platform "ForTube".
ForTube will provide individual and business customers with crypto asset investment, finance and trading services, to meet Cryptocurrency financial needs of many different customers.
Fortube bond: A bond financing protocol with crypto lending with fixed term and interest rate.
Fortube bank: A loan protocol that provides lending and token deposit services with current algorithmic and variable interest rates.
QIAN: A decentralized stablecoin protocol that is committed to being the most influential one on the project in the crypto sector. QIAN stablecoins can be invested in ForTube Bond, deposited into the ForTube bank for benefits.
What is Token FOR?
FOR is a native token of The Force Protocol ecosystem used for many different purposes including:
Participate in the Fortube Bond rating vote
Participate in tuning the QIAN's stability
Take part in Fortube admin
Rewards for participating in lending and administration services
Basic information about FOR copper
| | |
| --- | --- |
| Ticker | FOR |
| Project | The force protocol |
| Token Standard | ERC-20 |
| Token typen | Native Token |
| Contract | 0x1fcdce58959f536621d76f5b7ffb955baa5a672f |
| Total Supply | 1,000,000,000 FOR |
| Circulating Supply | 886,500,000 FOR |
Token allocation FOR
The Force Protocol Foundation: 25%
Community ecosystem building: 30%
Donation of Strategic investors and Community: 30%
For founders and the development team: 15%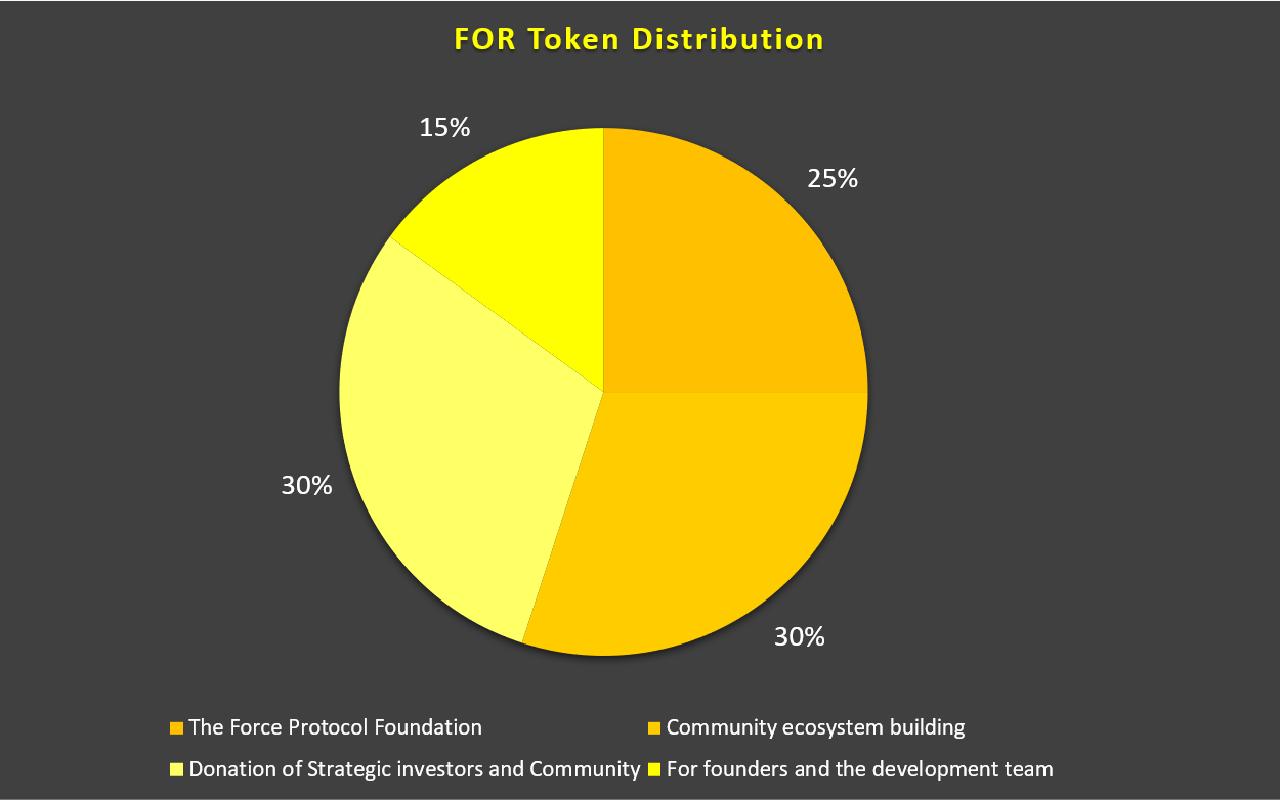 Token issuance schedule
The total FOR token supply is 1 billion and no more will be issued.
The tokens for the team will be locked for 3 years, after which the contract will release 30% of the tokens 12 months after the first public transaction, another 30% after 24 months and 40% after 36 months.
The Force Protocol (FOR) token sale
Force Protocol has raised about $ 7,80 million from the private sale and public sale. Of which 28,80% of the total FOR supply was sold at USD 0,02 / FOR, USD 0,03 / FOR, and USD 0,05 / FOR.
20% of the service fee of ForTube in FOR will be burned monthly.
Which exchange is FOR traded on?
Currently you can register for an account on the following 3 floors to buy FOR tokens easily
Potential Assessment of The Force Protocol (FOR)
Roadmap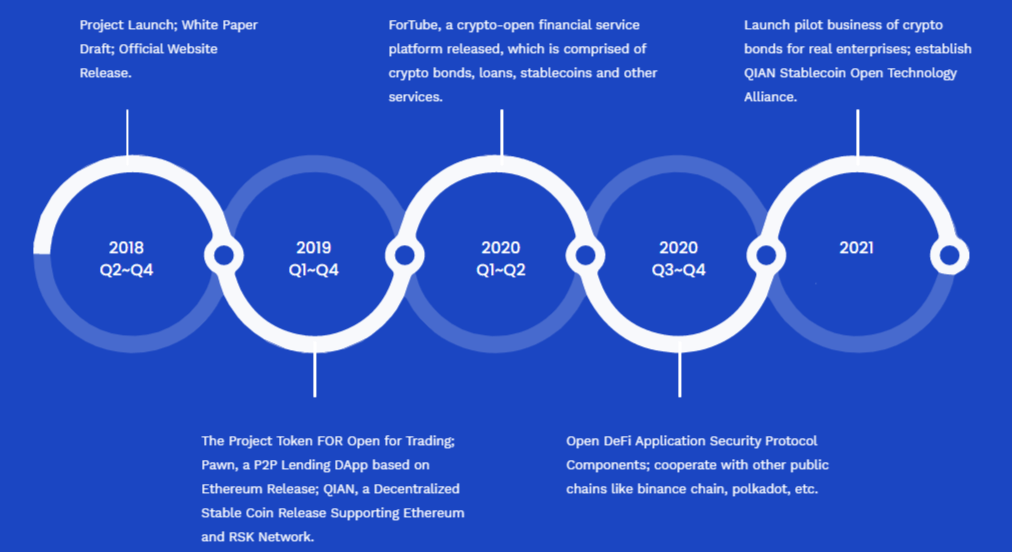 Partners
The project's partner can mention some prominent names such as: chainlink, imToken wallet, Certik, Binance USD,… .Also, you can refer to your partner in the illustration below.

The Force Protocol Team
David Lei (Founder): Master at Tsinghua university, learned Bitcoin and cryptocurrencies since 2011. Learned the crypto ecosystem and open finance in 2016
Ben Yorke (Co-Founder): Former research and content writer. Experience in both international market and China. Business Administration Degree from San Diego State University
Seamon Liu (Co-Founder): CTO of Yunbi Exchange in 2017; Chaince Exchange CTO from 2018-2019, senior blockchain technologist.
Fabian K (Blockchain Developer): Developer and project manager. 15 years of knowledge in high traffic web service. Focus on analytic blockchain and insight.
FOR token Ditribution Plan
The token distribution has been mentioned above, but you should also find out what is their important mission to those allocated groups?
Community Ecosystem Construction: Build a community ecosystem that includes, but is not limited to, a governance and incentive ForTube ecosystem. Build developer community, business and industry cooperation, promote marketing, acdemic research, education invesment,….
The Force Protocol Foundation: Force is registered as a non-profit organization in Singapore. The mission is to build and operate the Force generation, create strategic-driven development, and issue FOR tokens. Transparency in the proceeds from token donation.
Donation of Strategic Investors & Community: Reserve 30% of the tokens for return to strategic investors and community members. Completed by the capital raised by the project founders. Confidence to motivate itself, the FOR token corresponding to the platform investment remains locked forever.
Should I invest in FOR?
Targeting the current challenges in decentralized finance, The Force Protocol proposes solutions including DeFi technical components and encryption protocols, with a view to providing non-financial services. Safe, comprehensive, innovative and transparent focus for users around the world. Can what the protocol bring in a boost to FOR?
Hope the information that Blogtienao provides can help everyone's investment decisions.
Community & Social