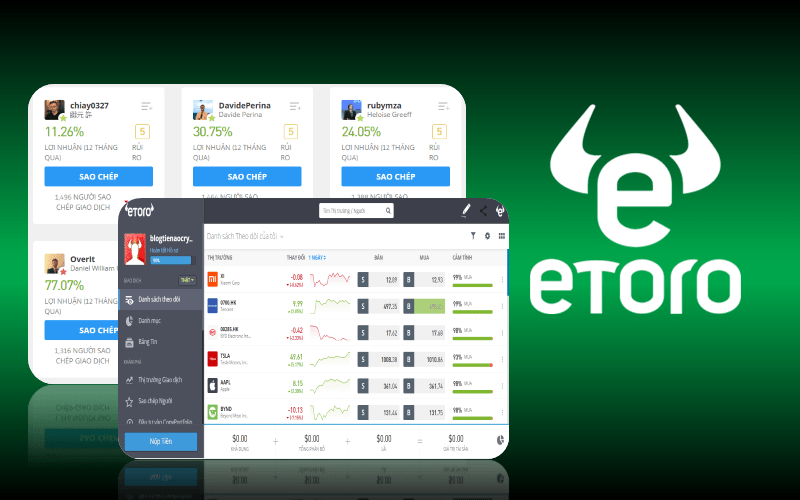 What is Etoro?
EToro is a very popular fintech startup, a social trading broker founded in 2007 and headquartered in Cyprus.
The purpose is not only for diversification in stock trading, online investment, electronic money trading, forex and many more. The exchange also succeeded in building CFD trading. The platform also offers novel social trading features.
Watch now: What is the Forex market?
CFDs are complex instruments and run the risk of losing money quickly due to the use of leverage. 75% of retail investor accounts lose money when trading CFDs with eToro. You should understand how CFDs work and must be able to afford a high risk of losing money.
rToro is not just limited to a mere trading platform. It also promotes social features and makes financial markets more user-friendly and accessible to most people around the world.
Then don't get any more lengthy on the main point. Let's create an eToro account.
Is eToro a scam?
EToro traffic
According to statistics on Similerweb: eToro in September 9 had more than 2020 million unique visitors
eToro website comes from more than 240 countries around the world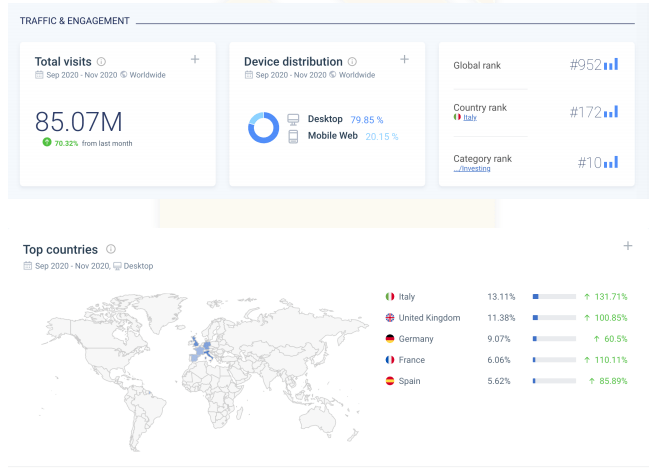 The major investment funds in the world choose eToro
eToro is being invested by major funds around the world with the amount of 162 million USD. The prominent names in your portfolio can be found below:

The above signs show that eToro is of great interest and that the funds have also confirmed their legitimacy, so they have to make investment decisions.
EToro activity monitoring and rating agency
With what agencies is Etoro licensed and supervised?
Etoro is licensed by a Financial Services Company licensed and regulated by the Commission
Trading in Cyprus Securities (CySEC) under license # 109/10. See details here.
eToro (UK) Ltd is a Financial Services Company issued by a Financial Services Authority (FCA)
licensed and managed under license number FRN 583263. See FCA website for details.
eToro AUS Capital Pty Ltd. Financial services are provided by the Australian Securities and Investments Commission (ASIC) under Australian Financial Services License 491139.
See detailed website of the Australian Securities Commission.
How often does the organization monitor the activities of the organization?
In the Vietnamese market, when you invest in securities in securities companies, you
will also have a very clear understanding of the conditions for a licensed securities company such as the size of its charter capital, the operator's certificate of brokerage practice, and a standard trading technology system ...
In addition, securities companies are also subject to annual inspection and supervision
of the State Securities Commission.
Likewise, the Etoro Exchange is also subject to the scrutiny and scrutiny of the financial transaction regulators of Great Britain, Australia and Cyprus.
FREE investment insurance up to 1 million EUR / GBP / AUD from eToro
Basic information
eToro officially offers its clients a free insurance program, run by Lloyd's of London (also known as Lloyd's), one of the world's leading insurance providers.
Lloyd's insurance program offers coverage of up to 1 million EUR, GBP or AUD (depending on region) to eToro clients.
Insurance is provided automatically to all eToro customers without the need to register.
Insurance is provided to eligible customers of eToro (Europe) Ltd., eToro (UK) Ltd. and eToro AUS Capital Pty Ltd.) in the event of eToro insolvency and in the event of the "Misconduct Event" (as defined in the applicable eToro Policy).
What is insurance?
Compensation amount is up to 1 million EUR, GBP or AUD (depending on the institution being regulated).
Up to the total amount that eToro has covered.
In case the compensation amount is exceeded, the investor will be specifically considered (as specified in accordance with the current Policy).
This insurance is applicable to cash in the account, for CFD and securities trading positions. Does not apply to crypto assets in non-CFD form.
As an eToro customer, in the event of eToro's liquidity, you will be provided with up to 03 layers of extremely secure protection, including:
The designated party liquidates: In the event of eToro bankruptcy, a designated liquidator will manage all assets and distribute funds to clients, if any.
Licensing agency's protection program: For customers opening accounts under the provisions of FCA UK or CySEC Cyprus, insurance and compensation programs are implemented under this authority. FSCS (under FCA) offers insurance up to 85.000 GBP, while ICS (under CySEC) is 20.000 EUR.
Private insurance: Provided by Lloyd's of London, this investment insurance policy covers losses resulting from insolvency, in excess of and up to 1 million GBP / Euro / AUD per client as described on.
For more information about eToro insurance, See here.
Etoro also offers other additional services to ensure the safety of your funds
Customers, such as: Customer's deposit will be kept in a separate account. EToro's top priority is to keep customers and their funds safe and secure.
Instructions for creating an account on eToro
Just follow these simple steps:
Step 1: Access the link: https://blogtienao.com/go/etoro
Step 2: In this form, you must fill in the required information including:
After completing the information, check both boxes "I agree... ".
Finally press the button "create Account"To finish creating the account. So you have successfully created yourself an account on eToro.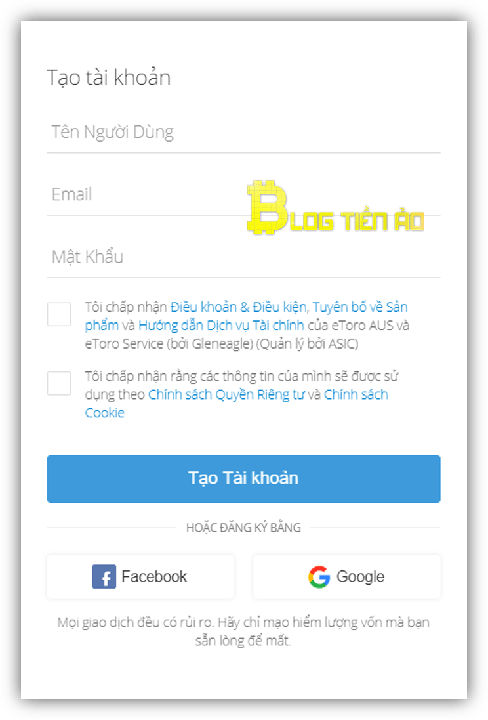 KYC guide for eToro account
After you complete the eToro account registration, you need to proceed with identity verification. Management requirements require verification of each new eToro account. This also avoids money laundering or terrorism financing.
Moreover, when you have problems with the exchange such as withdrawing, depositing money or something happens, it will be easier to ask eToro's support. So just verify and transact safely.
Basic verification
Step 1: Once logged into your new eToro account you will be redirected to your account management area. In the left corner of the screen, press "Complete profile".
The "Your Profile" window is turned on. Here you need to provide personal information:
Enter your first, middle, and last name
Choose gender
Enter date, month, year of birth
note: Information provided needs to match documents such as ID card, passport or other identification.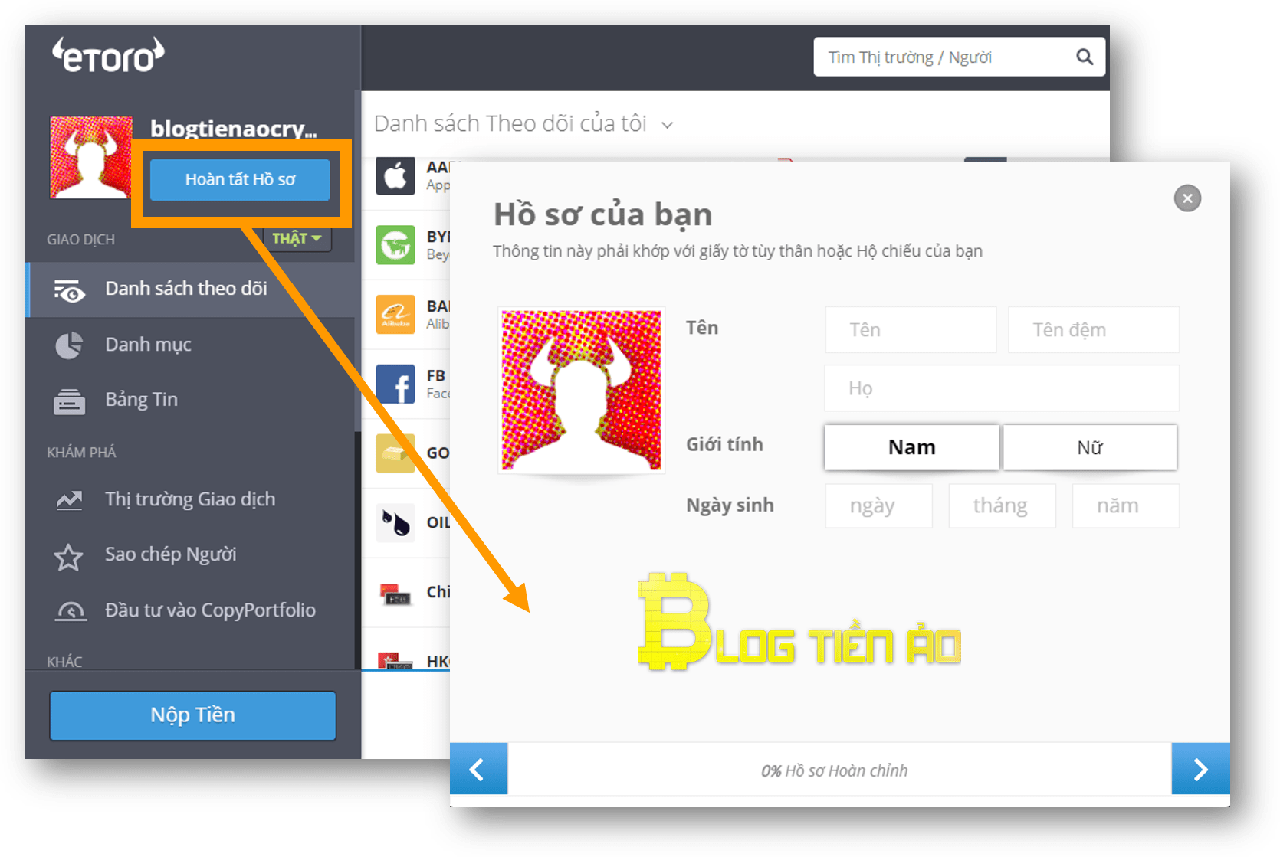 Step 2: This is the time to fill in a series of other relevant information including: Address, personal trading experience, transaction knowledge, transaction knowledge test, investment, time in trading strategy, transaction purposes.
Below are a few examples to complete step 2. It's very simple, you just need to accumulate as you like. Then select the arrow in the lower right corner to go to the next step.
Note: In the address filling step, if they write "Passport Number", you can write the ID number.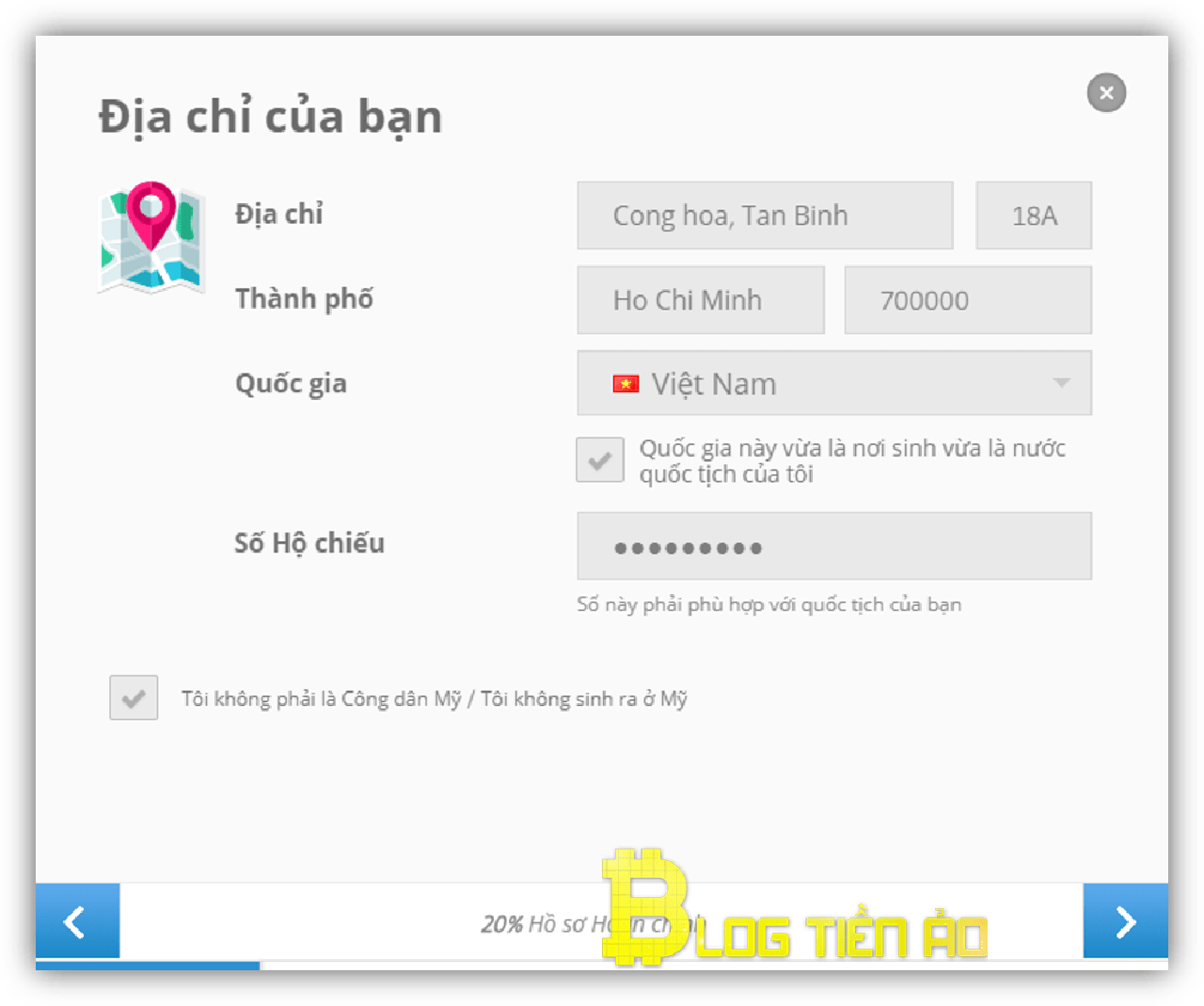 Verify phone number and document verification
Step 3: After some seamless information above then the final step will begin to begin to verify your phone number and upload the type of verification document you choose. Now select "Complete verification" to continue.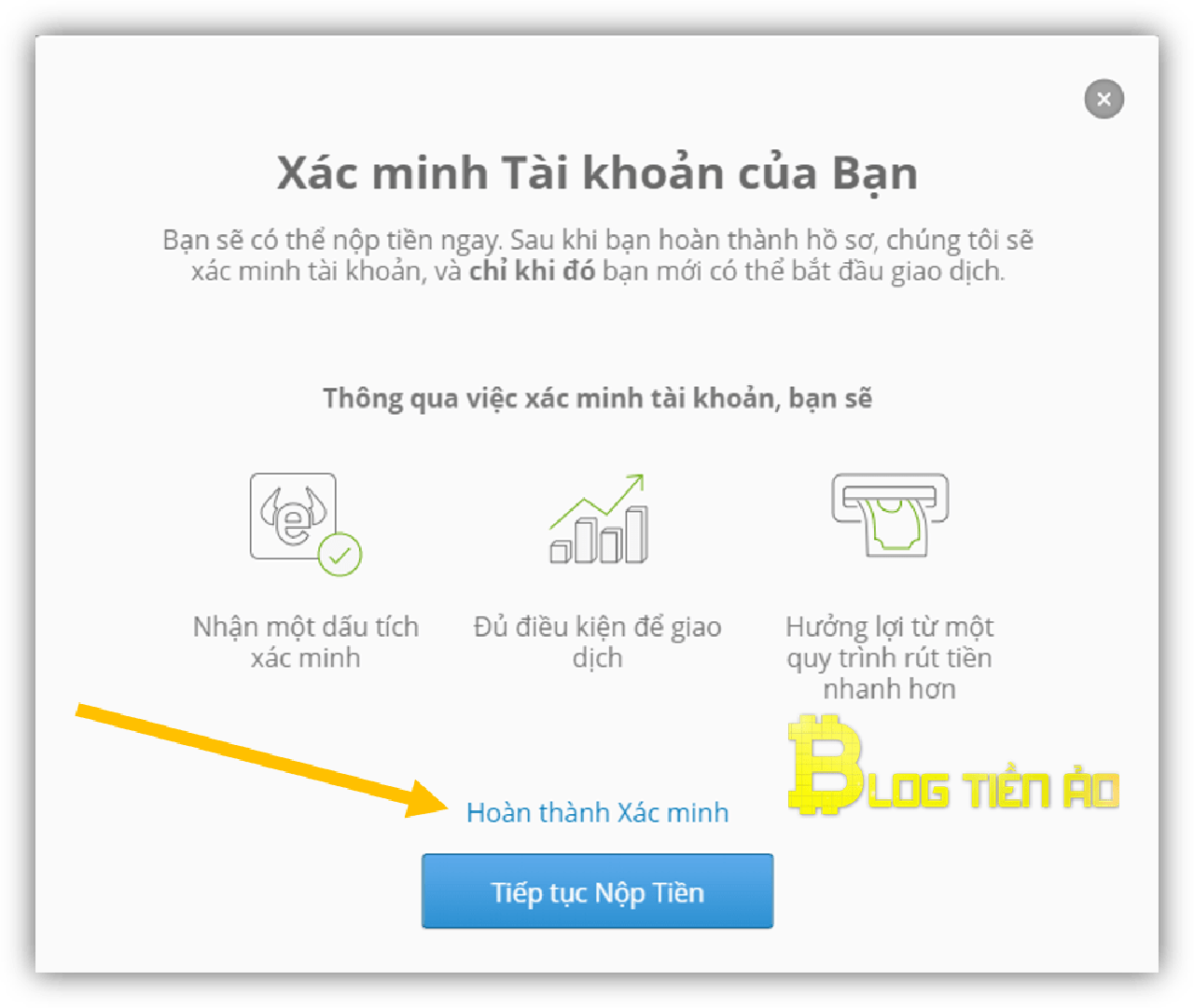 Step 4: Enter your phone number in the box "Phone number". Press the button "Send SMSYou will receive a code sent to your phone number. Fill in the code and then click confirm.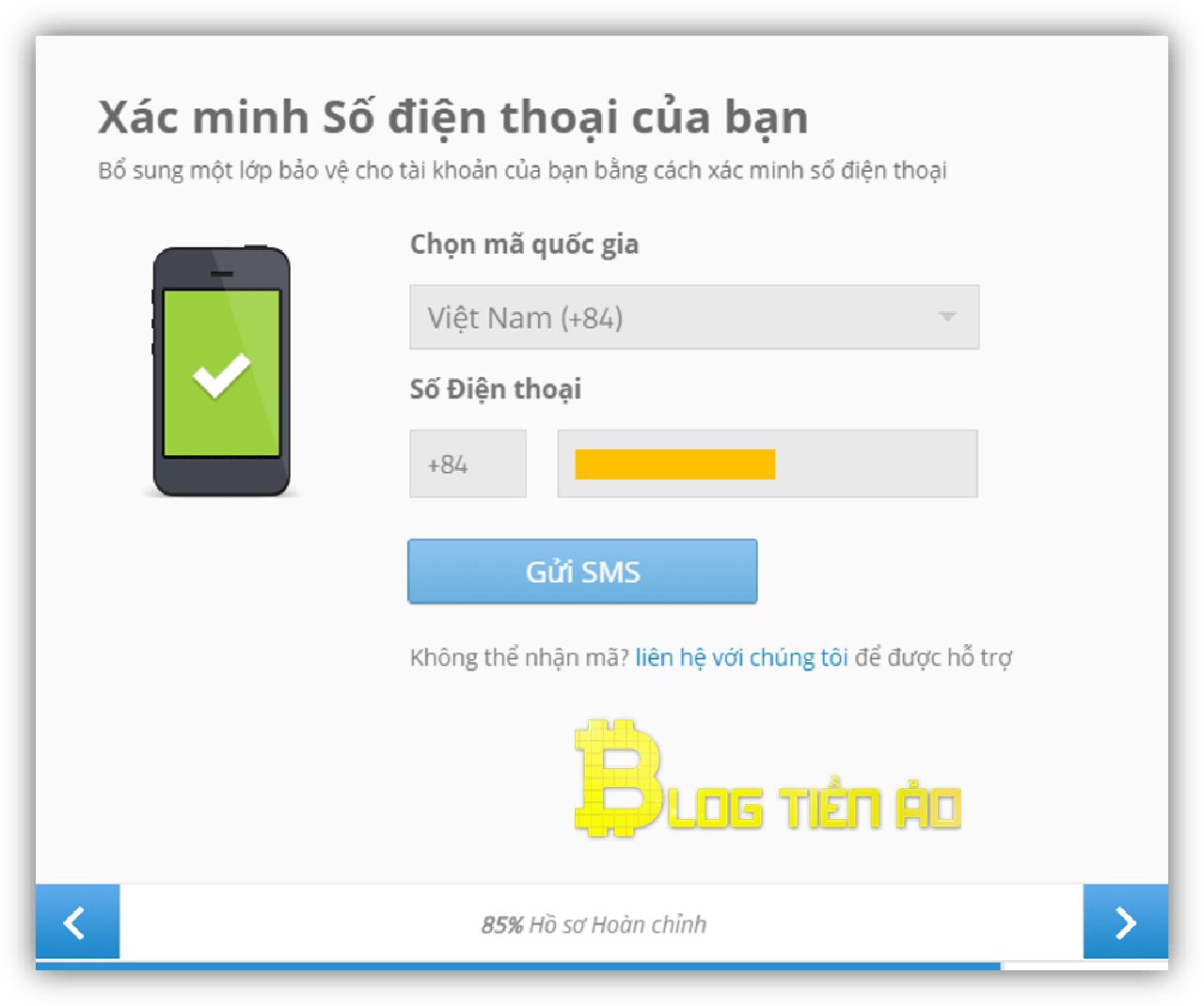 Step 5: This is the step of uploading your identity card or passport. Previously, I entered the cmnd number so this time I have to choose and upload my identity card.
Side part "Upload CMT " Press the button "Upload".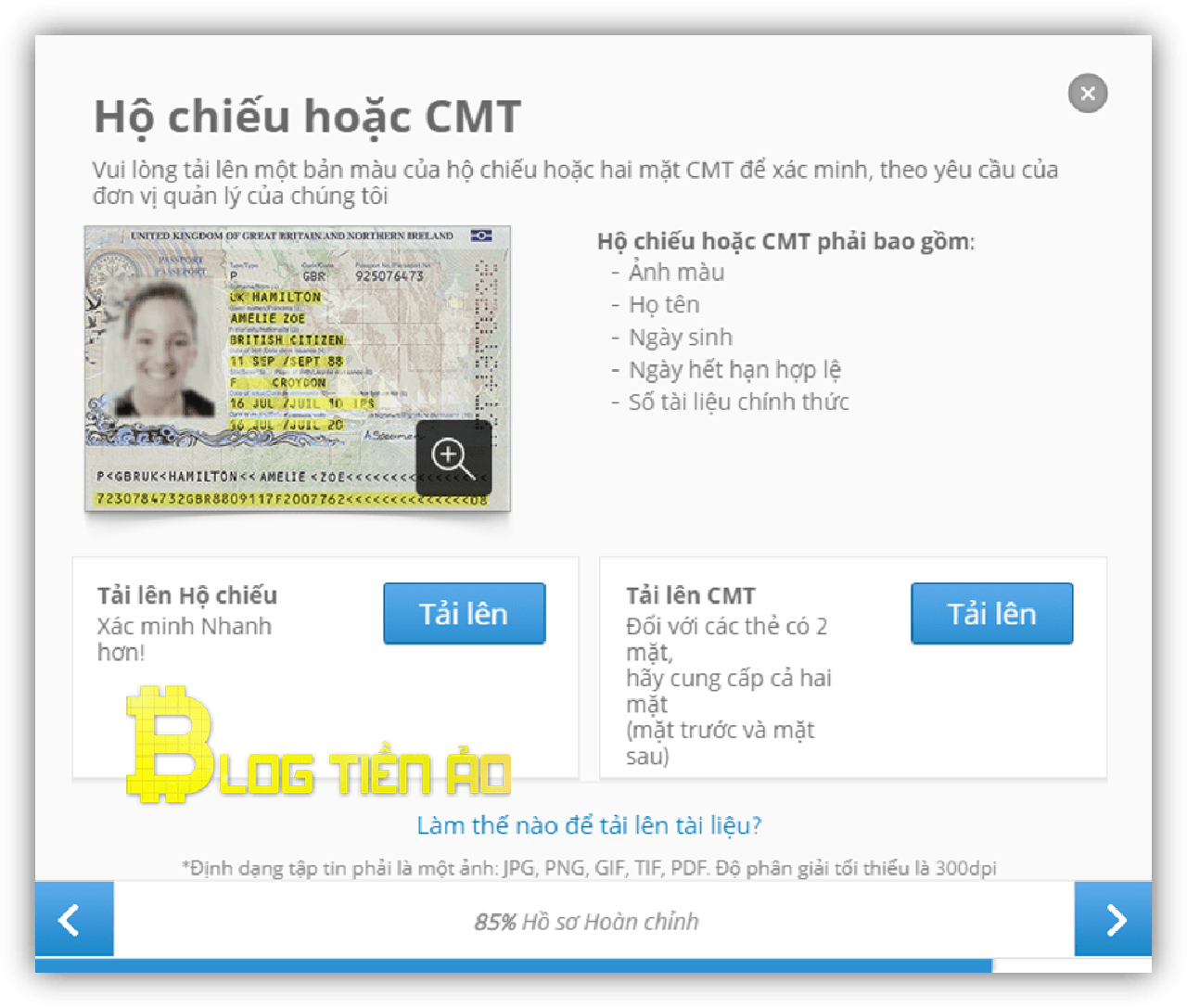 If you can upload successfully, there will be a message as shown below. Press the arrow in the right corner to continue.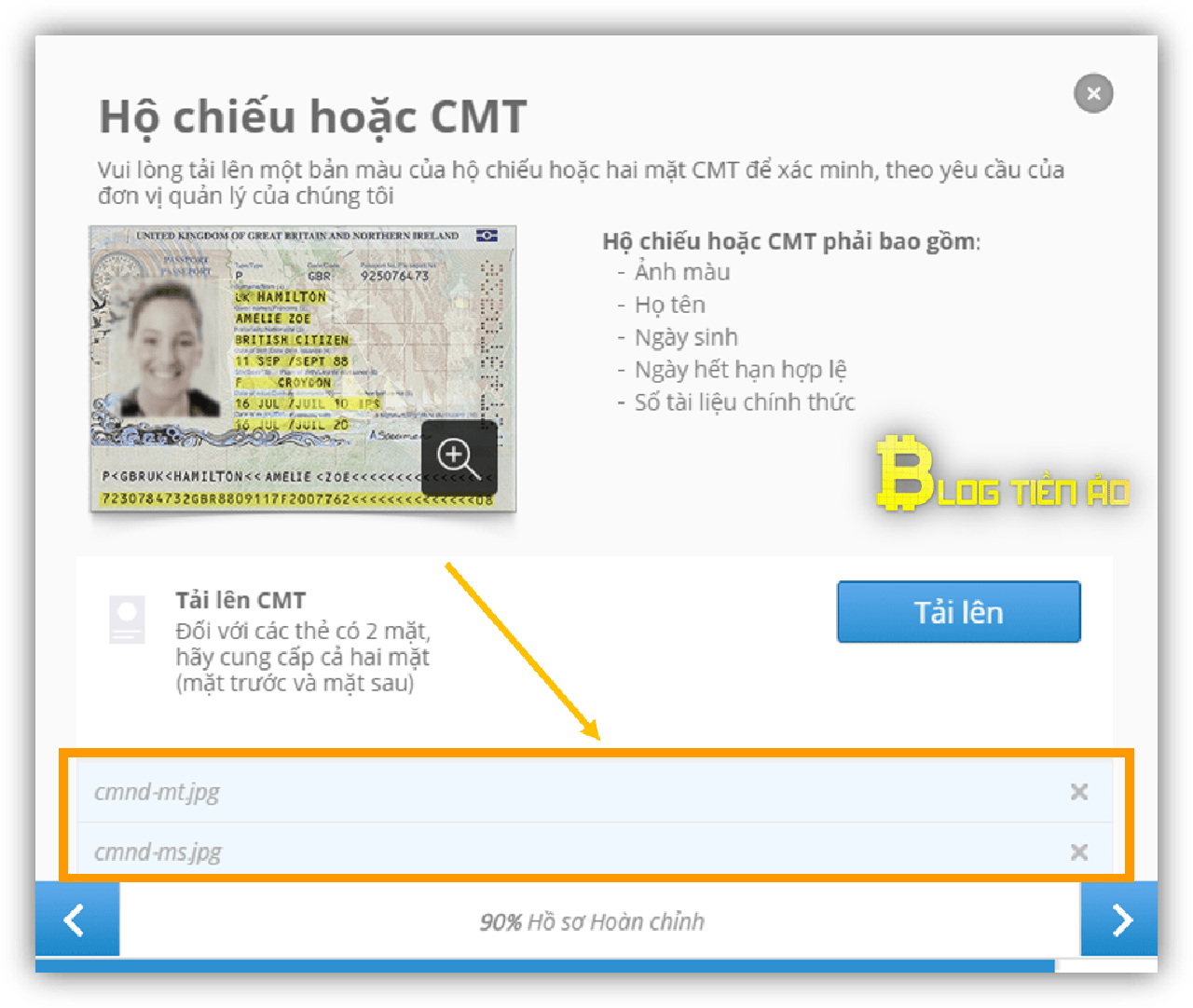 Step 6: Next requirement is to upload a utility bill or bank statement. eToro also provides you with a view of what types of documents are accepted.
If you want to see the entire list, click "See the full list". If you want to see how to upload the document to be accepted, choose "How to upload documents".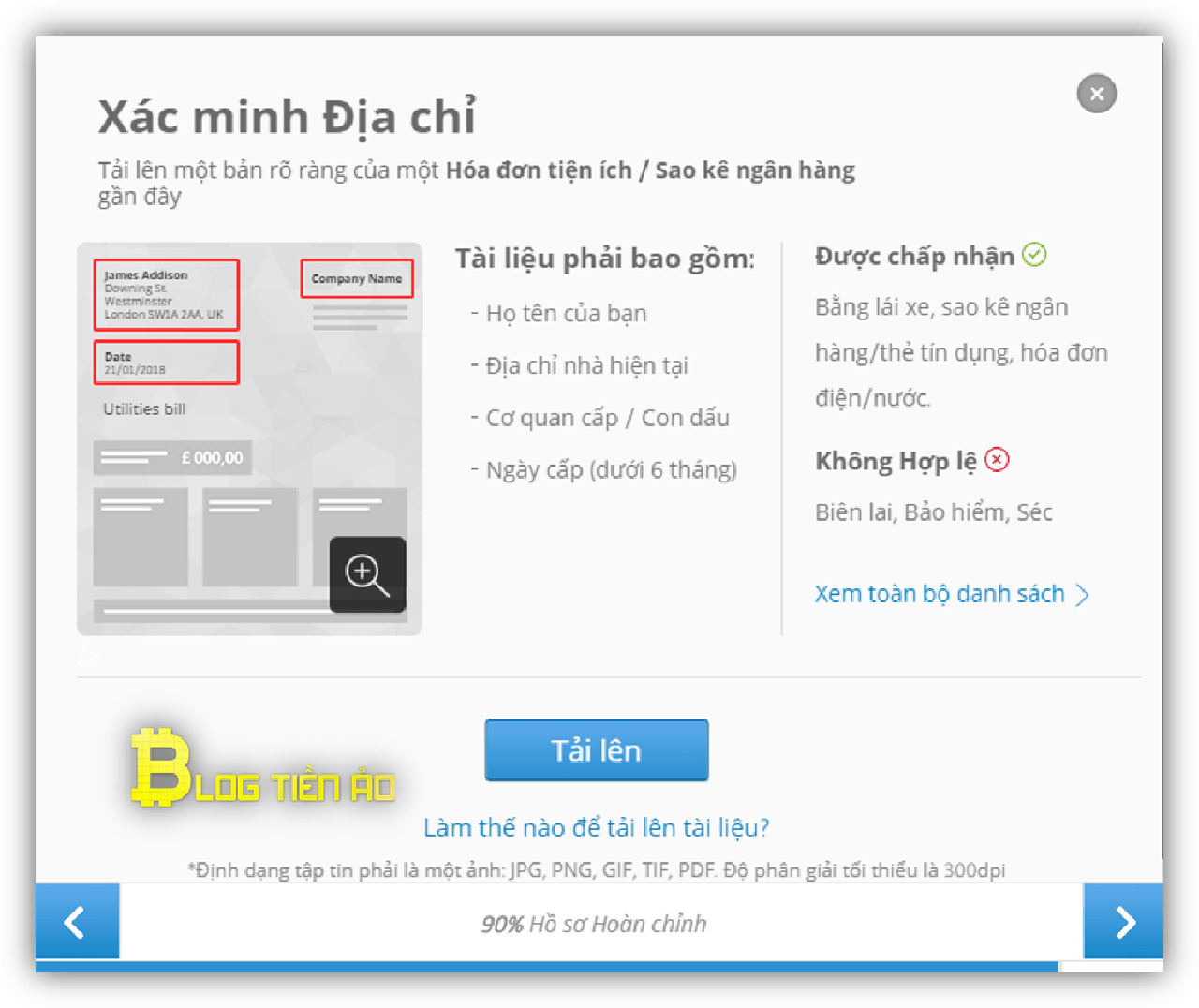 Now they ask for a tax identification number. You tick the box "I don't have a Tax ID"Quickly. Select a reason in the drop-down menu and then press the arrow below the right corner to complete.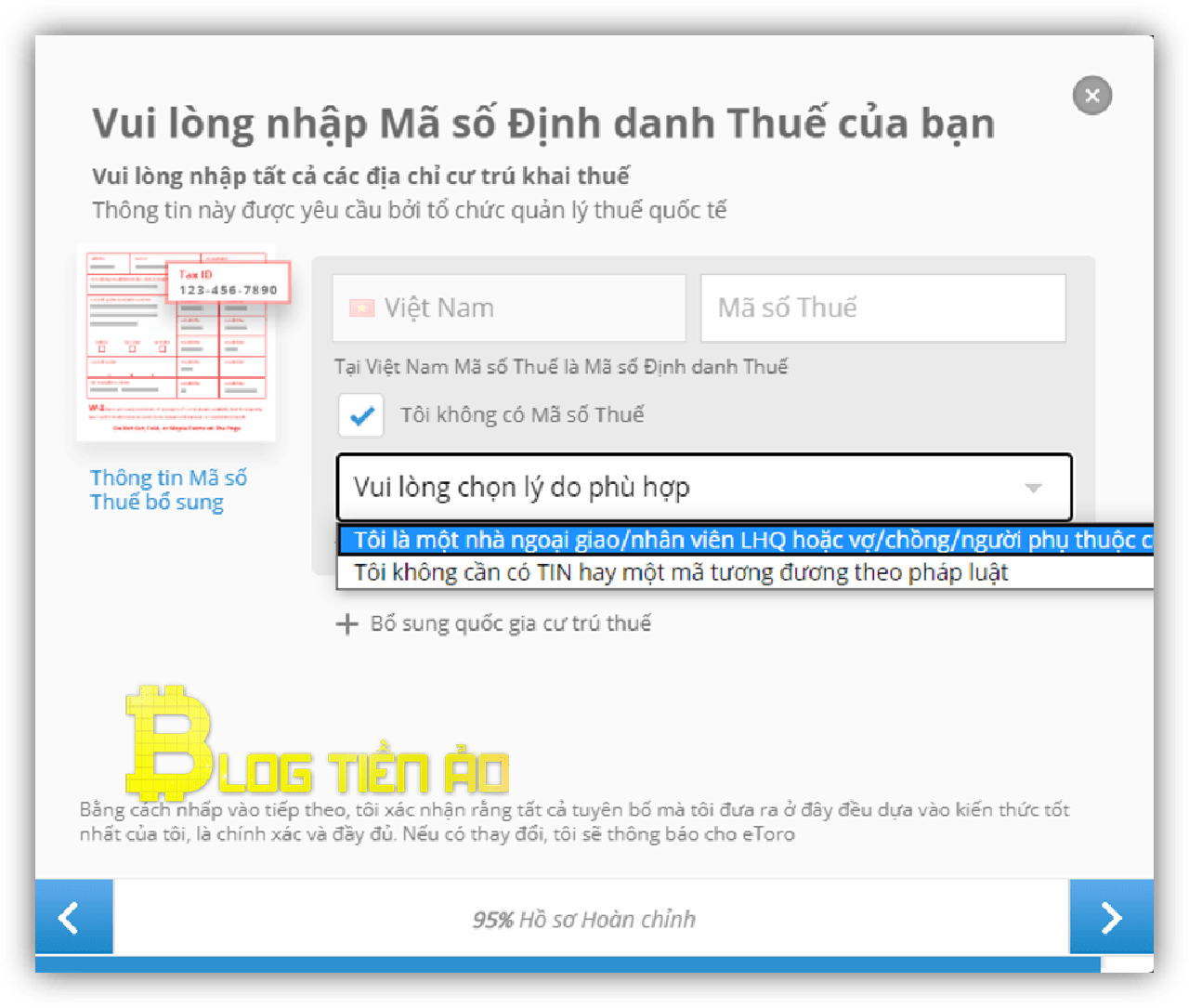 Now that you have successfully verified temporarily, congratulations. Right now, wait for eToro to verify the account as well as the verification documents.
They will contact you via email and notify you if your verification documents are valid and will receive the mail about 3 days.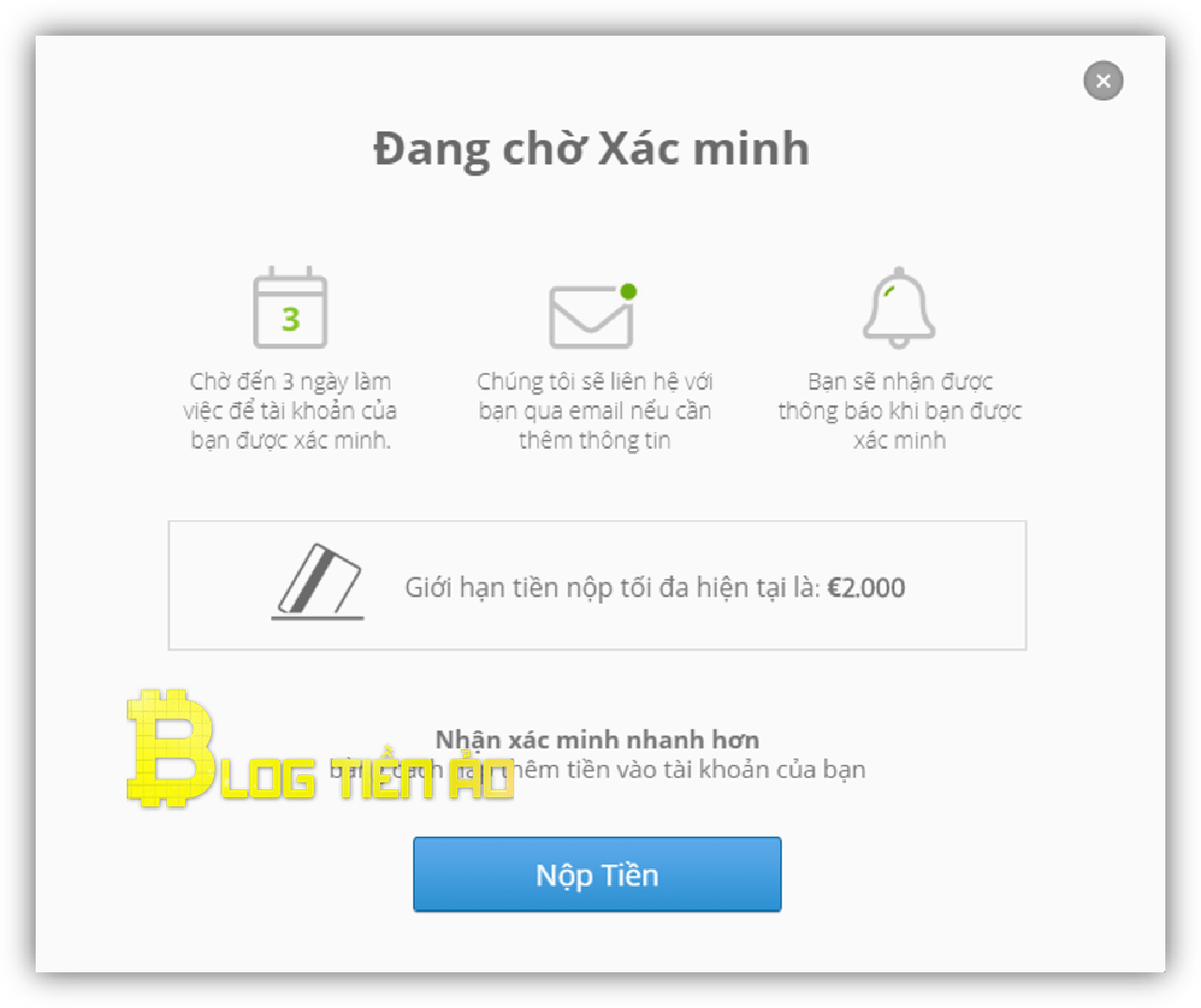 What currencies does eToro support?
All trading accounts on eToro use USD. Therefore, when making a deposit in another currency, the deposit amount will be converted to the current market rate. Note that this will incur a conversion fee.
Instructions to top up your eToro account
Recharge your account is very fast and simple. There are many different payment methods to choose from. Just choose the method you like and follow the steps below to make a deposit:
Step 1: Login to your account and click on the button "Payment".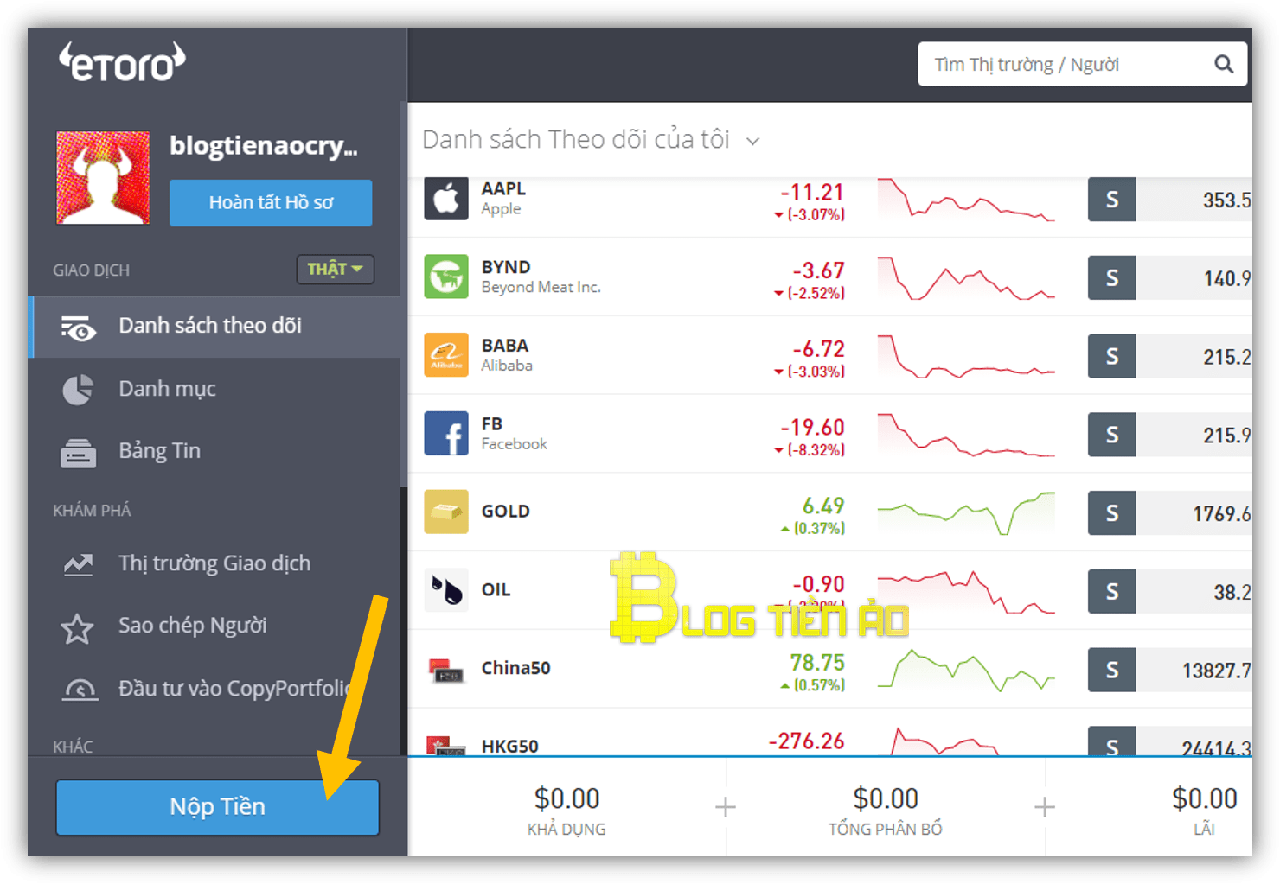 Step 2: Enter the amount and choose the currency. For example, I choose VND 6.000.000 into your eToro account as below.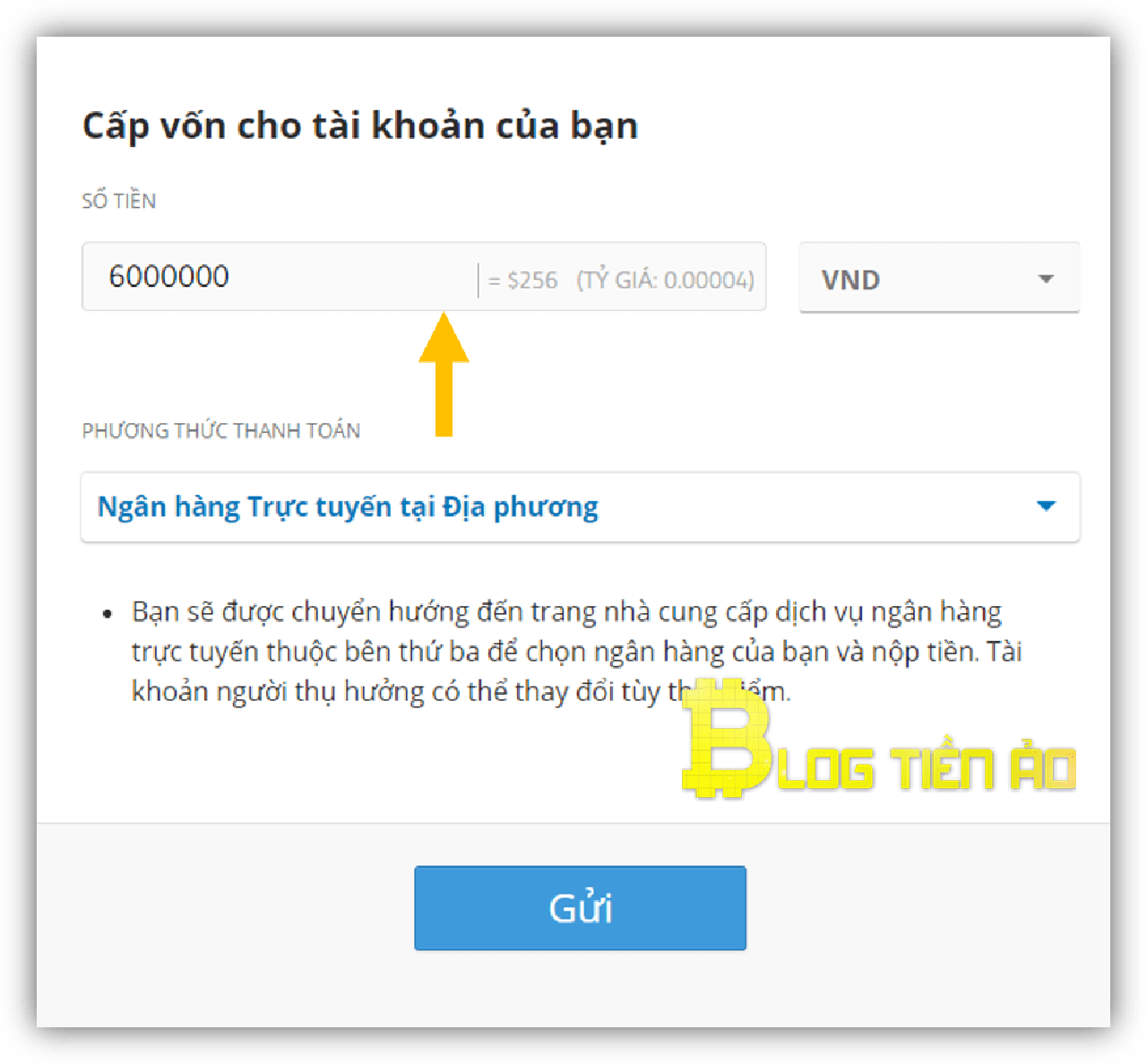 Step 3: Select a payment method in the drop-down menu as below. Etoro provides the following methods: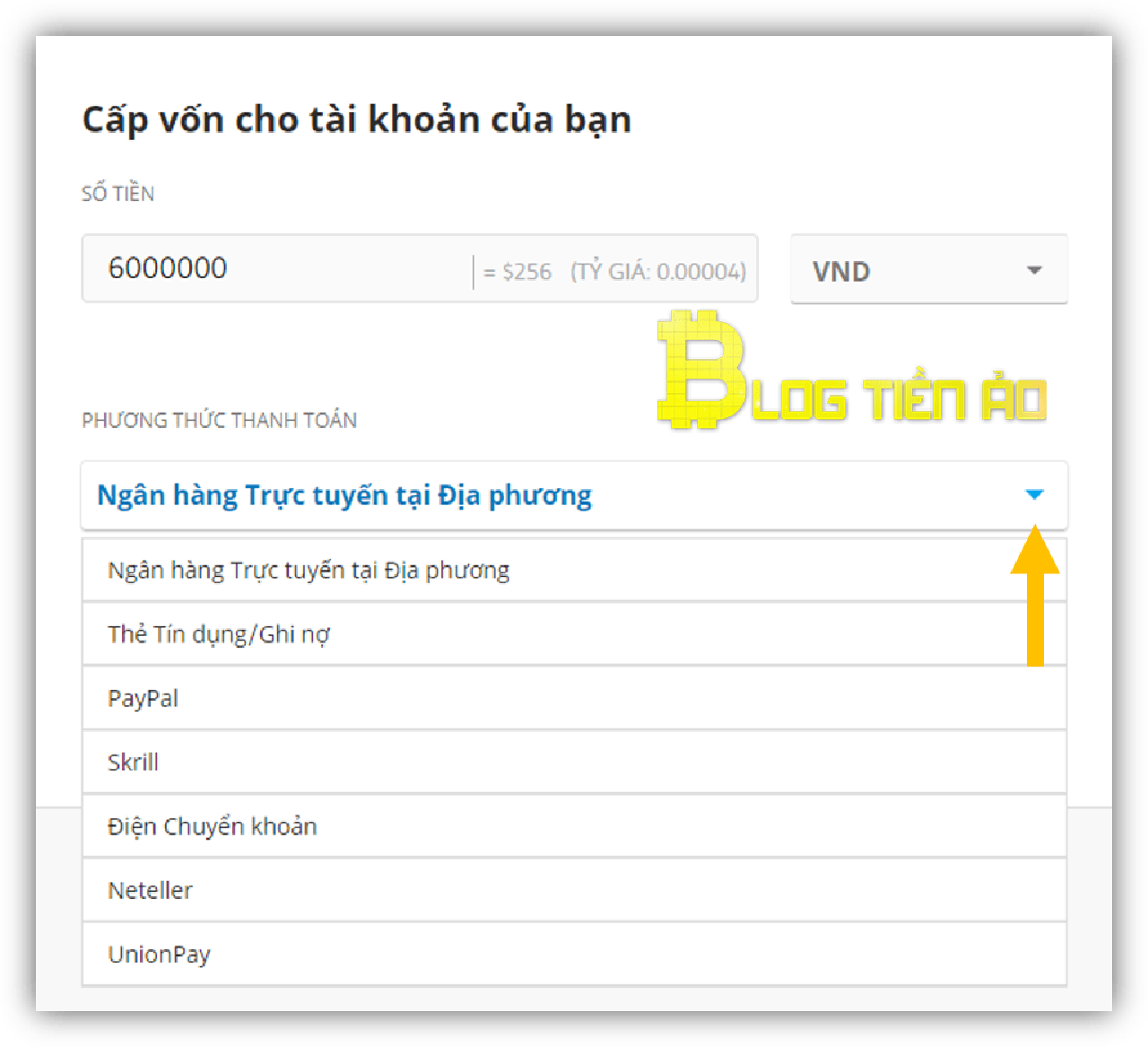 Step 4: Now, everyone has a bank account, so I can make quick and easy payment via internet banking. That is to choose "Local online banking".
After selecting the amount, currency and payment method, press the button "Gui".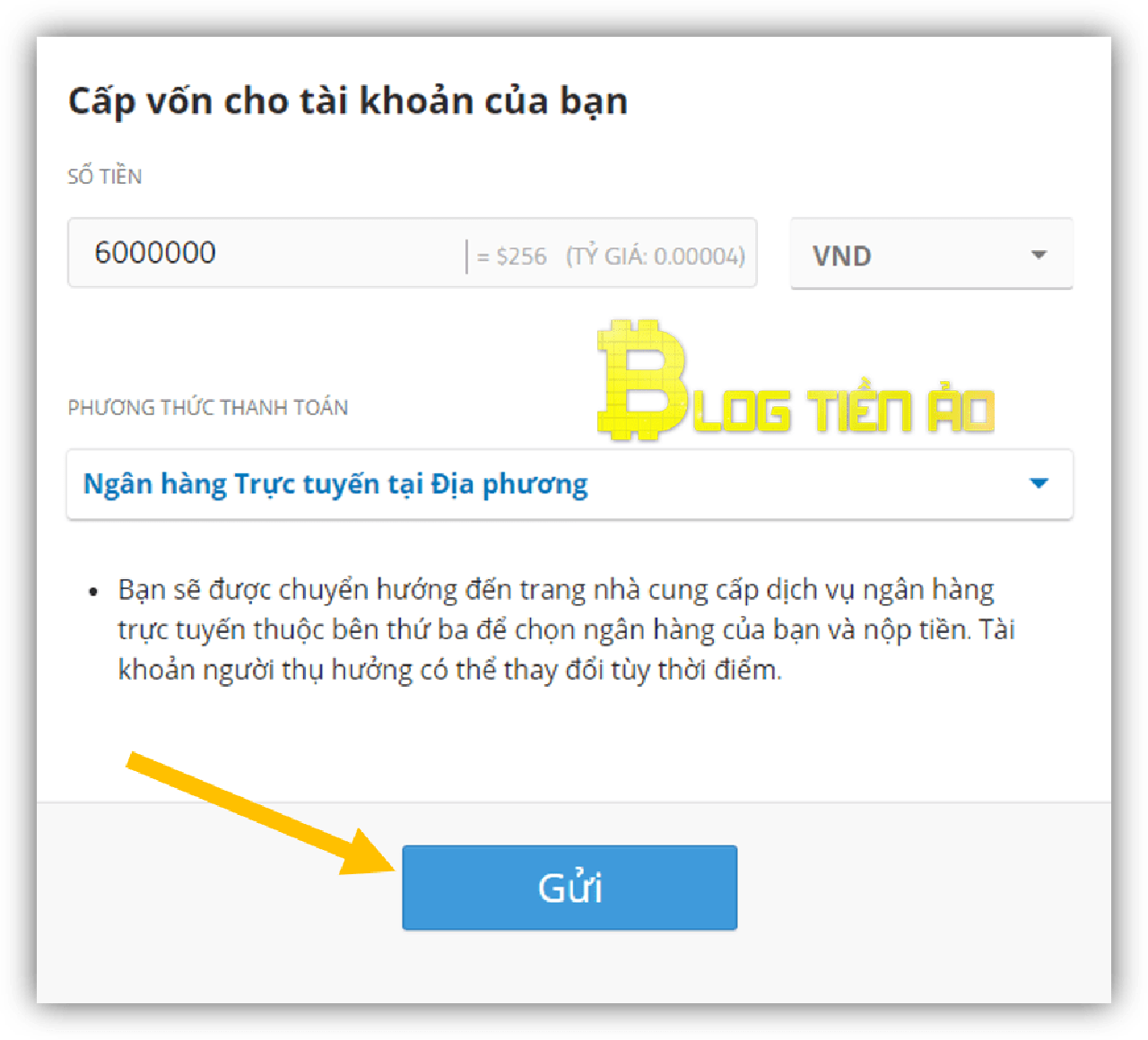 Step 5: This step is like doing online payments only. Select the bank you want to pay, for example, you choose Vietcombank then press the button "Pay with vietcombank".
Proceed to log into your bank account and transfer is fine.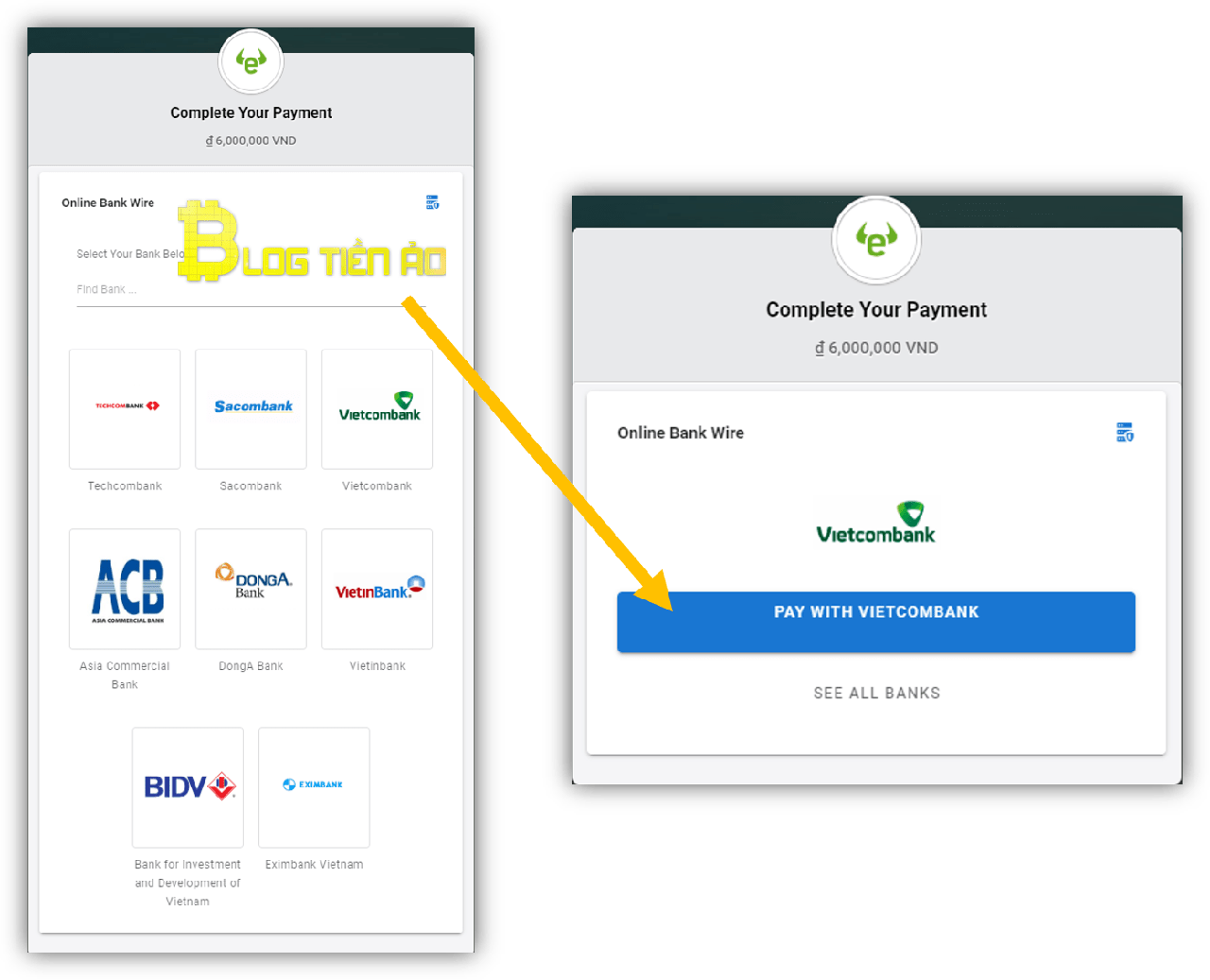 Instructions for withdrawing money from your eToro account
You must meet the following criteria to be eligible for a withdrawal:
The minimum amount for each withdrawal is 30 USD. That means the account must have 30 USD or more.
My account is verified (if not verified, see the instructions above)
You can withdraw money anytime you want. Proceed as follows:
Step 1: In the account management section select "Withdrawal".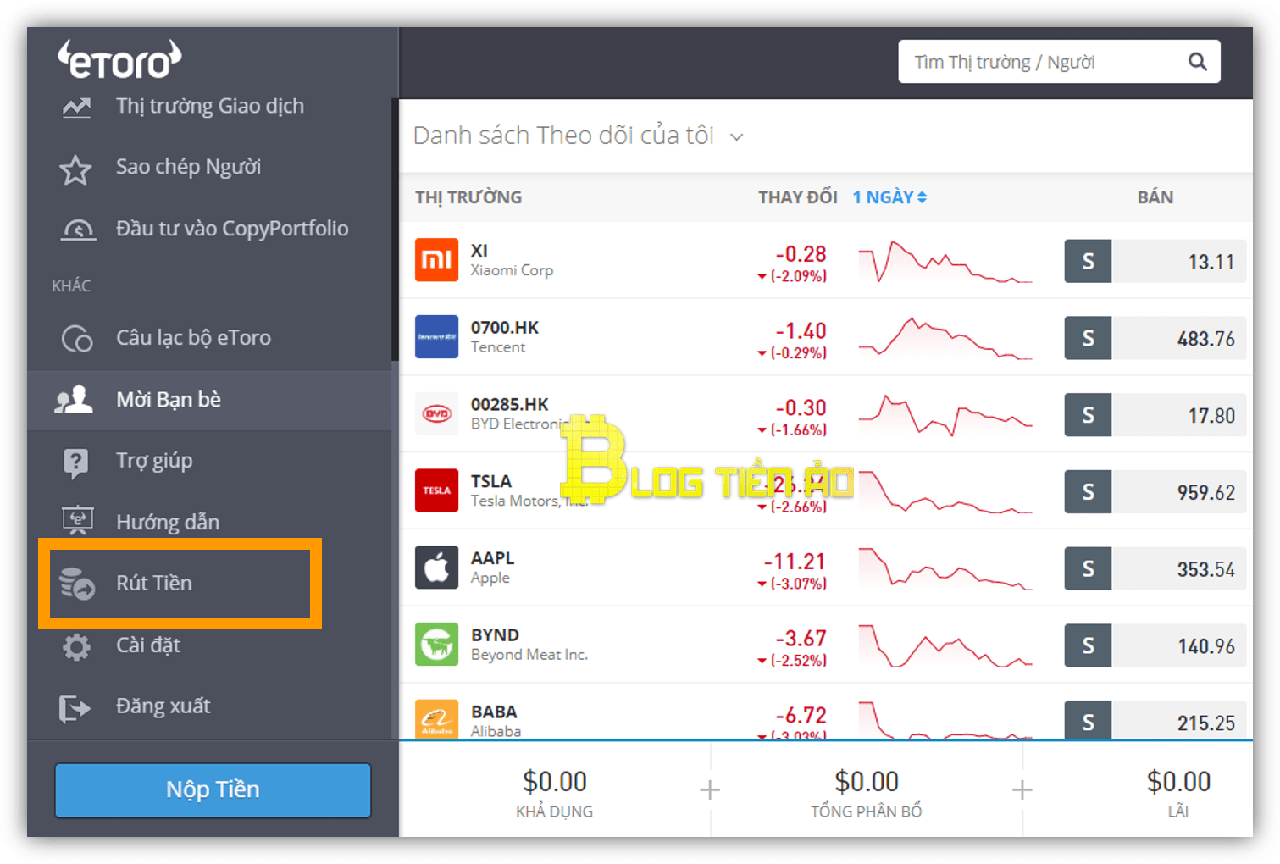 Step 2: Enter the amount you want to withdraw and click submit "Gui" to continue.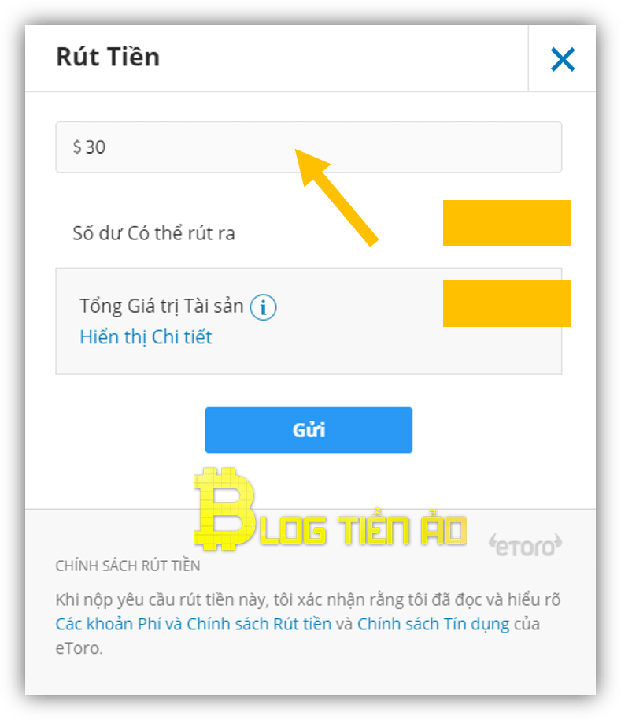 Step 3: eToro asked the brothers why they wanted to withdraw their money. Just choose one idea to find it appropriate, you don't need to care about this step too. After selecting, press "Continue"Please.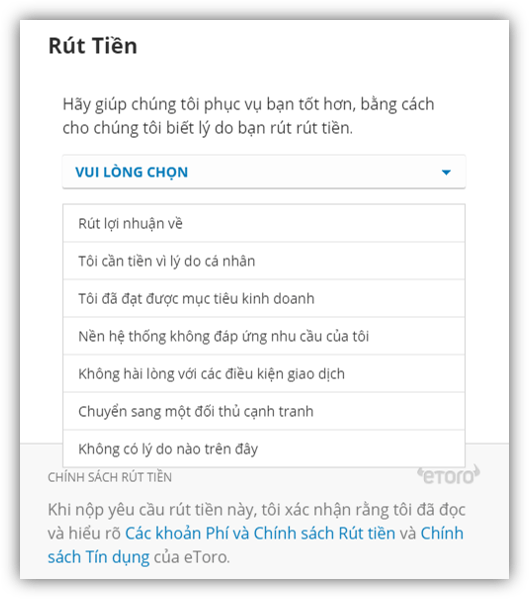 Step 4: Money is withdrawn in the same way when you deposit money into your account. Accordingly, the receiving account is also the account you used to top up before.
However, eToro will ask us to provide an alternative payment method. The purpose of this is in the event that they are unable to send money through the original deposit method you used.
Payment will be made in order of priority: credit card, paypal, bank transfer.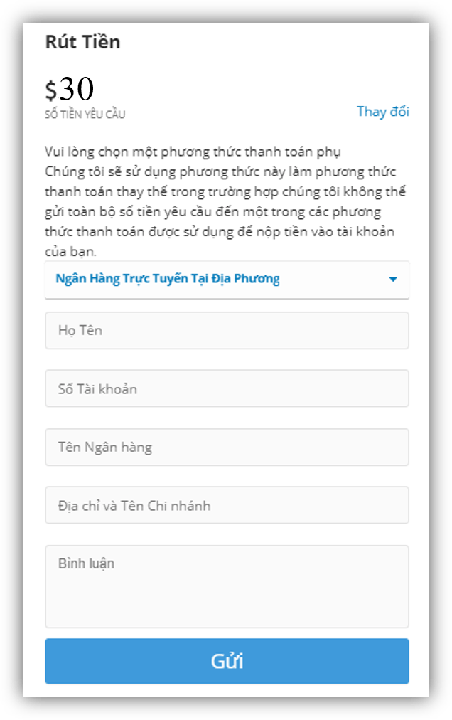 Trading interface on eToro
Introducing the transaction interface
To go to a purchase or sale you need to select "Market transactions"In your account management area. Below is eToro's trading interface. There will be options for a variety of assets to help you navigate to any action:
Box number 2 is where you find the type of asset you want to trade.
Box number 3 It is the place to classify individual markets.
Box number 4 where volatile asset types and outstanding asset types are listed.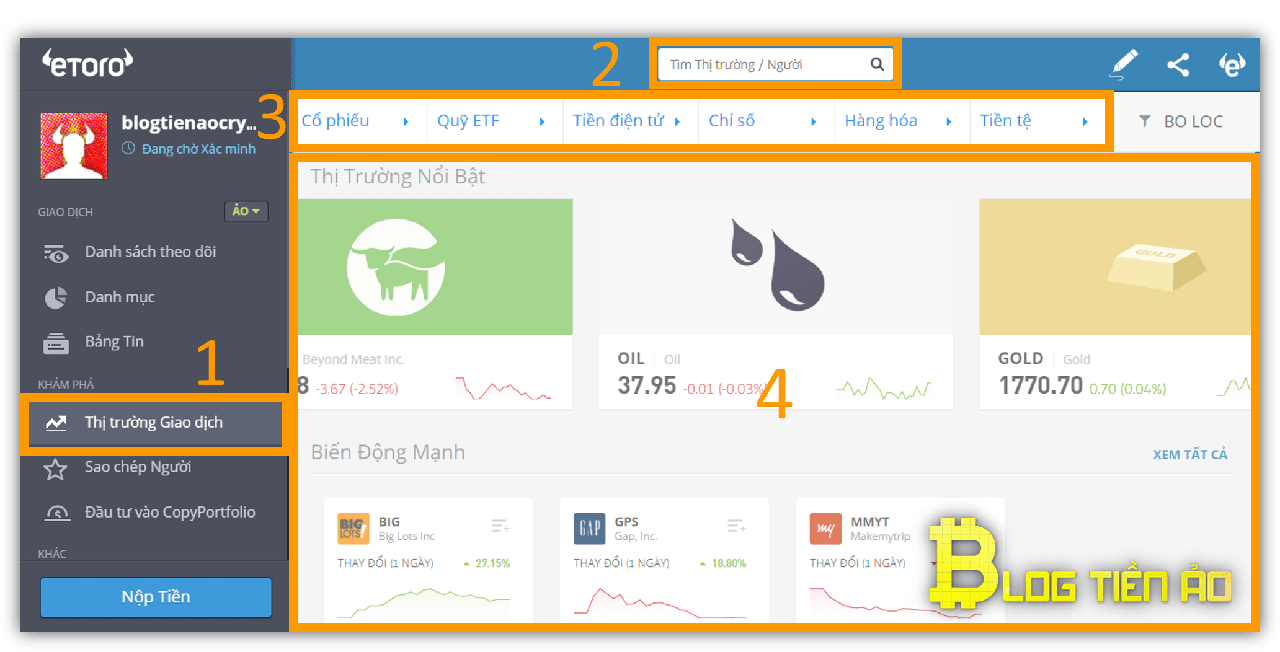 The information is provided for an asset class
What are the facts here?
It contains information regarding an asset class you want to analyze before trading including: Related news, price statistics, analytical charts, Research.
Just choose the type of property you want to see. For example, I choose Bitcoin and want to see data related to it.
Watch now: What is Bitcoin? [The most comprehensive information about BTC virtual currency]
Switch to tabs depending on what you want: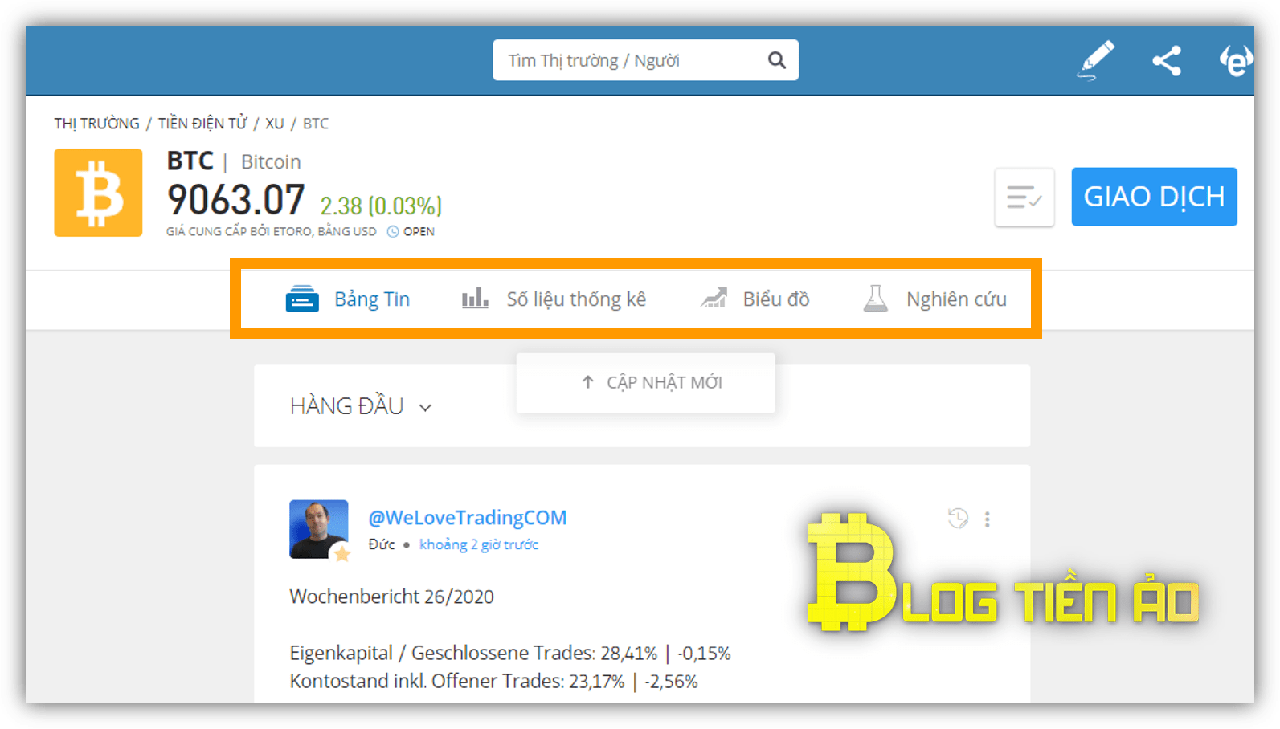 For now, start a buy or sell order.
How to place a buy or sell order on eToro
It's quite simple. Select the type of asset you want to trade in from the exchange market category. For quick, I click on the search box. Click find Bitcoin then select the button "Deal".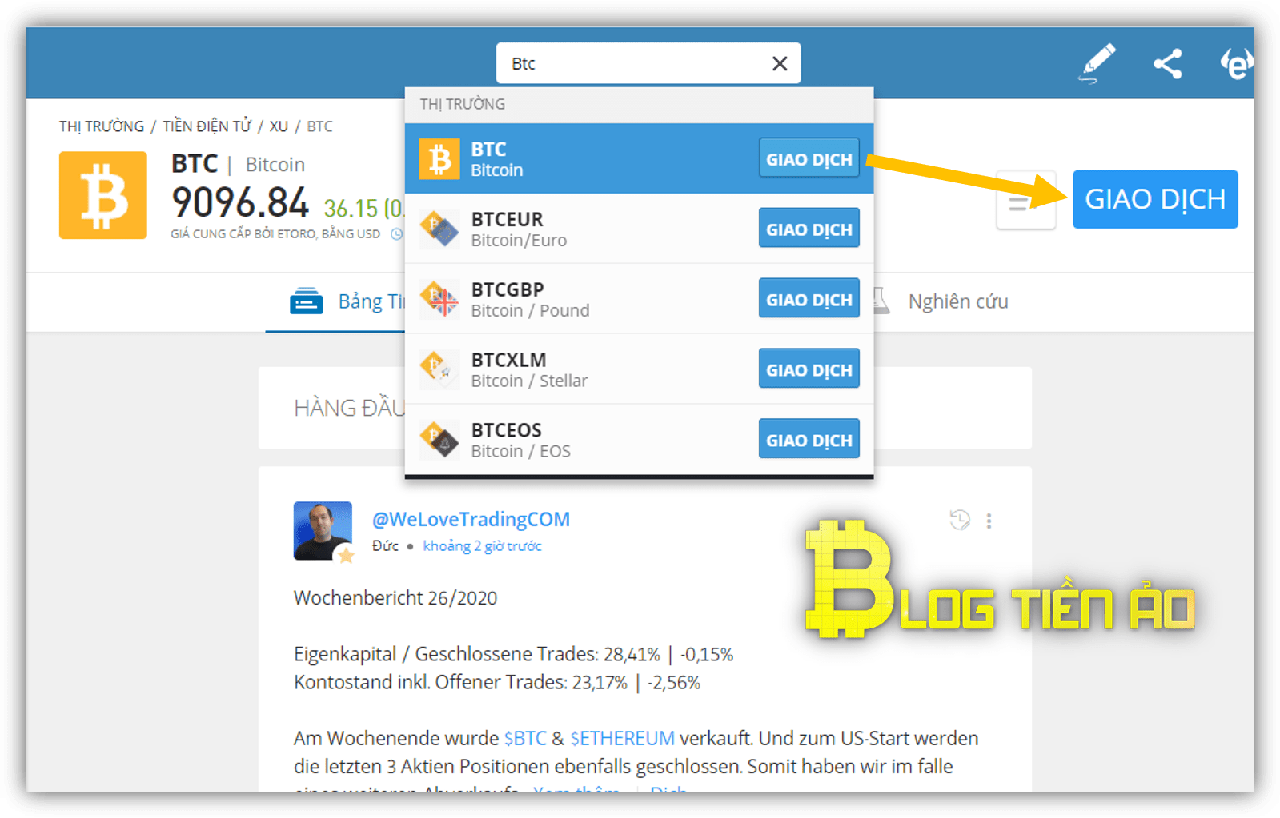 How to place a buy order
A buy or sell window pops up after you choose the button "Deal". You can choose what you want to select the two tabs for purchase and sale. I am executing a buy order so I will choose the buy tab.
Explain the parameters of the sales table as follows:
- 5 number Name of the asset, type of execution order, transaction price. Here I choose bitcoin so the asset name is BTC, the order type is buy, the price is 9168.55 $ for 1BTC.
- Number 6: Amount you want to order. below it is $ 10,000. The number of units is the amount of BTC to buy which is 2.18 BTC.
- Number 7: Leverage factor in use is x2. It deduces that the entry amount is 10,000 * 2 is 20,000, dividing the result by the transaction price 9168,55 to 2.18137. The number 2.18137 is the actual BTC bought, but they write 2.18 that is the difference to pay for the brokerage.
Stop loss and take profit: Two are very important. Stop loss is how much money you can lose and take profit protects your profits. Let's take a look to set it up.
- 8 number : A drop-down menu so you can execute the entry price you want, instead of the current BTC price.
- Select the button "Open a transaction"When everything is up to you.
- Below the button, there is an overnight fee, this fee for each property you choose will be regulated differently.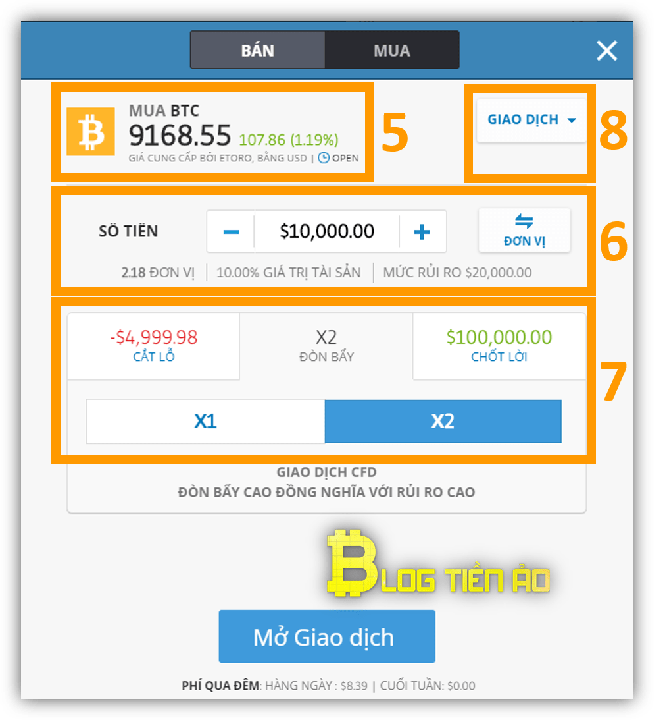 How to place a sell order
This is exactly the same as placing a buy order. If you predict the price will go down, then in the transaction window switch to the sell tab. Make the appropriate settings and press the button "Open a transaction".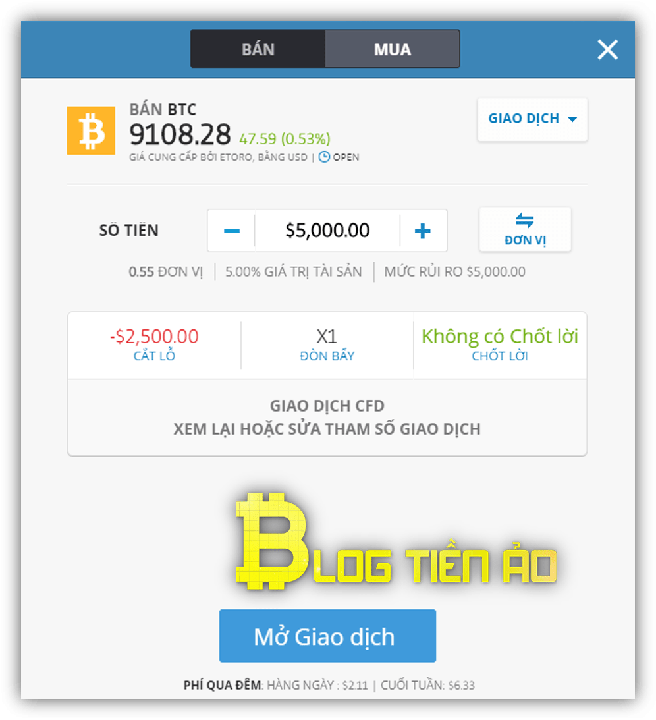 General information about fees on eToro
I will mention the fees you are most interested in including: Transaction fee (ie when entering a buy or sell order), overnight charges, deposit and withdrawal fees.
eToro does not charge any deposits or fees but does a flat $ 5 fee for all withdrawals. The minimum withdrawal amount is $ 30.
Leveraged BUY positions on stocks and ETFs are not executed as CFDs and incur no commission (but incur conversion and withdrawal fees).
eToro also collects overnight / weekend fees for CFD positions, such as leveraged positions and SELL orders.
There are no fees for leveraged BUY positions on individual cryptocurrencies. Fees will be applied to leveraged BUY positions, as well as to all SELL positions, and to all crypto pair positions.
To know more about each property type see squid fishing tours.
Copy trading on eToro with yield between 30% -70% / year
Explanation of copy trader on eToro
This is suitable for inexperienced brothers who do not have time to monitor the market regularly. Copy Trade helps you to copy the orders of the good traders we want automatically. Whatever they do, we will do it, buy and sell with them.
On eToro the rates of profit and loss are public. Examples of information you want to know about an investor to copy trade such as: Their profit and loss rate, their portfolio, their risk ratio, number of people following that trader or one and Other useful news you need.
How does copy trading on eToro work?
Here is a real example so you can understand how Copytrading works on Etoro:
Investor A has capital 1000$ And learn about Copy Trading feature on Etoro. Then A decided to copy the famous trader "Jaynemesis"On 25/08/2020.
This means that A's account will automatically trade according to Mr. Jaynemesis, which means what he buys or sells, then her account will automatically buy and sell.
In investor A's portfolio there are orders to trade stocks, commodities, cryptocurrencies, and currencies similar to famous trader Jaynemesis and from that point on, profits are generated.
To date 23/12/2020 Then you check your account, then your account has been reached 33% profit, from 1000 $ to 1331 $. You can see the picture below to see actual results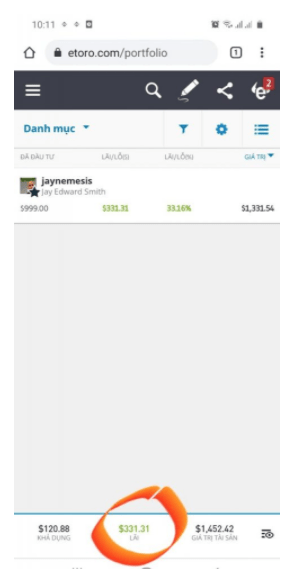 Watch video: Insights and details about copy trading to better understand
Requirements when using copy trading
The minimum amount to invest in a trader is $ 200.
The maximum number of traders that you can copy at the same time is 100.
The maximum amount that can be invested in a trader is $ 2.000.000.
The minimum amount for a copy transaction is 1 $. Transactions below this amount will not be opened.
If we manually close a copy trade, the money from it will be credited to our copy balance (the amount is allocated to copy that person and not invested in open positions) .
A guide to analysis and selection of good traders
Copy portfolio (Copy Portfolio)
Warning when trading CFDs on eToro
CFDs or contracts for deviations are complex instruments and run the risk of losing money rapidly due to leverage. A lot of retail investors lose money when trading CFDs with the eToro platform. You should consider whether you understand how CFDs work and whether you can afford to take the high risk of losing money.
Remember one thing: Past returns or risks are not an indication of future results. Please consider and make the right choice for yourself as well as suitable with the trading style.
So Blogtienao gave you the best overview of eToro. This is not investment advice, so we hope you always have the right choice.
Need help investing on eToro?
You need technical support
If you have difficulty with technical issues such as: Registration, Verification, top-up, technical manipulation, you can contact and receive support directly from Telegram ID: @vanthuonghoan
You have deposited and need orientation
If you have verified and deposited successfully but do not have a strategy or need data to direct your investment, you can contact us directly via Telegram ID: @VanThuongHi
Summary
Surely everyone understands about eToro, right. The above information is purely based on general conditions. All trades are risky and CFDs involve high leverage and high risk.
So contact us immediately via Telegram: https://t.me/VanThuongHi If you have questions to get the right direction.
Finally, Make an investment carefully! Thanks and see you in the next posts.