BlockSwap Network (BSN) price, marketcap, chart, and fundamentals info
BlockSwap Network is a platform that enables people to access the benefits of staking as a steady stream of profits through fixed income products.
An immutable protocol that brings fixed income products to DeFi on property PoS. BlockSwap Network helps users deal with the volatility of crypto assets and the complexity associated with the traditional staking process.
The team's mission is to use staking to redistribute wealth and nurture the underlying user base.
What's special about BlockSwap Network?
The funds will allow the BlockSwap Network to continue to scale and improve its sustainable profit offering through the Proof of Stake benefits. This solution attracts attention from the broader crypto community because it is impossible to find stable DeFi yield farm.
Furthermore, BlockSwap Network will launch a CommunityNet which is recommended for token distribution before BSN mainnet launch.
Ongoing development will allow the BlockSwap Network to encourage more current staking operators and PoS token holders to explore these stable DeFi yield farming opportunities.
BlockSwap has revealed its revolutionary product, Stakehouse. The product uses a significantly differentiated approach to fix almost every problem facing the ETH2 staker.
What is BSN Token?
BSN is the native token of BlockSwap Network which is used for many different purposes.
CommunityNet token, you can experience Beta, participate in activities to earn more tokens, later converted 1: 1 into the project's token when the mainnet launch
Basic information
| | |
| --- | --- |
| Ticker | BSN |
| Blockchain | Ethereum |
| Token Standard | Governance, Unility |
| Token type | ERC-20 |
| Contract | Updating |
| Total Supply | Updating |
| Circulation supply | Updating |
Token allocation
Updating
Release schedule
Updating
BSN Token Sale
Updating
What is BSN copper used for?
Get your token: Grant full access to products and encourage exclusive BSN beta-net.

Play to earn: Multiple gamified beta net products will be at different stages. Users can earn additional tokens by participating in them.
Incentive Mining: In addition to beta-net products, token holders have the option to earn additional tokens from becoming DEX LP and completing community activities.
Governance: BSN token holder participates in voting system administration decisions.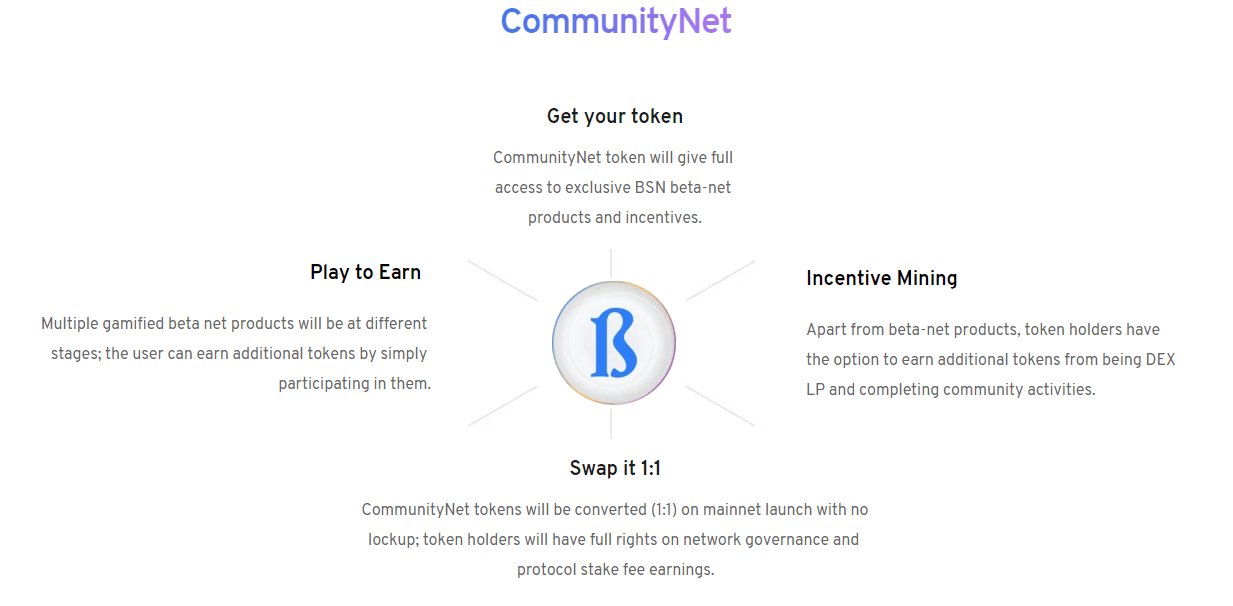 What floor is BSN traded?
BSN is not currently listed on any exchanges. Will update you here when there is information
BSN copper storage wallet
It is quite easy to find a suitable wallet for example: Trustwallet, Ledger Nano X, MyEtherWallet, Dappradar, Coin98 Wallet, ... Or you can store it directly on an exchange, where you bought that token. Remember to turn on full security.
Assess the potential of BSN
Team
Updating ...
Investor & Partnership
DeFi Platform Blockswap Network completed a $ 2,5 million private investment round including NGCm, Wave Financial, Algorand EU Accelerator, ZeePrime capital, DFG, 4th Revolution Capital, Blocksync Ventures and other venture capital funds .

Product
There are 2 products as said the revolutionary product of the project, Stakehouse. The other product is Saver. Let's talk about the Stakehouse first:
Stakehouse
ETH2 Staking has yet to establish itself as a physical location for inexperienced Defi users. That's because liquidity needs to be locked, fee reward is high, centralized, requires minimal ETH, has no staking community, and supports DeFi products.
Stakehouse promises to simplify the ETH2 staking process and make it more practical.
Saver
This is a stable savings account a full chain savings account promising 7% APY. Additionally, it is a non-custodial account that supports both Fiat and Crypto.
Tokenomics
According to the blog, CommunityNet will encourage users to experiment for more than 5 months and will distribute about 250.000.000 tokens. This is a key component before the BSN main-net as it will bridge any gap between the user and the product's functional utility.
Early community members can explore the product's benefits at no cost. CommunityNet feedback will create an opportunity for the BlockSwap Network project team to converge product functions according to users' needs.
Roadmap
Updating
Should we invest in BSN copper?
As has been said a lot about the concept and products of BlockSwap Network. The project will bring structured products with fixed income to daily users, where they can earn continuous, healthy, guaranteed interest. Since tokens have not been released yet, there is not much information about the point of purchase but only the potential assessment by fundamental analysis.
You can follow the project at Blogtienao and the project's community social: