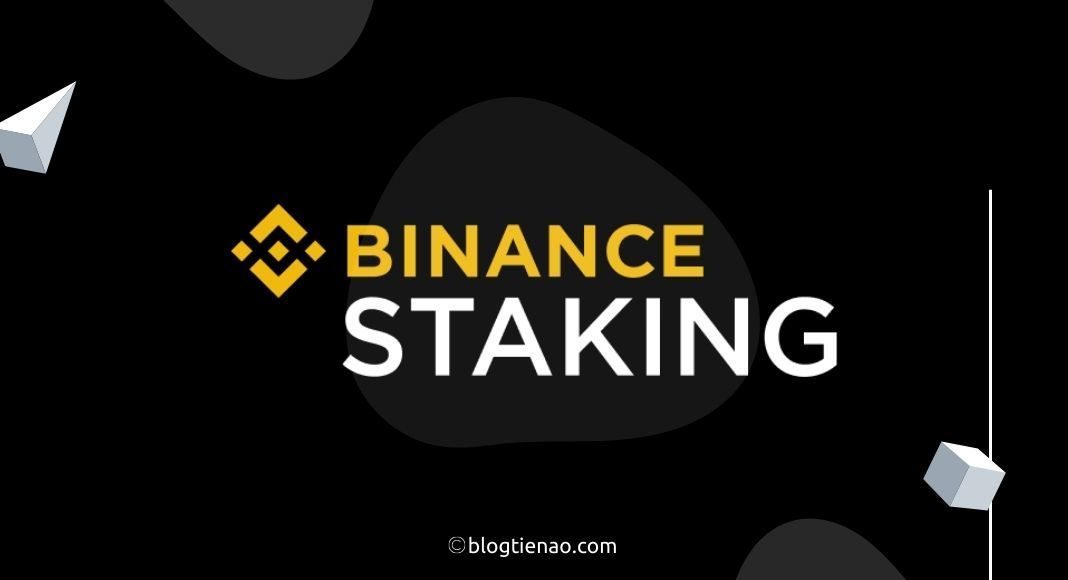 What is staking?
Staking is the process of validating the above transactions Proof-of-Stake (POS) blockchain. The purpose is to support the blockchain network.
Anyone who holds a minimum amount of coins can staking and receive staking rewards.
Looking for more information: What is staking?
What is Binance Staking?
Binance Staking is a service that helps you staking certain cryptocurrencies when storing the above assets Binance Exchange.
Simply put, you only need to load coins into the Binance floor to be able to staking easily.
Why should Staking on Binance floor?
Easy to reach users
You can choose from different types of staking: Locked Staking, Flexible Staking, DeFi Staking.
Increase income with idle coins
Forms of Staking on Binance
Locked Staking
Locked Staking is a form of locking for staking on the binance floor. For this form, you are required to lock your coin in a certain period of (7, 30, 60, 90) days.
The advantage of this form of staking is that the average annual profit is higher than Flexible Staking. If you are holding coin, this is a suitable form for you to earn more coins.
Flexible Staking
Flexible Staking is a flexible form of staking. Unlike Locked Staking, this type of staking you only need to keep in your wallet is to be able to staking without locking the coin.
Although you also receive a small amount of a year is about a few%, but it is better than not, everyone.
DeFi Staking
DeFi Staking is the simplest way to get people to access DeFi products.
Binance DeFi Staking on behalf of you to participate in DeFi products, receive your income and distribute it to you with just one click.
The profits from DeFi Staking are much higher than Flexible Staking and Locked Staking. This profit is due to the fact that DeFi products currently have high interest rates.
However, high interest rates also come with high risks. So when you participate in this form, you must have a clear understanding of DeFi or do not play.
See more: What is DeFi
Risks when participating in staking on Binance
Keep in mind that all interest rates are year on year but the period can be 7, 30, .. days. So do not make the idea of ​​high interest.
High interest rate is only DeFi Staking, but it also comes with a high associated risk.
Although Binance has selected the best projects for users to reach users. However, Binance only acts as a bridge between the DeFi project and its users.
So any project losses such as being hacked due to Binance security issues will not be held responsible.
There have also been many DeFi projects being hacked in the past. Some names can be mentioned as below
| Project | Hacked amount (estimated) | Time |
| --- | --- | --- |
| dForce | 25 million USD | 19/04/2020 |
| imBTC | 300 thousand USD | 18/04/2020 |
| Maker | 9 million USD | 12/03/2020 |
| BZX | 1 million USD | 15/02/2020 |
If you want to participate in the DeFi Staking form, please find out carefully!
After that, we know the risks. Those who want to learn how to join, join Blogtienao to see the next section.
Instructions for participating in Staking on Binance
Binance APP
To Staking on Binance App, you just need to leave the supported coins on the Binance wallet.
But Locked Staking and DeFi Staking, please follow the steps below:
Log into the Binance application, on the homepage you select the icon with text Staking.
Select the type of staking you want to participate in. If you do not know what to choose, then pull up and review the above section.
Select the coins you want to stake, select the lock cycle and press the button Stake now.
Enter the amount of coin you want to lock and then click the box with the line "I have read…. ". Done then press the button Purchase confirmation is to be.
On the web interface
Those who do not use the app can also visit binance.com to stake.
Step 1
Sign in to your account and go to the section Finance menu bar. Next is to choose Staking.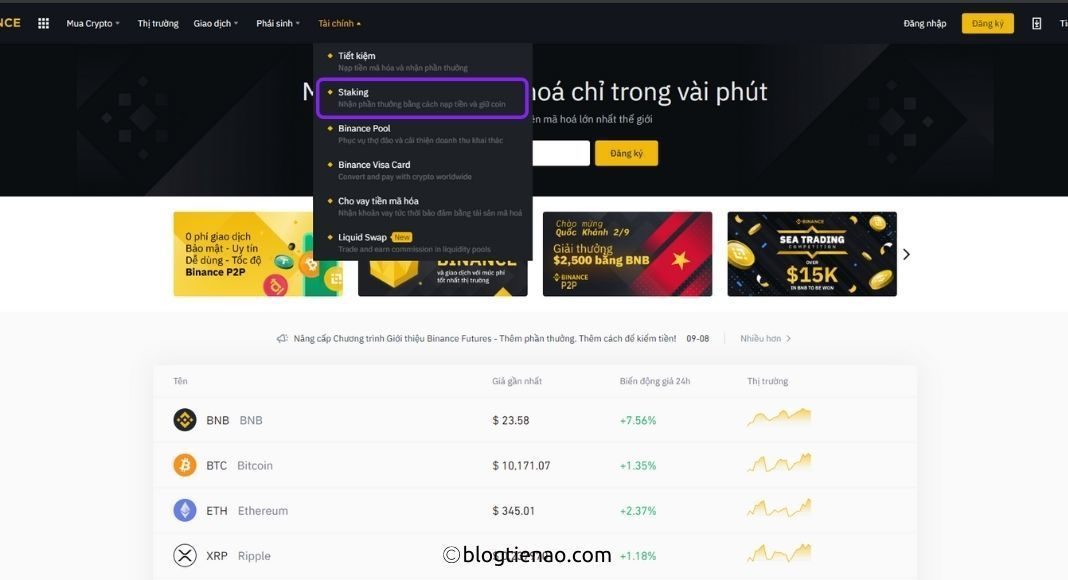 Step 2
Select the coin you want to Stake and choose the lock cycle. Then press the button Stake now.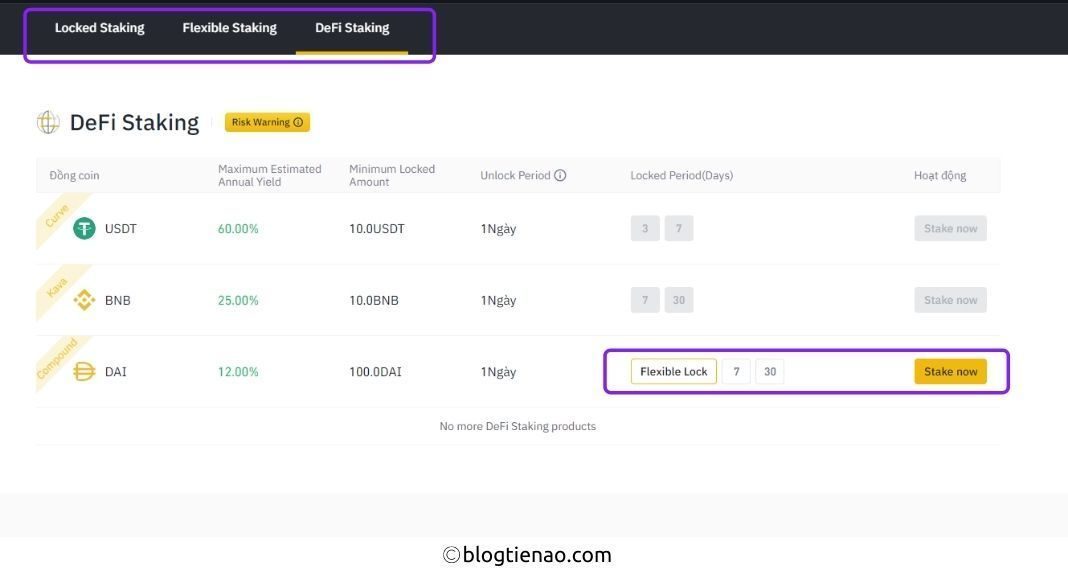 Step 3
Enter the amount you want to stake (be sure to be greater than the minimum required amount and smaller than the maximum required).
Check the box with the line "I have…. " and press the button Confirm Buy is done.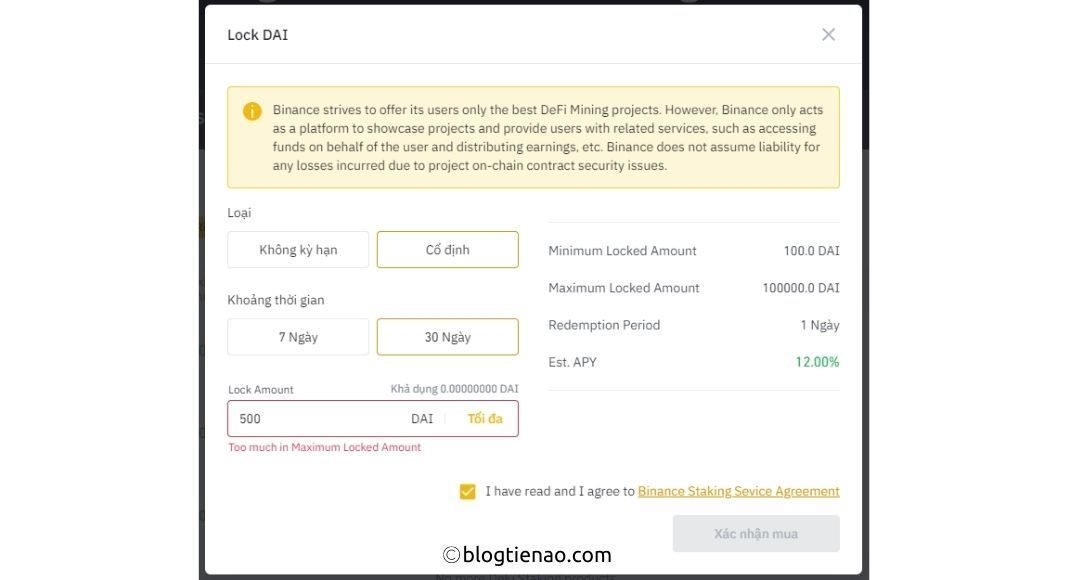 Some frequently asked questions
What cryptocurrencies does Binance support for staking?
Depending on the form of staking, different coins will be supported. Currently you can staking coins such as: EOS, ATOM, XLM, TRX, ALGO, ... looking for more information.
After locking the coin for staking, what will happen?
After locking, your coin amount will be deducted from the spot wallet.
What happens when lock coin expires?
At the end of the lockout period, the balance you have locked and interest will be returned to your spot wallet.
Can I withdraw before the lock date period?
Have. To withdraw early before maturity, you must go to Savings Wallet and select Locked or DeFi Staking Early-redeem (Early withdrawal).
What if I withdraw early?
You will have your interest deducted and only the principal left.
Can I join Locked, Flexible, and DeFi Staking at the same time?
Is not. You can only participate in one of the three categories above.
Conclusion
Hopefully, through the article, everyone knows what binance staking is, the risks as well as how to staking on the binance floor.
If you have any questions, please comment below or message on Blogtienao's fanpage for support.
Wished everyone success!