Recommendation: All content in the "ICO investment"Belongs to the content of the press release. Investors should be cautious before engaging in investment or taking any action in relation to the advertised company. Virtual money blog No liability is accepted for any loss or damage related to the use or belief in the content mentioned in the article.
Update: ArcBlock (ABT) Listed on many big and small exchanges like: Huobi, OKEx, lbank, Bibox, KuCoin, dragonex, Gate.io, IDEX, Cobinhood, until coinb, DDEX, Bitmart. You can transfer ABT Token to one of these exchanges for trading. In that, I recommend using Huobi, because this is a trading floor with a large trading volume, high liquidity as well as low transaction fee. See instructions for Huobi floor below:
Update 1: So, after a long registration period, KYC & wait. 8am tomorrow, February 04, 02, ABT will start selling in small quantities, who will buy it on time. I will top the stages of buying ABT as follows:
(I take ETH as an example, similar CMT. The buying rate with CMT is very low)
1/ Prepare ETH, minimum of 0.1ETH, maximum of 3ETH. Put ETH in your Myetherwallet wallet (Not sent from the exchange) and MyEtherWallet wallet must be the wallet you registered to receive ABT before (see squid fishing tours)
2/ At 8:XNUMX am tomorrow morning, go to your Arcblock account => Arcblock Token Sale (squid fishing tours) => The countdown time returns to 0 will appear the ETH wallet used to participate in this ICO. The ETH wallet only appears in your account. If someone sends your wallet to you via text or email, it's a scam.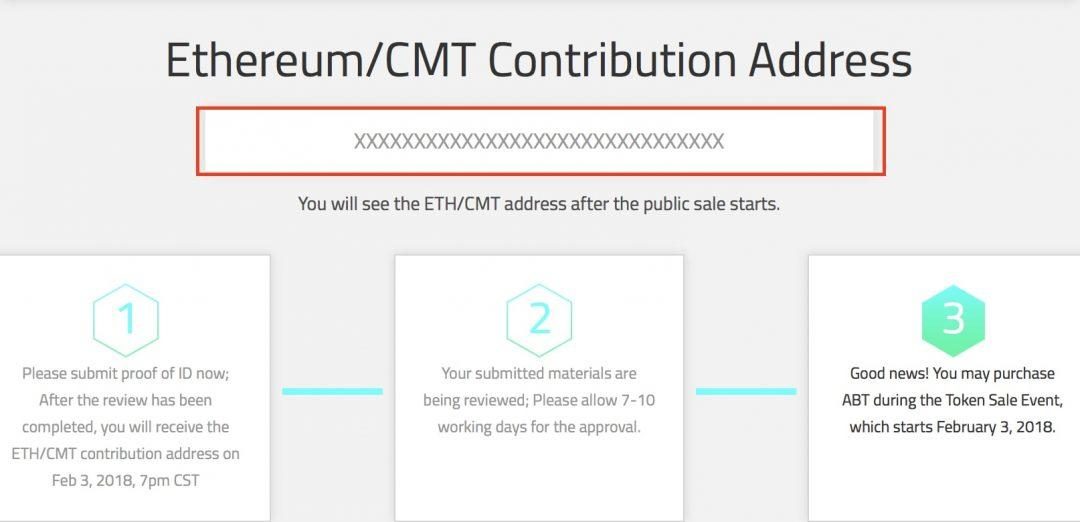 3/ Send the amount of ETH you want to buy to the wallet with the parameter: Pull Gwei to 60 , and Gas is 200000. If the lower deposit will not buy in time, the higher deposit will be fined 20% of the total ETH.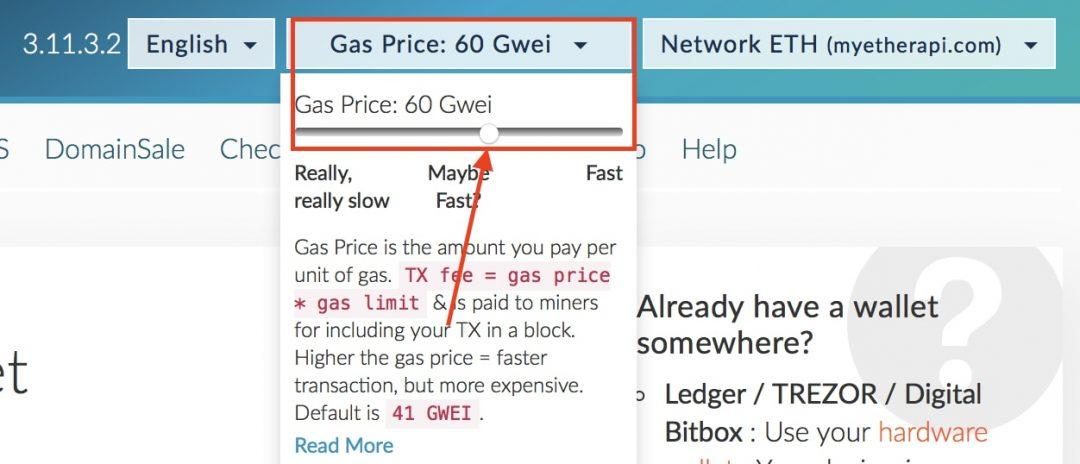 4/ Done, wait for the transaction to be confirmed. If you buy successfully, your ABT balance will show up in your Arcblock account. If you do not buy in time will be refunded ETH
5/ Arcblock will announce the ABT return date for the following KYC registered Myetherwallet wallet. Expected ABT time to go on the floor about 1 month after the ICO.
This ICO community is super crowded, quite fierce, so please take advantage of the time arrangement. According to me about 10-15p will sell out.
————————————————————————————————————————————
ArcBlock - The ICO project was only introduced on January 03, 01, but is very HOT on the cryptocurrency communities. This is an ICO project that I appreciate very much, similar to Cybermiles (CMT) - the ICO project has been on many exchanges and token buyers have x5, x6 assets. ArcBlock will open for sale Pre-sale on 12/01 come here but have to buy at least 150ETH just joined, and the public ICO will open 03/02/2018 I think you can wait for this second sale if you don't have a lot of capital. Below will be information about the ArcBlock project.
What is ArcBlock?
ArcBlock (ABT) is a platform and an ecosystem to build and deploy decentralized Blockchain applications (Blockchain 3.0). ArcBlock goes beyond providing the basic elements needed for use Blockchain to create complex business rules. It connects your existing system to the Blockchain network, allowing you to automate business processes using data and identity features connected to existing systems.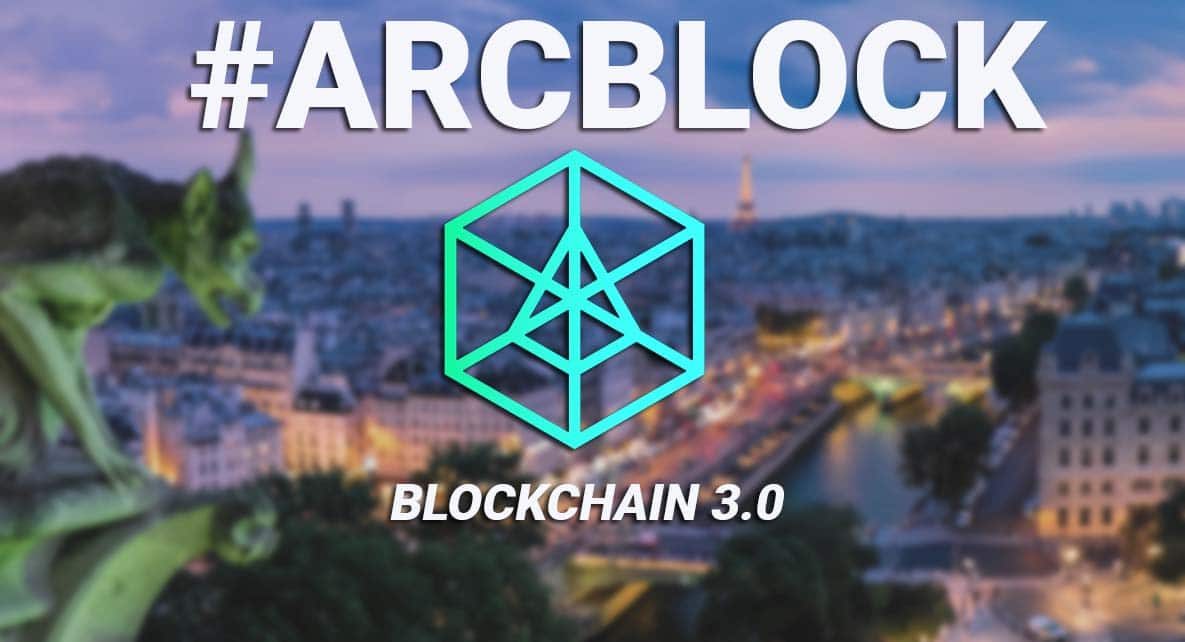 Arcoblock ICO project information
Name of project: ArcBlock
Token code: ABT
Total Token: 186,000,000 ABT
Minimum mobilized capital: 12.000 ETH
Maximum capital mobilized: 37.500 ETH + 6 million CMT, of which:

Pre-Sale: 25.000ETH (At this stage 1 ETH = 2052 ARC and the investor must invest a minimum of 150 ETH, and up to 3000 ETH) - This period opens on sale on 12/01/2018
Public ICO: 12.500 ETH + 6 million CMT (At this stage 1 ETH = 1900 ARC, investors must invest at a minimum 0,1 ETH and maximum is 3 ETH. For the use of CMT to participate in ICO, the minimum limit is 200CMT and maximum of 150.000CMT) - This period is open on sale on 03/02/2018. Since the Pre-sale is only 8% bonus and requires a minimum purchase of 150ETH, I think you can participate in this ICO.

Currency accepted: Ethereum (ETH) and Cybermiles (CMT)
What is Blockchain 3.0?
Easy to understand "What is Blockchain 3.0?", Let's take a look at some information about the versions of Blockchain offline:
Blockchain 1.0 = Data (data). The representative is Bitcoin
Blockchain 2.0 = Data + Smartcontract (smart contract). Representative is Ethereum
Blockchain 3.0 = Data + Smartcontract + Cloudnode + Blocklet + Open Chain Access ...
As such, Blockchain 3.0 continues to evolve from Blockchain 2.0 and is applied by some additional technologies such as Cloud Node, Open Chain Access and Blocklet. And Arcblock was born to support other blockchains, not competitors.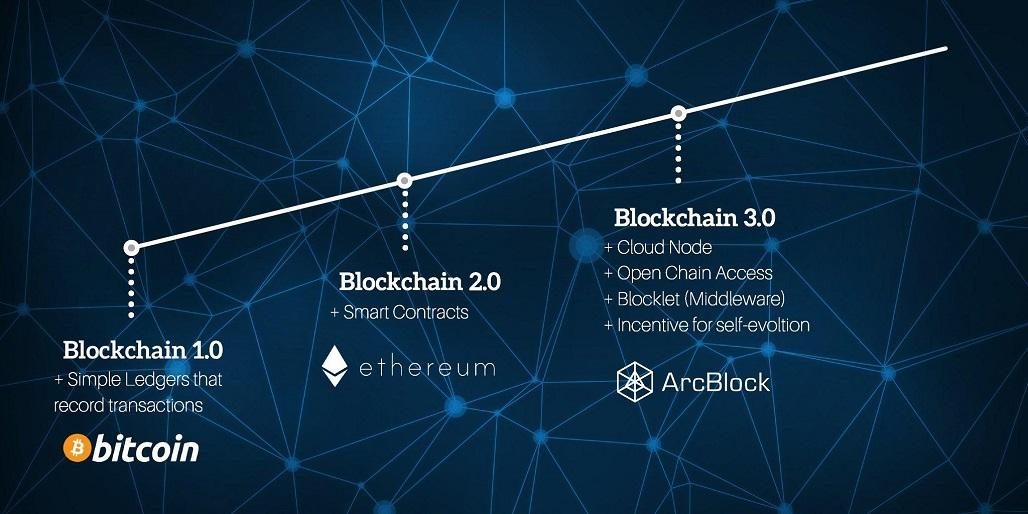 As we all know, Blockchain is a revolution that changes the whole world, but in the early days like this, the appearance of defects is obvious, it is possible to clearly see the current shortcomings of Blockchain platforms are:
Poor performance: Blockchain's current transaction processing speed is still very slow, if Bitcoin can only handle 7 transactions per second, ETH is faster but in December 12 when the game "raising cats CryptoKitties" appeared, the Blockchain of ETH has had a period of transaction congestion.
Not user friendly: Most of the applications and programs created on blockchain are only for technical people rather than ordinary users, which is a huge barrier to public access to Blockchain.
Cost: The cost of using Blockchain technology is currently very high, which will hinder those who have the idea to build free applications and programs for society.
Fixed platform: Blockchains now have a "lock-in" mechanism, which means that project and application owners must choose and decide which products to build on the Blockchain accordingly, then they will not be able to transfer to other blockchains to run the product.
ArcBlock will be a comprehensive solution combining Blockchain technology with Cloud Computing. ArcBlock is a favorable environment for services and applications. Those who contribute resources or services will be rewarded with tokens to form a positive, self-developing platform of its own. ARCBlock will be a platform service, it can access to any application and is considered by experts to be Blockchain 3.0 of the cryptocurrency world, ARCBlock was born to serve and support blockchains. not to compete.
What is the purpose of the ArcBlock Blockchain 3.0 project?
Main purpose of Arcblock is support for existing Blockchain platforms, making building and using applications simpler, more complete, increasing productivity and work results. If before, when we came up with ideas and built products on the Blockchain platform, we would have to work very hard from building features, applying and researching other Blockchain-related jobs, even for projects, Its predecessor did it.
ArcBlock will provide the features according to the highest standards of Blockchain technology and has been verified by the organization, the user community for everyone to refer to and use in personal ideas without the effort to repeat the boring work on. In addition, for products and applications that have been built on another Blockchain platform, ArcBlock still supports to help those products and applications upgrade on the current Blockchain platform without changing via the platform. ArcBlock's blockchain.
How does ArcBlock Blockchain 3.0 work?
ARCBlock = Data + Oracle + Cloudnode + Blocklet (Blocklet is the core of ARCBlock) + Open Chain Access Protocol + etc ...
Data: The data is recorded on Blockchain
Oracle: For ARCBlock and Blocklet, Oracle acts as a smart contract (Smartcontract of Ethereum)
Cloud Nodes: Cloud buttons. ArcBlock is designed to run in the cloud. ArcBlock will initially be built on Amazon Web Services and Windows Azure, then expanded to support Google Compute Engine, major cloud servers in China, and other platforms.
Blocklet: This is a serverless computer architecture to run different applications, it communicates with Blockchains through ARCBlock's Open Chain Access Protocol. Anyone can use it to build services that contribute to the system. It is an open and live protocol / module on the blockchain, without the need for centralized servers to contain it. Like a system that can be used on many different blockchains. For example, build applications on the Ethereum blockchain, if Ethererum collapses, your applications will go. But ARCblock can bring that application via another chain like EOS or Cybermiles. This will make applications more intimate, easier to manage, use and develop than ever, no longer tied to the application's blockchain platform, but can be freely developed through systems. Other blockchain.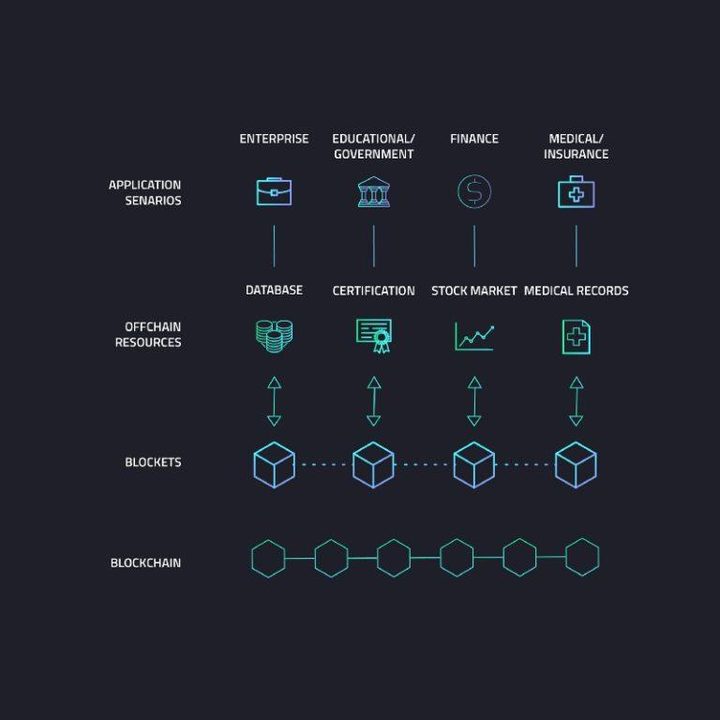 Open Chain Access Protocol: An open source protocol that provides an abstract layer to access basic blockchains, allowing your application to work on different blockchains, including Bitcoin, Ethereum, Hyperledger and more. It eliminates the lock-in problem on the platform and allows applications to run on many types of blockchains, significantly improving user experience and development. Everyone in the blockchain community will be able to contribute, create extensions and improve.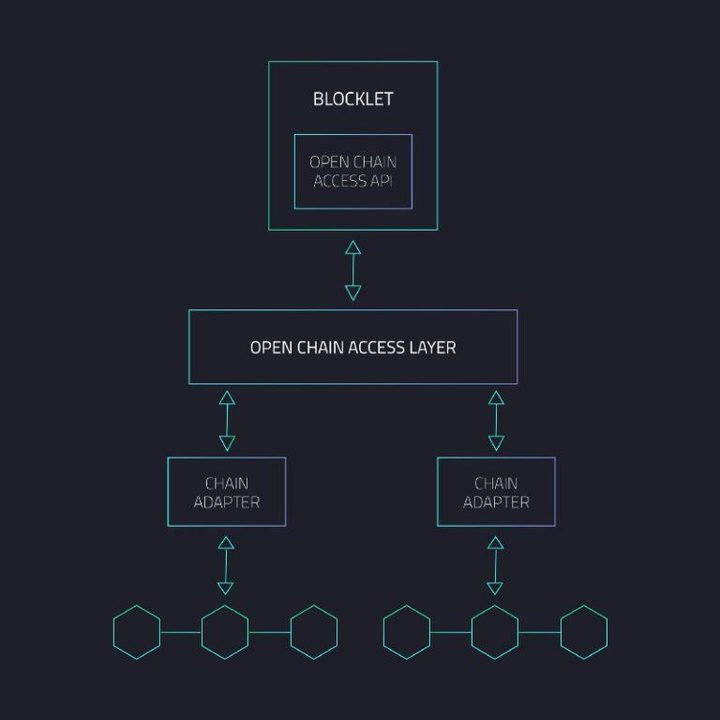 Decentralized Pub / Sub Gateway: is a distributed messaging system that supports pub / sub and acts as a gateway API for Blocklet. It will allow your applications to run on both Web browsers and mobile applications, providing users with an interactive, real-time experience. The gateway supports various network protocols by default, including WebSockets, DDP, HTTPS, and MQTT. Advanced developers can extend the gateway with new network protocols to suit their needs.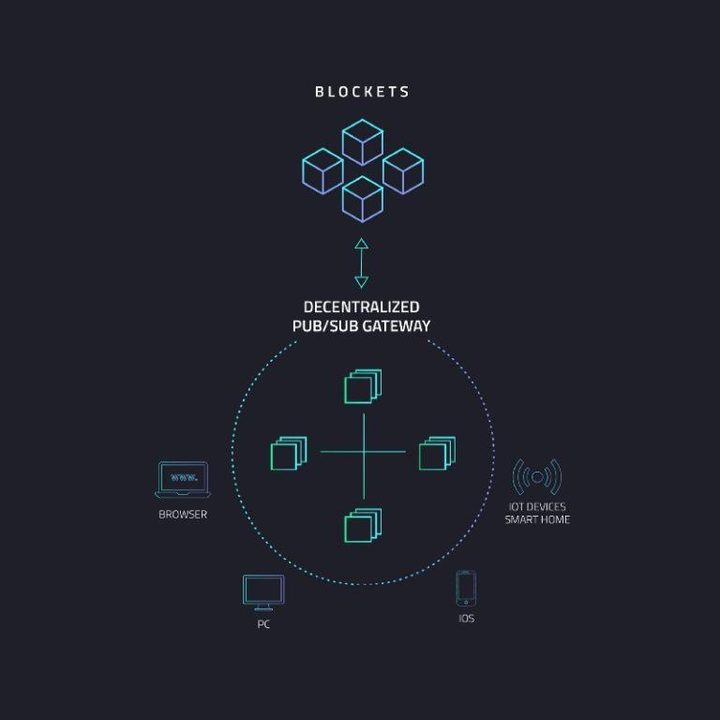 What is the value of ARCBlock (ABT)?
ArcBlock (ABT) tokens are derived from ArcBlock. To achieve high transaction performance. ABT is designed as a token that can be used in different situations. In ArcBlock, the basic utility value of ABT is to pay for the costs of using the ArcBlock system. Like a cloud service, the ABT is a utility token for paying costs associated with usage.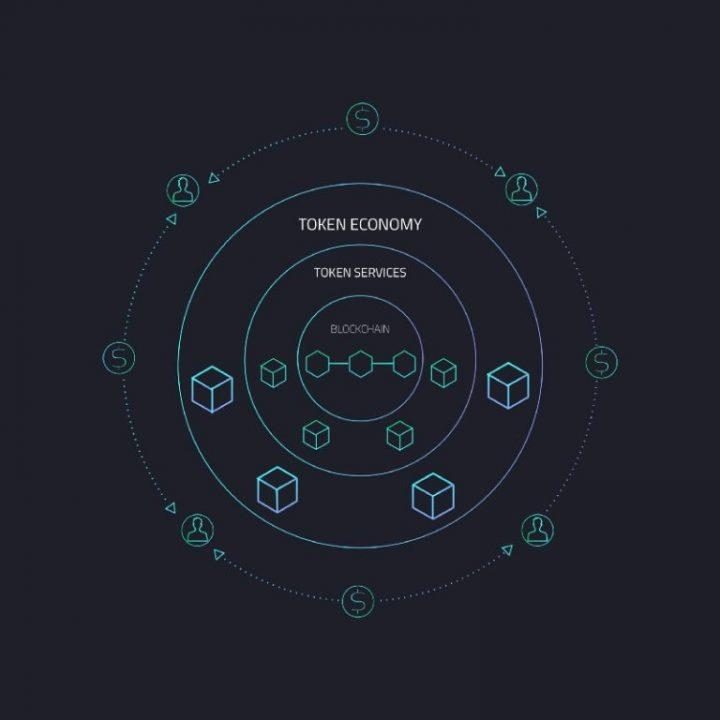 With ArcBlock, developers can also create their own custom tokens that inherit all of ABT's original features. It can replace many things, from user identities, certificates, documents to real objects. ArcBlock allows you to tokenize everything in your application. In the near future, users will be able to use ABT as a currency to invest in ICO projects and products on the ArcBlock blockchain platform.
What is the roadmap for developing ArcBlock project?
Roadmap for 2018:
Q1 2017: Start developing early development from basic concepts like pub / sub-decentralization.
Q2 2017: Design and implementation of EZCommJS, Node.js implementation of pub / sub-decentralized port .. Test and give proof of Blocklet prototype development with Ethereum
Q3 2017: Design and deploy mobile and web applications on decentralized pub / sub-portals. Architectural design for Blocklet and Open Chain Access Protocol.
Q4 2017: Development of architecture and functions for tokens and Token Economic Services. Implementing Ethereum Adapter with Open Chain Access Protocol. Completed the prototype for the first application built on the ArcBlock platform.
Q1 2018: ICO offering event: Private sale starts from January 12, 1. Public sale is held from February 2018 to February 3, 2. All tokens sold will be distributed within within six weeks of the end of the public sale event.
Q2 2018: Launch the first consumer application built on the ArcBlock platform with development partners. Implement Hyperledger Adapter with Open Chain Access Protocol. Put ABT tokens on the exchanges
Q3 2018: Running Open Chain Access Protocol on Ethereum and Hyperledger.
Q4 2018: The entire ArcBlock platform is ready for customers and partners.
Q1 2019: Widely implemented with many partners and developers.
Roadmap within 5 years:
2018:
Launch the first decentralized applications built on ArcBlock
Start the Open Chain Access Protocol and reference implementation for the main blockchains (Ethereum, Hyperledger, ..).
Expand cloud computing support for ArcBlock platform, targeting support for all cloud platforms including AWS, Windows Azure, Google Computing Engine, Aliyun, Tencent Yun ... ArcBlock is heading to the platform Independent, universal and decentralized cloud platform application.
2019:
Public debut and widespread in public.
First Developer Conference for ArcBlock developers and partners.
Launch support and Building Blocklet for digital media, publishing and knowledge sharing.
Design and implement support for IoT blockchain applications. (Support for MQTT protocols and AWS IOS services. Consider supporting IOTA as a buffer layer below.)
Build decentralized markets for ArcBlock's distributed applications and their tokens.
2020:
Public launch for IoT smart home and smart city app support.
Contribute Open Protocol Access Protocol and related technology to the open source community (via Linux Foundation, Hyperledger Foundation or similar organization) to increase acceptance and position ArcBlock as an open access standard. Expand cloud computing support for ArcBlock platform, targeting support for all cloud platforms including AWS, Windows Azure, Google Computing Engine, Aliyun, Tencent Yun ... ArcBlock is heading to the platform Independent, universal and decentralized cloud platform application
Year 2021
Capturing the latent trend prevents protocols from being applied at the operating system (operating system) level by providing support for the ArcBlock platform operating system platform.
Building a new token system and operating system with ArcBlock partners and developers for a truly decentralized, autonomous business environment.
Year 2022
ArcBlock becomes an open, basic service of new programming society, supporting DAO / DAC and their services / applications.
How is the ArcBlock ABT token distributed?
45% ABT Token: Sold in pre-sale and public ICO
32% ABT Token: Rewards for the community
15% ABT Token: For the development team
8% ABT Token: Support Marketing and partners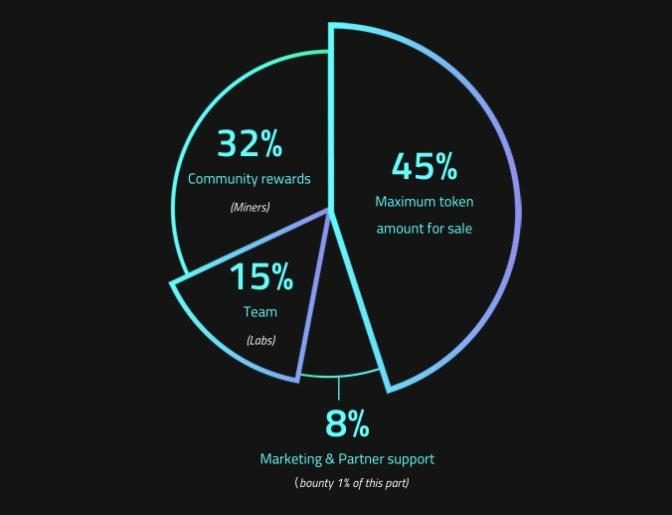 ArcBlock project development team
Robert Mao - Founder and CEO of ArcBlock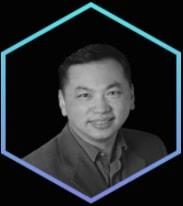 Graduated from University of Southeast Asia. Prior to that, he worked as a Microsoft software engineer at Microsoft's FUSE lab (USA) and had a deep understanding of Blockchain technology.
One of the most famous people in America. As one of the pioneers in creating 3 technology companies including:
UUZONE Social networking was born earlier than Facebook, initially operating in the United States during the concept of a very new social network that has attracted 3 million users.
LOCQL the company leads the SXSW 2012 Moblie App Hackathon Discover team competition led by Mr. Mao; Pixo Mobile (Adobe is inspired by the PixoMobile model).
Wide Web Consortium Premium member, predecessor of domestic SNS site.
Flavien Chalon - CO-Founder - Co-founder of Arcblock
Doctor of Technology, University of Lyon, France. A former Microsoft Europe employee with 8 years of position as a software engineer, author of books, ...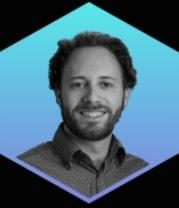 Founder of Coinprism, creator of Colored Coins (ETH originally ran on Colored Coins)
Co-founder of Trezeo / CTO (the champion of Investors Day contest held this year in cooperation with Irish Bank. Recently, the company also won the Payments Dragons'Den Contest for Payments at PayExpo) Europe.
The author of the Open Assets Protocol, which allows organizations to securely distribute and exchange real assets, such as commodities, securities, currencies and smart assets on the Blockchain. like Bitcoin and are now being used by Nasdaq, Cousins, Kurt and other large organizations.
Jean chen - Vice President of Marketing and PR of Arcblock
Senior communications specialist in Startups, Technology and Business. He is also a Chinese businessman (Vice President of Cyzone).
Joe Wallin - Business legal consultancy for ArcBlock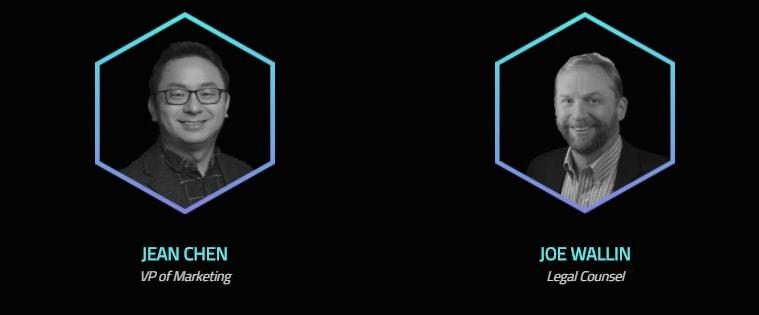 ArcBlock There is also a project support advisory team including:
Ding Lei: Founder and CEO of Netease (NTES)
Salman Dhanani: Co-founder & Co-chairman
Justin Tomboulian: VP of LiquidHub, CIO of Microsoft Japan
Mike Cartwright: CTO of DigitalTown, Expedia Vice President
Lawrence Lerner: Blockchain Realist, Digital Strategist
Jiaxi Lin: Founder and CEO, Guojin Angel Foundation
Huishen Cui: Founder and CEO, Roaming Investments
Maggie Wu: CEO and co-founder of Krypital Group
Violin Wang: COO & Co-Founder of Krypital Group, Advisor of Cybermiles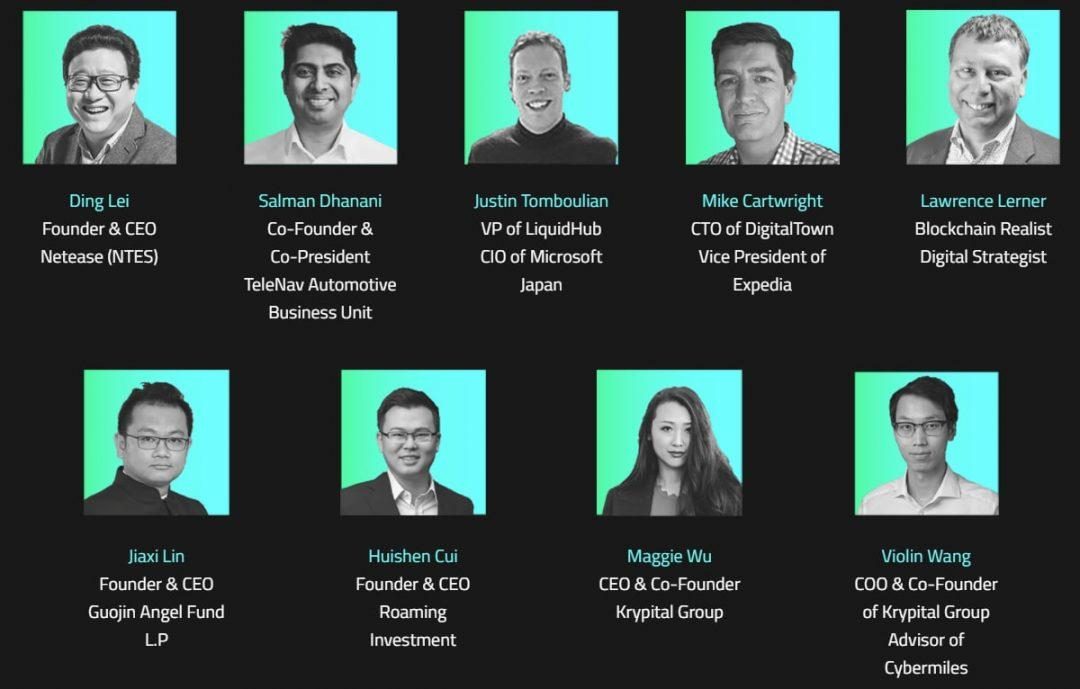 Media and advertising partners for Arcblock include the following typical faces:
See more information about the ArcBlock project
Guide to investing in ArcBlock ICO project by buying ABT Token
The first thing you need to do to participate in the ICO project of ArcBlock is to prepare an Ethereum wallet (ETH) that supports ERC20 Token and of course ETH to buy tokens. With ETH wallets, you can use MyEtherWallet (MEW) or ImToken (mobile wallet). As for ETH, if you do not have it, go to Vicuta or Remitano to buy it. See instructions for creating MEW wallets and buying ETH below:
note: Absolutely not use the ETH wallet of the exchange or Blockchain wallet, Coinbase to buy tokens, only use wallets that support ERC20 tokens as MyEtherwallet or ImToken Come on, you will lose all ETH if you use the exchange's wallet.
In the 2 above instructions to buy ETH you pay attention in the section "How to buy Ethereum ..."Will have a place to enter"Your ETH wallet address"Then you can enter the address of MyEtherWallet or Imtoken in your wallet address.
Guide to account registration and identity verification (KYC) with Arc Block
Once you have the ETH and the ETH wallet, you continue Register an ArcBlock account and proceed Identity verification aka KYC by sending your personal information to them, then waiting about 3 days for them to review the information, if successful then you can join the ICO. Here are instructions:
First you prepare yourself the following 2 photos:
Photo 1: Take a photo of the people's identity card or passport
Photo 2: Take a selfie with your face
Step 1: You access here www.arcblock.io and click on "SIGN UP".

Step 2: Enter the new account registration information:
Enter Email: Your registered email
Password: Your password
XAC Nhan Mat Khau: Retype the password above
Check on "I'm not a robot"
Finally click on "CREATE ACCOUNT"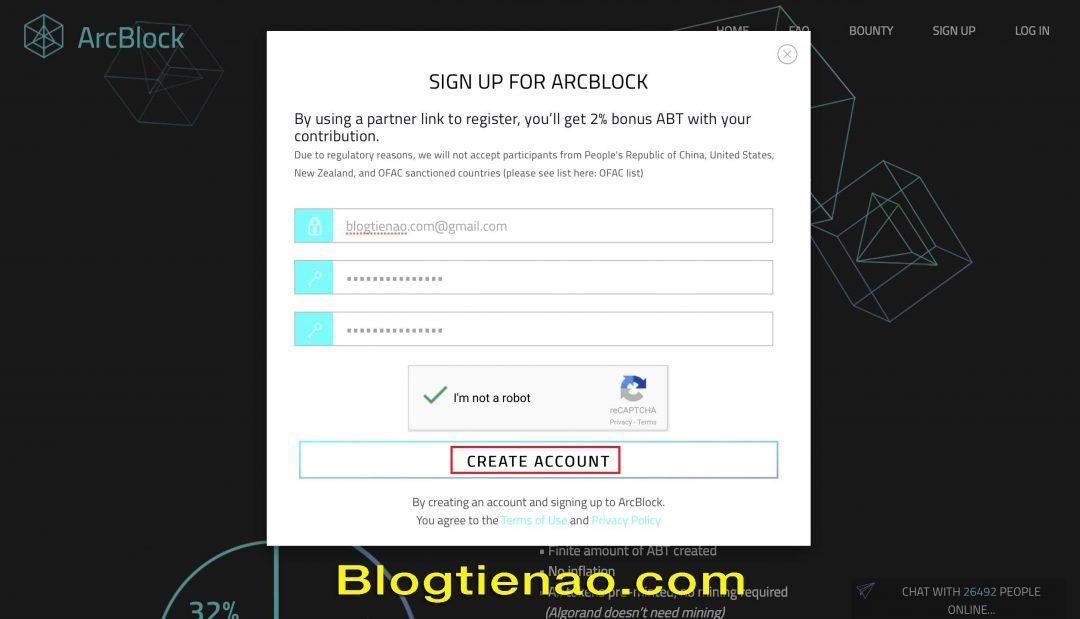 Step 3: Soon after, the system of Arc Block will send you an email to activate your account, go to your email and navigate to the email shown below, then click on "Click here to confirm your email address".
note: ArcBlock will send 2 emails immediately, you have to find the correct email as shown below.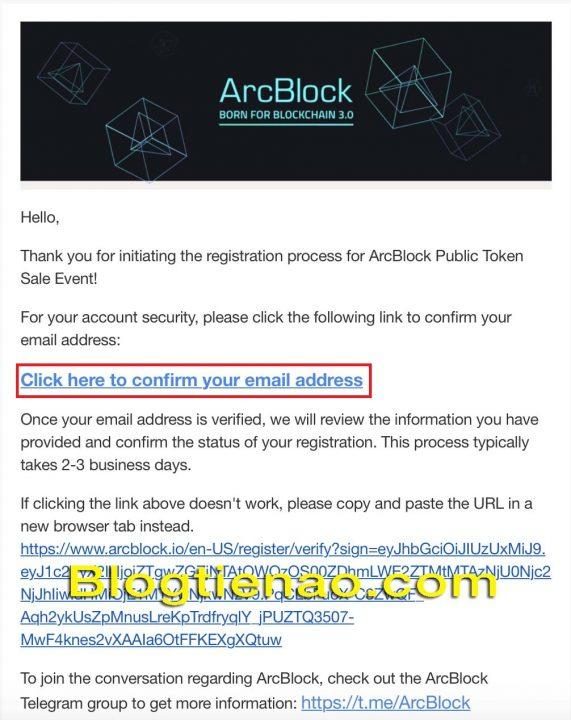 Step 4: After activating your account, ArcBlock will automatically log in for you and they ask you to submit your KYC information as below, click on "GET VERIFIED NOW BY SUBMITTING YOUR INFO".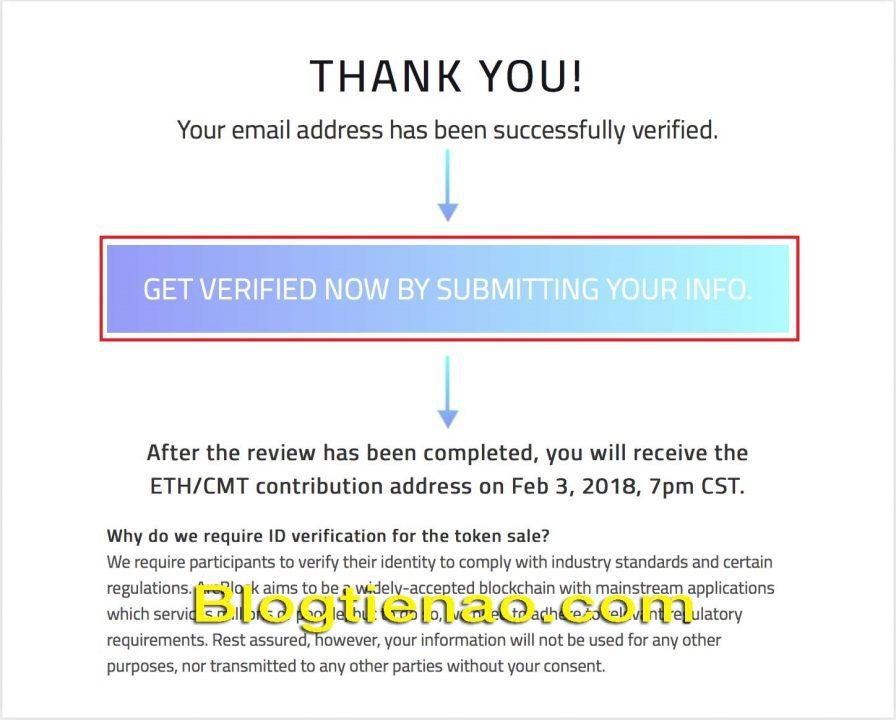 Step 5: Here you fill in the following information:
Nationality: Select "Vietnam"
First Name: Last Name (Must be the same as ID Card or Passport)
Last NameName (Must be the same in ID card or Passport)
Ethereum Address: The Ethereum wallet address that supports the ERC20 token created above (This wallet you will use to send ETH or CMT to them to buy tokens and will also be used to receive ABT Token)
Government ID: Select "Passport"
Passport Number: Enter your identity card number or passport
Passport Scan: Click "Choose file" and then upload the front photo of your ID card or passport, then a confirmation message will appear, click "OK"
Upload Selfie: Click on "Choose file" and then upload a selfie with your face, then a message pops up, click "OK"
Finally choose "SUBMIT"To complete.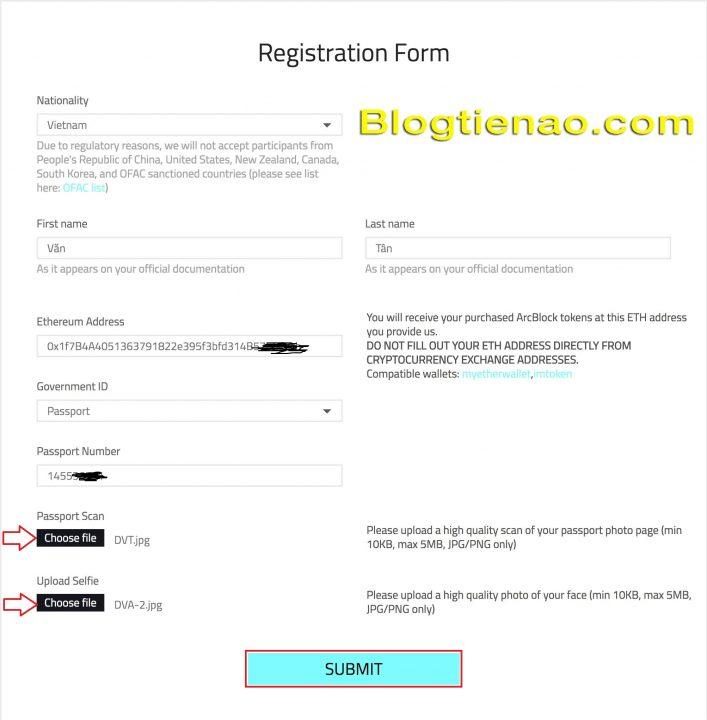 Step 6: Continue to click on "I AGREE & SUBMIT"
Ok, got it That's it, now you need to wait about 3 working days for ArcBlock to review your KYC information and they will notify you via Email, if successful you will be allowed to participate in the ICO to buy ABT Token, and if they fail, they will also email and ask you to resend KYC.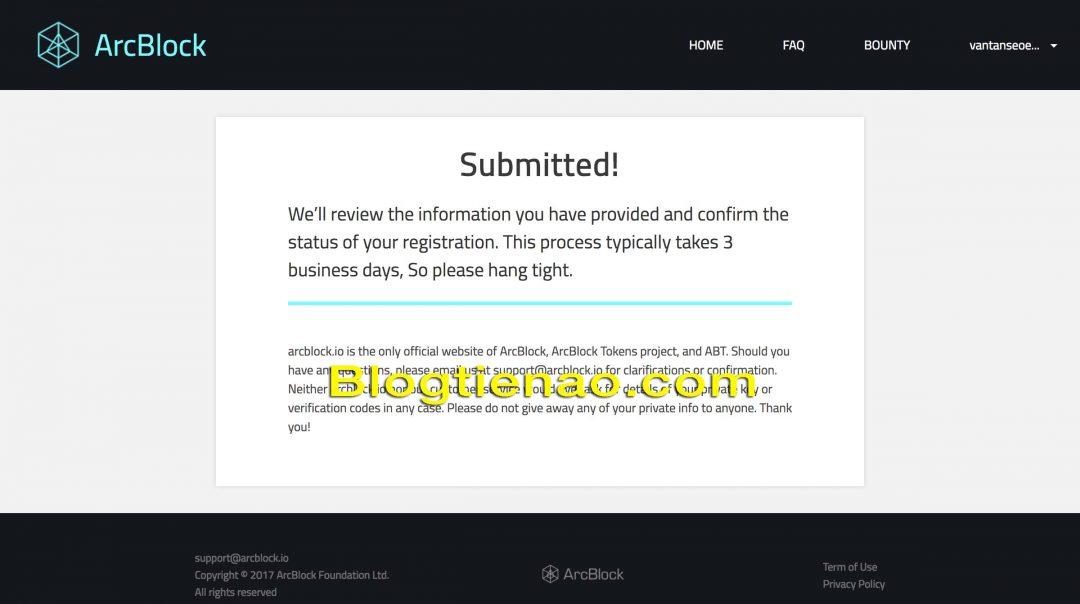 As for me, within a day, it has been reviewed and successful, ArcBlock send notification email as below is successful.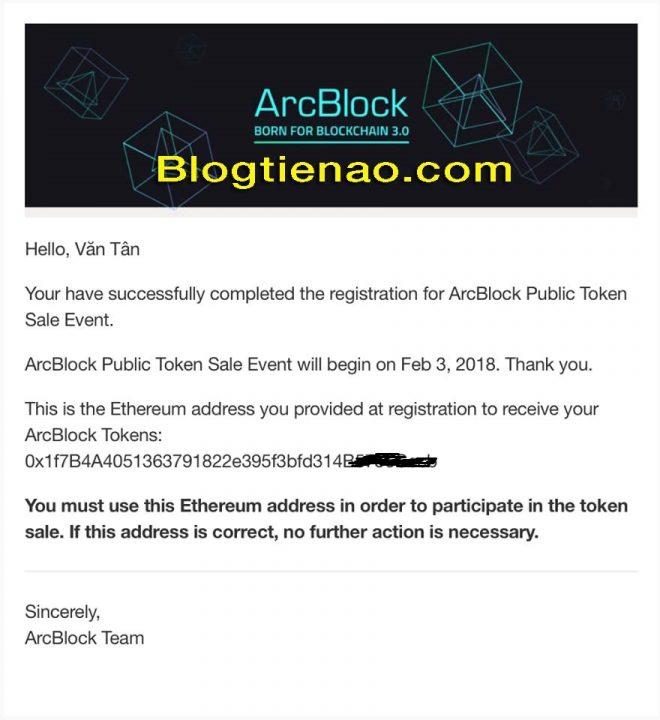 At the same time, you can access your account, then select "MY ACCOUNT" if you see "ID VERIFICATION STATUS" is "Approved"Ie successfully verified.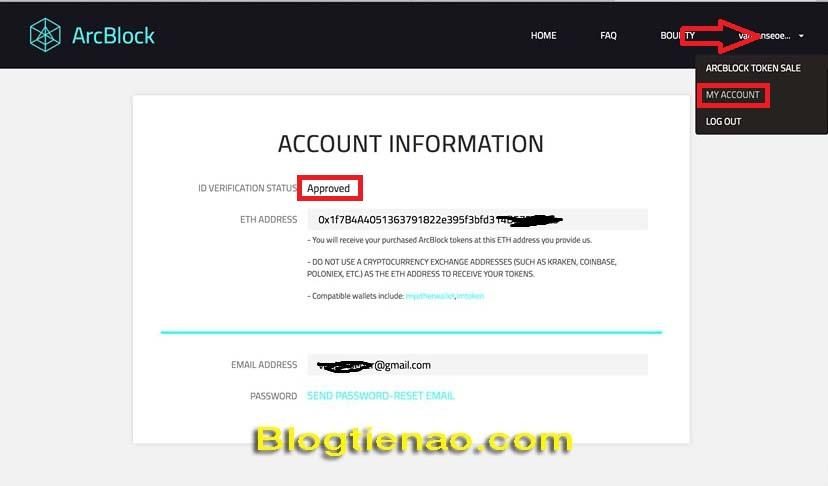 Instruction to buy ABT Token during the ICO sale of Arc Block
Currently you only need to register for an account and verify KYC, and the ICO must come 03/02 they have just opened for sale and I will update you how to buy Token as soon as you have instructions from ArcBlock. Remember to follow the channel Telegram , and Facebook Fanpage Blog of virtual money to update the fastest offline.
Conclusion
Above is the article "[ICO Review] What is ArcBlock? Potential ICO investment project to sell ABT Token in FebruaryHope to help you with more useful information and general reviews ICO project this of ArcBlock Coin. This is an extremely potential ICO project Virtual money blog Very appreciated, so you should not miss, follow the blog to update how to buy tokens.
See more: What is Credits? Potential ICO investment project to sell CS Token - Bonus 30%
Recommendation: All content in "ICO investment"Belongs to the content of the press release. Investors should be cautious before engaging in investment or taking any action in relation to the advertised company. Virtual money blog No liability is accepted for any loss or damage related to the use or belief in the content mentioned in the article.