Alien Worlds is the 19th project introduced by Binance on Binance Launchpool. People can use BNB and BUSD to farm TML in different pools.
First, let's learn about the project and the TLM coin then I will show how to farm TLM in pools.
Alien Worlds (TLM) price, marketcap, chart, and fundamentals info
Alien Worlds is an exploration and exploitation game in which players can own land, use tools and weapons, customize their avatar, own rare artifacts, ...
Players in this game world earn Trilium (TLM). Players earn TLM through mining and can spend this money on better tools and weapons. Soon after, the landowners could also distribute it NFT their own custom for players.
What's so special about Alien Worlds?
See what features the project has?
Players can use their NFT Tool to mine TLM and rent or own their land. Successful mining attempts can reward plays with TLM and sometimes additional NFT.
Users can use the Tool and Earth combination that best suits their strategy and playstyle.
Players can stake TLM for Planet DAO, which shows they favor a planet that receives more daily TLM emissions. Through staking, players also gain voting rights on Planet DAO based on the TLM staked.
They may become candidates for Councilmembers position of one or more Plans. After the election at Planet DAO, the DAOs will be opened to be governed by the elected Council Members. Those would then share control over multiple tokens over the Planet DAO accounts.
What is TLM Token?
TLM or Trilium is the native token of Alien Worlds and is used for staking the Planets and participating in core games.
Basic information
Ticker
TLM
Contract

TLM (

ERC-20

); TLM (

BEP-20

); TLM (

WAX

)

Token Standard
ERC-20, BEP-20, WAX
Token type
Governance, Unility
Total Supply
10,000,000,000 TLM
Initial Circulating Supply

1,240,473,079 TLM
Token allocation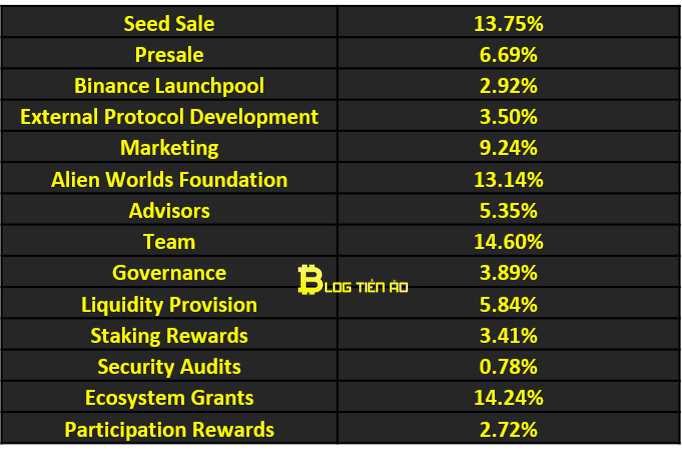 Token issuance schedule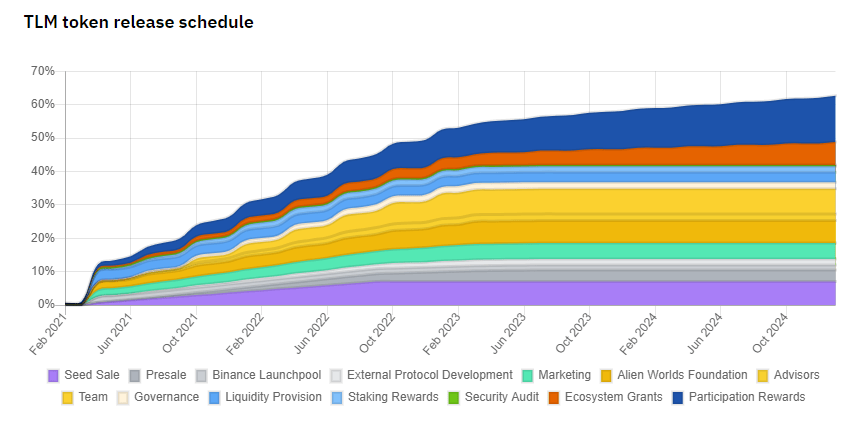 TLM Token Sale
Seed Sale Allocation: 706,190,476 TLM
Seed Sale Token Price: 0.0021 USD / TLM
Seed Sale Amount Raised: 1,483,000 USD
Presale Allocation: 343,333,333 TLM
Presale Token Price: 0.0030 USD / TLM
Presale Amount Raised: $ 1,030,000
What is TLM used for?
Planet Administration: TLM holders can engage TLM in the management of planets and other potential rewards.
Staking: A player can stake TLM on a chosen planet to participate in TLM and NFT mining.
In-Game Currency: TLM is the currency in Alien Worlds, where players require TLM to purchase and upgrade items, participate in quests and battles, and other game-related activities. .
Incentives for game play: Active users can earn TLM as a participation reward for ecosystem development and in-game activity.
Buy NFT: Players can purchase minted in-game items in the form of NFT, to mine TLM, participate in battles, and complete in-game quests.
What floor is TLM traded?
It is traded on alcor exchange, however notification suspend transaction. If you want to invest, then wait for it to binance and review it for convenience.
Binance will list TLM in the renewal zone on April 13, 04 at 2021:13 (Vietnam time) and open trading with TLM / BTC, TLM / BUSD and TLM / USDT pairs.
In which wallet to store TLM?
It is quite easy to find a suitable wallet for example: Trustwallet, Ledger Nano X, MyEtherWallet, Dappradar, Coin98 Wallet, ... Or you can store it directly on an exchange, where you bought that token. Remember to turn on full security.
Alien Worlds (TLM) on Binance Launchpool
Basic information
Token Name: Alien Worlds (TLM)

Maximum token supply: 10,000,000,000 TLM

Launchpool token rewards: 150,000,000 TLM

Initial Circulating Supply: 1,240,473,079 TLM

Staking Terms: There is no upper limit. No KYC required

Farming time: 07: 00h April 07, 04 to 2021: 07h on May 00, 07 (VN time)

Deposit and withdrawal of TLM on the WAX ​​blockchain will not be supported on Binance
The pools are supported to farm TLM
Distribute daily TLM in pools
There are 2 periods and the total daily TLM reward will be different and also different in each pool. Details are as follows:
From 07: 00h on 07/04/2021 to 07: 00h on March 13, 04
Daily reward: 12,500,000 TLM
Distribution in pools: BNB (10,000,000 TLM), BUSD (2,500,000 TLM)
From 07: 00h on 13/04/2021 to 07: 00h on March 07, 05
Daily reward: 3,125,000 TLM
Distribution in pools: BNB (2,500,000 TLM), BUSD (625,000 TLM)
Guide to staking BNB, BUSD receive TLM
Step 1: If not, register for a Binance account: https://blogtienao.com/go/binance
Step 2: Have 1 of the tokens ready: BNB, BUSD.
Step 3: Access: https://launchpad.binance.com then select "Stake now"With the pool you want (when the pool is open, the view details will change to stake now):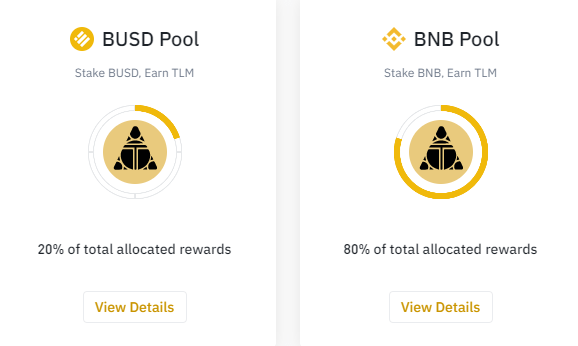 Step 4: For example, you use BNB, then click "Stake"And enter the amount of BNB you want to send to the pool.
Potential Assessment of Alien Worlds (TLM)
Investor
Alien Worlds announced that it has successfully raised $ 2.5 million in its private token sale round.
Newspaper investors include Animoca Brands, developer of The Sandbox and F1 DeltaTime, Longling Capital, the company that created China's Meitu app, 3Commas, and Digital Assets Group.
Partnership
Partners of the project include: MoonWhale Ventures, OneBlock Capital,….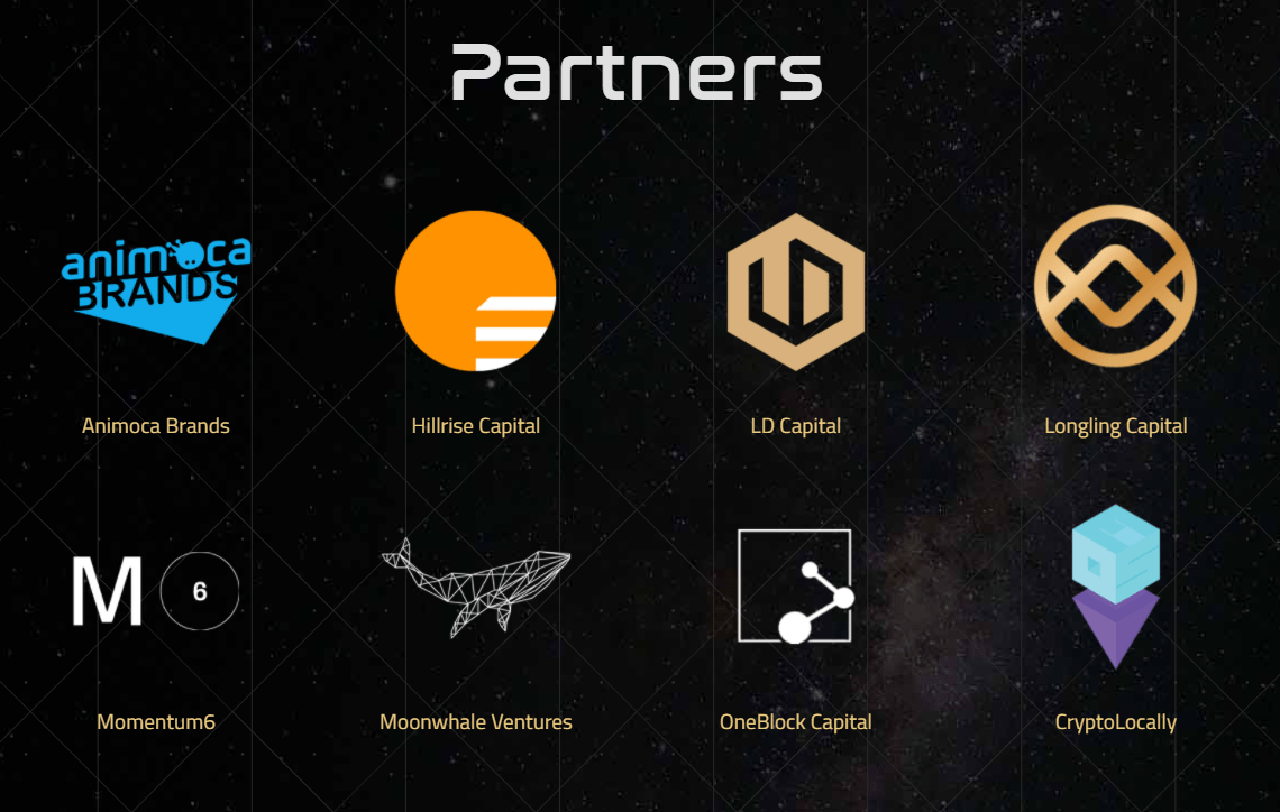 Alien Worlds Community Development Strategy
Support for active Alien Worlds Telegram and Discord channels, allowing new users to learn about the game and experienced users connecting with each other.
Sponsor discounts and promotions to increase users' daily activity.
Create a vehicle for the Alien Worlds community to continue to expand the metaverse, through technical and non-technical features.
Conduct an AMA regularly to reach out to the broader cryptocurrency community.
Roadmap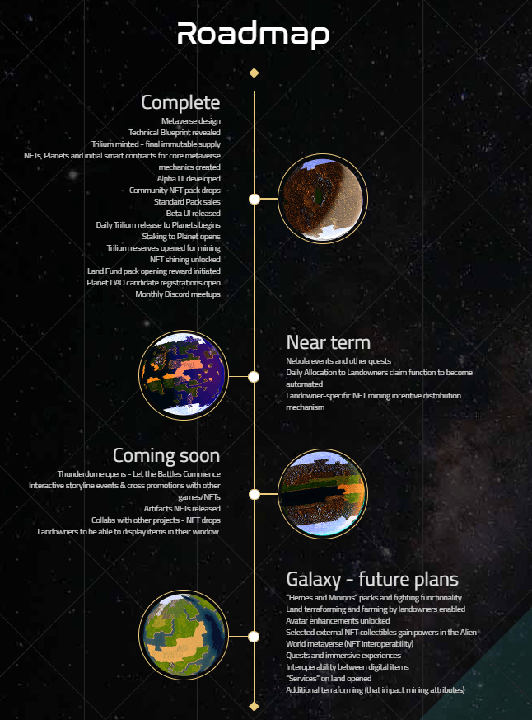 Should you invest in TLM?
Alien Worlds, is one of the few titles at the forefront of NFT monetization in the game for players. What they use to increase their power in the game with staking and voting in Planet DAOs.
Both the planet and sellers are competing for TLM, leading to fierce competition and cooperation between the groups. And you realize how this project is. Follow the project on the following channels: