There is a growing demand for online payments, making it possible for people to pay for Internet expenses, send money and receive money quickly. And the form of payment is extremely simple, fast, easy to use as well as saves both time and money. That has led to more and more electronic wallets being created.
Today, the virtual money blog will join you to learn about a popular electronic wallet that is Air Pay. So What is Air Pay? It has something outstanding compared to other electronic wallets like VTC Pay, Viettel Pay, Zalo Pay or Samsung Pay is not? Subscribe to the article below!
What is Air Pay?
AirPay is an electronic wallet of Vietnam Electronic Sports Development Joint Stock Company (Vietnam Esport - VED) affiliated with a number of banks such as Vietcombank, Vietinbank, and licensed by the State Bank of Vietnam under the License No. 29 / GP-NHNN, signed on December 16, 12 on providing intermediary payment services.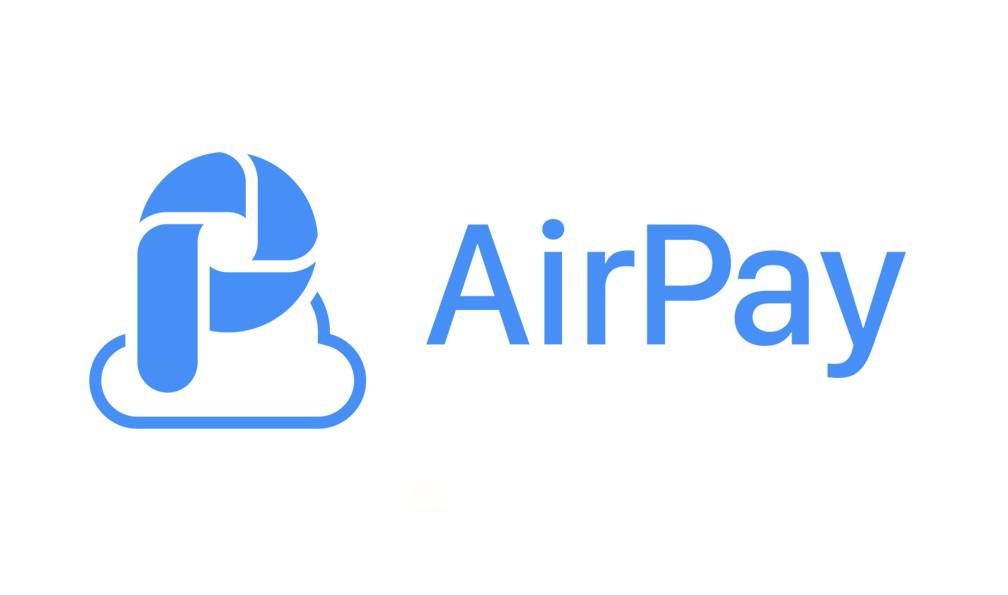 AirPay e-wallet is a mobile application that allows users to use money in their wallets to purchase goods (phone cards, entertainment cards ...), or pay services and invoices. Besides, AirPay wallet users will enjoy different discount rates depending on the support services in the wallet.
Besides, when using AirPay e-wallet, users also provide top-up cards for many other online services such as watching high-quality movies, online learning, ... with attractive discounts.
The features of Airpay electronic wallet
Buy a game card
AirPay on Android operating system provides Garena Scallop service, Cash (FIFA Online 3 game) directly and buys popular game card codes on the market today such as VTC, Gate, SCoin, BIT, Megacard, OneWorld, ... In addition, AirPay also offers top-up cards for many other online services such as watching high quality movies, studying online, etc. with attractive discounts.
Recharge the phone
AirPay provides direct mobile recharge services for MobiFone, VinaPhone, Vietnamobile and Gmobile subscribers; Buy phone card codes all networks.
Pay the bill
AirPay supports payment of living bills such as electricity when it is connected to electricity in 25 provinces of Hanoi, Da Nang, Hue, Khanh Hoa, Ho Chi Minh, Binh Duong, Can Tho, Dong Nai ...; Gia Dinh, Tan Hoa, Nha Be, Soc Trang and Dong Thap countries; or VTVcab television, Internet, mobile postpaid carriers, landline ... quickly and safely. With this service, you can use it anytime and anywhere.
Mobile money transfer
AirPay provides safe, fast and simple money transfer - receive service on mobile devices completely free.
Buy and sell online
AirPay helps you buy movie tickets, buy car tickets, buy air tickets quickly. In addition, you can order and pay DeliveryNow ...
Withdraw money from your AirPay Wallet account to your bank account / card
AirPay e-wallet linked to the following bank accounts / cards: Vietcombank, Vietinbank, BIDV, Sacombank, Eximbank.
Instructions for installing AirPay
Currently, AirPay e-wallet is supporting two Android operating systems (from 4.1 and up) and iOS (from 8.0 and above), to install Air Pay you can:
- Access the CH Play app for Android or the App Store for iOS; Then search by keyword "AirPay" and download the AirPay e-wallet to your mobile device.
- Or you can download directly at the following link:
iOS: https://itunes.apple.com/VN/app/id1032301823
+ Android: https://play.google.com/store/apps/details?id=com.beeasy.toppay
Instruction to register for Air Pay e-wallet
After downloading the above Air Pay application, please do the following:
- Step 1: Select Register.
- Step 2: Enter the phone number you want to register.
- Step 3: Enter the verification code sent via SMS to the phone number you just registered is done.
Instruction to top up AirPay wallet
There are currently ways to top up AirPay wallets as follows
- Recharge directly at the system of AirPay agents nationwide.
- Direct deposit at Vietcombank, Eximbank, Sacombank ...
- Recharge via Electronic Banking (Internet Banking).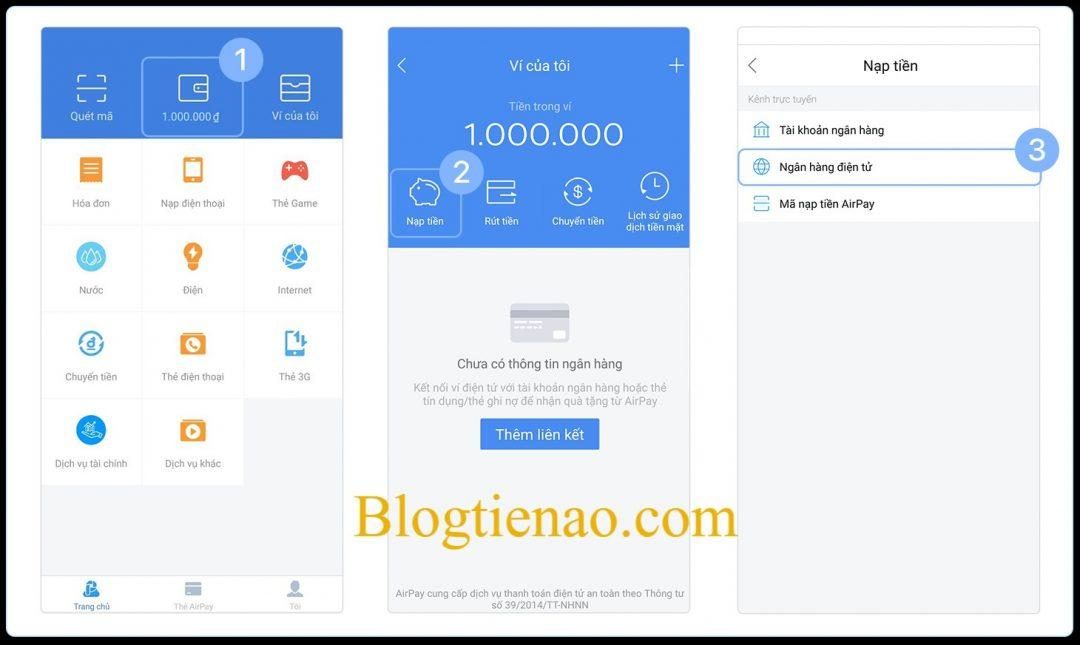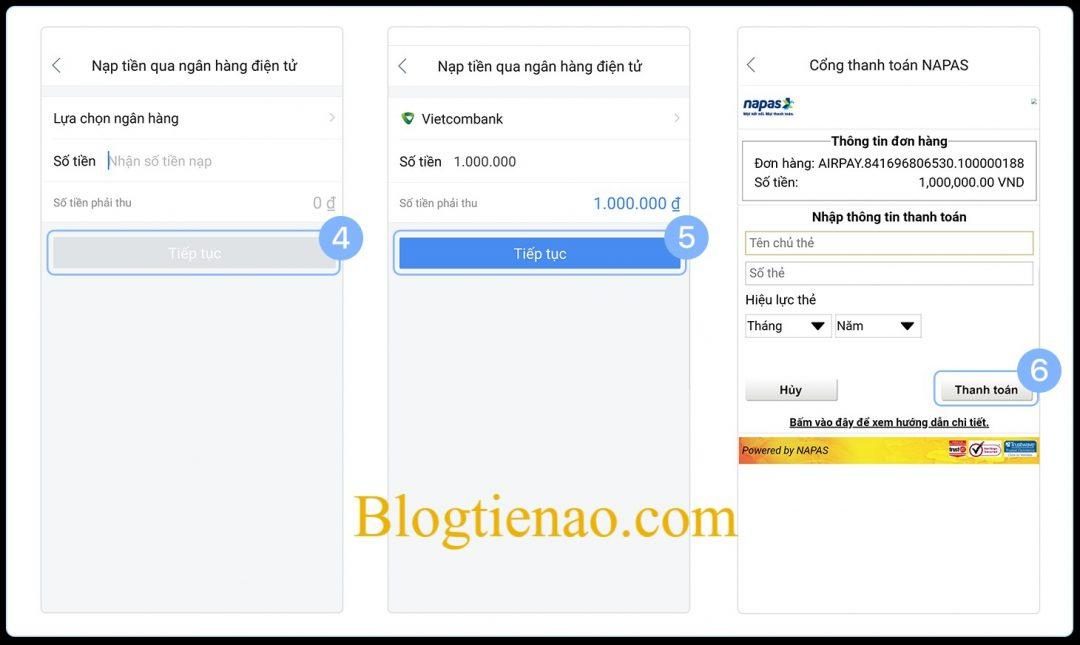 In addition, customers can link VISA, MasterCard, JCB credit / debit cards to AirPay wallet to diversify payment methods.
You can refer to the support services for each Air Pay bank in the following table:
Name
Link card / account
Top up via ibanking from the App
Deposit directly from the bank
Withdrawal
Link VISA / MASTER / JCB cards
At the counter
website
About linked accounts
Vietcombank
x
x
x
x
x
Vietinbank
x
x
x
x
BIDV
x
x
x
x
Agribank
x
x
x
x
Sacombank
x
x
x
x
x
Eximbank
x
x
x
x
x
ACB
x
x
TPBank
x
x
x
x
DongABank
x
x
SeABank
x
x
ABBank
x
x
x
x
BacABank
x
x
VietCapitalBank
x
Maritime Bank
x
x
Techcombank
x
x
KienLongBank
x
x
NamABank
x
x
x
x
NCB
x
x
VPBank
x
x
HDBank
x
x
OCB
x
x
MBB
x
x
x
x
PVcomBank
x
VIB
x
x
SCB
x
x
Saigonbank
x
SHB
x
x
VietABank
x
x
BaoVietBank
x
x
VietBank
x
PGBank
x
LienVietPostBank
x
x
GPBank
x
x
OceanBank
x
x
Shinhanbank
x
Instructions for paying bills on AirPay
Instructions to pay bills manually via AirPay
Step 1: Select Invoice in the main screen
Step 2: Select the service to be paid
Step 3: Select Enter reference number
Step 4: Enter the Customer Code and make a payment.
(Depending on the service can be customer code, code, phone number ...)
Note: Any invoice that has been successfully paid on AirPay can be set up to make automatic payment for that invoice in the following periods. Detailed instructions see below.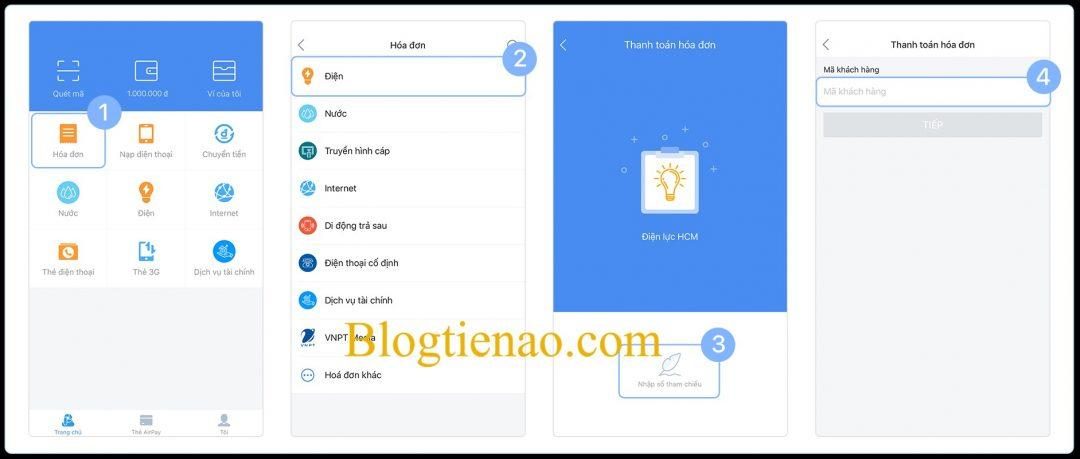 Instructions for setting up automatic bill payment via Air Pay
Step 1: At the main screen Select Me
Step 2: Select My Invoice
Step 3: Select Automatic payment
Note: If the customer has successfully paid the invoice on AirPay, the item Present will be a list of invoices that have been successfully paid, these are the bills that customers can set up automatically.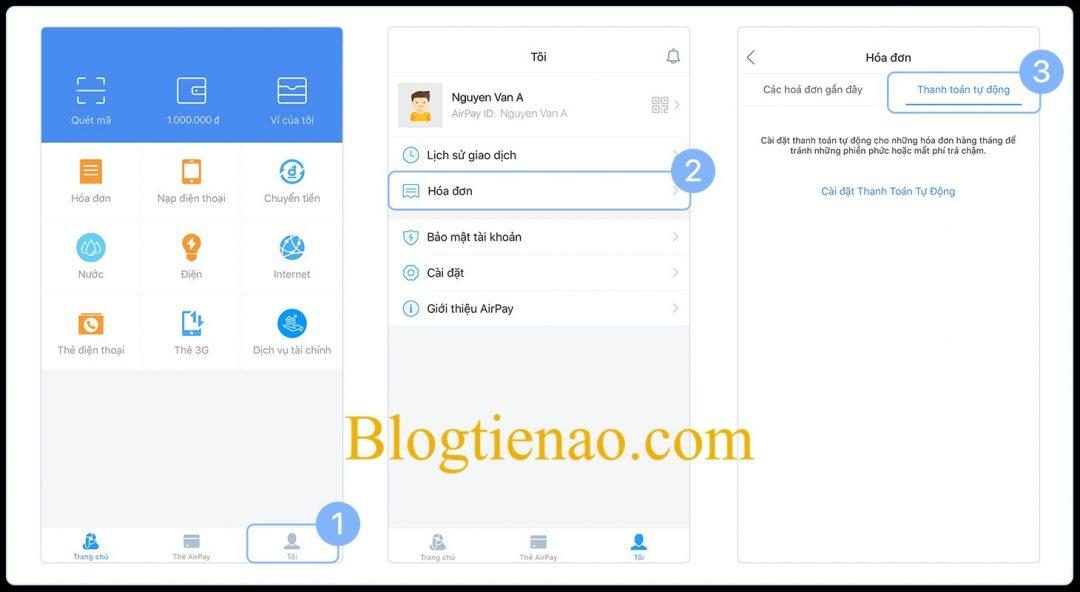 Step 4: Choose the invoice to pay automatically
Step 5: Select Cash Payment Method
Step 6: Click Confirm and enter the password to complete the setup
Note: The date the customer last paid the invoice will be selected as the automatic payment date for subsequent times. Customers must maintain a continuous balance book to ensure sufficient payment amount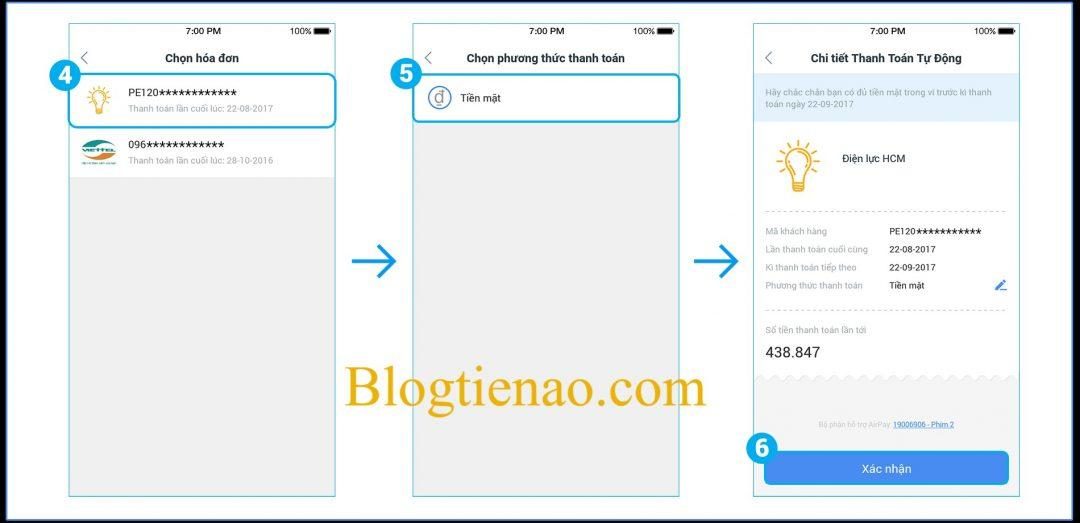 Instructions to withdraw money from AirPay to a bank account
To withdraw money from your AirPay Wallet account to your linked bank account, follow these steps:
Step 1: Customers proceed to link bank accounts to AirPay wallets. List of Banks that support the link and link instructions please see here.
Step 2: At the main screen, select the amount of Wallet, select Withdraw money to Bank account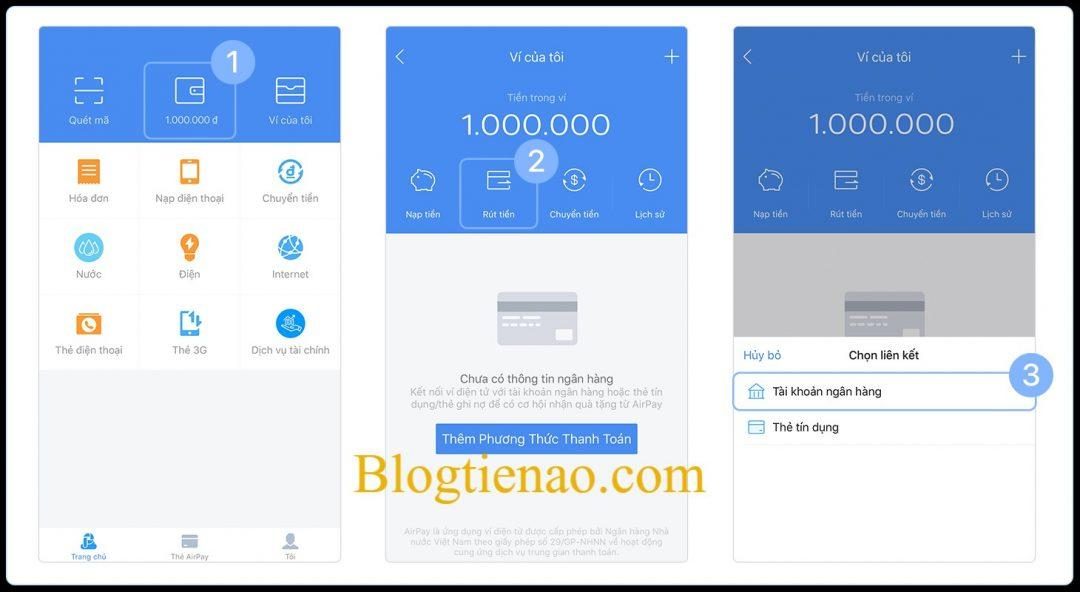 Step 3: Enter the amount to withdraw, select Bank account to withdraw
Note: The system will charge customers at this step. Service fee schedule please see below
Step 4: Click Continue, then enter the Password to order and complete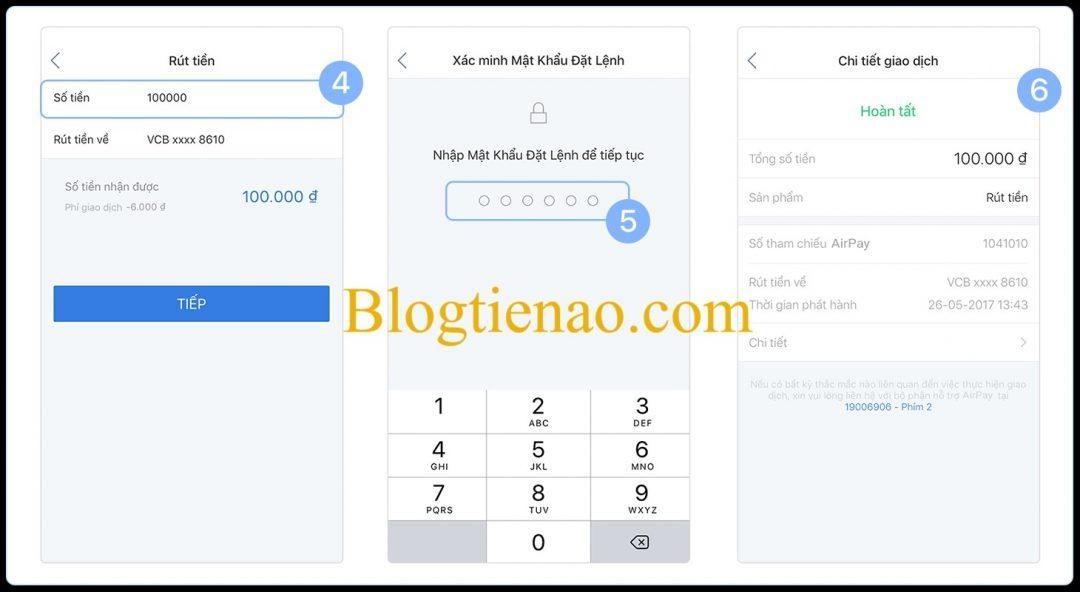 List of Air Pay fees
- Withdraw money from AirPay account
Services
Transaction value (Trading value)
Charges
Withdraw money to linked bank account / card
From 1,000 to 500,000
6,000
On 500,000
1.2% x Trading value
- Pay
| | |
| --- | --- |
| Services | Charges |
| Pay for airline tickets with associated VISA / MASTER / JCB cards | 1.6% x Trading value + 2,000 |
| Pay your bill with the associated VISA / MASTER / JCB card | 2% x Trading value + 3,000 |
- Recharge
Services
Transaction value (Trading value)
Charges
Through an AirPay agent
X
5,000
On 100,000 to 300,000
10,000
On 300,000
15,000
Conclusion
Above is the article "What is Air Pay? Instructions for registering and using Air Pay in the most detailed"Of Virtual Money Blog, hopefully through the article you can easier to register and use e-wallets Air Pay.
If you have difficulty registering, use an electronic wallet Air Pay then leave a comment below Virtual money blog Okay, we will answer you as soon as possible. And do not forget to give yourself a Like, Share and rate 5 stars below. Good luck.