Recently, exchanges like Coinall, Don't finish, BitMex , and BitForex has seen a spike in volume after coming up with a strategy known as "Transaction Mining". So Transaction Mining what? Let's find out about this Mining trading mechanism.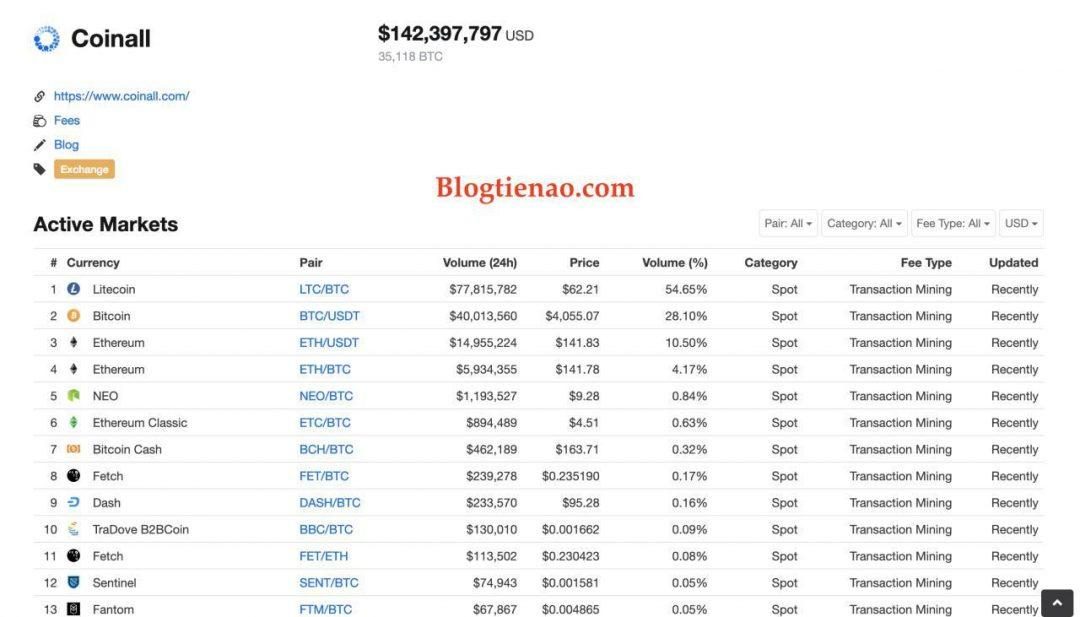 Transaction Mining On Coinmarketcap
Look at Reported Volume (volume reported) by CoinMarketCap, it is easy to note that some exchanges are achieving extraordinary results. CMC labeled the exchanges that is Transaction mining transactions in the market, and exclude their data from the price and volume statistics for the top currencies. The reason may be quite virtual, you can look through Transaction Mining on Bitmax below:

The total volume on Bitmax is more than 4,5 billion USD, while the total transaction volume of the Transaction Mining category is also nearly 4.5 billion USD, so if excluding this volume of transaction mining transactions, it is probably 24-hour volmune volume. Bitmax's is only a few tens of millions of dollars. In the introductory analysis about Bitmax, I also thought that the BTMX token would be delicious, but through this knowledge article, it may not be delicious anymore, but all will have to wait a while later to know.
What is Transaction Mining?
Transaction Mining is a simple mechanism - it rewards those who book transactions by refunding their transaction fees through new exchange tokens (tokens). The opportunity to receive new tokens to offset transaction fees has resulted in frequent volume increases. This led to a huge increase in the 24-hour volume of the exchanges. For example, Bitmax will reimburse the transaction fee using BTMX token. CoinAll repaid with CEC tokens, ...
A Market Research About Transaction Mining
The rapid development of transaction mining has led the community electronic money believe that new exchanges are performing a new, elaborate scam. The rewards on exchanges are similar to the token sale, meaning that for example, you trade BTC, you will spend a little bit of BTC fees on trading (1%), now when you trade, not only lost transaction fee (0.1%) but also received more tokens of that exchange. These are the forms that exchanges apply quite often and transform into different concepts, and transaction mining is one of those concepts.
The advantage of Transaction Mining is that it does not require KYC, anyone can increase the volume and look for trading mining rewards. It has since become a very useful tool to get attention and be able to invite real traders. In the summer of 2018, markets like BitForex showed anomalies in trading that looked like bot activity. But after a while, the volume gradually decreased and was only revived after the exchanges introduced Transaction Mining trading mining mechanism.
No one knows what the transaction will be like when the exchanges distribute their original tokens. For markets like Binance , and KuCoin, the original token has been shown to be the key to volume and liquidity, and trading mining exchanges now copy that model.
The study also noted that most of those tokens were sold at a discount, because traders were refunded more than 100% of their fees. So I recommend traders should be careful because in such exchanges, the liquidity will be very low, once there are large fluctuations, it will be difficult to escape or when it will lose a lot of money because of that low liquidity.
If you have any questions, please leave them below the comment section Virtual money blog, we will respond to you as soon as possible. And do not forget to give yourself a Like, Share and rate 5 stars below. Good luck.
Like fanpage Facebook of Virtual Money Blog
Join the channel Telegram of Virtual Money Blog
Participation GROUP Discuss news of Virtual Money Blog