What is Trust Wallet?
Trust wallet is a decentralized cryptocurrency storage wallet. You can use it on mobile devices and control 100% private key.
In addition to using the Trust wallet to send, receive and store cryptocurrency assets. You can also use the dApp browser to access hundreds of dApps (decentralized applications), Staking.
Trust Wallet is also part of the ecosystem Binance. It is the original wallet above Binance DEX allows users to trade cryptocurrencies directly on the platform while still having complete control over their assets.
Review of Trust Wallet
This is a versatile electronic wallet application. You can securely store your favorite cryptocurrencies on your Android and Apple devices with the Trust Wallet mobile wallet app.
With an average user rating of 4,7 / 5.0, you can feel confident that your digital assets have the highest level of privacy and reliability when sent, received or simply given. storage.
Which Coins Does Wallet Support?
With Thousands of Coin / Token supported. Their multicoin wallet application supports all major blockchains in the Ethereum ecosystem and works with all ERC20, ERC721 and ERC223 tokens, while also offering insurance as a bitcoin wallet and can include a variety of currencies. other.
The Trust Wallet development team continues to add support for more cryptocurrencies every month, so be sure to check for updates.
The main support list includes very popular coins such as: Bitcoin, Ethereum, Ripple, Tron, Litecoin, Bitcoin Cash,…Especially Binance Coin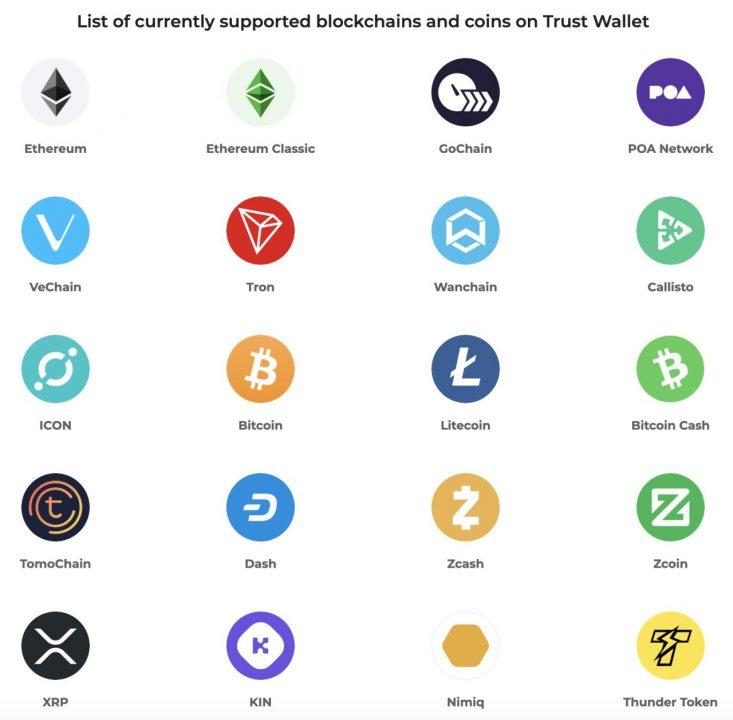 Outstanding Advantages Of Trust Wallet
Trade At Anywhere: You can take full control and control of your money while experiencing trading on Binance DEX anywhere.
Easy Trading On PC: Trust Wallet's WalletConnect function makes it easy to trade on your PC, Laptop when interacting with Binance Dex.
As mentioned above, supports 1000+ Coin and will update more.
Covered by Binance if in case of force majeure is hacked due to the fault of the wallet and not from you.
Instructions on how to create a Trust Wallet
Download the Trust Wallet application
The first thing is to Download the app Trust wallet on Google Play or iOS App store.
The application is in Vietnamese so the installation process is quite simple. You just need to follow the steps they guide.
Once downloaded, turn on the application and press the button Create a new wallet.
If you already have a wallet, then select the line below, to recover your wallet.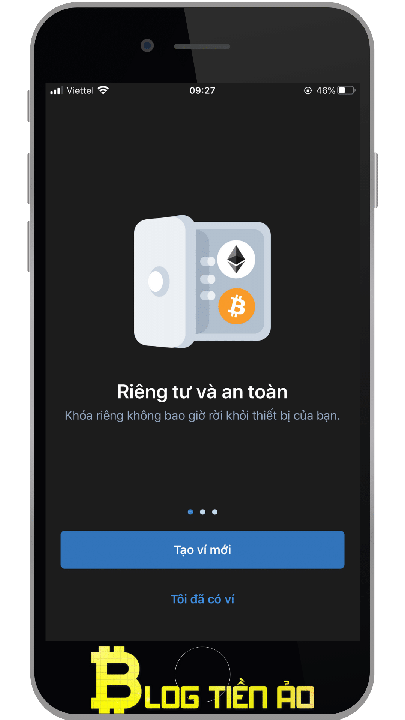 Backup wallet
This is an important step. It will help you secure and restore your wallet on another phone if needed.
So pay attention to this step!
To backup, select the line "I understand .... my wallet "then pressed the button Continue.
At this step you will be provided with a 12-word wallet recovery phrase. You save these 12 words in order.
The safest way is to write it down for offline storage, not screen capture for security reasons.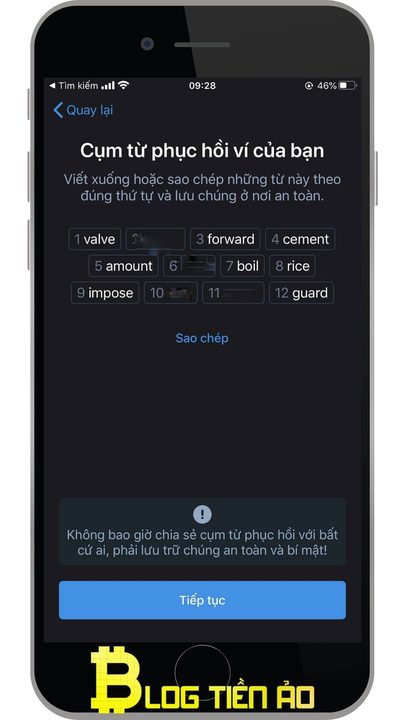 Next, you verify the wallet recovery phrase. You enter the correct 12 words bouncing in order and then press the button Tiếp theo.
If you enter the wrong order then you must enter it again.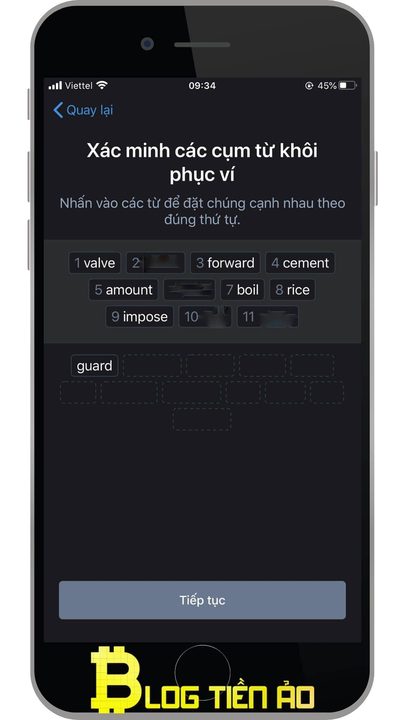 So that's it then. After creating you will be able to access the interface of the trust wallet as shown below.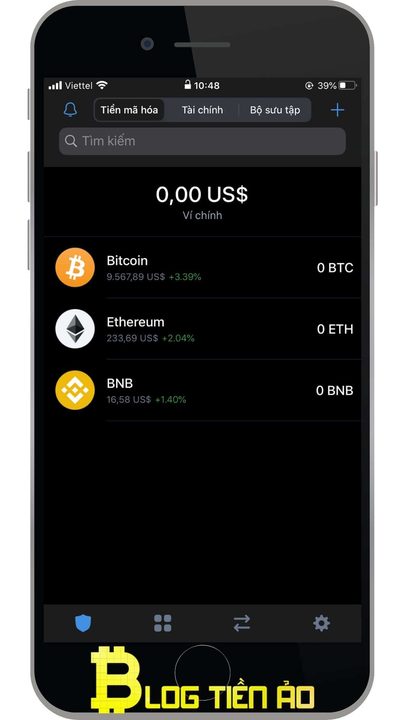 Next, we will go through the wallet use section.
Instructions on how to use Trust Wallet
Add coins to send and receive
By default, the wallet only displays 3 coins: Bitcoin, Ethereum and BNB. To display additional, then click on the sign + in the top right corner.
Enter the name of the coin you want to add to the search box, click Finish.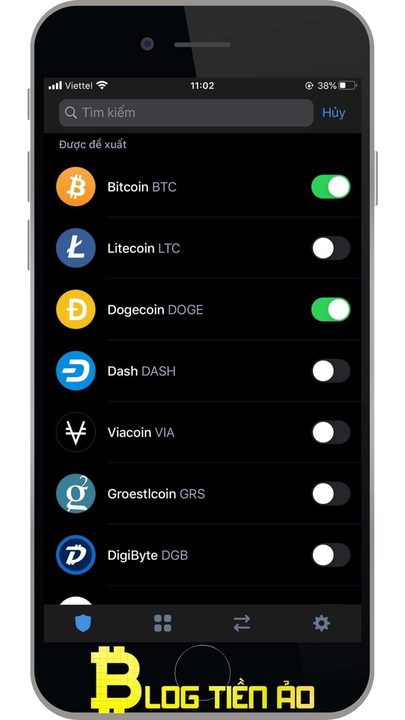 Send and receive coins on Trust wallets
To send and receive coins (cryptocurrencies) on a wallet, you get on its icon. This icon appears when you have added it in the previous step.
The following example is his BTC offline.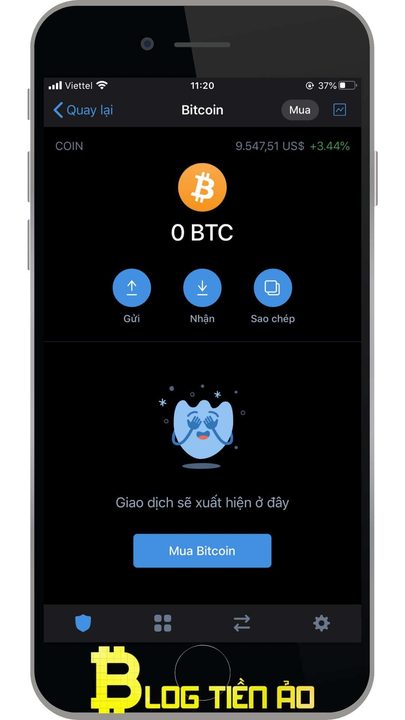 Click the button Gui if you want to withdraw bitcoin or send it to another bitcoin address.
Click the button Take to get your Bitcoin (QR Code) address.
Click the button Copy to quickly copy your Bitcoin address.
Other cryptocurrencies are similar, everyone.
Staking on the Trust Wallet
To Staking on Trust Wallet you go to section Finance in the upper corner of the screen. Next, select the coin you want to Staking.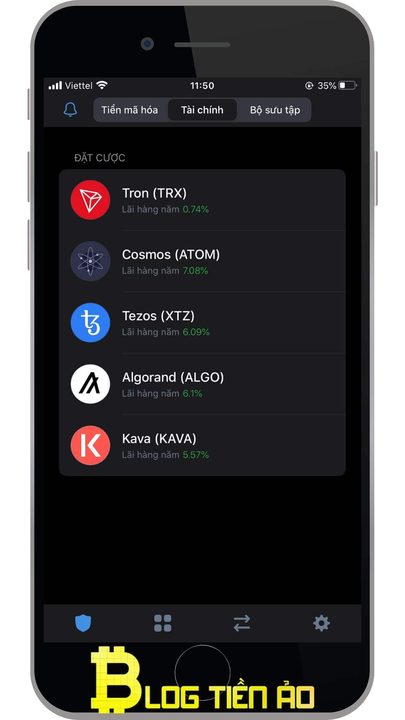 For example, here I choose Cosmos (ATOM) as a model.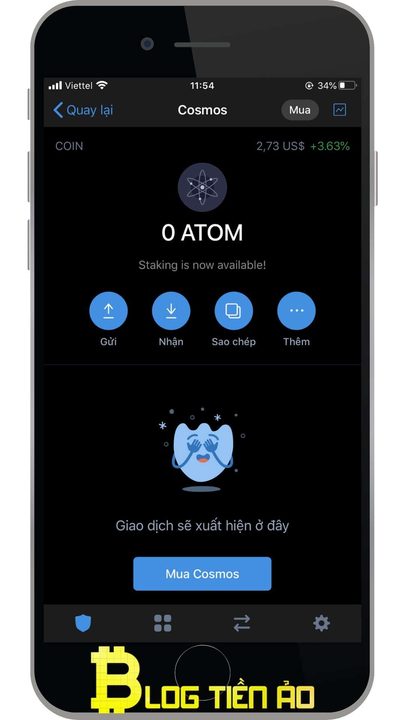 You press the button More The menu will then display: Stake Details, Stake and Unstake and Claim rewards. Choose Stake to start Stake ATOM.
Stake Details: Information about interest and lock time, .. of your co staking
Stake: Department transfers money to stake
Unstake: Stopped stake
Claim rewards: Get rewarded from staking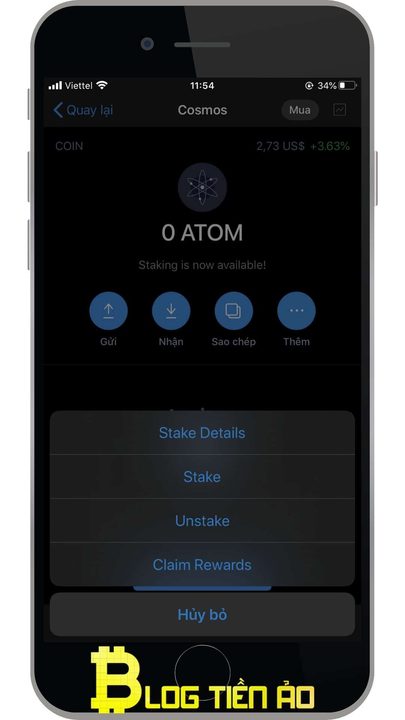 Next, enter the number you want to stake and select the validators to proceed with the stake.
The default validator is the most profitable. You can choose other validators if you want. You press the button Tiếp theo to the next step dentist.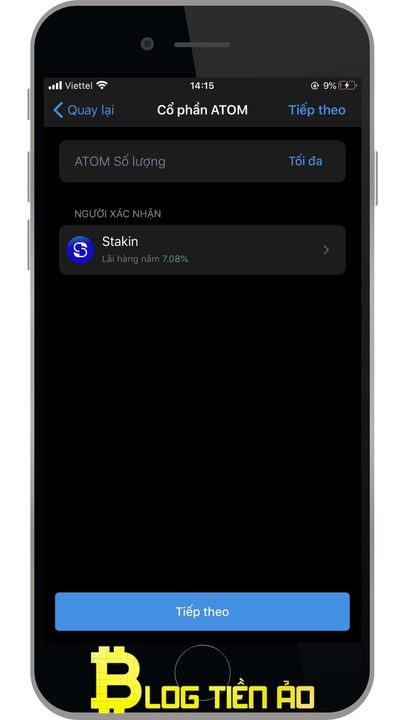 Finally, just confirm and press the button Gui is done. Because I don't have enough ATOM, I can't do it.
Note:
Once the stake has been started, you cannot transfer it during the lockout period. The coins will be frozen for each coin such as Tron for 3 days, ATOM for 21 days.
After the lockout period, you will receive a Staking reward
If you want to continue staking, just leave it there and get a reward if you want to stop Unstake ok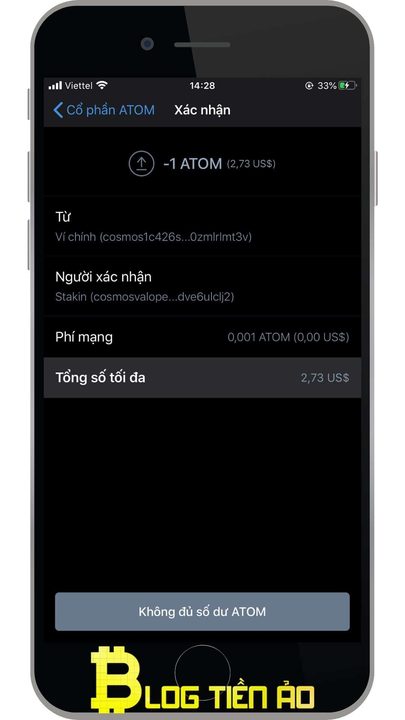 Web 3.0 browser on Trust Wallet
Trust Wallet has a built-in web browser that helps you access the internet more decentralized.
However, because of Apple's policies, Trust Wallet has to remove the Dapps browser. It is for this reason that I do not Demo for everyone to have the Browser section.
People can explore on Android devices
Transaction on the Trust wallet
Trust wallets are built in decentralized exchanges linked to Kyber Network to trade ETH with ERC20 token and Binance DEX to trade BNB with BEP2 Token.
Part Convert then you can transfer ERC20 and BEP2 tokens. Still Exchanges Similar to Binance DEX but this is the Mobile version.
Quite convenient, isn't it.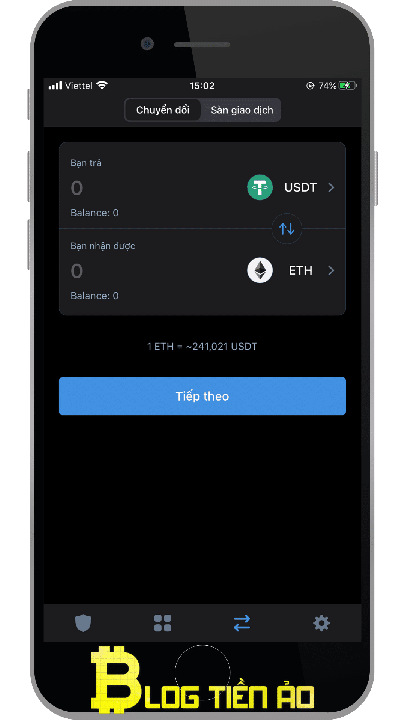 Instructions for using the Dapp browser on iOS
For those who still need access DApps 30 On iOS devices, this guide will help you get the TestFlight version of Trust Wallet that still includes the DApp browser. TestFlight 90 is an iOS application that developers use for beta testing of applications.
Follow these steps in order:
Step 1: Install Test Flight
Download the Test Flight version by clicking any of the links below:
Note: TestFlight will have to be pre-installed to use the Beta version of Trust wallet .
You will be redirected to TestFlight's page Trust wallet . Click on "View in App Store " to install TestFlight.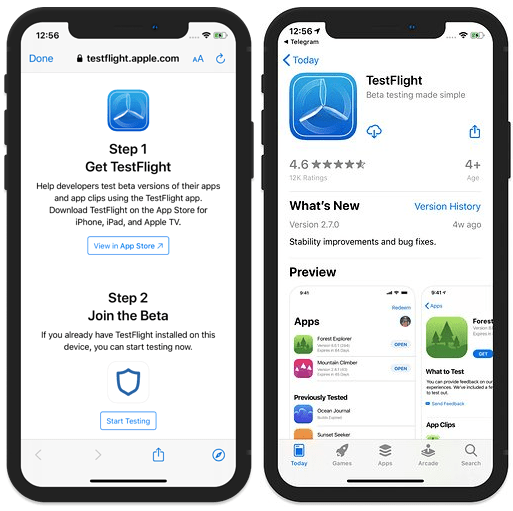 Step 2: Install Trust Wallet
After installing TestFlight, tap one of the links again to get it Trust wallet .
Click on "install" , then wait for the installation to complete.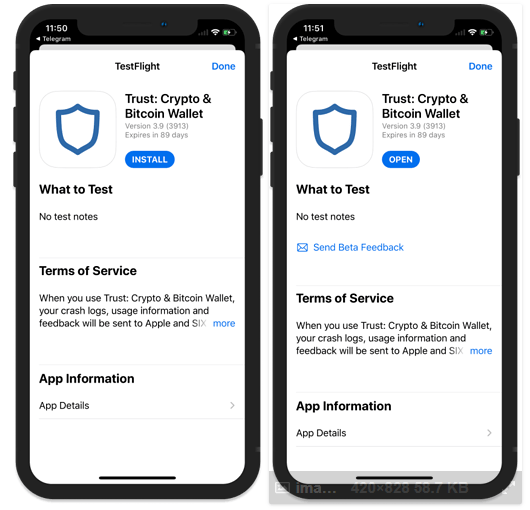 Step 3: Start the Dapp browser
Click on "Open"to launch the application. Create or Import a purse. Then you did restore the DApp browser on your iOS device.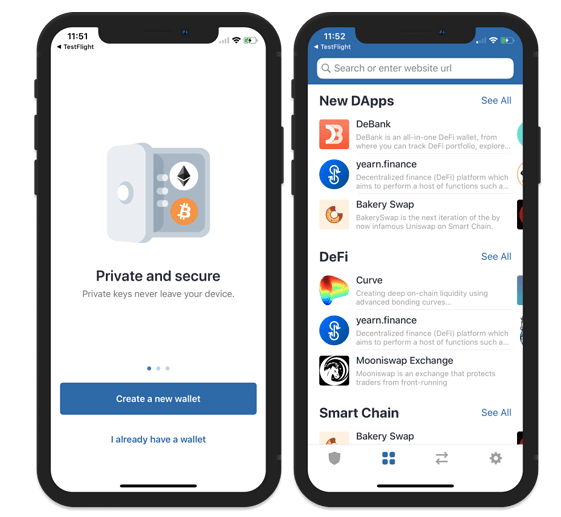 note Finally, make sure you have a backup of your wallet.
Some frequently asked questions
? Is Trust wallet safe?
Have! Trust Wallet is a decentralized wallet, you have complete control of the private key. So no one can access your account without the private key.
✔️ How to secure your Trust wallet
Do not download trust wallets from unreliable sources
Do not install the application on rooted devices
Do not install malware on your phone
Save offline recovery phrases (written on paper)
Do not disclose the recovery phrase or secret key to anyone
? How to restore Trust wallet
When you change or lose your phone, you can restore it by selecting the "I have a wallet"When you first download the application. Next, enter the 12-word recovery phrase and you're done.
Conclude
It can be said that this is also a very good choice if you intend to find a Bitcoin storage wallet or ripple wallet or standard coins. ERC20 Best, can replace a wallet Myetherwallet.
Security and Safety are always the first priority when you join this cryptocurrency market.
In addition, on our site there are many different types of wallets, you can refer to the section Virtual Wallet.
Good luck!