It can be said that at present, cryptocurrencies, also known as virtual currencies, have been traded widely and accepted by many countries. Many centralized cryptocurrency exchanges help liquidity as well as promote the development of these cryptocurrencies. To facilitate the trading of virtual currencies such as Bitcoin, Ripple, Ethereum. Virtual Money Blog would like to introduce to you the exchange Gate.io along with outstanding features in transaction security as well as information of customers buying and selling virtual currencies on this exchange.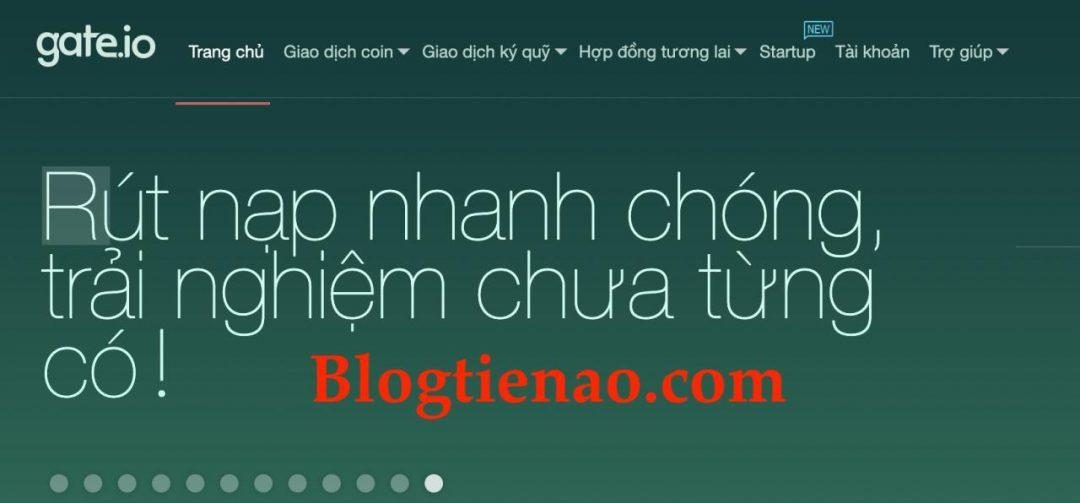 What is Gate.IO floor?
Gate.IO is a new exchange operated by the group Gate Technology Inc - là một trang web giao dịch tiền điện tử mới nhằm cung cấp cho các thành viên của mình một giải pháp thay thế cho các sàn giao dịch hiện đang thống trị thị trường. Trang web này đã hoạt động từ năm 2017 và nhằm mục đích chiếm lĩnh một phần của thị trường giao dịch tiền điện tử bằng cách cung cấp cho người dùng quyền truy cập miễn phí vào một số loại tiền khó tìm và các dự án sắp tới. Trang web cũng được thiết kế để giúp các nhà đầu tư tìm thấy thông tin cụ thể liên quan đến cả đồng tiền ưa thích của họ và xu hướng thị trường chung.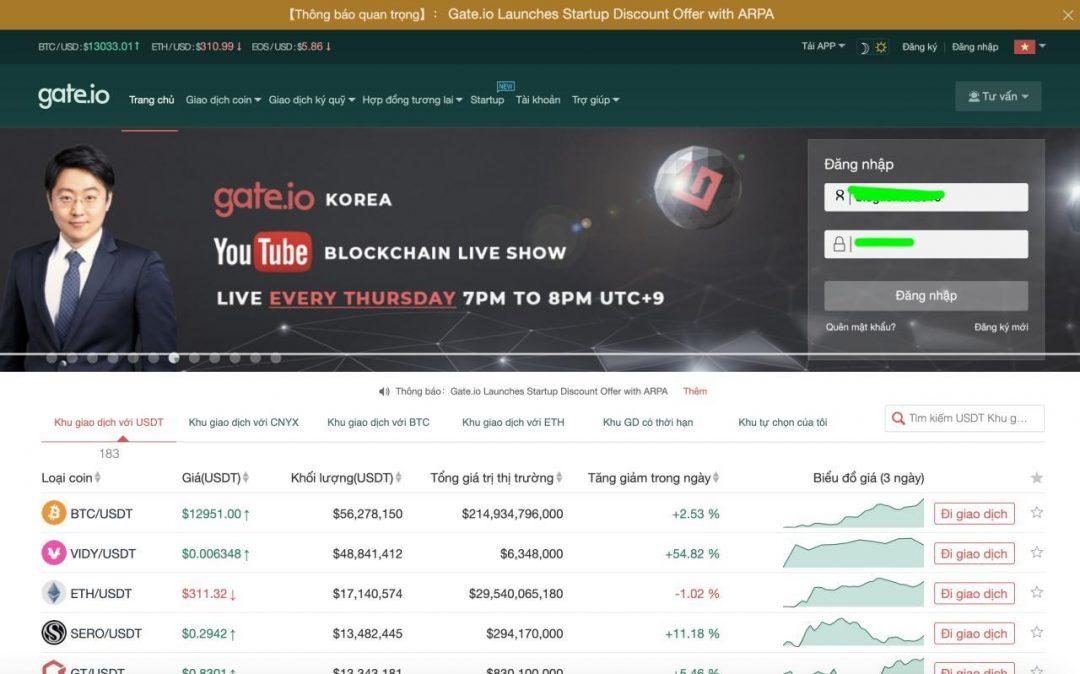 Features of Gate.IO trading platform
Before you choose any broker, we recommend you learn about its outstanding features and advantages. Here are the features of Gate.IO floor for you to know:
Own super secure SSL links: A highly secure website will have to own its own SSL certificate. You can simply understand that with these websites, the information between you and the server will be highly secure and more difficult to leak. A website using SSL always has an address starting from https: // and Gate.IO floor too, you need to double check the website address https://www.gate.io/ to ensure safety. .
Deposit and withdraw money immediately: This is a very important feature for us when participating in transactions. You probably don't want a withdrawal transaction to wait a few days for confirmation and could get into a lot of trouble with it. So, be assured when Gate.IO exchange ensures that the deposit and withdrawal from the trading wallet does not have any problems.
Security feature 2 times authentication: This feature we find common in banking websites, mail boxes with high security. 2-factor authentication when logging in will be a barrier to prevent hackers from peeking at the assets in your account, so we do not need to worry even if a hacker knows the login password but it is also impossible pickpockets.
Bitcoin cold wallet technology: If you're not comfortable storing bitcoins on the floor, then you can simply store bitcoin right on your computer without connecting to a computer network.
Cheap transaction fee: Gate.IO does not charge a fee when you deposit money into your account, it only charges a fee for each of your orders. This fee is fixed at 0.2% fee for 1 transaction. We think this is a stable and acceptable transaction fee.
Language support: Floor Gate.IO supports 2 main languages: Chinese and English. Especially, the support team of the floor is available 24 hours a day all weekdays and supports quite quickly.
Mobile trading application: A mobile trading application is a "must-have" for today's exchanges and it is great that Gate.IO trading apps are rated as agile and efficient as possible. An important tool to help beat the market for investors.
GATE.IO floor Which coins and markets are supported
Gate exchange is a place to focus trading exchanges over 250 different coins and tokens. On this exchange, investors can participate in exchange transactions in the USDT market, Bitcoin, Ethereum and QTUM. You can place exchange trading orders to other cryptocurrencies, tokens such as XRP, DOGE, LTC, GTC, NEO, BTM, BCD, HSR, GEM, ADA ...
In addition, there are many IEOs that have been promoted on this exchange, bringing a lot of excitement to investors, we will constantly update the latest situation for you to know, and remember to follow the Our communication channel.
Transaction fee of Gate.IO
Deposit fee: Gate.IO floor does not apply to the fee on each deposit account.
Transaction fee: Each trading order on this floor is charged a fixed fee of 0.2%. In addition, if you reach the fixed VIP threshold levels depending on the value of Bitcoin in your account, you will receive a discount as follows: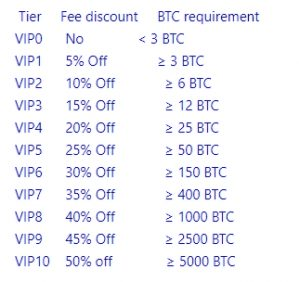 Register Gate.IO
Truy cập trang web của họ và tạo một tài khoản bằng cách làm theo quy trình đăng ký. Bạn có thể mở một tài khoản bằng cách nhấp vào Đăng nhập người dùng mới Đăng nhập bên dưới nút Đăng nhập. Sau khi làm điều này, bạn sẽ được chuyển hướng đến một trang đăng ký.
Tại đây bạn có thể nhập tên người dùng, địa chỉ email, mật khẩu tài khoản và mật khẩu quỹ. Bạn cũng sẽ có mã Captcha để hoàn thành để hoàn thành việc tạo tài khoản.
Bằng cách đánh dấu vào ô Thỏa thuận người dùng và nhấp vào 'Tạo tài khoản', bạn sẽ hoàn tất quy trình đăng ký và một email xác nhận sẽ được gửi đến địa chỉ bạn đã nhập.
After creating your account, please proceed to verify your identity and 2FA security settings.
Cách giao dịch trên Gate.io
Bạn có thể chọn một cặp giao dịch trên trang chủ hoặc từ menu thả xuống trên cùng bằng cách nhấp vào nút giao dịch bên dưới thị trường ưa thích của bạn.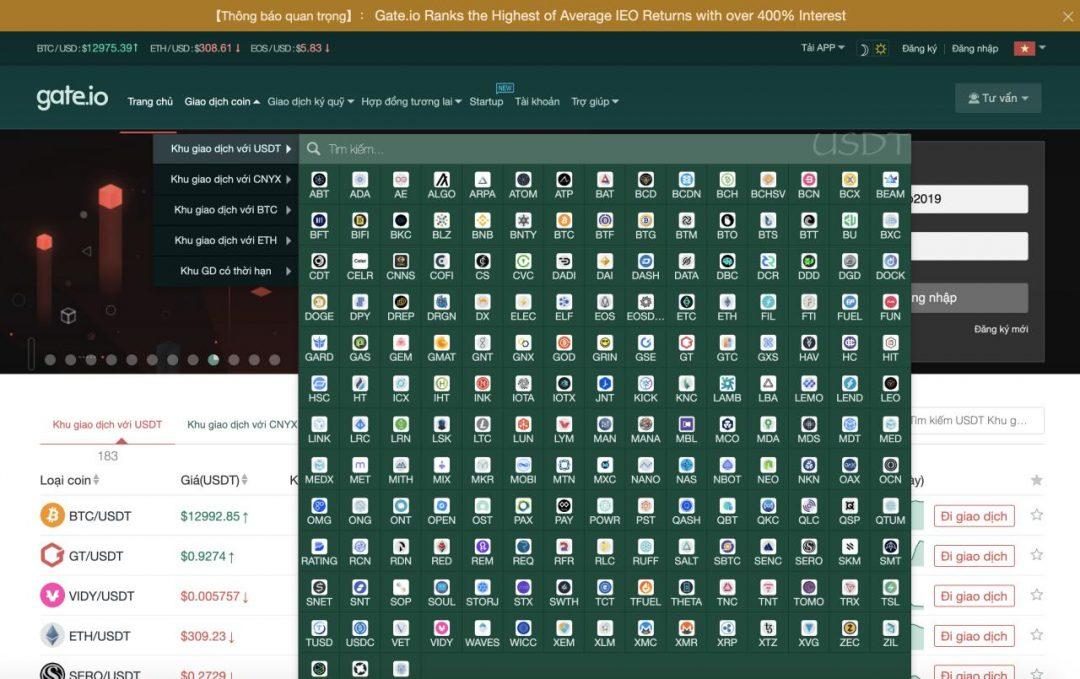 Khi bạn đã chọn một cặp giao dịch, màn hình giao dịch trao đổi sẽ tải lên. Điều này chứa nhiều thông tin và ban đầu có thể hơi choáng, vì vậy bạn nên dành thời gian để làm quen với nó. Ở cột bên trái là các tab cho BTC, ETH, USDT và QTUM mà sau đó bạn liệt kê những loại tiền điện tử nào bạn có thể giao dịch với chúng.
Phần trung tâm chứa các biểu đồ và chân nến cho lựa chọn hiện tại của bạn với các hộp Mua và Bán bên dưới và các giao dịch mở và quá khứ của bạn theo đó.
Trong cột bên phải là thông tin thị trường toàn cầu cho thấy giá mà các sàn giao dịch khác đang giao dịch ở và dưới đó là giá bán hiện tại và lịch sử giao dịch.
Giao diện được thiết kế tốt với giao diện sạch đẹp và mọi thứ bạn cần đều dễ dàng tìm thấy.
Gate.io có an toàn không?



Việc trao đổi sử dụng cả ví lạnh và ví nóng để lưu trữ tiền và hiện chưa bị hack. Gate.io cũng cung cấp xác thực hai yếu tố, thông báo SMS và xác minh KYC.
Tài khoản khách hàng được bảo mật bằng cách sử dụng xác thực hai yếu tố và kết hợp mật khẩu đăng nhập của người dùng, cho phép người dùng đăng nhập vào tài khoản Gate.io của họ và mật khẩu quỹ của người dùng, cung cấp quyền truy cập vào giao dịch rút tiền và giao dịch. Khi đăng ký trao đổi, người dùng nên:
Đặt mật khẩu đăng nhập mạnh và mật khẩu quỹ.

Kiểm tra hộp Bind IP để đăng nhập.

Kích hoạt xác thực hai yếu tố cho tài khoản của bạn.

Bảo mật email được liên kết với tài khoản Gate.io của bạn bằng mật khẩu mạnh và xác thực hai yếu tố.
Gate.io cũng sử dụng hệ thống xác minh theo cấp bậc cho các tài khoản tiền gửi cao hơn. Đối với bất kỳ giao dịch rút tiền nào bị kẹt trong xác minh trạng thái, cần phải trải qua giai đoạn KYC2.
Để thực hiện xác minh KYC, bạn có thể truy cập vào tài khoản của mình, sau đó nhấp vào Ví> KYC để tải lên thẻ ảnh và thông tin bắt buộc.
Sau khi kết thúc KYC1, bạn có thể tiếp tục đi qua KYC2 và sau khi hoàn tất xác minh KYC2, việc rút tiền của bạn sẽ được xử lý ngay lập tức
Gate.IO Earn $ 64 million when launching GateChain Token
Collect transaction fees up to 64 million USD for the fundraising to open the sale of Gatechain Token (GT) - The token used as transaction fees on the Gate exchange. According to Coindesk, the amount of money opened for sale in the first week is up to 3 billion USD, It can be said that Gate.IO will be a potential trading platform in the hybrid world of crypto.
What is GT?
Gatechain Token (GT) is part of the GateChain ecosystem. Used as a future development capital for projects from Gate exchange. And the distribution process of the Gatechain Token (GT) will be made open, fair and completely transparent. There is no ICO or PrivateSale, nor does it allocate coins to the development team, do not place pre-orders and give no priority to large organizations. According to the source from the Gate.IO Blog
For more information, please visit:
Conclusion
Gate.IO floor with good security features, fast and accurate support via mail. In addition, we can use Gate.IO trading apps right on mobile phones without fear of missing wavelengths, great profitable opportunities in the vibrant cryptocurrency market. The special thing is that although this is a newly established floor, the attraction is huge, the daily transaction volume has increased sharply. Should be in addition to reputable exchanges like Binance, Kucoin, Huobi Gate could be a good alternative.
If you would like to learn more about Gate.IO, how to register an account and instructions for using the mobile trading app or find other information, don't forget to follow. Virtual Money Blog - Specialized website news updates the latest virtual money information and trends.