What is bityard?
Bityard is a cryptocurrency contract exchange operated by a fund in Singapore. Currently, the floor has been present in more than 150 countries including Vietnam.
Currently the floor has been licensed from the United States, Singapore, Australia, Estonia:
MSB (Money Service Business)
ACRA (Accounting and Corporate Regulatory Authority)
Estonia's MTR
AUTRAC (Australian Transaction Reports and Analysis Center)
Some highlights of Bityard floor
Support multiple security features 2FA, multi-signature (Multi-Signature), the property is stored by cold wallet, ...
Friendly interface, easy to register for an account with only 30 seconds.
Support for recharging with fiat money with many payment channels (MOMO, ViettelPay, ...)
Quick contract transactions with a minimum of 5 USDT.
There are mobile apps on Android and IOS
Support leverage from 20-100
No need KYC
Types of fees when dealing
When you trade on the floor, there are 2 types of fees: position opening fee and overnight fee:
-Open position fee = margin * (leverage-1) * 0.15%
-Overnight fee = margin * (leverage-1) * 0,045% * number of days
Overnight fee will be charged at 6:55:00 Vietnam time. Make sure you have enough balance so you can deduct fees overnight Your order will be closed.
Instructions to register for a Bityard account
First you access: https://blogtienao.com/go/bityard.
There are 2 parts to register by email and register by phone number. You choose 1 in 2 and then fill in the information.
After entering it, click the Get code button to receive the SMS code. Finally press the button Register .
During registration as well as use you will encounter the authentication below. You just need to drag to match the shape.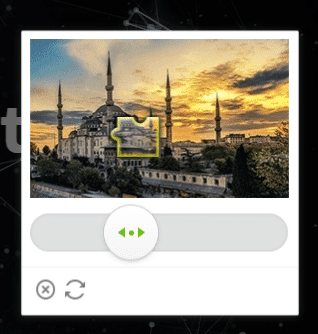 Instructions on security of Bityard trading floor accounts
Email link
To increase security and withdraw money, you must at least link the email. The first thing you need to do is enter the area Account and security at the right of the screen.
Next in the section Accuracy e-mail You choose the button Link.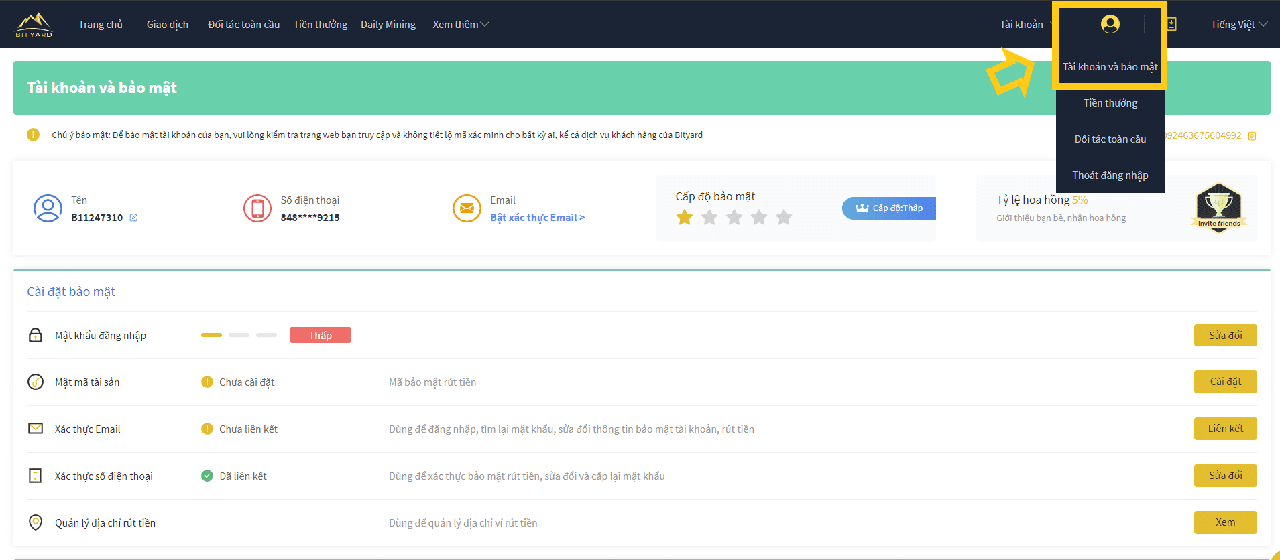 Enter the email you want to link and press the button Get the code. Enter the code sent to the email in the box Email code Then press the button to confirm.
You check all the mail including spam if you do not see the email sent offline!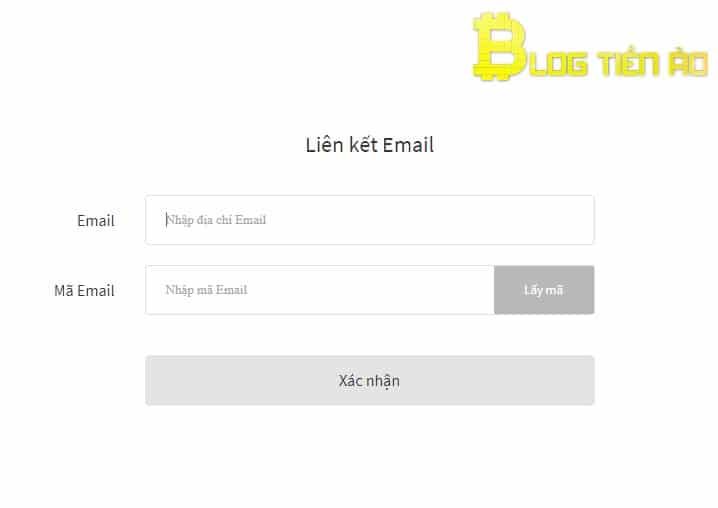 Password of property
Your password to use in cases where your account is exposed and avoid being withdrawn. If someone illegally access your account but does not have this password, it cannot be withdrawn.
Also in the area Account and security You choose the button the setting at line Password of property.
Next you enter:
Login password Your password in the Password box
The new password is the property password
Re-enter the asset password to Confirm .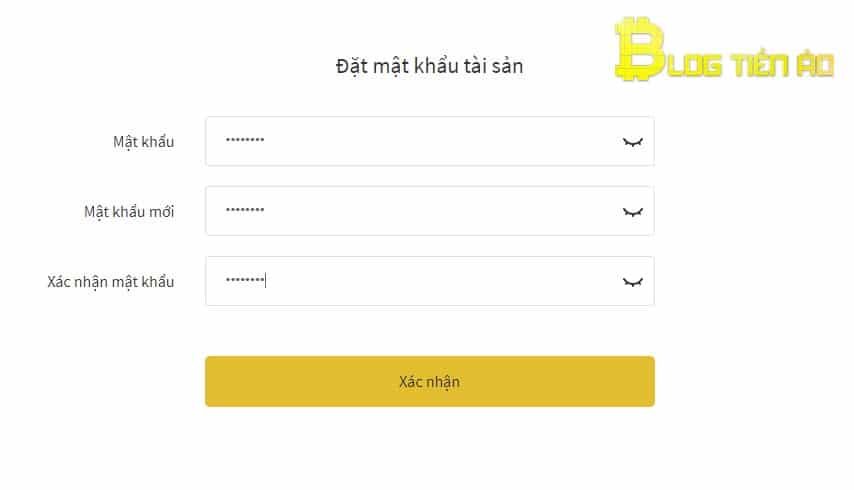 Instruction for deposit and withdrawal
For Bityard floor, the withdrawal is quite simple. Particularly for loading, there are 2 forms for you to choose:
Deposit with available coins
Deposit with legal money.
Here I will show you 2 ways!
Deposit money with available coins
First, you enter account -> select Recharge. Next select the coin you want to load and chain name for USDT offline.
I also encourage using USDT because you buy or sell contracts must use USDT at all. If you deposit other coins, you must also convert to USDT for trading.
Once you have the address you want to deposit, you just need to transfer it to that address.
Note: When loading, please remember to note the minimum of each coin. For example, USDT has a minimum deposit of 15 USDT. Transferring XRP, remember to fill in the tag.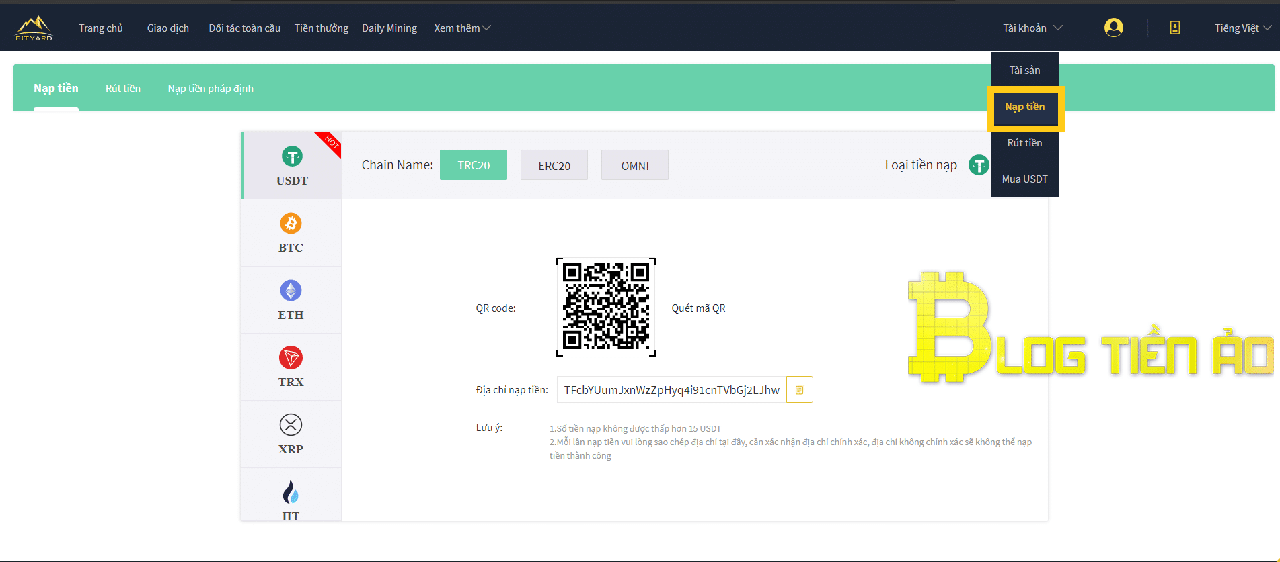 Deposit USDT in legal currency
For fiat money you choose the payment method and Quantity purchased. The amount of purchase you customize Buy in VND amount or Buy in USDT amount.

Withdraw money on Bityard floor
First you choose Chain name: OMNI, ERC20 or TRC20. Then enter your USDT number and address.
Next, enter the Property password. This code is the one you have set up above that security.
Enter your email and get the code
Finally press the button Confirm .
Note: The minimum amount that you can withdraw is 50 USDT!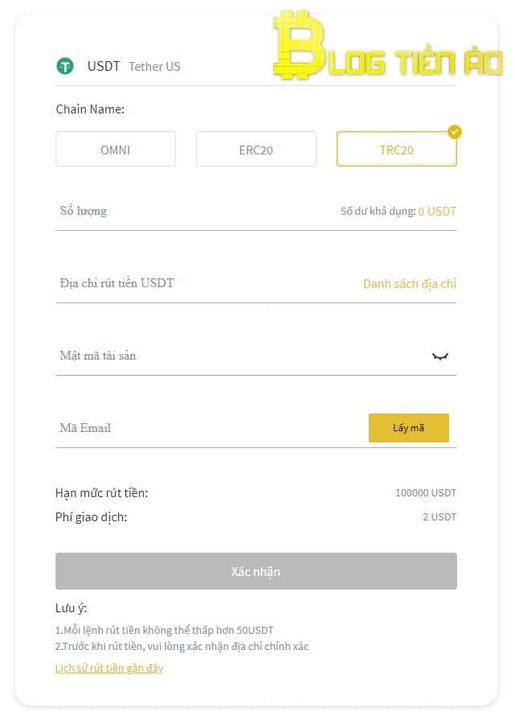 Instruction to trade on Bityard
Introducing the trading interface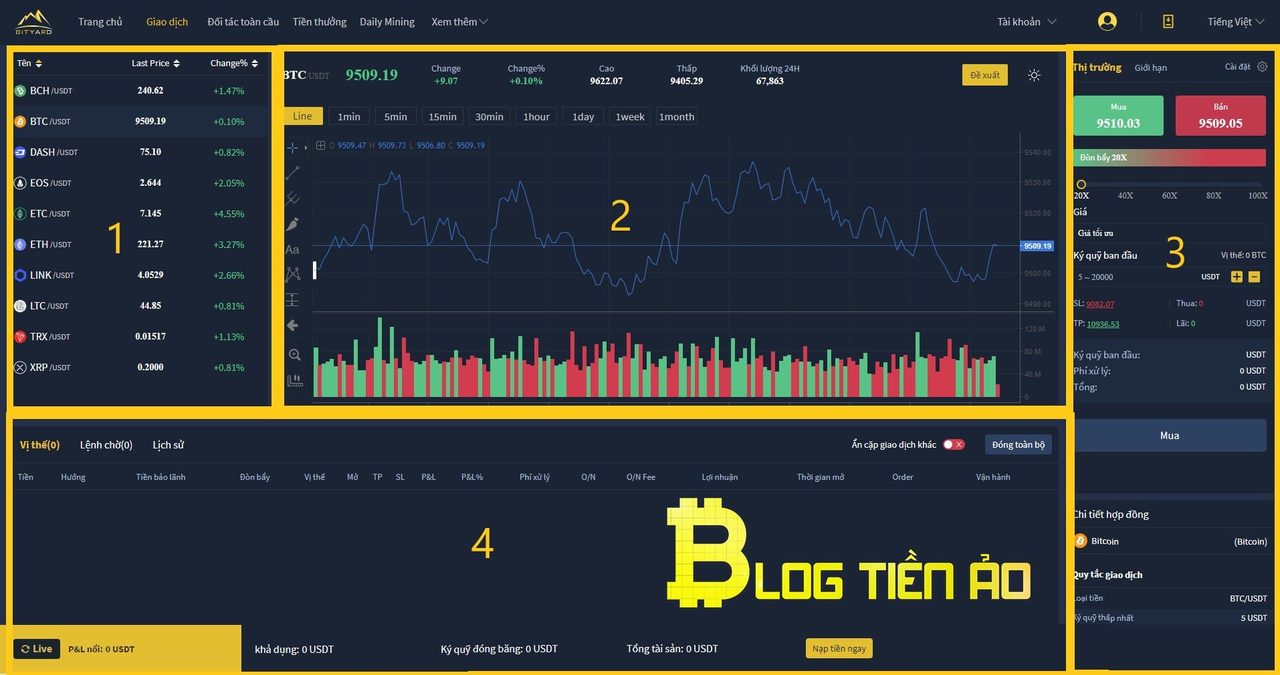 The trading interface of my floor is divided into 4 parts:
(1) - Coin contracts can choose the coin in this area when translated
(2) - Price chart of each contract
(3) - Area to place buy and sell orders (long / short)
(4) - Where you can keep track of the positions you have set
Instruction for placing trading orders
Install the command
Before placing an order, we set the rate of stop loss, stop loss for orders and overnight charges. To install people click on the word the setting at the top right of the command area.
Everyone choose the profit and loss level that suits your trading style. If you only trade during the day, then you do not need to select on The Overnight (overnight charge).
Those who hold orders overnight must choose if not you will be closed at 6:55:00 Vietnamese time home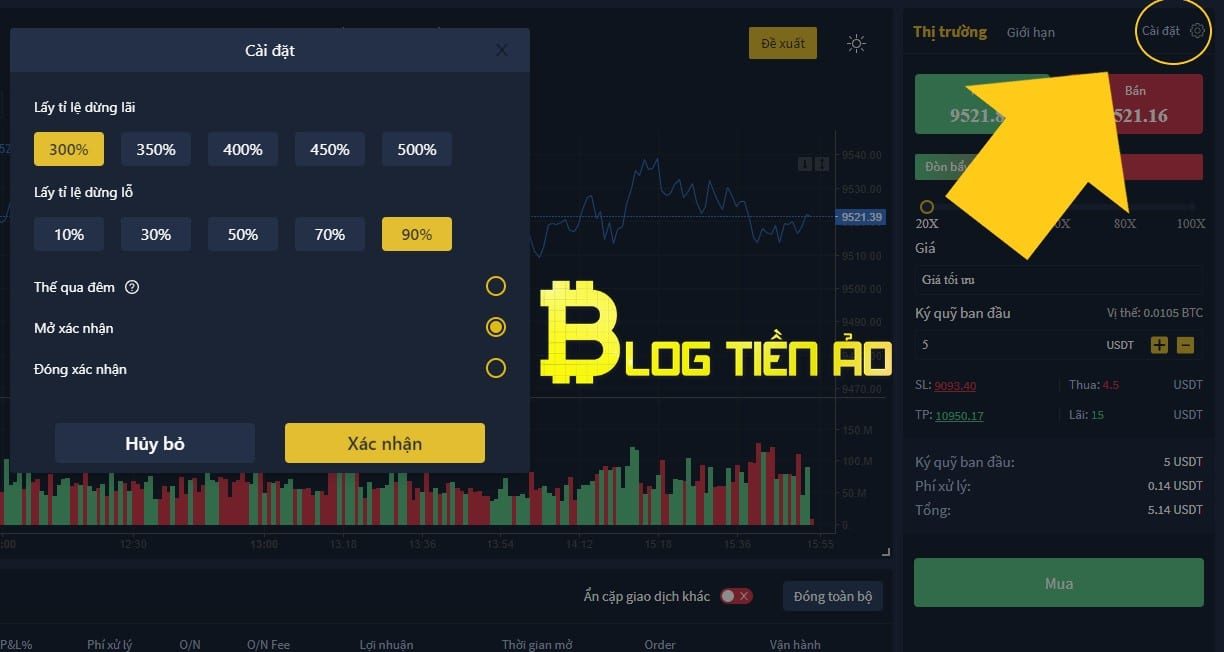 Place a market order on Bityard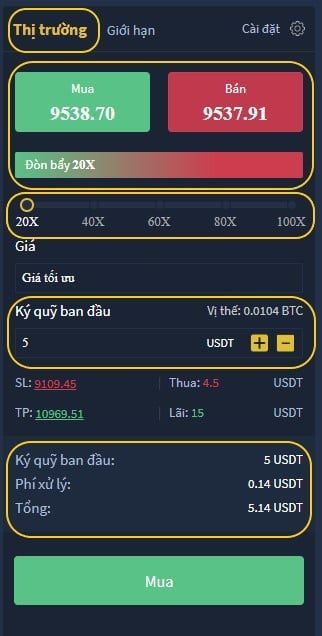 For market orders, the price will match the market price at that time.
If you anticipate a price increase, choose Buy (Long). You predict the price will go down then choose Sell (Short). If the price goes exactly what you predicted then you will be profitable.
The leverage you can adjust from 20x-100x depends on your tactics.
Remember, the greater the leverage, the higher the risk. For example, if you play 5 USDT but x100, it is equivalent to playing a 500 USDT order.
So when the price goes against the trend you expect ~ 1% you will lose that deposit of 5 USDT.
Initial deposit is the amount you want to play an order (I encourage you to play only 5-10% of the initial capital).
Finally, you click buy or sell is done.
Place a limit order on Bityard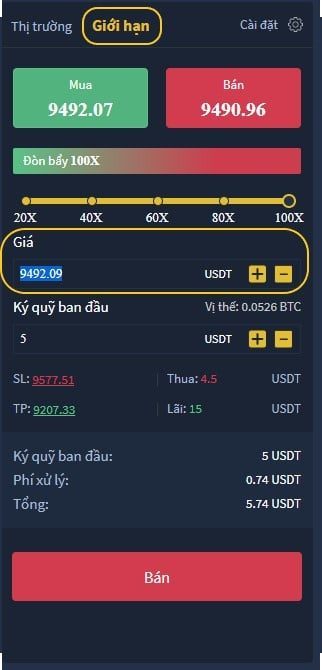 This order is only different from that you can set the price first. This means that the order you place pending orders will be effective.
For example, if you predict the price of BTC to 10k it will plummet, you place a sell order of 10K. If the BTC goes up, it will match or you remove the order and not lose anything.
Guide to receive 258 USDT for free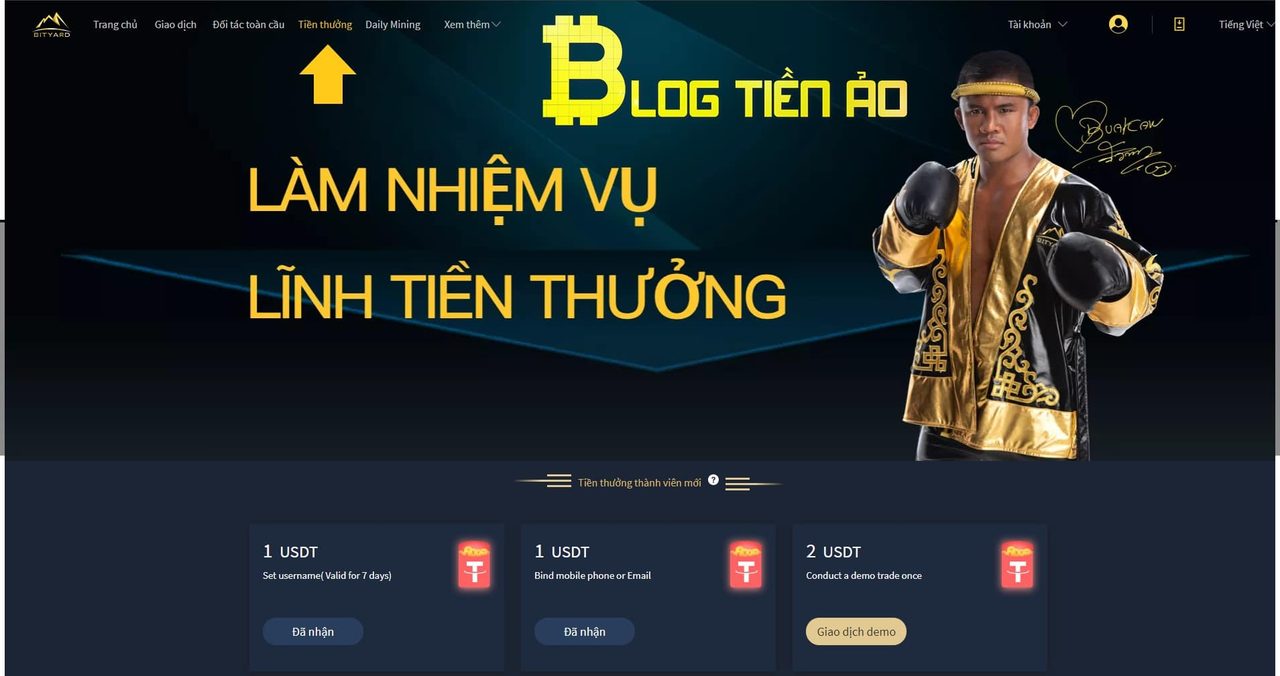 Get the first 4 USDT
Modify username: At the "First name"People click on the line below and then enter the username you want and press the confirmation button to get the first USDT.

Link mail, sdt this step I have performed should be able to receive always offline
Next, complete a trade demo order and you will receive another 2 USDT USDT.
To trade demo, you switch from Live Thành Demo at the left of my screen.

Get the remaining 254 USDT
For the remaining 254 USDT, you have to load USDT to trade. You must reach a trading volume with hooks of 10,000 - 25,000 - 100,000 - 500,000.
Although it's not easy to achieve, but if you hit well then do not hesitate to try it!
Conclusion
Hopefully through the article, everyone has a better understanding of Bityard floor! In addition, Blogtienao has a discussion group on Margin trading that everyone can join by following the link: https://t.me/BTA_Margin_Trading.