What is PayPal?
PayPal is a company specializing in e-wallet services or online payment gateway on the Internet, operating in the field of e-commerce established in 1998, headquartered in Sanjose, California, USA. Paypal's main service is to pay and transfer money via the Internet to help people have a safe and reliable address for payment and money transfer via the internet, in addition to PayPal is also considered as an intermediary. time during the transaction of the buyer and seller.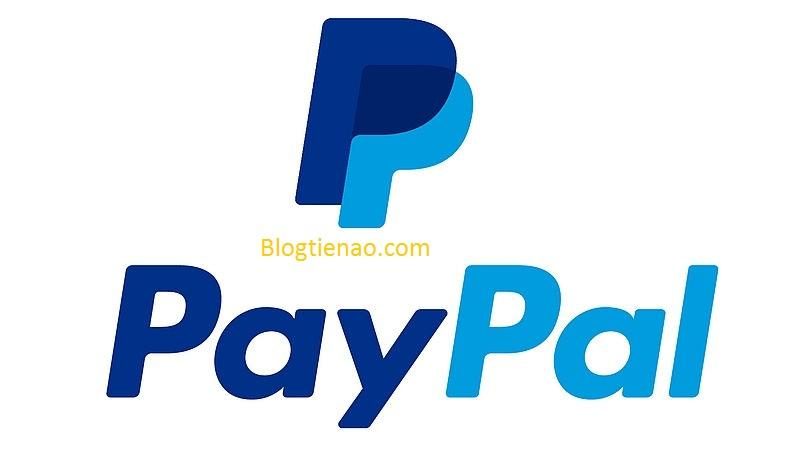 It is an electronic payment and transfer service that replaces the traditional methods of using paperwork such as checks and money orders. Paypal charges through payment processing for companies and online businesses, auction sites, and other business customers. Once you have a PayPal account, you can use it to transfer money to this account or use it to pay online or withdraw money online to your bank account.
Advantages of Paypal
Quick payment: Transaction by Paypal is done very quickly and instantly.
Easily receive and transfer money between PayPal accounts without any fee in case 2 individuals transfer money to each other.
No need to enter cardholder's information multiple times: Cardholder's information has been stored only once when registering for an account. And you do not need to enter cardholder information over and over for each payment. When you click to pay by PayPal, it will appear a page to access Paypal, you go to that account. Then click next, click on the words "PAY NOW" and you're done.
Confidentiality of customer information: The personal information of cardholders will be absolutely confidential.
Popular: Paypal is one of the electronic wallets with a wide payment network all over the world.
Support: Paypal has good and fast customer service.
Instructions for registering Paypal
Step 1: Access to the address https://www.paypal.com/vn/home (Currently, paypal has supported Vietnamese so it will have more or less benefits for everyone). Then click on the part that needs to select the "Sign Up" button if it is the English version, the section immediately "Register" if the Vietnamese version on the main page or this button is also displayed in the right corner of the screen.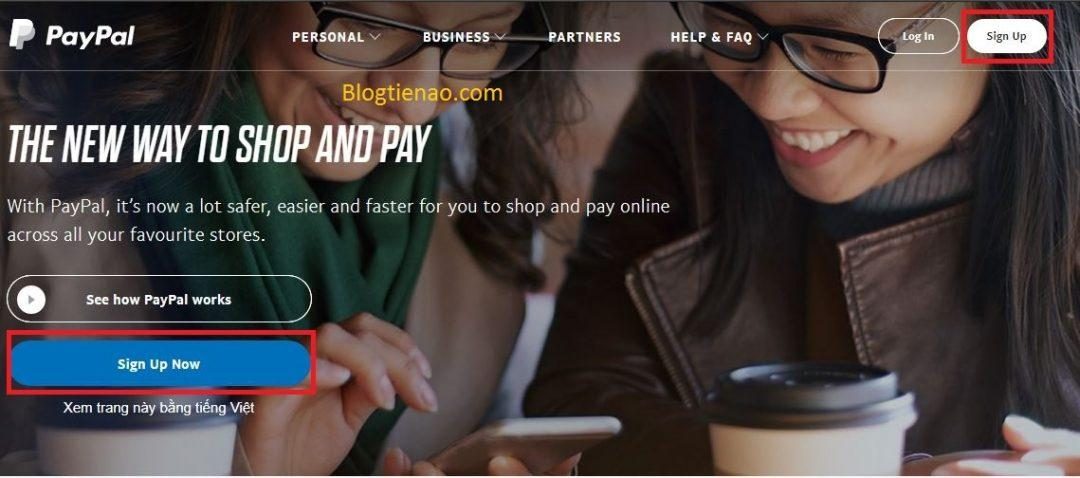 Step 2: After clicking on "Sign Up" will appear a window at which Paypal will ask you to choose one of two account types. If you only use Paypal mainly to buy small online purchases, then you select the left column is "Buy with PayPal". If you use Paypal to receive money from other accounts or sell goods to foreign countries, select the column on the right as "Receive payments with PayPal".
More details about accounts at Paypal
Buy with PayPal: A type of personal account, for those who participate to buy or sell retail, or receive money from a foreign freelancer.
Receive payments with PayPal: As the type of business account, businesses with a bank account are the business name. Used to buy and sell many goods (like selling on Ebay, Amazon ...). Also this account allows multiple users access.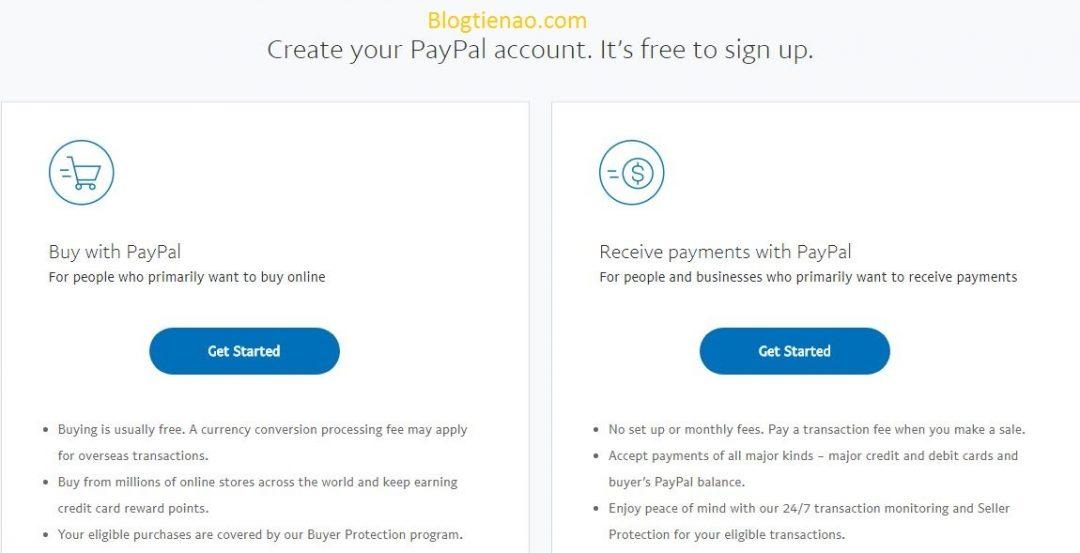 In this article, Virtual money blog will guide you to register an account is personal
Step 3: Once you have selected the appropriate type of Paypal account, the next step you Enter your email and password.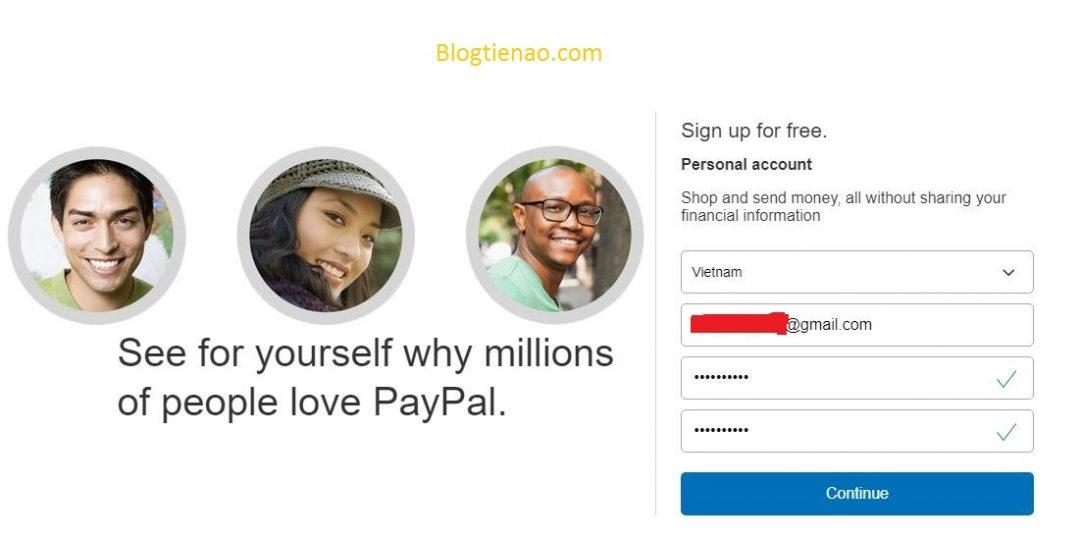 Step 4: Fill in your personal information using the form below to verify your account.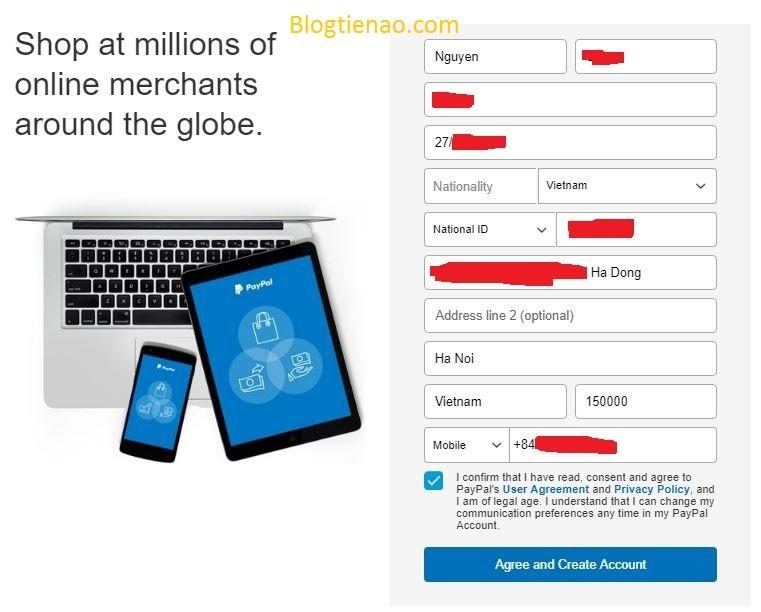 The note when filling information
In the full name, you need to enter your exact name. Avoid using fake names or nicknames as this will cause trouble for you later when you need to receive money from Paypal.
First name: Enter your first name.
Last name: Enter your first and middle name
National ID: This section you need to enter your correct ID number.
Zip Code: The CODE ZIP code has 6 digits, you go to Google search zip code according to the name of the city you live and fill. (Example: HANOI CODE ZIP code is 150000)
When you have completed the information, you check the box to confirm information and agree to the terms and click "Agree And Create Account".
Step 4: Associate with VISA card
After the 3rd step, you may not need to link with your Visa card yet, but if you do not link your card to your Visa card, your Paypal account will be limited to $ 100 and limited to a few. feature.
If you do not need a link or do not have a VISA card, you can skip this step 4, and as shown in the image below, you select the "I'll do it later" section and continue using your Paypal account.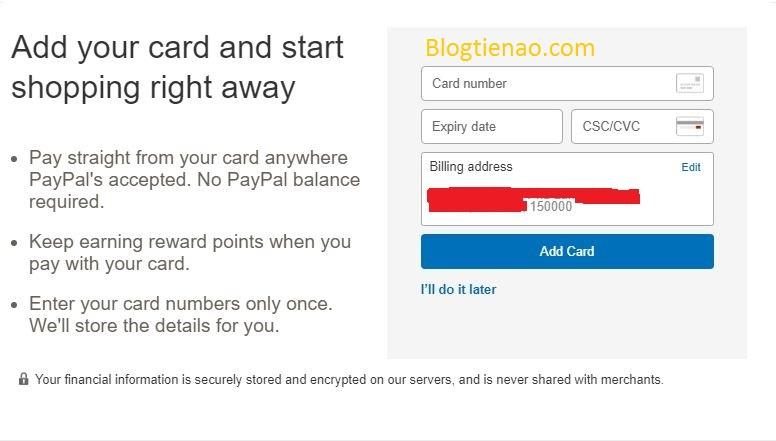 If you want to add a VISA card to Paypal for safety and full use of the features, you need to fill in the visa information as shown below and then select "Link Card" to complete.
As shown below, you have successfully created an account at Paypal, the next job is to verify the account.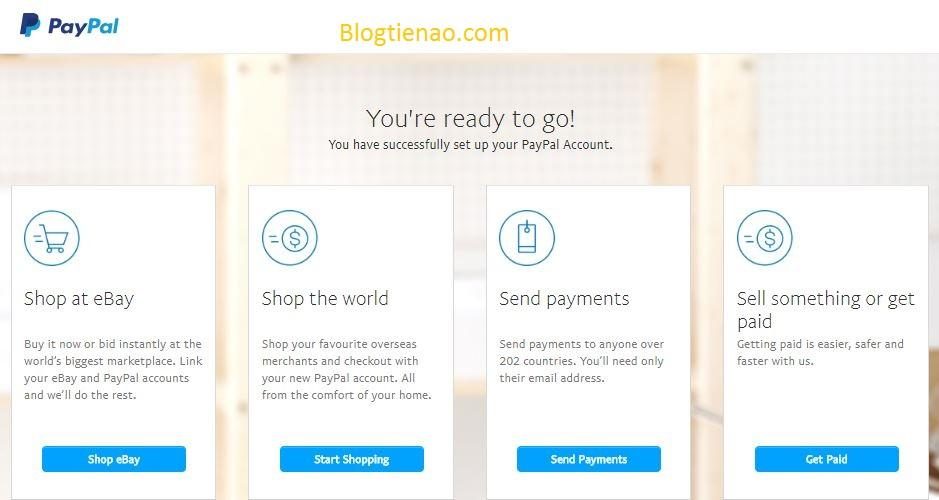 Instructions for verifying and verifying Paypal account
Step 1: Go to the email that you used to register your paypal account, then will check the email from Paypal and verify the account, then you can log back into Paypal.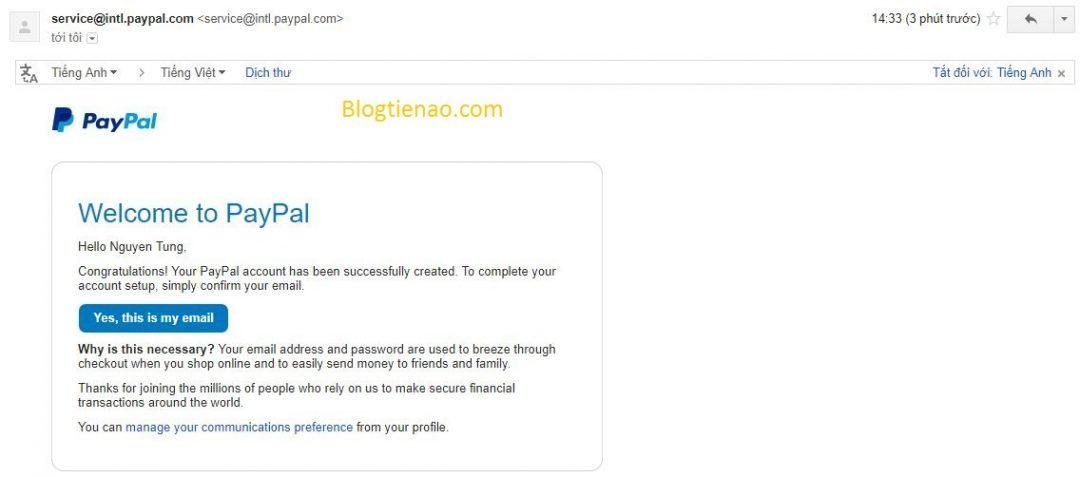 Click the Yes button, this is my email and type the password to confirm the email is the genuine owner.
After clicking "Confirm Email Address", the verification process is successful, PayPal will take you to the My Account page.
Step 2: Log back into Paypal, and in the My Paypal interface, select "Wallet" or click "Bank accounts and cards" to go to the card account management page to begin the verification process.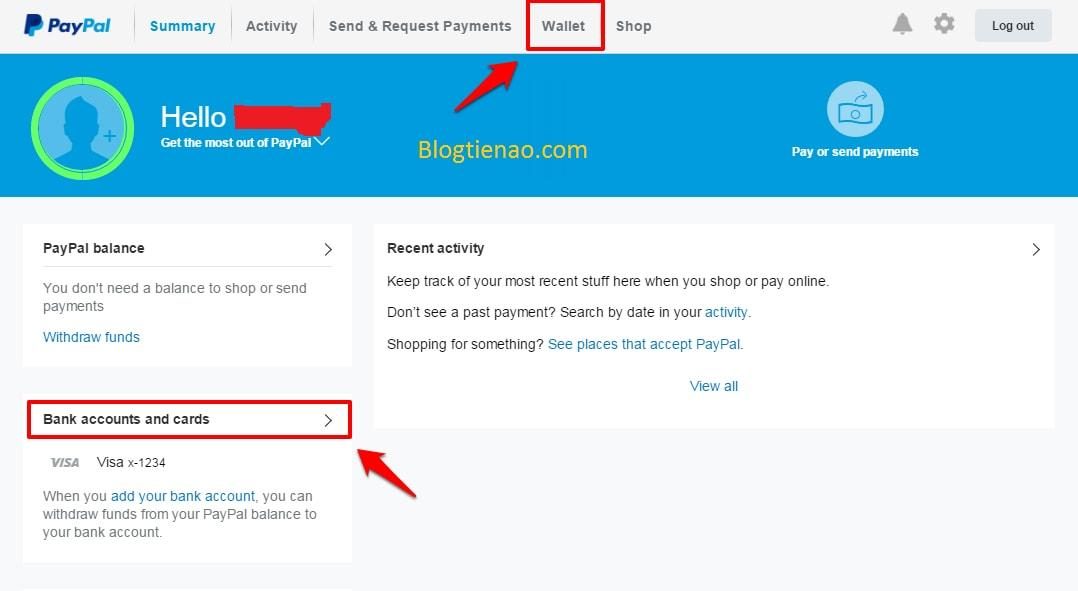 Step 3: Select "Credit Cards". Click on "Confirm Credit Card".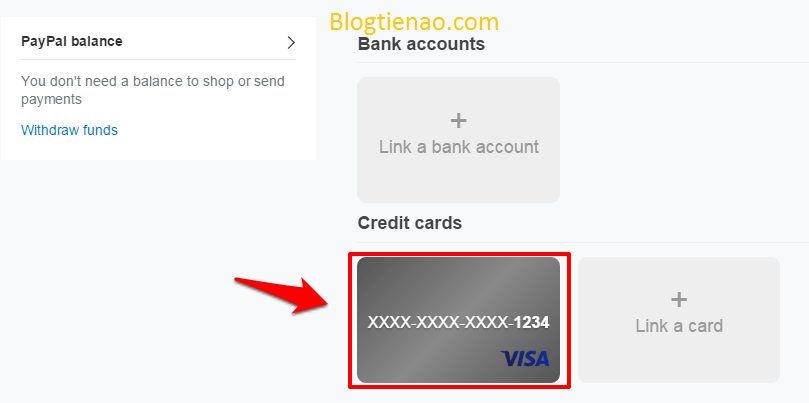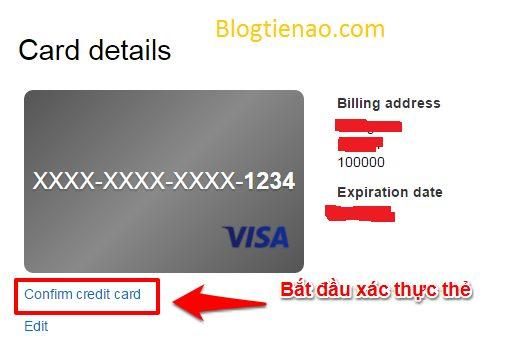 Step 4: Next, Paypal will ask you to enter the 4 digit digit code. Click ok to Paypal send these 4 numbers to you. To get and enter these 4 numbers, you can check the message or contact the bank that provided the VISA card to you.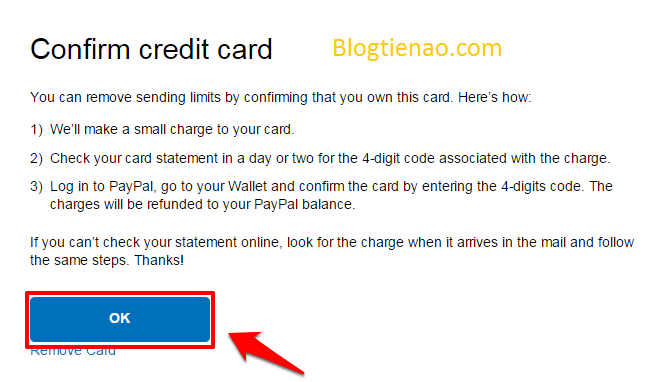 Step 5: After having these 4 numbers and then return to the interface Paypal, select "Ready to confirm".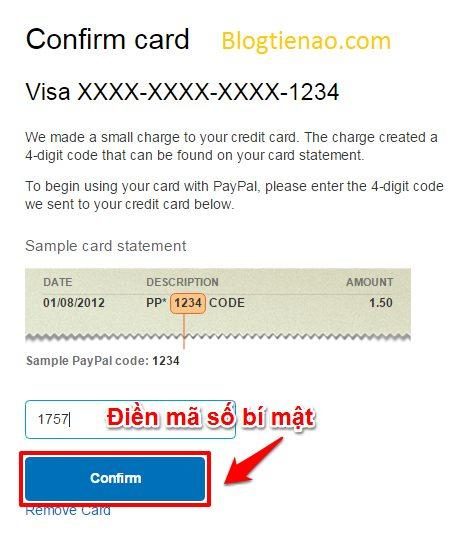 Then enter the 4 digit-code numbers into the box and click Confirm is done!
When Verify is successful, Paypal will display the information for you as shown below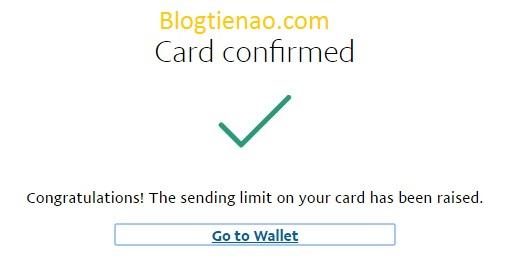 Instructions to add money to PayPal
There are many ways to deposit money into a Paypal account, such as moving in from a bank account, visa or mastercard; Use Paypal Cash (deposit cash at a Paypal agent); Recharge by transferring from another Paypal account.
Currently in Vietnam, PayPal does not support Vietnam to fund (Add Funds) into PayPal account by bank account, visa or mastercard and Paypal Cash and the main way is to transfer money from another account to the account of you by buying and selling Paypal at the service provider's website.
But you do not have to worry, when trading by paypal, if the account lack of money, PayPal will automatically withdraw money from the visa card that you use to verify to complete the transaction. Although the money in your card is VND, Paypal will automatically convert into USD for transactions.
Instruction to transfer money in Paypal account
Step 1: Access to Paypal through the link https://www.paypal.com/vn/signin
Step 2: From the My Paypal interface, click on "SEND & REQUEST PAYMENTS" to proceed with the transfer option.

Step 3: Click on "Send money to friends and family"!

Step 4: Enter the Paypal email of the person who needs to be transferred or the receiver. Then click "Next".

Step 5: You choose the amount to be transferred to another PayPal account.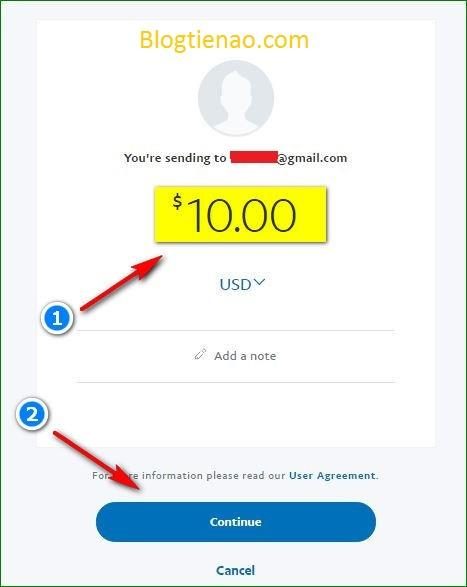 Next, click "Continue" to proceed with the transfer
Note: If the amount in PayPal is smaller than the amount to be transferred, PayPal will deduct money from the Visa card that you use to verify.
Instructions to withdraw money from Paypal to Vietnamese banks
Add a bank card to your Paypal account
First, to withdraw money from Paypal to your bank's ATM card in Vietnam, you need to add that bank card to PayPal first. Adding the bank account in this section is different from the visa card used for registering and verifying the visa / master card.
Step 1: Access to Paypal through the link https://www.paypal.com/vn/signin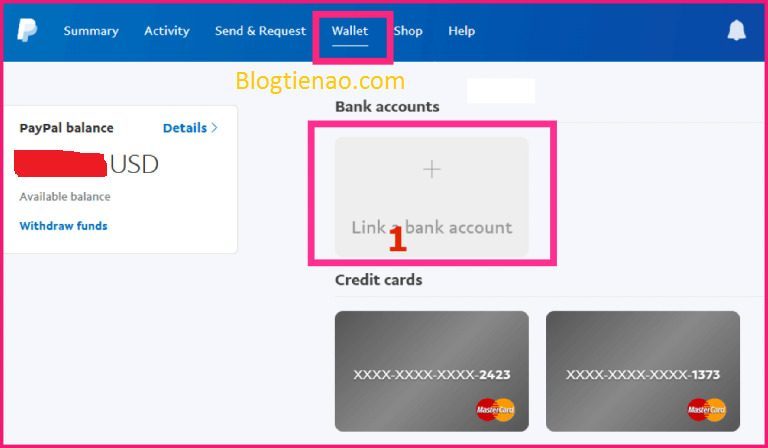 Step 2: At My Paypal page, select "Wallet" then in "Bank Account", click on "Link a bank account" to be able to enter your bank account information. At this point, you will see the interface appear as shown below.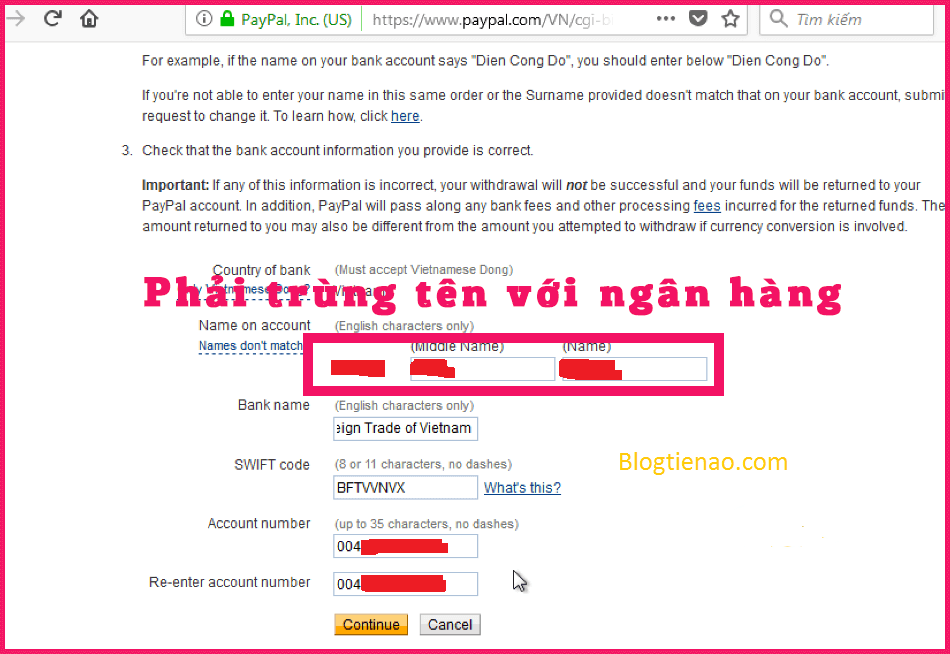 You should note the items below as follows:
Name on account: Here, your last name is not allowed by default. The middle name (Middle Name) and the name (Name) you can change if your name is wrong, and if in this section displays your correct name, you leave it alone. You need to fill in the unsigned!
Bank name: Your bank name is written in English, each bank has its own English name so you have to know to fill it out. You can search on google.
SWIFT code: is the identification code of each bank, just like in Bank Name, each bank's name is different and each SWIFT Code is different. You can search on google.
Account number: is your bank account number, this is not the number printed on the card, my bank account number here is the account number that the bank gave you when you made the card, if you forget you have You can access Internet Banking or call the bank for them to give.
Re-enter Account number: Please enter the bank account number above
Then click Continue, you will confirm the information filled by clicking Save to save offline. If there are no errors, you will see the card appear in the "Bank accounts" section as shown below
Now that you have added the bank card to withdraw money from Paypal, you can add many different bank cards and when withdrawing money you can optionally add the banks. Next, the virtual money blog will guide how to withdraw money from Paypal to Vietnam
Make money withdrawals from Paypal
Step 1: You click on the Wallet (Wallet) to perform offline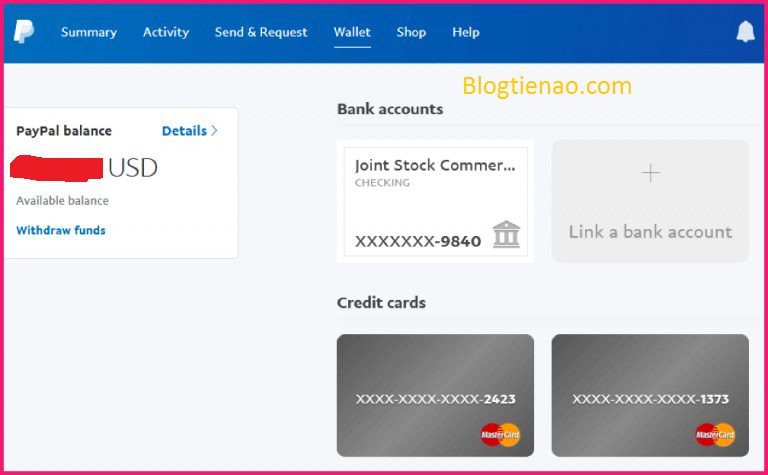 Step 2: Then you click on the line "Withdraw funds" to be able to withdraw money offline. Next you will proceed to enter the amount to withdraw from PayPal as shown below.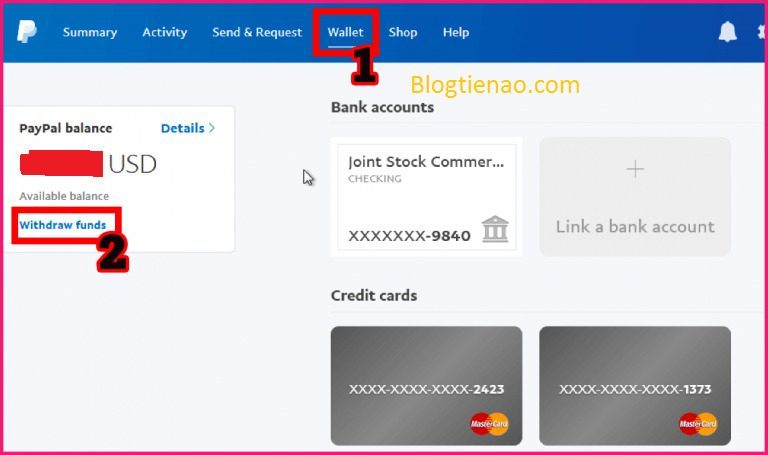 Line 1 is the amount to withdraw, line 2 is the bank you want to withdraw.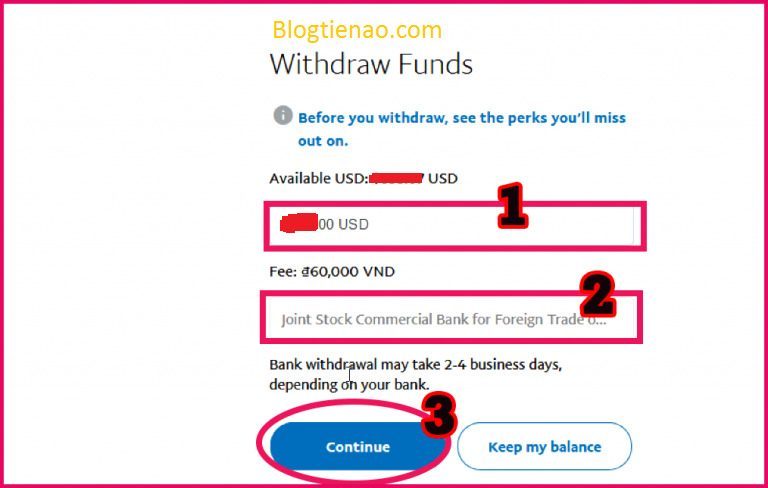 Step 3: Nhan "Continue" to continue. PayPal will ask you to double check the information. And press Withdraw to execute a withdrawal order from PayPal to the Bank.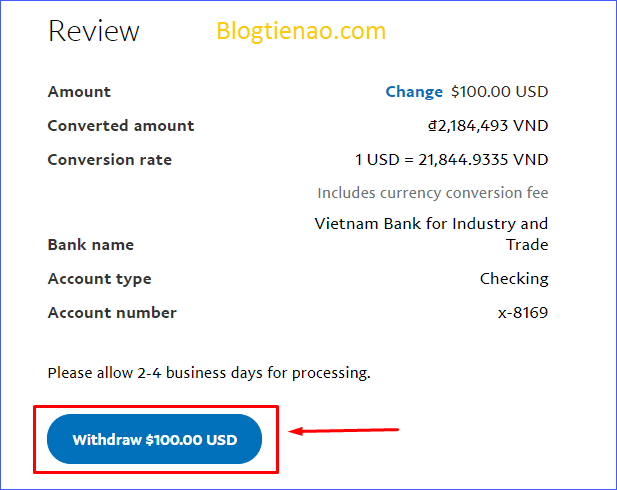 At the PayPal interface, you will see the history of this withdrawal. You need to remember the Transaction ID number, if there is a problem, you will use it to ask for Paypal support
Soon you will receive an email notification that PayPal is processing the transaction and the time to receive money to the card will usually be from 2-4 days depending on the Bank.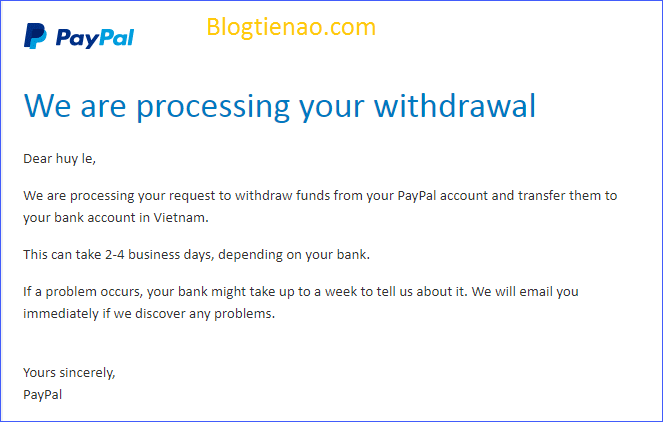 Money from Paypal will usually return to the Bank within 2-4 working days (excluding weekends, Saturdays and Sundays), it may take longer. Normally up to 7 days, you will receive a message to receive money from the Bank (if you sign up to receive phone messages) or to Internet Banking.
So here you have completed the withdrawal of money from PayPal to Vietnam Bank.
Conclusion
Above is the article "What is PayPal? The most detailed guide to account creation, verification and deposit withdrawal " of the Virtual Money Blog, hopefully through this article you can easily register, successfully authenticate your account at Paypal as well as know how to easily deposit and withdraw money.
If you have difficulty registering and authenticating at Paypal then leave a comment below Virtual money blog Okay, we will answer you as soon as possible. And do not forget to give yourself a Like, Share and rate 5 stars below. Good luck.