What is Mining City?
Before getting into the details, we want you to understand what MiningCity is in advance? as well as a few introduction about them first, according to information from their homepage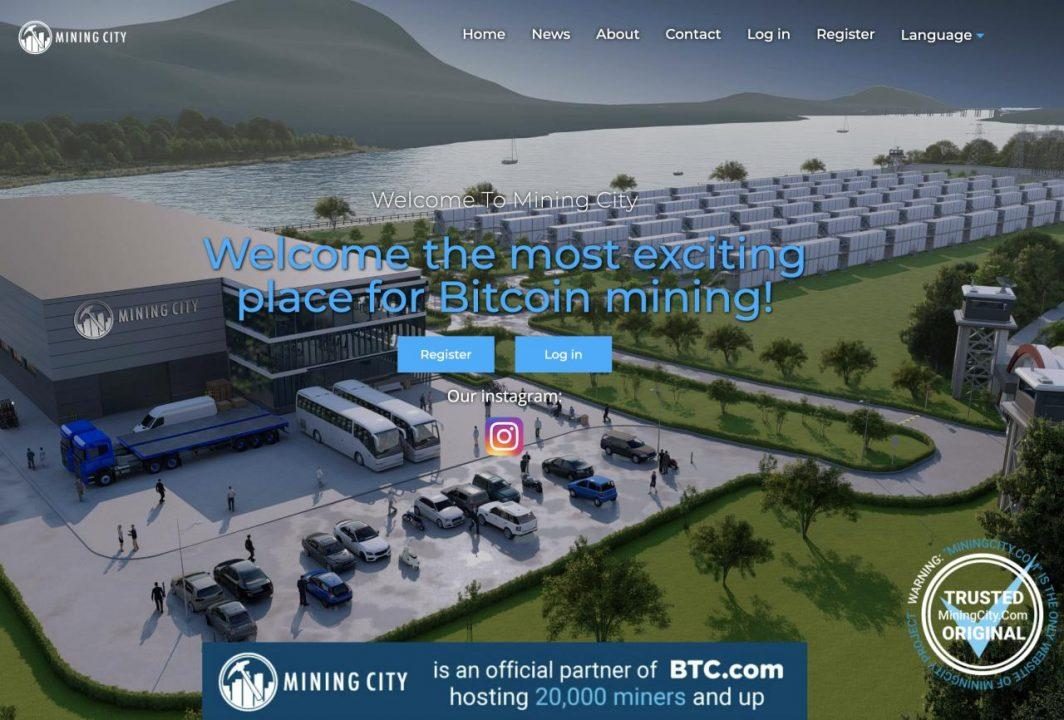 "Mining City is an initiative that aims to gather people who want to consolidate power and increase the chances of Bitcoin mining. Bitcoin is the digital currency that drives the explosive growth of Blockchain technology and many believe that this will be the future of the global financial industry. The process of buying Bitcoin is called mining, Mining City is where people can come and mine digital currencies as well as increase the value of their initial contribution through the expansion of the network of inter-mining companies. conclusion. We provide the power of exploitation, technology care and maintenance so that you reap the rewards. "
Explain the Principles of Operation Based on Bitcoin Mining From MiningCity
Bitcoin Where does it come from? With the issuance of banknotes, the Government decides when to print banknotes and distribute money. Bitcoin has no government of it. It operates independently and freely. You can buy Bitcoin and also own it. A mining tool is a specialized computer that uses special software to solve problems and is issued a certain amount of bitcoins in exchange for solving each problem. This provides a smart way to issue currencies and also creates incentives for more miners. Typically, Bitcoin mining tools help keep the Bitcoin network safe by approving transactions. Mining is an important and integral part of Bitcoin, ensuring fairness while keeping the Bitcoin network stable, safe and secure.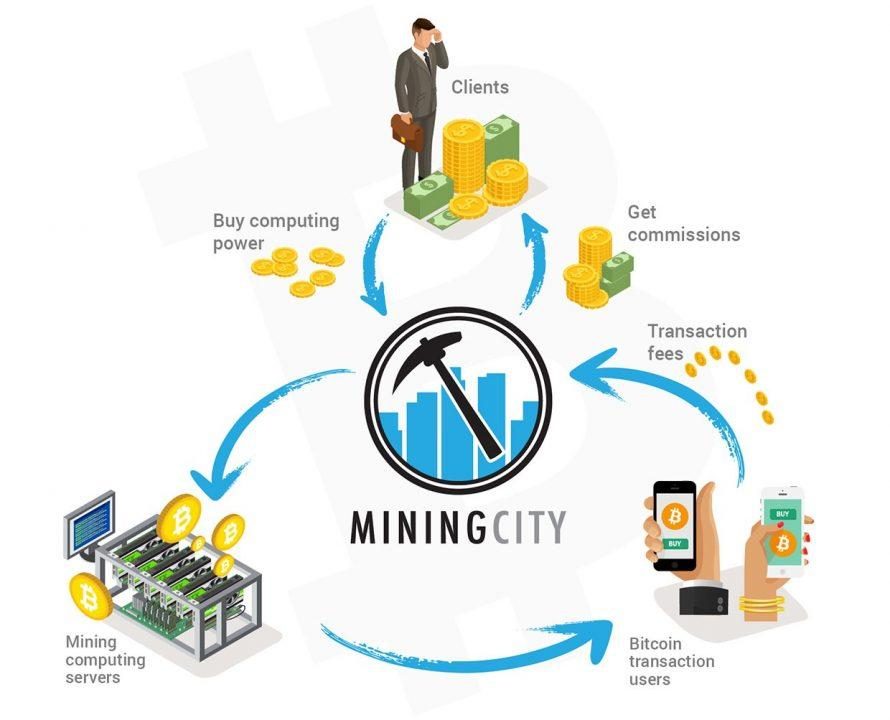 By joining our network and choosing one of our plans, you acquire the computing power that allows you to mine bitcoins at a certain rate and at a certain rate. That speed is connected with the quality of the mining computer. We always strive to provide the latest equipment for our operations, which is why we do our best to deliver the fastest computing power available - thus improving the mining process. . In addition to mining, we also provide a referral plan that allows income subsidy from mining alone. You can learn more about plans in the Privacy Zone after you join.
And above is some information that we have confirmed from their homepage for your reference, and also from the image above, that they have announced that they are partners of BTC.COM - The largest BTC mining in the world today. Before clarifying other information, let's learn about the HOT level of this project in Vietnam and the World.
Interest About MiningCity in Vietnam and the World
It is unknown whether this is a new project or not so much information from that time began to appear in Vietnam around May 5. And when it comes to this project, there are 2019 opposite views: one side thinks this is Skymining version2, one side thinks this is a potential project. Currently, we see a lot of refs recruiting on forums and investment groups about cryptocurrencies, showing the increasing level of interest in Vietnam.
So what about in the world? According to Blogtienao, it is possible that this is a new project that no one knows or why without any text documents as well as this press release given while this is a project that Vietnamese friends Male advertising is a huge project. Show that the world level of interest in this project is still very low!
Some Vietnamese news sites say this is a very HOT project in many countries and especially in Korea, but indeed we did not find any information about this incident. So it still feels a bit blurry.
Evaluation of Mining City
Basic Assessment
I myself was an investor Bitcoin miner, with the Asic series, typically the S9 with a capacity of 13.5TH / S, should be quite knowledgeable about the profits from here. I will give the basic assessment, is basic only offline.
MiningCity has many investment packages, wandering online, we also found some analysis articles on why investing is profitable, most of them talk about the $ 3500 investment package (82 million), so I also analyze this package too, below is an image of the GOLD package

3-year package: 1100 days
Interest will be charged 10 days after purchasing the package
The device used is: Antminer S9
Total machine capacity is: 70 TH / s (Equivalent to 5 S9 phones)
Electricity price is $ 0.0475 KWH
Power consumption of 70TH / s is 7000W
That is the basic information on the GOLD package. In terms of judgment, all information in the package is quite clear, about capacity, electricity price, ... I highly welcome this point from Mining City, at least they do it methodically, from website, to package regulations. , the system is also very professional. So will also temporarily secure if there are investment intentions.
Evaluation Details
As of May, Price 1 Bitcoin is $ 5.295. The total cost that Mining City digs a Bitcoin based on electricity price in Kazashtan is $ 2.912 + maintenance costs are around $ 3500 (estimated figure)
Thus, Mining City still has a surplus of $ 5.295 - $ 3.500 = $ 1.795 if 1 year later Bitcoin remains the price of $ 5.295 (an estimate for everyone to refer). Since this package is free for 3 years, what are they paying for after 2 years?
Their solution is that they predict the market will have a record price three years later, and whether it will coincide or not, by the time I write this article, the price of BTC is 3, at least they will be able to afford it. fee to pay interest for yourself within 11.000 years of digging. But if BTC does not rise well, will they pay me like?
If investing in Vietnam, you buy the machine yourself, with a similar package of 1 TH / S, you will spend about 70 million for (machine cost + repair cost + electricity cost in 130 years) And in 3 years, you also being able to mine the same amount of Bitcoin as they do, at least be in control. Such a big difference is because their electricity price is 3 times higher than their electricity price. So one more good reason to invest in MiningCity?
That is not including the difficulty of mining, Currently the difficulty has nearly doubled compared to the peak of 2017, currently the capacity of 70TH / s is only mined 0.8BTC, not 1BTC as the other sites reported, and it has further decrease as the number of new miners joins. I won't write it down in detail because many people don't know it difficult - What is HashRate!
However, what is worth mentioning? They use up to 35% of Total Revenue for the purpose of paying for the Affiliate system (frankly referral pull). You buy the package of 82 million, they will deduct as much as 28.7 million (equivalent to 35%) to pay for the person who introduced you. This is a model MLM - Multi Level! I'm not saying multi-level is bad! But with experience in buffalo breeding, after paying commission, they only have about 53 million for buying machines, paying for electricity for 3 years, care and maintenance costs for 3 years, ... then it is a real agent. Possible anywhere in the world right now ... Unless electricity is 100% free ...
So what does MiningCity mean? They bet on the price of Bitcoin, If Bitcoin goes to the real moon, they will naturally reap huge profits, and investors can also have high returns as expected, and this is the problem if so. In the opposite direction, If Bitcoin is only fluctuating between $ 5295 and $ 7000, with a systemic rate of increase and only paying commissions, they will probably have to close and go bankrupt in only 1 year ... You will understand for yourself how much money you will lose without getting your capital back
Blurry Information About Mining City
As far as I know, MiningCity is a strategic partner of BTC.COM - the largest mining POOL in the world today. And they also signed a strategic paper on investment with the Kazastan government in the provision of 5-year land for the construction of a mining factory as well as preferential electricity prices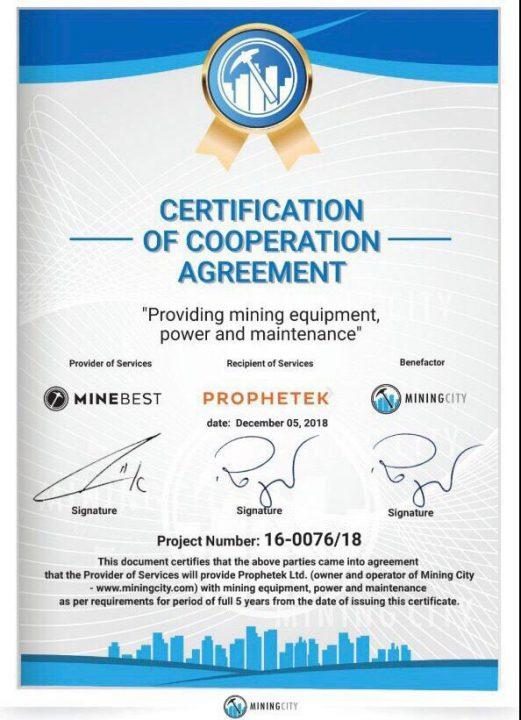 Did I post this picture to bitmain - the owner of BTC.COM as well as I have been on their telegram channels to ask about their strategic partnership? The answer I get is they cooperate. The problem is that the photo I sent is the one above, and they confirmed to me that the photo I mentioned mentioned Minebest, not them, and for clarification they said I should ask the Minebest guys. should ask them. The answer I received on Telegram is almost the same, that is MiningCity is just one of their big VIP customers, they cooperate as VIP customers. So the question is whether the transparency in the papers provided by other Vietnamese sites is transparent and true or not?
I also see data images about MiningCity, there are still many or no answers, the photos that show the popularity of MiningCity in Japan, Korea, Europe, ... I search forever. eyes and see no place like that. Guarantee insurance packages, investment losses will be insured on MiningCity, I wonder who insures? If the real collapse is really covered or not? Because no papers or companies dare to stand out insurance, it's just a promise of insurance.
Epilogue
It is true that the Water is too clear, there are no fish, the water is too turbid, the fish is dead, the cryptocurrency investment sector always has high risks, in general the MiningCity project is at least - if compared with the projects. Other HYIP projects such as SCF Token, CTO, Plustoken, ... are better, because the interest rate is not too high (300% / 3 years instead of 360% / 1 year like other projects), my forecast also says that the project This project will live long because of my personal judgment, the price of BTC will also increase strongly in 2020, But if BTC only ranges from $ 5000-8000, you define that the project will break in about 1 year. Anyone who asks me whether I should invest or not, I do not give advice, but please read carefully the analysis above and make your own judgment. Personally, I don't currently invest in this project. Good luck

Like fanpage Facebook of Virtual Money Blog
Join the channel Telegram of Virtual Money Blog
Participation GROUP Discuss news of Virtual Money Blog