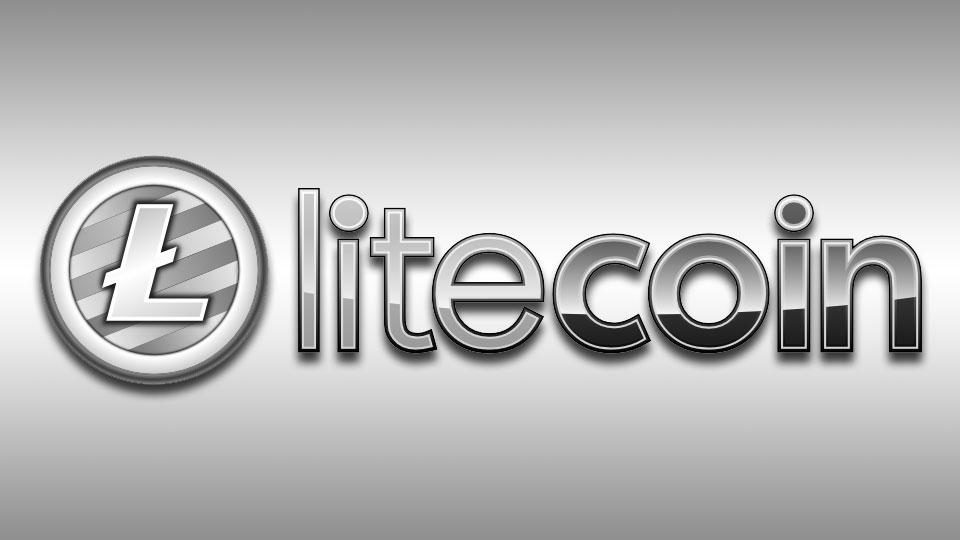 What is litecoin (LTC)? When it comes to cryptocurrencies, people often think of it Bitcoin, a series of the world's most valuable currencies to date.
But in recent years, in Vietnam in particular and in the world in general, there has been another type of cryptocurrency named Litecoin. If Bitcoin is referred to as "gold" then Litecoin is considered "silver".
So What is litecoin? How is it different from Bitcoin? Let's Virtual money blog find out.
Overview of Litecoin (LTC)
Litecoin (LTC) is the peer-to-peer currency of the Internet and is decentralized similarly to Bitcoin. This is the first cryptocurrency to implement the SegWit protocol.
Charlie Lee, a former Google employee, released Litecoin on October 7, 10 on the Github source code. His original goal was to create a version Bitcoin (BTC) "lighter.
The Litecoin network went into operation on October 13, 10. This is basically one fork of Bitcoin Core client.
While Bitcoin is considered "Gold" and is a store of long term value. Then Litecoin is considered "Silver" and is a means of daily transactions with low fees.
Besides, thanks to Bitcoin using the SHA256 encryption platform and Litecoin, the improvement with Scrypt has allowed miners to mine both Bitcoin and Litecoin at the same time without fear of system conflicts.
Some features of Litecoin
While Litecoin is considered a copy of Bitcoin, they still have some new features:
Maximum supply
The maximum supply of LTC is 84 million coins, 4 times more than the supply of BTC. In theory, with this maximum supply, the value of LTC will be one quarter of the value of BTC.
However, this is just a theory, and the theory is often far from reality.
Transaction speed
A transaction in Litecoin is confirmed within 2.5 minutes. While Bitcoin needs an average of 10 minutes.
Transaction fee
The Skrypt algorithm allows for significantly reduced transaction costs.
Block rewards
Miners are rewarded with LTC for contributions. The Halving event takes place after 840.000 blocks, the equivalent of every 4 years. And with the latest Halving on August 06, 08, miners currently receive 2019 LTC per block.
Anonymous transactions
Because all transactions are processed on the respective blockchains, the Bitcoin, Ethereum, Bitcoin Cash network cannot have the anonymous feature.
In contrast, the Litecoin network underwent a soft fork and implemented the MimbleWimble bulletproof to bring anonymous trading to its users.
However, this has led to higher transaction fees than in the beginning.
Mining algorithm
Both Bitcoin and Litecoin use algorithms Proof-of-work. But Litecoin is more "democratic" when using encryption algorithms Skrypt while Bitcoin uses encryption algorithms SHA-256.
Skrypt allows for less computing but uses more memory.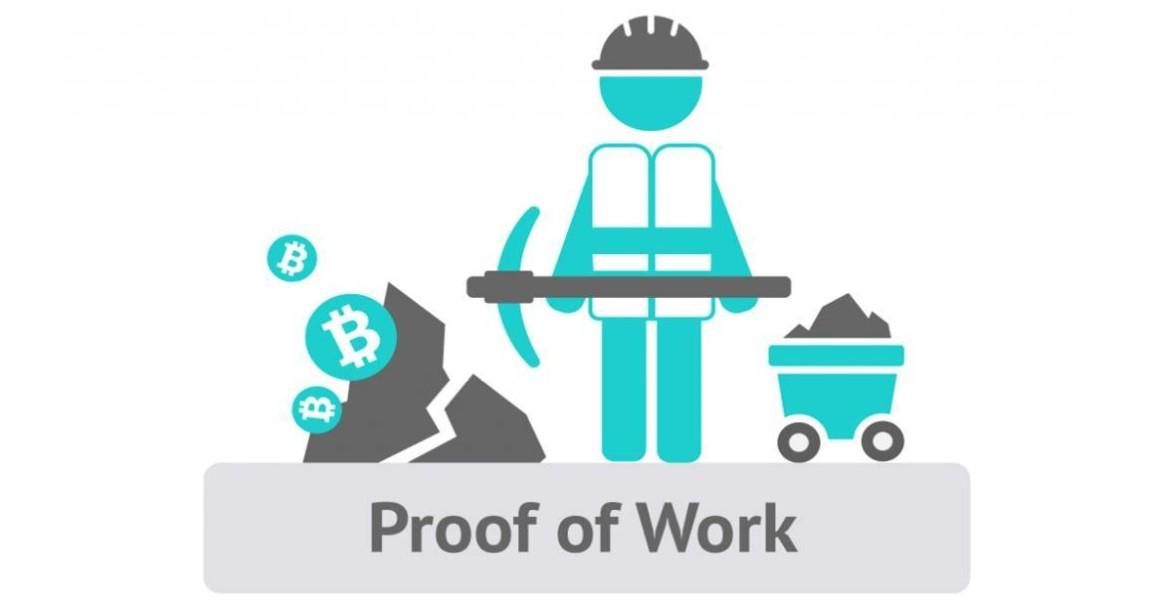 Atomic swap
This is an interesting feature in the Litecoin network. You can understand it this way: you have 1 BTC and want to exchange them for LTC, usually you have to go to the exchange and pay a fee to do that.
But with atomic swaps, if you have 1 BTC and someone has the same amount of LTC, you can swap each other without going through an exchange and without paying a fee.
Atomic swaps operate using Hashed Timelock contracts.
Litecoin's transaction speed
The average block mining speed in Litecoin is 2.5 minutes, while Bitcoin is 10 minutes.

But if the network is congested and block mining time is slow, the average waiting time for transactions can fluctuate up to 29 minutes.
This brings many advantages for traders who need to make many small transactions every day.
Litecoin traders can receive two confirmations within 5 minutes. While a confirmation in Bitcoin takes at least 10 minutes.
How many LTC coins are created each day?
Every 2.5 minutes, a Litecoin block is mined and 25 coins are created. Then there will be 14.400 LTC generated each day.
Differences and similarities between Litecoin and Bitcoin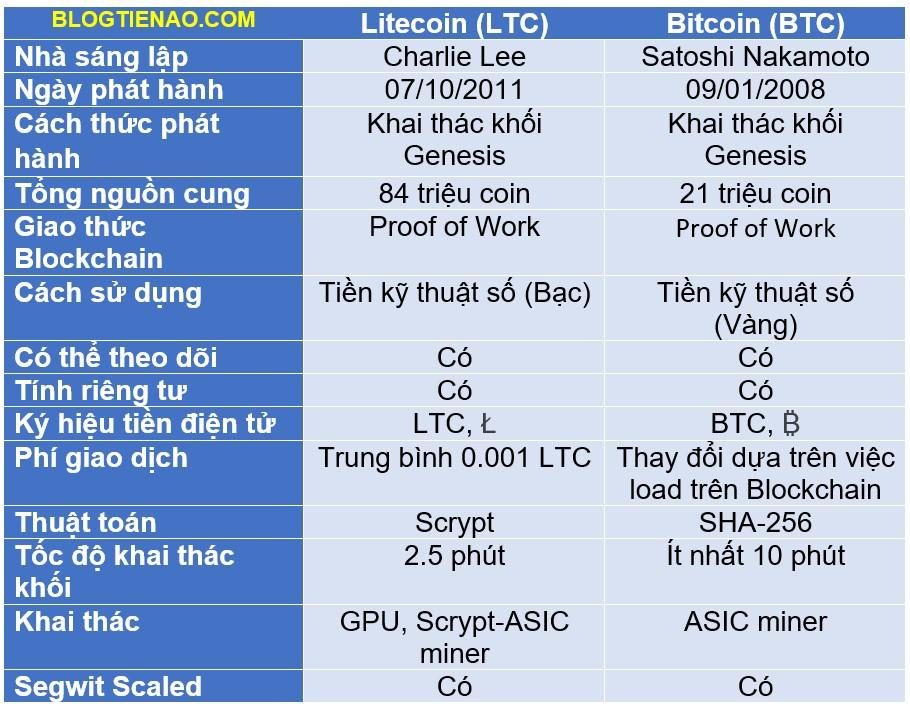 LTC rates

LTC is currently ranked 6th on CoinMarketCap, after Bitcoin, Ethereum, XRP, Bitcoin Cash , and Bitcoin SV.
You can follow up Litecoin exchange rate updated daily in real time to stay up to date with the latest price movements.
LTC co-unit
Like Bitcoin, Litecoin is also divided into 1 million units
0.001 mLTC (millicoin)
0.000001 µLTC (microcoin)
0.00000001 Minimum unit
LTC ATM map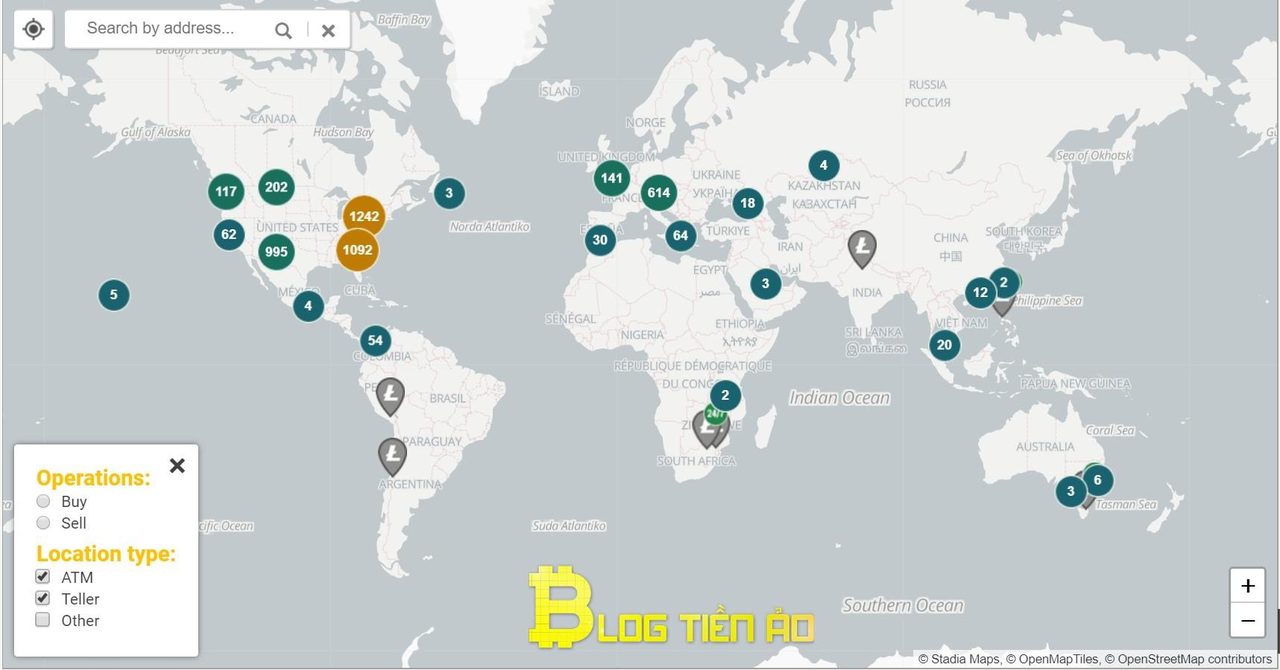 The team behind Litecoin
In 2011, Charlie Lee released Litecoin on GitHub.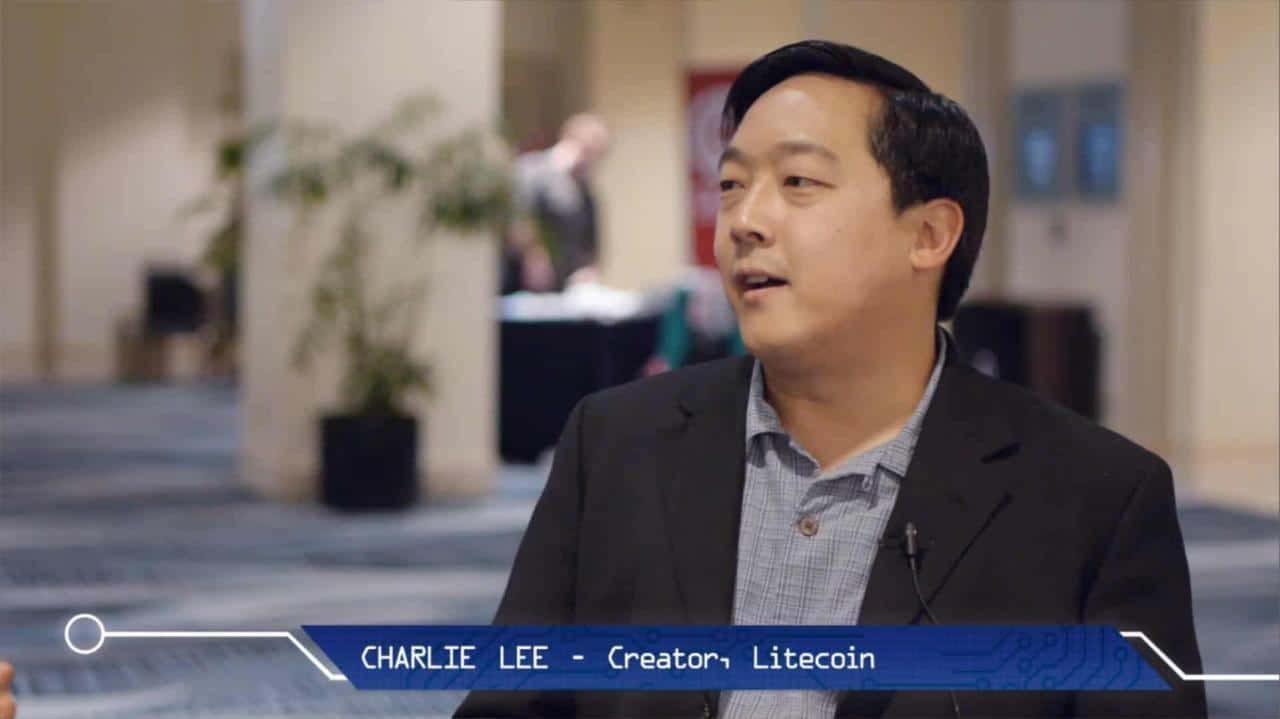 From 2011-2016, Litecoin did not have a full-time developer. Initially, only Charlie Lee ("father" of Litecoin) and Warren Togami (lead developer) were associated with the open source project Litecoin.
In 2016, a developer with the alias "Shaolinfry" joined Litecoin.
In addition, there are a number of other contributors who run the community and monitor releases.
Official Litecoin partner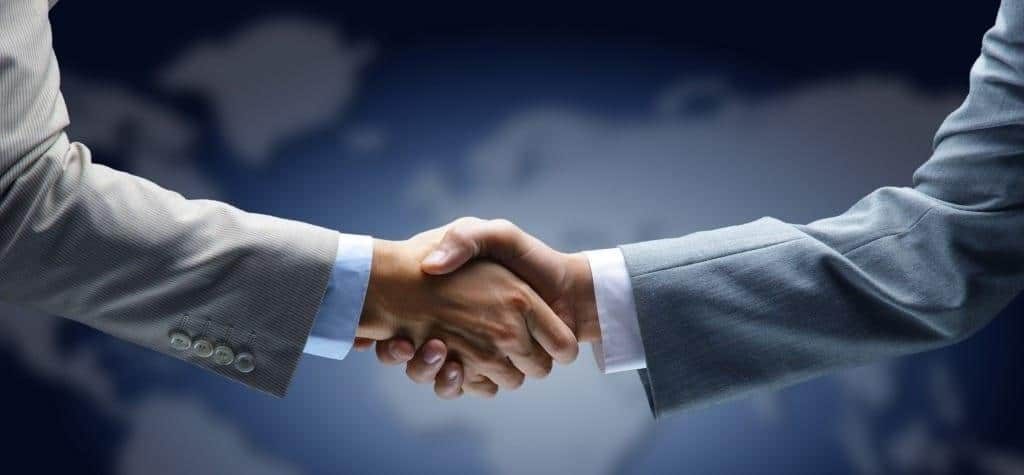 After 9 years of existence and development, Litecoin now has many official partners spread across many industries, such as:
Travala.com: 567,928 hotels in 210 countries with 82,311 destinations
Travelbybit.com: Book flights and hotels in electronic money
BlockFi: provide asset management products that cryptocurrency investors need. All are backed by blockchain technology
There are also a number of other partners in the e-commerce industry.
Is Litecoin potentially abused?
The possibility of criminal abuse is not too strange for the cryptocurrency industry. Especially anonymous coins like Litecoin.
Because of allowing users to send and receive money anonymously, LTC has become one of the ideal currencies for criminals to use to launder money. So it can be said that anonymity is both beneficial and harmful at the same time.
However, one thing to remember is that these cryptocurrency abusers only account for a small number of users.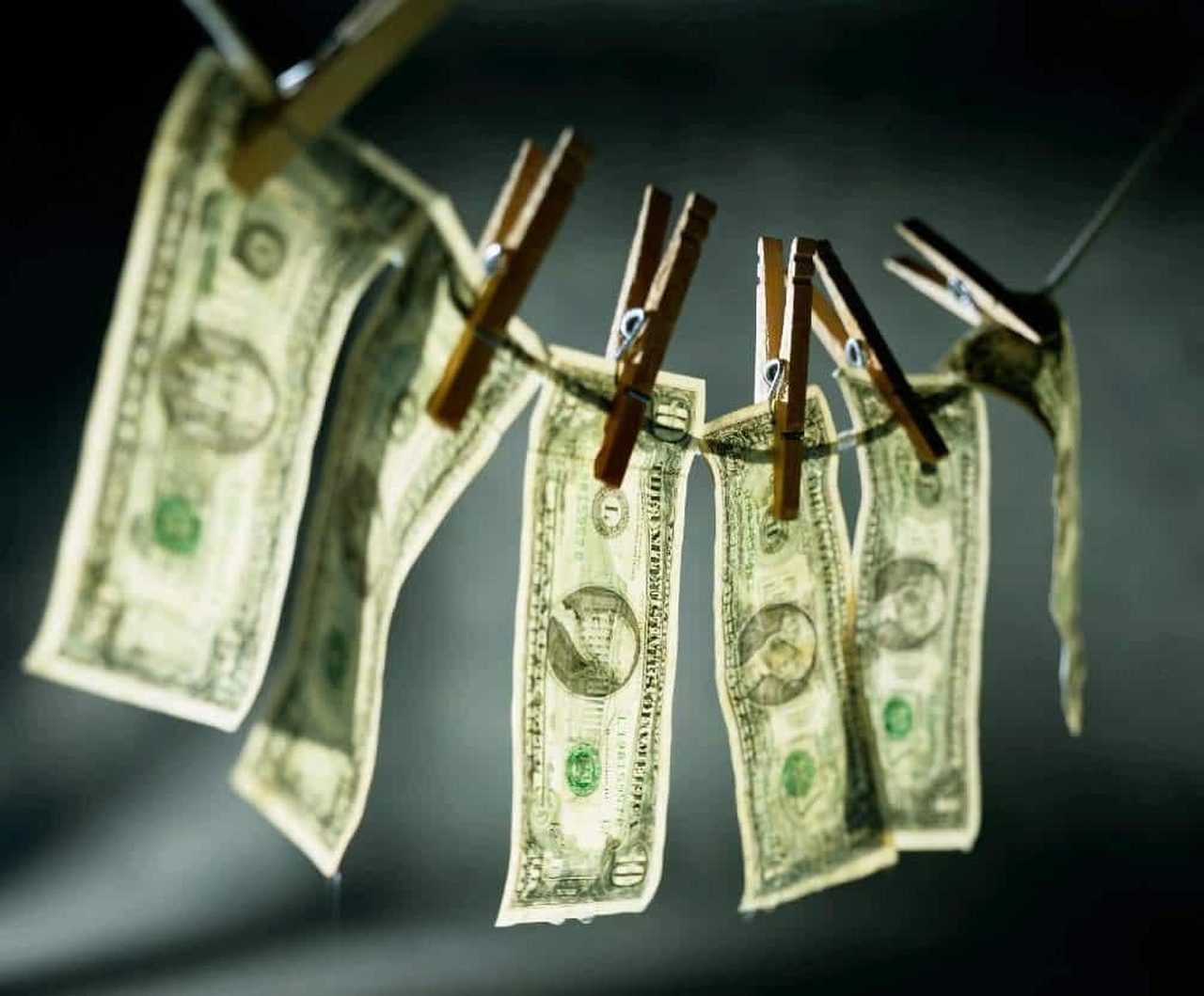 Is Litecoin a legal currency?
Whether or not Litecoin is a legal currency must look at the laws of each country. For example, in Vietnam, cryptocurrencies are not prohibited by law, but they are not necessarily acknowledged, they are still controversial.
The future of LTC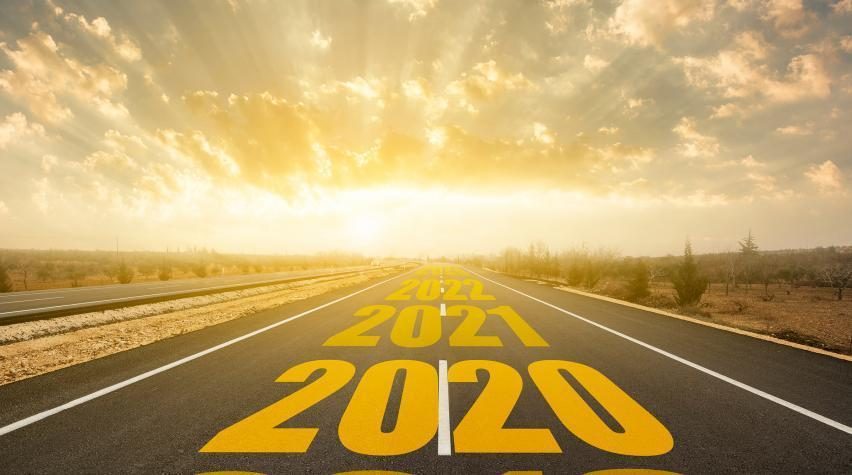 Although Litecoins have been around for a long time and have experienced strong drops many times, they have never fallen out of the top 10 on CoinMarketCap.
Besides, you don't need to worry about Litecoin flooding the market as well as the value of Litecoin falling. Because only 84 million coins can be mined.
In addition, as of Q4 2019, the number of wallet addresses operating on the Litecoin network placed more than 45 million. Meanwhile, the number of daily active wallet addresses is 77.1 thousand wallets. This shows that the use of LTC is very large.
Instructions on how to dig LTC for newbies
Blogtienao has written a separate tutorial on this item, you can see the details in the link below:
Some risks can be encountered when becoming a Litecoin miner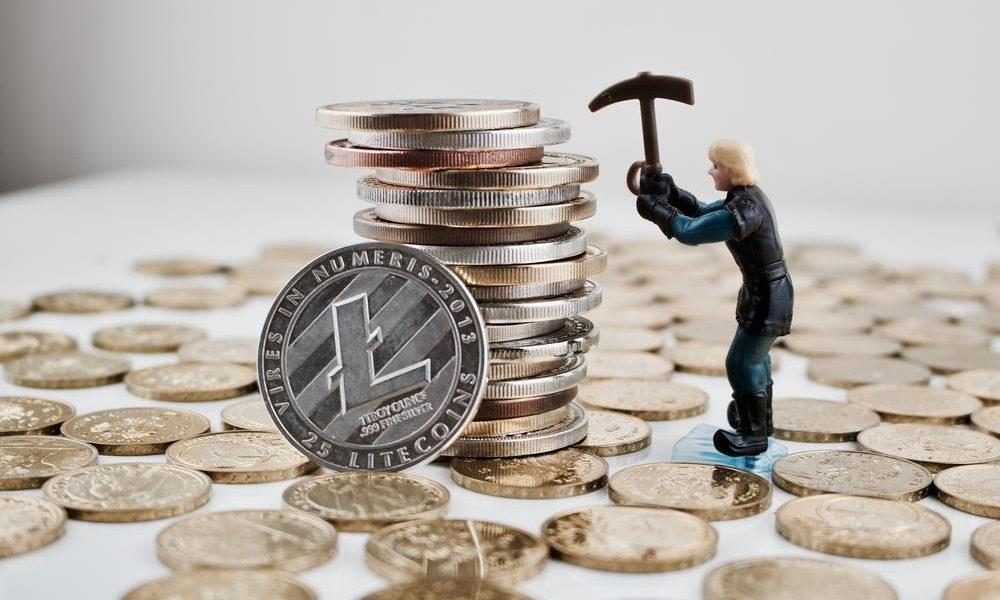 The following Blogtienao will list some risks you may encounter when becoming a miner:
Difficulty level increases: As more and more miners participate in LTC mining, the difficulty will increase accordingly. This reduces your profits. Therefore, you need to make a realistic estimate of the level of difficulty that will increase in the near future.
Resale at low prices: To get good productivity, you have to dig with ASIC hardware. However, since this hardware can only be used for mining and is not retrofitted for other purposes, the resale value is quite low.
High power consumption: Mining is a process that consumes a lot of power. Therefore, cheap electricity is a very important part of the calculation of profits.
Where to buy, sell and trade LTC?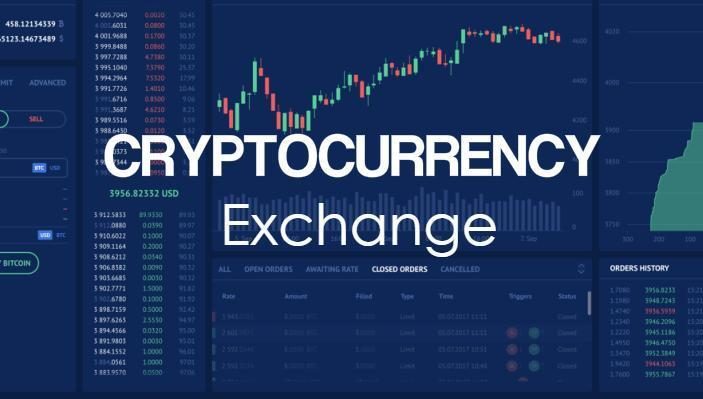 Currently, LTC is trading on many large exchanges. Here I can tell some notable names such as: OKEx, Bitfinex, Huobi, Binance, Bit-Z or HitBTC,…
However, if you want to invest in LTC then I recommend you choose the floor Binance or Huobi. These are the two biggest exchanges at the moment and have cheap transaction fees as well as fast transaction speeds.
In addition, you can also trade LTC with Vietnam Dong at some domestic exchanges such as Vicuta, Coinhako, Remitano, T-Rex, ...
Purchase Litecoin (LTC) on the Vicuta exchange
To trade on Vicuta, you need to have:
Account On Vicuta
InternetBanking one of the banks VCB, ACB, TCB, VTB, SCB. Techcombank should preferably give it convenience.
Note: You also do not need to secure your Vicuta account because this is just a place to buy and sell, not store coins on the floor, so the loss of your account, you also feel secure because it will not affect your assets.
Step 1 : you click Click here to register nhé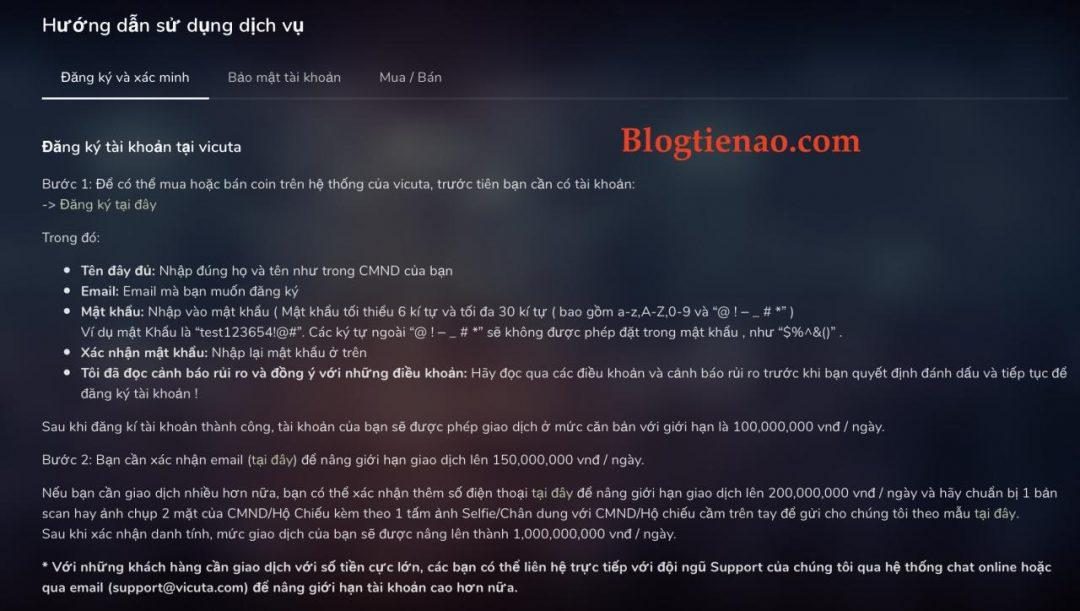 This is a detailed guide, you follow is okay.
Step 2 : after registration, you login and please verify your email, phone number to upgrade your transaction limit. Identity verification is only needed when you want to trade in bulk.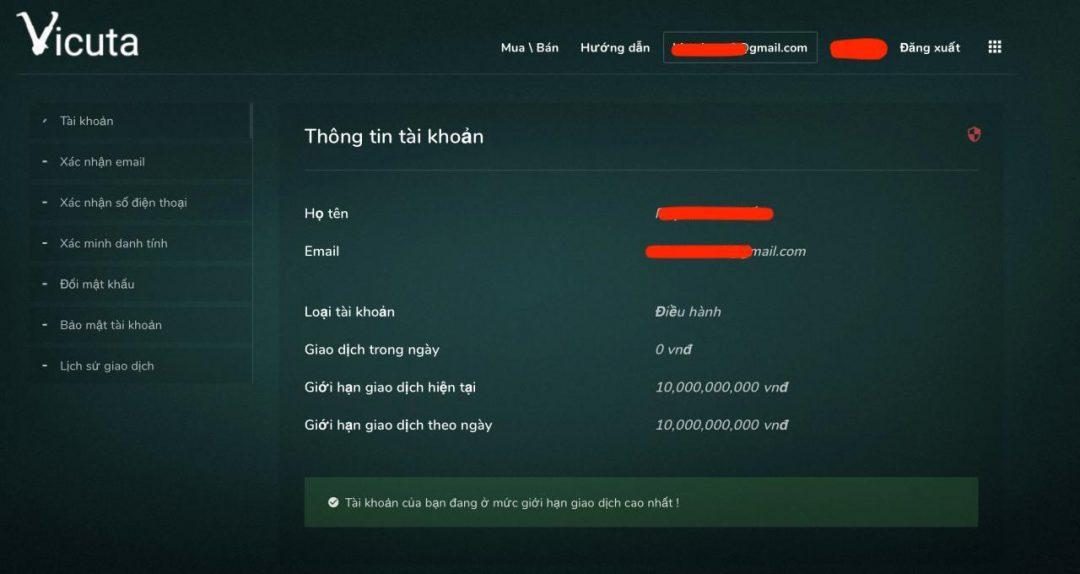 Step 3 : proceed buy Litecoin (LTC) on Vicuta
You enter the Section Purchase choose Litecoin (LTC) or go directly to this link: https://vicuta.com/buy/LTC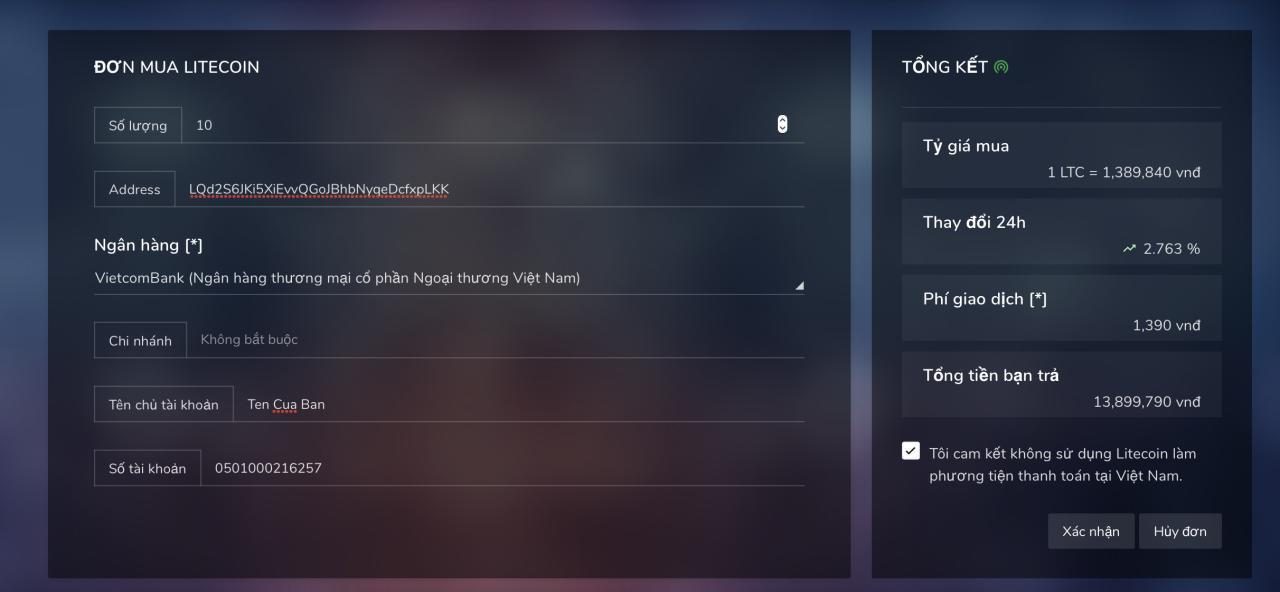 Quantity: for example, if you want to buy 10 LTC, enter 10.
Address: Your Litecoin (LTC) address.
Bank: Should choose VCB or TCB or ACB and remember your bank account must have internetbanking
Account Holder Name: the same name you register at Vicuta
Account Number: Your bank account number
Then mark my commitment and click Confirm through the next step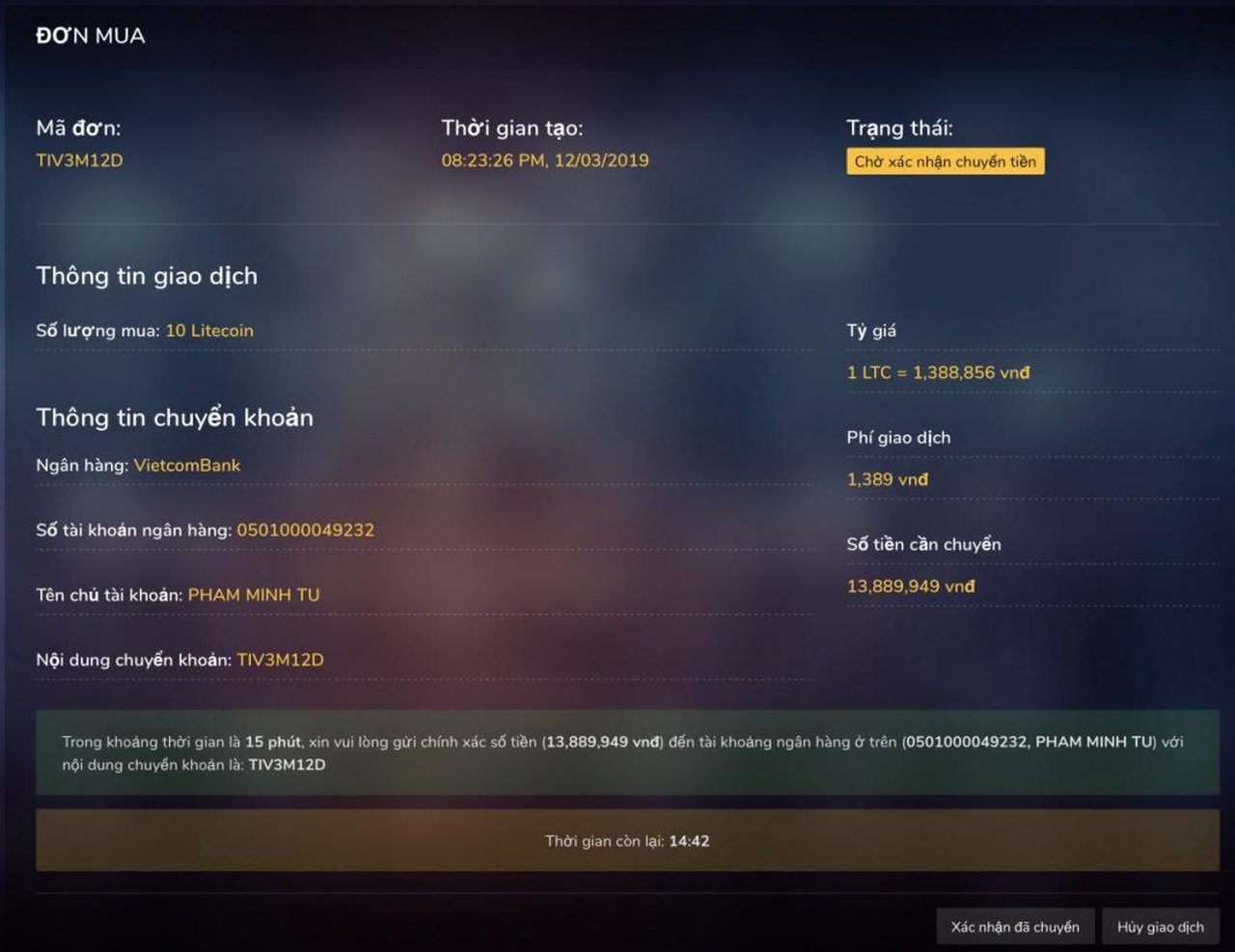 In the period of time is min, please send the correct amount (13,889,949 vnđ) to the above bank account (0501000049232, PHAM MINH TU) with the content of the transfer: TIV3M12D
You log into your internetbanking account, make the required transfer with the exact account content as above, After the transfer is complete you press "Confirm Transfer"And go make coffee and wait for 15-30p LTC will come to your wallet.
The risks encountered when trading LTC
First, because LTC is monetary in nature, their value is affected by supply and demand. However, according to the Litecoin community, this is a positive effect.
Secondly, digital currencies are currently not under control. This makes them a risky investment for some people.
Finally, changes in government capital control (China only here) could reduce demand.
Wallet hosting
Regarding this section, Blogtienao has written a very detailed article, you can see at the link below:
Conclusion
Hope Blogtienao It has brought you really useful knowledge about LTC in the above article. Wish you a successful investment!