What is KuCoin?
KuCoin is a Chinese digital currency exchange, established on September 15, 09 in Hong Kong. KuCoin.com floor Only provide coin trading pairs with coins, i.e., it does not support coin transactions with fiat currencies such as USD, EUR or VND. In addition to popular currencies like Bitcoin, Ethereum, Litecoin, KuCoin also supports a lot of altcoins and especially tokens of ICO project. (See instructions for registering an account and trading on Kucoin below: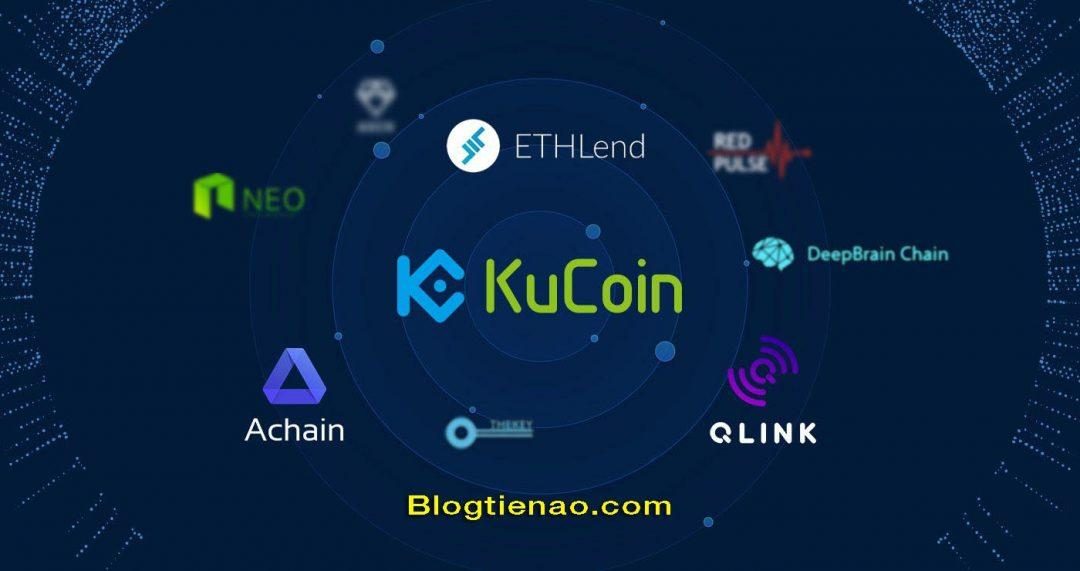 Special point of KuCoin exchange is it own own coin named Kucoin Shares (KCS) and also allows investors to trade other coins with KCS for a reduced transaction fee, it's the same Binance Exchange have co Binance Coin (BNB) so. At a time Virtual money blog Writing this article, KuCoin is ranked 16th on CoinMarketCap About trading volume, approx $ 325.753.170 USD in the last 24 hours.
Features of the KuCoin exchange
Secure electronic wallet: KuCoin's cryptocurrency wallets are multi-layer encrypted, stored offline in a secure bank, trust fund and periodic audit of the bank.
High security: KuCoin provides very good security features such as via Email, 2-factor security (2FA), ..
Low transaction fees: Similar to Binance, Kucoin has an extremely competitive transaction and withdrawal fee. (See below)
Quick transactions and withdrawals: KuCoin says that Blockchain-based digital currencies will be added to your account within 2 minutes of your transaction, the withdrawal will be completed within 10 minutes.
Nice and friendly interface: Kucoin gives investors a professional interface, beautiful charts and intuitive trading items, similar to Binance, suitable for newbies.
24/7 support: KuCoin supports customers 24/7 through Telegram, WeChat, live chat online on websites and other platforms.
Support multiple Coin: KuCoin supports a lot of coins, many of which you cannot find on other major exchanges. Kucoin also allows you to request new coins.
KuCoin app: KuCoin provides mobile applications for both iOS and Android, you can completely buy and sell on smartphones.
Support multiple languages: Although Kucoin is a floor of China, in addition to Chinese, Kucoin supports English, French, Korean, etc. by Kucoin towards the international market.
News page: KuCoin has a site dedicated to updating the latest news and announcements on the exchange, helping investors keep up to date with all changes of the exchange.
What markets does KuCoin support?
Present KuCoin exchange Offers 5 trading markets are Bitcoin (BTC), Ethereum (ETH) USDT (Tether), NEO (NEO) and KuCoin Shares (KCS). Although KuCoin recently launched in mid-September 09, they already support a lot of coins, including popular coins like Bitcoin, Ethereum, Litecoin, NEO, Bitcoin Cash, Bitcoin Gold, ... and many tokens like EthLand (LEND), RaiBlocks (XRB), Dragonchain (DRGN), Dent (DENT), ...
KuCoin exchange Do not offer pairs dealing with fiat currencies such as USD, EUR and you cannot buy coins via Paypal or Visa / Mastercard or pay via bank account.
What is the transaction fee on KuCoin?
KuCoin exchange will charge 0.1% when you trade, this 0.1% will be calculated based on the total number of coins you traded. When you buy and sell coins with KCS will be reduced from 30% transaction fee.
For deposit fee (BTC, ETH, USDT, ..) all will be free. With the withdrawal fee KuCoin will charge depending on the coin you withdraw. You can see the details of transaction fees for all coins squid fishing tours.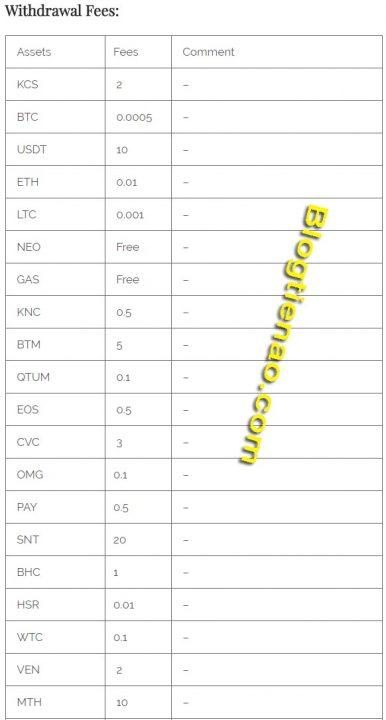 Development team of KuCoin exchange
Michael Gan (CEO): He used to be a technical expert of Ant Financial (Alibaba Group) with a very good understanding of financial solutions similar to Alipay. He has held positions of senior partner in some famous Internet companies such as MikeCRM and Kf5.com, etc.
Eric Don (COO): Senior researcher on internet and system architecture. He has over 10 years of experience working and starting a business in the internet industry, and has held CTO positions and senior partners of prominent IT companies such as Youling, Fengzheng Lianxian and Ruiyun Wulian, etc.
Kent Li (operations director): Specializes in developing key activities and holds positions such as CEO and architect at several internet companies. He is also a regional supervisor for the REAP project initiated by Stanford University in Asia.
John Li (Sales Team Leader): Chairman of Jianbang media company and project manager of the popular domestic group buying and selling website. He is responsible for more than 30 group purchasing service centers in China, focusing primarily on consumer finance.
Top Lan (CTO): Technical expert of the Open Source Community and manages some popular open source projects in github. He completed the design and implementation of the Kucoin financial trading system.
Jack Zhu (Marketing Director): CEO of southwest market of iBOX PAY. He is in charge of a marketing team with over 300 employees.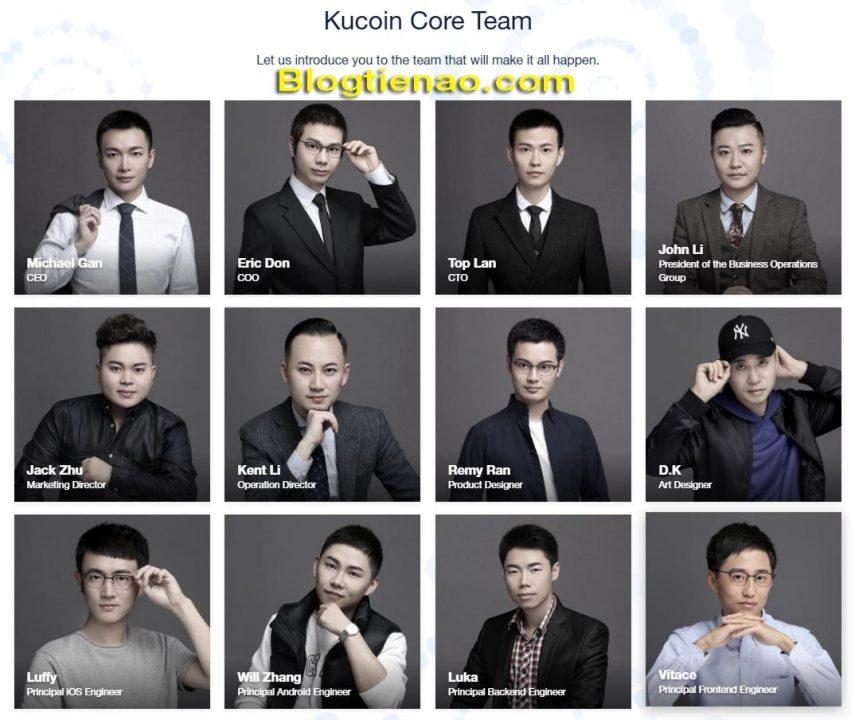 Is KuCoin a scam (Scam)?
Up to the present time, the KuCoin exchange has never been involved in any scam cases and has not been attacked by hackers leading to losing customers' money. Kucoin.com is one of the very ok Chinese exchanges with high security and low transaction fees as well as a professional trading system. You can fully deposit money to start trading on Kucoin without having to worry about scam and hacker issues.
Conclusion
Above is the article "What is KuCoin? Review of China's cryptocurrency exchangeHope to give you an overview of this exchange. KuCoin would be a good choice for those who want to trade tokens, new coins that cannot be found on large exchanges like Bittrex or Poloniex. The following article I will guide you how to register for an account, security and verification on KuCoin so please follow Virtual money blog ok
If you have any further questions about KuCoin exchange then leave me in the comment section, I'll give you the answer soon. Finally do not forget yourself one Like, Share , and 5 star rating to support me out for other useful posts. Good luck.
Follow KuCoin at: