After a quiet time Binance has just introduced the 10th project on Binance Launchpad with the name KAVA. Launchpad project this time can revive the trend IEO or will like PERL, BAND? Let's find out together Blogtienao .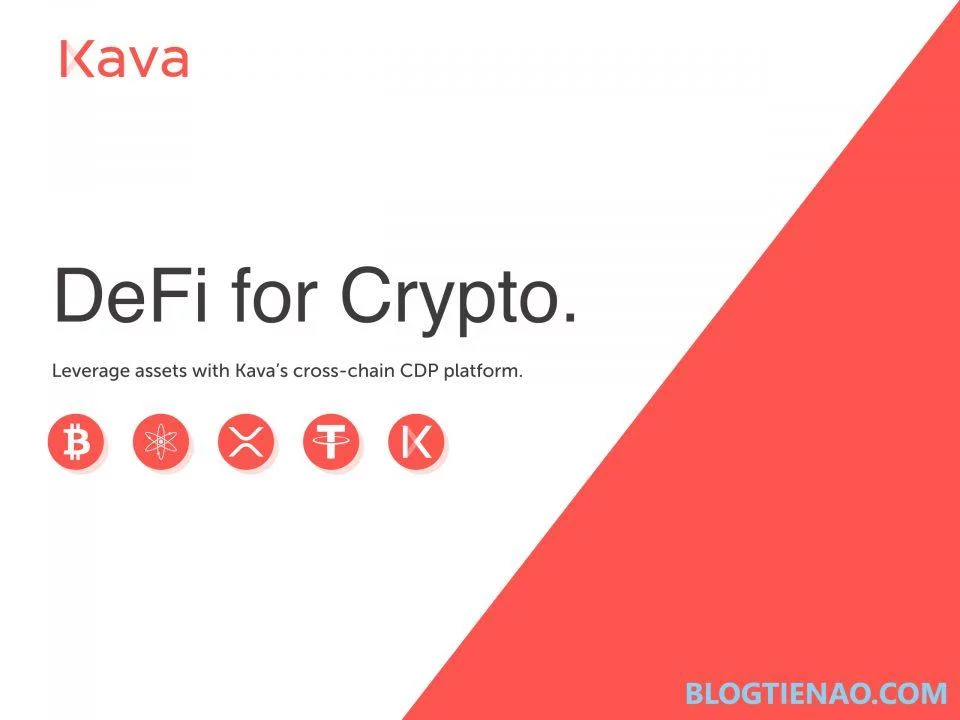 What is kava?
Kava is a DeFi (Decentralized Finance) platform. To become a decentralized financial platform, they provide a Lending platform and a stable currency compatible with major cryptocurrencies. The platform accepts collateral assets such as BTC, XRP and ATOM.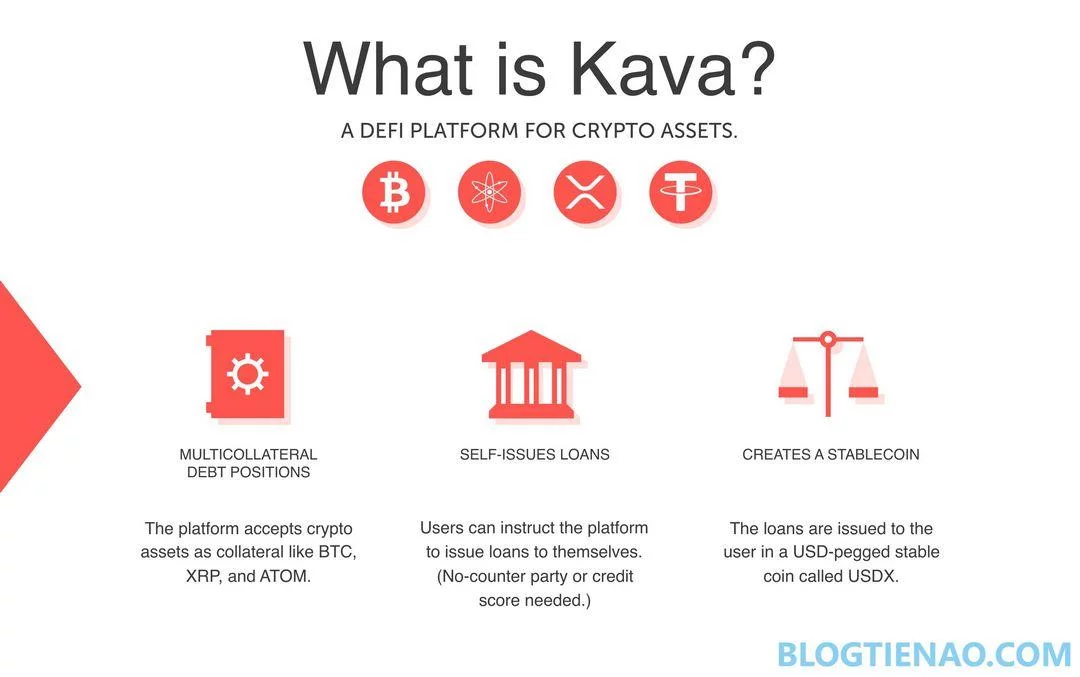 How does the Kava platform work?
Users top up their electronic funds into the platform. Cryptocurrencies will be locked as a form of collateral in CDP. Users will get USDX stable money loans based on CDP value. Users pay loans and fees to unlock collateral. Similar to margin, the system will automatically liquidate collateral if the payables fall below the prescribed threshold. After the user has paid the debt, the system will burn USDX and the mortgage will be returned to the user.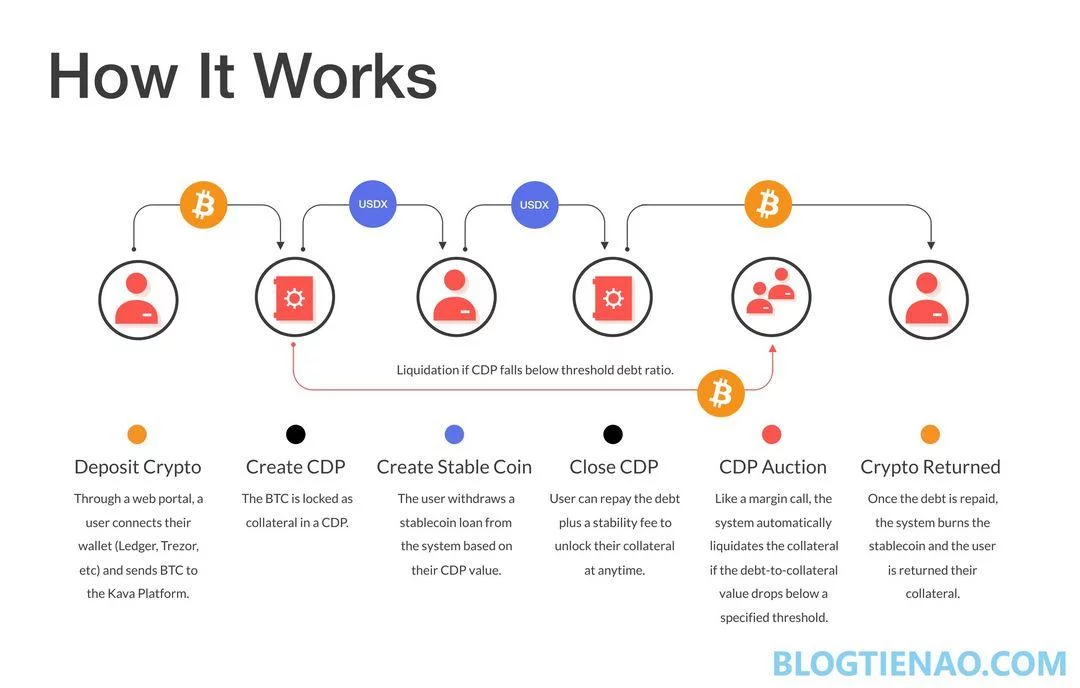 KAVA electronic money
What is KAVA token?
This is the original cryptocurrency of the Kava ecosystem.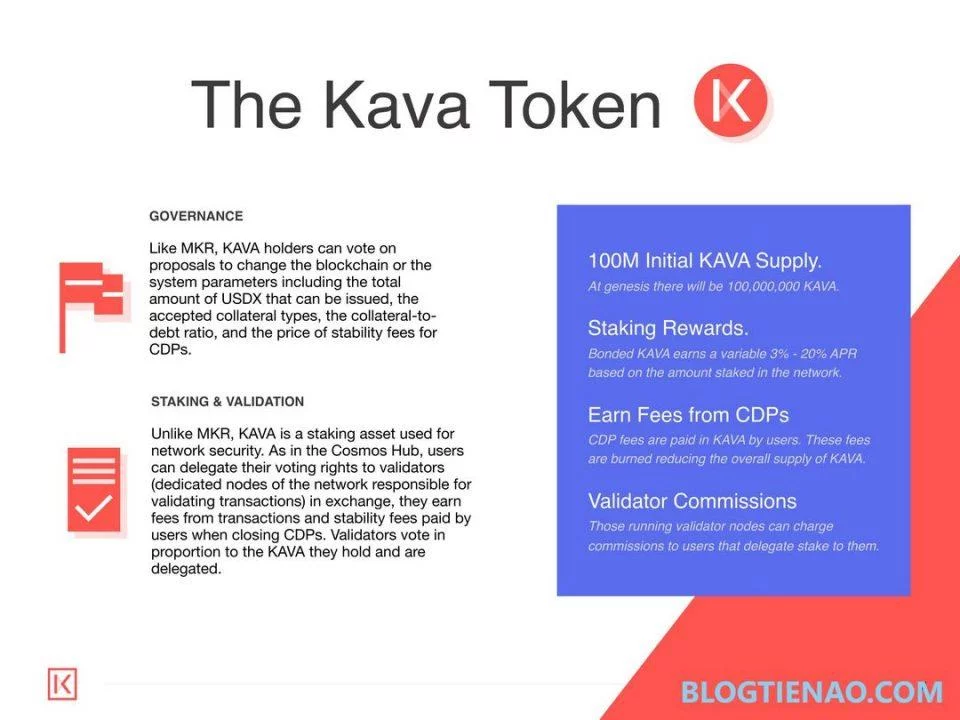 KAVA token use cases
KAVA is used in three main cases:
Security: The blocks are authenticated by 100 nodes. The reward for those running validators is the KAVA token
Administration network: KAVA is used for proposals and voting
Lender of Last Resort: KAVA acts as a "currency" that stabilizes the market price for USDX
To administer the token and how to use the fund
As of October 10, Kava Labs has used about 2019% of the money in the following allocation
Platform development: 45%
Business and marketing development: 25%
Activities: 10%
Legal & Accounting: 10%
Other: 10%
KAVA token release schedule
The following chart shows the number of KAVA tokens intended to be issued monthly: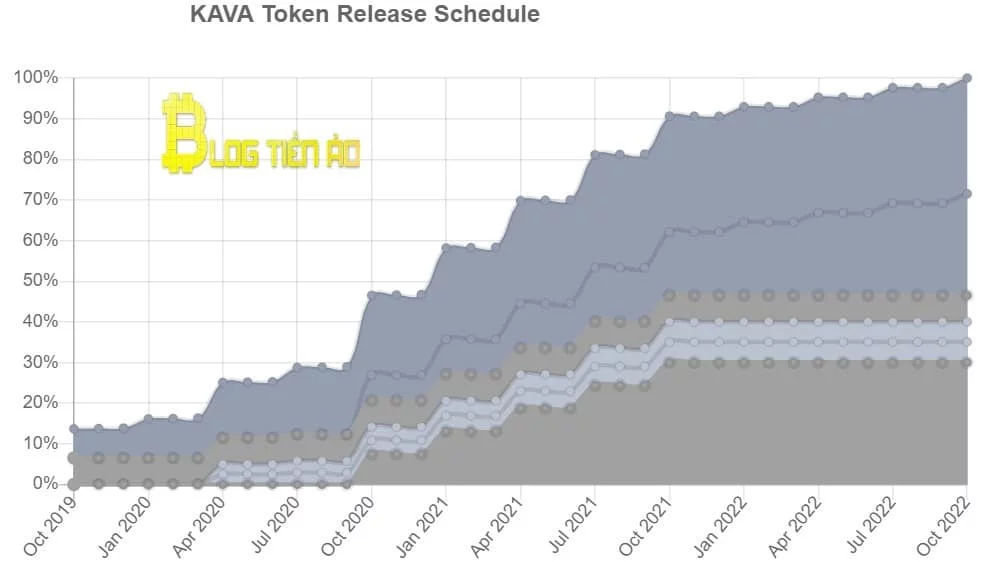 KAVA distribution
Private Sale 1 (June 15 to June 6, 30): accounting for 6% of total supply
Private Sale 2 (June 15 to June 7, 31): accounting for 7% of total supply
Private Sale 3 (August 15 to August 8, 31.): Accounts for 8% of total supply
Binance Launchpad Sale accounting for 6,52% of total supply
Kava Labs shareholders holds 25,00% of total supply
Token Treasury accounting for 28,48% of total supply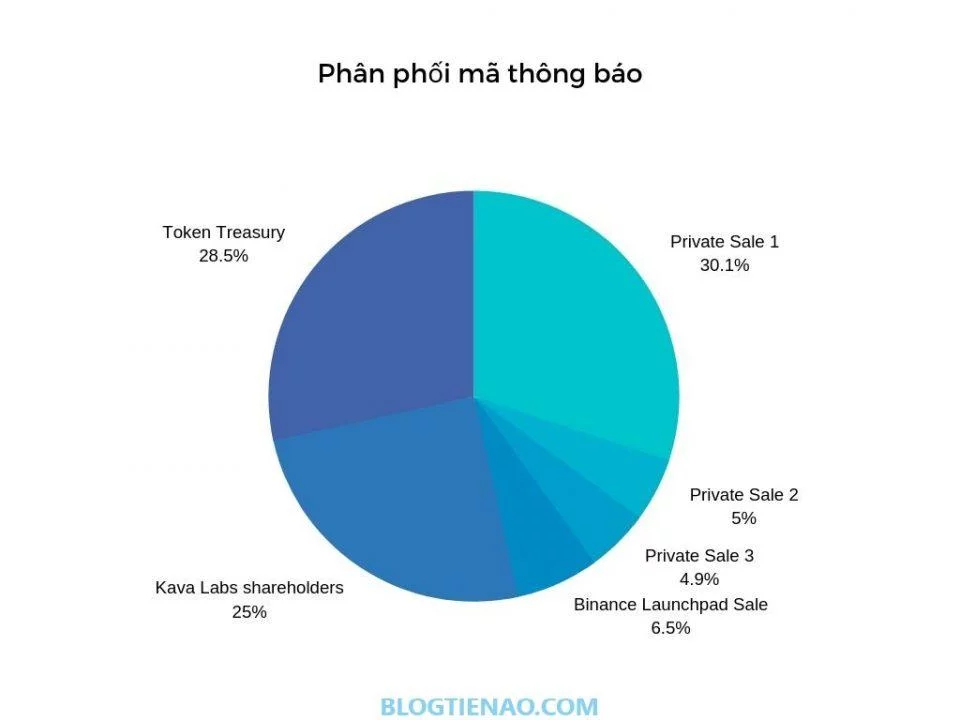 Wallet hosting
You can keep tokens directly on exchanges that support this token (Binance, MXC, ...) or in Trust wallet.
Route of dproject
Quarter 2/2019:
Release MVP of Kava CDP system
Public testnet release 1.1
Launch of reward program to encourage users to run validation buttons
Public testnet release 2000
Quarter 4 / 2019
Public testnet release 3000
Mainnet launch
Release of Beta CDP system
Complete vesting on-chain for validator
OKEx Pool and Huobi Pool become Kava's new validator
Quarter 1 / 2020
Launch of Kava CDP Testnet
Bug Bounty released
Quarter 2 / 2020
Cross-chain assets in CDP system on mainnet
Integrate BTC Peg deposited into testnet of CDP system
Quarter 3 / 2020
Integrate both deposited and non-deposited BTC BTC into the mainnet of CDP system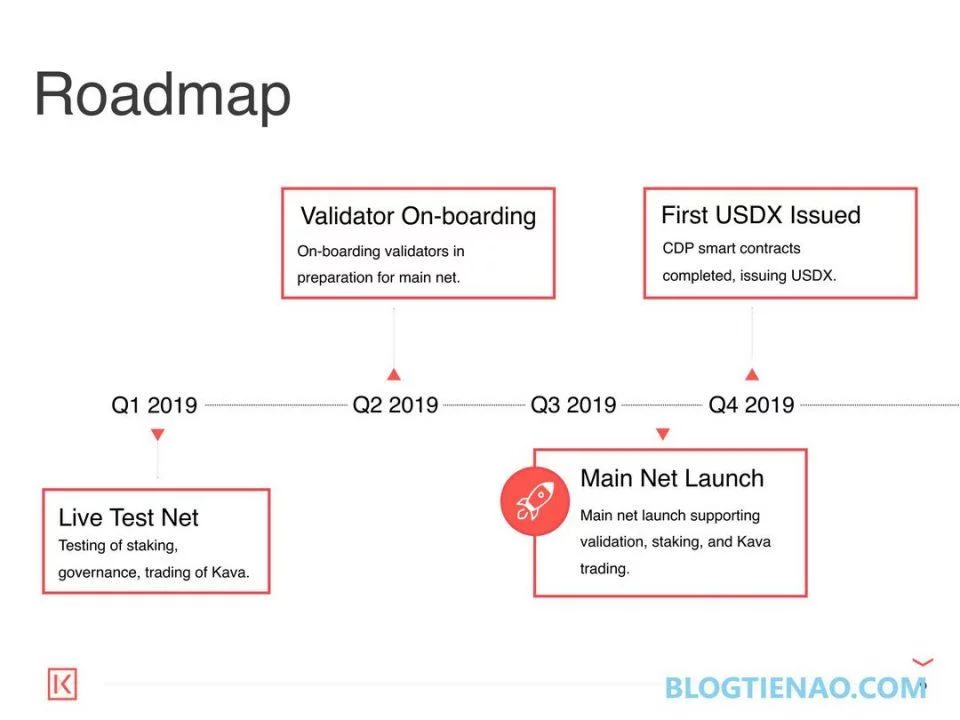 Partners in the ecosystem
The project has some outstanding partners such as Ripple or Cosmos. In addition, Kava also has some partners: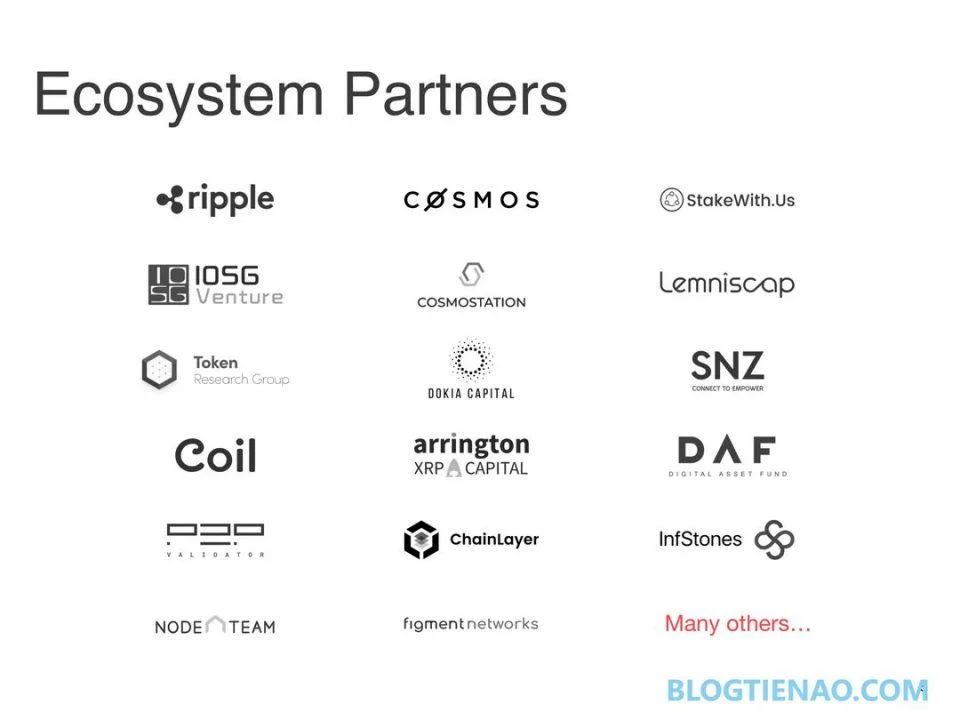 Overview of the development team
Brian Kerr (CEO): Advisor of Snowball and DMarket.io
Ruaridh O'Donnell (Co-Founder): Former Data Engineer & Analyst at Levelworks, Deep Learning Specialist
Scott Stuart (Co-Founder and Product Manager): Former CEO of Levelworks
In addition, the project also brings together famous industry figures to head various departments.
Transaction data
Liquidity: KAVA tokens have not been actively traded since the date of this report.
Technical overview
Top public Github repositories:
kava: Blockchain Kava
kava: Specifications and research of Blockchain Kava
Kava-Testnets: The repository for Kava's public Testnets
Product
Kava's main product is the Kava CDP platform. Here, users can mortgage electricity money to borrow USDX. To better understand how the system works when the mainnet officially works, see the following diagram: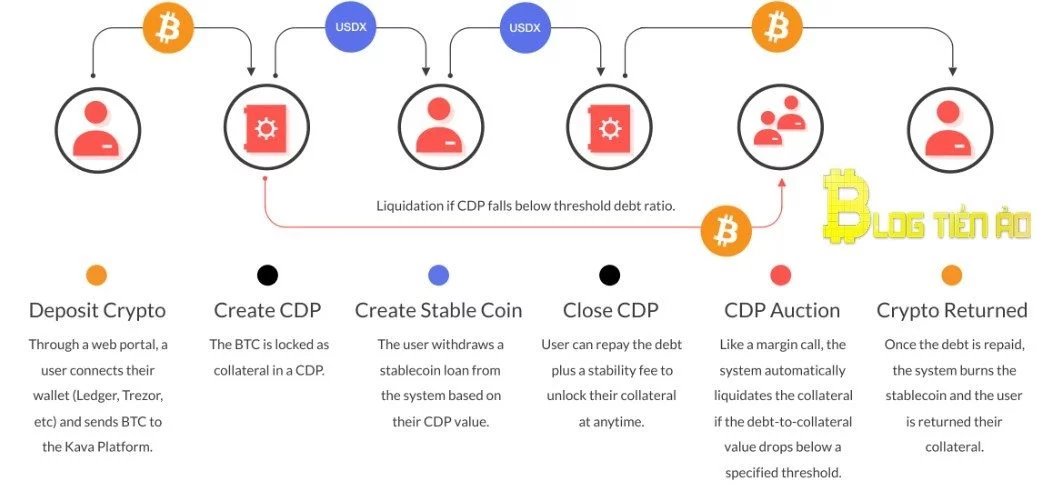 Community data
Kava's community mainly consists of:
Stakers & Validators (Responsible for the security and administration of the platform)
Investor and tradet (User base of the platform)
Application developer
Community and social channels
Telegram (English) | 1.7K Members
Twitter (English) | 3.8K Followers
Medium (English) | 204 Followers
Riot.im (English) | 160 Members
Adviser project
Sunny Aggarwal | Scientific researchers
Terry Chen | Twine, VP of Engineering
Roderik van der Graaf | Lemniscap, Managing Partner
Rob Leshner | Compound.finance, Founder & CEO
Brian Fabian Crain | Chorus One, Co-founder & CEO
Jack Zampoline | Tendermint, Product Manager
How to own KAVA token?
Join IEO
Buy tokens on listed exchanges
Staking
Join the bounty program
Become a certifier runner
How to profit from KAVA
You can trade or hold tokens on listed exchanges
Staking on Binance to receive an annual profit of 3-20%
Alternatively, you can join lending on Binance. But you have to check constantly to see when the floor support lest you miss.
Should invest in KAVA

is not?
First, you need to know that any investment has both risks and opportunities. Therefore Blogtienao It is recommended that you learn carefully and make your own decision, not listen to "soliciting" from any individual.
Details of the KAVA project on Binance Launchpad
Chi tiết bán token KAVA
Tên token: Kava(KAVA)

Launchpad Hard Cap: 3.000.000 USD

Tổng nguồn cung: 100,000,000 KAVA

Tổng số token được phân bổ cho Binance Launchpad: 6,521,739 KAVA (6.52% tổng nguồn cung)

Giá bán token công khai: 1 KAVA = 0.46 USD (giá bằng BNB sẽ được xác định trước ngày rút thăm xổ số)

Định dạng bán token: Xổ số & Airdrop

Số lượng vé xổ số trúng thưởng tối đa: 15,000

Phân bổ cho mỗi vé trúng thưởng: 200 USD (434.78 KAVA)

Tổng số Airdrop: 326,087 KAVA

Phiên được hỗ trợ: Chỉ BNB

Token ban đầu sẽ được phát hành dưới dạng tài sản BEP2.
Important milestones
At 7:00 am, September 23, 09 to 2019:7 am October 00, 23: The balance will be taken daily for 30 days. The average balance photographed daily for 30 days will determine the number of tickets you can receive.
At 1:00 pm, October 23, 10: Eligible users can get tickets within 24 hours.

Người dùng cũng phải ký Thỏa thuận mua mã thông báo cùng một lúc, trước khi hoàn thành yêu cầu vé.

Xin lưu ý rằng người dùng sẽ chỉ có thể yêu cầu vé một lần.

At 1:00 pm, October 24, 10: Tickets will be closed and lottery starts.
At 3:00 pm, October 24, 10:

Vé trúng thưởng được công bố và BNB tương ứng sẽ được khấu trừ từ tài khoản của người dùng chiến thắng.

Vui lòng đảm bảo bạn có đủ BNB trong tài khoản để khấu trừ trong vòng 24 giờ nếu bạn có vé trúng thưởng.

At 3:00 pm, October 24, 10: After this time, airdrops will be distributed to unsuccessful tickets.
*Note: All times and dates are in Vietnamese time.
Distribution of lottery tickets
Like the previous IEO, this time users will also receive a maximum of 10 tickets. Details in the table below: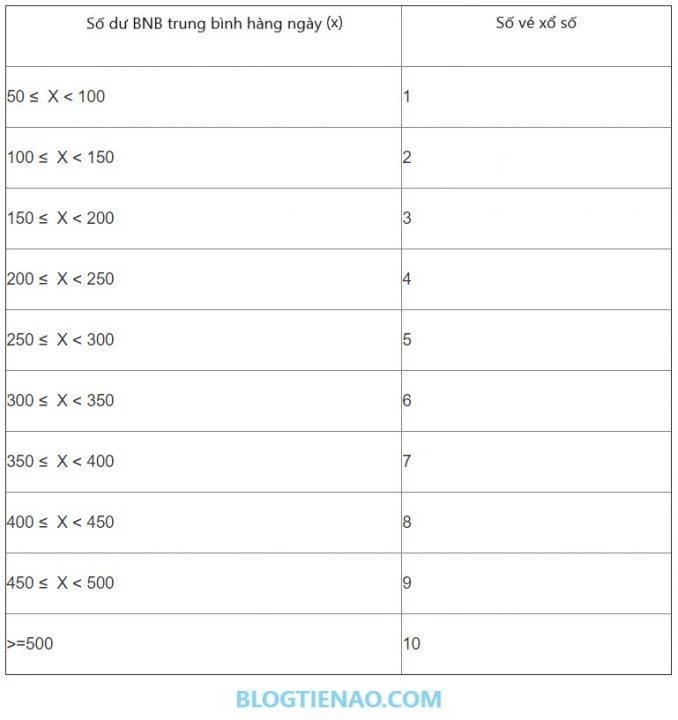 Predict the Winning Ratio of Launchpad 10
The market went down, so the number of Binance IEO participants was the highest at 43,600 people to Launchpad 9, only 35,579 participants. Blogtienao predicts this time to drop to 30,000 participants and an average of 5 tickets per person. Participants will have a 10% chance of winning. With a Hardcap of $ 3,000,000, the price of KAVA is very easy, so the price can be x5-x8 compared to the IEO price.
Conclusion
Hope article "What is KAVA? Introducing the 10th project details on Binance Launchpad " Brings a lot of useful information. I wish you a successful investment!