In this article, Blogtienao will inform you how to install and use Google Authenticator on any device and how to recover the code.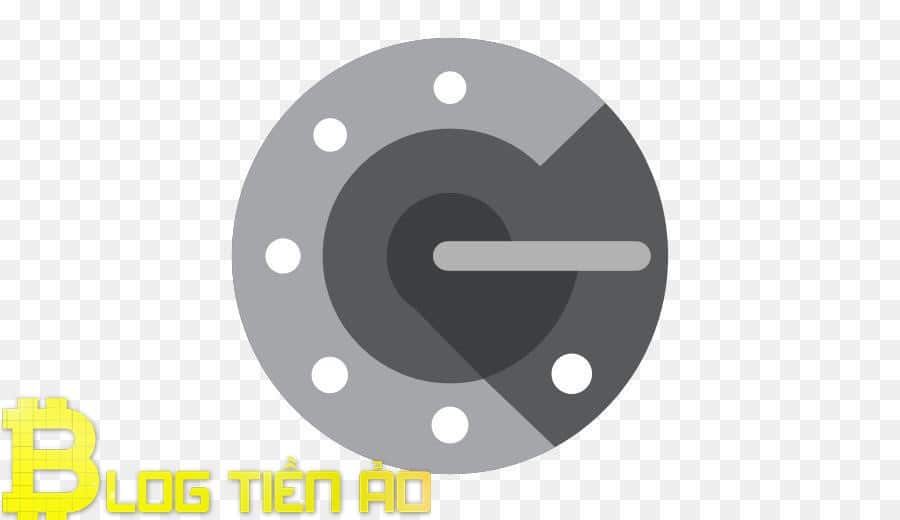 What is Google Authenticator (GA)?
One of the most famous security apps comes from the Google giant.
Generate a random code to verify the identity of a user each time they log in to different services (social media accounts, exchanges, iCloud, ...)
6-digit code with a time used of 30 seconds. Every 30 seconds, the code will be refreshed. This feature helps the accounts to be secured with the highest level.
Why use Google Authenticator?
With the current pace of development of KH-KT, hacking an account is extremely easy if the account is only secured at normal levels, including the account of You are protected by two-factor authentication via SMS.
That's why in 2010, Google launched the Google Authenticator application to take security to a higher level. Since then, this application has been widely used in all circles.
And if you're a trader or holder, you probably don't want to have a nice day, log into your account and find your balance has returned to zero, right? And installing Google Authenticator for your trading account account is the first, most basic and extremely important security step for you.
Besides the security app from Google, there are some other two-factor authentication software such as: Lastpass Authenticator, Microsoft Authenticator, Authy, Yubico Authenticator, ... but in this article, Blogtienao only mentioned Google Authenticator because here Being the most popular and easiest to use application, setup is also extremely quick and convenient.
Read more: Lesson 9: What is a Japanese candlestick pattern? How to predict price trends with candles
Instructions for installing Google Authenticator
Depending on the type of phone you are using to choose how to download the Google Authenticator app on Apple App Store or Google Play Store (completely free).
After downloading and reading the initial basic instructions in the application, you will start adding accounts first.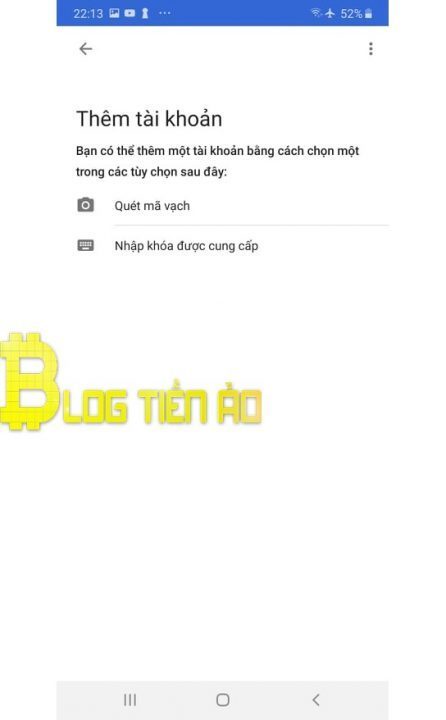 Instructions for using Google Authenticator
Activate GA for gmail account
Step 1: Access your gmail account.
Step 2: Select menu icon

in the left corner of the search box> Select "settings"> Select the correct account that you are logged in> Select "manage your google account"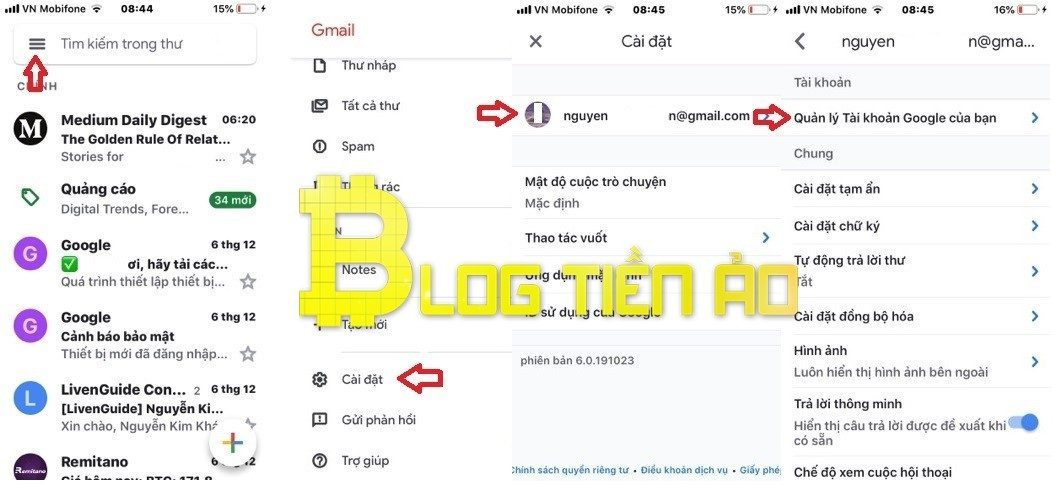 Step 3: Just below your gmail address will have a pull bar, drag across and select "security"> In the "login to Google" select "two-step verification"> enter your account password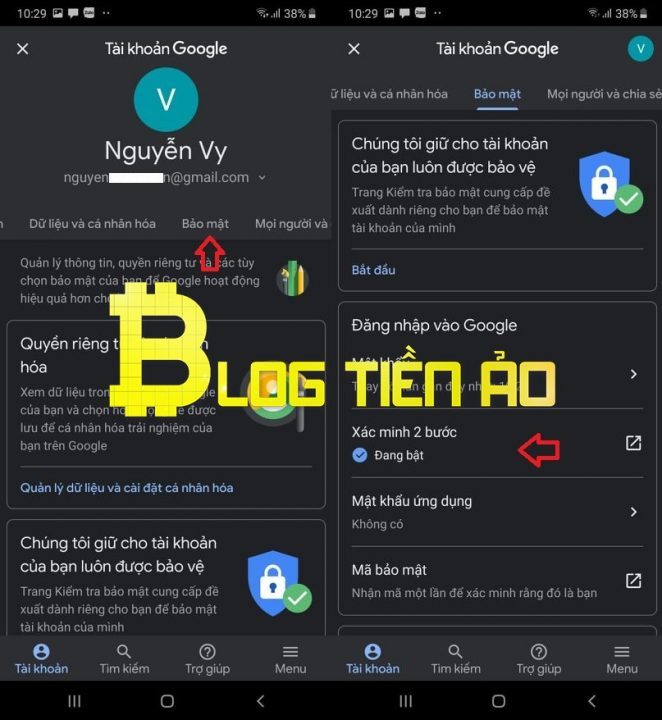 Step 4: After that you scroll down to "set up an alternate second step" and select "Authenticator app"> Choose the type of phone to receive code and scan.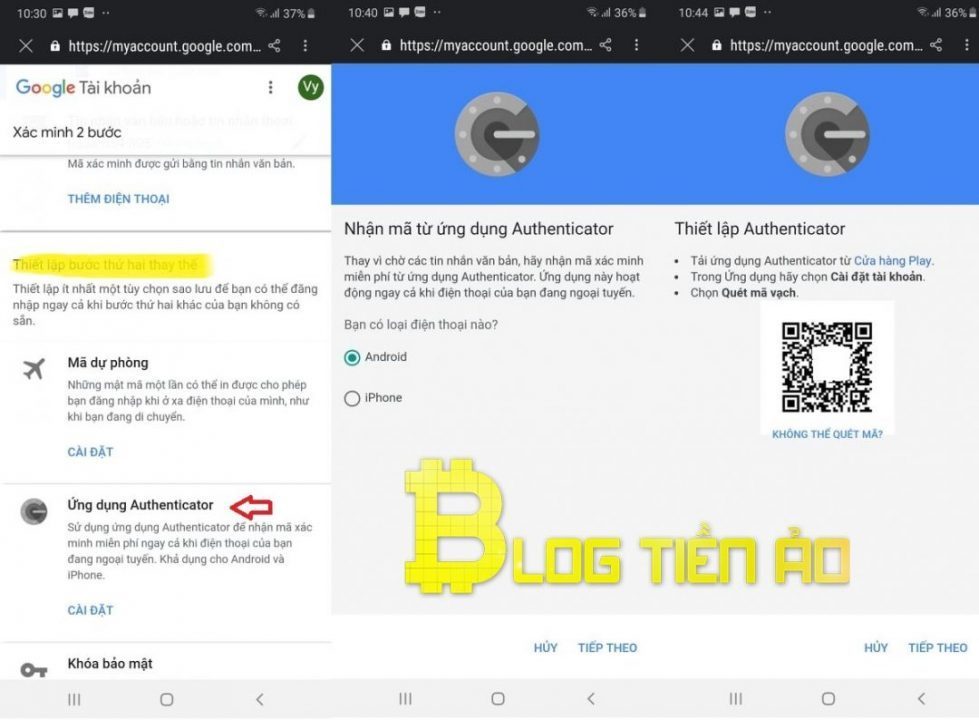 ***Note: There are two cases happening here:
If you set up two-factor authentication for your gmail on phones that do not contain GA applications, you can scan the code at this step with the phone that has the application by selecting the "barcode scan" option in the application.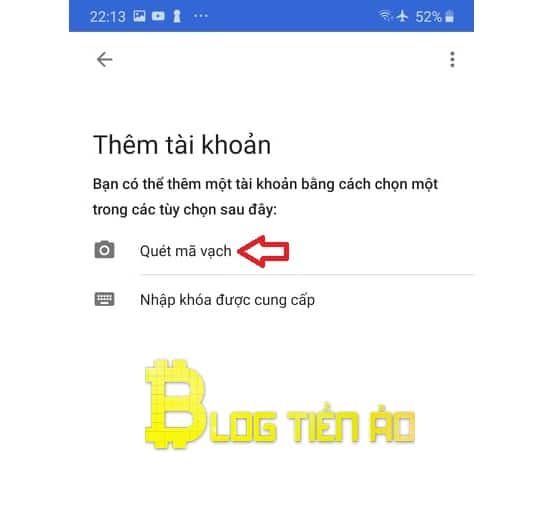 But if you set up on the phone that contains the GA app, you must manually enter the following step: select "can not scan code"> record the provided code> select "enter provided key" in Application> Enter "account name" and "your key" then select "add"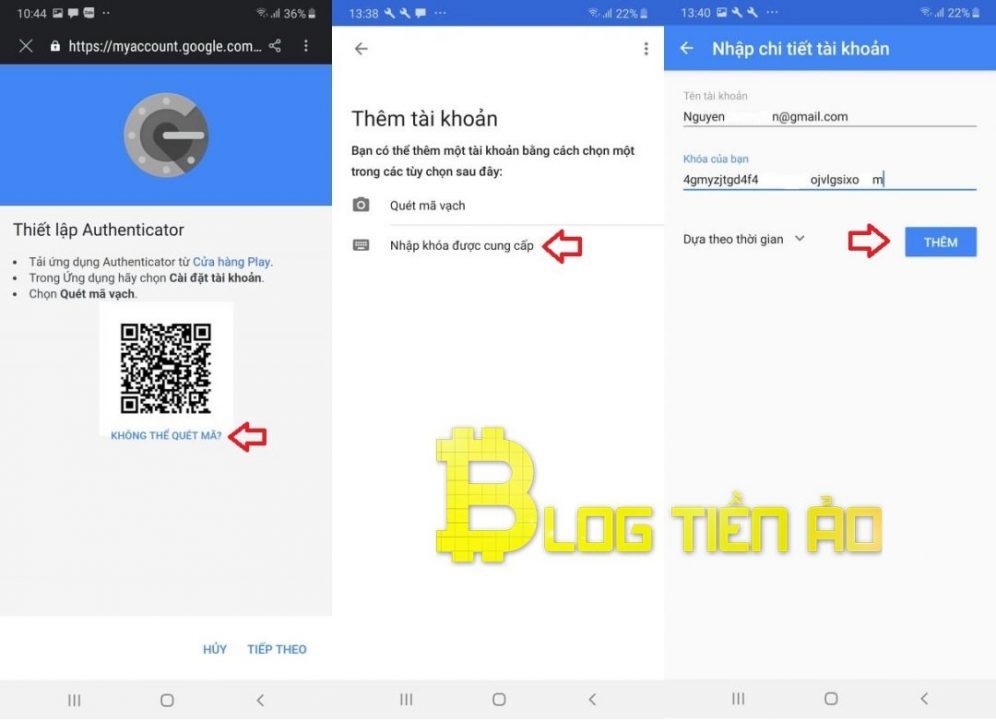 Step 5: After selecting "add", you will be returned to the main screen of the application and receive a 6-digit code for your gmail, enter it in the request on gmail to complete the installation.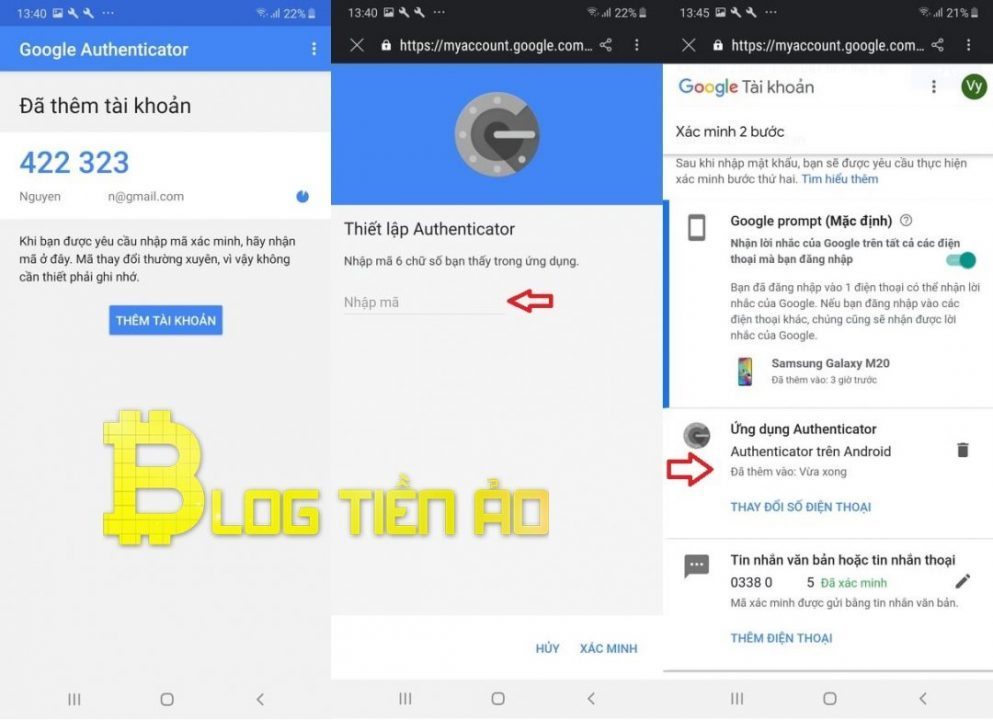 Also, if you want to add GA code for other accounts, just select the "+" sign on the main screen of the application.
Activate GA for trading account
Besides gmail, activating GA for an exchange account always seems to be extremely important. Blogtienao will make an example with Binance account
Step 1: Click on the "security" in the account section> Select "Google authentication"> Binance will ask you to download the Google Authenticator app, select "next"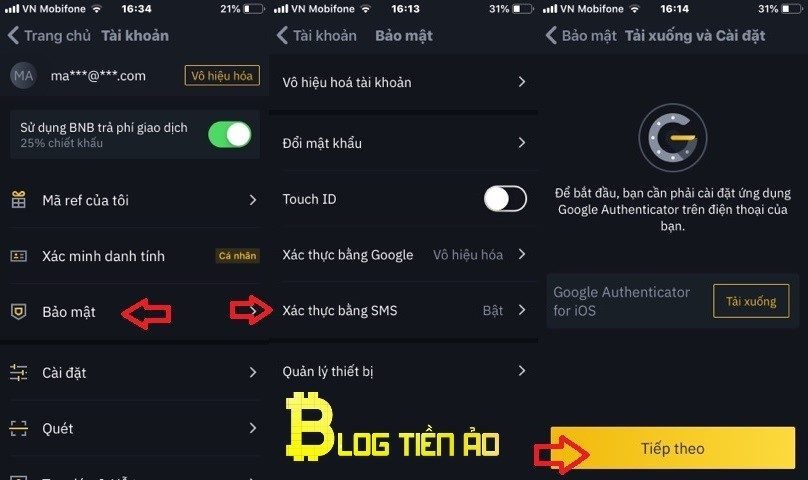 Step 2: You will then receive a "backup key". NOTE, PLEASE WRITE THIS KEY BECAUSE THEY WILL HELP YOU TO RECOVER GOOGLE AUTHENTICATOR IN THE event YOU LOSE YOUR PHONE. Any floor also provides you with a "backup key".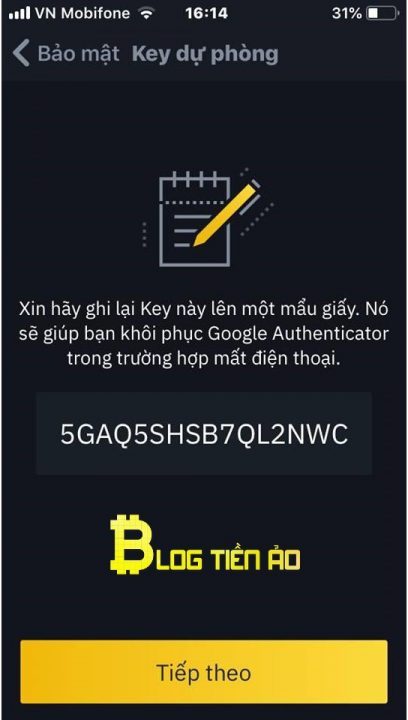 Step 3: After re-entering the key provided, you only need to complete the password and two authentication codes, the activation is complete.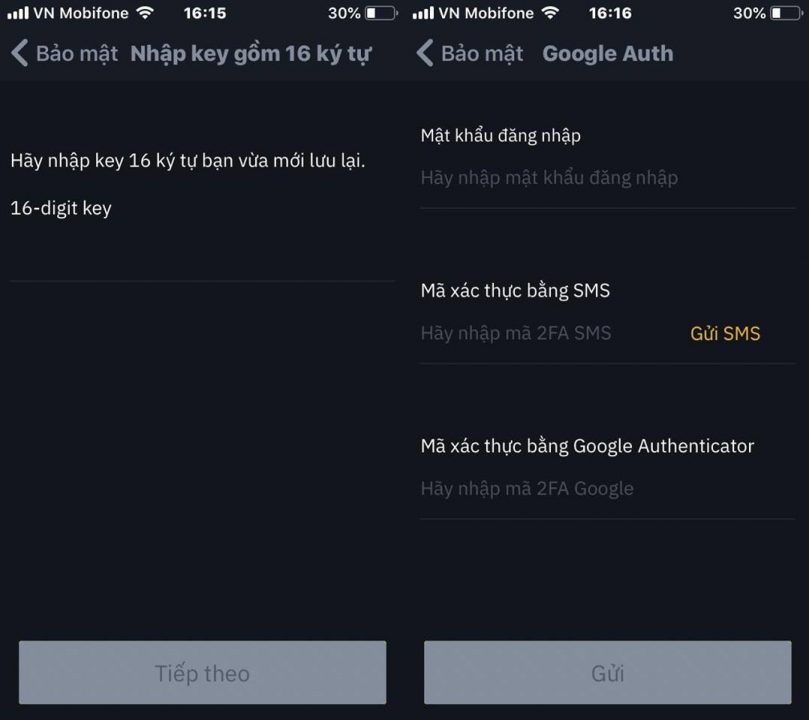 Backup code: Details can not be forgotten
When using GA, you can't help but know the backup code, because this will be the easiest way to help you restore the application if something goes wrong.
To get a backup code, you need to follow these steps:
Step 1: Follow steps 1, 2 and 3 in section 4.1
Step 2: Select "Backup code" in "set up an alternate second step"> You will get a backup code. Write them down and save them somewhere.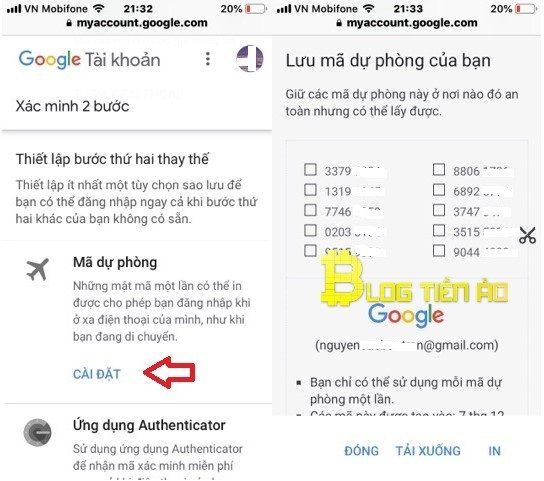 How to recover when the phone is lost
How to recover gmail
Use 1 of the 10 backup codes that Google provided to recover (review the backup code section).
How to recover GA codes in an exchange account
In this case, the "backup key" provided by the exchange is the fastest way for you to recover. If not, you will need to contact the exchange's support directly to reopen your account.
Here is how to recover GA using the key:
Step 1: Download the Google Authenticator application again
Step 2: Select "import the provided key"> Enter "backup key" into "your key" + the account name on the exchange you want to restore> Select "add"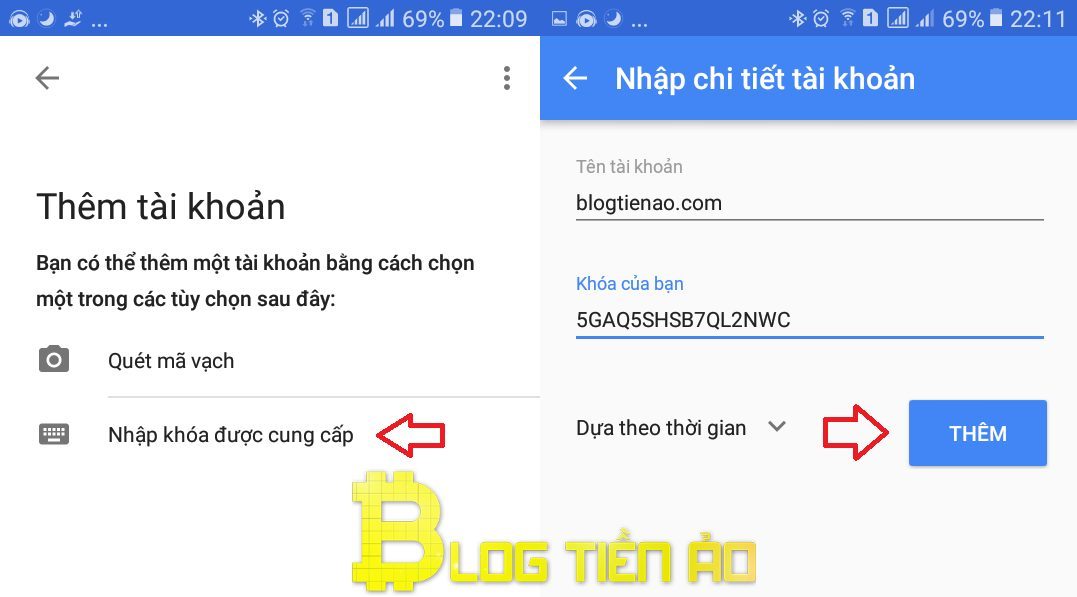 After selecting "add" you are done with the restore. However, The recovery code will not have the same floor name as the original code. That's why you have to remember.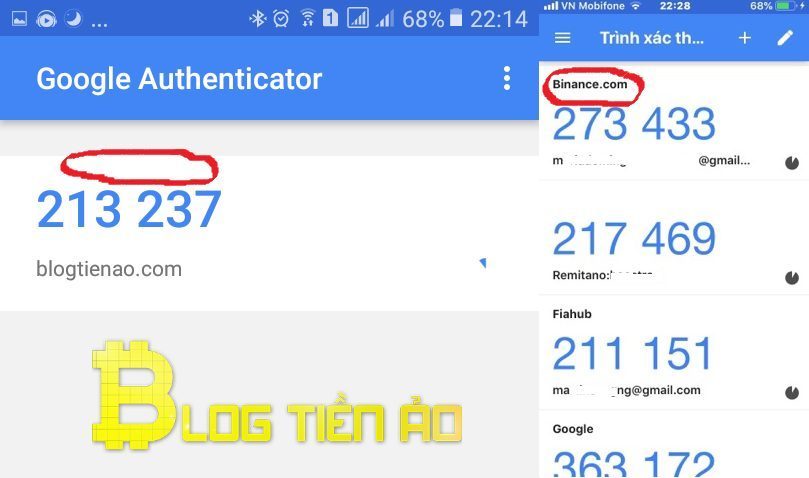 Conclusion
Google Authenticator is an extremely important application for those who are participating in the cryptocurrency market. Therefore, Blogtienao hope through the article above can help you use GA more easily. Good luck!