What is Electrum?
Electrum is a simple, easy-to-use bitcoin wallet software, born almost soon. Open source wallet with a focus on speed and low resource usage.
Currently electrum wallet is available on platforms: Windows, OSX, Linux and Android.
The Electrum Bitcoin wallet only stores Bitcoin. It does not provide support for any other cryptocurrencies. This includes any of Bitcoin's forks (like Bitcoin Cash such as). However, cryptocurrency users have split up the Electrum software to provide support for different BTC branches.
Electrum is currently listed in Blogtienao in: List of Top 9 best Bitcoin wallets 2020-2021
It uses remote servers to handle the most complex parts of the Bitcoin system. It allows you to recover your wallet by the recovery phrase (similar to the commonly used brothers wallet).
Watch now: What is Bitcoin? The most comprehensive information about virtual currency BTC
Features of electrum wallet
Control your money: The wallet provides complete control of bitcoin. That is, no third party can freeze or lose your money.
Confirm simplified: Confirmed transactions are verified via SPV (the method by which users can check whether some transactions are included in a block without having to download the entire block data).
Transparency: The developers of this wallet publish the source code for customers. Any developer in the world can test the code.
Two-factor authentication: With an active remote server to sign transactions.
Privacy barrier: Prevent hackers from monitoring your balance and payments. Set up and use Tor as a proxy to prevent an attacker or Internet service provider from linking your payment to your IP address.
Full charge control: The wallet allows changing the fee after the deposit is made. It also provides fee recommendations based on current network conditions so your transactions are confirmed in a timely manner.
Overall quite similar to bitcoin core. You can find out the core bitcoin wallet here: What is Bitcoin core? Evaluate features and how to create an account
Evaluate the pros and cons of electrum wallets
Advantages
First of all, it's free software.
Instant: Users don't need to download the whole thing blockchain because electrum is a wallet that retrieves blockchain information from the server. There is no delay and it is always up to date.
Quite good for regular bitcoin payers.
While it is taking blockchain information from the server, the private key is never shared with the server.
Bitcoin is your own. There is no user information in the server. You have complete control over the private key.
Increase security as it is a multi-sign wallet.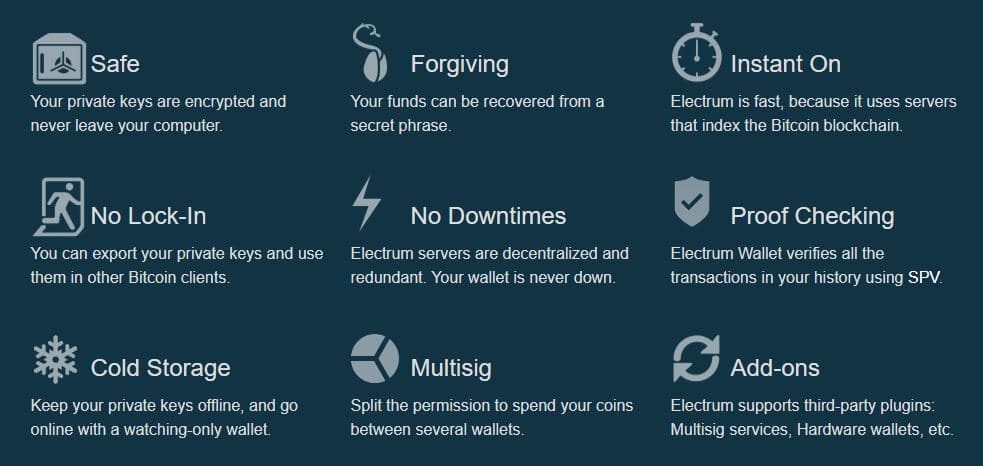 Disadvantages
It can be seen that while the feature is quite complete the basic elements of a necessary bitcoin wallet. Or many advantages, but also need to assess some disadvantages before using the wallet as follows:
Firstly it is still a hot wallet. The problem we have with hot wallets is the same for electrum.
Only bitcoin is supported. It is quite good for you who just want to use this wallet with bitcoin, but quite inconvenient for those with higher demand.
The wallet was hacked at the end of 2018.
Instructions for setting up and using electrum wallet
note: The latest release version of the software is Electrum-3.3.8. Electrum also warns that using older versions (e.g., 3.3.4) is easy to get scammed.
I will guide you step by step on the Windows operating system for you to easily imagine:
Step 1: Access electrum.io and select Download at the top of the screen. Then choose Windows Installer.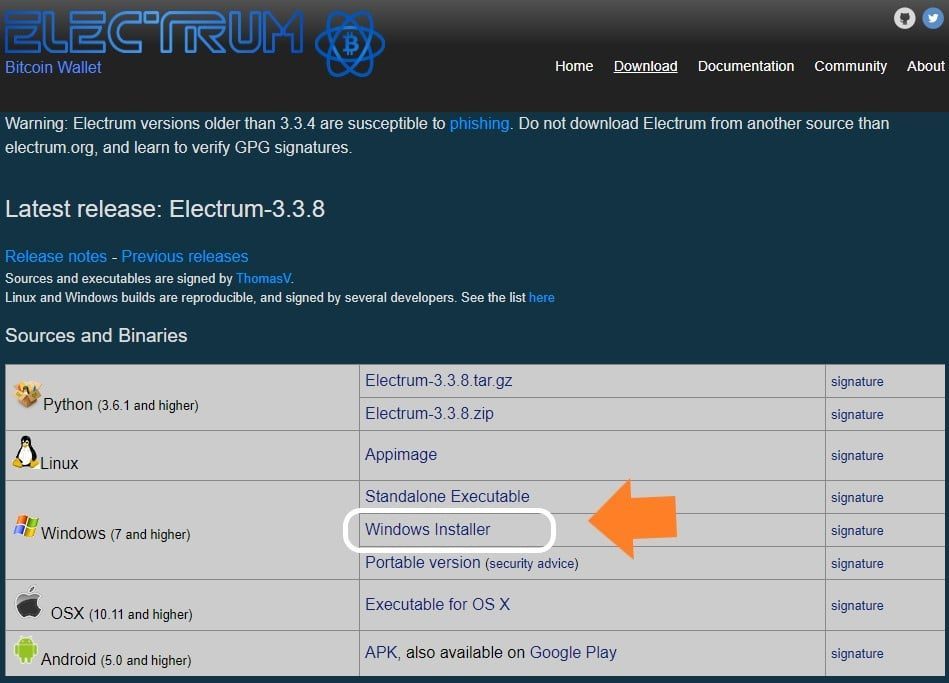 Step 2: When downloading the setup file, open it and select it install to continue.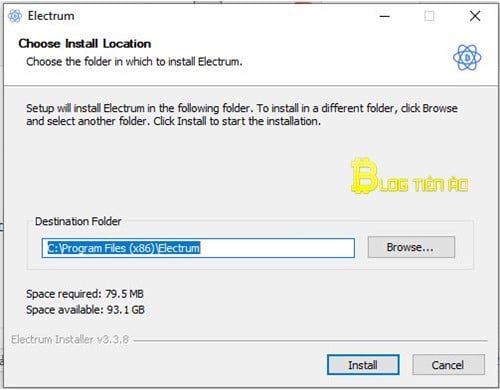 Step 3: Wait for the installation process to finish and select the button Close.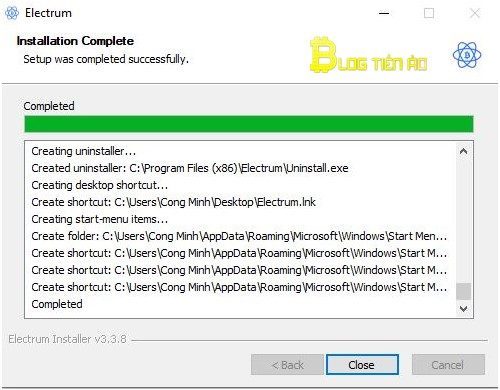 Step 4: Next it will ask you whether you want to connect to the server you know, or do it automatically. If you do not know who is reliable running the Electrum server, then you should let Electrum connect automatically, that is to choose Auto connect and press Next.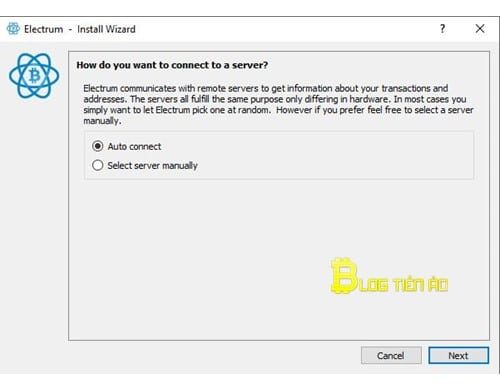 Step 5:The wallet provided the default name is default_wallet. choose Next to continue.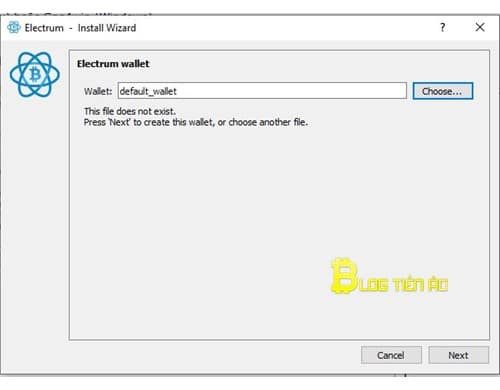 Step 6: Now there are 4 options:
Standard wallet (Standard wallet): It allows creating a whole new wallet (2 types of address Legacy or SegWit). Only a private key is required to sign a transaction for this wallet.
Wallet with tow-factor authentication (Wallet with two-factor authentication): You are provided with 2 of 3 keys. The third is managed by the TrustedCoin service. Google Authenticator is also needed.
Multi-signature wallet (Multi-signature wallet): A wallet with many necessary private keys.
Import Bitcoin addresses or private keys (Enter Bitcoin address or private key)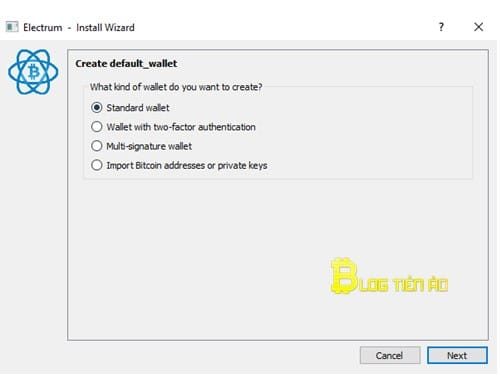 Step 7: In the section keystore This Select Create a new seed to create a new wallet. Then choose Next to continue.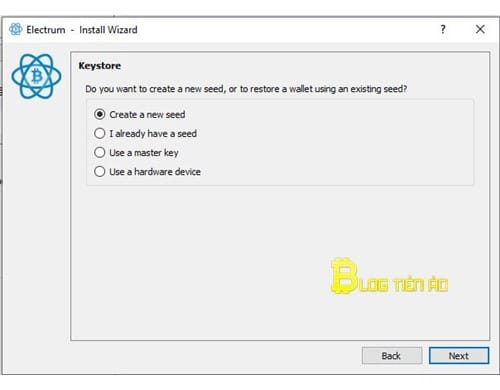 Step 8: There are two standard wallet address options available Segwit , and Legacy choose Segwit and press Next.
Transactions made for SegWit addresses are cheaper and take up less space in a block. To understand more about segwit, read here: What is SegWit? Learn about Segwit Bitcoin (Segregated Witness)?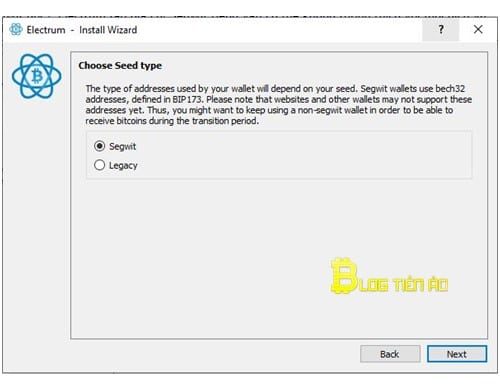 Step 9: Now it's time to save 12 recovery phrases. It's up to you to copy or copy something, as long as you keep it secret and confidential. Keep pressing Next.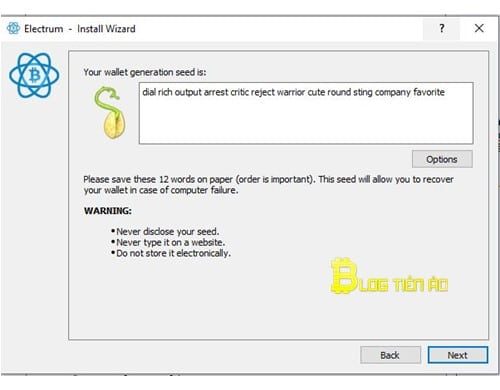 Step 10: Reconfigure saved recovery phrases, write them in the correct order and select Next To go to the final step is to set a password for the wallet.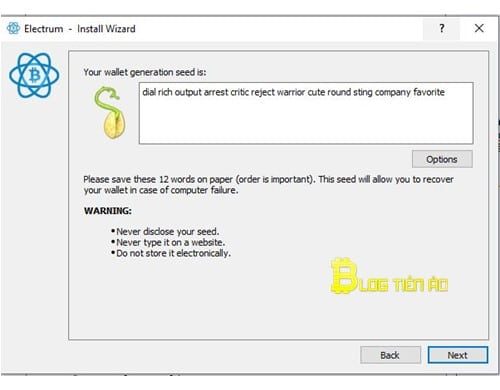 Step 11: Set the password to access the wallet, remember to set a strong password then a strong message will appear on the screen. Choose Next To finish the process of downloading and installing electrum wallet.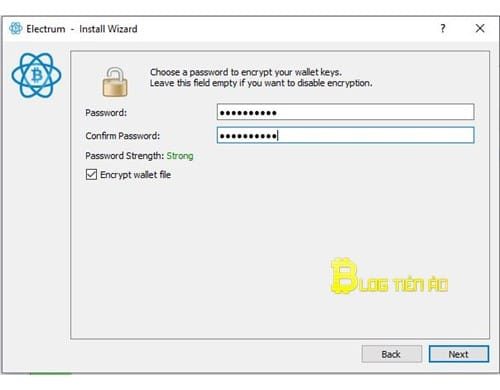 That's it, the download and setup process. Too easy is not it. Next you need to work with sending bitcoin.
How to send bitcoin on electrum wallet
Turn on the electrum application and on the main screen switch to the tab Send. You need to enter the following information to be able to deposit bitcoin:
Pay to: Paste the address of the BTC wallet you want to send to.
Description: Description
Amount: Number of mBTC (Unit is less than BTC and converted 1BTC = 1000mBTC)
Fee: Fee Adjustment Bar - Electrum integrates an appropriate fee to confirm your transaction, you can adjust it (by dragging the slider only).
And then press the button Send to send offline.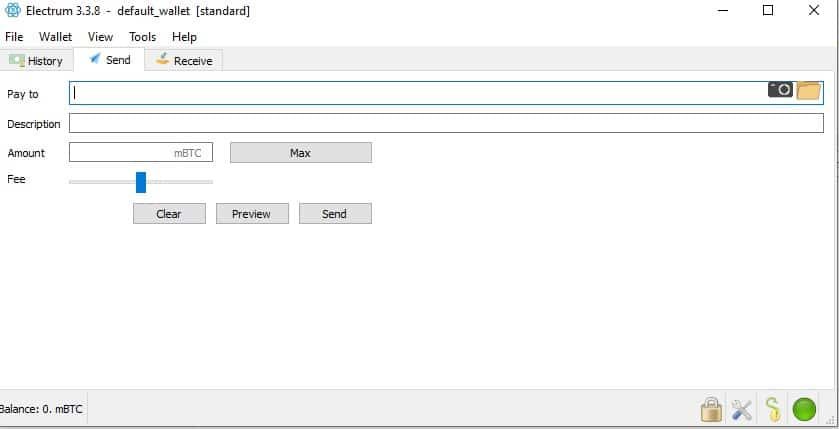 How to get bitcoins on electrum wallet
Simple, you switch to tab Receive And note the following information:
Receiving address: Your bitcoin address. You either deposit bitcoin to this address or copy that address and give it to the person who wants to send you bitcoin. This address may change after someone sends you bitcoin. However, the address before you can still use.
description: Describe
Requested amount: Required amount (Unit is still mBTC)
Request expires (Expired): Choose never, 1 day, 1 hour or 1 week.
Notice the adjacent qr code will be constantly created when you change the description and requested amount. Send that qr to the payer. This is quite suitable for him needs payment services.
After finishing, press Save to save to the request below. Then can choose New to make another request.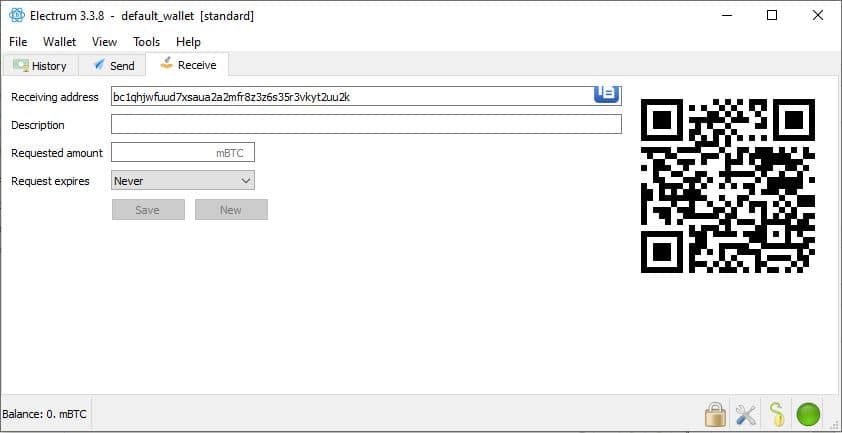 How to use multiple wallet addresses at the same time
As I said above, after each use of the address to receive or request payment of bitcoin, that address will change (you follow the box Receiving address at the tab Receive Please).
How to: Select View -> Show Address.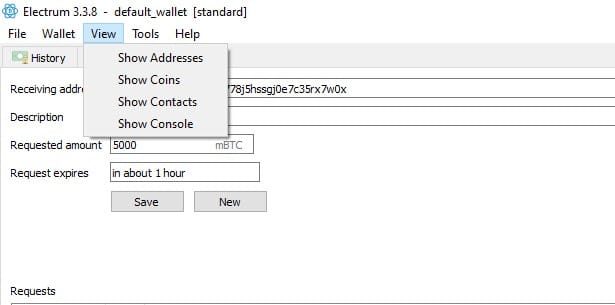 Show Address finished, select tab Address to display the entire address offline. That address is attached to the requests you sent along with the amount in the address in the column Balance.

Set up and use ledger cold wallets with electrum
If you do not know how to buy genuine or use cold wallets, you should read two articles about wallets Ledger Nano X and wallet Ledger Nano S.
Request
Download electrum (can be installed or not installed already)
Turn on Ledger live
Install the bitcoin app on a cold wallet: In this step, you just go to the bitcoin app on the ledger, when you see the bitcoin app, Press two buttons to agree. Then the cold wallet shows "Use wallet to view account"Then leave it and do the following steps:
Implementation steps
For electrum application not installed
Connect and unlock ledger cold wallet and open bitcoin application.
Launch electrum from start to step Standard wallet and press Next.
In the keystore section (this one is different from the wallet setup above): This step selects Use a hardware device and choose Next.
For electrum application has been setup
Connect and unlock ledger cold wallet and open bitcoin application.
On the electrum wallet choose the order Fillet -> New / Restore (Ctrl + N)
Go to the selection step Standard wallet then choose Next and also choose Use a hardware device and choose Next.
Done with two cases, now comes the general step: Choose Next when you see Section Hardware Keystore have ledger device as shown below (If the screen electrum as below, then connect successfully)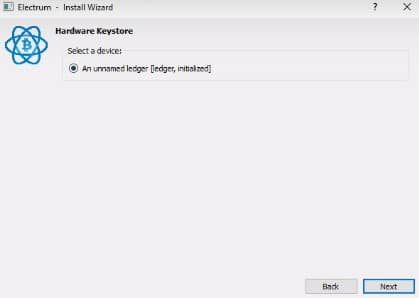 The address has been created and the account balance is displayed in the tab History. Now you can manage your BTC from the ledger cold wallet using Electrum.
Can I recover the password when I forgot it?
Can't recover password. However, it is possible to recover your wallet from the 12 original recovery phrases and choose a new password. If you lose both your password and seed, there's no way to get your money back.
To restore your brother's wallet from its recovery phrase, create a new wallet. But choose the "I already have a seed"And proceed to enter the recovery phrase.
How to update to the latest electrum version
Remember to always save 12 recovery phrases before performing an upgrade. To upgrade Electrum, just install the latest version. To do this will depend on the operating system you're using.
Note that wallet files are stored separately from the software, so it is possible to safely remove old software versions.
Some Electrum upgrades will modify the format of your wallet file. For this reason, it is not advisable to downgrade Electrum to an older version once you have opened your wallet file with the new version. Older versions may not always be able to read new wallet files
The wallet file is a file default_wallet when you first installed it.
In addition to some of the above features, you can refer to overcome the errors here. Click here
Conclusion
After seeing me review this wallet, do you use this wallet to store bitcoins. If so, please read the article I shared with you for the most comprehensive view. Thanks.