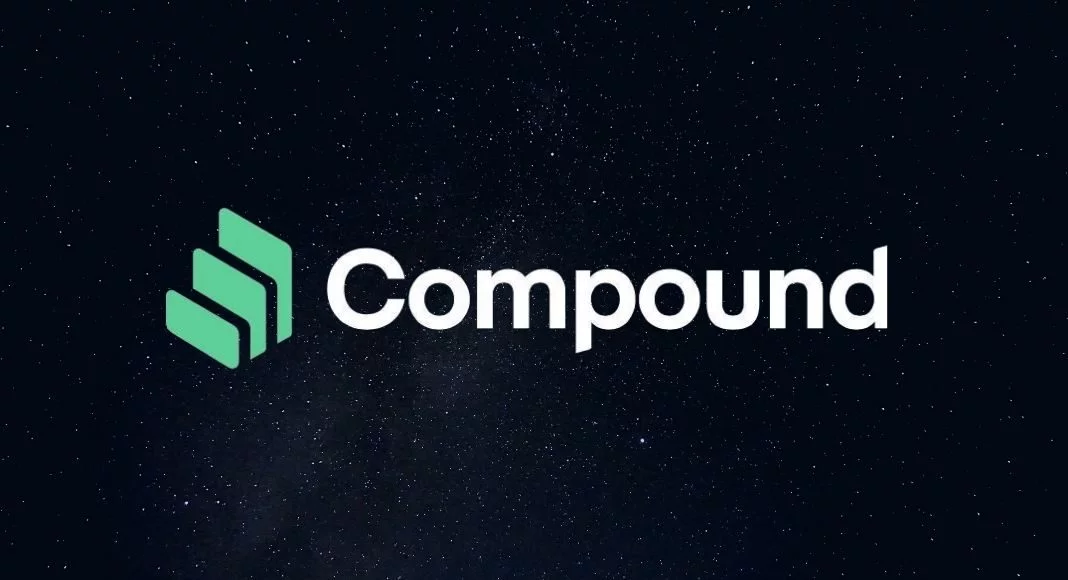 In recent days, if you ask what is the hottest and most prominent cryptocurrency asset, it is COMP. Compound was reported on all news sites, the major exchanges continuously announced the listing of Compound, the price of COMP continued to grow despite the sideways market, ...
In the end, what project is this that makes many investors interested? Do they have something special to attract attention from the community? How can you borrow / loan on Compound… All inquiries will be Blogtienao answers in this article. Let's find out with us!
What is compound?
Compound is a protocol built on Blockchain Ethereum, a decentralized financial platform (DeFi). The platform is primarily focused on helping users earn interest on loans or access to crypto loan packages.
The interest rate will be calculated by an algorithm, based on the level of supply - demand for the asset. For example, if demand increases, interest rates will increase, while supply increases, interest rates will decrease. This is a very important point in choosing a loan cryptocurrency.
Besides, users can easily borrow and lend without any restrictions; such as KYC.
As of June 6, Compound has become the largest Defi in the world with more than $ 2020 million in locked cryptocurrencies and over $ 500 million on offer.
How does compound work?
First, the platform works like a bank. At the bank, you deposit savings to receive interest periodically, on Compound, you can send many cryptocurrencies to the protocol to receive annual interest.
However, there is a big difference between bank and compound. It's a Compound platform with no custody. Meaning when you post a property on the protocol you are sending to one Smart contract and interact directly with them; instead of a company or someone.
This is a very important feature because no agency or entity can control or take your money.
Next up, not like an exchange or P2P; There, lenders and borrowers transact directly with each other. But that's not the case on Compound. When a lender sends a cryptocurrency onto the protocol, they become fungible assets (exchangeable) and the platform "collects" them together.
This will provide more liquidity to the borrower. Lenders can withdraw their assets at any time without waiting for a specific loan to mature.
Finally, the assets offered to the market are represented by the ERC-20 token balance ("cToken").
The cryptocurrencies supported by the Compound protocol
Compound currently supports 9 cryptocurrencies, namely: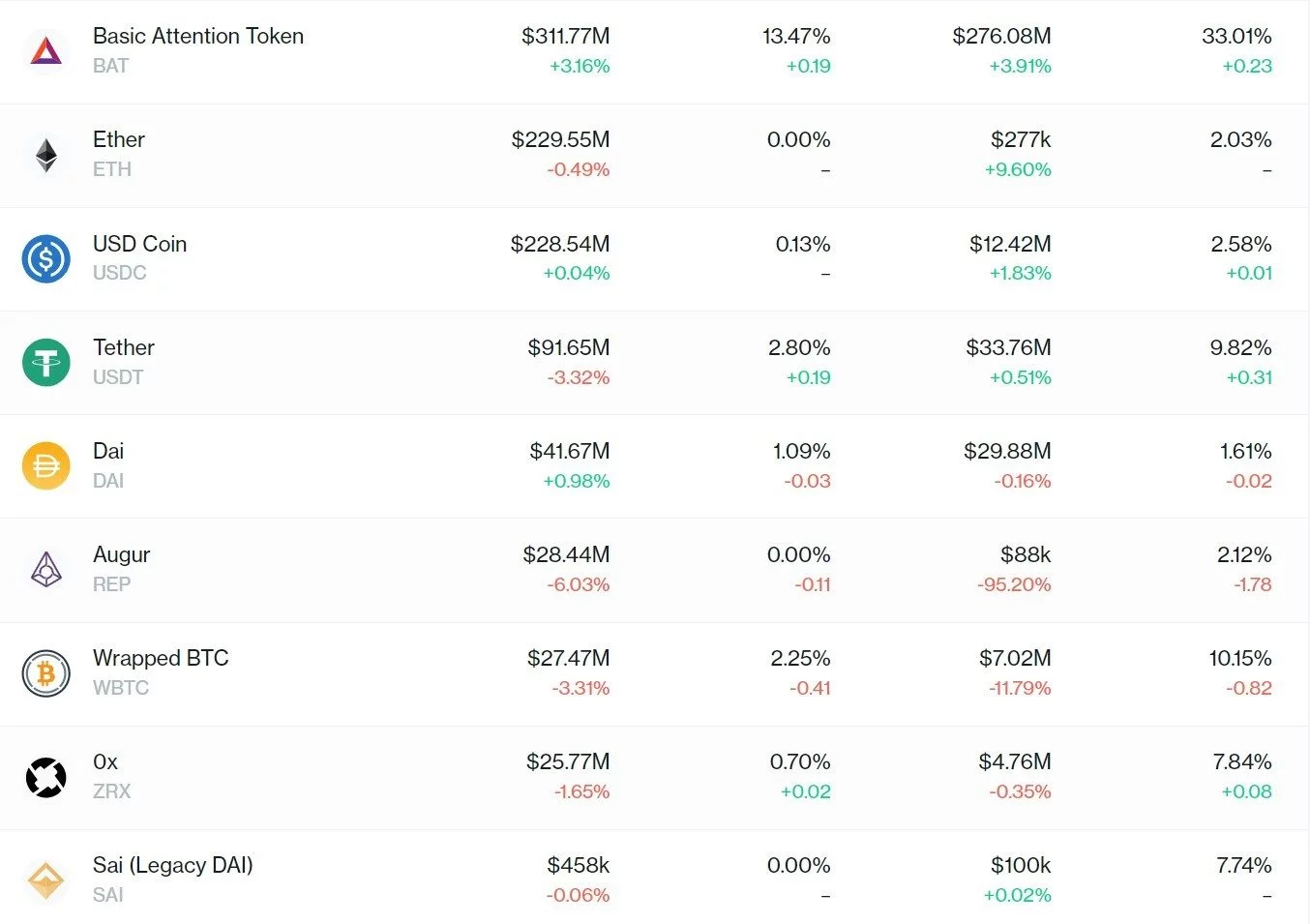 What is COMP?
This is an ERC-20 token and is the native token of the Compound ecosystem. This token has a total supply of 10 million USD COMP. Of which 42,3% is reserved to pay users when they use the platform, such as borrowing or lending cryptocurrencies.

Where to use the COMP token
When you hold COMP, you can vote on administrative suggestions regarding how the Compound protocol works.
Where can I buy COMP tokens?
Coinbase is currently the largest exchange to integrate COMP tokens. Besides there are a number of other exchanges, you can see the details squid fishing tours.

What is cToken?
Besides COMP, the platform also has another type of token called cToken. They are representatives of 9 cryptocurrency assets currently supported by Compound. cToken complies with ERC-20 standards and works like other assets.
Besides, this is the primary means of interacting with the platform. For example, when users want to borrow electronic money, liquidate loans, ... will have to do it through cToken.
Compound platform development team
Robert Leshner (CEO): Economist, founder of two startup software.
Geoffrey Hayes (CTO): Maintainer Exthereum, founder of startup technology. He was also the leader of Core Services at Postmates.
Torrey Atcitty (Application Lead): Leader of mobile development at Postmates, Kahuna, and Aha Mobile
Calvin Liu (Strategy Lead): Formerly an analyst at Gusto, former adviser of cryptocurrency startup Promontory, a veteran cryptocurrency investor.
Besides, the project also brings together many experienced people in this field to develop the protocol.
Should we invest in COMP?
This is surely the question that everyone who is interested in this project raises. In fact, it's still hard to say if this is a potential token or not. However, the project is in a very good direction and is currently the largest DeFi platform, active
For that reason, Blogtienao expects you to consider carefully before making a decision. And hope you always remember one thing, any investment has potential opportunities and risks.
Instructions on how to make a profit when sending money to the Compound platform
First you need to connect the wallet containing the cryptocurrency (the type that Compound supports) to the platform.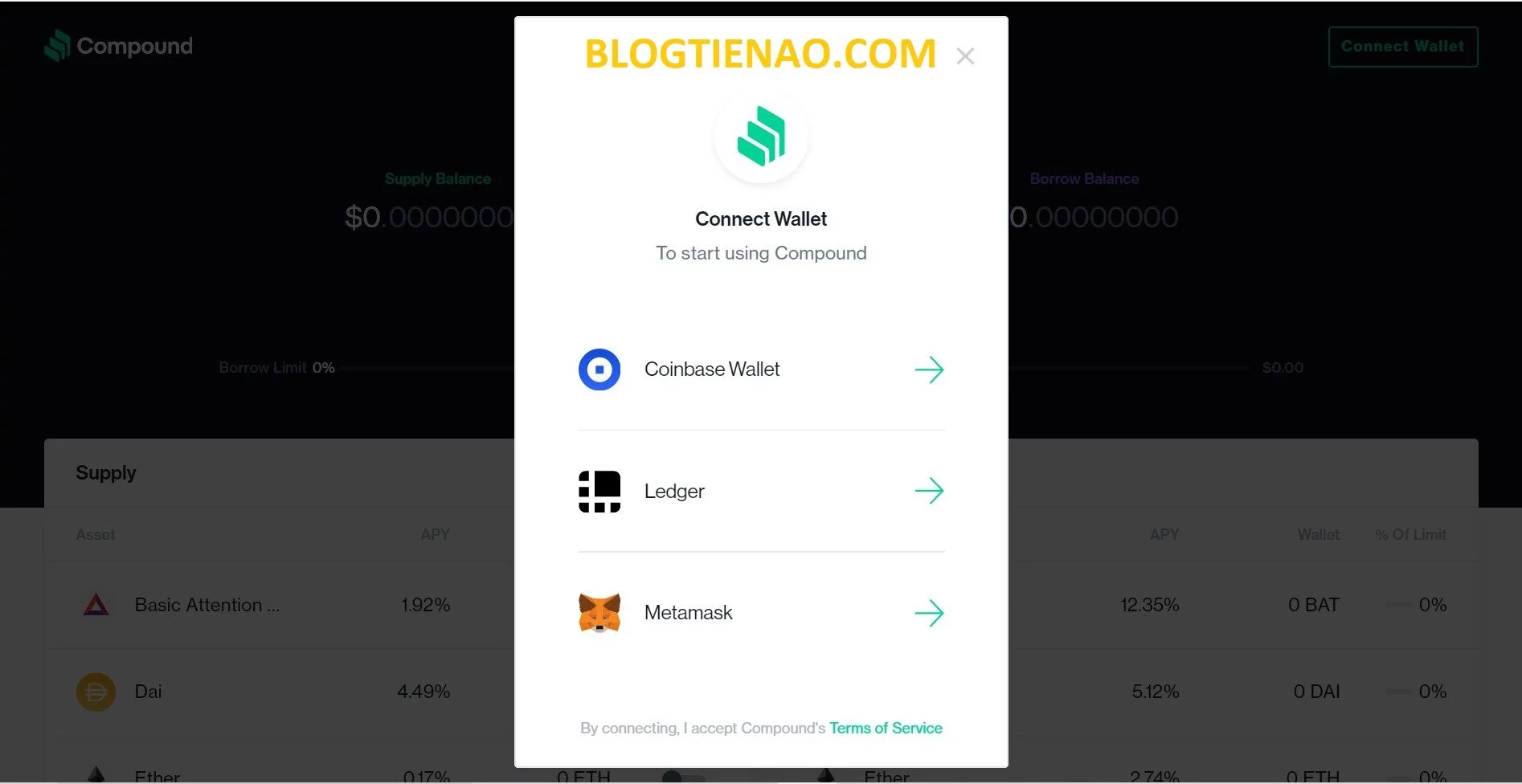 Then you need to Make sure you are connected to the right wallet by checking the address at the top right of the control panel corresponds to your wallet address.
If they all match, the assets in your wallet will be displayed as shown below.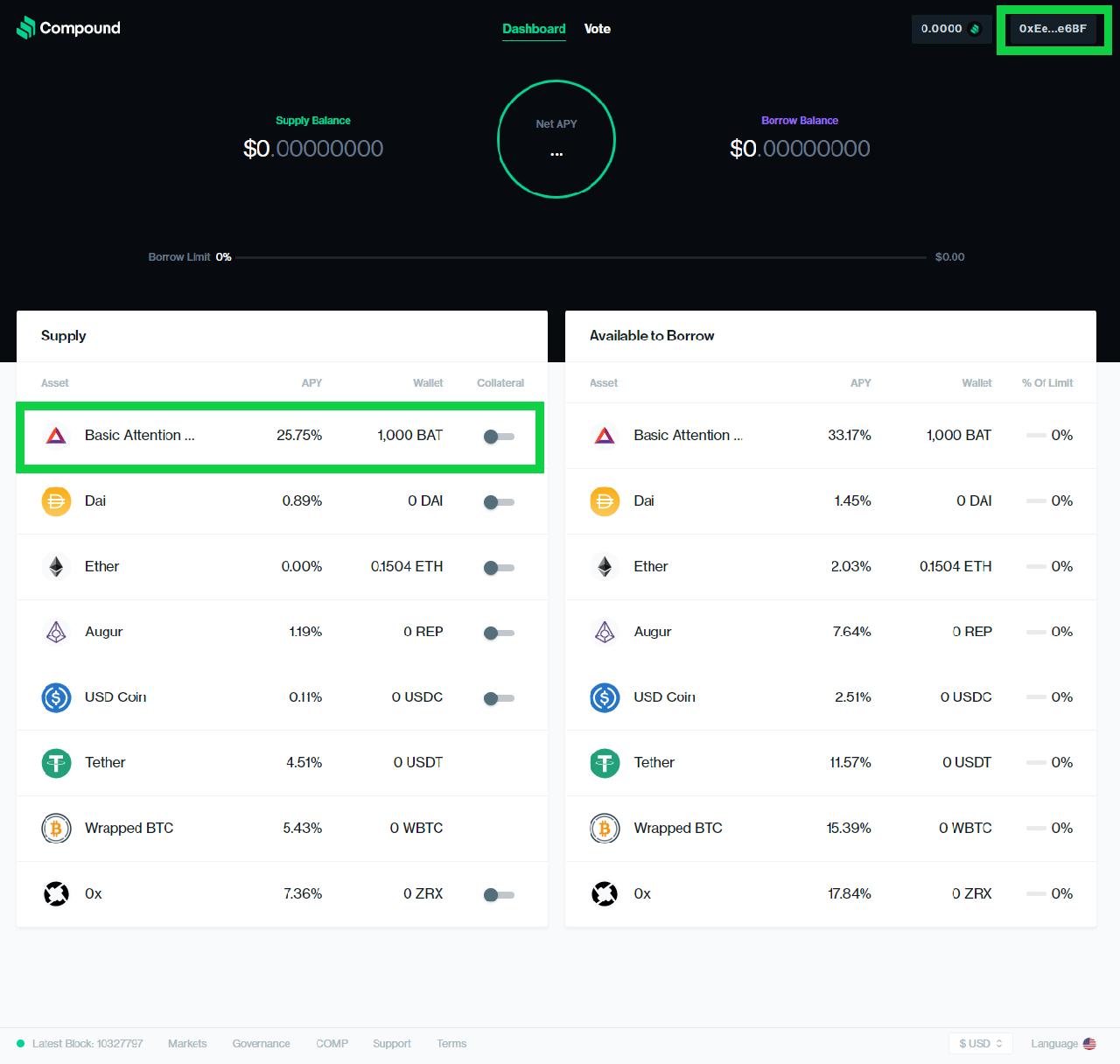 At this point, you need to pay attention to the APY column (annual interest rate) of BAT showing the figure 25.75%. This means that with 1 BAT loan, you will receive 0,2575 BAT at the end of the year.
However, this APY level is not fixed and will be changed depending on the supply / demand of the market.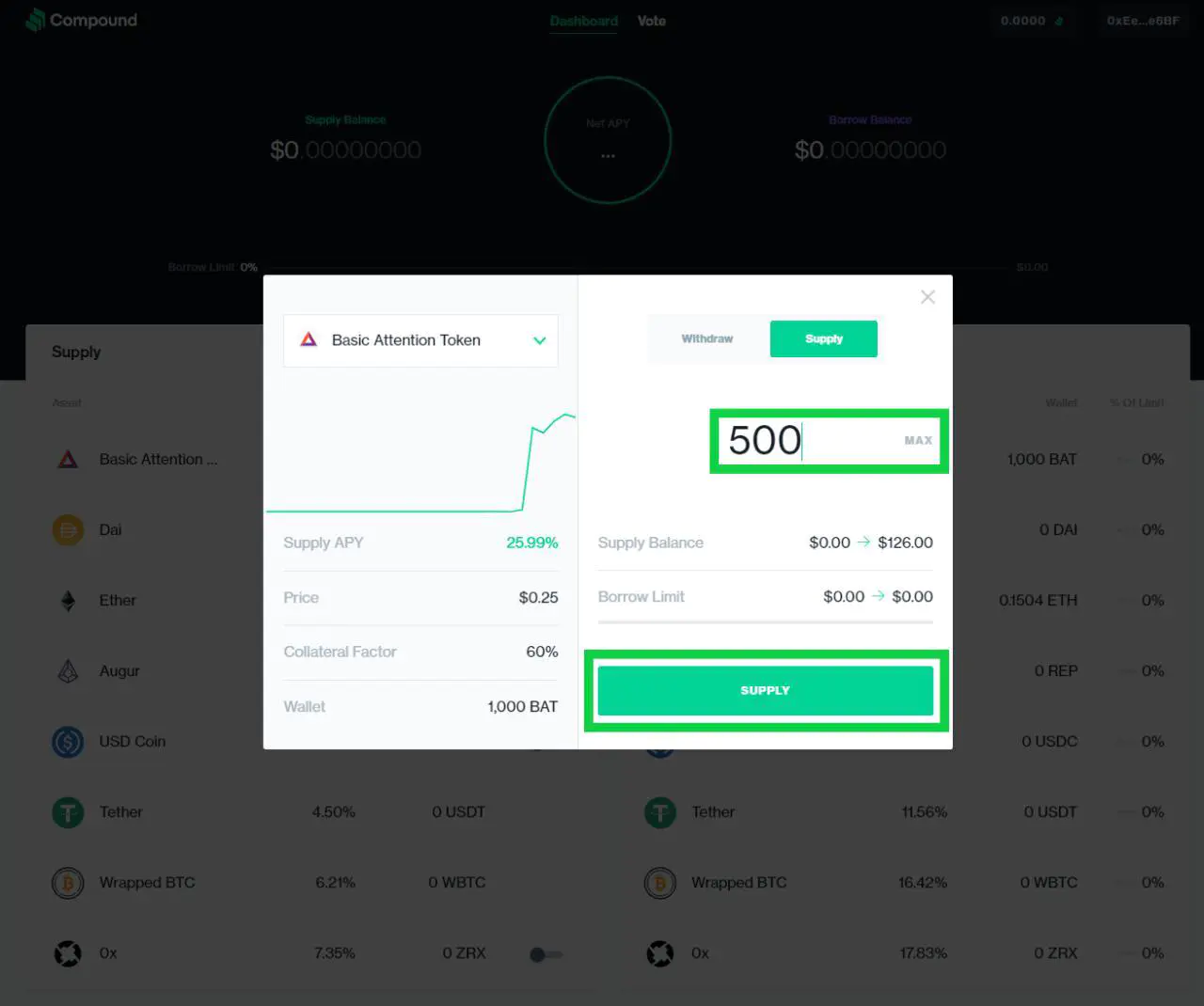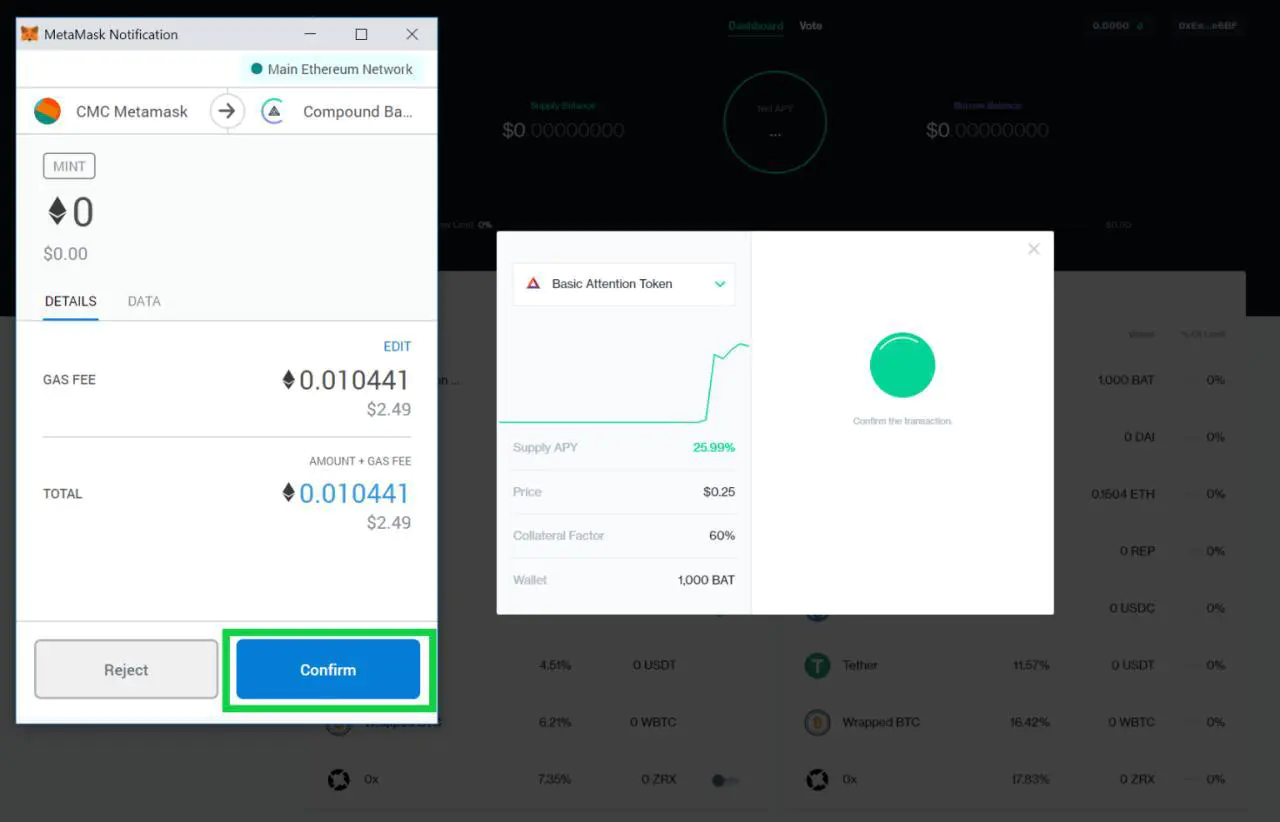 As you can see, the APY level has changed (from 25,75% to 25,99%) since the confirmation of the loan transaction of 500 BAT. APY will continue to fluctuate with each ETH block.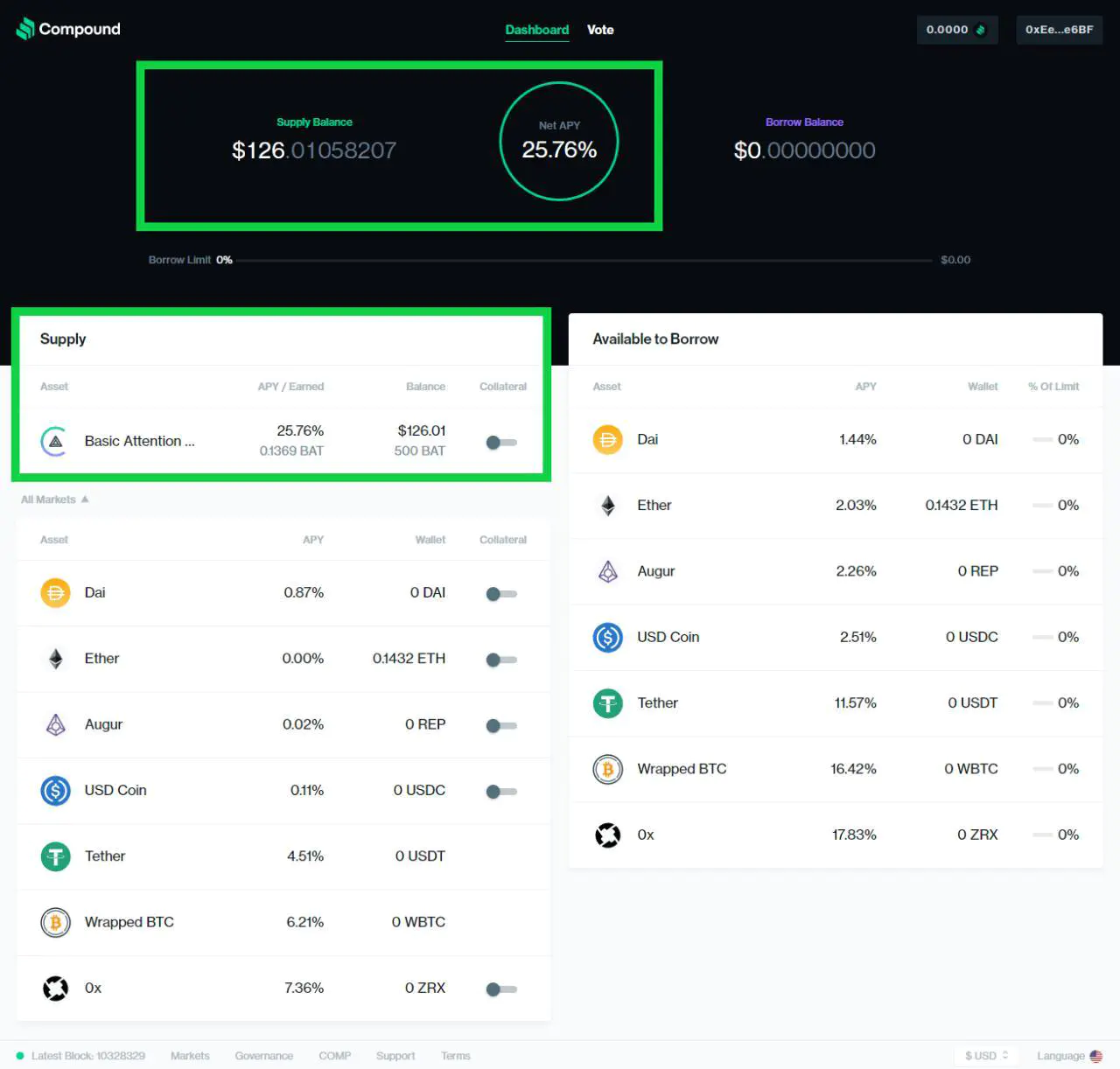 So now that I have finished, I just need to wait for interest. In this case, BTA is collecting a profit of 25,76% over 500 BAT! Interest payments are distributed daily via the token you provided and based on the running rate.
Once you have added your cryptocurrency to the platform, you can use other Compound features, such as using your existing cryptocurrencies as collateral to borrow money.
It is important to note that interest rates on the platform may change rather than fix them.
Instructions on how to borrow cryptocurrencies on Compound
You can use the cryptocurrencies you have deposited as collateral to borrow other cryptocurrencies. Borrowing electronic money also requires you to pay fees. For example, in the image below, you can see that borrowing BAT will cost you a whopping 12.27% annual APY.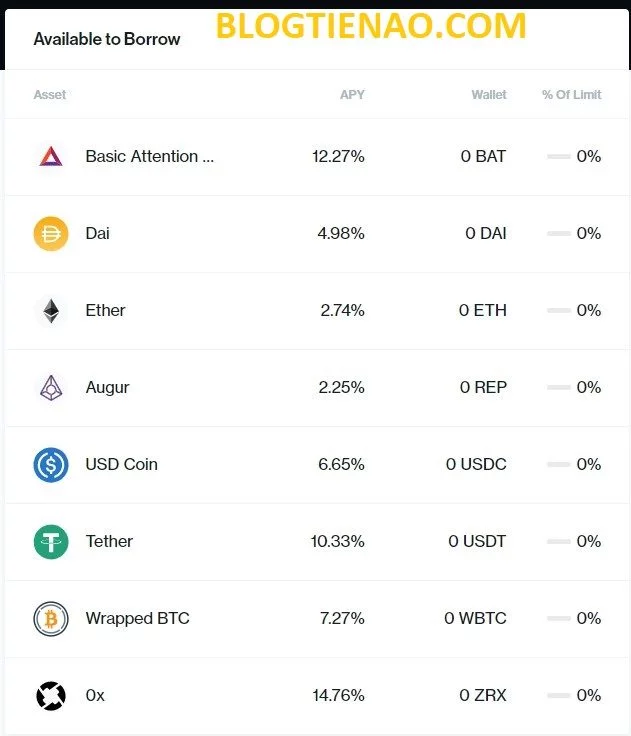 Operation is like the part "Instructions on how to make profits when depositing money on the Compound platform".
The risks that users may encounter
The first risk is related to decentralized functionality. It can be said that this is an advantage and a weakness for any DeFi platform.
Instead of trusting a central authority to monitor transactions, users will trust the code. And if there is an error in the smart contract, such as the conditions for issuing money are incorrectly set, there will be no agency responsible for fixing errors or helping users.
In addition, writing inaccurate code is one of the opportunities that gives hackers a chance to attack the protocol. A good example of this is the dForce hack with a total loss of $ 25 million in client assets.
The second risk involves the liquidation of assets. This means that if the cryptocurrency you are borrowing increases in value and exceeds the value of your collateral, your loan account will become insolvent.
In such a case, other users can help you pay your outstanding debt and redeem part of your mortgage with a liquidated preferential rate. A liquidation offer is a discount that other users can get from your collateral.
The goal of Compound in the future
Currently, Compound only trades tokens belonging to the Ethereum blockchain. However, the project aims to expand into tokenized versions of real-world assets; for example, U.S. Dollars, Japanese Yen or stocks of companies like Google.
Another long-term goal of the project is complete decentralization over time. The Compound team currently manages the protocol, but they plan to transfer all rights to DAO managed by the Compound community later.
Conclusion
With this article, you probably understand the Compound project. If you have any questions, please send questions to Blogtienao via the comments section below or on Facebook
good luck!