What is Coingecko?
Everyone must have heard about it Coinmarketcap when we check every day the prices of coins on it, but maybe you won't know much about Coingecko? Launched in 2014, Coingecko has become one of the earliest and largest data aggregation tools in the industry, taking a more comprehensive approach to tracking tokens / coins (tokens) and cryptocurrency exchanges. . CoinGecko currently tracks more than 4.800 coins and more than 339 exchanges.
With the goal of improving cryptocurrency participants online, understanding the market fundamentals, founders TM Lee and Bobby Ong want to find more transparent ways to track cryptocurrencies. . Ong told Coin Rivet:
We believe that market capitalization is not a perfectly great measure of a valuable cryptocurrency because it has been highly manipulated.
CoinGecko provides an in-depth analysis of the cryptocurrency market
Instead of just tracking and measuring coins and tokens by market cap or trading by transaction volume, CoinGecko also keeps track of other key factors. These include project code development and open source development, community development, and other major events that affect its value.
Ong explained: For developer statistics, we track Github, Bitbucket and Gitlab. We count the number of confirmations, added / deleted lines, asterisks, branches and drag requests. For community stats, we follow Twitter followers, Facebook likes, Reddit subscribers, new posts and comments. We believe that by measuring community and developer statistics, we get a 360-degree overview of any particular cryptocurrency.
With thousands of cryptocurrencies on the market and new currencies being created each month, the CoinGecko team wants to help investors better understand the altcoins available to them by giving them as much truth as they can. Transparency and quality as possible. Just looking at the market capitalization is enough to go through as this can be easily manipulated.
Basic Features Of Coingecko
In fact, the basic features of Coingecko are not much different from CMC, but I will still remind those who do not know.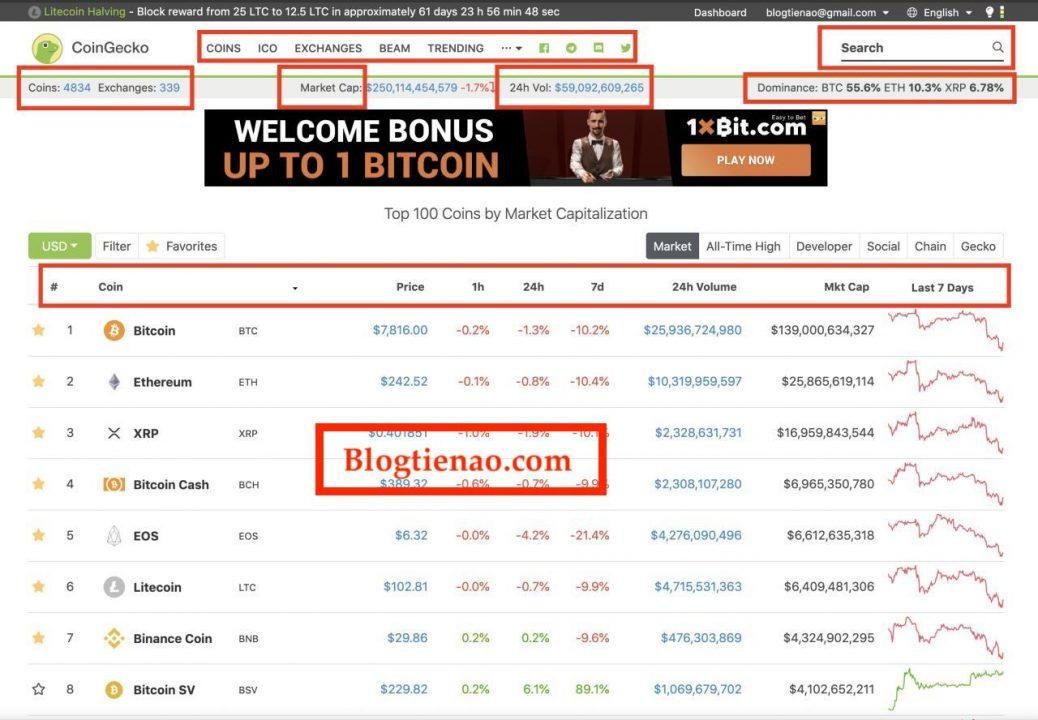 Coins: 4834 - This is the total number of coins they're tracking and analyzing
Exchanges: 339 - total number of cryptocurrency exchanges they are tracking and analyzing
Market Cap: total market capitalization
24h Vol: trading volume in 24h
Dominance: see squid fishing tours
Search: Where to find Coin and Floor.
Coin: The name of that coin
#: ranking position of coins
Price: the value of that coin at the present time
1h, 24h, 7d: the fluctuations and changes of that coin in 1h, 24h, 7d
24h Volume: The volume of transactions in 24 hours
MktCap: Market capitalization
Last 7 Days: chart of the last 7 days
Farorites: is a star to mark that you see, I mark my favorite coins to track easily, when I go to coingecko, it will show me without having to find
Also on the menu that I have circled, it will display the basic features that viewers like the most:
COINS: see the price of coins, as the picture above is when I click on the image it will display exactly like that image.
EXCHANGES: track the list of exchanges and trading volumes, especially here keep track of real, non-virtual trading volumes like Coinmarketcap. So for real trading volume, I check it here.
BEAM: is the place to update the latest information and directly from the project, when they have important announcements, you can see here
TRENDS: Trends are, the biggest gainers and losers, new coins added ...
Advanced features that you should know
Coingecko has always been a good place for me to use to analyze some basic data, it is very useful for my judgment, in the future, Blogtienao has an agreement with Founder of Coingecko to allow Blogtienao to use Their data set, We will base on the experience and user experience in Vietnam to design a copy that is more suitable for Vietnamese people, help you analyze more easily, hope you support.
All - Time Hign (Highest All Time)
Going into the analysis of more advanced functions, let's take a look at the All Hign Time feature (Highest All Time)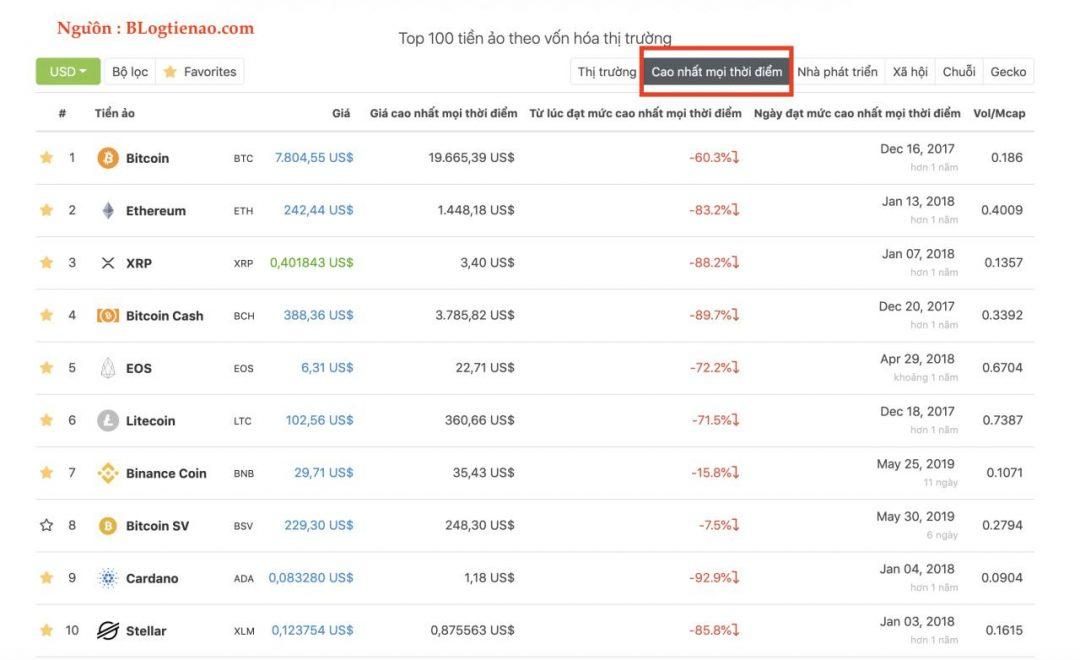 You will be able to check the highest price every time of each coin, compare with the current price, the highest time and at the highest time, the ratio of the highest trading volume to the highest market capitalization. is how much%. And the current price compared to the peak has dropped by what percentage. In the past when I was calculating this, I always had to wobbly and recount old charts to calculate, it was very time consuming.
As you can see, For example child Bitcoin, at the time of writing, Current Bitcoin price is $ 7804, compared to the peak of $ 19.665, the price has decreased by 60.3%.
Developers (Developers)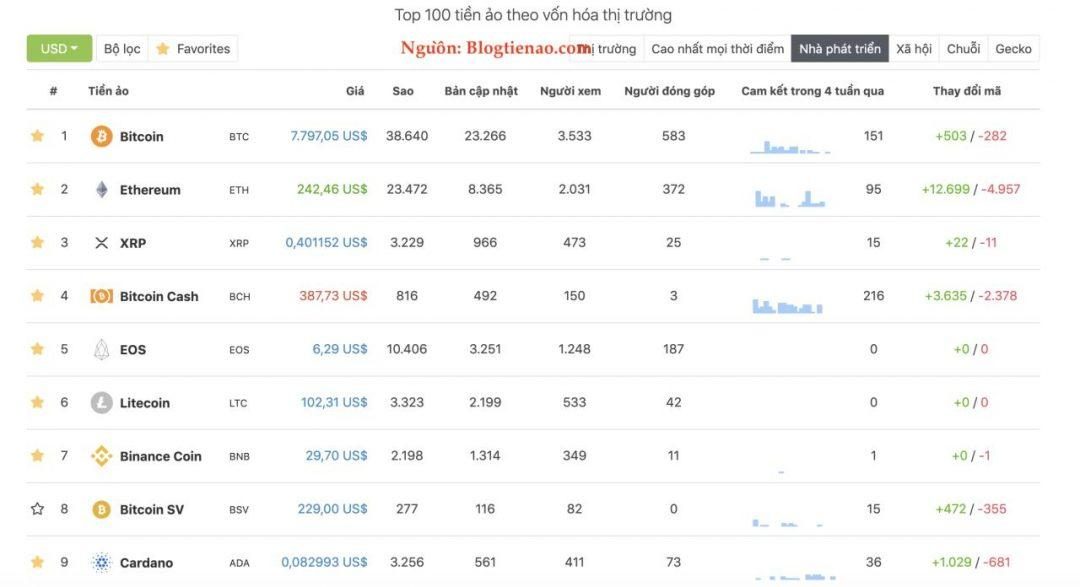 This is where I check to see if their projects and development teams go up or down, whether their developers leave them or not Ahihi, you see. A project that developers leave no one else means its future is very gloomy ... However, this is also information for reference only, not decisive.
Society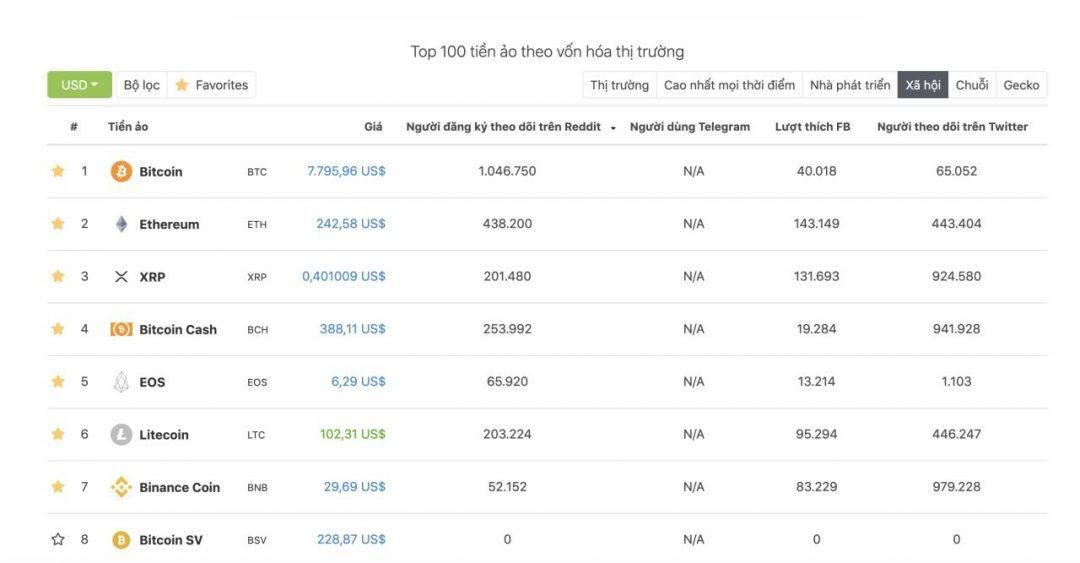 Chain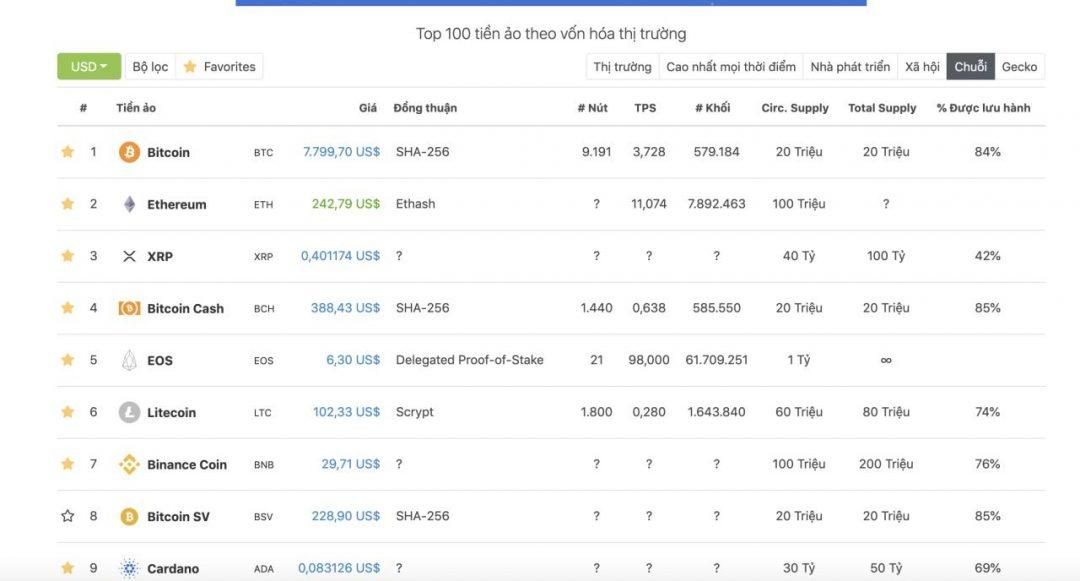 This is the place for you to know about CHAIN, tell you which algorithm it is, which node, which block, its total supply, how many coins are circulating in the market. much. How many coins are left to help you judge, most of these are for judging those who are playing LONG.
Tracking Time Halving
The two biggest biases for Bitcoin and Litecoin are: Bitcoin Halving , and Litecoin Halving, you can watch it on gecko offline.
Learn About The 1 Coin In The Most Detailed
Coingecko is a place to help you learn all the most detailed information about a coin, of course you must know English, although they have Vietnamese language, there will be points that you do not understand, if you do not If you are a data researcher, you don't need to pay much attention to this, for example copper TRON (TRX)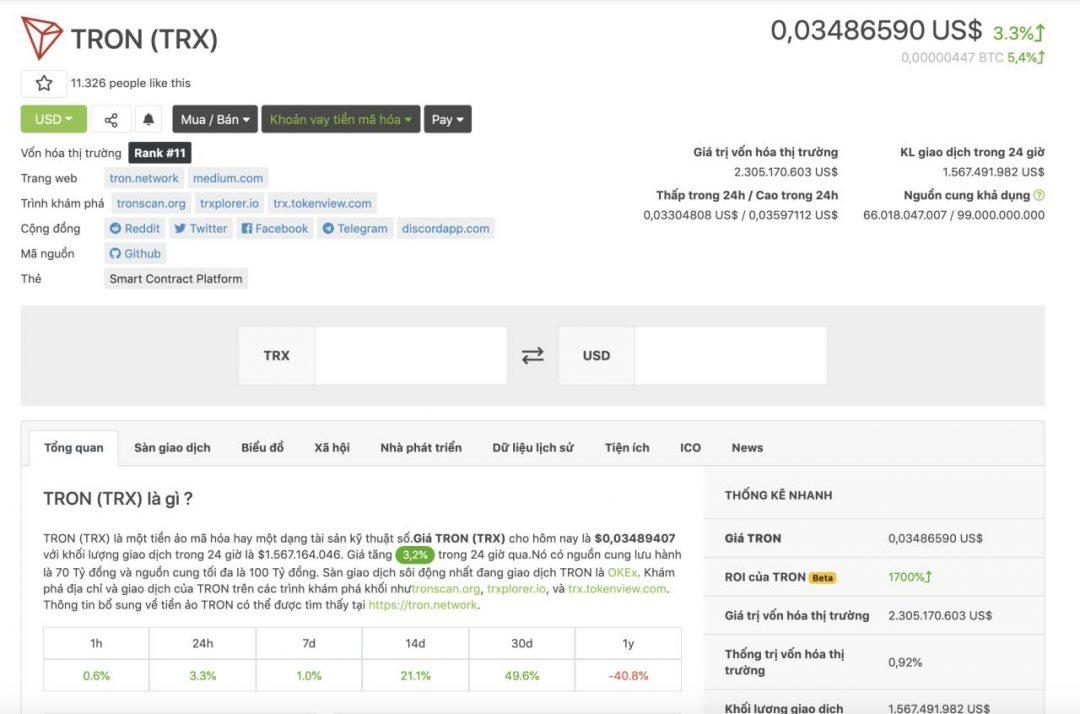 Comparison Tool
This is my favorite tool, you can list the tokens you are investing in, compare it with each other, just go to this tool, you will see many interesting information. , very useful for your judgment and investment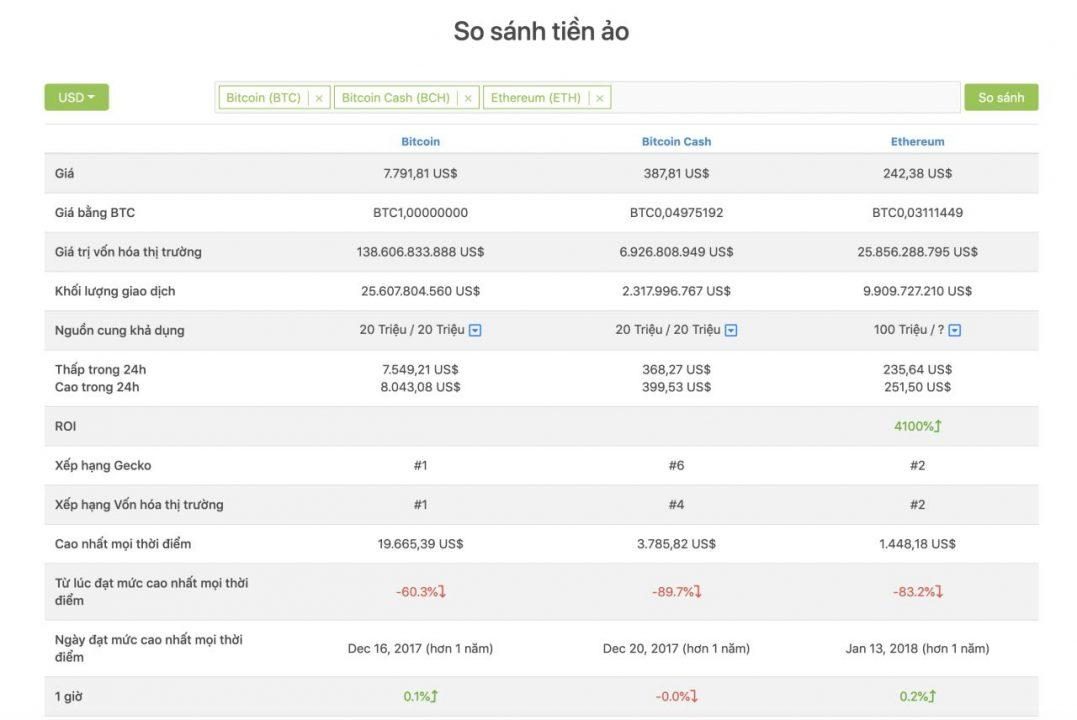 Conclude
Thus, the Virtual Currency Blog has helped you find a place to check prices as well as track analysis that I personally say is much better than coinmarketcap, can help you analyze, research and from there. make the best investment decision. There are other small functions such as wiget, api, news, ... that I think you are not interested in so I do not write more. Wish you success, if it is useful please rate 5 stars, like, and share to support us. Thanks to everyone who read this article.

Like fanpage Facebook of Virtual Money Blog
Join the channel Telegram of Virtual Money Blog
Participation GROUP Discuss news of Virtual Money Blog