What is bithumb?
Bithumb leaves Bitcoin exchange and the number 1 algorithm in Korea. Bithumb also regularly ranked in the Top 10 cryptocurrency exchange The world's leading trading volume. Bithumb is currently the trading platform that offers the lowest commission rates in the world.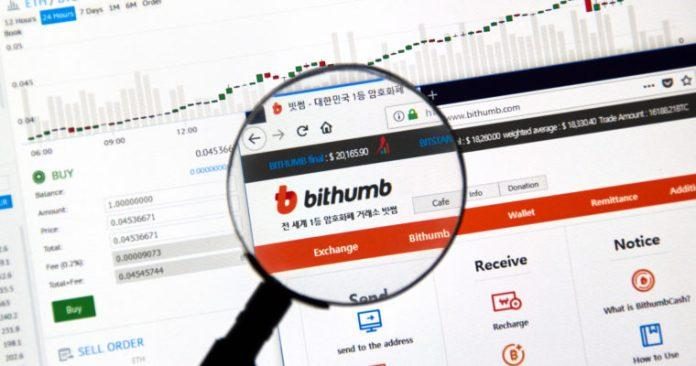 According to a report from South Korea, Bithumb floor accounting for 75,7% market share of the market Bitcoin in South Korea and accounts for about 10% of the total global transactions. Besides, Bithumb is also the floor that owns about 50% of transactions. Ethereum Korean. Of course the website www.bithumb.com The entire language is Korean.
What trading pairs does Bithumb support?
Bithumb support trading some virtual currencies like Bitcoin (BTC), Ethereum (ETH), Ripple (XRP), Ethereum Classic (ETC), Litecoin (LTC) and DASH (DASH), Bitcoin Cash (BCH), Monero (XMR) with South Korean Won (KRW). The following are the pairs that have trading volumes in descending order at the time of this writing (September 16, 9).
BTC / KRW
ETH / KRW
DASH / KRW
LTC / KRW
ETC / KRW
XRP / KRW
BCH / KRW
XMR / KRW
Besides, Bithumb.com also allows users to buy Bitcoin gift coupons. The voucher is equivalent to the present value of the Korean Won. The minimum value for each card can be 10.000 KOW, or about 9 USD. Bithumb will also redeem existing gift certificates from customers and convert them into the corresponding value in bitcoin.
Bithumb's operating company?
Bithumb is operated by a company called BTC Korea.com Co., Ltd. based in Seoul, South Korea.
Bithumb is a big exchange, but there is very little information about the Bithumb development team online. The company's information on Bloomberg does not include executives, board members, or other company data. All we know is that it is a Seoul-based company named Korea.com BTC Co., Ltd.
Bithumb floor event was attacked by hackers
On June 29, 6, hackers gained access to an employee's personal computer Bithumb. The hacker used access to retrieve personal information of 31.800 Bithumb users, including names, phone numbers and email addresses. Bithumb exchange claims that this number represents about 3% of customers.
Bithumb's representative acknowledged the hacker attack, but also asserted that these hackers could not gain access and conduct transactions in virtual funds stored on Bithumb. This means that hackers can only steal personal information, not money.
But there have been more than 100 customer complaints, about the disappearance of their virtual money accounts. Preliminary investigations show that the victims may have been hacked by both hackers and password verification OTP once, to perform money transfer.
However, soon charge Bithumb floor has set up compensation plans for victims up to 100.000 Won per customer (about $ 900 USD). If customers lose more than this number will be compensated further as soon as Bithumb confirmed the exact amount.
Conclusion
The hacker incident and took away many customers' information Bithumb nor does it affect the credibility of exchanges this. Time Bithumb floor is still the trading floor among the top in the world. In Vietnam, quite a few investors use Bithumb because the entire language on the website is Korean, mostly still used. Bittrex or Poloniex. But Bithumb is also a good choice if you want a new experience and cheaper transaction fees. And what do you think of Bithumb, please leave it in the comment section.