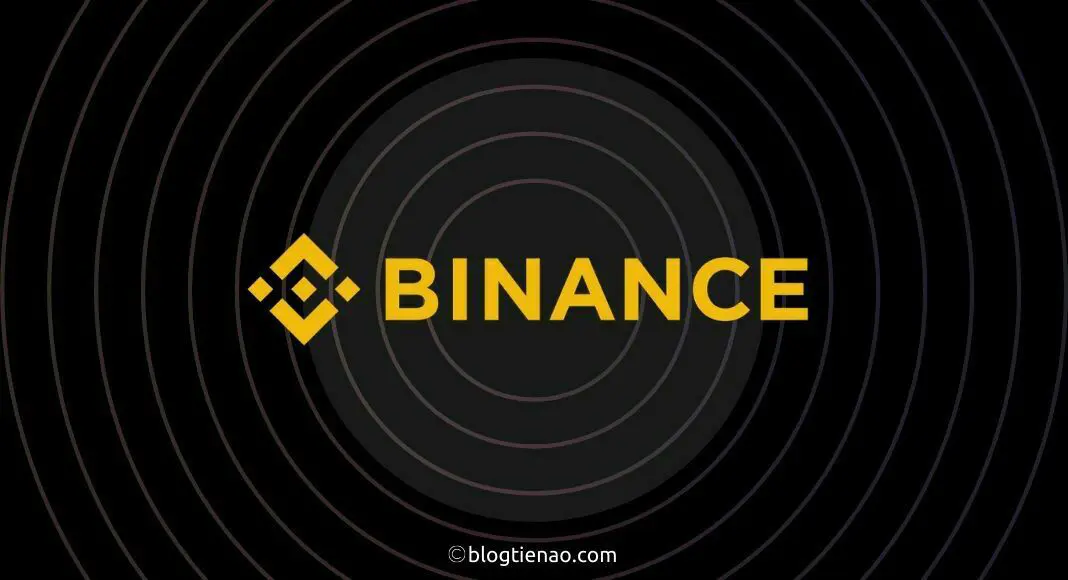 Before learning about the Binance exchange, Blogtienao has an incentive to recommend for everyone.
That is, if you register for a Binance account by clicking the button below of Blogtienao, you will get a discount on transaction fees as well as get a completely free support from Blogtienao too!
Clicking the button will jump to the main registration page of the owner binance.com. Don't worry about a scam or anything.
If you want to learn more before registering, please continue to read this article.
Already! Now with Blogtienao learn about Binance exchange come on!
What is Binance?
Binance is one Crypto exchange was founded by Changpeng Zhao. Currently, Binance is the world's largest cryptocurrency exchange by trading volume with over 900 trading pairs.
Reviewing the Binance exchange
Bitcoin exchange and Chinese cryptocurrencies Binance known for its low transaction fee (0.1%) as well as its fast transaction processing.
Technology of Binance Exchange capable of processing 1.4 million orders per second. This makes it the most prospective exchange in the future in terms of trading volume.
At the time of Virtual money blog In writing this article, Binance is holding the # 1 position in total 24-hour trading volume according to the site statistics Coinmarketcap.
Binance supports trading of virtual currencies with BTC, ETH, BNB , and USDT.
However, recently, Binance has integrated a lot of different payment methods: Visa Card, Master Card.
This means you can use your credit card to buy cryptocurrency assets directly on the Binance exchange.
But Blogtienao encourage you not to use this method as it is very expensive, costs 3-4% of the Transaction Fee.
The ecosystem of Binance floor
In most cryptocurrency exchanges, Binance has a very diverse ecosystem. The exchange provides many services such as: Lending, Margin trading, Futures, Staking, DEX, ...
Along Blogtienao explore this ecosystem through the following article below.
---
Futures contract trading platform
This article will help you understand the fees and usage of this platform.
---
The regular trading platform and derivative trading are acquired by Binance from JEX
Although not as popular as Binance Futures. But Binance is still developing this platform. The article introduces the platform as well as futures contracts and options.
---
Margin trading
You will learn how to open an account and how to deposit through this article.
---
Decentralized exchange
Direct transactions between two people without going through any intermediaries. Eliminate hacker issues as well as scams.
---
Form of electronic money loan
Those who hold a long-term coin can consider Lending for extra profits.
---
Token launchers for blockchain projects
Buffer step for Startup "To the moon". The exchange's token issuance platform.
---
Peer-to-peer cryptocurrency trading platform
You can buy and sell cryptocurrencies in VND directly on Biannce.
---
Open cryptocurrency exchanges
Help you build a crypto exchange quickly and easily.
---
Trading in American options
You can make a profit by predicting the price up or down.
---
Decentralized cryptocurrency storage wallet
In addition to storing money on the floor, you can use this wallet to save to ensure the security of the property.
Features of the Binance trading platform
Like most other cryptocurrency transactions, Binance The promise of good security, user friendliness and strong performance. Here are some features promoted by Binance:
Safe and stable: Use a powerful multi-tier knowledge system
Support multi-device: Supports web browsers, Android, IOS, HTML5, WeChat and other platforms.
High performance: Can handle 1.4 million orders per second.
Multi-language support: Support Chinese, English, Japanese and Korean, Russian and Spanish. Of course, there is also Vietnamese on the website and app recently.
High liquidity: Provides a number of cryptocurrency pairs with extremely high liquidity.
Support multiple Coin: Allows trading over 271 different virtual currencies
The team thrives: Binance is run by Changpeng Zhao. Overall, the company says its team has extensive experience in both Wall Street and crypto finance, along with a successful start-up record.
Proven product: The Binance platform has been implemented on 30 already available interfaces. The platform supports all devices and multiple languages, providing a good user experience.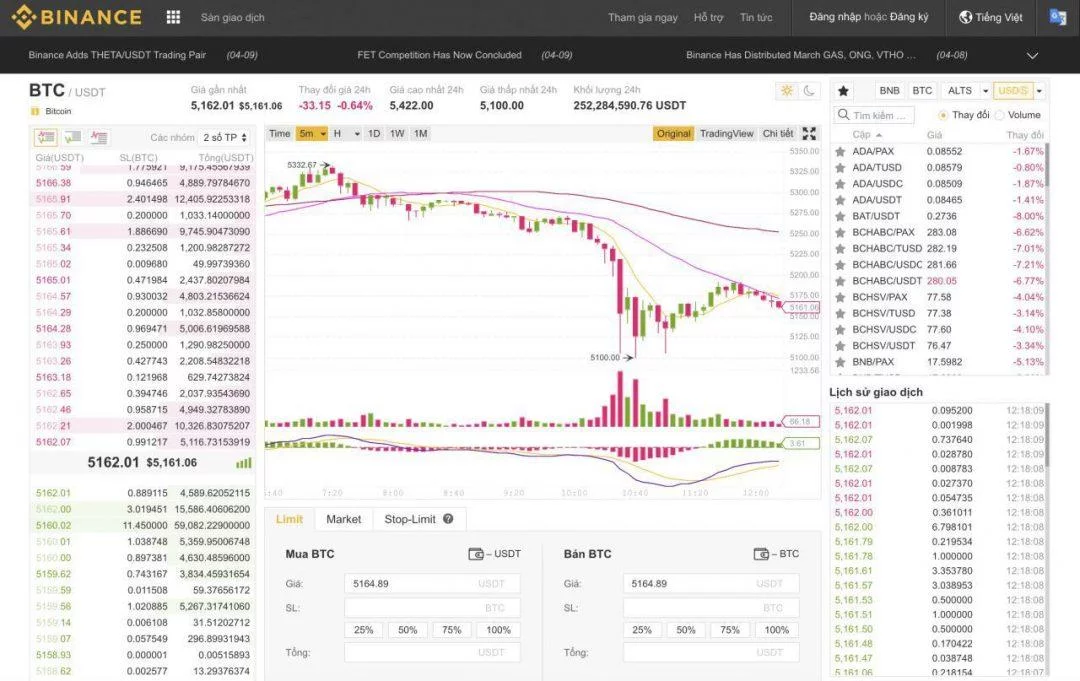 Transaction fees on Binance
As for the transaction fee, I mentioned above is 0.1% for both Taker and Maker. If you use BNB as a transaction fee, the cost will be reduced to 0.075% or lower depending on the level, you can follow the image below.
| Level | 30-day trading volume (BTC) & Hold BNB | Maker & Taker | Maker & Taker uses BNB |
| --- | --- | --- | --- |
| Chung | <50 BTC or> = 0 BNB | 0.1000% & 0.1000% | 0.0750% & 0.0750% |
| VIP 1 | > = 50 BTC &> = 50 BNB | 0.0900% & 0.1000% | 0.0675% & 0.0750% |
| VIP 2 | > = 500 BTC &> = 200 BNB | 0.0800% & 0.1000% | 0.0600% & 0.0750% |
| VIP 3 | > = 1500 BTC &> = 500 BNB | 0.0700% & 0.1000% | 0.0525% & 0.0750% |
| VIP 4 | > = 4500 BTC &> = 1000 BNB | 0.0700% & 0.0900% | 0.0525% & 0.0650% |
| VIP 5 | > = 10000 BTC &> = 2000 BNB | 0.0600% & 0.0800% | 0.0450% & 0.0600% |
| VIP 6 | > = 20000 BTC &> = 3500 BNB | 0.0500% & 0.0700% | 0.0375% & 0.0525% |
| VIP 7 | > = 40000 BTC &> = 6000 BNB | 0.0400% & 0.0600% | 0.0300% & 0.0450% |
| VIP 8 | > = 80000 BTC &> = 9000 BNB | 0.0300% & 0.0500% | 0.0225% & 0.0375% |
| VIP 9 | > = 150000 BTC &> = 11000 BNB | 0.0200% & 0.0400% | 0.0150% & 0.0300% |

Deposit and withdrawal fees on Binance
today, Binance exchange free for deposits and when you withdraw (Withdrawal) you will be charged for each different Coin.
You can refer to the withdrawal fee via the following link: binance.com/vn/fee/schedule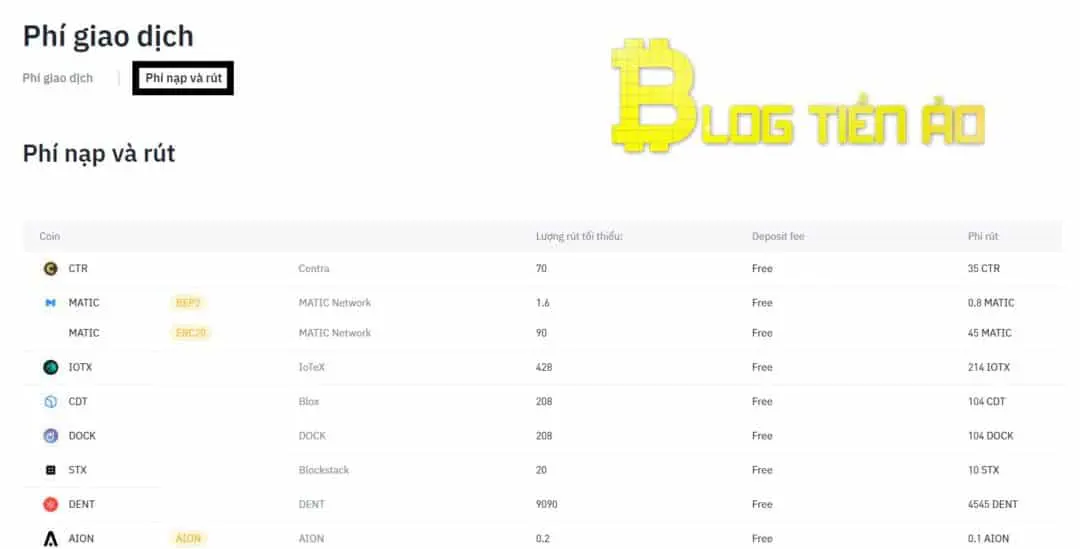 Guide to register Binance floor
Sign up on mobile
Step 1: Access to https://blogtienao.com/go/binance. Next, you fill out the registration form and check the box I agree to Binance's Terms Of Use. Finally click the button Sign Up.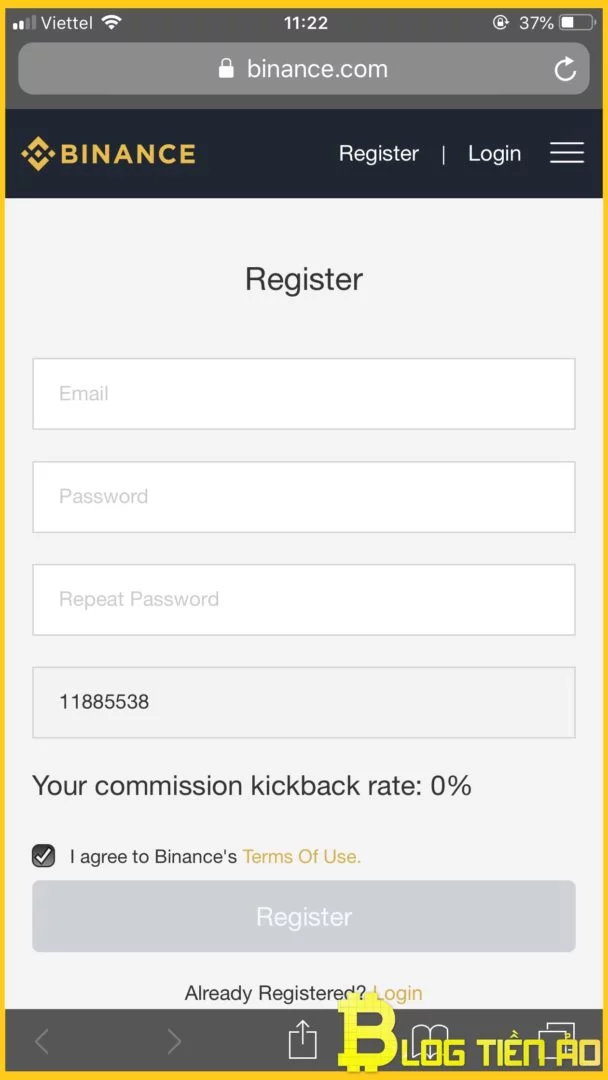 Step 2: Confirm by dragging the button (|||) to match the picture.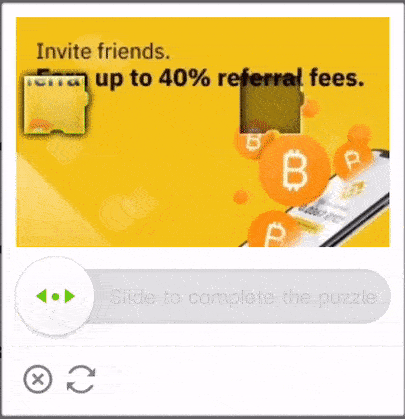 Step 3: Go to the email you registered and press the button Confirm Register To confirm.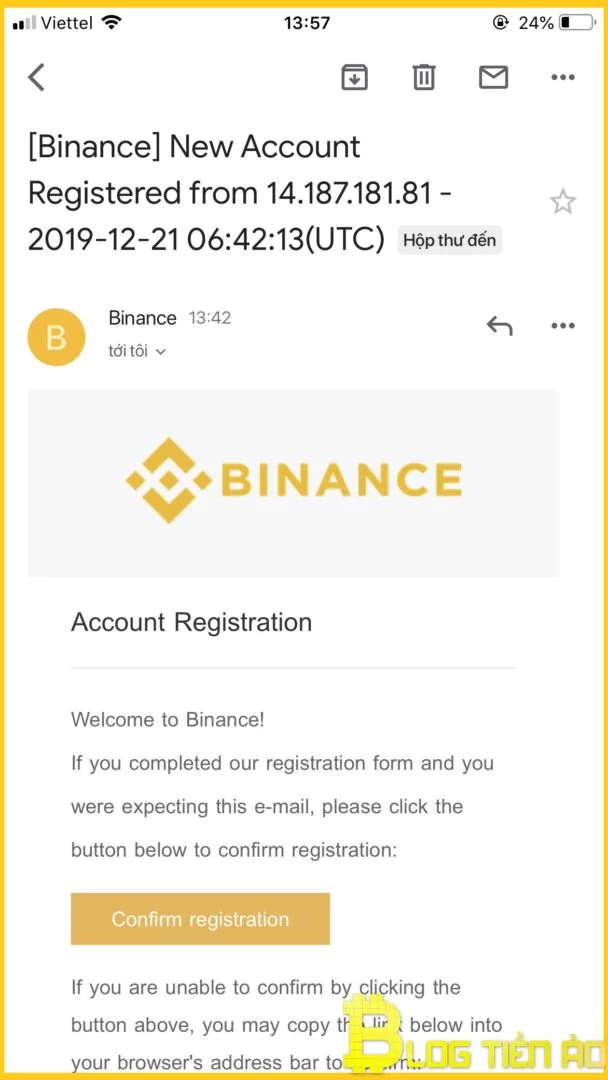 If there is no error, you will see the line "Account Activation Successful"Successfully activated your account.
If you have an error, you can register or contact support of Binance. How to contact me will guide in the following.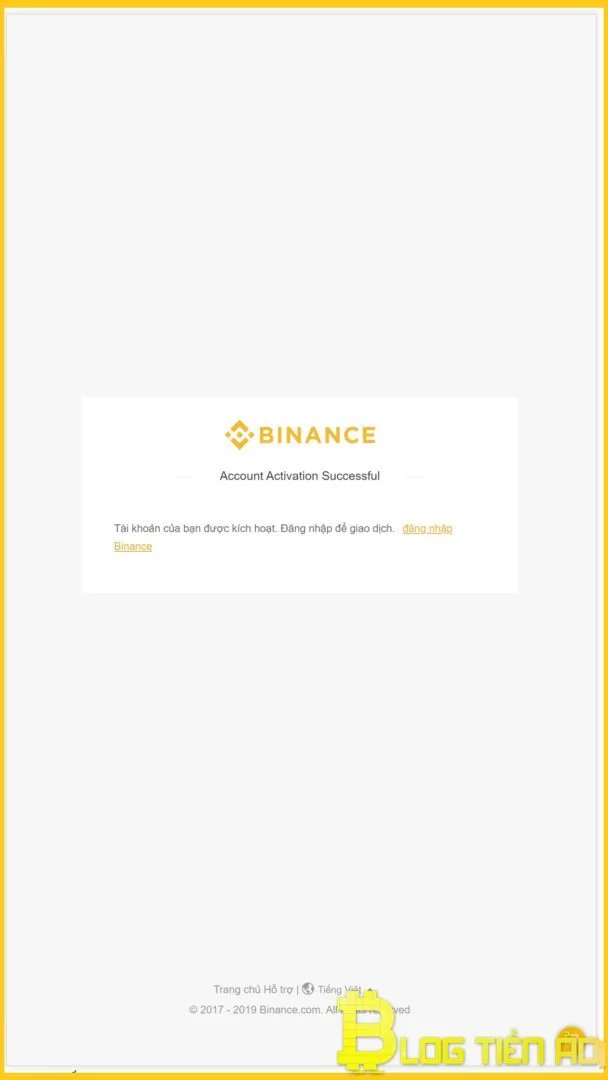 Register on the computer
On computers, people register the same as on a phone, but the interface is a bit different.
Step 1: Access to https://blogtienao.com/go/binance. Enter your email and the password you want to register.
Check the box "I am over 18 years old and I accept the Binance Terms of Use Binance Terms of Use."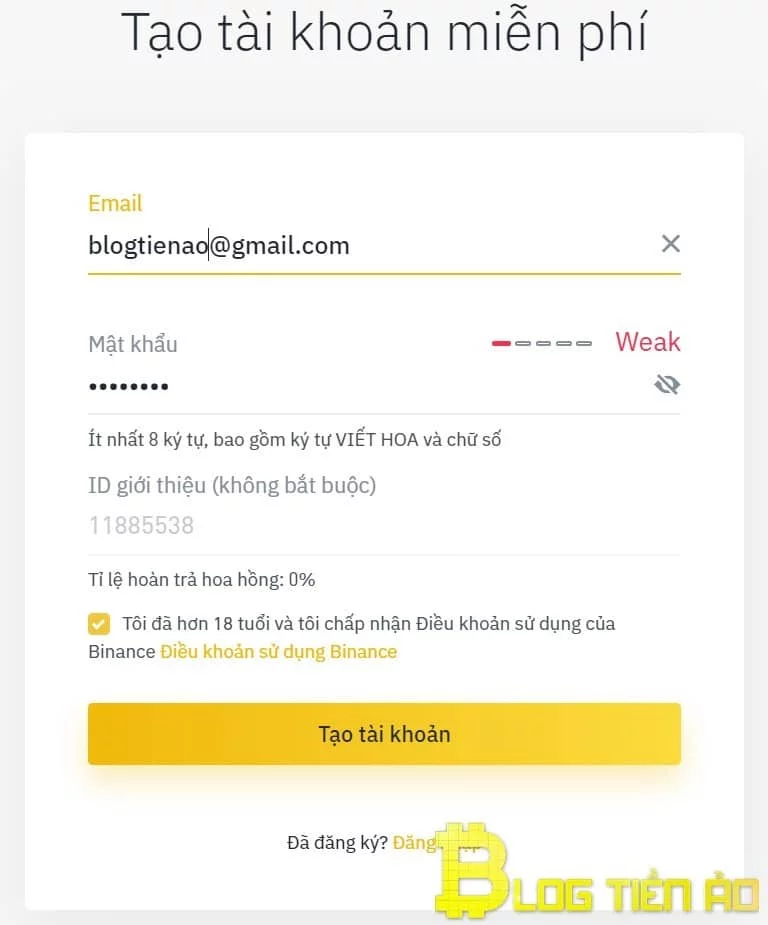 Step 2: The remaining steps as well as create an account on the phone. You can refer to the section again Sign up on the phone on.
About the interface
The Binance App interface of Android and IOS operating systems is a bit different. Basically the same.
I will introduce the interface of both for everyone to reference offline.
Application interface on iOS
Maybe when people first download will appear English and Theme (Theme) bright. If you like it, just use it as usual.
To switch to Vietnamese, everyone enters Account -> Settings -> Language -> English.
To switch to the dark interface, people also enter Account -> Settings -> Themes -> Dark
*Note: Everyone should look at the pictures and read the captions to get a better idea.
Now I will briefly introduce the interface through the image below.
(1) Account: You can login, scan QR codes, customize settings, and activate 2FA security.
You can adjust the language and topic according to personal preferences. After successful login, you can also enable account security.
(2) Home page: See an overview of the coin's price appreciation. View the news published floor. Shortcut to some services
(3) Market: In this section you can see the market: BNB, BTC, ALTS, USD (s), Futures. You can be volatile up and down of trading pairs.
For example: The BTC market is where you use Bitcoin to buy other virtual currencies. And you sell that cryptocurrency for BTC.
(4) Deal: Where you execute common trading orders, margin, futures
(5) Comeinand: Where the command was executed, review the order history.
(6) Fund: Property management place. You can view the balances or execute transfers and take wallet addresses.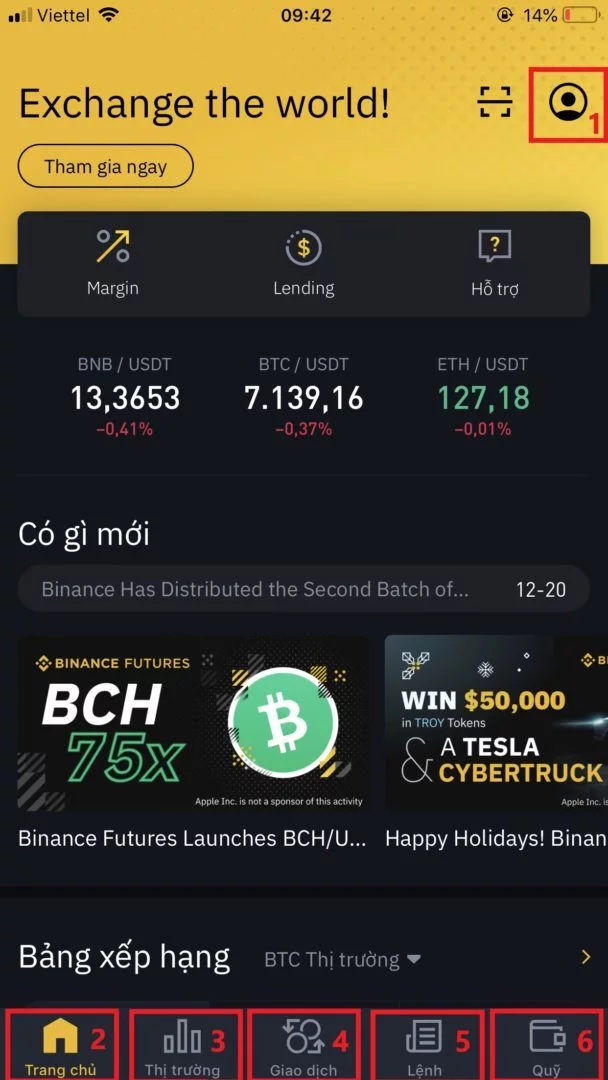 Interface on the Android application
Also quite similar to Binance IOS but item account was brought to the bottom. Section "Fund" converted into "Capital".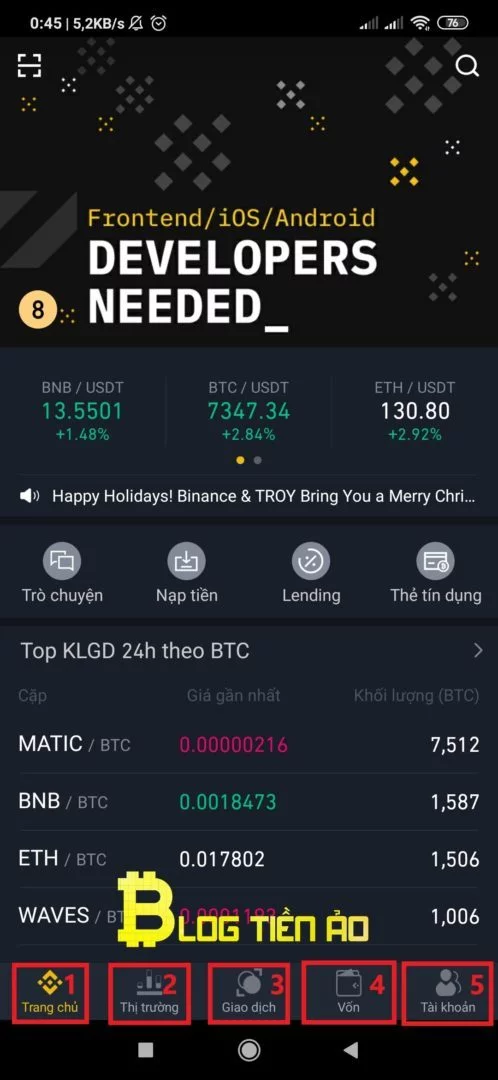 The interface on Binance.com Website
(1) Market: See prices of coins in the market.
(2) Fiat: Buy coins with fiat money.
(3) Exchanges: Access to the Basic, Advanced, Margin trading interface.
(4) Futures: Access to futures contract interface.
(5) Make money: Use Lending and Staking services
(6) Login
(7) Register
(8) Conversions displayed in fiat currencies. You can convert to VND, CAD, ...
(9) Old Website: Switch back to the old website interface
(10) Fast purchase of cryptocurrencies with fiat.
Note: People can convert languages ​​into other languages.
To change the language, people scroll down to the bottom of the page to drag the mouse over

. Choose the appropriate language is done.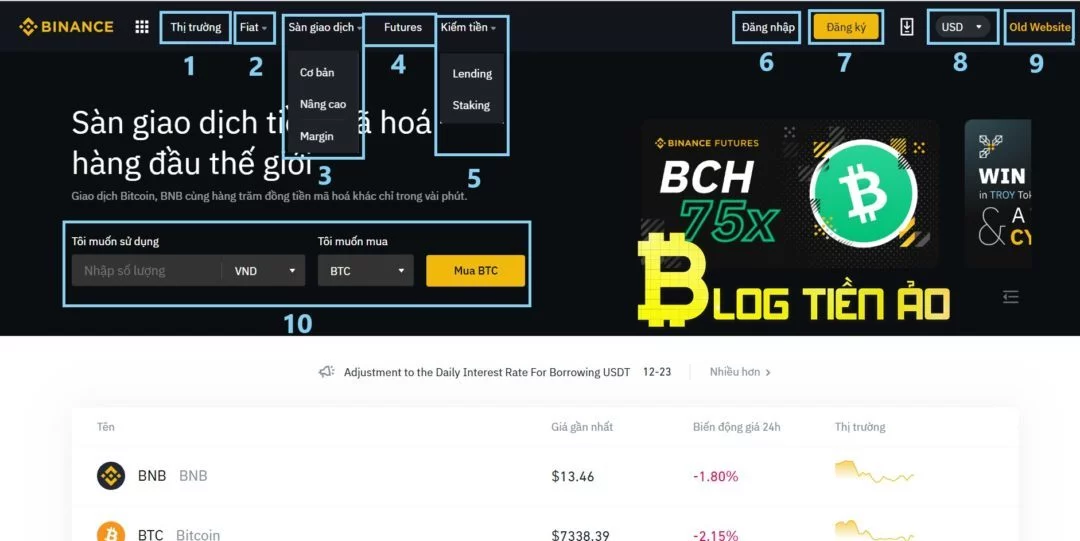 Sign in to your account
On Smartphone
On item account then on Sign in or Register. Enter your email and password.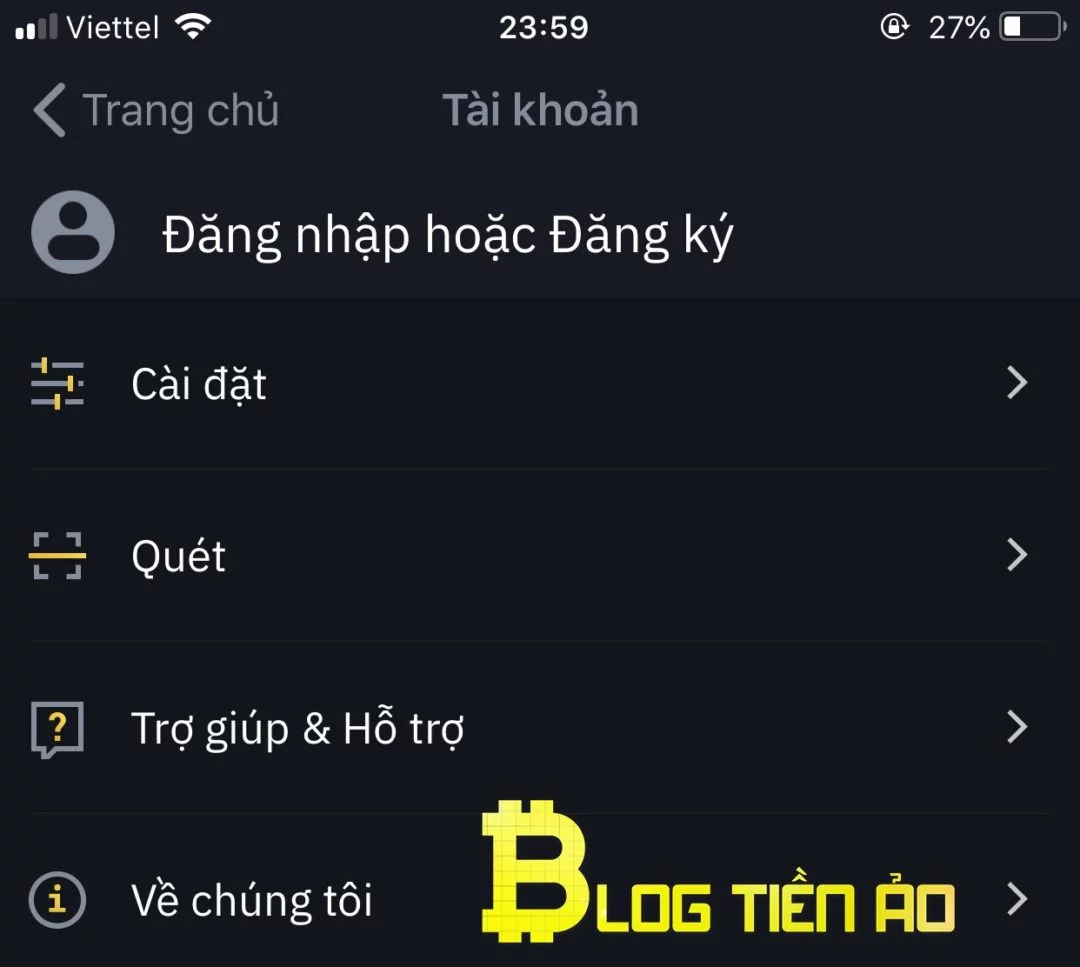 On the Website
On item Login at the top of the page. You also enter the account just registered when bouncing is done.
Note:
If anyone does not know where this item is located, review the interface above will know.
Those who sign in for the first time on their new device must confirm via email registration. Enter the 6 characters provided by Binance.
From next time you will not need to confirm the new device anymore.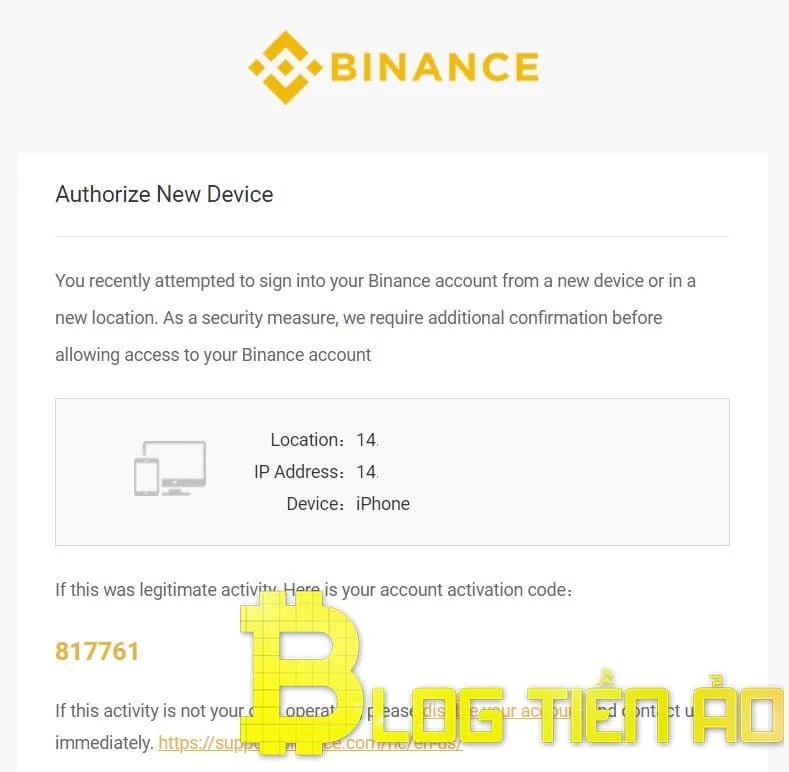 Instructions to enable 2FA for account security
This is a very important feature to protect your account. You can use 2-factor authentication with SMS or Google Authenticator.
I recommend using Google Authenticator for security. Because when you use SMS there will be times when the network fails. You will not be able to login.
Turn on Google Authenticator on Binance's App
Go to Account -> Security -> Authenticate with Google. Details of the steps you can see at Activate Google Authenticator for the exchange account account.
Enable Google Authenticator on Binance Website
If you have not enabled the 2FA feature, when logged in you will see a request as shown below. You can click on "Confirm Google " to start installing.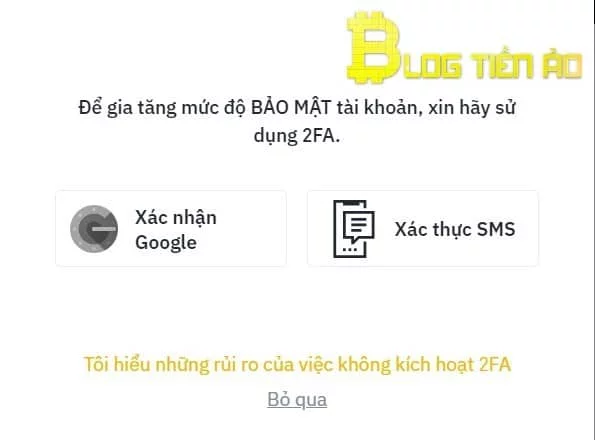 If the case does not appear as shown above, you can go to Account -> Security. Press the button On.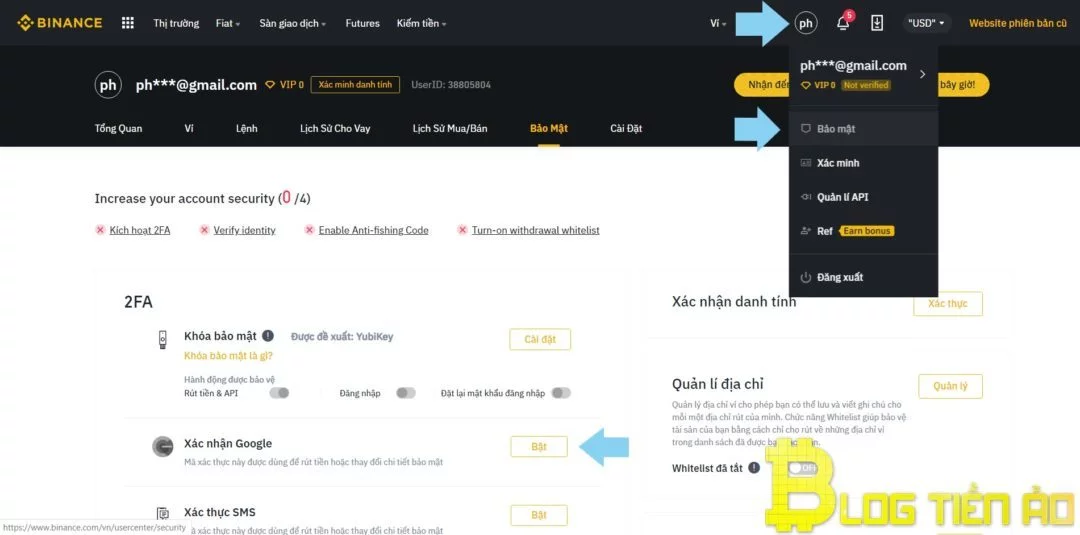 Next follow the steps below
Step 1: Download the Google Authenticator app available on the App Store and Google Play
Step 2: Scan the QR code provided by Binance, if you cannot scan, you can enter manually.
Step 3: Save backup key. When losing your phone you can enter this key to use as usual. If you do not save it takes 7 days to reset Google Authenticator by sending a ticket to support.
Step 4: Enter the login password and 6 numbers in the 2FA application
SMS authentication on Binance App
Everyone in account, choose Security -> Authentication by SMS. Enter your phone number and press Send SMS.
Enter the code sent to your message in "Authentication code by SMS". Next, enter the Google Authenticator code if you already have it installed.
Finally press the button Confirm .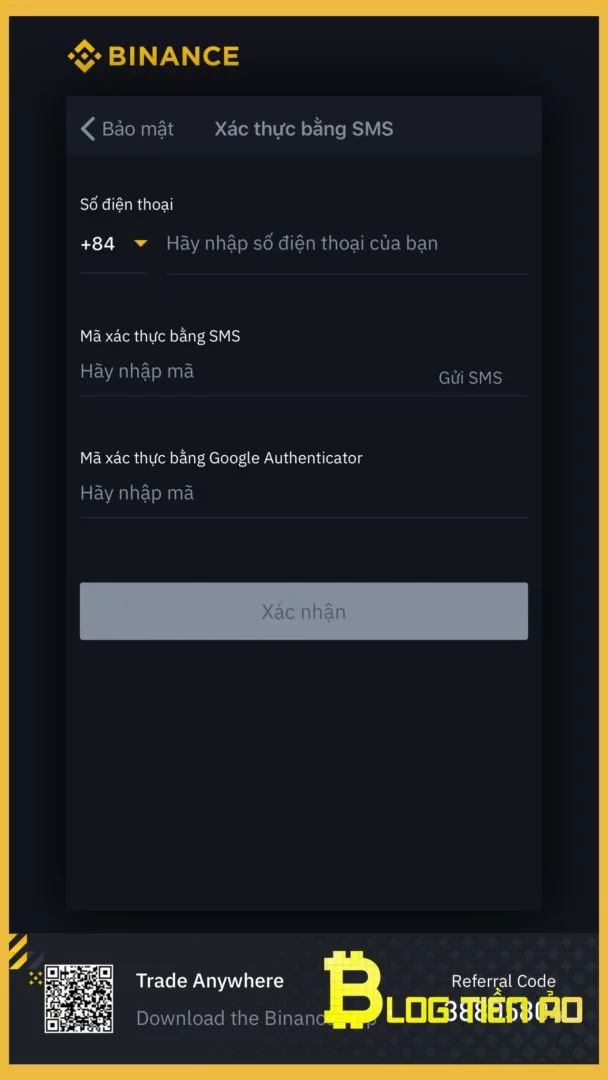 Verify SMS on Webiste
Everyone in account and choose Security just like the Google Authenticator section above. But this time press the button Turn on in SMS authentication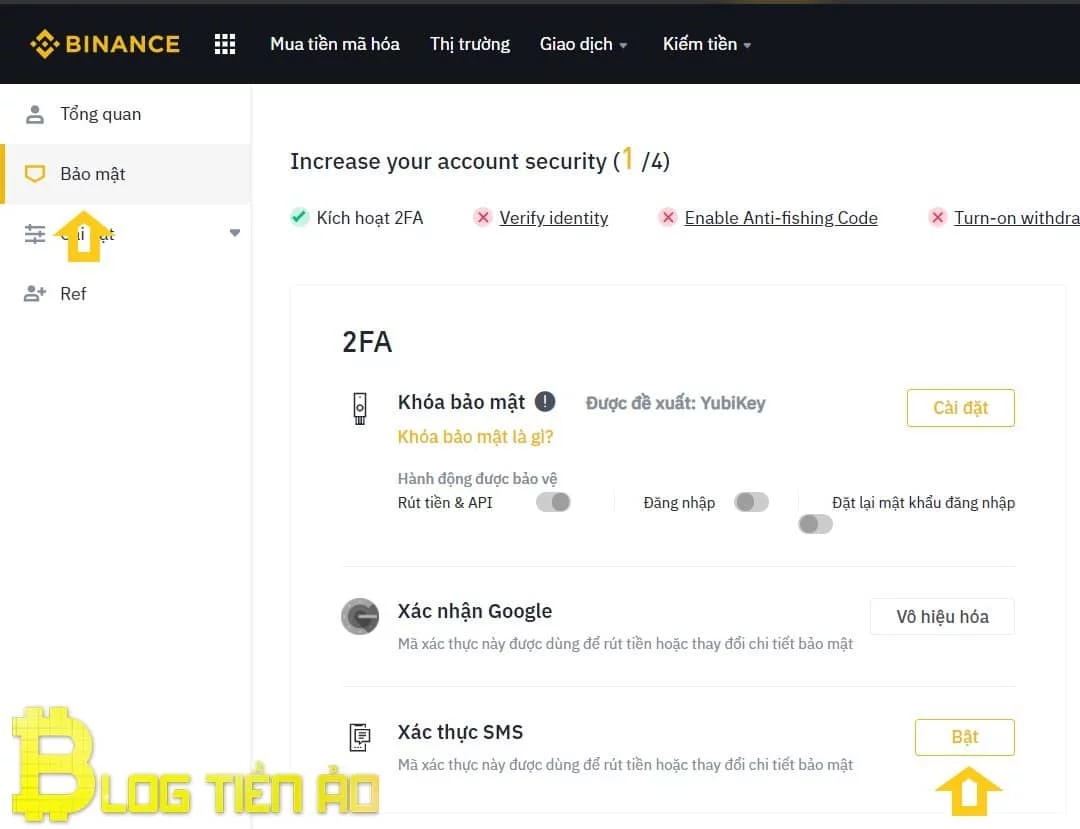 Enter your phone number and press the button Send SMS. Then, you enter that code in the box "Verify SMS".
If you have Google Authent enabled, enter "Google Authenticator Code". Finally, press the button Allow authentication by message SMS is done.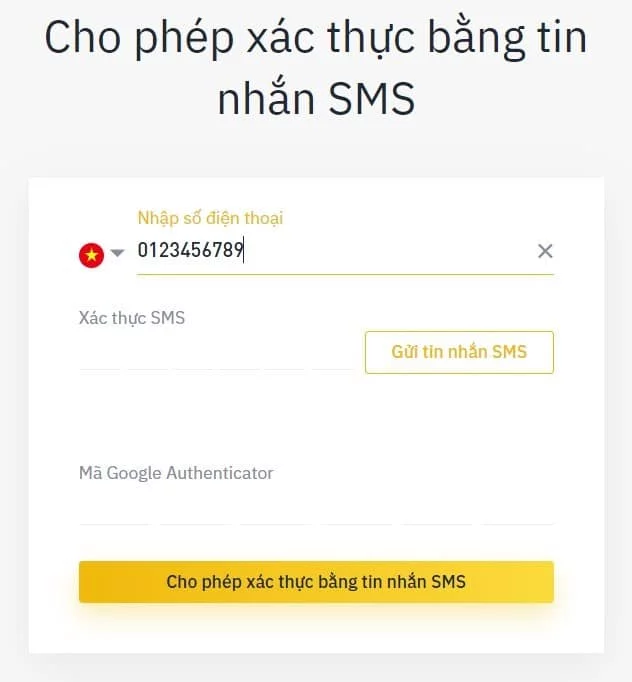 Instructions to verify KYC's identity to increase withdrawal limit
Identity verification or KYC helps you increase the withdrawal limit from 2 BTC / day to 100 BTC / day. You can only perform KYC when you have two-factor authentication for your account.
Some documents needed to verify: Citizenship ID card or Passport. In addition, everyone needs to know the zipcode of their place of residence.
Summary of the latest ZipCode / Postal Code for 63 Provinces / Cities in Vietnam 2020
On the Binance App
KYC form on the app can only be verified for individuals. Business, you must verify at the website of the floor.
Everybody on the item account choose Identity verification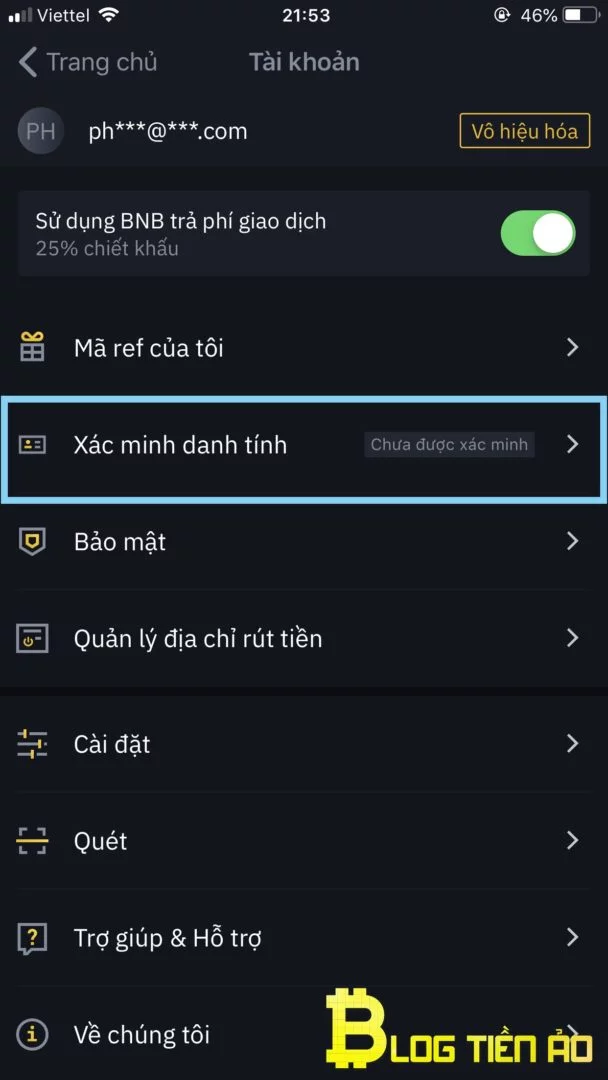 Step 1: Choose a KYC form
If you are not a marketing enterprise, you may choose to be an individual.
Note: Only one of these two forms of authentication can be selected. Can't verify both of them at the same time.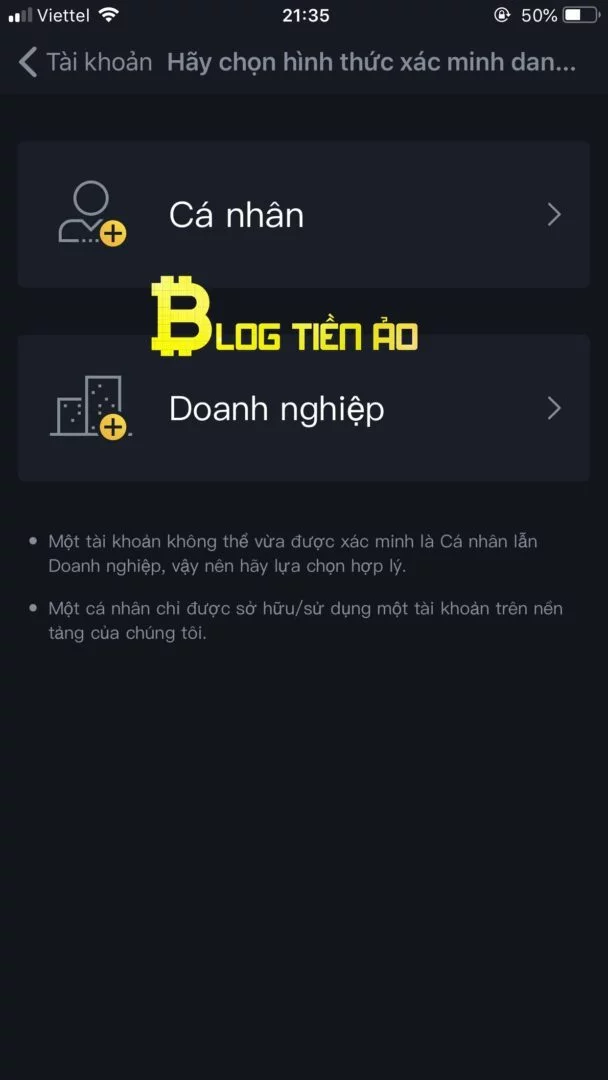 Step 2: Enter basic information
You enter the basic information and then click the button Tiếp theo.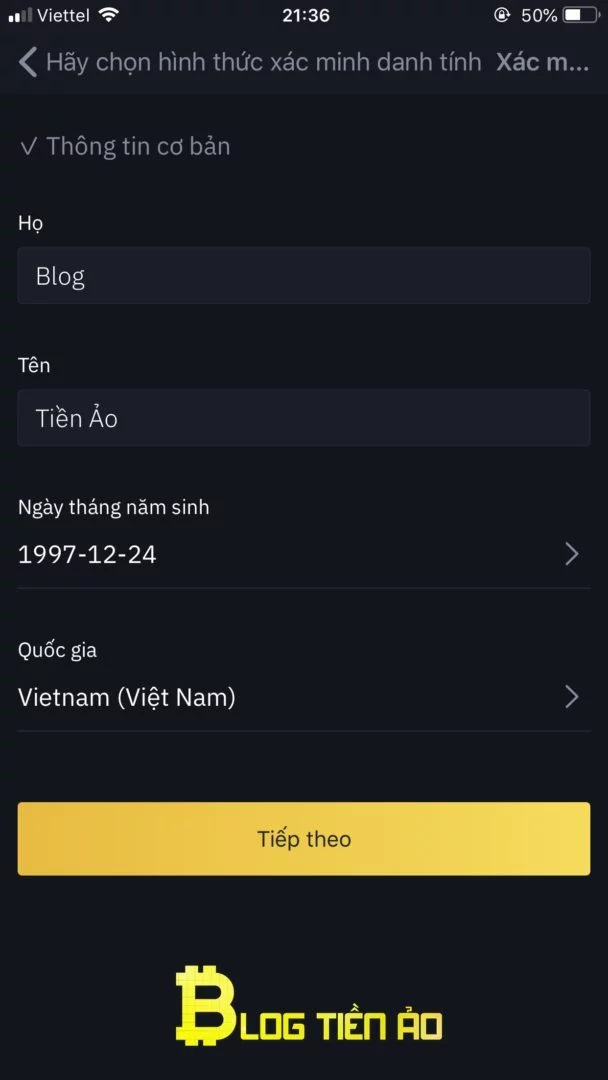 Step 3: Enter residence information
Enter your residence information and click the button send personal information.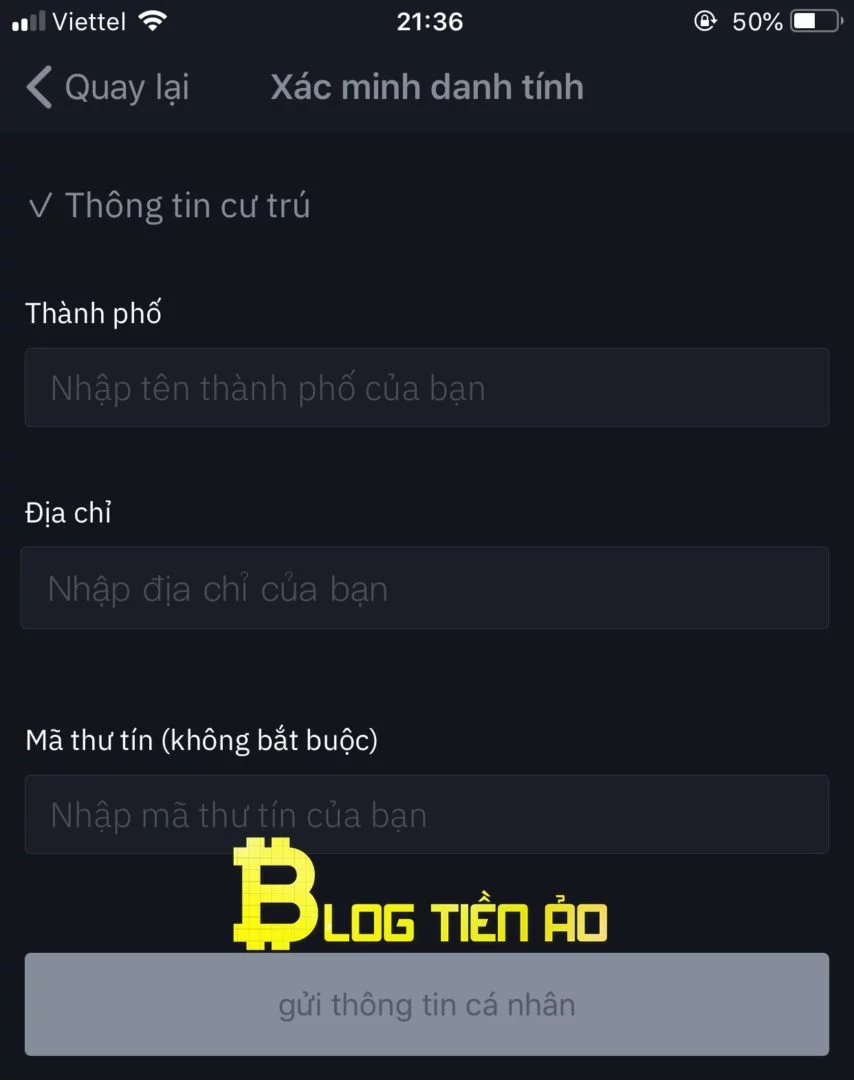 Step 4: Select a document type to verify
Here I will choose Identity Card (Citizen identity card). You can also choose Passport up to you.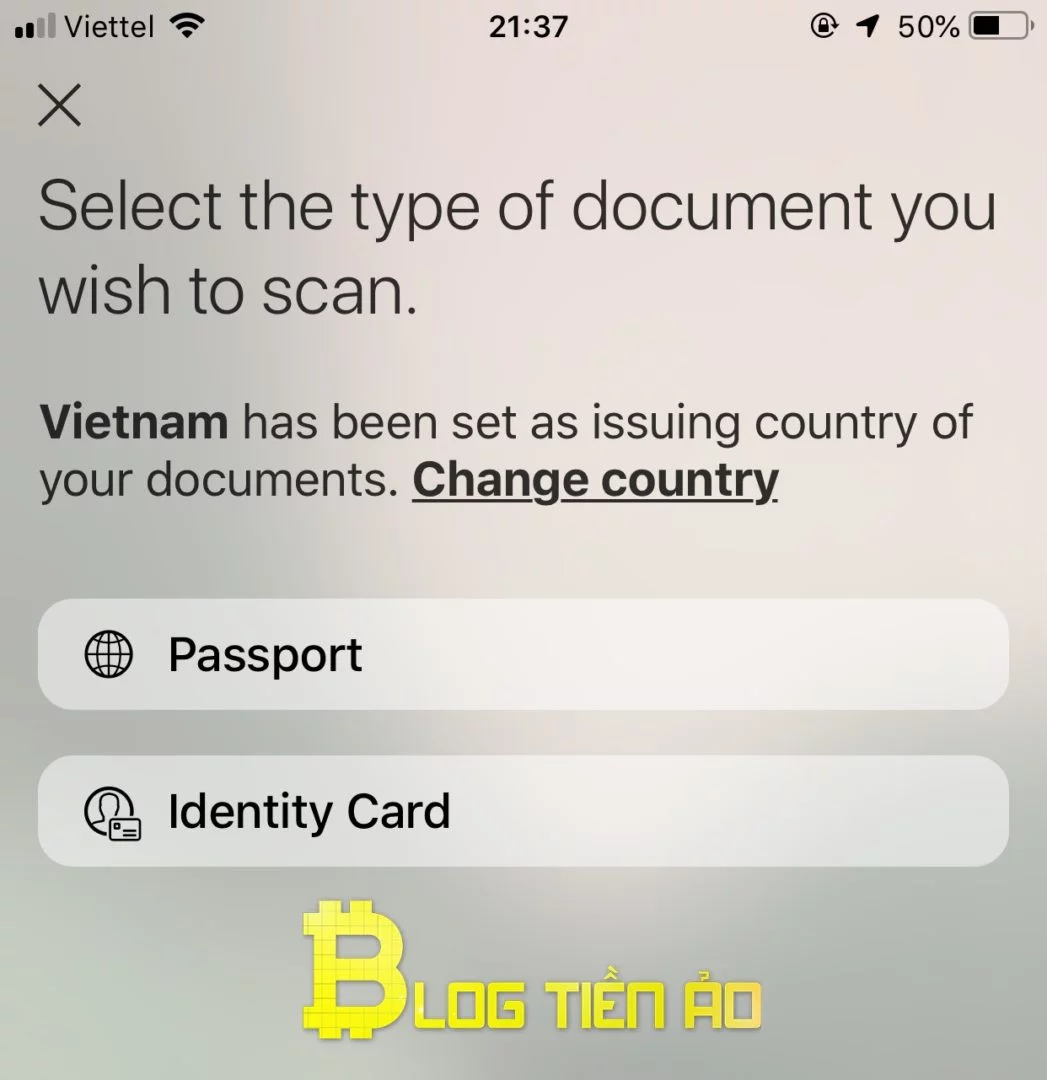 Step 5: Scan the front of the CCCD card
Move the camera to fit the white frame.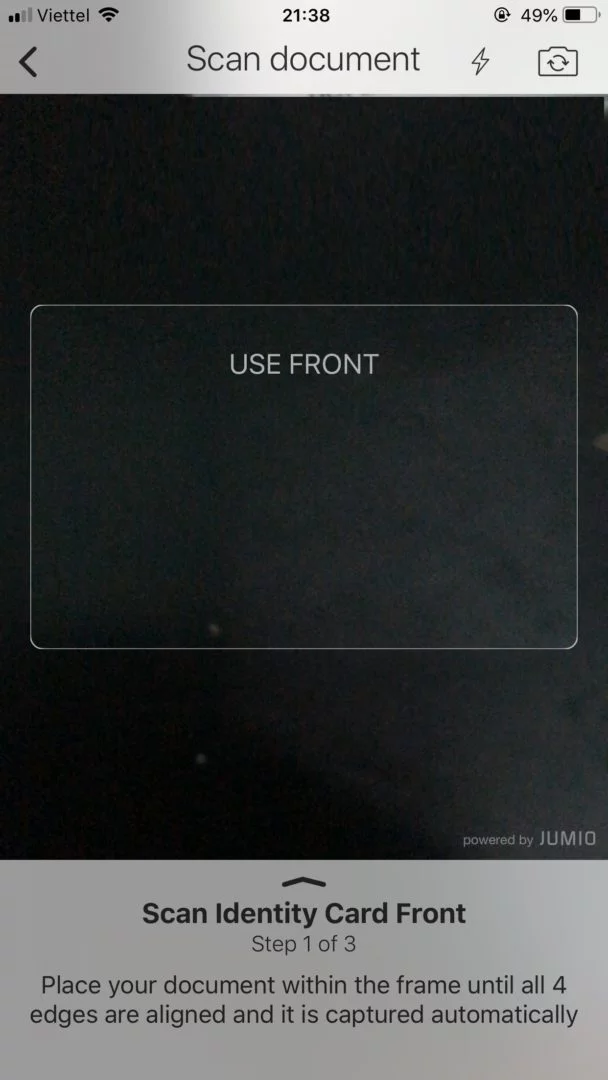 Step 7: Check the front of CCCD
Check if the document you Scan is clear or not. If not then you can click RETAKE to scan again. If everything is fine, click READABLE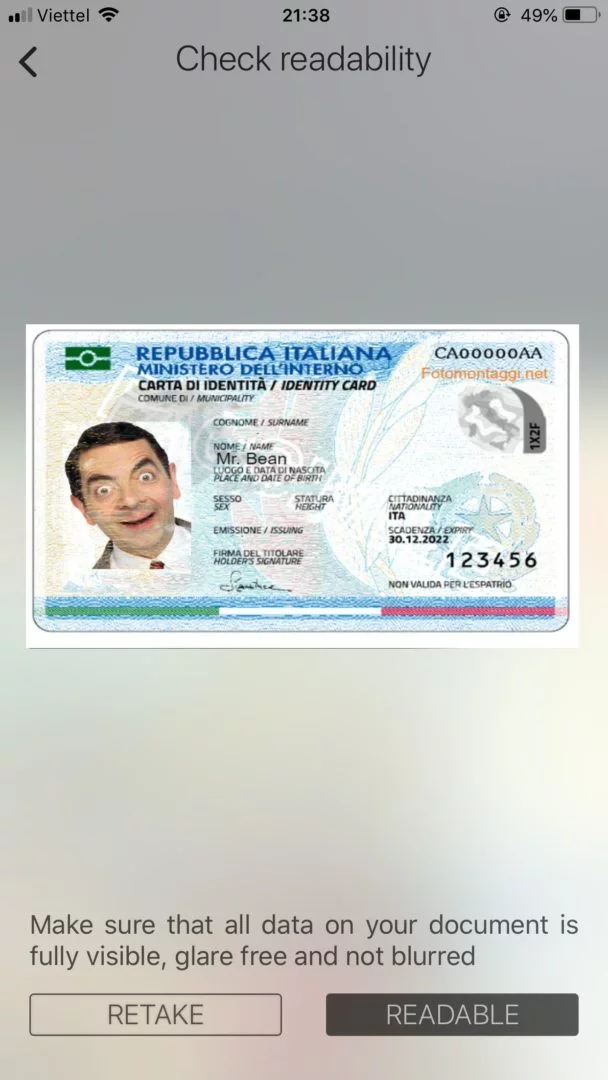 Step 8: Scan the back of the Identity card
Similar to the front scan. Move camera to match card with white edges.
Step 9: Check the back side
Check the back is similar to the front.
Step 10: Verify face
Please click TAP TO CONTINUE. Then move your face closer to the camera to match the circle.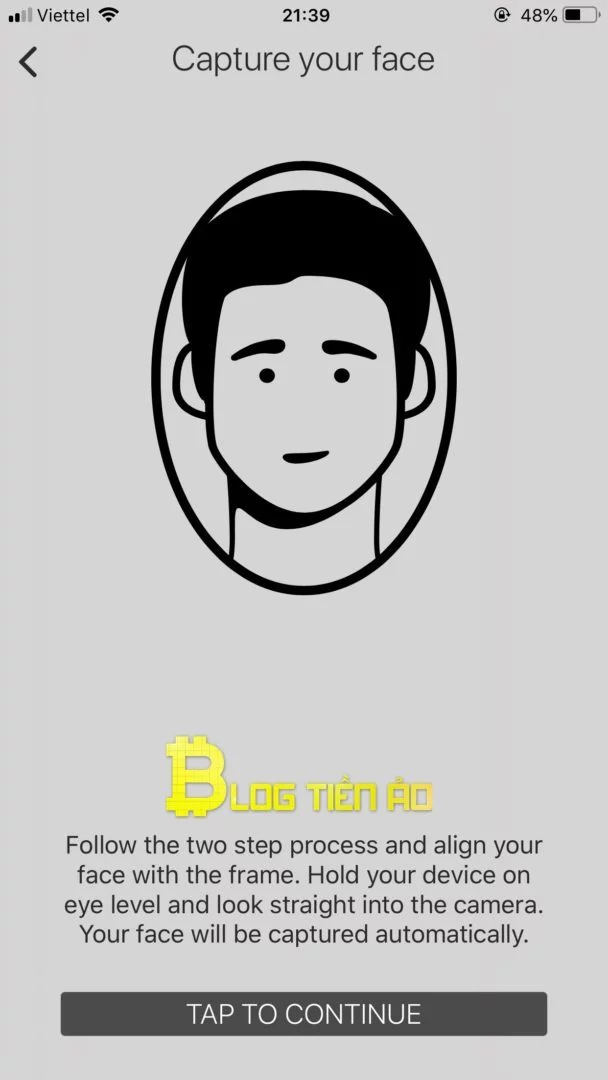 You see the words Upload successful appear. So, completing KYC is completely done on Binance App. All that's left to do is just wait for Binance's approval.
On the Webiste
To start the process you visit account, you choose Security. At the section Confirm the identity, you choose Accuracy.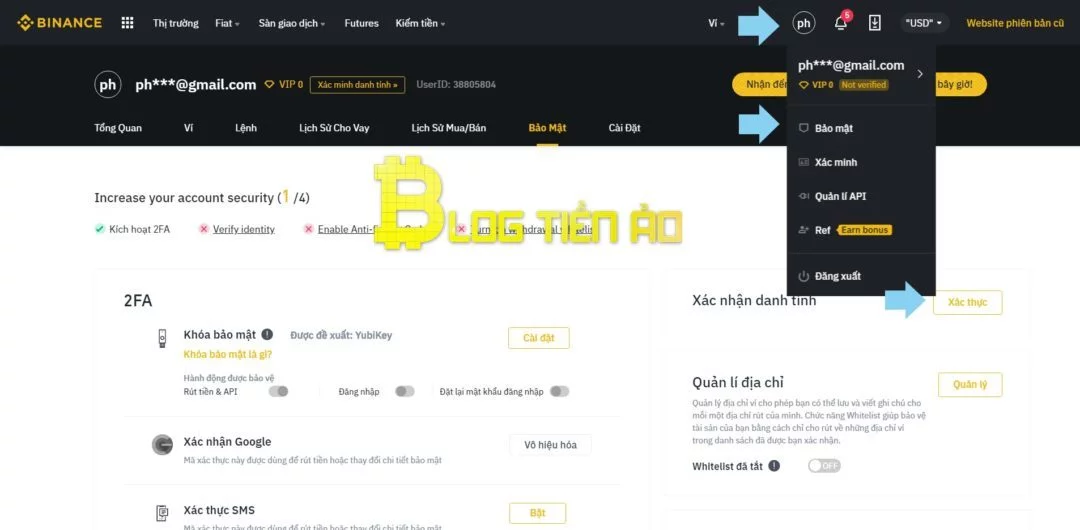 Choose the KYC form. If you are an individual, select Personal information. If you are a business choose Business.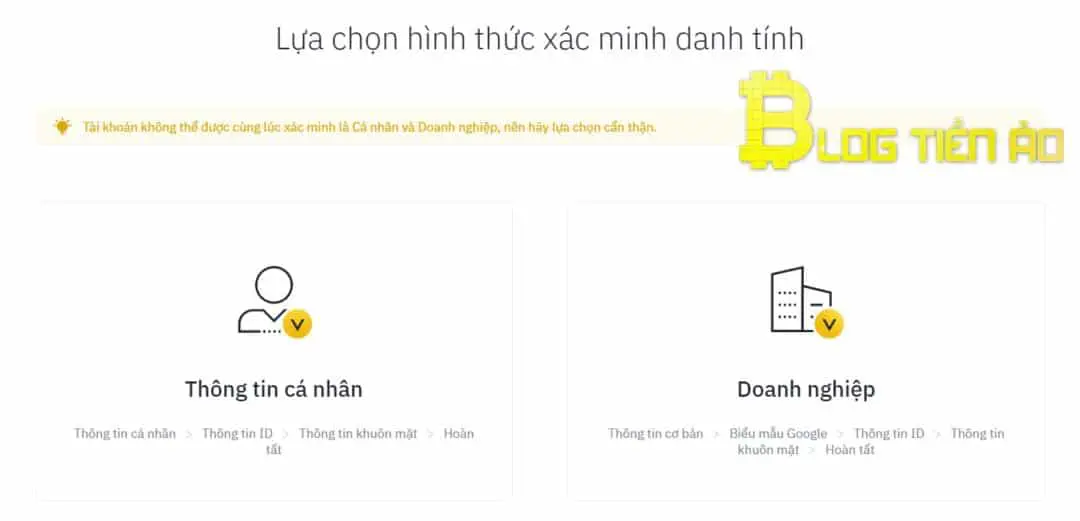 Step 1: Enter your personal information
Fill in your full name, date of birth and residence address. If you do not know the postal code, you can see the article right below.
Finally press the button Start verification to move to the next step.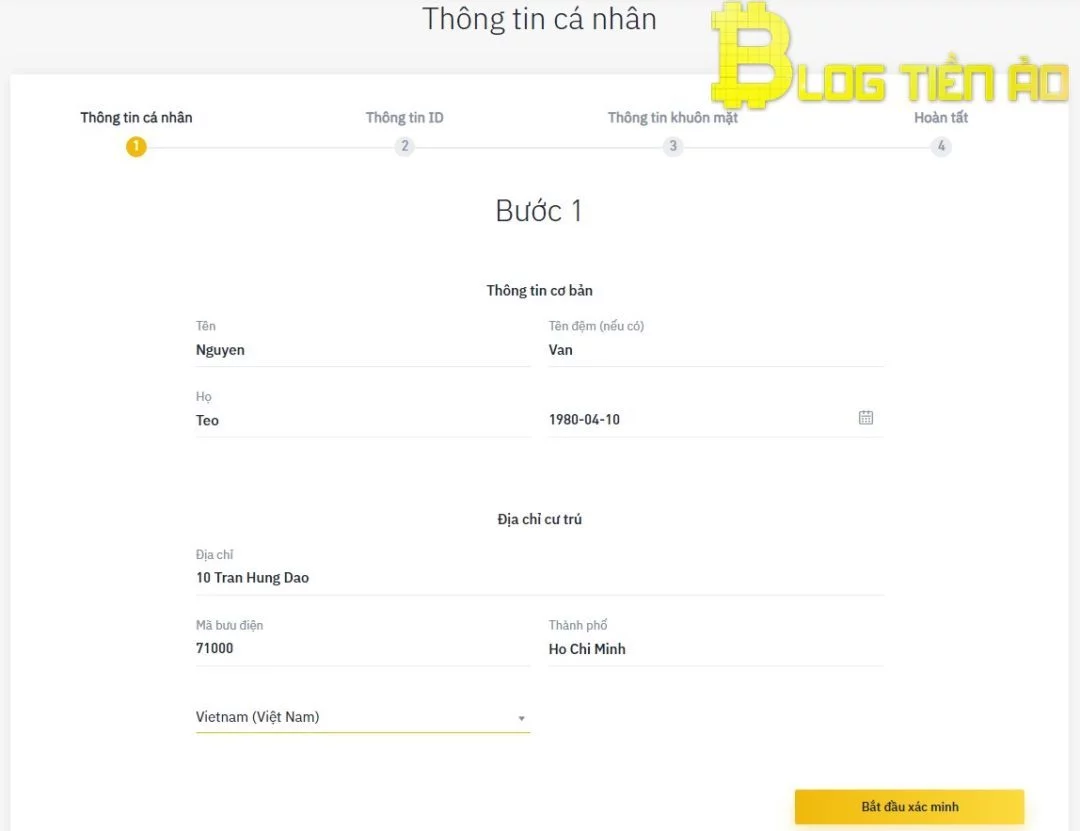 Step 2: Verify ID
First you click the button START to start verification.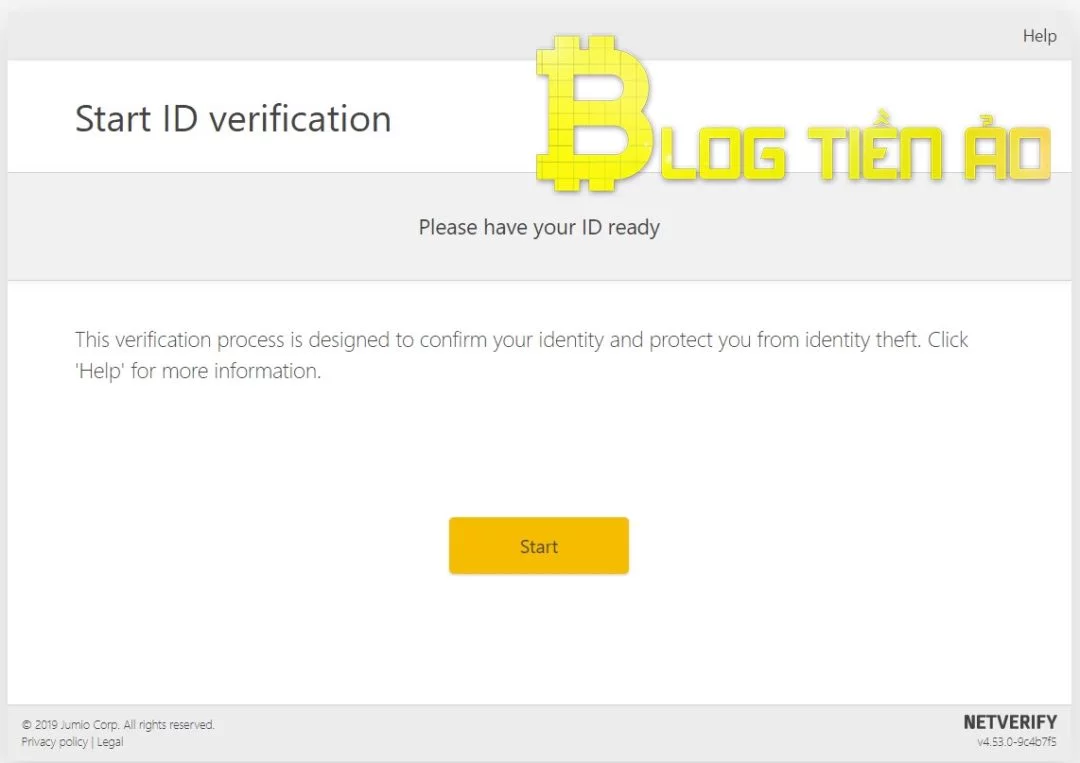 Select the Country and type of identity verification document. You can choose Passport or Identity card (Citizenship Identification Card for Vietnam).
Here I will choose Passport. ID cards are similar, you just need to take a photo of the front of the ID, the back of the ID and the selfie.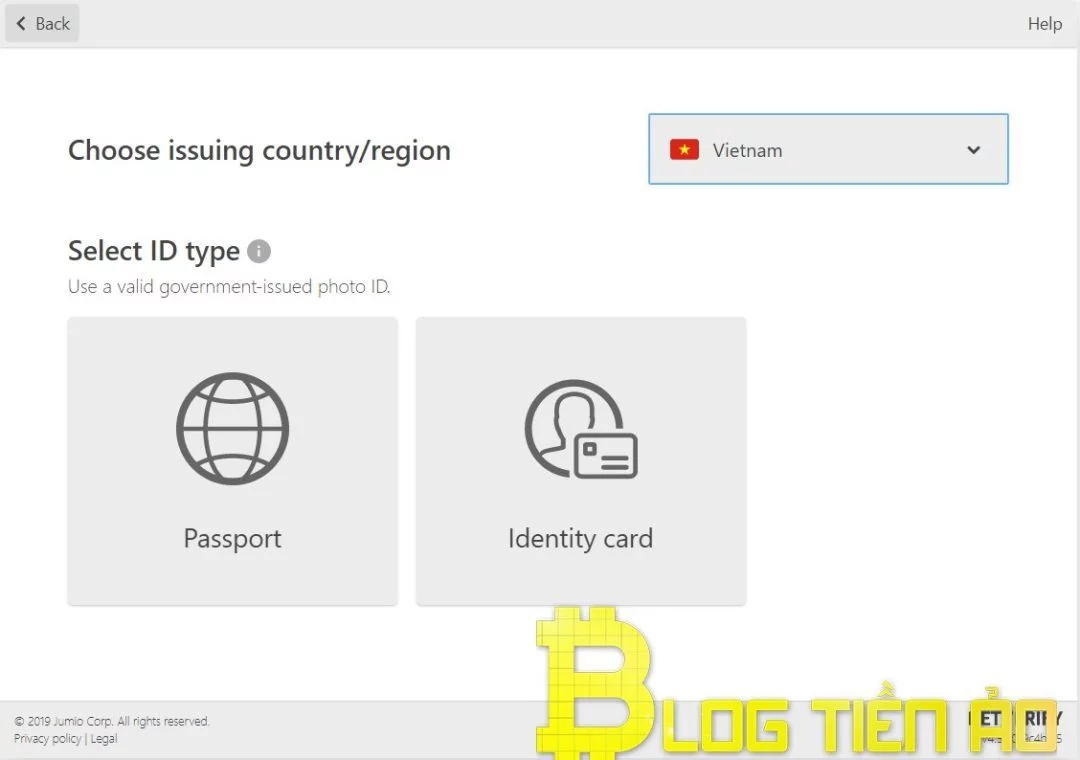 You can shoot (Take photo) or upload an existing image file. If your device does not capture clearly, I encourage you to choose a device that clearly capture and then upload the file.
Upload files by clicking Upload file with a cloud image and the arrow on the right as shown below.
If so, authentication is most likely to succeed.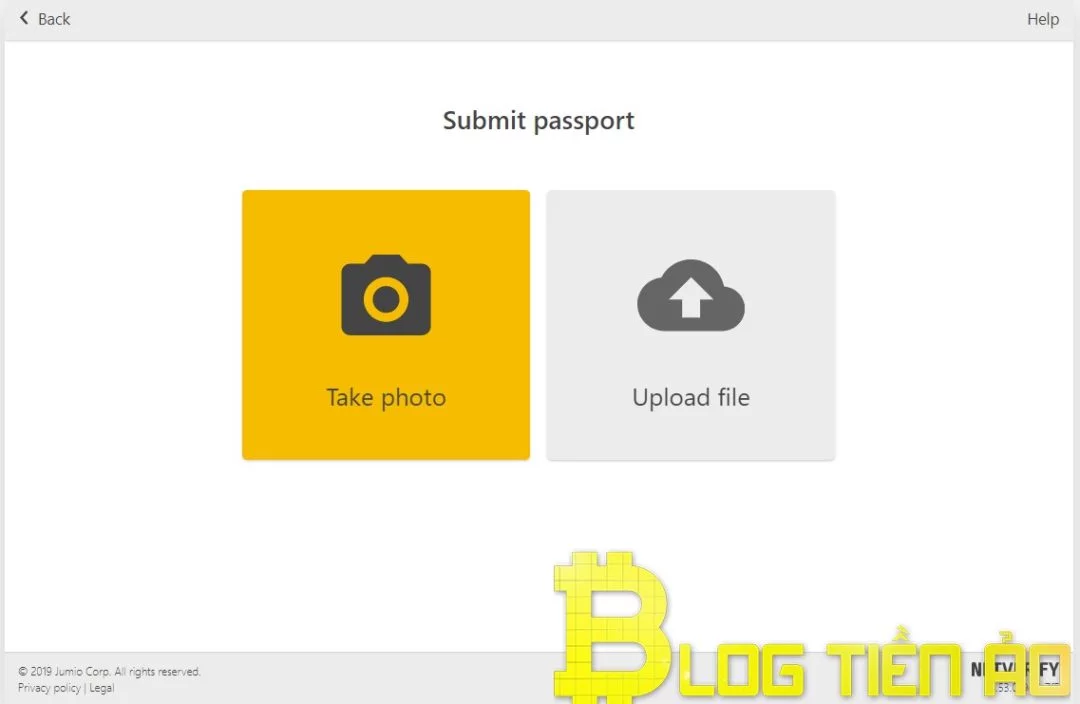 You press the button Choose file and select the image to upload.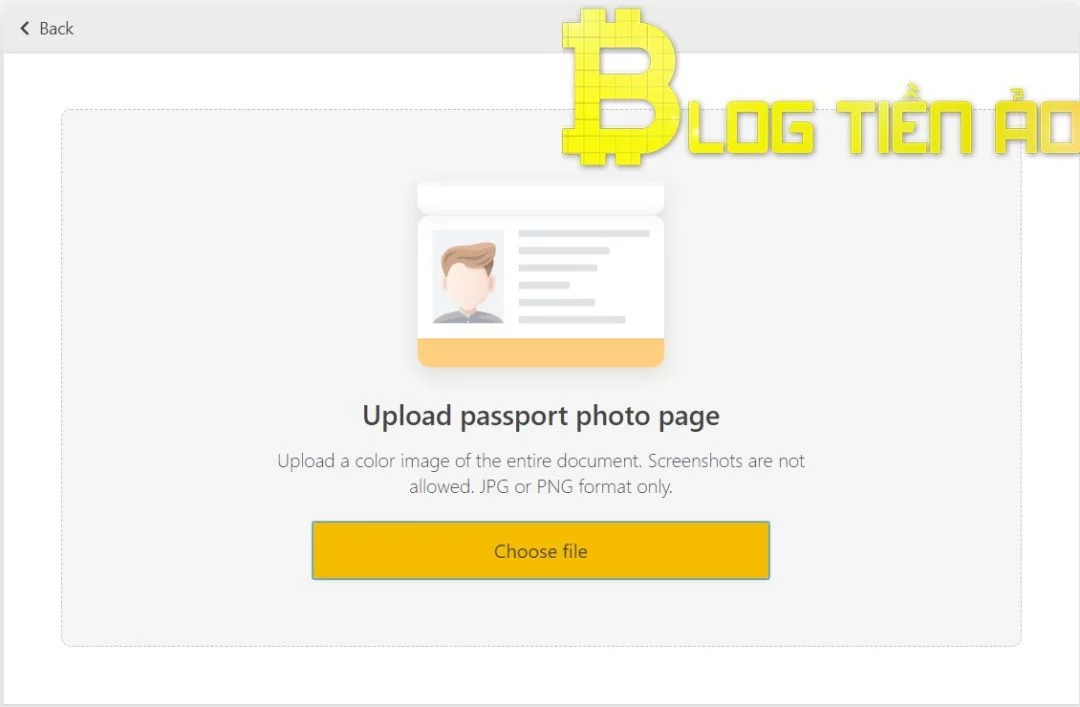 Check your image to see if it is clear. You must be clear and see all Passport information. Next, click the button Confirm to the next step.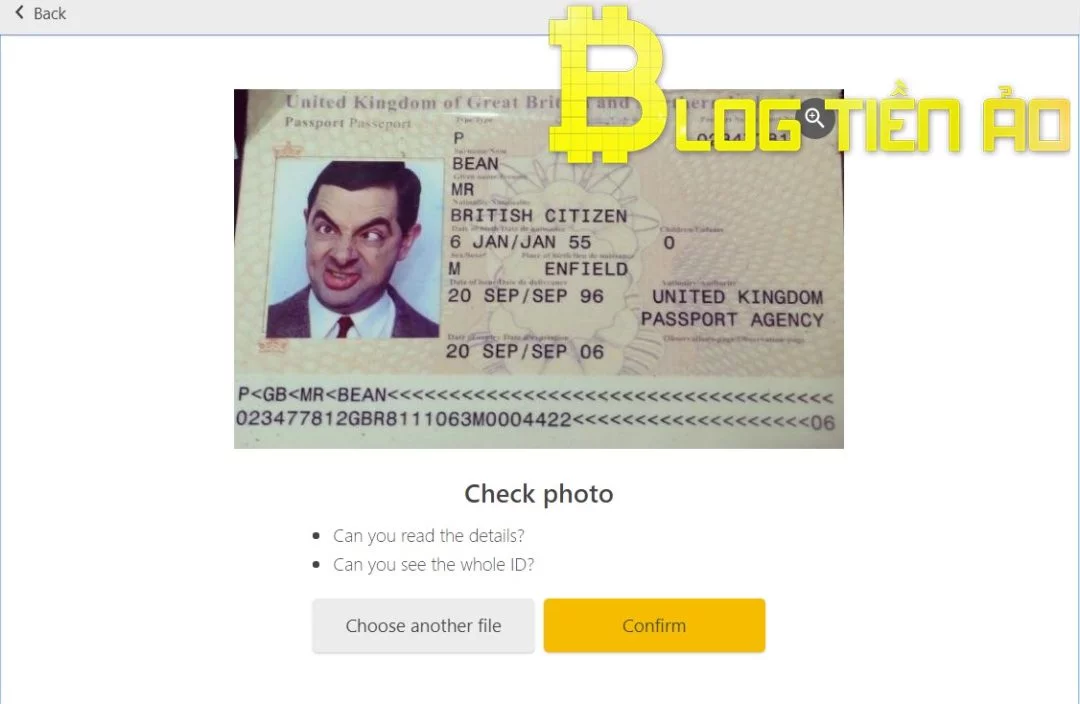 Upload your selfie by clicking the button Choose file.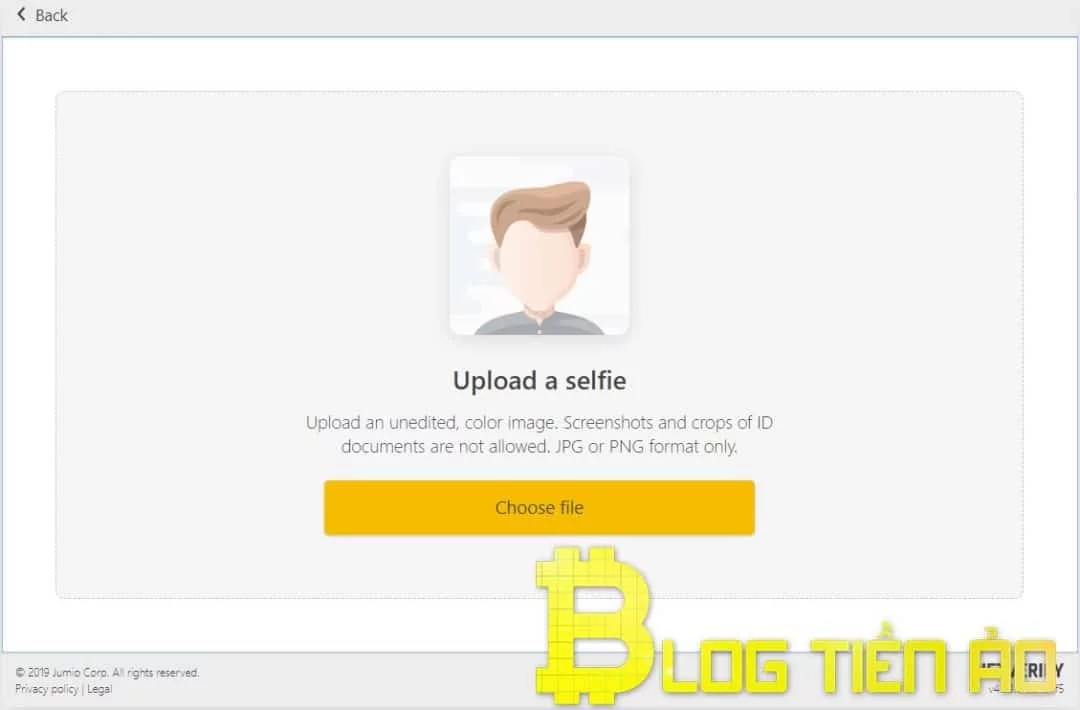 Check that the image is clear on your face. Do not wear hats or glasses. Should put up your hair for you to have long hair. After finishing press the button Complete.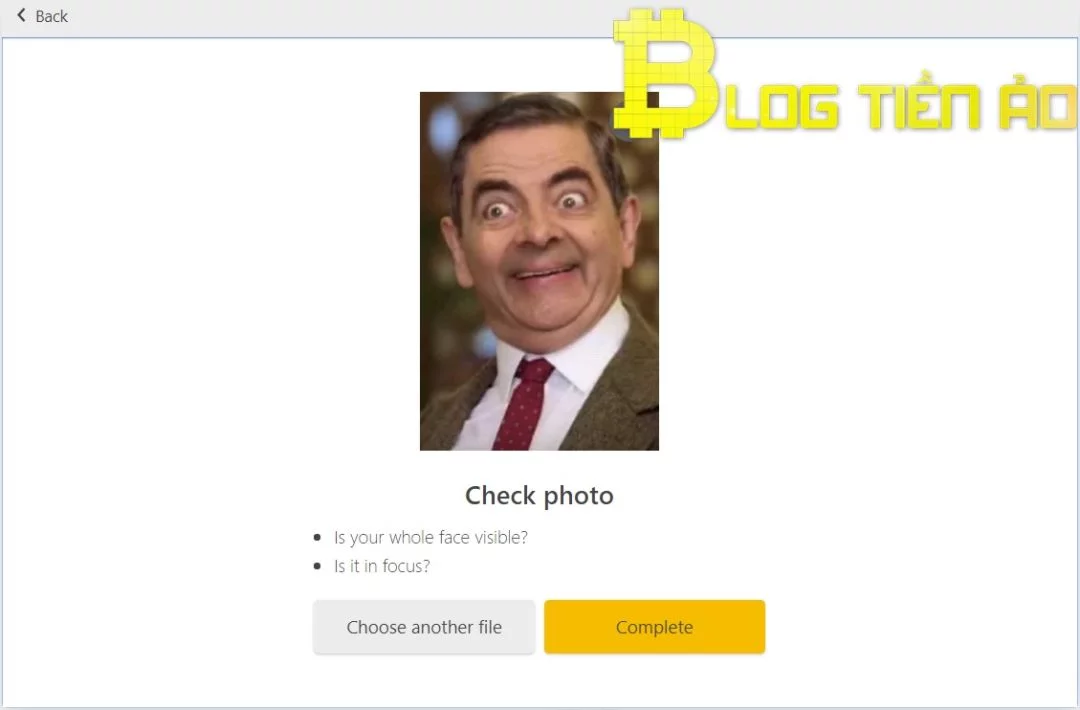 Step 3: Verify face
You can use the app or the browser to verify your face. If you cannot use the app, click Can't use the App? Verify in your browser to use the browser.
There are 2 instructions for both of you to see below.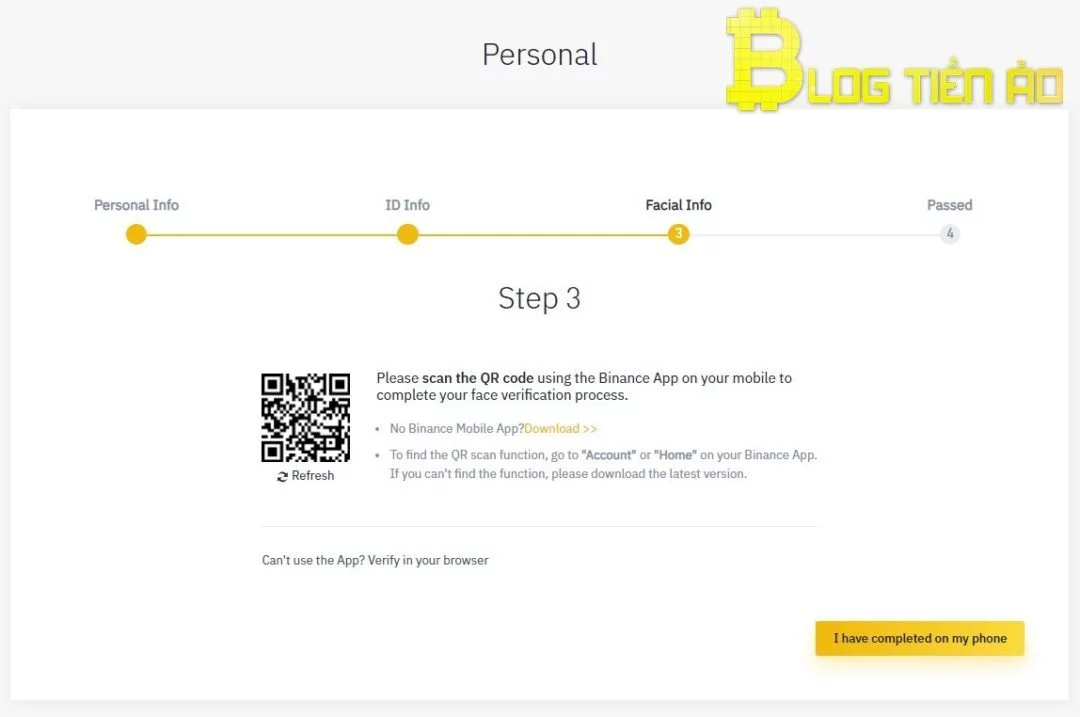 Through the Binance App
Open the Binance application on your phone. The home page has a QR code scanning button as shown below. Application on Android is located in the upper right corner.
Click and scan the QR code on the computer screen.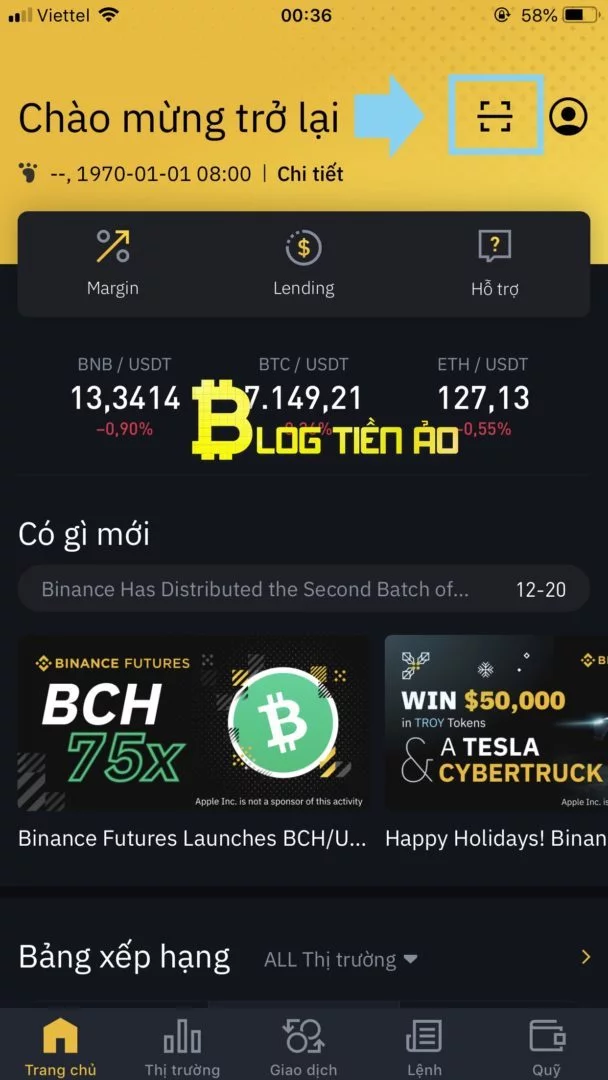 Remove cap, hat, choose a place with full light. You press the button Tiếp theo and follow the requirements on the app. Some requests include shaking his head, nodding, and opening his mouth.
Once finished, wait for Binance to approve.
Note: You should make the requirements very smoothly, the probability of success is very high. If you KYC fails more than 3 times, then 24 hours can be performed again.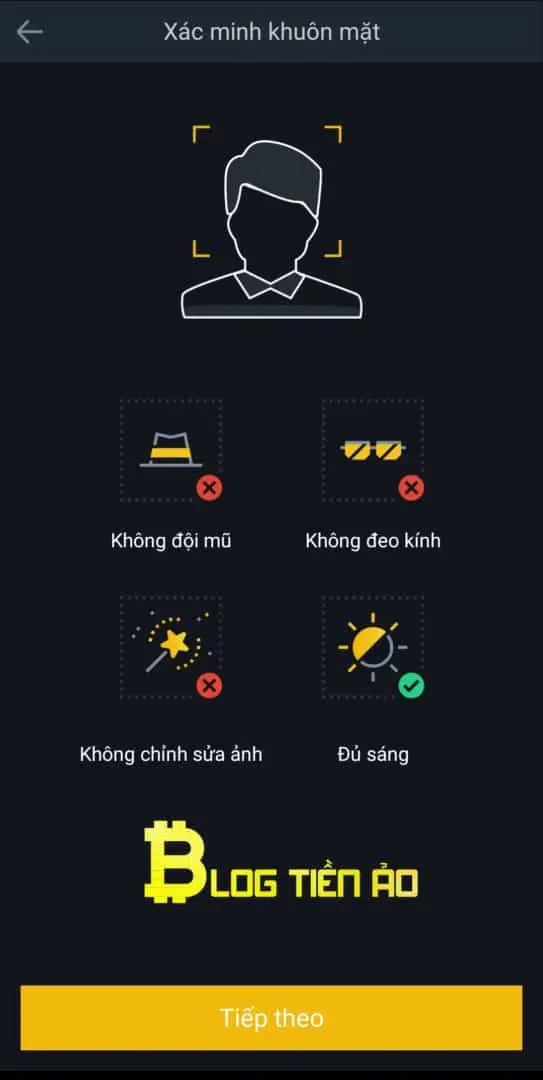 Through a web browser
Please refer to the Video below for browser verification. Remember to do the operations smoothly as well.
Instructions to top up the Binance coin
On the Mobile application
Step 1: You go to the "Fund"For an iOS device or"Capital"For Android devices. At section Exchanges, everyone select the Load button.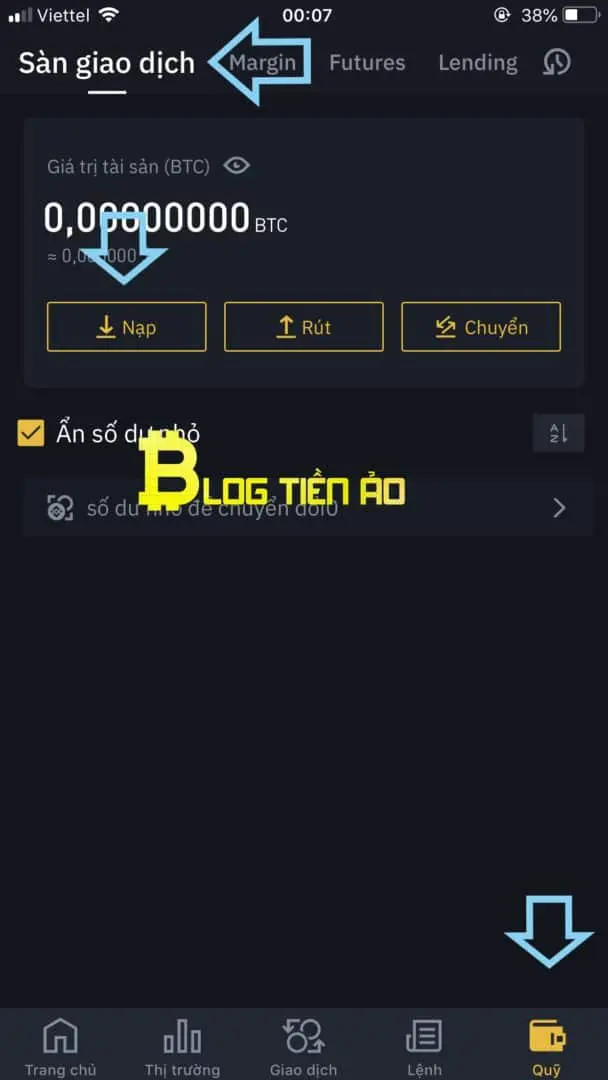 Step 2: Select the coin to be loaded by entering the coin's name into the section "Please enter keywords".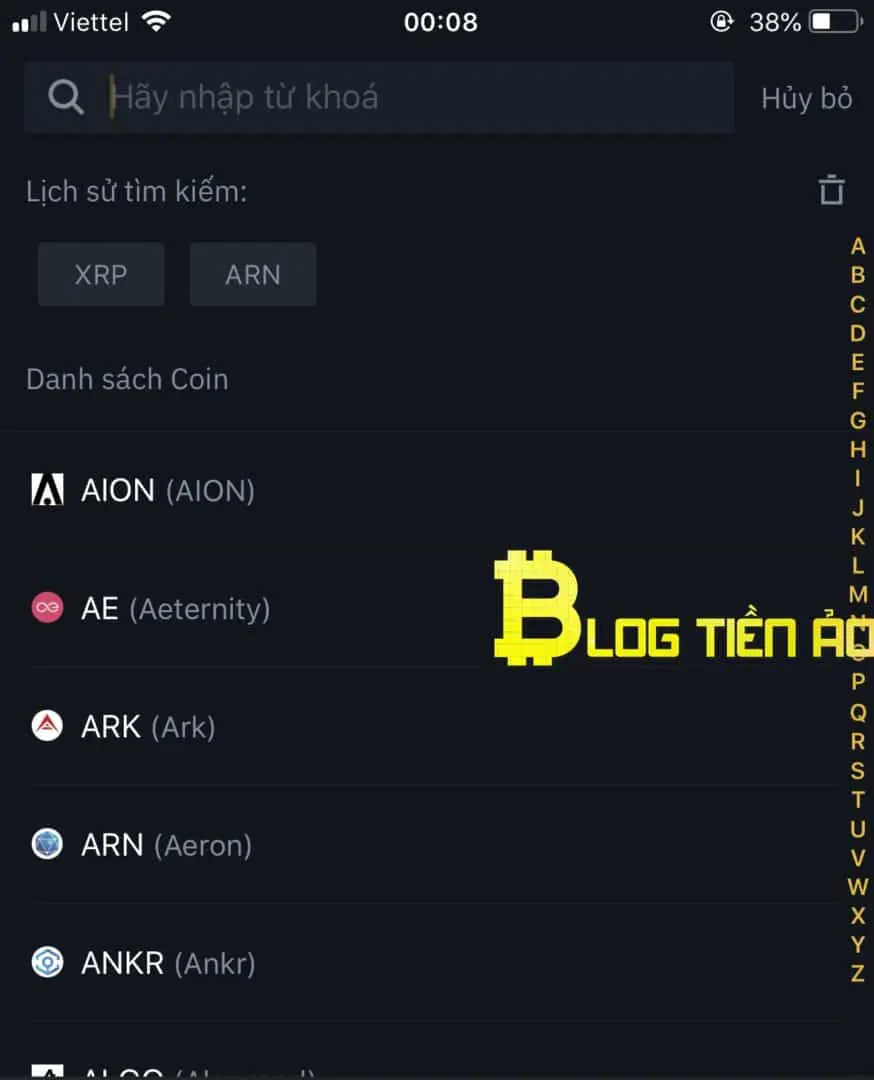 Step 3: Deposit coin into supply address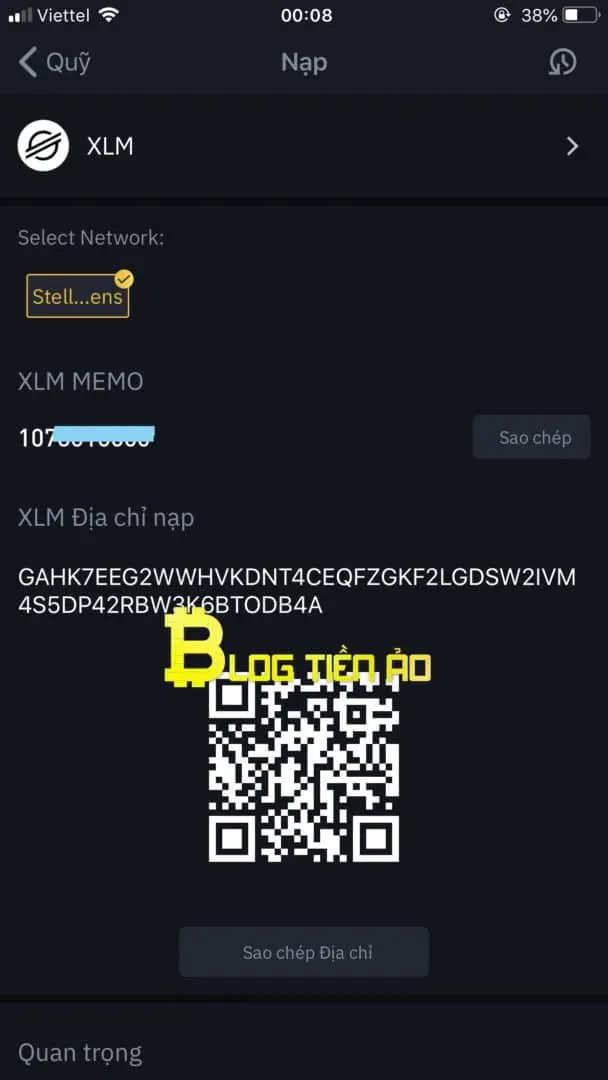 For example: His address is GAHK7EEG2WW… .BTODB4A and have MEMO as 1079138711. I want to load 709 XLM floor.
Then I will send XLM from the coin storage wallets or withdraw from other exchanges. Here I moved from Keybase wallet to the address provided by the exchange.
Note: When loaded there are several cryptocurrencies that will have MEMO. Some people should not be careful!
Some coins will take longer than others. If you transfer the right information, there is no need to worry. It only takes a while to confirm.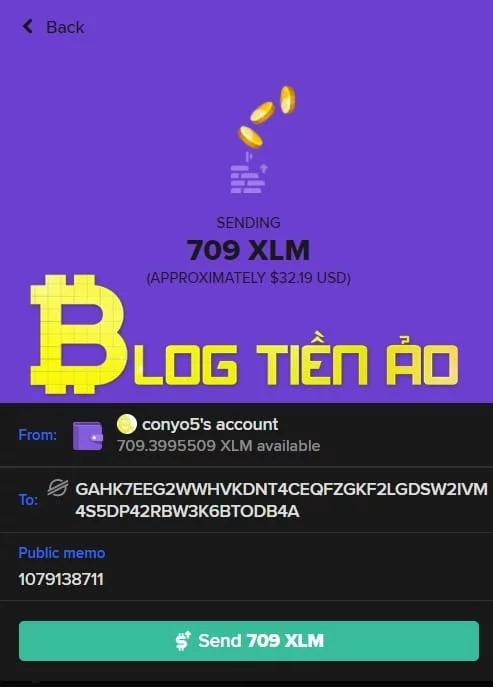 On the Website
Step 1: Everyone dragged on the mouse Saw choose Transaction wallet.
Step 2: Select Deposit, when you choose to load, the default coin will be BTC.
Step 3: Click BTC Bitcoin in the word Coin. Enter the coin you need to top up.
Step 4: Select the appropriate Network. Which types of network common ERC20, BEP2, BTC. A coin can have more than one Network.
For example, XLM only has one Stellar Lumens so that people cannot choose another Network.
Step 5: Transfer coins to the address provided by the exchange. Wait for network authentication time is money will come into your floor wallet.
Note: When transferring cryptocurrencies with Memo tags, be sure to fill them in to avoid losing them.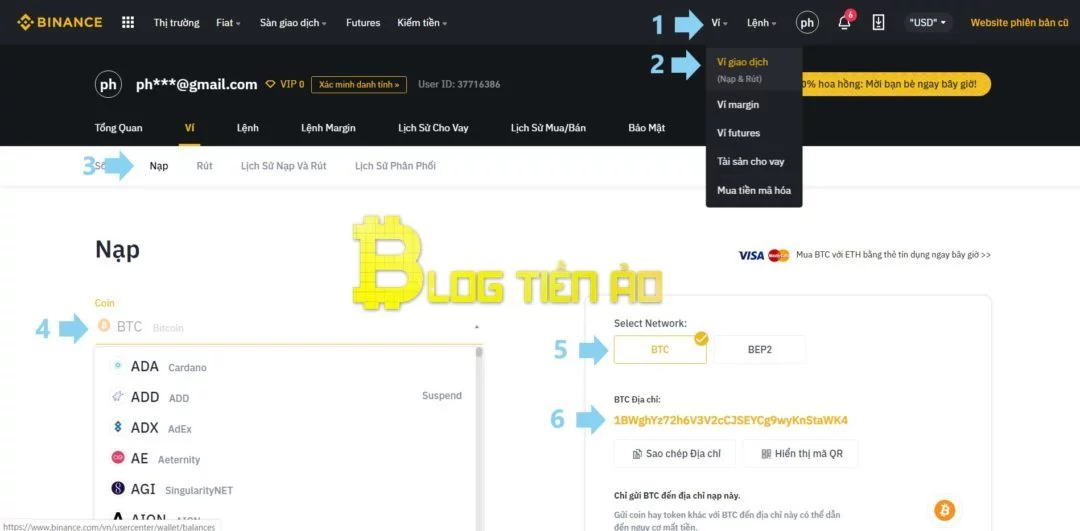 How to trade on Binance
Trade coins or trading coins on the floor you can make via mobile phone or Website.
Here I will guide the implementation through Binance App. For on the web you can refer to the post Instructions to trade coins on Binance.
Some basic knowledge to grasp
Before guiding us to learn some basic knowledge later.
Trading order
To trade cryptocurrencies on an exchange, you must place a trade order. When you want to buy, place a buy order. If you want to sell, place a sell order.
A trade order is your request to let the exchange know how much you want to buy or sell. Some types of trading orders: Limit, Market, Stop-limit, OCO.
For example, when you want to buy BTC for 7000 USDT. Then you cannot say to the exchange "Sell me 1 BTC for 7000".
To understand you floor, you must place a buy order limit of 1 BTC with 7000 USDT to understand the floor.
Market
The market is the main currency traded there. For example, you buy and sell normally in Vietnam. The market here is the VND market.
The BTC market is the use of BTC to buy and sell other products. The products that are traded at the exchange are other cryptocurrencies.
Trading pair
The trading pair is the price of one coin relative to another. In the BTC market, there are pairs of transactions *** / BTC. Similar to BNB market, there are pairs *** / BNB.
For example: We have ETH / BTC pair that you use BTC to buy ETH or you use ETH to sell BTC.
Transaction interface on the Binance App
To enter the trade coin interface, go to the section Deal and select the section Exchanges.
(1) Change trading pairs.
(2) Where to view charts and switch to other markets of your chosen cryptocurrency.
(3) Choose to buy or sell orders.
(4) Select the order type.
(5) Price options for trading orders and for placing orders.
(6) Wall sold in the order book. Or simply the seller's orders are displayed.
(7) The current price of a coin.
(8) Wall purchased in the order book. Buyer's orders are displayed.
(9) Adjust the display of the command prompt. Adjust the price's decimal. You can adjust to show only buy wall or to display only sell wall.
(10) Where to display and manage pending orders.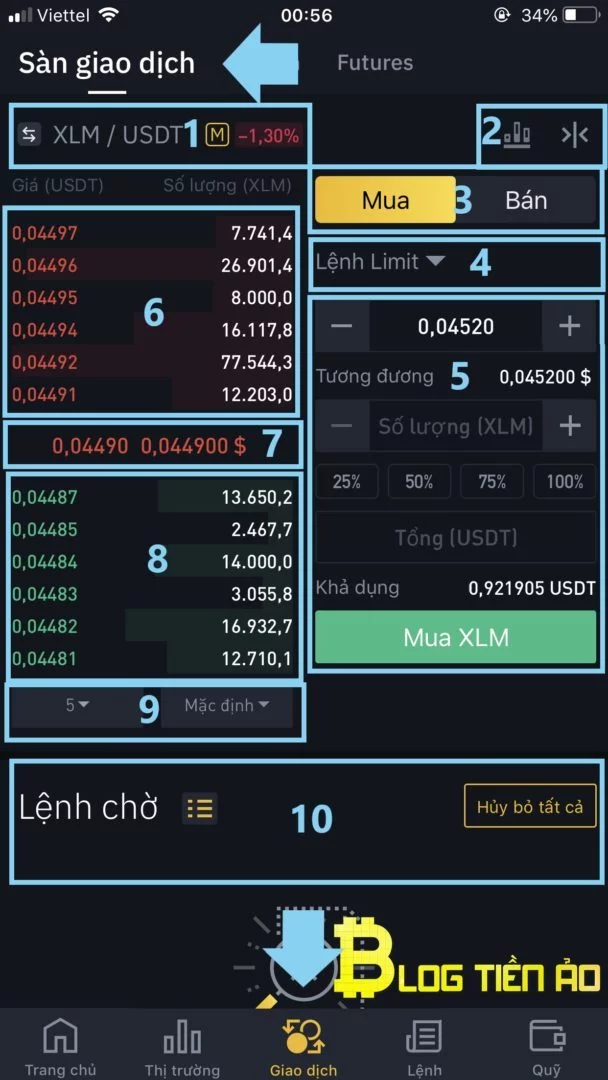 How to place a trading order
Step 1: People choose the coins you want to buy and sell at the place of changing trading pairs
Step 2: Choose to buy or sell
Step 3: Select the order type
Step 4: Set the price
Step 5: Click buy or sell
Example types of trading orders
Limit order
The limit order helps you to buy a cryptocurrency at a desired price. The desired price is the Limit price.
For example, if I want to buy BTC at 7000 USDT, then I choose the BTC / USDT pair. Place a limit buy order for 1 BTC for 7000 USDT.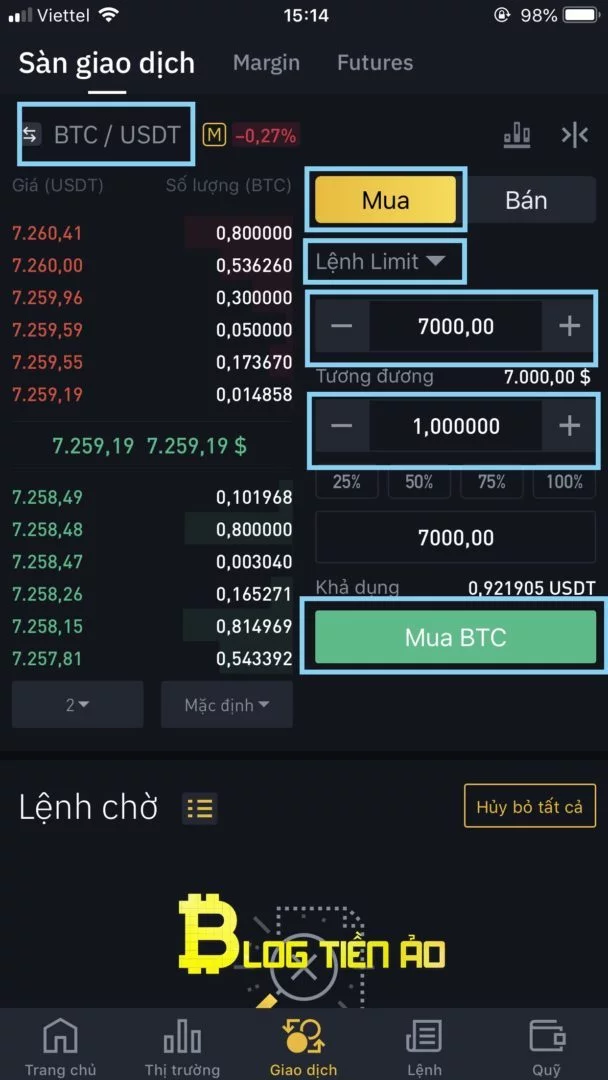 Market order
Market orders help you buy or sell quickly at market prices.
For example, I see the price of BTC increased by 10% compared to the price I bought. I want to sell immediately and don't want to wait any longer. Now I just need to place a market order to take profit.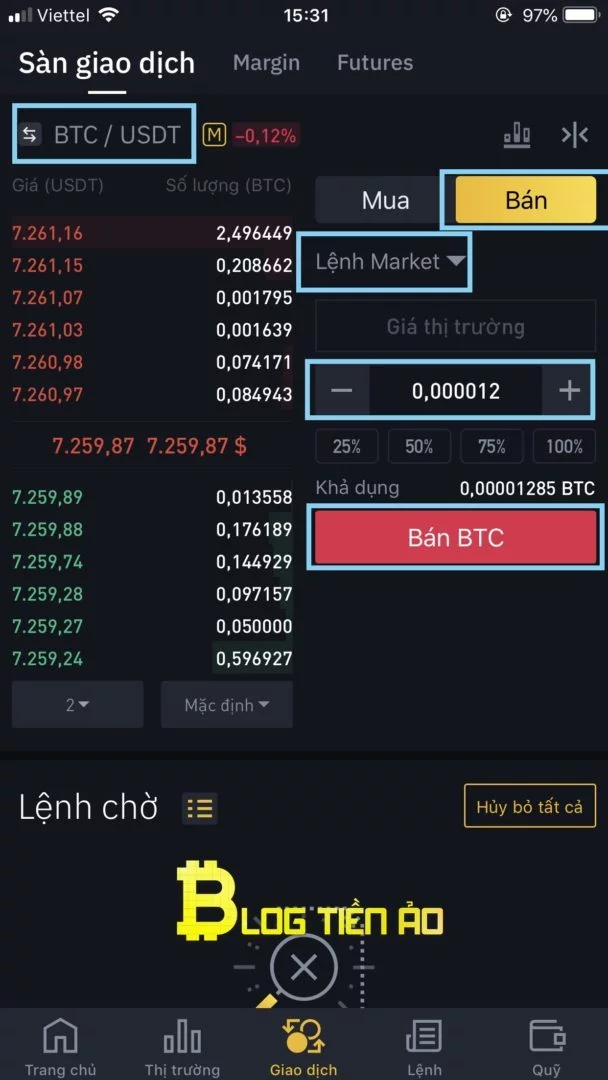 Stop-limit orders
Stop-limit orders are often used to cut losses in case the price drops sharply. Reduce the risk of peak swing. Or buy when breakout resistance.
But often these commands are easily "fat hunted". They will push the price to break the support or resistance and then return the price back to where it was.
For example, I bought BTC for 7000 USDT and accepted a loss of 100 $. To preserve capital and not incur any further losses. At this time, I will place a sell stop loss order with Stop price 6910 USDT and limit price 6900.
The stop price or stop price is the condition for activating the limit order. This means that when the Bitcoin price drops to 6910 USDT the floor will automatically place an order of 6900 USDT.
The difference of 10 USDT used to deduct loss when the speed of dropping is too strong will not match.
Suppose BTC is a car. When this car met a price of 6910 USDT began to brake. The speed decreases gradually and stops at 6900 USDT.
If you set this difference too low, it will be difficult to execute the order if the price falls sharply.
Note:
The stop price is at the top and the price limit is at the bottom.
When selling the stop price> the limit price.
When buying stop price <limit price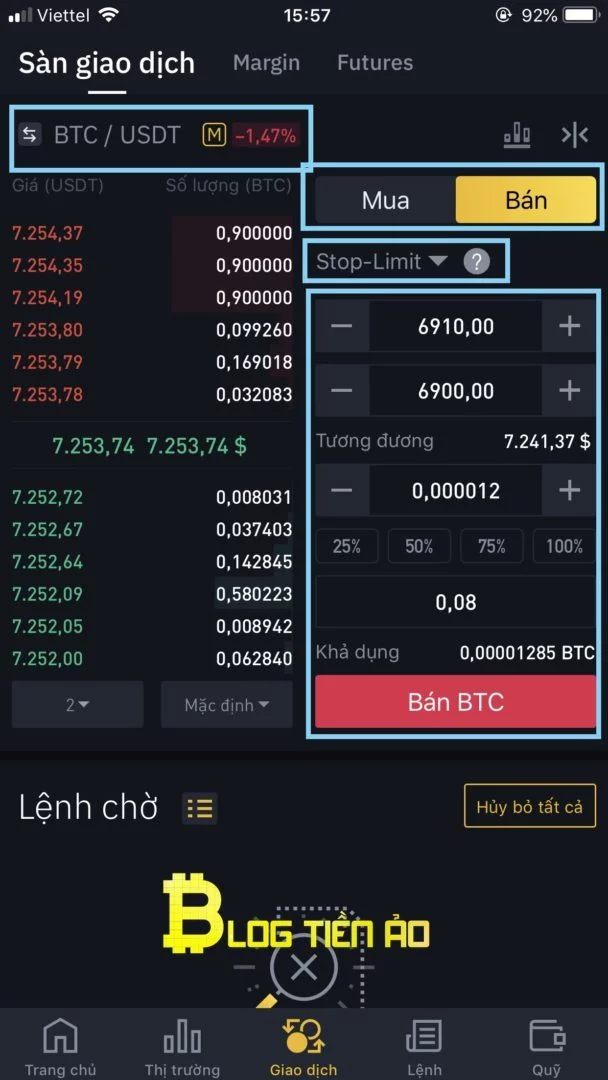 OCO order
Combined order consists of 2 orders: limit and stop-limit command. It helps you to stop loss and take profit at the same time. It means that we have blocked upper and lower
Limit the risk of placing your order. The downside is that it also limits your profits.
For example, I bought Bitcoin for 7000 and I want to sell it when it reaches 7300 and also cut loss when it falls to 6900. The OCO order is right for me.
Limit order is the selling price (block above). Stop-limit order is the stop loss price (even below). If one of your orders is activated, the other will be canceled.
Note:
Buy order: Price limit <current price <stop-limit price.
Sell ​​order: Price limit> current price> stop-limit price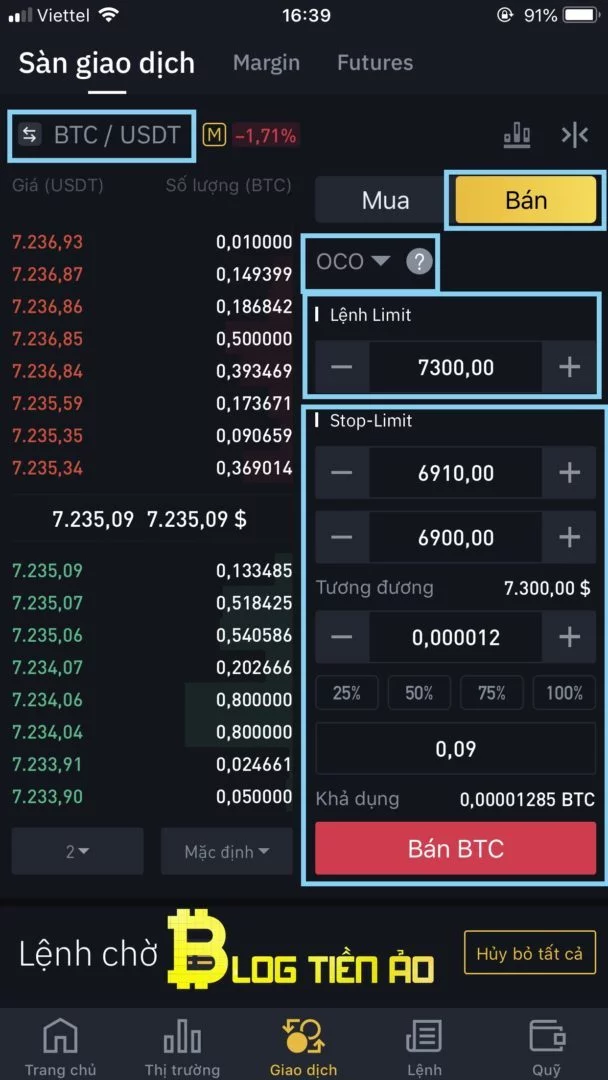 Instructions to withdraw coins on Binance
Here I will guide you to withdraw Stellar Lumens (XLM) coin. Several other cryptocurrencies are a little different, but the fundamentals are the same.
On mobile application
Everyone on the part "Fund" on IOS or "Capital" for Android. Next, click directly on the coin you want to withdraw or click on the button "Withdraw" .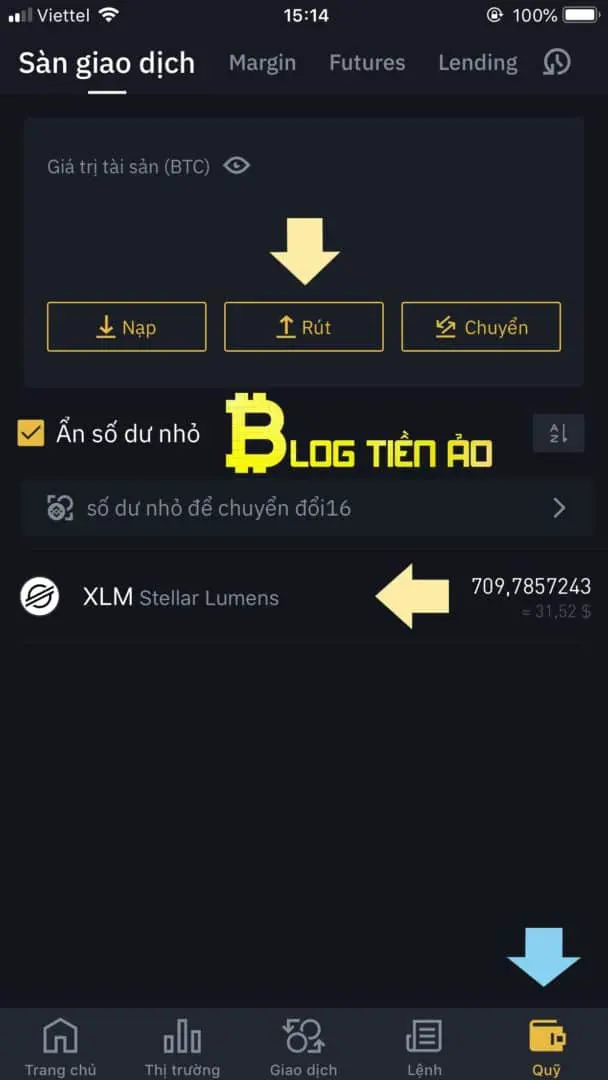 I often use the direct click on the coin to withdraw because my coin amount is very easy to find. In case, you have too many coins, you should click "Withdraw" and find the coin you need to withdraw.
After clicking on the coin you want to withdraw. It will appear as below. Click the button Withdraw.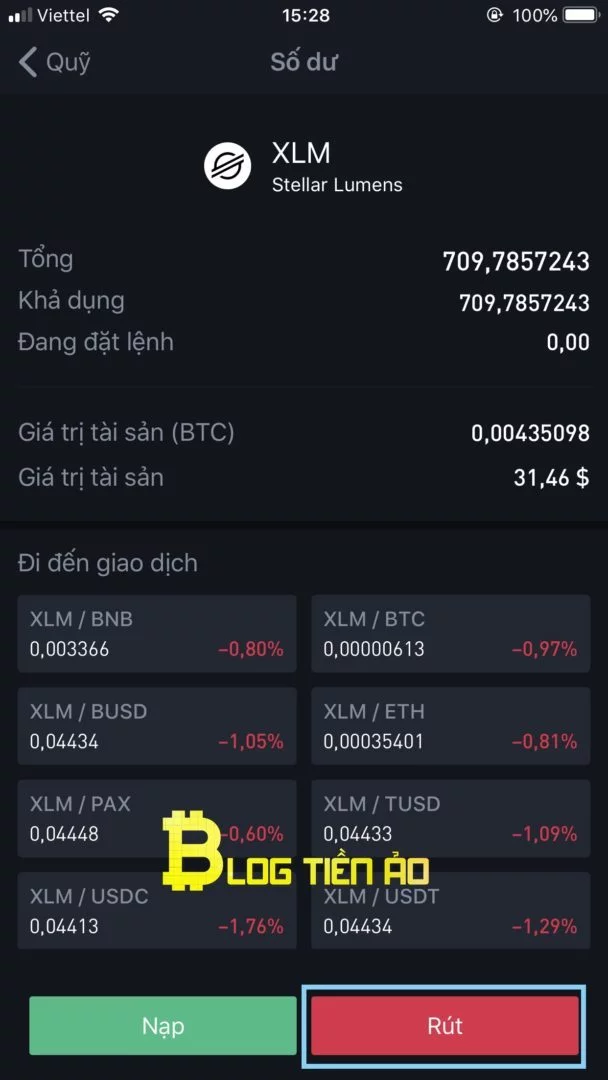 Read the note of the cryptocurrency you want to withdraw. Next, press the button I understand. Proceed.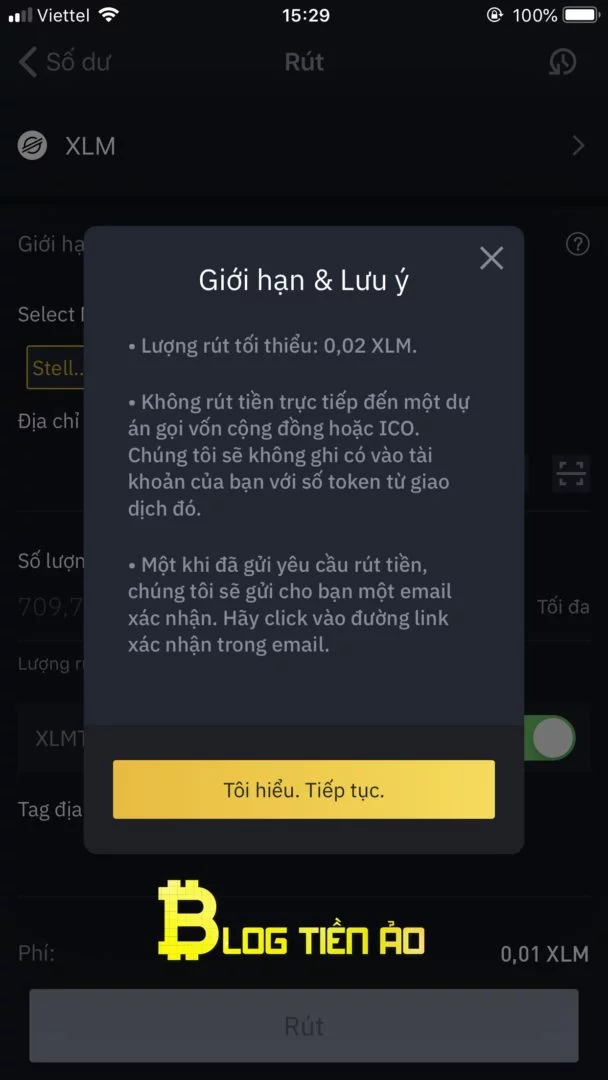 Enter the exact address of the coin to withdraw. Then you press the button Withdraw.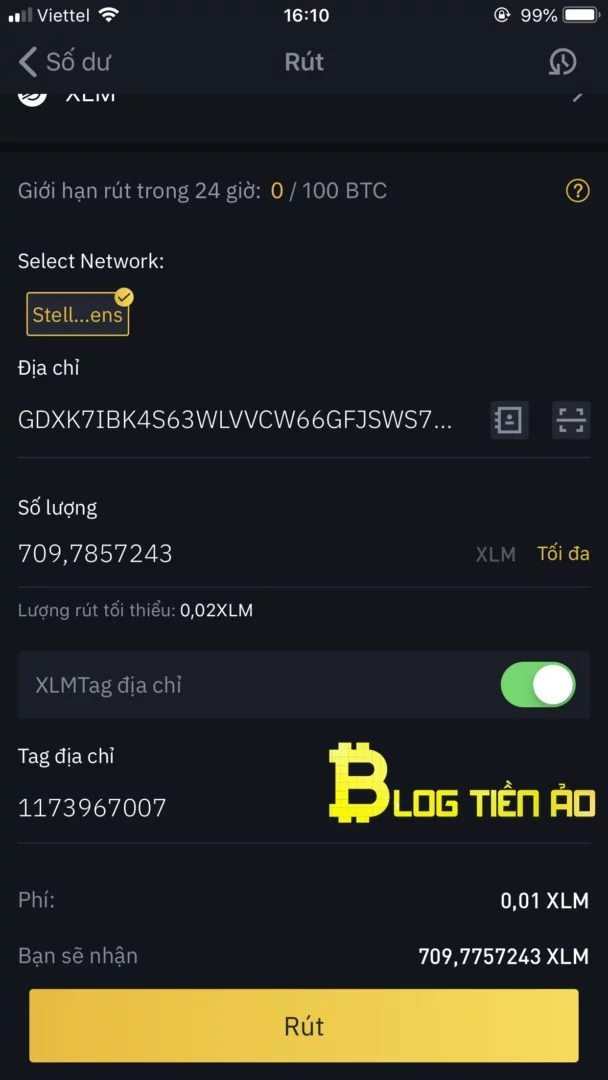 Enter the 2FA verification code that you have installed. It could be SMS or Google Authenticator.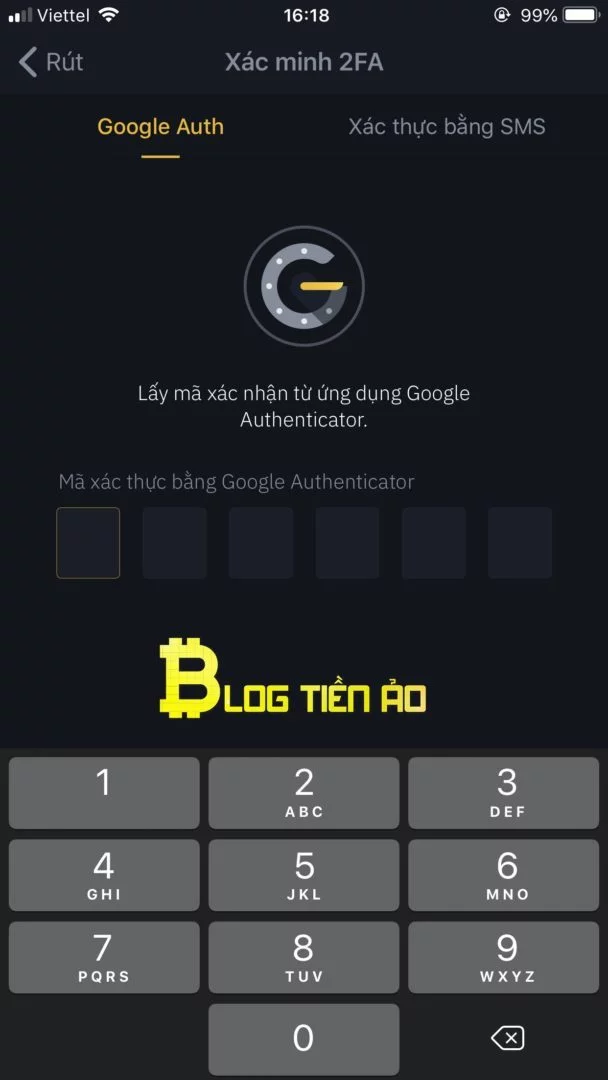 Notice of withdrawal request. Leave the screen here and open your mail to check.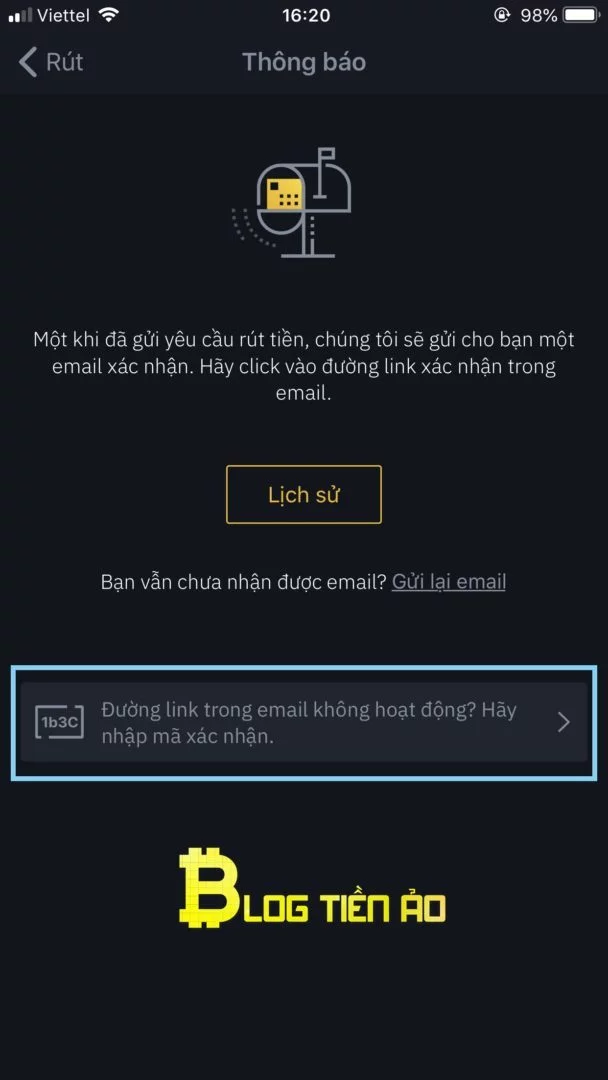 You check the withdrawal address information. If everything is correct then please press the button Confirm Withdrawal.
If clicking the button does not work, you can click on the link provided by Binance.
Often the link does not work you copy the part Verification code. You return to the application and click on the part you have framed above. Assuming the copied code is complete.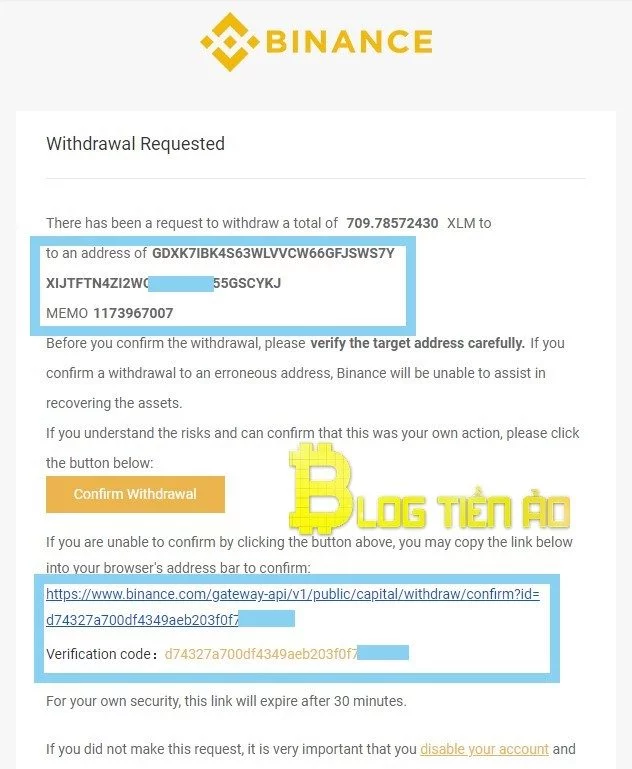 If there are no additional errors, you will be as shown below. So you've successfully withdraw already.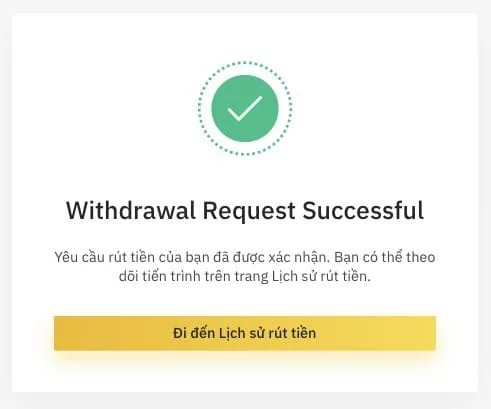 On the Website
Everyone in Saw and click Trading wallet (Deposit & withdrawal). At the section "Money" Enter the coin you want to withdraw. Finally click the button Withdraw.

Enter the exact address you want to ship. Then you press the button Send.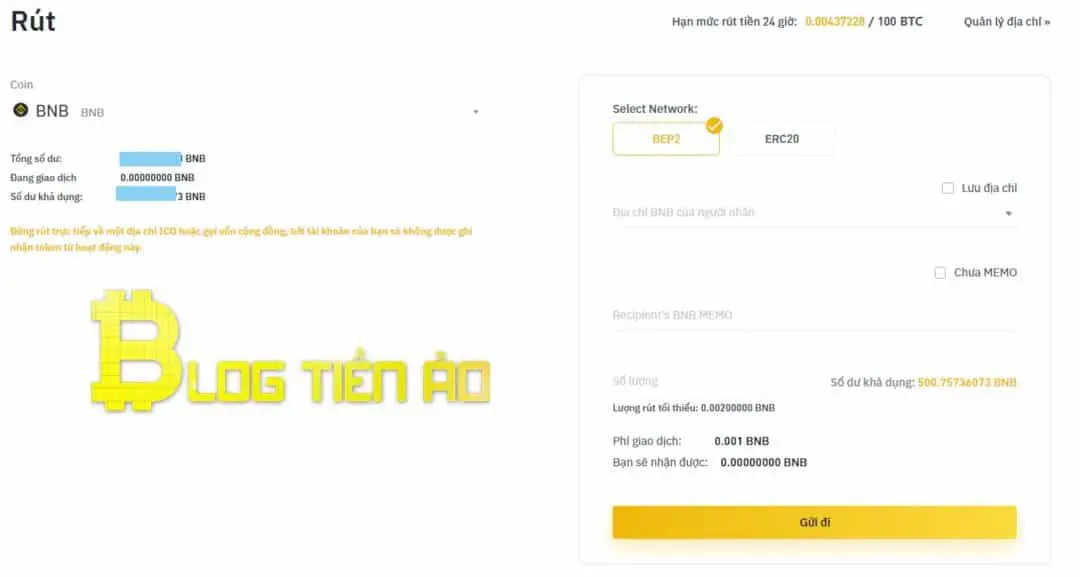 The remaining steps are to enter 2FA. And validate email. You can see the draw on mobile because it's the same. So you have made a successful withdrawal request already.
Some tips and notes you need to know
How to keep your account secure
Trading accounts always have money, right? If you have money, you will always be looked. To stay safe, Blogtienao will suggest some ways to you:
Turn on 2FA. Of course, I mentioned above. Not only enabled for Binance accounts. Please turn it on for both Gmail and related things.
Don't click on strange links. Always make sure you are logged in at "binance.com".
Do not view strange mails. Which mail giveaway or coin donation is best you should not click to see.
Do not provide personal information to strangers.
Disable Binance account
Why disable an account?
When you detect unusual accesses or withdrawal orders not caused by you. Then all you need to do is disable to avoid losing your assets.
If disabled, what will your account be?
When disabled, the following happens:
Pending withdrawals will be canceled. If the withdrawal order you have confirmed via email then give up.
You will not be able to perform any further transactions.
Your API keys will be deleted.
Devices that were once associated with the account will be deleted.
To reactivate your account, you need to contact support@binance.zendesk.com.
How to disable account
On the IOS application
Everyone go to the Account and click the Disable button.

Press the button Disable account. It is done.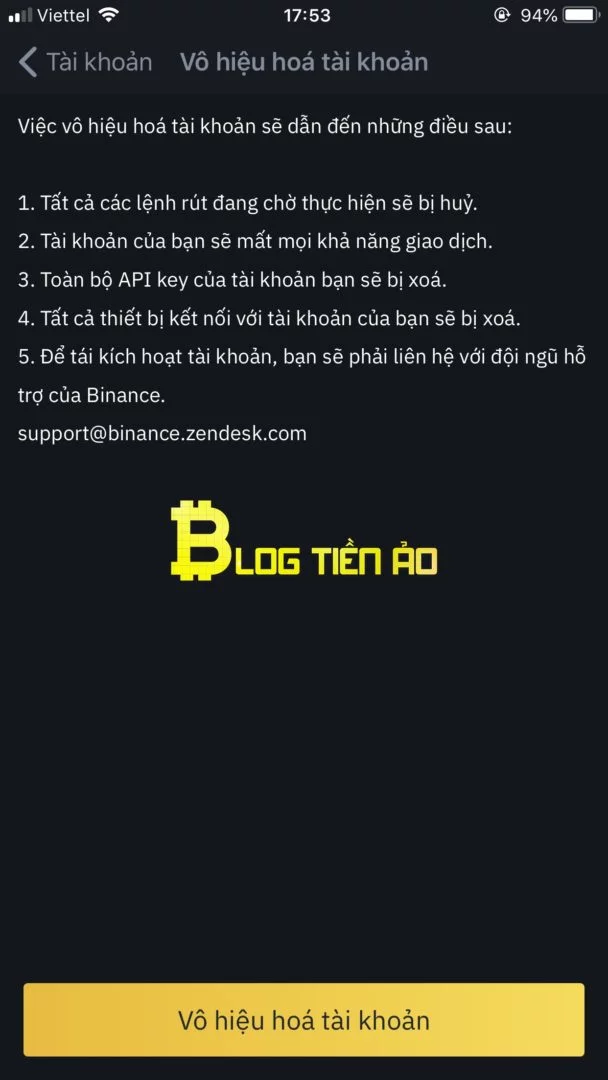 On Android
The Android app does the same thing on iOS, but the disable button is a little different. Click the button next to the email and press Disable account .

On the website
You come in account choose Security. At the section Account activity, click on the line Disable account.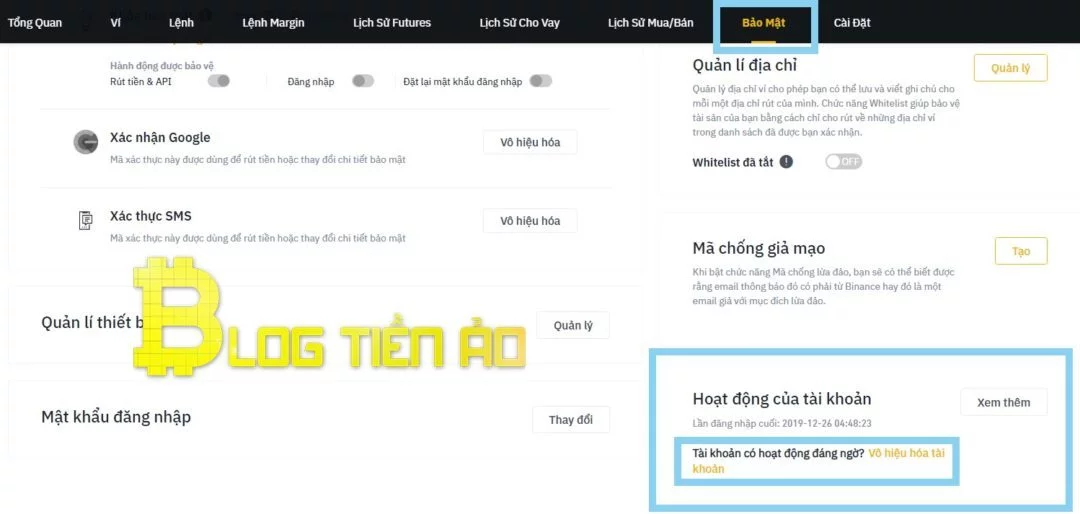 Press the button Disable this account. When clicked you confirm that your account will be disabled.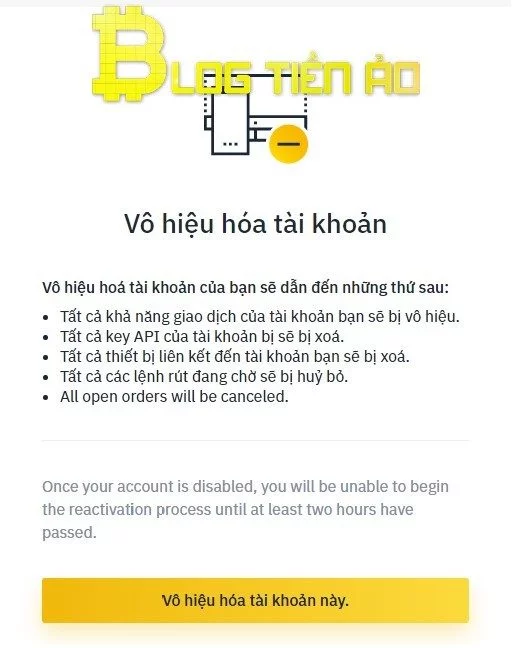 Use BNB to reduce transaction fees
On the App, everyone enters account and click Use BNB to pay the transaction fee.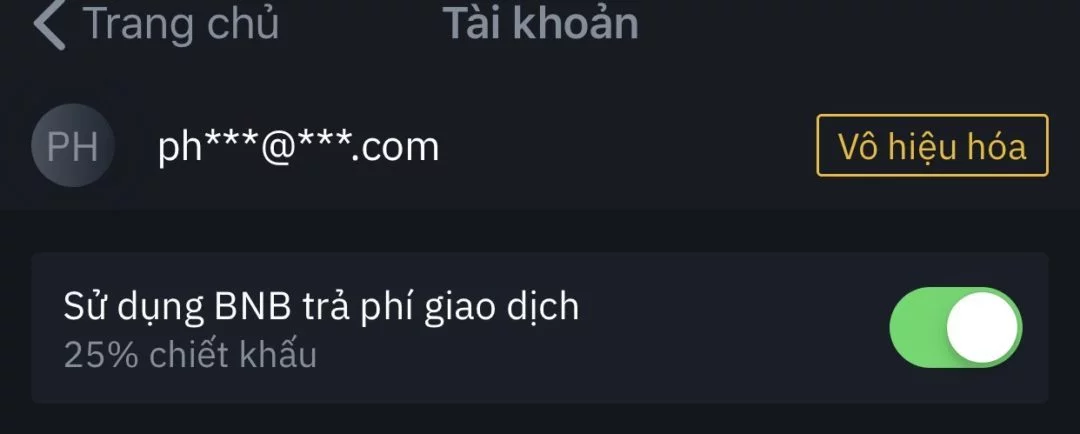 On the website, people go to the section account. At the section Overview, People pull down your transaction fees. Click on Use paid BNB .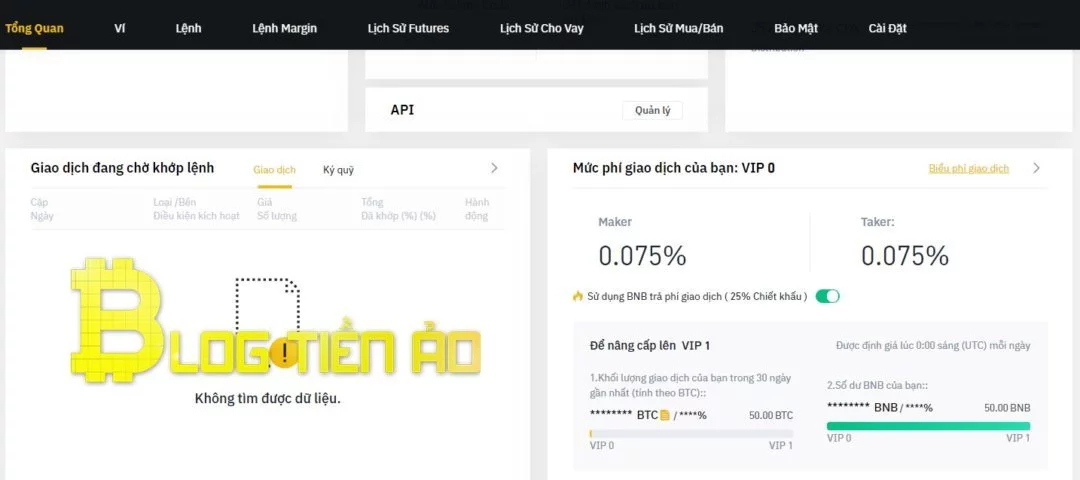 Submit a support request to the Binance platform
If you have help floor issues then you can do the following:
Everyone access binance.com/en/support then select Send require. Here at the "Submit request" section. Choose the type of request you need assistance with.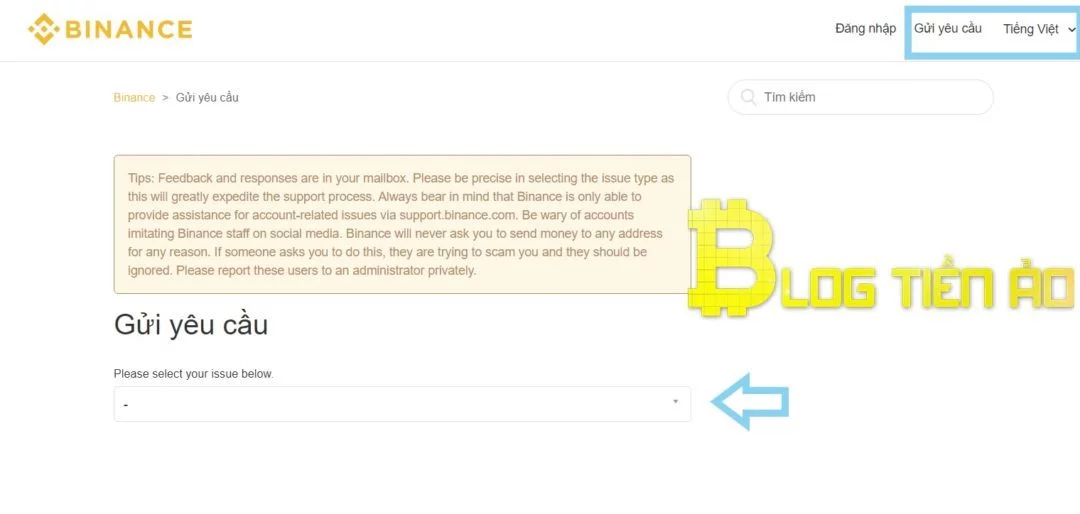 For example, you withdraw XLM but forgot to enter MEMO. Then you should select Help with Withdrawals. "Withdrawal Issue Type" you choose Forgot or Wrong Tag / Memo / PaymentID. You enter the required floor information. Finally you just press Gui .
Note:
Binance staff will not ask you to send money to any other address. They do not contact via other social networks. So people should be careful with messages that identify themselves as Binance employees from social networks, especially Binance.
Some frequently asked questions
Is Binance a scam?
Binance is one of the largest exchanges in the world in terms of both number of users and trading volume.
Up to now, there has been no fraud case involving Binance, there have been many reports that Binance fraud but that information is incorrect.
Historically, this platform has been attacked by hackers but it has not caused any damage to investors because Binance's technical staff is superior to hackers and they have solved all problems, this point also shows the capacity of Binance and make investors more secure.
Updated on 24/12: Binance platform was hacked 7000 BTC (nearly 41 million USD). But there was SAFU fund so users were not affected.
Once again we see the credibility of the floor.
What device can I use Binance on?
You can use Binance with a variety of devices from computers to mobile phones.
For mobile devices, almost the same features are integrated on the Website. But after a while update.
Android devices are often updated floor features earlier than iOS. You should consider using the right equipment to carry out transactions.
If you are a regular computer user, you should visit the website for faster operation.
And you are a moving person, you should consider using the app to trade offline. In this article, I will show you how to use it on both the Web and the App.
Currently, the Binance App is available on both the App Store and Google Play. If you have not downloaded it, you can download it by clicking on the image below.
Who can register and use the Binance service?
All citizens in countries around the world except the United States can register and use Binance.
In addition, you must be 18 years old and have an Identity Card (in Vietnam called a citizen identification card), a driver's license or a Passport.
If you have US citizenship, you can use Binance.us for a US-only platform or use Binance DEX.
Channels to track Binance floor
Conclusion
Binance floor is one of the largest cryptocurrency exchanges in the world, with good security, safety and low transaction fees, plus extremely fast transaction processing as well as high liquidity. Binance will also be a good choice for you if you need to buy or sell these Altcoin and trading BTC or ETH.
Ok, got it Above is the article "What is Binance? Instruction on registration and use from AZ [2020] ". Hope to bring you the information you need, giving you more exciting new options when trading virtual currencies.
To motivate our team, hopefully after reading, please rate 5 stars or share this article to those who really need so we have the motivation to write more knowledge articles.