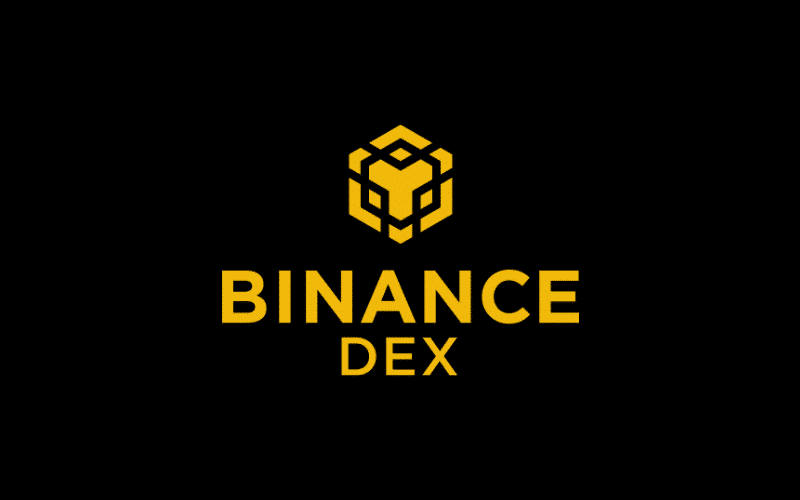 Don't just stop at centralized cryptocurrency exchanges. On February 20, 2, Binance has launched a decentralized exchange called Binance DEX.
So can this decentralized cryptocurrency exchange be as successful as the centralized version?
Let's find out with Blogtienao!
What is Binance DEX?
Binance DEX (Binance Decentralize Exchange) is a decentralized cryptocurrency exchange. You can trade crypto from wallet to wallet without having to go through intermediaries.
Binance has announced the release of their testnet for Binance DEX. The floor is open source and works based Binance Chain Blockchain.
Why did Binance launch Binance DEX?
Although Binance has been very successful with centralized exchanges ("binance.com"). But when the centralized floor, there will be security risks as well as hackers "snooping".
Because when you use CEX (Centralize Exchange) Binance exchange, you deposit coins into the exchange's general wallet. So the wallets of the floor contain a large amount of coins, so it is normal to attract the attention of hackers.
No matter how secure the floor is, there is a risk to it.
For example, in May 5, Binance was hacked by 2019 BTC level.
That is also the reason for the launch of Binance DEX. When you use decentralized Binance, you will control 100% of your assets.
The platform only provides the platform for trading parties. Understandably, the decentralized floor is like a market for people to focus on buying and selling.
So the risk of stolen property is very low because it is decentralized.
Overview of Binance's decentralized exchange
Function
Binance DEX uses a web-based trading platform and uses the same user interface as Binance.com. It also incorporates TradingView charts that contain a full range of technical indicators.
Moreover, the platform allows users to create wallets and hold their own keys, and DEX also supports alternative software and hardware wallets and integrates with Trust wallet and Ledger Nano S.
We have written an article about a very convenient combination of Dex and Ledger Nano S cold wallet in the previous post.
Technology
The exchange is based on the core Binance Chain technology and has a one-second block time with almost instant transaction time.
Therefore, Binance DEX can support the same trading volume as the centralized exchange. Although it uses a different matching tool.
Binance DEX uses periodic auctions to match all available orders, and when the match takes place at the same time for all orders with the same price in each auction, it ignores the concept Makers and Takers.
Security
The platform has no control over money and traders maintain control of their private keys.
Binance Chain uses a consensus mechanism based on Byzantine Fault Tolerance (BFT) and Proof of Stake (PoS) involve a variety of qualified validators. Further use some anti-run mechanism before to maintain the integrity of the step.
Customer support
Binance DEX supports traders in many countries and groups that provide a high level of support compared to other decentralized exchanges (DEX). They have provided a Github page and FAQ section to address some key issues.
There is also a Forum and a maintained Telegram and Twitter group. When you have a problem, just come up and ask.

Transaction Fees On Binance DEX
Non-transactions can fluctuate due to many factors such as: voting and advertising proposals. You can refer to the current fee schedule below.
Note: In the future, this table may no longer be suitable.
| Transaction type | Pay is not BNB | Pay with BNB |
| --- | --- | --- |
| Trade | 0.1% | 0.04% |
| Open an order | 0 | 0 |
| Cancellation (Unmatched) | Equivalent 0.00025 BNB | 0.00005 BNB |
| Overdue order (Not yet matched) | Equivalent 0.00025 BNB | 0.00005 BNB |
| Cancellation (Unmatched) | Equivalent 0.00025 BNB | 0.00005 BNB |
Is Binance Dex safe?
Decentralized exchange essentially designed to be more flexible than centralized floors. Of course, Binance is well known for its safety and hack record (Binance has locked a lot of accounts related to hacking and money laundering).
The essence of DEX is that no central authority stores the user's money, meaning that you have complete control over the money you have, and not even Binance or any other agency can interfere.
And for that reason, it's a little bit more complicated than current models. However, hackers have been known to target DEX with DNS attacks to redirect users to fraudulent websites they control.
Users then unlock their wallets on these same-looking websites and allow hackers to access their passwords and private keys. Therefore you must be very careful.
However, the DEX development team provides a good amount of information about common best practices that users should use and also elaborates on transactions and specifications as well as the best mechanisms to protect people. use.
It's very complicated, it's about programming (dev) so we don't discuss it in depth. Only a temporary conclusion is made Binance Dex secure, and you can safely transact on here.
Is Binance Dex easy to use with newbies?
Currently still in the testnet phase and so new people are also very difficult to use. For you who have experience using other decentralized platforms like IDEX, KYBERNETWORK then maybe it will be easier.
However I think the Mainnet version is completed and the strong development of the Decentralized exchange the detailed instructions will be clearer and the access and use will not be much more difficult.
Currently, according to information from supporters in Vietnam, the Binance exchange is having a trade competition on Dex. Participants will receive 200 BNB for free (this BNB can only be traded, not withdraw) and the prize is up to 100.000 USD. For anyone who finds the bug (bug) on Binance Chain will be rewarded with 10.000 USD. To participate, all you need to do is go to "Get BNB test" and follow the instructions
List of wallets supported on Binance DEX
Mobile wallet
Trust wallet
safepal
Coolwallet s
Math wallet
Meet.one
Equal
Cold wallet
Ledger wallet
Trezor wallet
User Guide Binance DEX
To be able to use Binance DEX, you can use the personal wallets as I mentioned above ... If not, you must create yourself a wallet below.
1) Create a wallet if you haven't already
Go to the page binance.org then click on the "Create Wallet".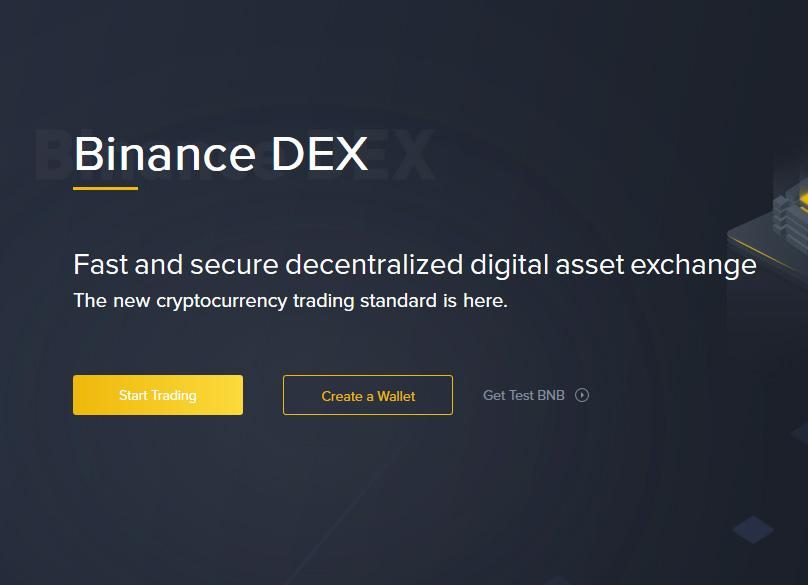 When you create a wallet on Binance, you are provided with three different wallet access methods, different formats including:
Keystore File + Password
Mnemonic Phrase
Private Key
Binance requires all users to use the Keystore + password file; and choose between memorizing phrases or private keys as secondary methods.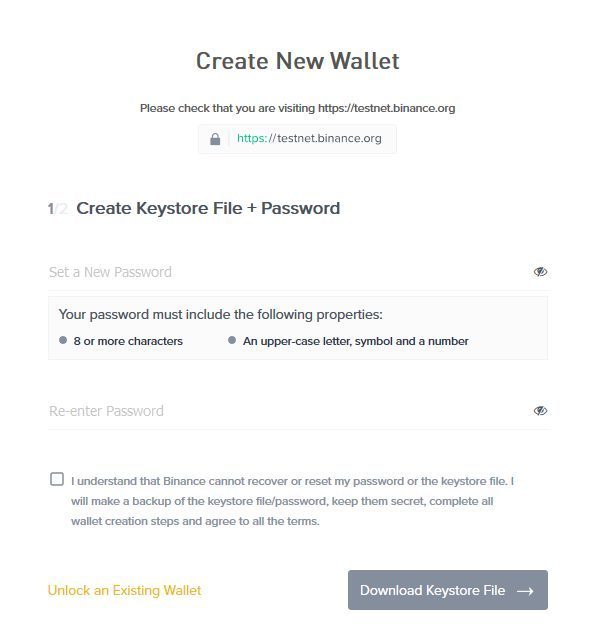 To create and download your Keystore file, you must enter a password that is at least eight characters long, including uppercase letters, symbols, and numbers. From here you will be shown your mnemonic phrase (your memorizing phrase)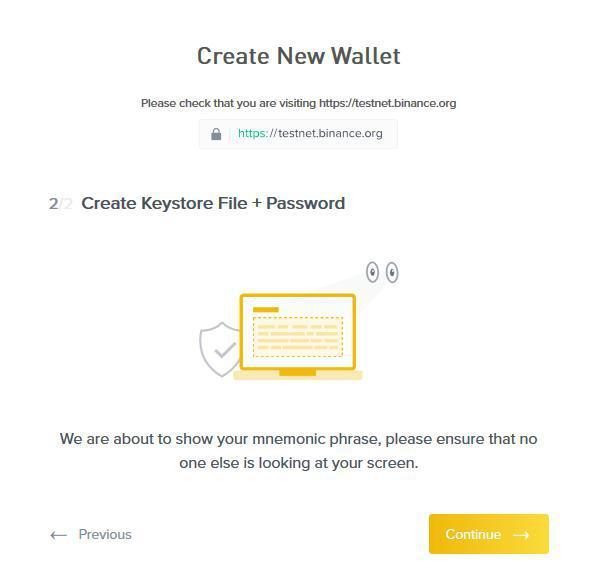 You should write down a string of 24 words and keep it confidential and safe. You will also be given the option to view your private key and you may also want to record and store it offline.
Make sure your computer is not trojan, not hacked if not watch out early.
When you confirm that you have recorded the Keystore and private key details, you are ready to go to step 2 to unlock your wallet and trade on Binance DEX.
2) Connect your wallet to Binance DEX
Before placing any transactions, you will need to unlock (link) your wallet. To connect, the wallet you created earlier can use:
Upload your Keystore file and enter the password
Enter a memorizing phrase of 24 words
Enter your private key
Note, however, that in the event of a password loss, the last two methods are best used to recover a lost Keystore file or password.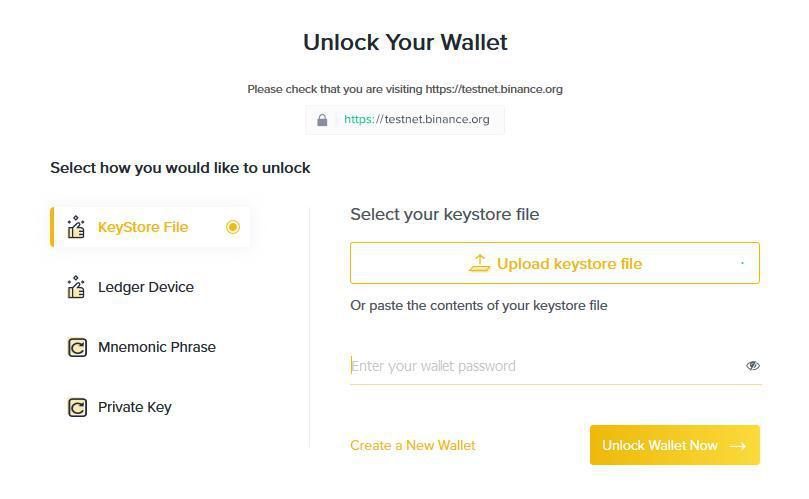 This is a feature that I mentioned to those who use Ledger Nano S.
Binance DEX also allows users to access funds protected by Ledger Nano S wallet And it is also very simple.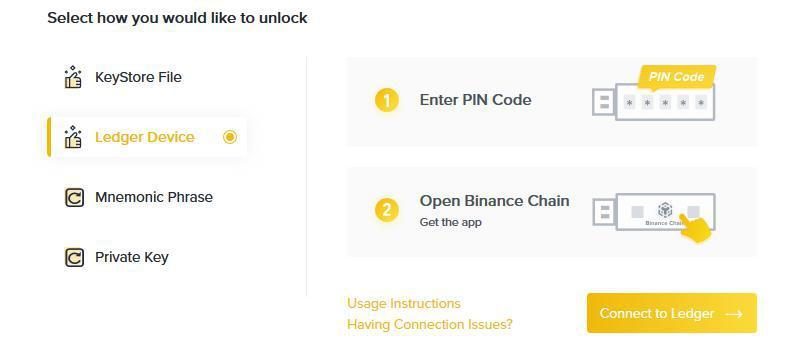 Next, enter the PIN and open the Binance Chain application (after downloading it from the Ledger Live manager).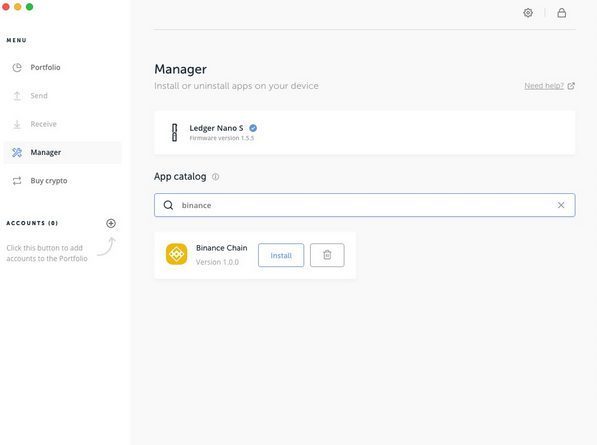 3) Deposit money into your wallet
To trade on Dex, you need to use Binance Coin (BNB). You simply need to buy Binance Coin (BNB) and send it to the BNB address in the wallet you have connected to your Binance Dex exchange to deposit money.
For the address, go to the section Balance sheets.
The example in the picture is his address: tbnb1vl4qhfuw4d786gxfsxlw432hmyv4cvwz0zl0yu
If you don't know where to buy BNB, you can buy BNB here

Guide to Trade on Binance Dex
The detailed instructions above are also quite simple, not very difficult, after completion and want to trade, just recharge your Dex account.
After loading, we have a balance to start trading, I will introduce the basic ones for your attention. If you are familiar with trading on Binance, this is the same here.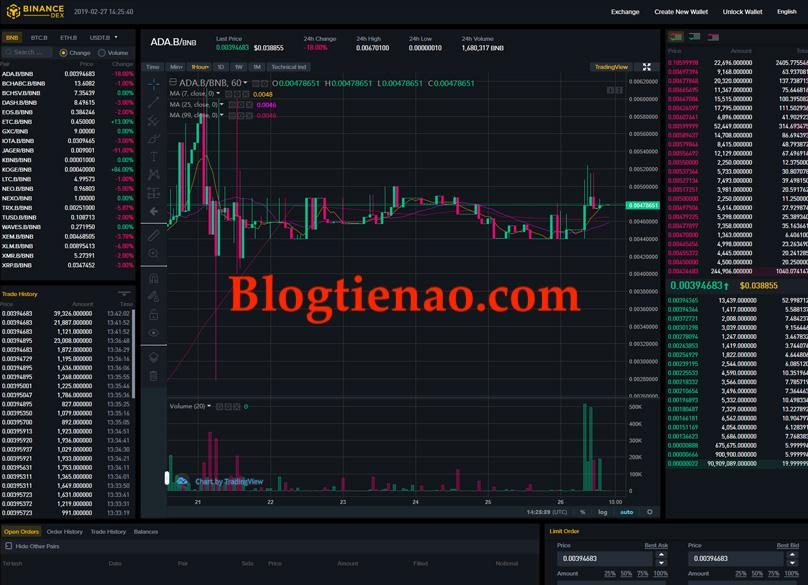 You can start by identifying and locating your favorite trading pairs from the box at the top left of the screen.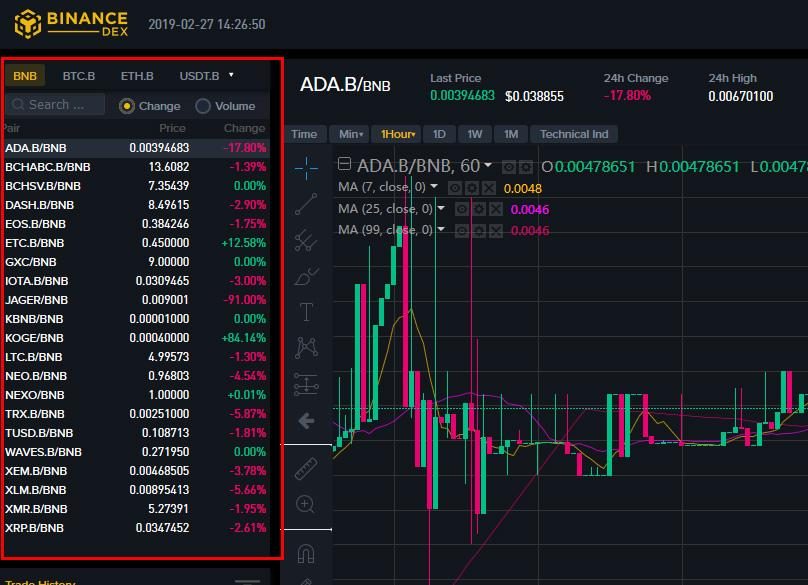 You can also track transaction volume and transaction history from the same section below.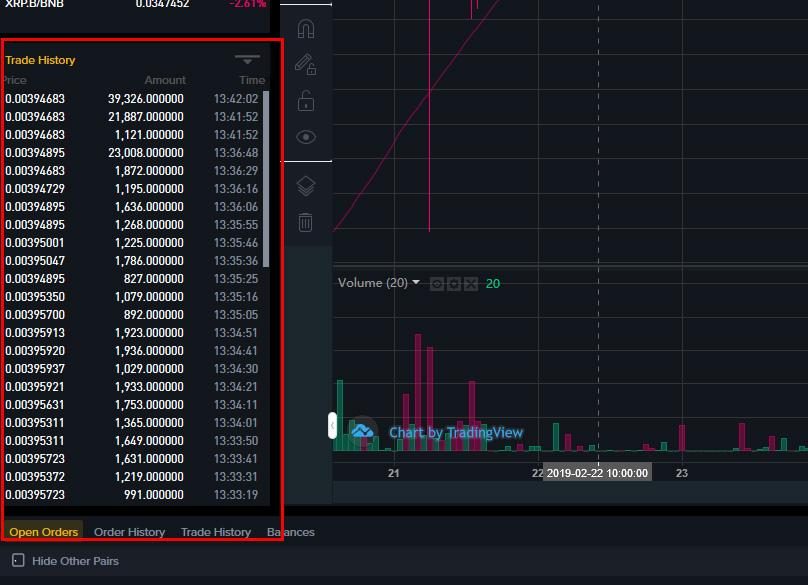 After selecting your desired trading pair, you can place a Limit order. Binance DEX currently only supports these types of orders, and the team advises newer traders to see instructions on how to use the limited order. You can see the instructions from the video below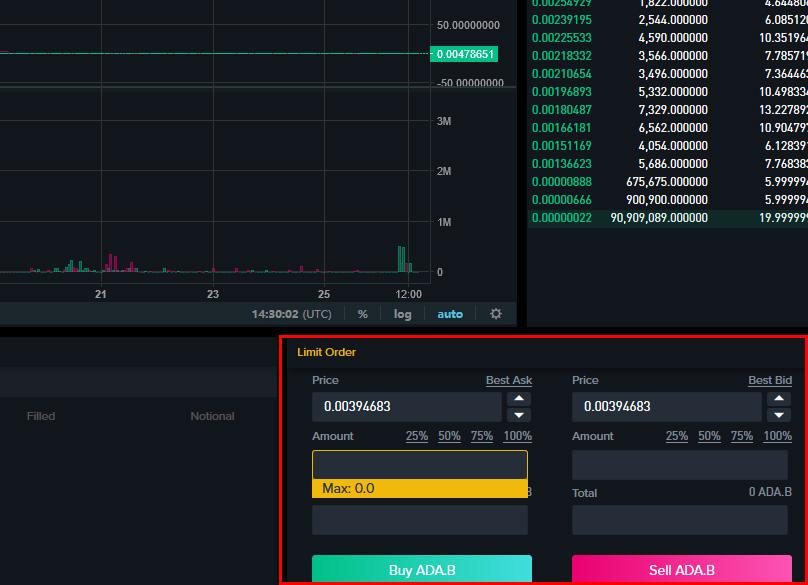 Information about Open Orders, Order and Transaction History and balances can be found on the bottom left of the interface.

Conclude
Through the article, we have introduced and detailed instructions about Binance Dex floor.
It can be said that this is a future trend when every investor wants to control their own assets and not fear losing money when the exchange is hacked.
Wait until the final mainnet we will edit the details and best fit as possible for you to easily imagine.
Good luck. To motivate our team, if you feel good then rate 5 stars and share this knowledge to those who want to learn. Thank you!
Like fanpage Facebook of the Virtual Money Blog
Join the channel Telegram of the Virtual Money Blog
Participation GROUP Discuss news of Virtual Money Blog