After the 8th project PERLIN, Binance has just introduced the 9th project on Binance Launchpad called Band Protocol. As usual, BNB has increased immediately upon notice.
Let's Blogtienao Learn about the project about this Launchpad 9 project.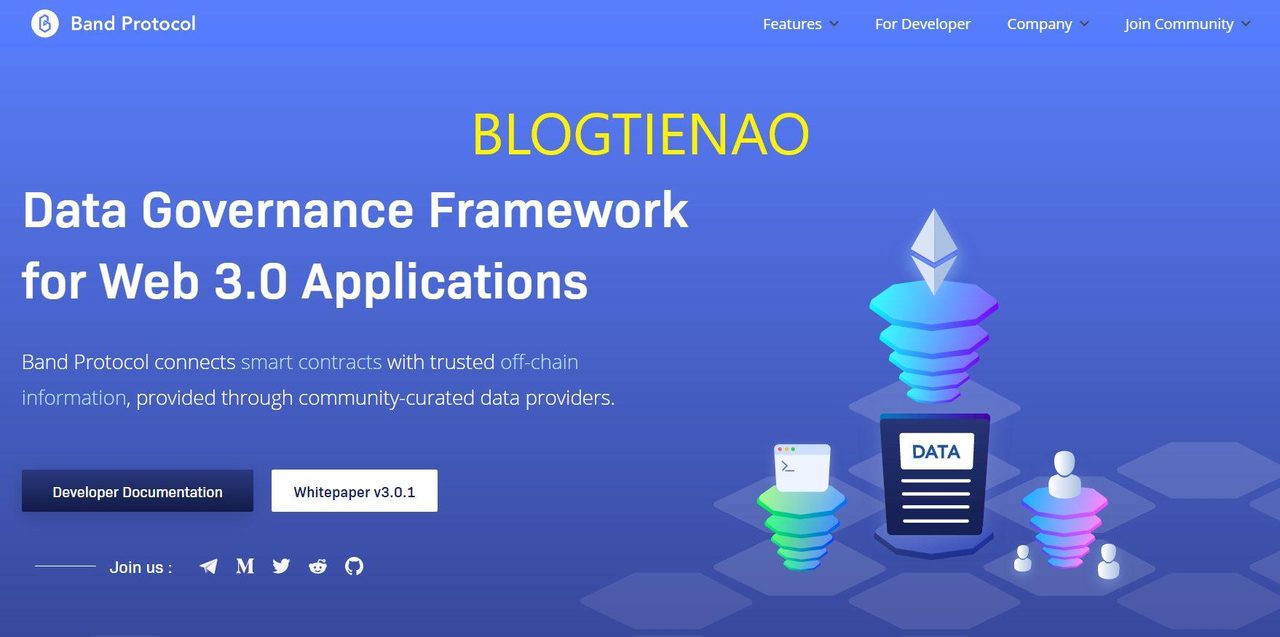 What is the BAND Protocol project?
BAND Protocol is a blockchain protocol that enables developers, companies, brands, and celebrities to issue personalized community tokens. This token is for data management in their own community.
The main functions are to bridge the gap between decentralized applications and real-world data; Ensuring accurate and reliable data through economic incentives. The BAND Protôcl will be built initially on Ethereum, but the protocol itself is not restricted on the Ethereum infrastructure. If the protocol is more widely adopted, it will support all leading smart contract platforms.
BAND electronic money
BAND is the native token of the ecosystem. Originally, they were released as ERC-20 on Blockchain's Ethereum. Besides, Band Protocol's ecosystem has another token, called dataset token (data token).
Use cases
BAND token - Represents the common value of all datasets within Band Protocol. Main use cases:
Collateral to issue dataset token
Network administrator
Join the BandChain consensus algorithm
Dataset token - Represents ownership stake in a specific data set within Band Protocol. Main use cases:
Data provider stake dataset token to earn the position of data provider
Stake to engage in data provider management
Vote to make decisions regarding data issues
To administer the token and how to use the fund
As of September 9, Brand Protocol used about 2019% of the money. The funds raised will be spent according to the following allocation:
Technical and business development: 60%
Marketing: 20%
Activity: 10%
Legal and auditing fees: 10%
The funds will be mobilized by fiat or stablecoin to avoid risks of fluctuations in cryptocurrency prices. The fund will be stored in a multi-signature wallet, requiring at least 2 out of 3 signatures if you want to withdraw money.
BAND token issuance schedule
The following chart shows the number of BAND tokens intended to be issued monthly: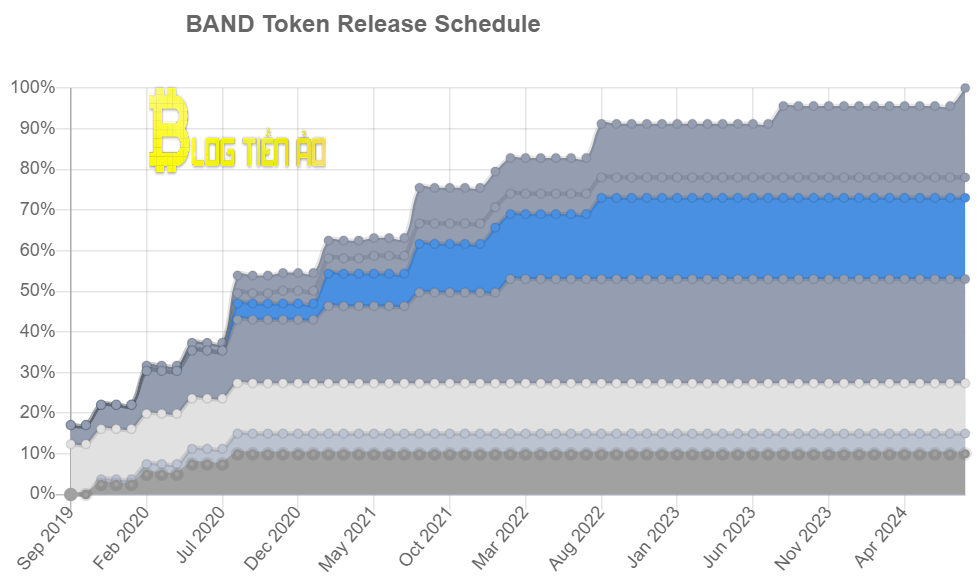 BAND distribution
Seed Sale accounts for 10% of total supply
Private Sale accounts for 5,00% of total supply
Public Sale accounts for 12,37% of total supply
The ecosystem accounts for 25,63% of the total supply
Team accounts for 20% of total supply
Mentors account for 5% of total supply
Foundation accounts for 22% of total supply
About Seed Sale
Done from August to October 8 for $ 10 USD / BAND
Collected a total of 3 million USD, accounting for 10% of total supply
Only mobilized USD
About Private Sale
Done from August to October 6 for $ 8 USD / BAND
Revenues totaled 2 million USD (including 1.875.000 USD and 125.000 USDC), accounting for 5,00% of total supply
About Public Sale
Conducted in January 9
Expected revenue of 5,85 million, at 0,473 USD / BAND
Accounting for 12,37% of total supply
The BAND / BNB exchange rate will be determined prior to the sale date
Wallet hosting
You can hold in wallets that support the ERC-20 token format (see details squid fishing tours). Besides, you can also keep on BAND listed exchanges (Binance, ChangeNOW) or on TrustWallet wallets. In addition, the development team recently launched the Band wallet, which makes it easier for users to store tokens in a dedicated wallet.
Roadmap and achievements dBand Protocol (BAND)
Achievement
Quarter 3 / 2018
Quarter 4 / 2018
Release alpha CoinHatcher
Quarter 1 / 2019
Release CoinHatcher beta with token integration
Edit whitepaper
Quarter 2 / 2019
Release own testnet
Smart contract security audit
Quarter 3 / 2019
Quarter 4 / 2019
Release Band Protocol on the Ethereum main network
Release BandChain whitepaper for public review
Release financial feeds on Band Protocol
Itinerary
Quarter 1 / 2020
Integrated Band Protocol for class 1 blockchains
Launches events, on-demand and identity feeds on Band Protocol
Release BandChain separate testnet
Management portal Revamp Band on Web and mobile platforms
Quarter 2 / 2020
Release of public testnet BandChain
Complete the BandChain security audit
Integrate existing applications and data providers into BandChain
Quarter 3 / 2020
Release BandChain mainnet
Complete the token migration to BandChain
Trade partnerships and business development
TroyTrade announces cooperation with Band Protocol
Constant works with the project to provide a P2P loan with a BAND token
The project shook hands with DeSapes and WoodstockFund to provide financial data
BAND works with 2keyNetwork to provide real-time financial feeds and events for smart contracts.
Itisportal cooperates with project to integrated BAND with KaizenCLI to provide financial feeds for
Overview of the development team
Soravis Srinawakoon (CEO): Former management consultant at BCG, once honored by Forbes
Sorawit Suriyakarn (CTO): Used to be a developer at Hudson River Trading, Software Engineer at Quora and Dropbox
Paul Nattapatsiri (CPO): Former web developer at Turfmapp, engineer at Trip Advisor. Bronze medal for the Asia-Pacific Informatics Olympiad
In addition, many talented people have also been mobilized to become a soul part of the project
BAND transaction data
Liquidity: Since September 06, 09, BAND tokens have not been actively traded on any exchange.
Technical overview
Public Github repository
Band: Monolithic repository of Band Protocol
Contracts: Smart Protocol of Solid Protocol
Governance-portal: Admin portal for token holders to interact with Band Protocol
Bandchain: Prototype of blockchain on Tendermint
Private Github repository
CoinHatcher: News portal
Wallet: The wallet's user interface and server in Band Protocol's Web3 browser
GraphQL2: Infrastructure to register Ethereum and generate GraphQL results in real time
Products of the project
Data management portal
Provides a user-friendly interface for exploring data sets in the Band Protocol ecosystem. Users can purchase Dataset tokens, stake them to trusted vendors and vote on administrative parameters.
Explore Dataset token
Buy and sell instantly: Users can switch between Band and Dataset tokens at any time without going through a third party.
Comprehensive metrics: Maximize transparency on market capitalization, token supply and recent transaction history.
Data discovery
At any time, users can view data without querying from the smart contract interface. Data providers and their contributions are also illustrated transparently in time series graphs.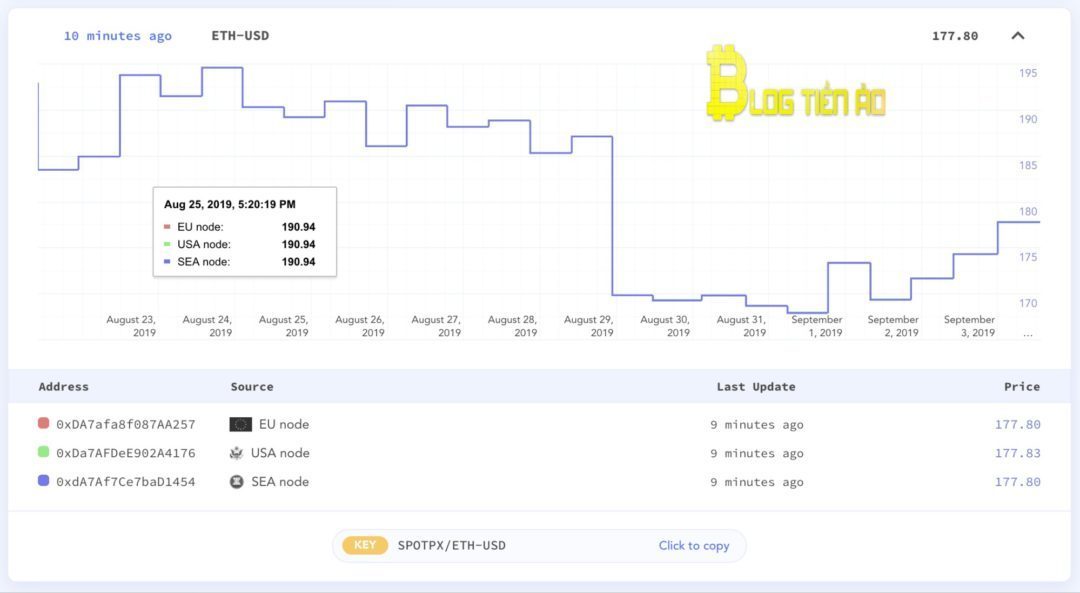 Stake for data providers
Users can earn part of the data query fee by stake their tokens to trusted data providers.
Wallet Band
The Band wallet is an unsupervised Web 3.0 wallet. They are optimized to hold BAND and Dataset tokens without requiring external browser extensions. After setup, users can transfer BAND and Dataset tokens through the Data Administration Portal.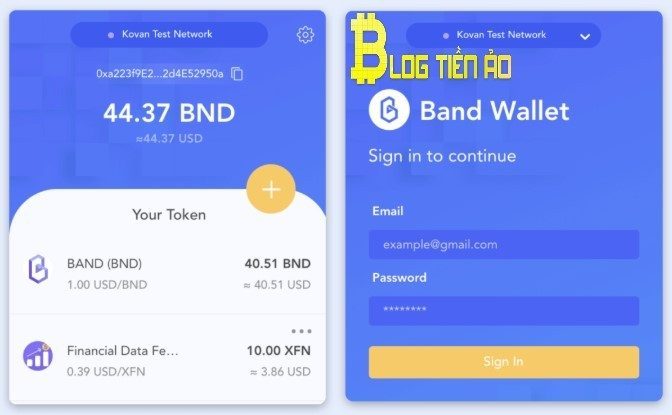 Community and social channels
Telegram (English) | 14.2K Members
Twitter (English) | 2.3K Followers
Medium (English | 990 Members
Facebook (Thai) | 697 Likes
Reddit (English) | 683 Followers
How to own a BAND token?
Join IEO
Buy BAND on tokenized or staking exchanges
Join the exclusive program of the project
Perform project work (such as security, ...) to receive rewards
How to profit from BAND
Since this is a new project, you do not have much choice in this regard other than trading or holding on token-listed exchanges. Also, you can follow the "Lending" section of Binance to see if they have support for this token.
Should we invest in BAND?
With this in-depth analysis, Blogtienao Hope you have enough information to make the best decision.
Details Of BAND Project On Binance Launchpad
Token name: BAND
Launchpad Hardcap: $ 5,850,000
Total supply: 100,000,000 BAND
Allocated on Binance Launchpad: 12,368,200 BAND (12.37% of total token supply)
Price of public token: 1 BAND = $ 0.473 (price in BNB will be determined before the date of lottery draw)
Token sale format: Lottery & Airdrop
Maximum number of winning tickets: 19,500
Allocation for each winning ticket: USD 300 (634.25 BAND)
Total airdrop: 631,800 BAND (about 300,000 USD)
Sessions supported: BNB only
BAND is issued as: ERC-20
Important milestones
At 7:00 AM (Vietnam Time), August 17, 08 to 2019:7 AM (Vietnam Time) September 00, 16: The balance will be taken daily for 30 days. The average balance photographed daily for 30 days will determine the number of tickets you can receive.
At 1:00 pm (Vietnam time), September 16, 09: Eligible users can get tickets within 24 hours.

Người dùng cũng phải ký Thỏa thuận mua mã thông báo cùng một lúc, trước khi hoàn thành yêu cầu vé.

Xin lưu ý rằng người dùng sẽ chỉ có thể yêu cầu vé một lần.

At 1:00 pm (Vietnam time), September 17, 09: Tickets will be closed and lottery starts.
At 3:00 pm (Vietnam time), September 17, 09:

Vé trúng thưởng được công bố và BNB tương ứng sẽ được khấu trừ từ tài khoản của người dùng chiến thắng.

Vui lòng đảm bảo bạn có đủ BNB trong tài khoản để khấu trừ trong vòng 24 giờ nếu bạn có vé trúng thưởng.

At 3:00 pm (Vietnam time), September 17, 09: After this time, airdrops will be distributed to unsuccessful tickets.
Distribution of lottery tickets
Users can receive up to 10 tickets depending on the average daily balance (X)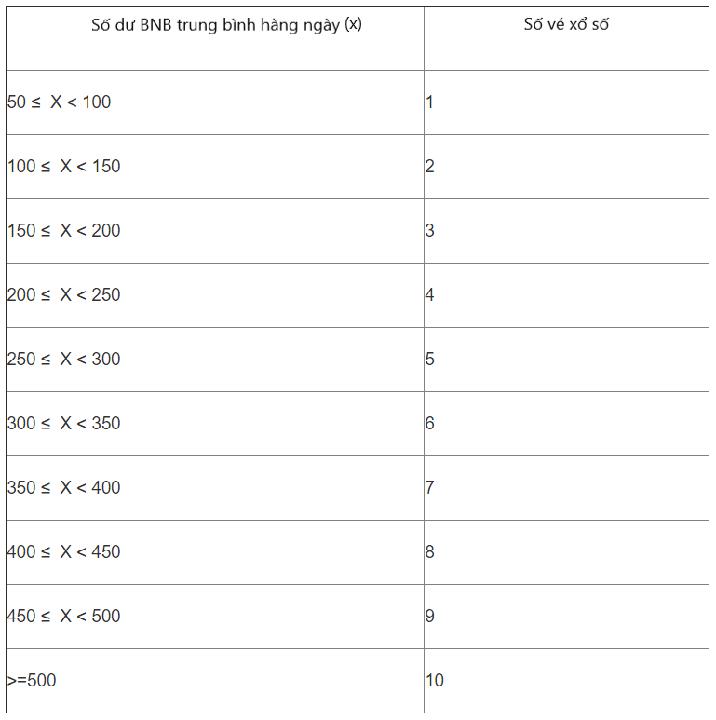 Predict the Winning Ratio of Launchpad 9
Due to the general situation Altcoins both decreased and BNB Not an exception when BTC Dominance increase by more than 70%. So some investors seem discouraged, so the number of participants may decrease compared to the previous period. The winning rate can be 3 times higher than the previous period and with a Hardcap of 5,850,000 USD, each winning ticket from 500 USD to 300 USD, the price can be x5 compared to the price IEO.
Conclusion
So Blogtienao has informed you of the 9th launchpad of Binance. Hopefully the article above can provide all the information you need. Wish you a successful investment!