What is Samsung Pay?
Samsung Pay is a Samsung exclusive mobile payment service (the leading electronics company in Korea) for its devices, launched in August 8.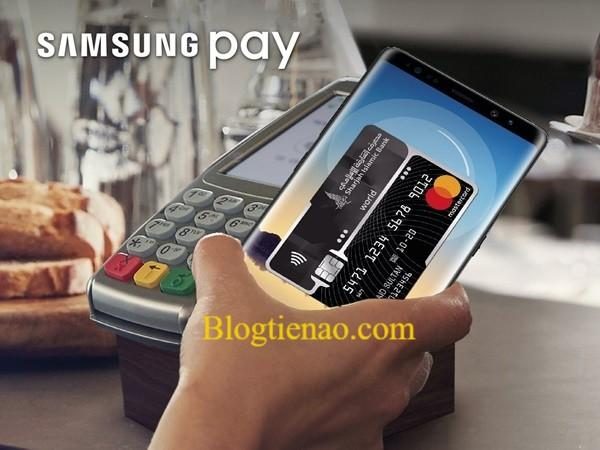 When it was launched in 2015, Samsung only supported Samsung Pay on its two high-end models, the Galaxy S2 and Galaxy Note 6. However, due to the increasing demand of users as well as the development of bar services. Currently, Samsung Pay supports many other product lines of the company such as Galaxy A5 and Galaxy A5 series 7 - 2016, Galaxy S2017 / S8 Plus or Galaxy Note 8, Galaxy S8 / S9 Plus or Galaxy Note 9.
The mechanism of operation of Samsung Pay is that Samsung Pay uses MST (Magnetic Payment Protocol) and NFC Technology (Radio Payment Protocol) to make mobile payments via POS (Point of Sale) scanning machines. of Sale). In addition, Samsung Pay can work on computers for magnetic cards, not just NFC (Near-Field Communications).
>> What is Zalo Pay? Instructions to register, use, deposit and withdraw money at ZaloPay
>> What is 123Pay? Overview of the leading online payment gateway in Vietnam
>> What is PayPal? The most detailed guide to account creation, verification and deposit withdrawal
How to install and set up a payment card on Samsung Pay
Step 1: Download the application.
For Samsung Pay supported product lines as mentioned above, please go to Google Play to download the Samsung Pay application icon.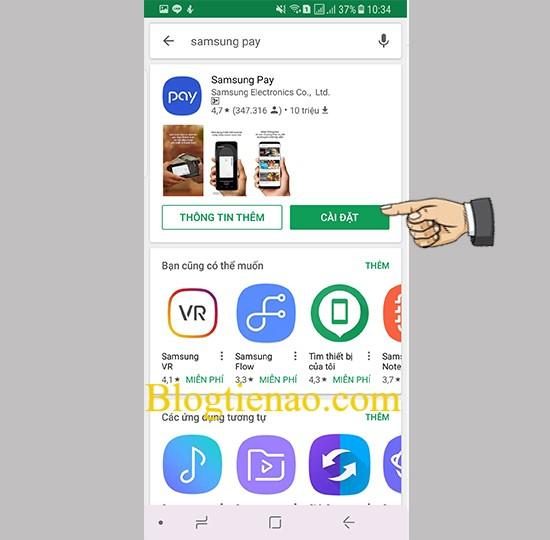 Step 2: Register the Sam sung Pay application
Use the Samsung Account that is currently logged into your device to sign up for Samsung Pay if you already have one. You can check if your Sam Sung account is available or not by opening the menu: Settings à Cloud and account à Account à Samsung Account.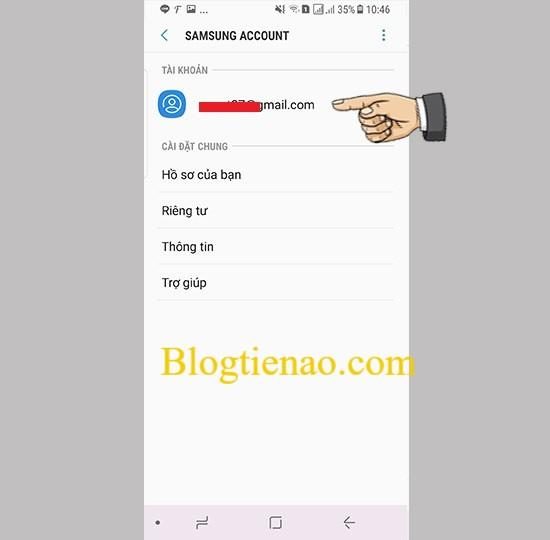 If you have not registered a Samsung account, you can register at click here.
Step 3: Install the application
In the list of applications on your device, click to select the Samsung Pay app you just downloaded in step 1. When switching to the new interface, click on "Install -> OK" to install the application.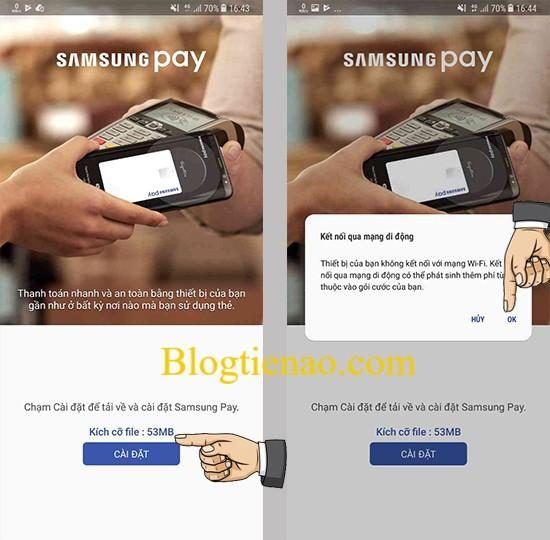 Your device will then download and install the application automatically. While the device is downloading, you must not disconnect wifi or 3g until after the download.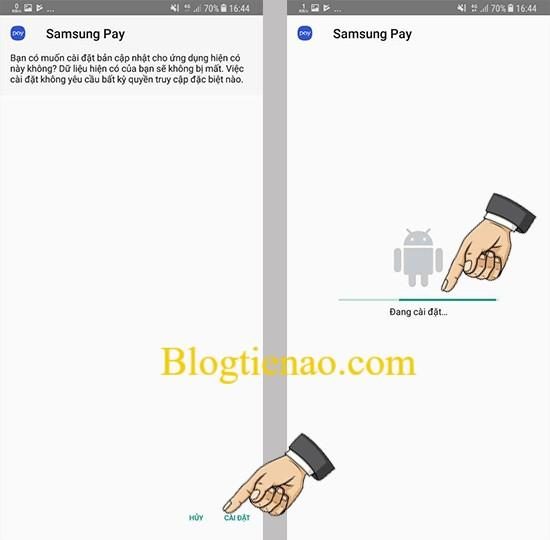 When the installation is completed, press the button "Begin" to open the application on the device.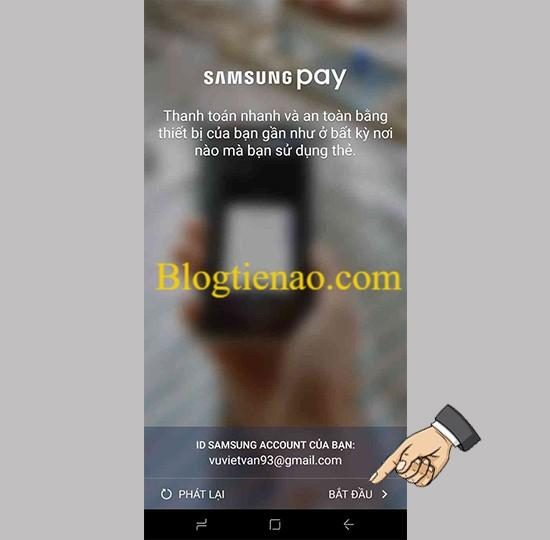 Complete some terms and policies of the application.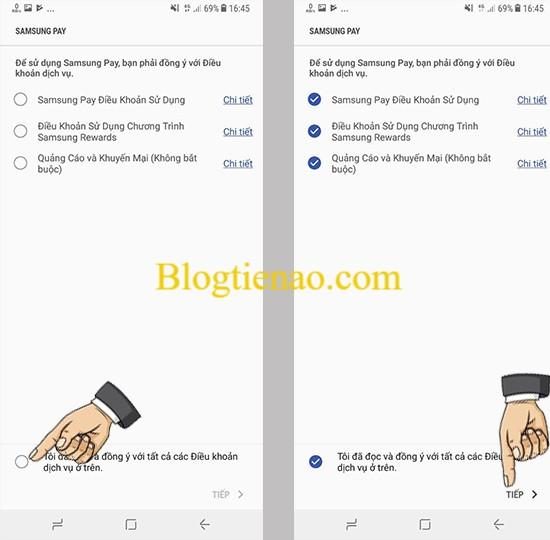 Step 4: Choose the authentication method
In order to use Samsung Pay, the manufacturer will require users to first select an authentication method for the application. Security methods include iris authentication, fingerprint authentication, and PIN verification. The method of using a PIN is used by many people because it is quite simple. Click "Next" to continue.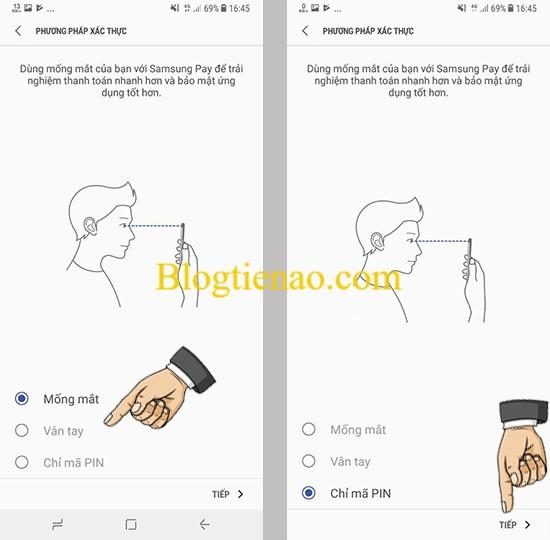 Step 5: Set up a bank card
Click on "Add tag " to add your payment card to Samsung Pay.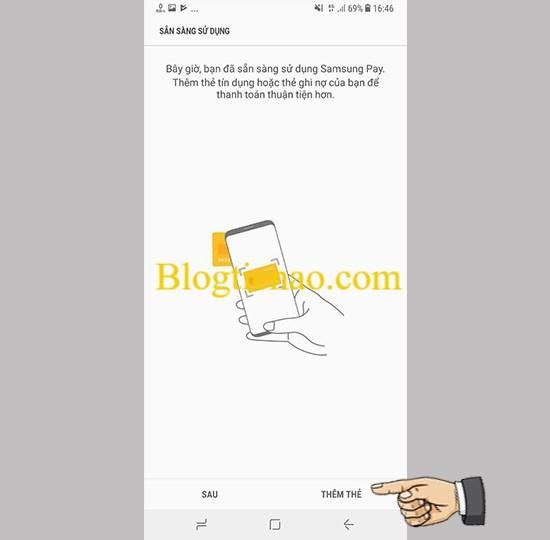 Use your device camera to scan your card.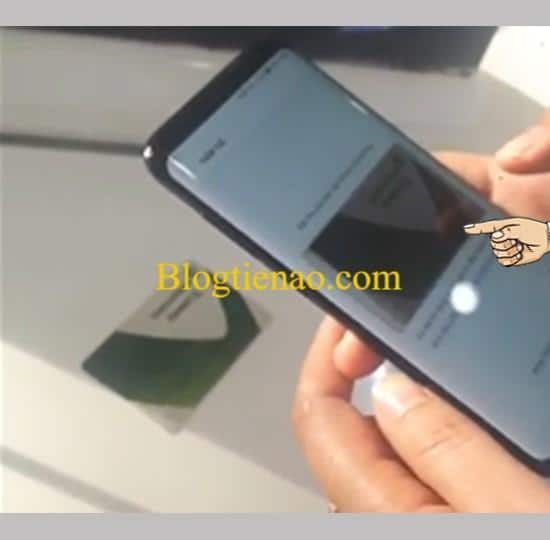 Then Enter the card information.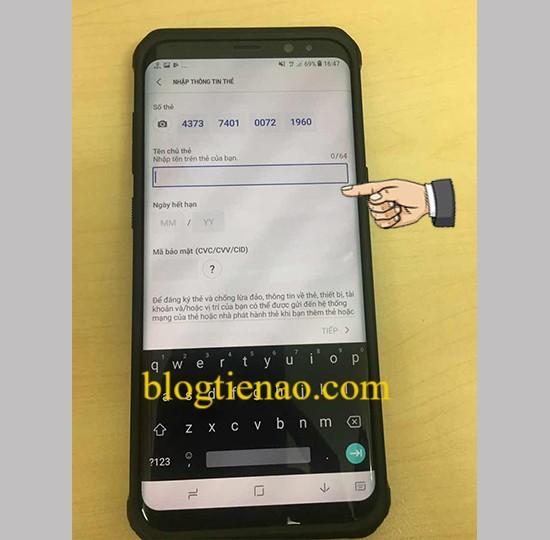 Sign and save.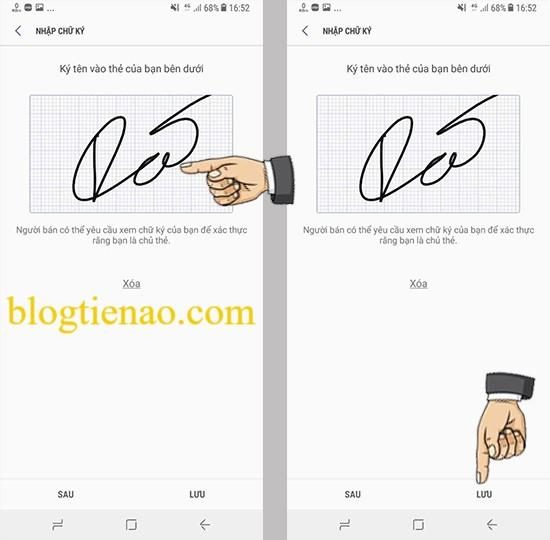 Finally Verify card and enter the verification code sent to the message.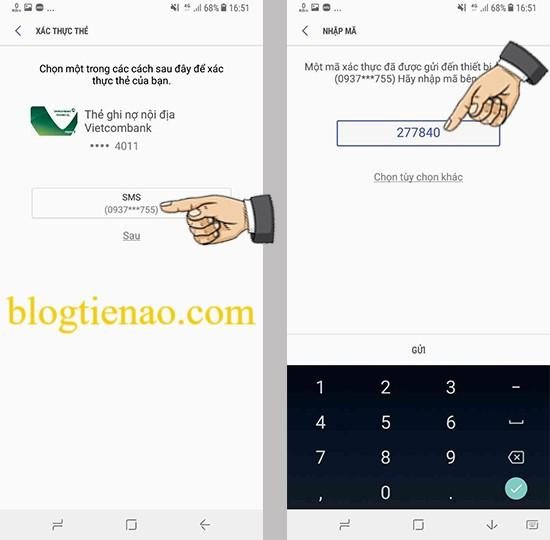 As shown below, the process of adding a bank card to Sam sung Pay is completed. And when you add the card, you can pay with Samsung Pay already.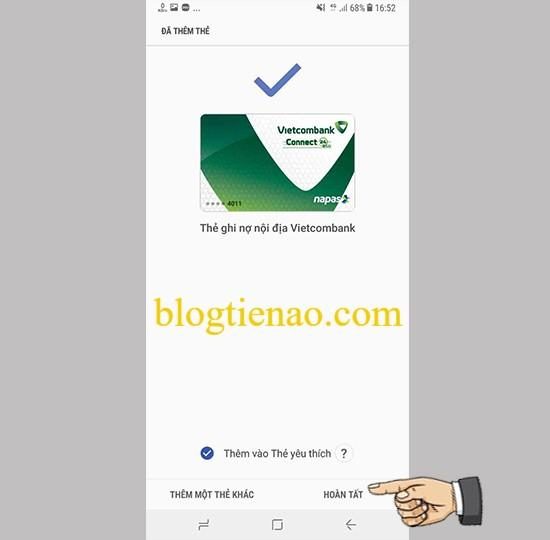 Payment guide with Samsung Pay
Step 1: You open the Samsung Pay app, in the main screen of the app you swipe the small gray bar at the bottom of the screen upwards.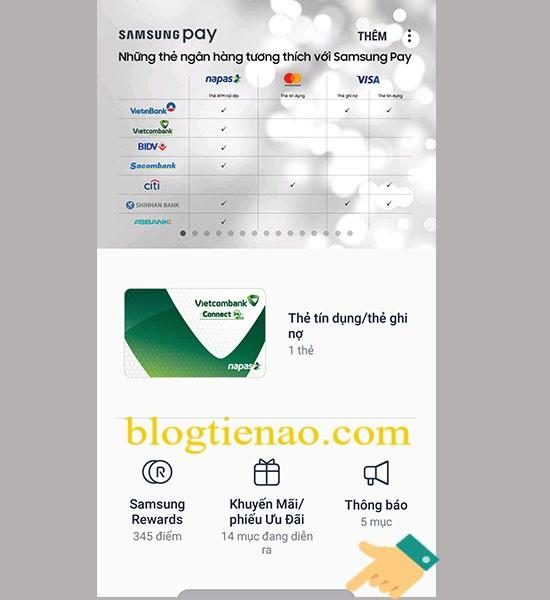 Step 2: After swiping, the card information you have linked and set as your favorite card will be displayed.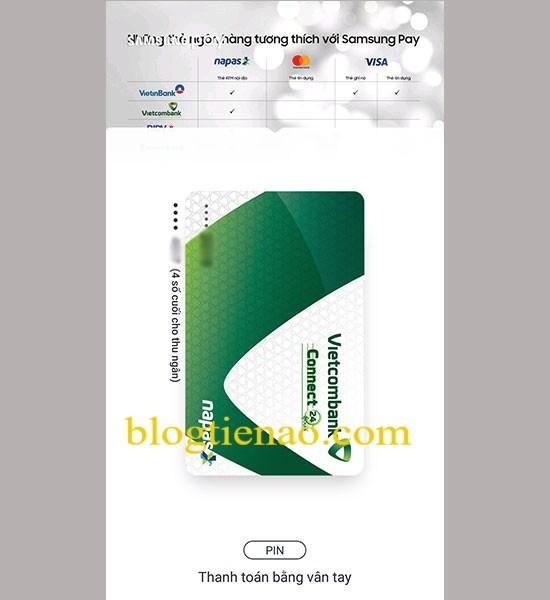 Step 3: You put your hand on the HOME button if you choose to authenticate by fingerprint, and if you choose to authenticate with a PIN and then enter the PIN you set earlier.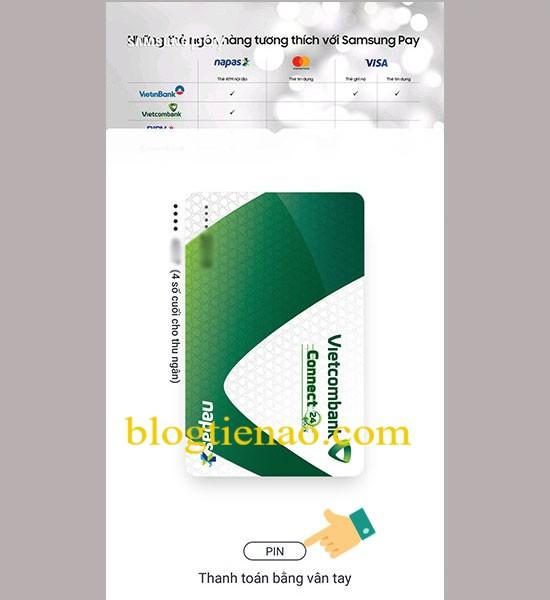 Step 4: After the phone shown in the image below, you give it to the cashier of the place where you pay or put your phone into an MST or NFC card reader.
Step 5: The cashier will confirm your order, you will be asked to enter the pin code of the card, check the invoice and sign the order confirmation.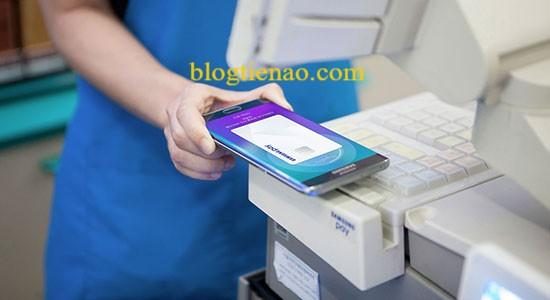 So you've completed the payment with Samsung Pay already, very simple right.
Banks support Samsung Pay now
Currently, many banks have combined with Samsung Pay to make it easier for users to pay. The list of banks includes:
Vietinbank: Support domestic ATM cards, debit cards and credit cards (VISA).
Vietcombank: Support for local ATM cards.
BIDV: Support domestic ATM card.
Sacombank: Support domestic ATM cards.
Citibank: Support domestic ATM card, Mastercard.
Shinhanbank: Support domestic ATM cards, debit cards and credit cards (VISA).
ABBank: Support domestic ATM card.
Agribank: Support domestic ATM card.
SeaBank: Support domestic ATM card.
Techcombank: Support domestic ATM and credit cards (VISA).
TPBank: Support domestic ATM and credit cards (VISA).
Maritime Bank: Mastercard
MB Bank: Support domestic ATM card.
SCB Bank: Credit Card (VISA)
In the future, Samsung will continue to expand the banking market when working with more banks to add Samsung Pay payment service.
Is Samsung Pay safe?
Samsung Pay integrates the very latest security technology Samsung calls Tokenisation. This technology has the function of encrypting all user information through two steps:
Each credit card information (card / issuing bank) will have its own unique unique token number, consisting of 16 characters, but this token number is not a credit card number.
The token number is a crytogram encrypted string - a unique string formed each time a user uses Samsung Pay.
The possibility of a bad guy tracing the token number to find actual payment information, as well as finding a way to create a token-compatible crytogram chain is not possible. Therefore, Samsung has really brought a very useful and safe payment solution for users.
Conclusion
Above is the article "What is Samsung Pay? Instructions for installing and using Samsung Pay in the most detailed"Of Virtual Money Blog, hopefully through the article you will be able to easily log in and use your account Samsung Pay.
If you encounter difficulties during installation, login or use Samsung Pay then leave a comment below of the Virtual Money Blog, we will answer it as soon as possible. And do not forget to give yourself a Like, Share and rate 5 stars below. Good luck.
Blogtienao.com synthesized