To meet the needs of transactions between users, T-Rex trading floor launched as a P2P platform connecting sellers and buyers in the cryptocurrency market. T-Rex was founded in 2018 in Singapore and be licensed trading crypto exchange and e-wallet service by the Estonian government.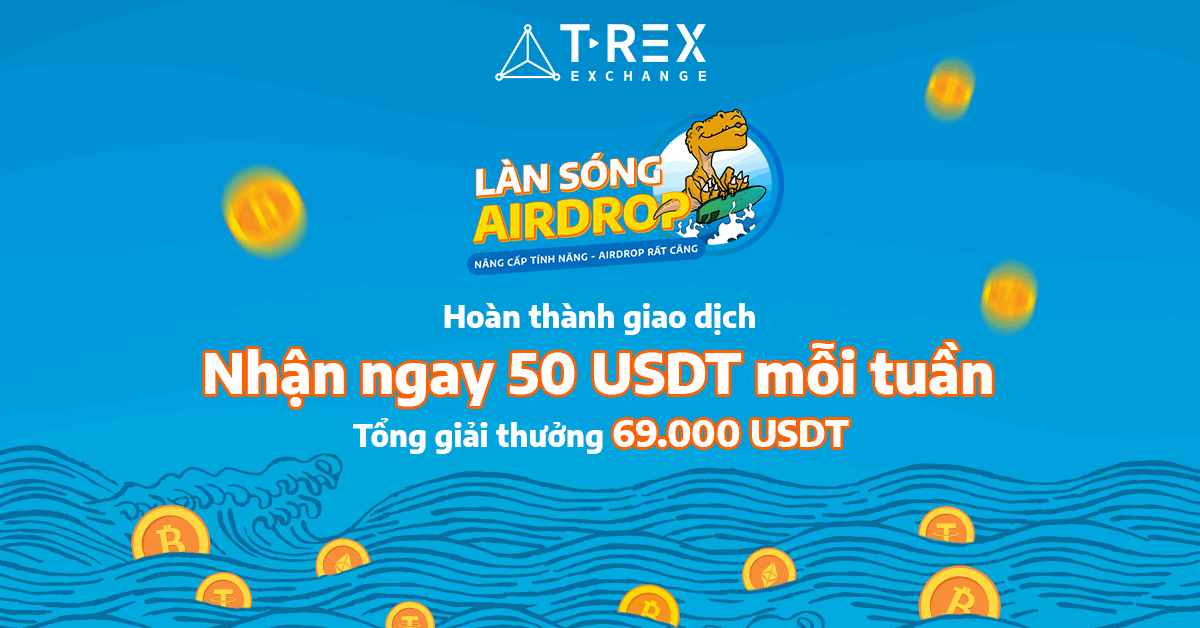 Recently, in the 4.1 update, T-Rex has introduced very practical features, helping to increase the usability, liquidity and especially with the extremely "Airdrop" program: Up to 50 USDT / 1 account / 1 week.
New features in update 4.1 of T-Rex
Allows creating ads without asset lockout: In version 4.1, when users create ads for sale, the system will check the balance but not lock the user's coins until the ads are put into the process. deal with taker. This change is to help users more convenient and flexible in managing their transactions.
Texting via chat frame when trading: A prominent feature helps users be much more active in making transactions. Users can enhance transaction performance as well as save time when they can talk directly to the person they are trading, in a completely confidential way. However, when a dispute occurs, the parties can invite admin to intervene to resolve. In addition, users can send proof of payment to their partners right in this chat box.
User rating system: From now on, whether a partner is trustworthy or not, whether or not the transaction is reputable will not stop in the chat room and transaction history, although this is also a Extremely useful features of T-Rex. With the post user trading feature, a new user can rely on the experience of previous clients to make easier decisions. Imagine how valuable the hotel or restaurant reservation of Booking is to you, the T-Rex will give you the same convenience.
In addition to the above feature, T-Rex also allows sellers to cancel transactions within 10 minutes if the buyer is not online. This feature will help sellers reduce waiting time for transactions if the buyer is not online.
Allow restricted transactions with KYC unfinished accounts: Implementing identity verification increases the security of transactions but also creates barriers for new users as the process often takes a long time. time. Understanding this, T-Rex will allow new accounts that have not completed identity verification to trade with a limit of <30,000,000d / day while waiting to complete the verification process.
At the same time, users can also easily choose between OMNI and ERC-20 standards for USDT in their wallets when T-Rex officially supports ERC-20 standard from August 28, 08.
It can be seen that T-Rex has one of the most "caring" development teams in the market when constantly updating new features to ensure the safety of users and keep them on the platform. In a potential market full of uncertainties and risks like cryptocurrencies, the emergence of platforms like T-Rex has contributed to increasing professionalism as well as minimizing risks that users may encounter, especially with complex trading channels like P2P.
The more transactions, the bigger the reward
On the occasion of updating new features, T-Rex exchange is pleased to send to users Airdrop program for each successful transaction as follows:
Special offers for NORMAL ACCOUNT:
0.5 USDT / 1 Successful transaction with normal account

2.5 USDT / 1 Successful transaction with Prestige account
Accounts usually receive up to 25 USDT / week
Special offers for PRESTIGE ACCOUNT:
2.5 USDT / 1 Successful transaction with normal account

2.5 USDT / 1 Successful transaction with another Prestige account
Credit Accounts receive up to USD 50 per week
Time starts from September 06, 09 until further notice
Conditions to receive prizes:
Minimum of 50 USDT per transaction (or 0.5 ETH or 0.01 BTC)
Only make transactions up to 10 times with the same person
Note:
T-Rex reserves the right to request proof of payment for fraudulent transactions.
Participating accounts must comply with T-Rex Exchange user policy.
Rewards are deposited directly to your T-Rex account every Saturday.
T-Rex reserves the right to change the terms of the program at any time due to changes in market conditions, fraud risks or any other factors we deem relevant.