T-Rex leaves Crypto exchange with the strength comes from advanced technology, high liquidity and always gives priority to supporting the community. On the occasion of launching OTC trading platform, T-Rex will airdrop 200.000 USDT for new users.
T-Rex dinosaur with ambition to lead
Registered in May 5.2018 in Singapore, after a year of research and development, T-Rex has licensed a crypto exchange in Estonia and officially opened. OTC T-Rex trading floor serve the community cryptocurrency.
Knowing itself as a "latecomer" in the cryptocurrency market, T-Rex has tried to explore and launch with bright spots in technology, liquidity, security and customer support.
Currently, T-Rex owns technology platform and infrastructure Used at some of the world's top 10 exchanges. Along with that, the T-Rex trading platform is applying a system and a secure operation process.
Importantly, T-Rex has established relationships with major partners around the world, and built a team of Market Maker trained to deploy operations to increase liquidity and transaction volume for the whole system. . Thanks to that, T-Rex ensures liquidity of up to 1,2 million USD per day.
On top of that, when the attacks that took place with Coincheck, Zaif, Cryptopia were still being shared, security will still be the problem that exchanges have to find a new solution. Therefore, on T-Rex platform, 80% of customer assets are stored in cold wallets, managed by the highest authority in the system. In addition, the exchange also applies multi-signature security for all activities of transferring, withdrawing and loading digital assets, preventing internal fraud.
When investors know how to "split eggs into many baskets", not focusing on a single exchange, the exchanges must strive to provide the best user service. This is the reason why T-Rex focuses on building 24/7 support team Works on many forms such as live chat, email.
Especially, with the spirit of attaching great importance to development, elevating the community and considering it as its social responsibility, T-Rex with initiative T-Rex Academy will provide useful knowledge for new users and experienced traders who want to make higher profits. And, with Blockchain startup projects, the T-Rex Blockchain Incubator will be the launch pad and the place for your dreams.
Early Bird Program: Airdrop 200.000 USDT
On the anniversary of the launch of the OTC exchange, the dinosaur T-Rex is launching the program "Early Bird", especially for new users.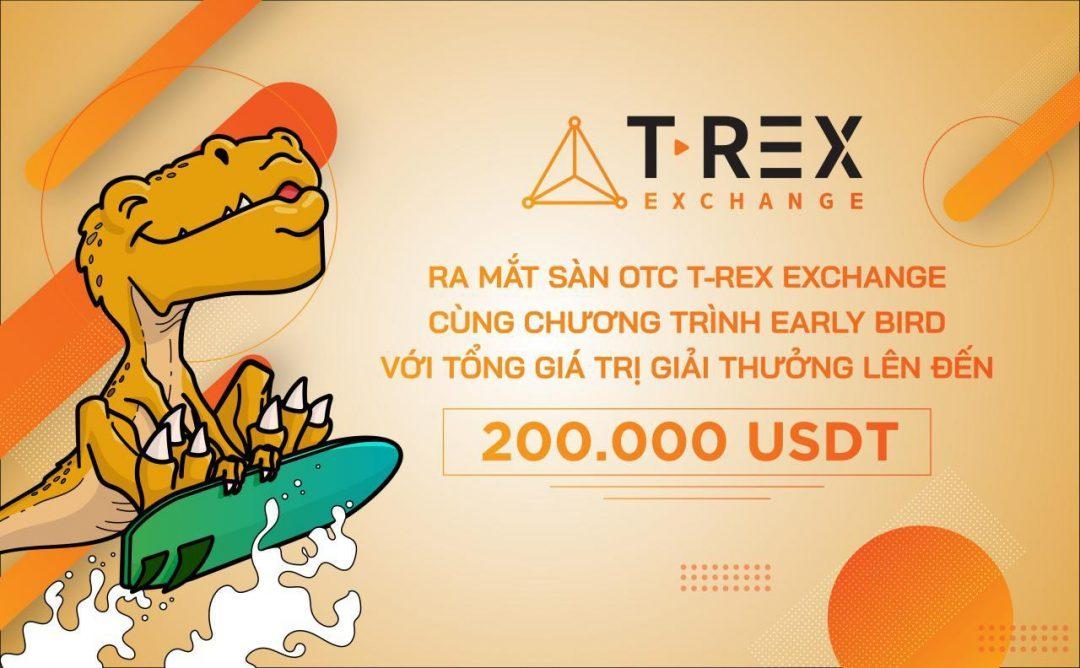 Accordingly, the event will take place from 08:00 April 15, 04 to 2019:08 May 00, 14 (Vietnam time) with two main contents as follows:
Sign up for a T-Rex account, get USDT
After registering and completing identity verification (KYC), users will quickly receive 5 USDT in T-Rex account.
Here are instructions for registering an account on T-Rex:
Step 1: Visit the official website of the exchange: https://www.t-ex.exchange/ and click select Sign Up to proceed to register a new account.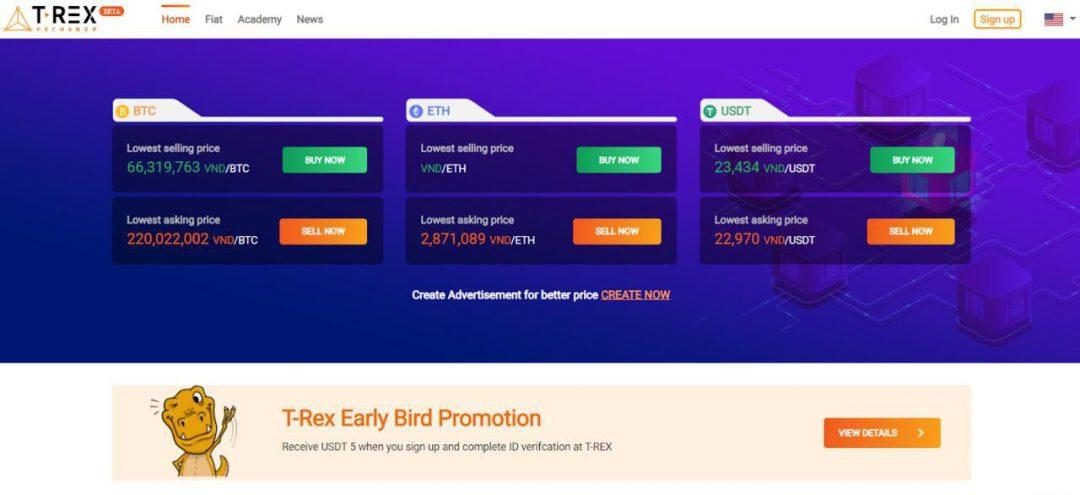 Step 2: Please enter your email address as required. Then, you check your inbox (including your spam / advertising folder) and enter the code sent from T-Rex.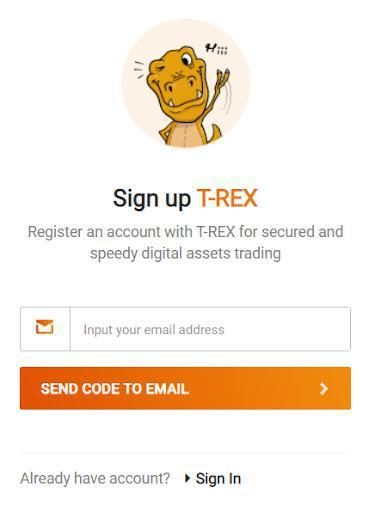 Step 3: Finished step two, you continue to fill in the information requested and tick I have read and agreed to the User agreement.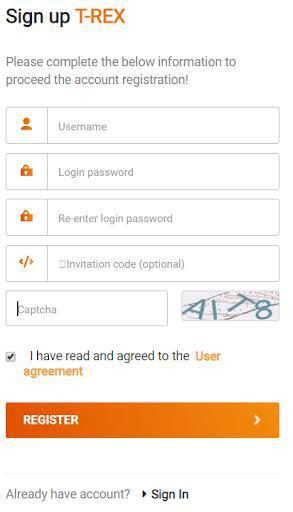 Step 4: In this step, T-Rex will ask you to continue entering the code to confirm. Please continue to check your mail and enter the second code sent from the floor.
Step 5: Sign Up Success. Next, complete 3 simple KYC steps and receive 5 USDT in your account.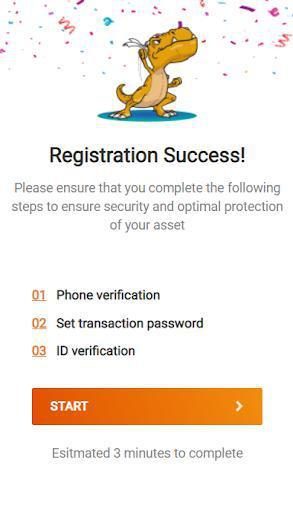 Note: The program applies only words 08:00 day 15/04/2019 come 08:00 day 14/05/2019. Limited USDT amount to be issued for free. Therefore, you are the fastest hands!
Trade T-Rex OTC, receive USDT
After registering an account on T-Rex and making the first transaction on T-Rex OTC, users will receive 5 USDT.
Note:
Time to pay prizes: every Tuesday and Saturday.

Program rules are subject to change without notice to best support the user.

The program applies only to people of Vietnamese nationality, living on the territory of Vietnam. (This program only applies to Vietnamese users. Thanks for other guys if you care about this program.)
It is known that, in addition to the two events above, T-Rex will also introduce many other exciting new programs; Specially for Vietnamese users only.
Readers can follow the page News by T-Rex squid fishing tours [https://news.t-rex.exchange] for the fastest updates on sideline events.