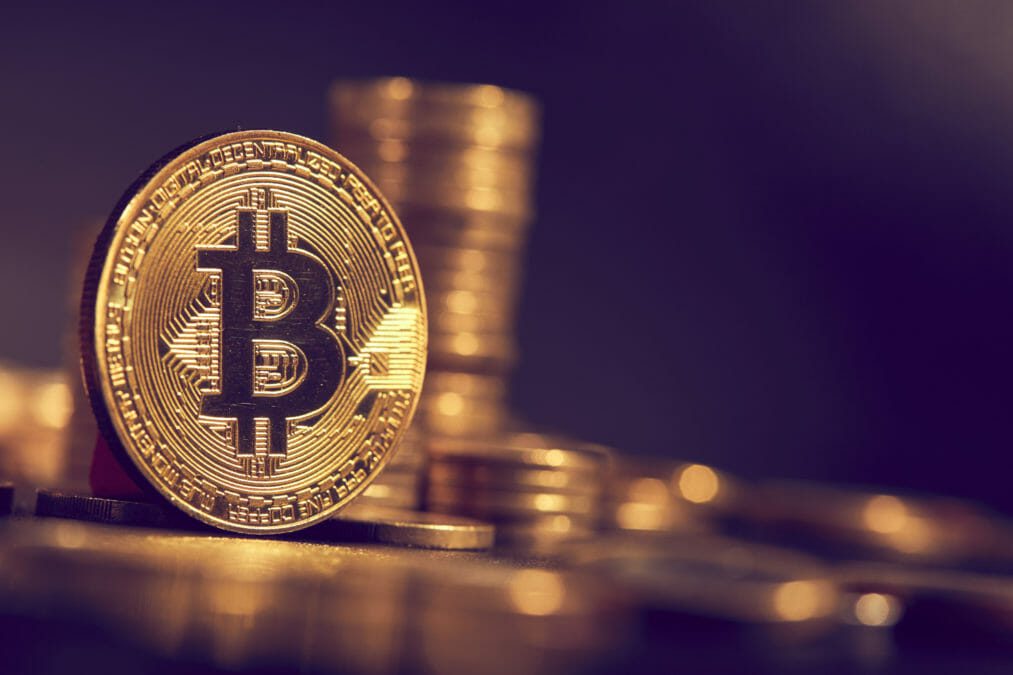 [speaker]
During the past week, the crypto market has experienced a lot of volatility, as top coins like bitcoin surged, and bottom positions weakened.
Bitcoin's price movement over the past few hours has shown that the bulls have been trying hard to push the price to $ 18,600 but once again failed, the range of $ 18,600 - $ 19,000 was seen as a strong resistance zone while in the past 7 days Continuity is returned from here.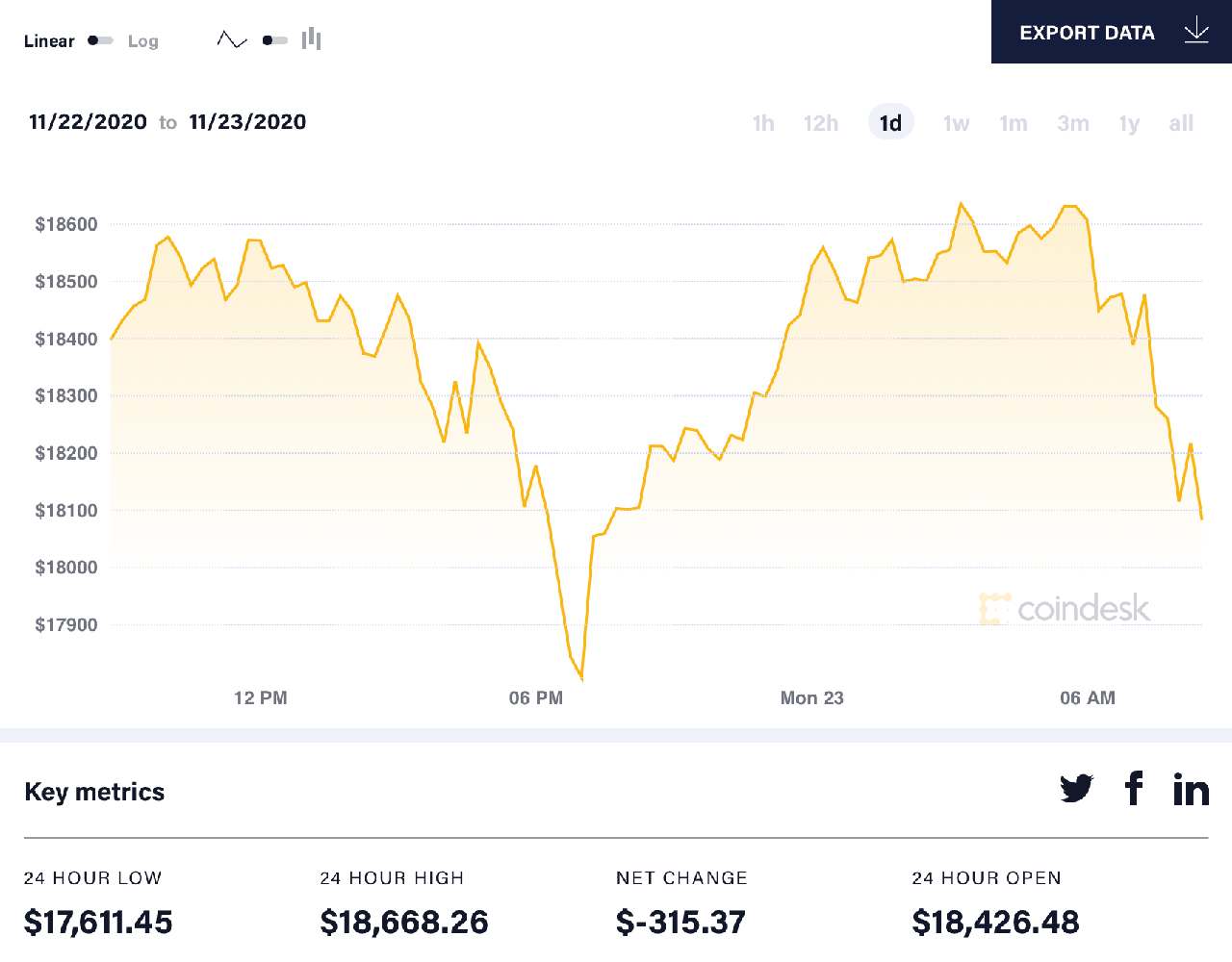 Over the past 24 hours bitcoin has had many adjustments, the highest recorded bitcoin price at $ 18,668 and the lowest at $ 17,611.
Bitcoin exchange rate Today (23/11) recorded at 9:05 at 18,194 USD, down 1,44% compared to the last 24 hours.

Considering the 7-day movement of ETH, XRP and Cardano have had quite good growth.
However, many coins in the top 10 are showing signs of 'turn around' in the first session of the week, only a few are still able to maintain the momentum like Cardano, while the majority of the others are down compared to Last 24 hours.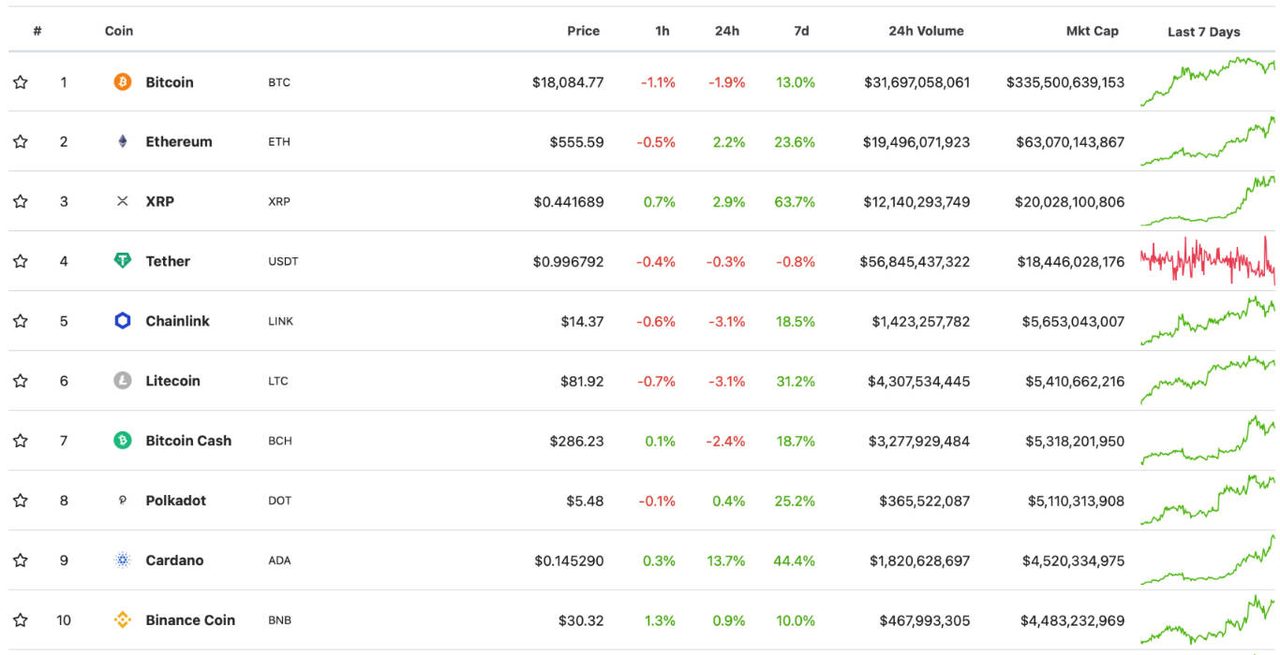 Fundamental technical analysis from Seekingalpha shows that ETH is not yet over its momentum and the cryptocurrency could experience another spike, possibly even breaking the $ 700 mark.
In addition to the general trend of the market after surging more than 30% at the end of last week, XRP has not been able to reassure investors, so far XRP is considered to be one of the 'big butt' coins. Most bull runs have been seen since XRP peaked at $ 3,40 in early 2018.
Total crypto market cap today recorded at 9:10 am at $ 529,10 billion, down $ 12 billion from the past 24 hours.

The market's 24-hour trading volume slightly adjusted, reaching 208,62 billion USD, which is 11,33 billion USD higher than the 197,29 billion USD recorded on November 22nd.
---
Update the fastest cryptocurrency price 24/7 here:
https://blogtienao.com/ty-gia/
If you do not have a Binance account, register here: https://blogtienao.com/go/binance
See more: