What is liquid?
Before the introduction of Liquid, we would like to talk about before QuoinexWhy do we mention Quoinex? As a trade addict at the end of 2017, I often wandered around and searched for reliable sites to find information about listed coins, I registered information from a small application, and every day I received Get a lot of information about the coin list, and especially a lot of coin is listed on the floor Quoinex, Qryptos. So what does Liquid have to do with anything?
Learn more about Quoinex, then know this is a project exchanges was founded by Quo to (different as x fees later) - is a crypto - fiat exchange and was born around February 02. Around February 2014, Quo to continue to create exchanges between altcoins with each other called Qryptos. But still a few issues related to Japanese law. And so Quo to continue to develop a new trading platform, where they say it will bring the biggest liquidity to the cryptocurrency market and it is called Liquid.
So Liquid It is also a cryptocurrency exchange Crypto - FiatThe difference here is that Liquid supports a lot of external fiat currencies JPY, also USD, EURO, HKD, AUD, ... Due to many years of experience in the banking and finance sector, blockchain, ... So it can be confirmed Liquid is one of the top exchanges in the world today.
With many years of experience, giving customers a quality experience, easy to use, safe and transparent is always the top priority of LiquidTherefore, Liquid is always a prestigious choice of customers when participating in the cryptocurrency market when it was launched not long ago, 24h transaction volume is always high, currently when I write, I am writing 170 million USD, (See more : Details About Liquid Trading Platform)
Review Liquid Exchange
In order to have the best rating for liquid, let's take a look at the details of this exchange, I will also introduce and explain the advantages and disadvantages in this section. Easy to imagine. Here are my favorite points. What caught my eye on the floor was a very cool, blue image of the sea, very easy to see, comfortable eyes when sitting on a laptop everyday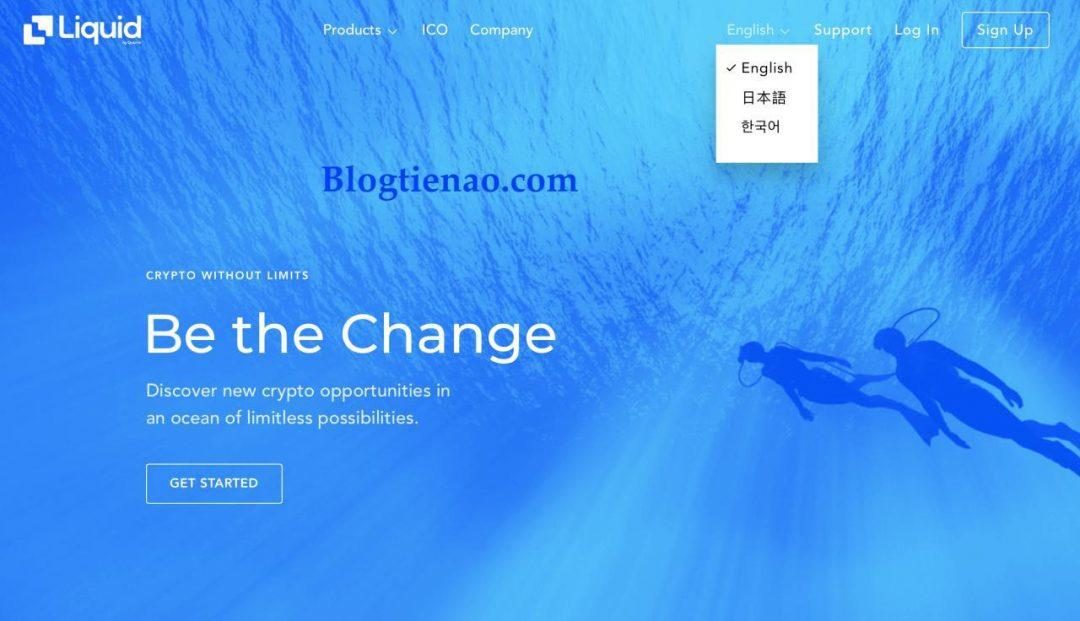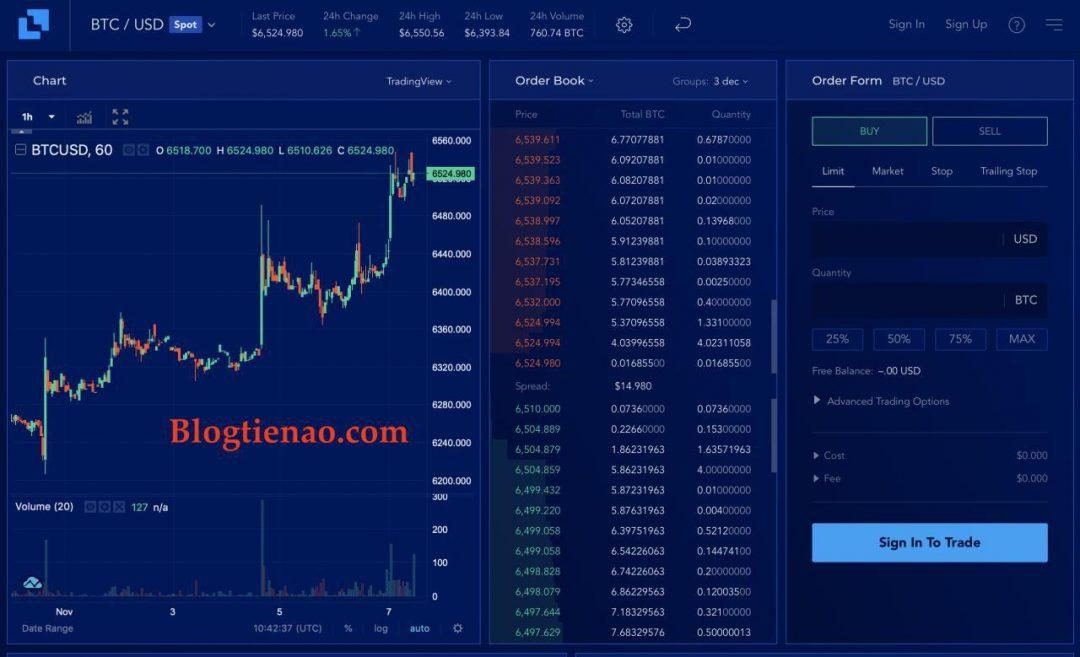 The salient features of Liquid:
The interface is easy to see and friendly: on the image you will see clearly, trading, margin is also quite smooth.
Security: Good, Security is always the feature that I always mention when it comes to participating in the cryptocurrency is 2FA google authenticator. Please activate it as soon as you sign up.
Supports many fiat currencies such as JPY, USD, EUR, CAD, HKD, SGD, ...
Language: currently only supports 3 languages: English, Japanese, Korean, no Vietnamese, but according to the information that they have been preparing for Vietnamese, do not know the date, so the score weakness of the floor with Vietnamese people may not have Vietnamese. However, you can use the English language.
Transaction Fee: Quite low when only about 0.15%, But If you use QASH payment, the fee will only be 0.075%, quite cool!
Multiple Coin Support: In addition to the main coins, there are many supported altcoins, so this is a good choice when you play junk coin. Above I have said before, when registering the coin list exchange case, it notification continuously in Liquid. With major coins like BTC, you can see that the volume of BTC - Fiat is very large, very suitable for you to exchange BTC into USD or JPY, and other currencies, you can check here
This is a very nice feature that I don't know what to call it: Multiple transactions and cryptocurrencies "means you can cross-trade cryptocurrencies, For example: a German executes an order to sell BTC to EURO. , when placing the order, on the screen appears the BTC / EURO order until the match, it occurs on the BTC / EURO trading pair. But with Liquid, if there is a trading pair selling BTC / EURO with the buy order BTC / SGD, the transaction will take place, after the transaction, both of them achieve their desire when making the order (exchange rate conversion EURO through SGD will be done behind the scenes in a smart, transparent, clear way)
Margin: Liquid offers a margin leverage service for both crypto and fiat. And they apply leverage up to 25x for each different trading pair. If compared with other parties, it is higher, for example: fitflyer 15x, kraken 5x, bitfinex 3.3x, okex 20x, huobi 3x, cobinhood 3x ...
Lending: providing lending services with crypto - fiat (but this lending is different from mlm lending everyone) and in more detail, I will write in the next post.
ICO Market: you can trade token - crypto with fiat currencies!
In addition to the above highlights, there are other points such as zero deposit fee, low and very competitive withdrawal fee, good security, safety, ...
The reasons above have proven that Liquid trading platform is not a bad choice with very good features and useful for users. Particularly for other areas such as Margin, Lending, ICO Market, we will probably need to write another informative article to be able to talk more about these outstanding features, which is also very interesting ahihi.
In addition, according to the information I received for Blogtienao readers, there are Airdrops from Liquid, namely: Get $ 10 QASH when you use Liquid. Just sign up for Liquid.com 'via our referral link below', verify your account and transact over $ 100 on your first trade to receive your $ 10 USD equivalent. Equivalent to QASH, 1 token of the exchange (I will explain in detail what QASH is below
So please Sign up here now and always .
What is QASH?
QASH is a word that I mentioned above, but probably people will wonder what it is, then I would like to introduce simply, QASH is a floor of Liquid, it is like BNB or HT. When using QASH for trading, the transaction fee will be reduced by 1%. To enable this feature, go to Account Settings> Application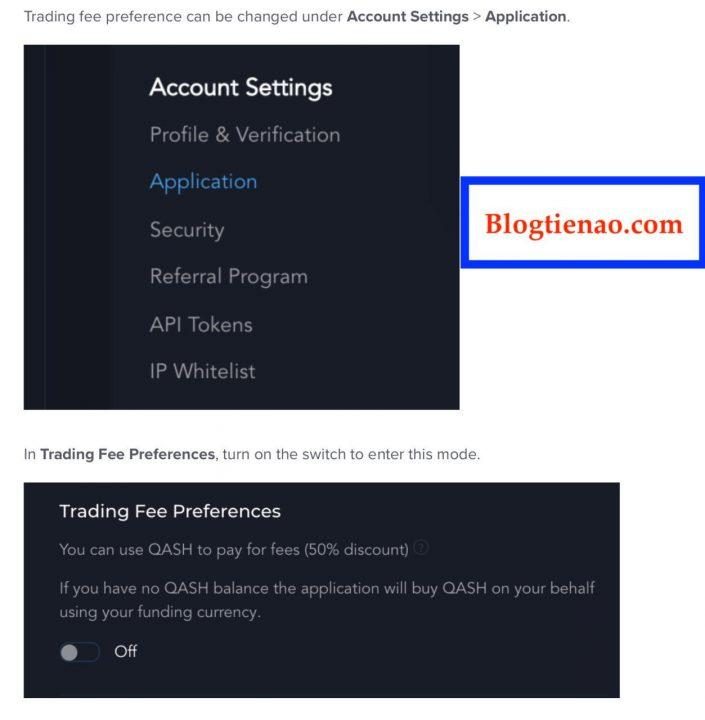 You can see these 2 more articles to know more QASH, QRYPTOS is
Conclude
As so many exchanges have appeared from the beginning of the year until now, choosing a good exchange to invest in is a very important decision, and once again Blogtienao introduces Liquid: A cryptocurrency exchange with many powerful and exciting features will help you save time on investment. Another reason is that Liquid is a licensed cryptocurrency exchange in Japan, you know, "Very Good Japanese Goods", getting a license is very difficult in Japan because it has to go through so many rules. (See also: Japan Licensed 1 Bitcoin Exchanges). So I believe that Liquid has been "validated" and allowed to run which proves it is very ok for users.